Dropshipping is a great way to get started in the eCommerce industry. You don't have to invest any money upfront and you can start making profits right away. The downside of dropshipping is that finding high-quality free Shopify themes for your new dropshipping store can be challenging without spending hours scouring the internet. Fear not, we've done all the work for you and compiled this list of the best free Shopify themes for Dropshipping.
Best Free Shopify Themes for Dropshipping
Classygift – Gifts Templates E-commerce Shopify Theme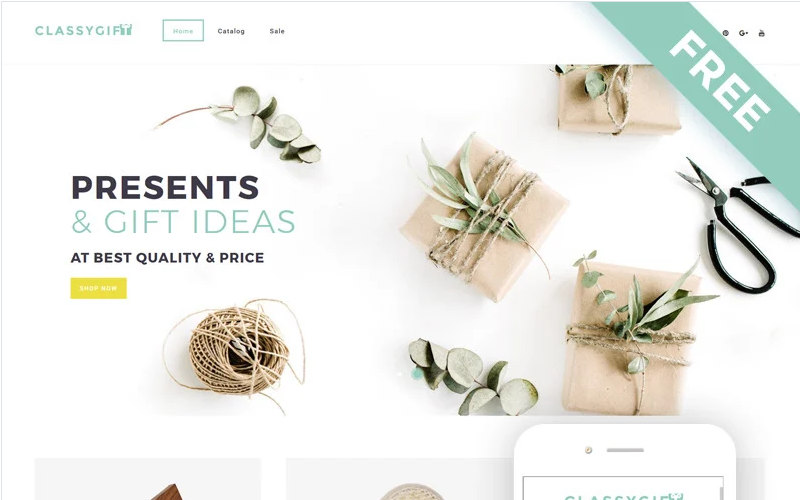 Classygift is the perfect free Shopify theme for your dropshipping store. It's fully responsive and compatible with Oberlo, so you can import products from AliExpress to sell on your site with just a few clicks. With social options, newsletter features, pre-built catalog pages, and more – it's everything you need to start an online business today.
If you're looking for a Shopify theme that's easy to customize, Classygift is a perfect choice. It has all the features and functionality of a premium theme, but you can get it for free on the TemplateMonster Theme Store right now for a limited time.
Brooklyn Shopify Theme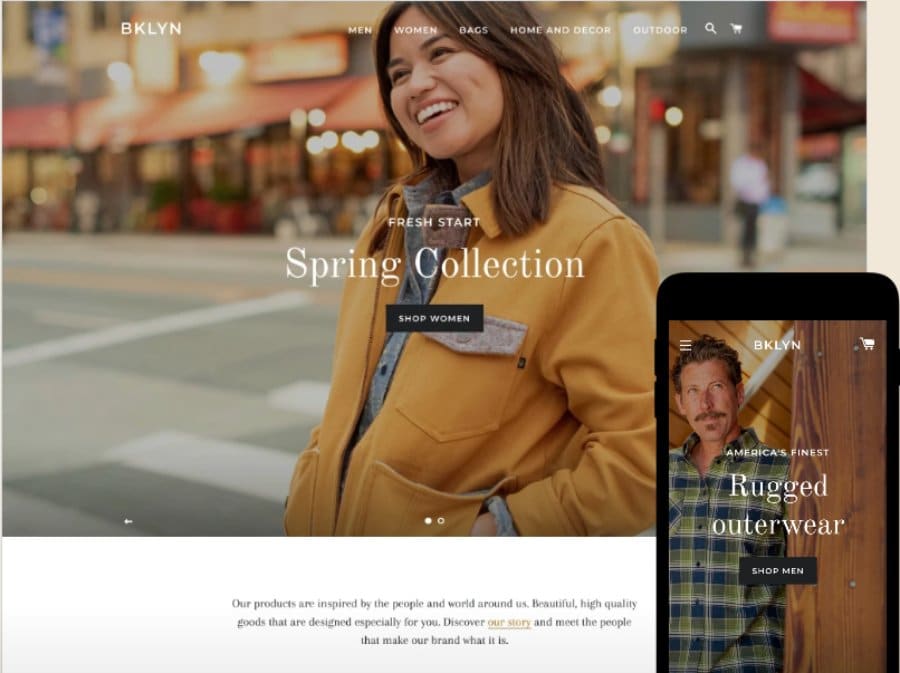 Brooklyn is a Shopify theme designed for modern eCommerce stores. It's suitable for stores that offer a wide range of products including T-Shirts, Electronics, Jewelry, and even Pet Supplies.
We know that you want to stand out from the crowd, but it can be hard to find high-quality Shopify themes at prices you can afford. That's why this theme is perfect for anyone starting their first dropshipping store since it won't cost you a dime.
Brooklyn is an easy-to-use, customizable theme that will help your store look professional and stay competitive in today's market. With multiple layout options, header slideshows, dynamic product grids, and more, you'll have everything you need to take your business from zero to hero in no time.
Get the Brooklyn Shopify Theme with your 14-Day Shopify Free Trial (Click Here)
Burg eCommerce Template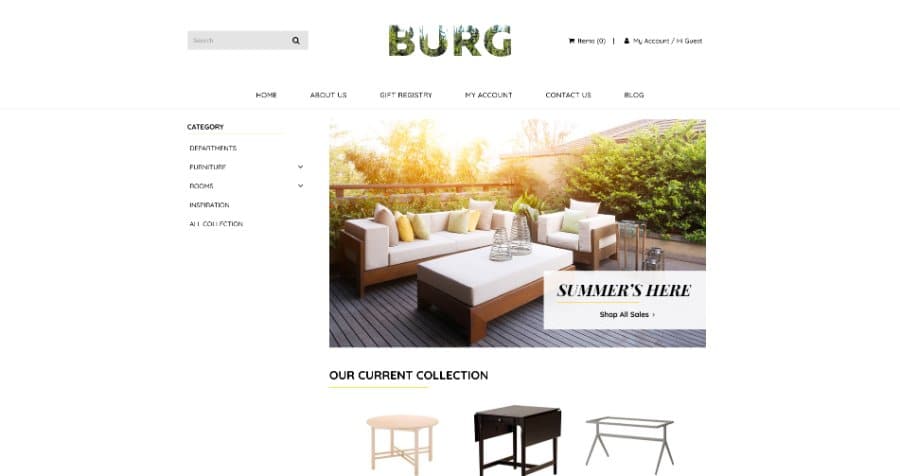 The Burg eCommerce Theme is a free eCommerce template that comes with all kinds of great features like custom product animations and image carousel banners for displaying your new products or current promotions.
It also has an intuitive navigation menu layout so visitors can find what they're looking for quickly and easily. This theme also has a mobile responsive design so it looks great on any device, including smartphones and tablets.
The Burg eCommerce Theme is completely free, and you can set up and run a Shift4Shop Website for no additional monthly fee, unlike Shopify which will run you $29.99 a month.
If you want to build a completely Free Shift4Shop eCommerce Website (Click Here)
Best Shopify Themes for Dropshipping
StoreGo – Multipurpose Premium Electronic Shopify Theme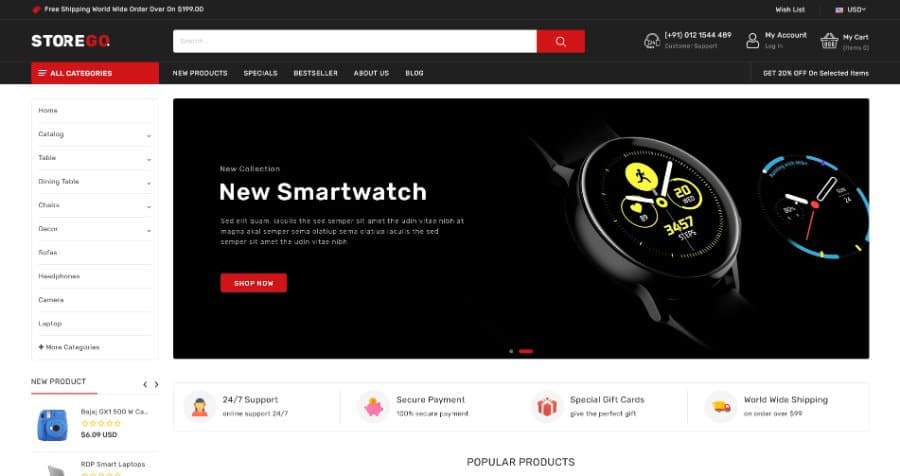 StoreGo is a multipurpose Shopify theme with all the features and functions that you need to create an amazing online store. And it's compatible with the Spocket Dropshipping App (Learn More), so you can easily sell products from local dropshipping suppliers in the EU and US.
The design of this theme is unique, which makes it perfect if you want to stand out in the crowded dropshipping world. Plus, this theme features beautifully designed product detail page layouts, and it has convenient product viewing options as well as image zoom capabilities for a better viewing experience on mobile devices.
ThemeTidy Dropshipping – Fashion Shopify Theme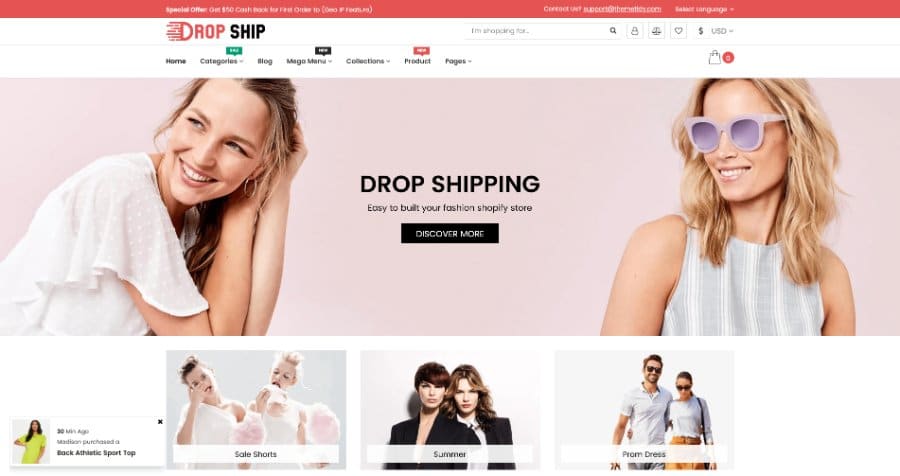 ThemeTidy's Dropshipping Theme is one of the best themes on the Envato marketplace that has been designed with the beginner in mind. It's compatible with Oberlo and SaleHoo (Buy Online), so it will be easy to import products from these apps into your store.
This theme also has 4 different header styles so you can easily customize the look and feel of your store. It also supports image lazy loading with optimized images for better mobile page speed scores.
ThemeTidy's Dropshipping Theme also lets you display product variant images on product detail pages and collection pages. Plus, you can turn on customized geographical shipping messages with a shoppers country name and flag to expand the reach of your store
MAXMIN – Dropshipping AliExpress Clone Shopify Theme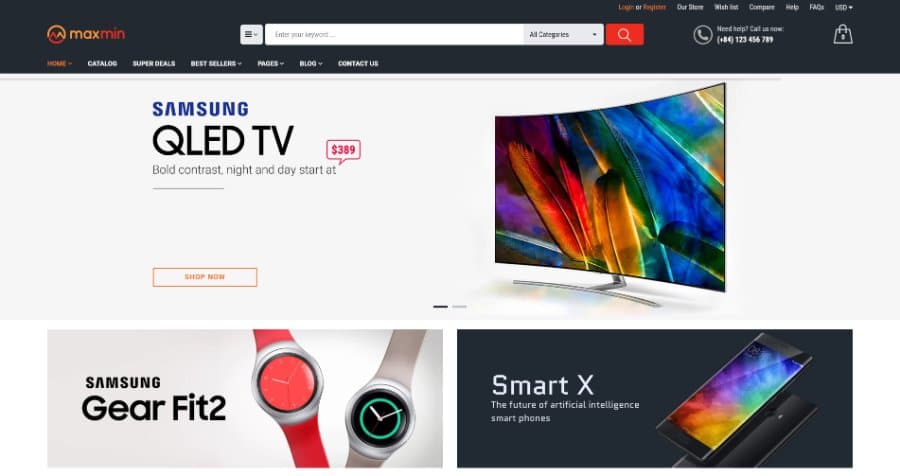 MAXMIN is one of the best themes for dropshipping. It's easy to use, has tons of features, and looks great on any device. Plus, you can customize your store in minutes with the built-in drag-and-drop layout builder, or you can choose from one of the included pre-made layouts that are perfect for dropshipping stores.
MAXMIN also makes it easy to customize your site to match your brand's identity, so you can create a unique look that will stand out from the competition. With social sharing buttons on products and popup messages when customers add items to their cart, it's never been easier to get more sales.
MAXMIN also supports multiple currencies which means no matter where your customers are located they'll be able to buy from your store without worrying about conversion rates or currency exchange fees. And if you're using Mailchimp as an email marketing service this theme has got you covered there too – just connect it up to the built-in contact form and start sending promotional emails straight away.
Finally, MAXMIN includes related product sliders which make browsing even easier than ever before by showing off other items that might be of interest to your customers – meaning less time spent scrolling around trying to find what they are looking to order.
Lezada – Multipurpose Shopify Theme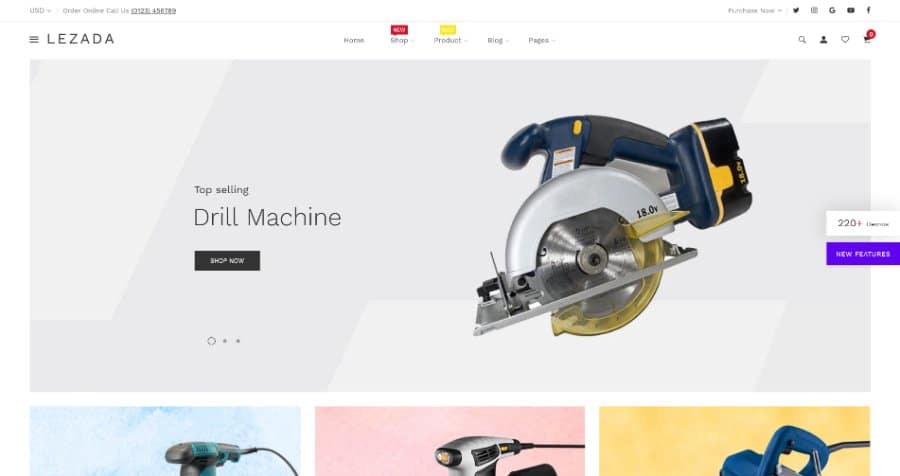 Lezada is one of the best multipurpose Shopify Themes on the market. It's perfect for dropshipping, Print On Demand, Digital Products, and any other type of business you can think of.
With 220+ Home Page Versions, 11+ Revolution slider Styles, 5+ Revolution Banners, 40+ Drag & Drop Sections, and more – Lezada has everything you need to create an amazing online store.
In addition, you can easily customize every aspect of this theme without ever touching code or worrying about compatibility issues with dropshipping apps because Lezada is compatible with popular apps like Oberlo and CJDropship (Learn More)
Lush – Multipurpose Shopify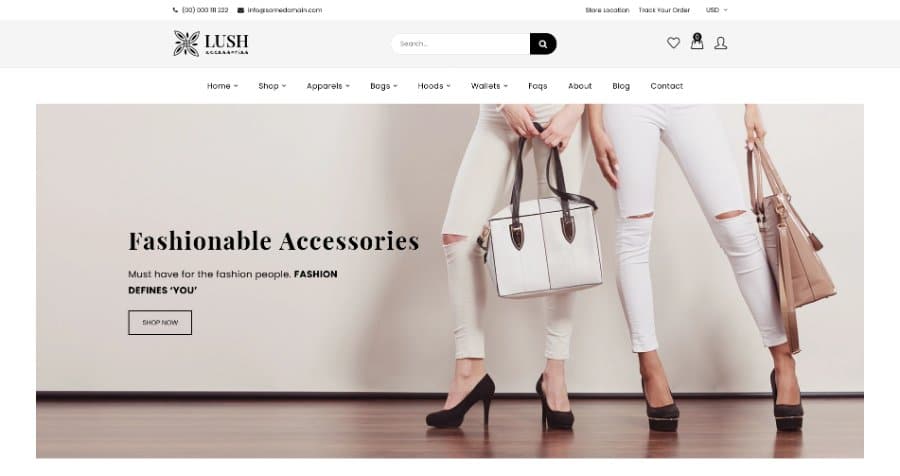 Lush is the perfect Shopify theme to help you build your dropshipping store. It's mobile responsive, has 5 different styles of mega menu, and supports multiple currencies. Plus it comes with drag and drop sections so you can customize your page layouts in no time at all.
And if that wasn't enough, Lush also has a quick shop features, pop-up search menus, custom product swatches, newsletter pop-ups, and more. Check out the demo now to see just how many features this amazing theme has to offer.
You won't have any trouble finding what you need on this clean template. With its simple design and intuitive navigation system, we're confident that Lush will be the perfect fit for your Shopify dropshipping store. You'll love how easy it is to find products with this theme as well as how quickly they load when clicked on.
Plus, you can use this theme with apps like Oberlo or SaleHoo (Automated Dropshipping App) to easily import products from AliExpress into your store. Which in the long run will save you a week's worth of work, so you can focus on marketing your store instead of building it.
Chrono Dial – Watch Shopify Theme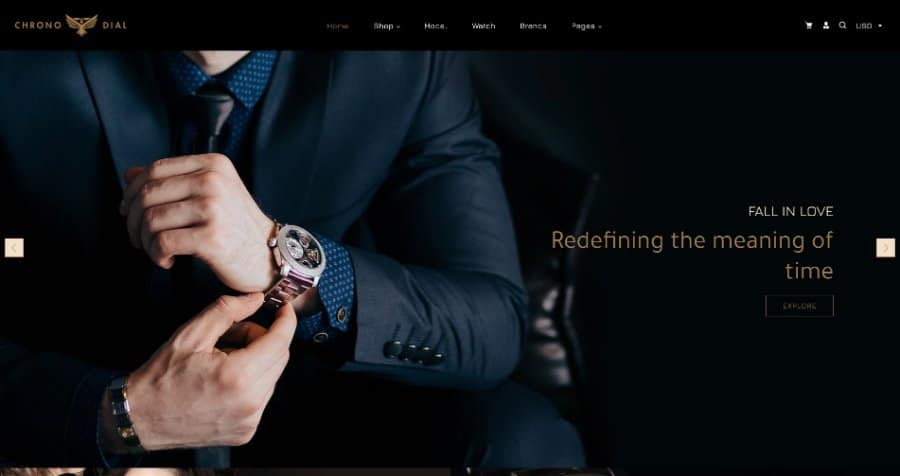 Chrono Dial is the perfect theme for dropshipping high-ticket items. Its refined design looks great on mobile, and it has 5 different styles of mega menu to choose from. Plus, it supports drag & drop sections so you can customize your store however you want.
With this theme, there are tons of features to help make your store look professional and stand out from the competition.
This theme features beautiful pop-up search boxes that make it easy to find anything in your store. It also has a built-in customer reviews system and countdown timers for flash sales and exclusive product offers.
And if that wasn't enough this theme is compatible with dropshipping apps like Oberlo and Spocket (US Based Dropshipping Suppliers), so you'll be able to sell anything online without ever having to touch any inventory.
Mika – Multipurpose eCommerce Shopify Theme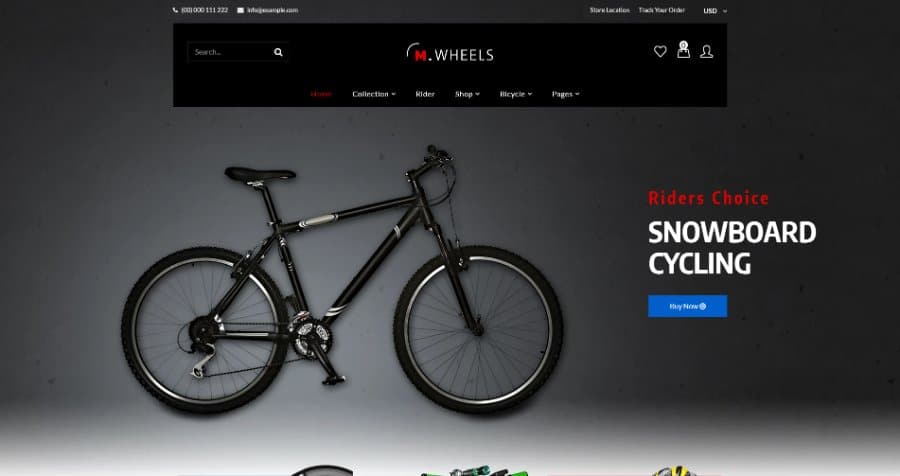 Mika is the perfect theme for your Shopify store. It's easy to customize and comes with 20 different demos that cover a wide range of industries. With Mika, you can create anything from an online clothing store to an e-commerce website for selling products like jewelry or electronics.
Plus, Mika is the perfect theme for anyone who wants to create a Shopify dropshipping store. It's compatible with Dropshipping apps like Oberlo and CJDropship so you can easily import products from AliExpress or USA based suppliers using CJDropship (Free Dropshipping Supplier)
Best Free Shopify Dropshipping Apps
SaleHoo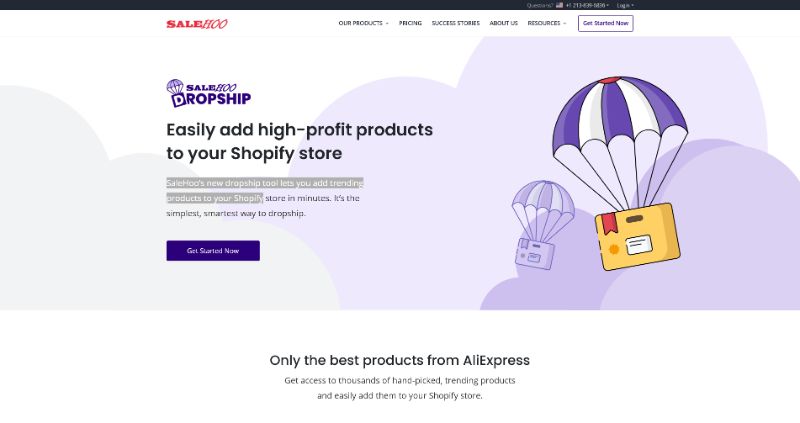 SaleHoo (View Suppliers) has created an easy-to-use dropshipping tool that lets you add trending products from AliExpress to your Shopify store in minutes.
With SaleHoo Dropship you can create a professional-looking eCommerce site in just minutes by adding any type of product from AliExpress into your Shopify store.
All you need to do is add the SaleHoo App to your Shopify store and watch as it automatically adds trending items from AliExpress based on category, price range, popularity, etc…
If you want to learn more about Shopify dropshipping using SaleHoo you can take their comprehensive 20-Hour Shopify Dropshipping Video Course (Learn More)
Spocket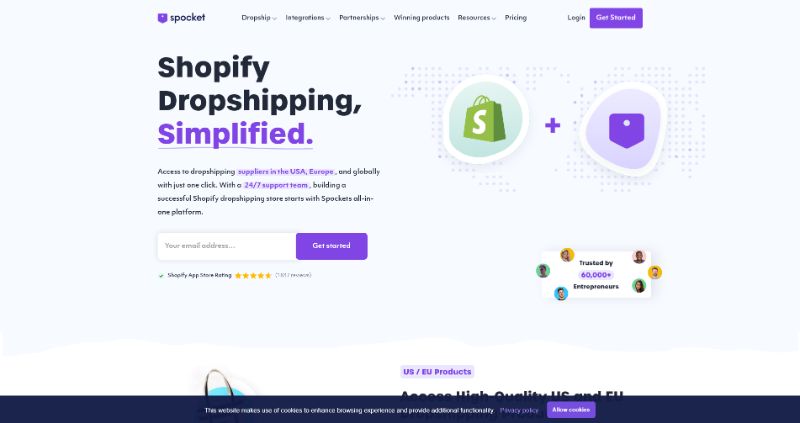 Spocket (Free Trial) makes finding the best dropshipping products easier than ever before. This all-in-one dropshipping platform helps you find high-quality products from dependable local dropshipping suppliers in the EU and United States.
Spocket does all of the vetting and research for you so that sourcing your product line is simpler than ever before. Plus, they offer fast shipping times, so your customers will get their items in days not weeks, unlike most of the other apps that deliver their products using Chinese dropshipping suppliers.
Oberlo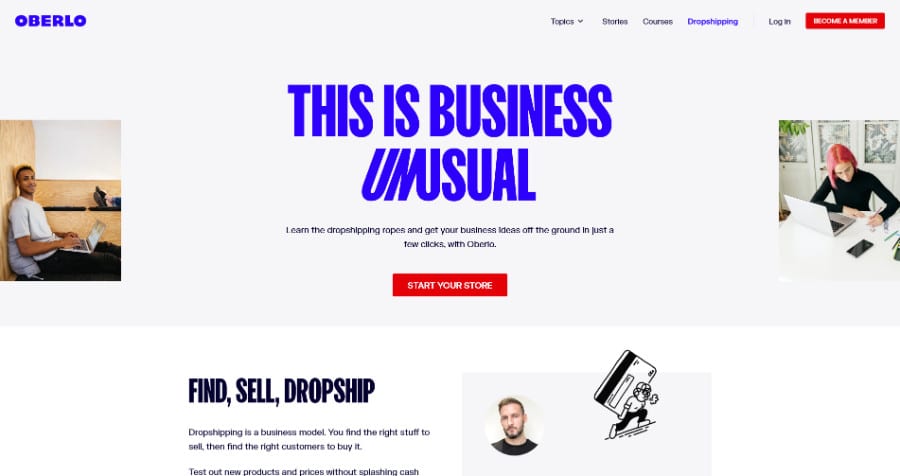 Oberlo (Download App) is the easiest way to find products and import them directly into a Shopify store, so you can start selling right away.
Oberlo makes it simple for anyone to set up an online store with AliExpress dropship products. Plus, you won't need any technical knowledge or experience importing products from China. All you'll need to do is install the app and start importing products, and when someone purchases an item the Oberlo App will automatically fulfill the order.
CJDropshipping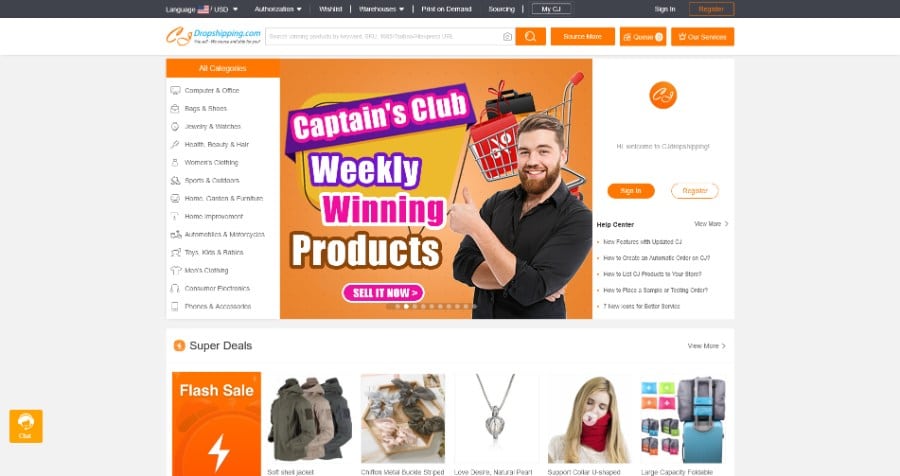 CJDropshipping (Download Now) is the best dropshipping app for Shopify. The app comes with a free sourcing service, which means that you can get started today without any risk or upfront fees.
CJDropshipping has made sourcing from China easy by providing an all-in-one solution that saves time and money while increasing your sales rate.
Their system allows users to browse thousands of products directly from their app which makes it easier than ever before to find profitable items quickly.
CJDropshipping also has local warehouses and they drop ship products directly from their USA warehouses, so you can offer your customers a select range of items that don't require overseas deliveries.
Printful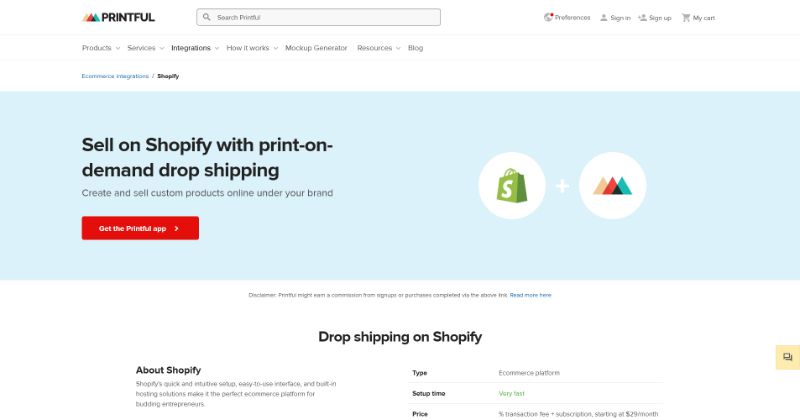 Printful (Try Now) is an all-in-one platform that makes it easy for you to sell custom merchandise online. They print your designs on demand so you never have to worry about inventory or logistics. All you do is design awesome products, add them into their system and they take care of the rest.
The Printful POD service offers a wide array of products for any aspiring entrepreneur, from T-shirts, phone cases, hats, pillows, and mugs.
Hoodies and jackets are also available in their expansive inventory of print-on-demand products as well as posters or canvas prints which can be customized with your artwork or from outsourced artists you can hire on Fiver (Free Account)
Printful charges a $29 per month subscription fee along with a small transaction fee when someone buys something from your store.
Printify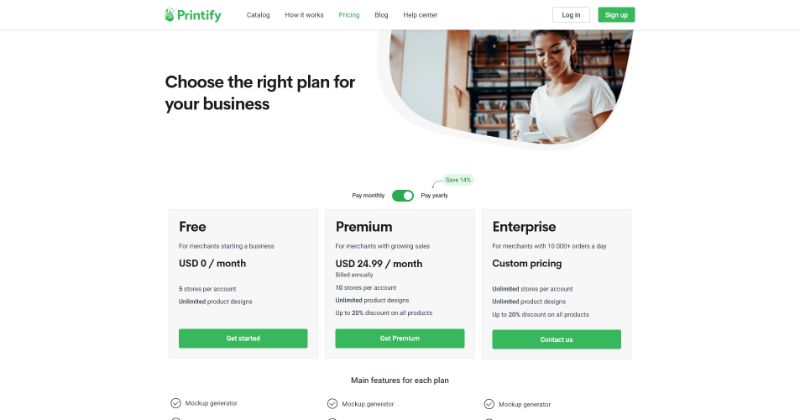 Printify (Get a Free Account) is one of the most popular print-on-demand services available today because they've mastered this model by offering high-quality printing at affordable prices that are often lower than competitors like Printful and Redbubble. Plus, their service integrates seamlessly with Shopify so you can start selling right away.
Best of all, Printify offers a free plan that supports up to 5 stores.
Click here to get started with Printify today (Free Sign Up)
How to Build a Dropshipping Store on Shopify
Do you want to start a Shopify Dropshipping store but don't know where to start? The following sections of this post will cover the basics of what you'll need to build a Shopify dropshipping store.
We'll go through everything from creating a logo and picking and registering a domain name. By following these simple steps anyone can quickly build out a professional-looking website for a new dropshipping business.
How To Create a Logo for a Dropshipping Website
If you're an entrepreneur thinking about starting a new store, and you don't have time to learn graphic design software or hire someone else to create a logo for you, there is good news.
There are plenty of websites that offer professional-quality logos for your Shopify website.
With 48HoursLogos (Start a Logo Competition) you can choose from dozens of talented designers that will create your logo, and you'll get custom designs delivered to you within 48 hours or less.
48HoursLogos has an easy-to-use online platform, which makes it simple to manage your project and communicate with every designer involved. And if you don't like any of the designs just pick another one since you don't pay the full price until you are satisfied – it's that simple.
Do you want to save time and money when creating your logo?
Canva (Free Account) is the perfect tool for you. In just a few minutes, you can have an original logo design that's completely free to download and use on your store.
Dropshipping Website Name Ideas
The domain of your eCommerce website is one of the most public-facing parts of your online business, and it deserves a name that captures the essence of your store. There are many ways to come up with great ideas for your site's domain name, but here are some tips on how to ensure you get started on the right track.
The first step in coming up with an idea is brainstorming – make sure you have your notebook out. Next, start by thinking about what words come to mind when you think about the products you're going to offer on your online store.
You want to find something that will resonate with potential shoppers and keep them interested in learning more about what sets you apart from all the other dropshipping stores out there.
Thankfully there are some websites that can help. You can use the free Shopify Domain Name Generator (Click Here)
This website name generator tool will generate up to nine unique suggestions for you based on the keywords you select.