One of the most popular and profitable clothing items to sell on Shopify are T-Shirts. With so many sellers in this niche, it can be hard to stand out from the crowd. Luckily, we've found the best free Shopify theme for T-Shirts that is a cut above the rest.
Plus, you'll also find some tips on this page on how to get started building a T-shirt shop using anyone of these free Shopify themes.
Best Free Shopify Theme for T Shirts
Apparelix Free Shopify Theme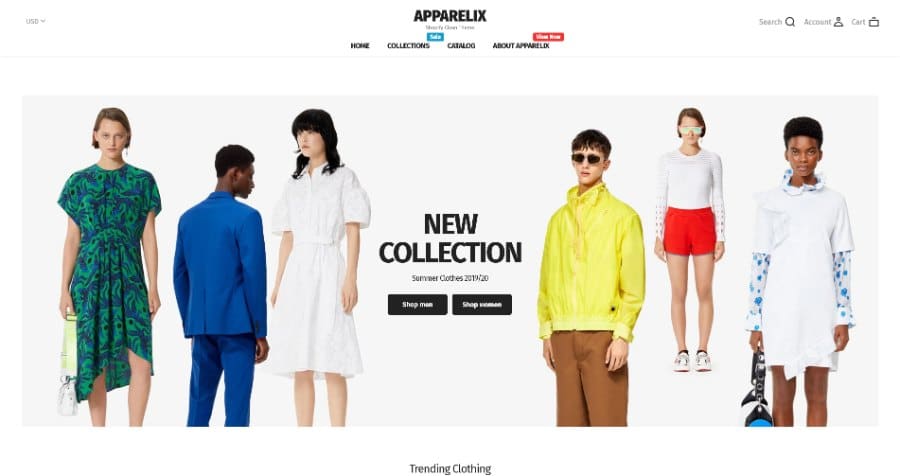 Apparelix is the best free Shopify theme for T-Shirts and clothing stores. It's designed to help you sell more T-shirts, and it comes with tons of features that you usually only get with themes that cost hundreds of dollars. You can customize every single aspect of this theme from colors to fonts to images, so you'll never have to worry about looking like everyone else in the marketplace.
The Apparelix Shopify Theme is a free theme that has been designed with the clothing industry in mind. It comes with multiple home page variations, and it also features 3 header variations, 3 footer variations, and 5 product pages to choose from.
Click this link if you want to get the Apparelix Theme now for FREE
Brock eCommerce Theme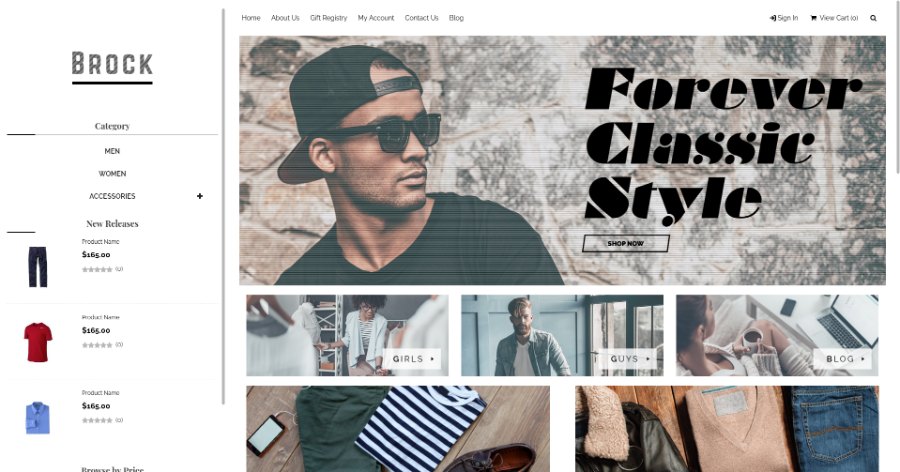 The Brock eCommerce Theme will help you create an online shop that looks great on any device, from desktop computers to mobile phones. It's perfect for online clothing stores selling T-Shirts, Hoodies, or other apparel items.
The Brock eCommerce theme makes buying clothing as easy as possible by organizing all of your products into simple categories that are neatly organized.
This theme was designed specifically with apparel businesses in mind, which means customers will feel more comfortable making their purchases knowing they have access to detailed information about each item's sizing chart and measurements before they buy.
This way no matter what size or color T-Shirt customers want, they'll be able to quickly pick out any style item without having any surprises when their order arrives
The Brock eCommerce Theme is completely free, and you can set up and run a Shift4Shop for free, unlike Shopify which will cost you at least $29.99 a month.
If you want to build a completely Free Shift4Shop eCommerce Website (Click Here)
SuitUP – Fashion Store Free Elegant Shopify Theme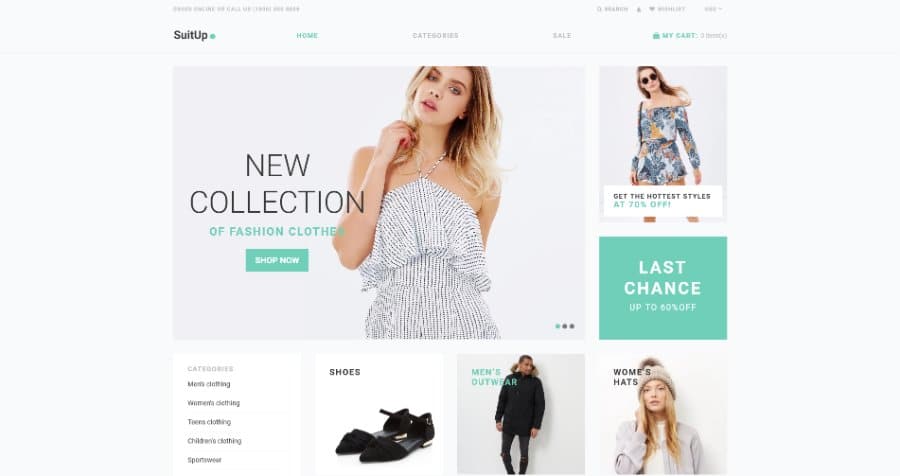 With the SuitUP Shopify Theme, you don't have to worry about a free theme that lacks functionality anymore. SuitUp has been built with the latest Bootstrap technology so it looks great on any device including desktop computers, laptops, tablets, or mobile phones. Moreover, it comes with retina-ready graphics which look sharp even on high-definition screens.
If you are looking for an awesome free Shopify theme that will help you sell more products easily then SuitUP is what you need. Best of all. this amazing theme was created specifically for eCommerce websites selling clothing items like T-Shirts, Hoodies, or Print On Demand items using Shopify apps like Printify (Learn More)
Click here now to get the SuitUP theme for FREE
Boundless Black & White Shopify Theme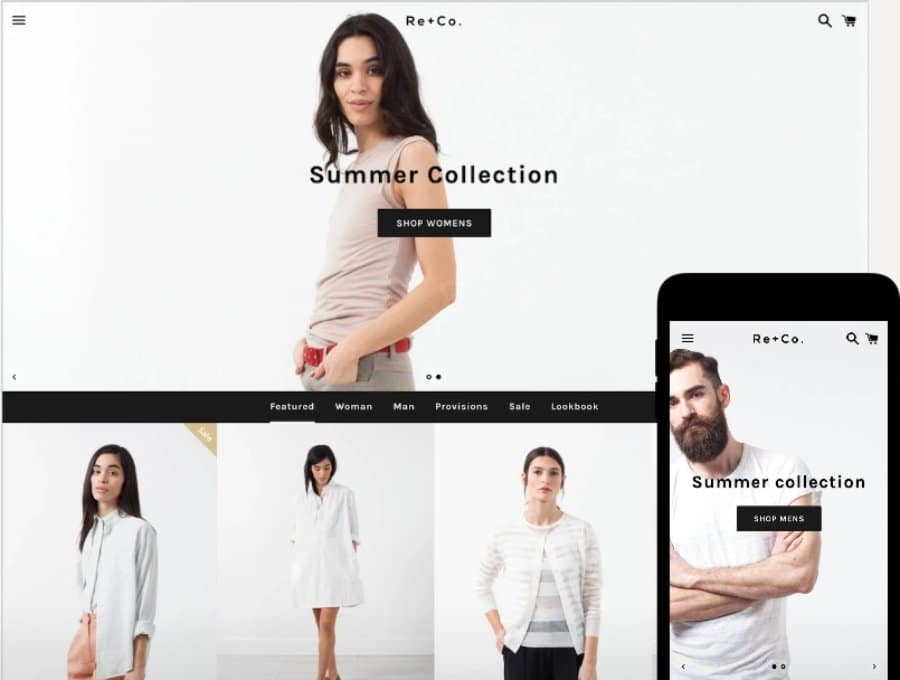 The Boundless Black & White Shopify Theme is the best free Shopify theme for T-shirts. It's designed to showcase your high-resolution product imagery, so it's perfect for selling highly detailed graphic tees
The Boundless Shopify Theme has everything you need to create an amazing online store. This theme has been designed with mobile devices in mind and can be customized easily using the powerful admin panel. It also includes features like homepage video support, sticky navigation, and a single product gallery template so you can show off your products in style.
Plus, this theme is officially supported by Shopify, so you can be confident that it will work seamlessly with your store.
Click here now to get the free Boundless Black & White Shopify Theme in the Shopify Theme Store
Best Shopify Theme for T Shirts
Urban Tee – T-Shirt Store Clean Shopify Theme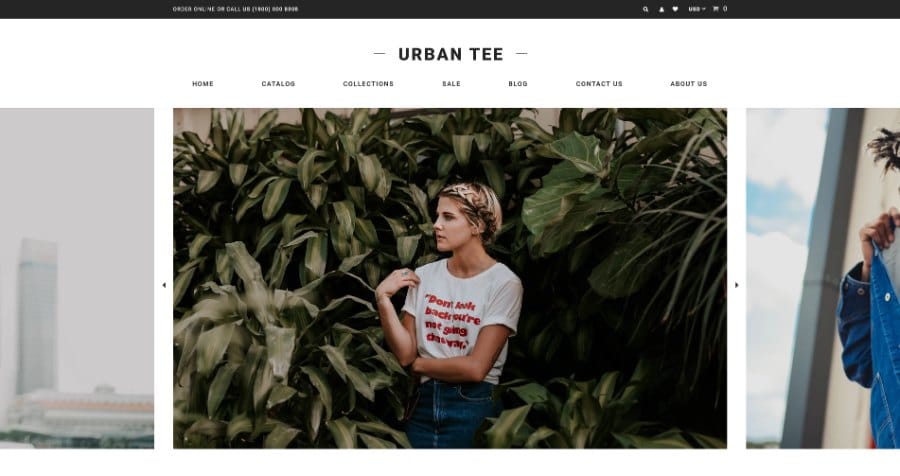 Urban Tee is the best Shopify Theme for T-Shirts on the market, and this premium Shopify theme looks great on any device, and it offers a wide range of built-in features that will have you ready to sell in no time.
Urban Tee was built from the ground up with all of the features you need to build a high converting T-Shirt store. And we highly recommend that you check out the demo site if you want to see what this theme has to offer since you need to see this theme in action to truly do it any justice.
TeeMax | Fashion & POD T-Shirt Store Shopify Theme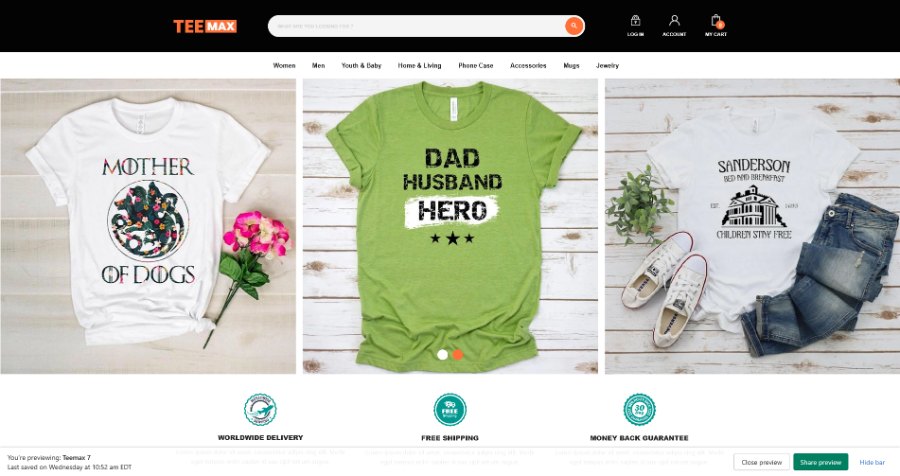 TeeMax is the best solution if you want to sell more t-shirts online by using different sales strategies like product upsells or free shipping on certain orders. This theme also supports all of the major print-on-demand apps like Printful and Printify (Free Download)
TeeMax is a premium Shopify theme that's been optimized for selling t-shirts online. It has 12 homepage layouts, cart popup, and mini cart, product upsells at checkout, autosuggest search box, and free shipping price thresholds automatically calculated at checkout, so that you can encourage your customers to increase their average cart value.
Elessi 2.0 – Responsive Shopify Theme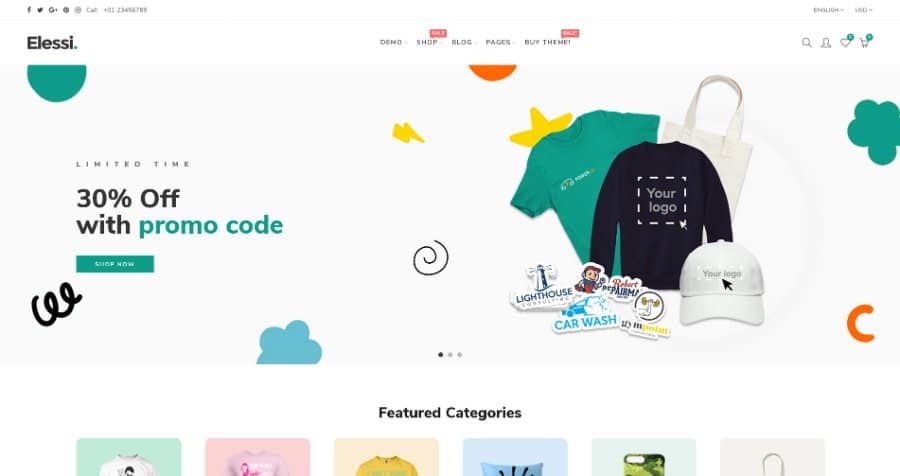 The Elessi 2.0 Shopify Theme is the best Shopify theme for t-shirts with a ton of features that will help you increase your sales and grow your store.
This theme is mobile-optimized, GDPR compliant, and it's fully compatible with the Shopify drag & drop section page builder.
This theme also features a built-in Instagram feed to help you further diversify your sales channels. It also supports product scarcity countdown timers, promo popup, flash sales, and more.
The Elessi 2.0 Shopify Theme also includes different blog styles that you can use for content marketing purposes, and the blog also has built-in features that make it easy to promote affiliate offers.
Apparel Responsive Clean Design Shopify Theme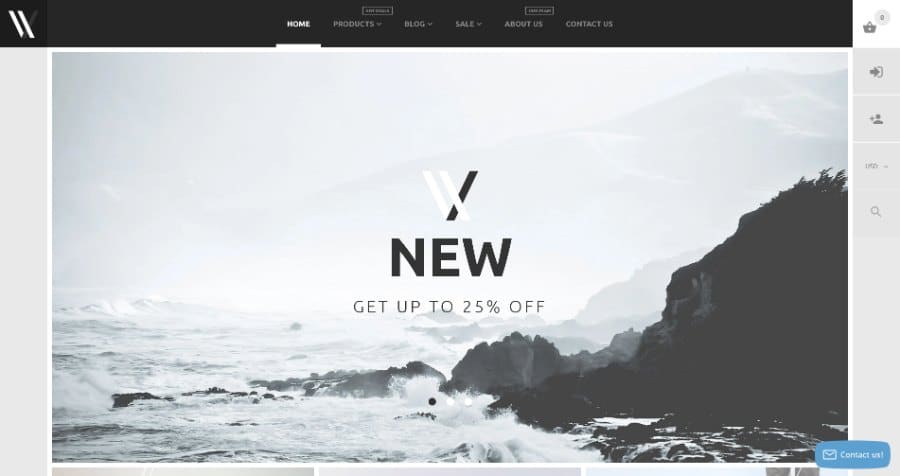 The Apparel Theme is the perfect solution if you're looking to build an online shop to sell T-Shirts on Shopify. This theme was designed with ease of use in mind so it's simple to set up and customize your site without needing any design or coding experience. This makes it ideal if you want to create a professional-looking website quickly without paying someone else thousands of dollars for custom work.
The Apparel Responsive Shopify Theme is a fully responsive theme that will work on any device, and it comes with all the features you need to make your online store look professional. It also supports all of the major print-on-demand apps like Printful and Printify (Free Shopify App) so you can sell anything from T-shirts, Hoodies, Hats, Home Goods, and more.
Flairzy Fashion Shopify Theme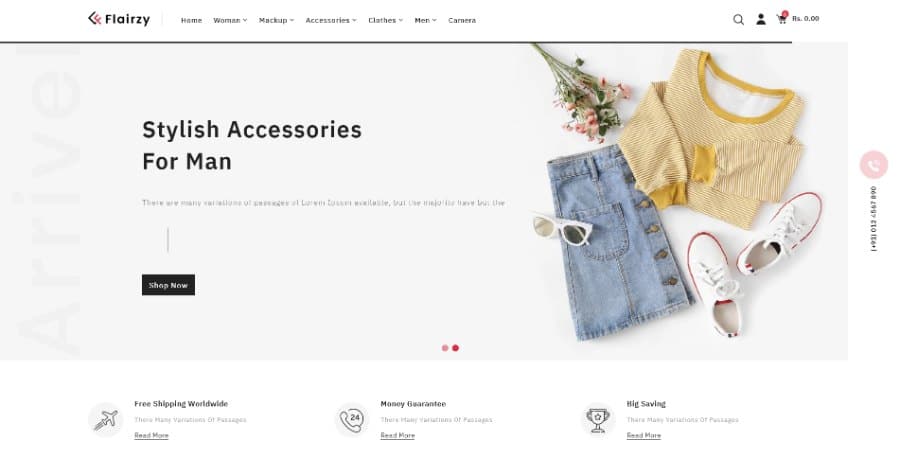 Flairzy is a Shopify theme that will help you create an amazing website for your T-shirt business. It's fully responsive and retina-ready, SEO optimized, and comes with a unique product detail page, product sorting options, one-click product Quickview, mobile-friendly layouts, and much more.
Flairzy Fashion is the best solution for fashion eCommerce websites that sell T-Shirts online. It's fully responsive and retina ready so it will look amazing on any screen size.
The product detail page has unique design elements like a cloud zoom feature and image slider as well as custom social media share icons.
This theme also includes Google rich snippet support, which can help you get more traffic from search engines by adding structured data markup to your site.
Plus, this theme features the option to add a custom testimonial section to your product pages with a review system, and this feature can increase trust with potential customers when they see some social proof from other people saying how great your products are.
T-Shirt Designs Shopify Theme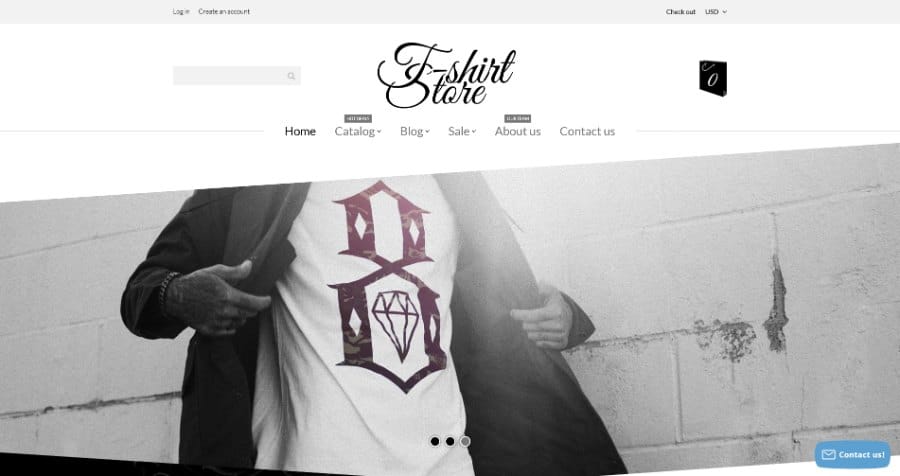 The T-Designs theme is a full-featured Shopify theme for graphic tee stores. It's designed specifically with online T-Shirt shops in mind, so you can start selling your designs immediately after installation without any hassle or headaches configuring your store.
The design options with this theme are endless, with full control over all the layouts along with the fonts and colors. Plus the responsive design means your shop will look great on every device – desktop computers, laptops, tablets, and smartphones alike.
This premium Shopify theme also comes bundled with a live chat widget so that customers can reach out directly from their browser window instead of having to go through emailing back and forth all day long before they get help from customer support.
Croin – T-shirt Multipage Clean Shopify Theme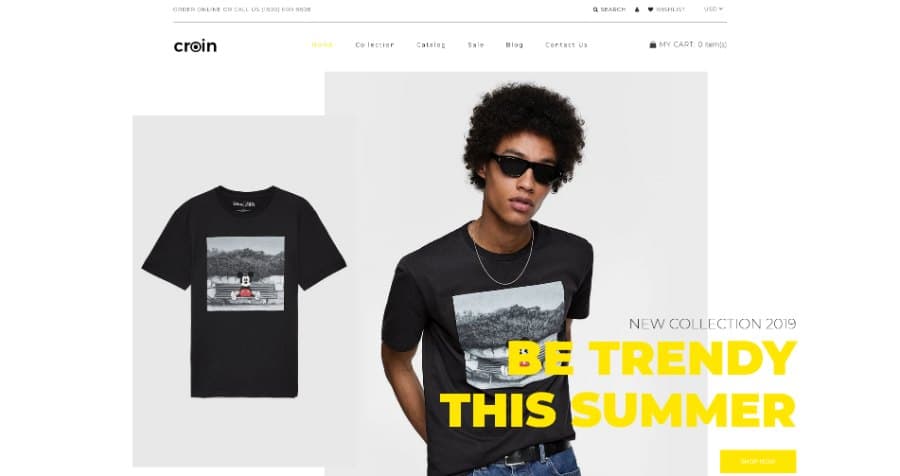 Croin is one of the best Shopify themes for t-shirts. Its clean and intuitive design allows you to put the main focus on your custom product designs without any fluff and clutter. Plus, you get dozens of pre-built pages with this theme that are fully customizable using the Shopify drag-and-drop page builder.
T-shirt Shop Responsive Shopify Theme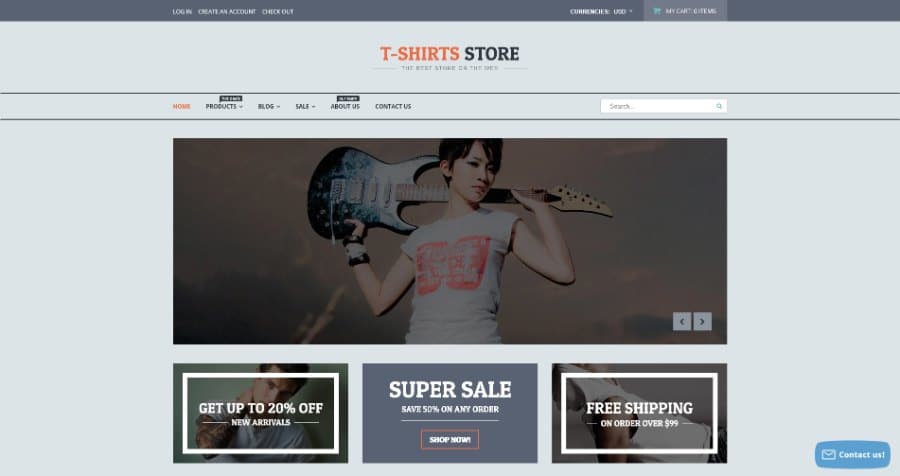 The Monster T-Shirt Shopify Theme is the perfect solution for your online store. It's designed with all of the features you need to create an attractive and functional website, including a responsive design, blog support, advanced theme options, custom dropdown menus, Google maps integration, and more. You can also choose from three different layouts – grid layout (default), list layout, or product carousels.
Plus, this theme includes web forms that will make it easier to collect customer information like a contact form, login form, and newsletter subscription form. Plus it has a built-in branded user registration form so customers can sign up on your site and create a user account to track their orders.
T90 – Fashion Responsive Shopify Theme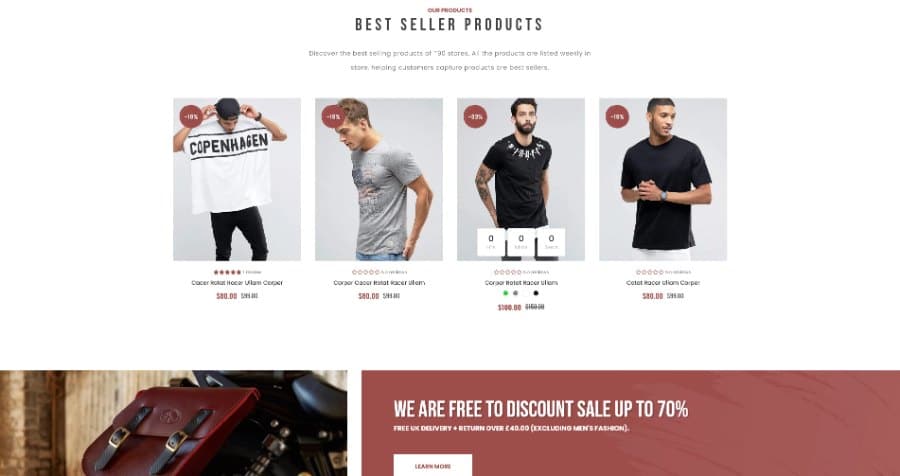 T90 is a great choice if you want to create an awesome Shopify store that will make you look like a fashion genius and attract more customers than ever before. This best-selling T-shirt Shopify theme is designed with both men's, women's, and kids' apparel in mind. It also works well for selling single products or it can even be used as a branded landing page for the T-Shirt designs that you sell on TeeSpring or Amazon Merch.
Oritina – Fashion, T Shirt & Accessories Shopify Theme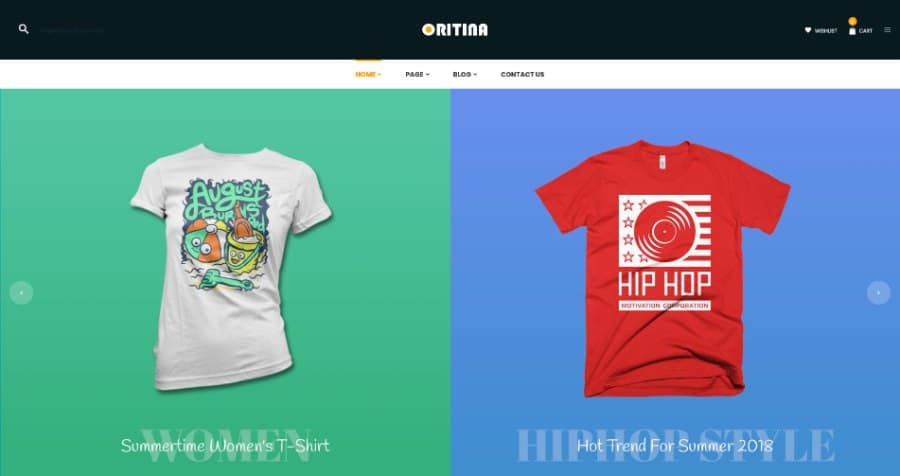 Oritina is a simple, clean, and modern t-shirt shop theme that has been specifically designed with the needs of apparel shops in mind.
This theme is optimized for visual storytelling since it features large product images that help customers easily see what they're buying before they buy it.
Oritina also works well for stores that want to showcase their products on social media platforms like Instagram or Pinterest where users tend to browse through pictures rather than reading long descriptions or scrolling through text-heavy pages.
Shopify Print-On Demand Companies
Printful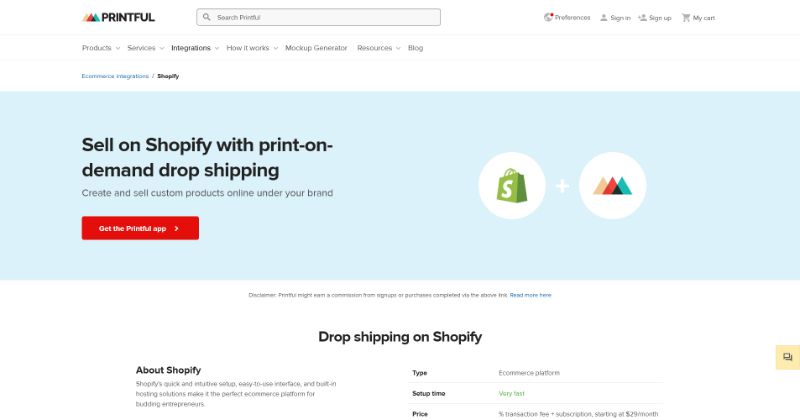 Printful (Free Download) offers a great set of tools that allow you to manage your custom T-Shirt orders from start to finish. You can easily upload designs, customize them and then order them with just one click.
Printful makes it easy for new sellers who have never produced T-Shirts before because you won't have to worry about handling the printing process or dealing with delivery issues when sending out products ordered through your Shopify store.
Printful Pricing
Printful charges a $29 per month subscription fee along with a small transaction fee when someone buys something from your store.
Printify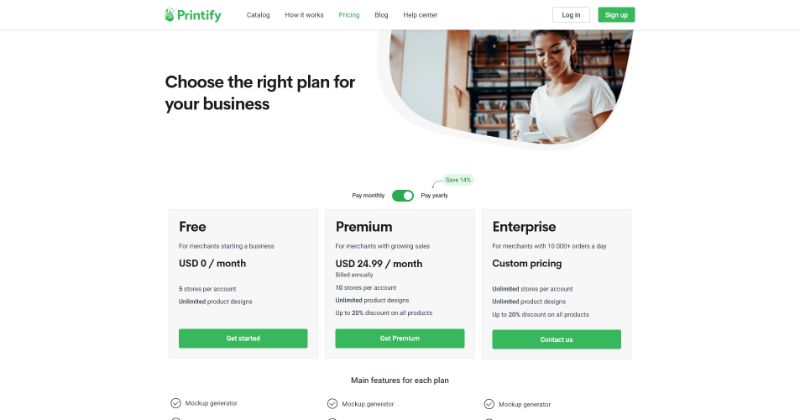 Printify (Try Free Plan) is an excellent alternative to other POD services like Printful and Teelaunch. They have a free plan that supports up to 5 stores, which makes it perfect for new Shopify store owners looking for the best deal possible.
If you're looking for a way to sell hundreds of different items in your store without having to worry about inventory management or shipping then I highly recommend using Printify's app.
Their prices are often lower than competitors and they offer excellent customer support.
Click here to get started with Printify today (Free Sign Up)
How to Build a T-Shirt Store on Shopify
Starting a T-shirt store is an easy and fun way to get into business. You don't need much more than some design skills, the right graphic software, and if you're really adventurous a few screen printing machines.
But before you start designing your first shirt, it's worth exploring what you'll need in order to build a professional-looking Shopify T-Shirt Store.
In the following sections, we'll go over some of the best places to get a Logo, Videos, Images, and a memorable domain name for your new Shopify T-Shirt store.
How To Create a Logo for a T-Shirt Store
The first thing you'll need to do to properly brand your T-Shirt store is to come up with an eye-catching logo. A successful logo should be simple, memorable and make your brand stand out from the competition.
Here are some tips for creating an effective logo that will get people to remember your brand.
First, choose 2 or 3 words from the name of your business to use in the design. This will help create a cohesive look among all of your promotional materials and products.
Next, use fonts that are easy to read at small sizes like sans serifs, but avoid script fonts or anything too decorative.
Lastly, don't forget to include some kind of graphic element like an icon or symbol that ties into your brand's core offerings.
Logo Design
48HoursLogos (View Price) is an excellent design service if you don't want to do all the logo design work yourself. Their large team of logo designers will quickly design multiple logos for your site in under 48-hours for a small fee, and you can pick out the one you like before you buy the logo outright.
Alternatively, if you want an easy free way to create your own logo you can try out Canva's Logo Designer (Click Here for a Free Account)
Videos for T-Shirt Stores
Are you looking for a way to improve your eCommerce store's conversion rate? One of the best ways is through visual marketing. Stock video footage can be used in many ways on your storefront, including product videos, testimonials, and more.
Envato Elements (View Price) gives you access to unlimited premium stock video clips and graphics that are perfect for adding a professional touch to your eCommerce site. These videos can be used in marketing ads on social media sites or as part of an engaging YouTube Channel with no restrictions.
T-Shirt Store Website Name Ideas
When you are in the process of coming up with a name for your T-shirt store, it can be hard to pick something just right.
And we all know that there are so many factors that go into choosing the perfect name it can lead to a prolonged period of wasted time due to procrastination
Plus, in some cases, the domain name you want might already be taken which can make you have to reassess your whole branding strategy.
If you ever need help coming up with a website name idea you can use the Shopify Domain Name Generator (Try Now)
This handy little app will give you tons of great business names and domains to choose from so you can quickly find one that's perfect for your T-Shirt Store