If you're using Shopify as your eCommerce platform, and are looking for a way to integrate Amazon into your business, then you're in the right place. On this page, we'll take a look at the best Shopify Amazon integrations currently available. Read on to learn more!
Best Shopify Amazon Integration
Amazon by Codisto

Amazon by Codisto is one of the best Shopify Amazon integrations out there. It lets you connect your Shopify store directly to any Amazon marketplace, so you can manage your product listings and inventory, as well as receive orders from Amazon customers and fulfill them directly from Shopify. Amazon by Codisto also syncs your inventory in real-time, so you never have to worry about over-selling or under-stocking products. Plus, this app has built-in support for Amazon SEO fields that make it easy to optimize your listings for better visibility on Amazon.
If you're looking for a comprehensive Amazon integration solution for your Shopify store, try out Amazon by Codisto (Click Here)
Amazon Integration Plus

Amazon Integration Plus will automatically keep your Amazon stock updated with your Shopify store. It supports product variants and shipping fees per item, category, or on all products. You can also markup your products by percentage or value, so you always know how much profit you're making. And Amazon Integration Plus also handles automatic currency conversions and it even supports GTIN code exempted products.
So if you're looking for the best Amazon integration for Shopify, try out Amazon Integration Plus (Click Here)
Amazon by CedCommerce

Amazon by CedCommerce is an app that allows Shopify merchants to connect their Amazon and Shopify accounts, synchronizing their listings between the two platforms. This app also supports multiple Amazon accounts, making it easy for Amazon sellers to manage their inventory across multiple Amazon Marketplaces.
In addition, Amazon by CedCommerce provides product templates and listing creation tools to help Amazon sellers quickly create and manage their listings. Plus, this app tracks inventory in near real-time, making it easy for Amazon sellers to keep track of their stock levels.
Overall, Amazon by CedCommerce is a valuable tool for Amazon sellers who want to maintain a coordinated inventory system across their Shopify and Amazon stores.
Amazon FBA Shipping

Amazon FBAShipping provides real-time shipping quotes from Amazon FBA to your Shopify customers. And with Amazon FBAShipping, you can have your products shipped from Amazon warehouses to your customers without having to worry about the fulfillment process.
Amazon FBAShipping makes it easy to connect all of your US and non-US Amazon FBA accounts to your Shopify store, and Amazon FBAShipping will automatically switch FBA accounts according to your customers' shipping address.
Amazon FBAShipping is a simple and efficient way to fulfill your orders, and it is an excellent choice for businesses that want to focus on marketing and selling products instead of dealing with logistics.
Sellbrite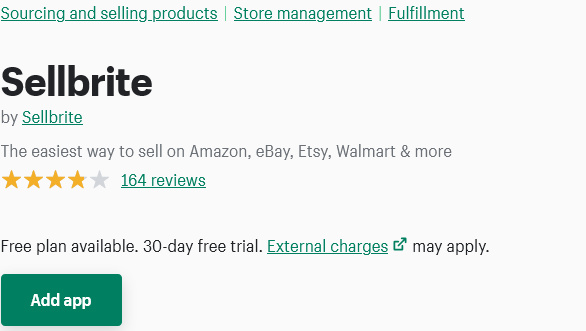 Sellbrite is a multi-channel Shopify app, that helps brands increase their sales by making it easy to list and sell products on the world's top eCommerce sites, like Amazon, eBay, Walmart, Etsy, and more. Unlike other Shopify Amazon integrations that focus on a single sales channel, Sellbrite was built to help brands take advantage of the booming trend of multi-channel distribution. So no matter where your customers are shopping, you'll always have the latest information at your fingertips. Want to learn more? Check out Sellbrite (Click Here)
Spreadr App – Amazon Importer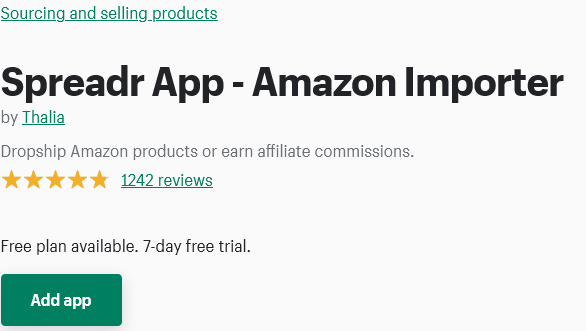 The Spreadr app for Shopify is the easiest way to add Amazon Associates product listings to your store. If you're looking for an easy way to make commissions on Amazon products from your Shopify store, Spreadr is a great way to increase the size of your product catalog while also increasing your profits.
BNB APP: Amazon Buy Now Button

BNB APP: Amazon Buy Now Button is a great way to add buy now buttons to product pages that link to multiple eCommerce platforms. With this app, you can link to your products on those platforms or make affiliate commissions on sales. This gives your customers more choices, and it allows you to make money on visitors that viewed a product in your store but made their final purchase on Amazon.
Amazon Import Shopify App

The Amazon Import Shopify App lets you import your product catalog from Amazon to Shopify. This is a great app for those who want to move their business from Amazon to Shopify, or for those who want to sell on both platforms. The app is very easy to use and can be set up in minutes. Once the app is installed, you can start importing your products from Amazon with just a few clicks. The app will automatically match your Amazon products with the corresponding products on Shopify, and will also update your inventory levels in real-time.
EzApp Amazon Reviews & Ali Reviews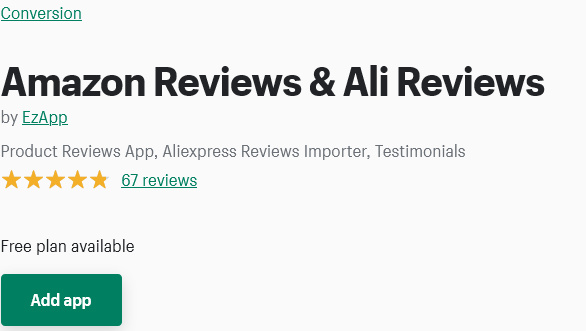 EzApp Amazon Reviews & Ali Reviews lets you get product reviews from Aliexpress. It works with any theme and is mobile-friendly. You can customize the widget colors, font, size, and position. EzApp also supports SEO review schema so you can display your product reviews & ratings on search results.
Amazon Connectr & FBA Sync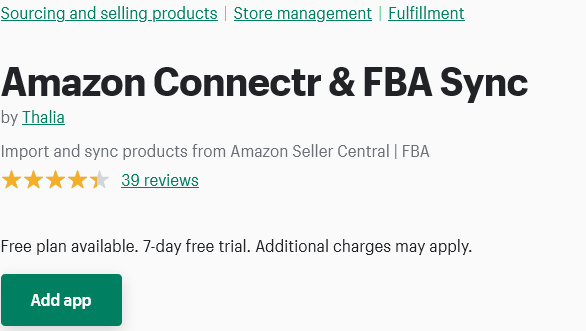 Amazon Connectr is a cloud-based app that integrates with Amazon Merchant accounts to help store relevant product information and push it to Shopify. This way, you can keep your Amazon and Shopify products in sync, making it easy to fulfill orders via Amazon Fulfillment. Amazon Connectr also allows you to ship Shopify orders via FBA, even for products that are not pulled into the app. As a result, Amazon Connectr can save you time and hassle by keeping your Amazon and Shopify inventory aligned.
Nembol – eBay Amazon Etsy sync

Nembol is an app that lets you post your products to multiple channels, including eBay, Amazon, Etsy, Facebook, Google Shopping, and WooCommerce. Nembol syncs inventory and sales across all of your channels, so you can focus on running your business instead of managing multiple platforms.
Amazon Associate Connector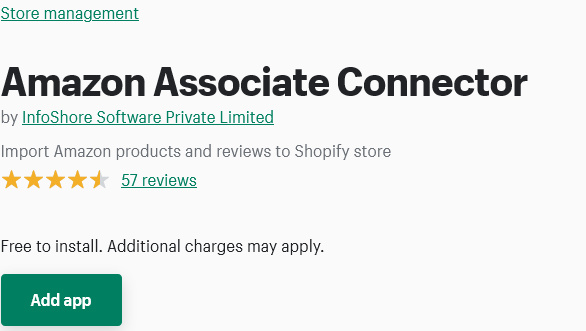 Amazon Associate Connector is a simple, yet powerful tool that allows you to connect your Amazon Associates account to your Shopify store in just a few clicks. With this tool, you can automatically import products from Amazon into your Shopify store, and manage them seamlessly from one platform.
Does Shopify Integrate with Amazon
Shopify does not directly integrate with Amazon, but there are a number of Shopify Amazon Integration apps that allow you to connect the two platforms.
Can you Link Shopify To Amazon?
You can use an Amazon integration app to easily connect your Shopify store to Amazon. This can be a great way to streamline your eCommerce operation and sell products on both platforms.
Does Shopify Sync with Amazon
Using an Amazon integration app you can sync your shop's inventory and orders with Amazon. This can save you a lot of time and effort, as you won't need to manually update your Amazon listings or fulfill orders yourself.
Can Amazon Fulfill Shopify Orders
You can use an Amazon FBA Shopify integration to have Amazon fulfill your Shopify orders. This will allow you to take advantage of Amazon's logistical capabilities and shipping rates while maintaining control over your Shopify product catalog and branding.
Can You Sell Amazon Products on Shopify
You can sell Amazon products on Shopify. You can either dropship the products, meaning that you don't keep any inventory and instead have the product shipped directly from Amazon to your customer, or you can sell your own products that you have sourced and stocked yourself. Additionally, you can make affiliate sales through Amazon's affiliate program.
Can I Dropship from Amazon to Shopify
You can dropship products from Amazon from a Shopify store. There are a couple of different ways to do this, and it really just depends on what's most convenient for you. You can either use a third-party service or manually add products one by one.