In this article, we are going to review the best Shopify themes for print on demand stores. You'll also find our recommendations for the best print-on-demand Shopify Apps towards the end of this article.
As an entrepreneur, you know that the first step in any venture is to make a great product. One of the most difficult steps is figuring out how to get your product into people's hands. Print on demand has become one of the go-to solutions for entrepreneurs because it offers affordable and fast production with no minimum order requirements.
For those looking to launch their own print-on-demand business, choosing the right Shopify theme can be difficult especially when there are so many options available.
That's why we've compiled this list of the best Shopify themes for print-on-demand products, so you can quickly get your store up and running on a theme that has all the features you need to build a successful print-on-demand store on the Shopify eCommerce Platform.
Best Shopify Theme for Print on Demand
Printanet – Accessories Online Store Shopify Theme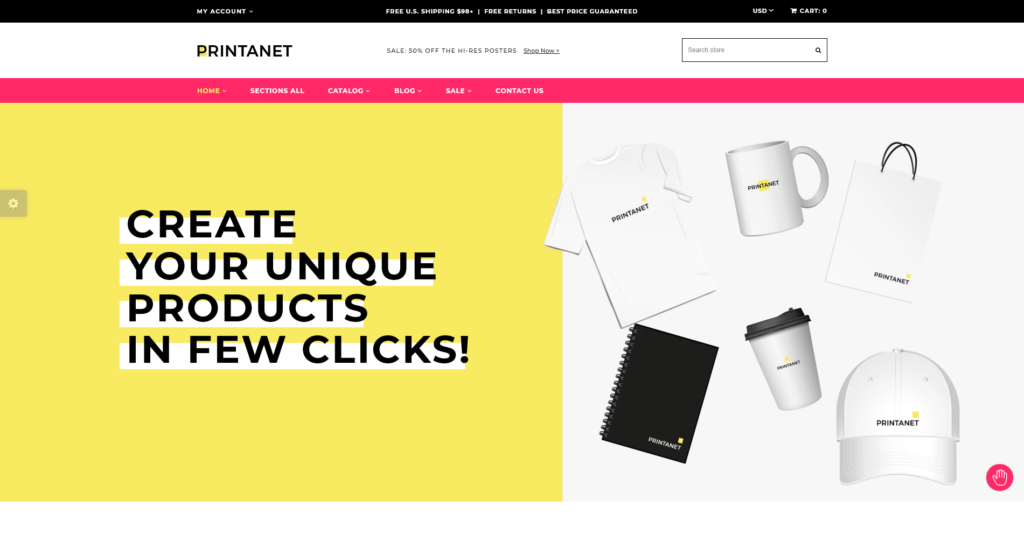 Printanet is the best Shopify theme for print on demand stores. With this template, you'll be able to create an amazing website that looks professional and has all the features you'll need to set up a fully interactive print-on-demand eCommerce website on Shopify. Plus, it has a responsive admin panel that makes it easy to manage your Shopify site on any device.
Printanet is the perfect Shopify theme for selling customizable print on demand products. With this theme, customers can create custom products by placing their own pictures on items using a fully interactive print-on-demand product builder with just a few clicks or finger taps.
The Printanet Shopify Theme has everything you need to make your store look professional and modern, and you can customize it to fit your brand's identity with ease. It also includes features like product carousels, pop-up windows, and galleries so you can showcase all of your products in style.
The Printanet theme also features customizable mega menus so visitors can easily navigate your site. It also includes a full set of premium features including pop-up windows with newsletter subscriptions, product promotion banners, galleries with text overlays, Instagram Product Feeds, and you can embed YouTube videos to demonstrate and promote your print-on-demand products.
Minimal Vintage Shopify Theme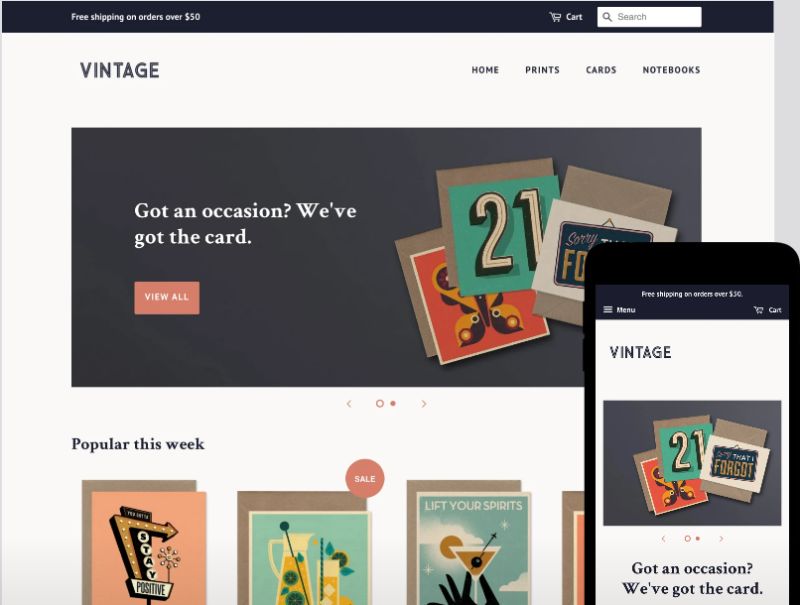 The Minimal Shopify Theme is one of the best free Shopify themes for print-on-demand stores. It's included with a Shopify subscription and it's officially backed and supported by Shopify. This theme includes a custom slideshow to showcase designs, services, and popular products.
If you want to try out the Minimal Shopify Theme (Click Here – 14-Day Free Trial)
TeeMax | Fashion & POD T-Shirt Store Shopify Theme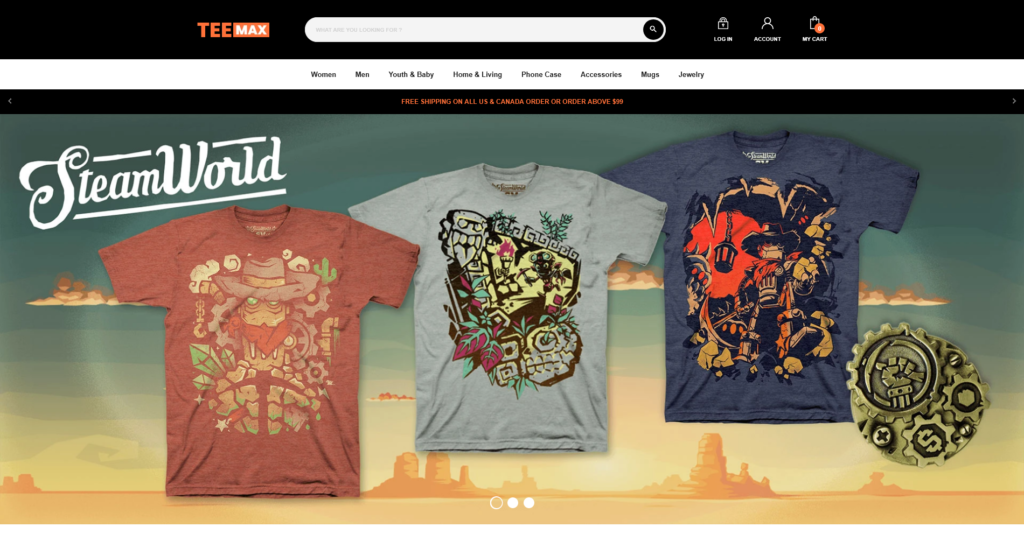 TeeMax is the perfect theme if you want to build an online store that will stand out from the competition. It's designed specifically with t-shirts, clothes, jewelry, and other items in mind. With 12 homepages available in different styles, there's something for everyone.
TeeMax comes with all of the features you need to run a successful lifestyle brand – like social widgets so customers can share their purchases on Facebook, Twitter, or Instagram where they can take pictures of themselves wearing their favorite shirt and post them directly from your site.
To top it all off TeeMax has multi-currency support, Oberlo compatibility, a fully interactive AJAX Shopping Cart, and it also works internationally since it offers multi-language support.
Shopence – Printing Shop & Printing Company Shopify Theme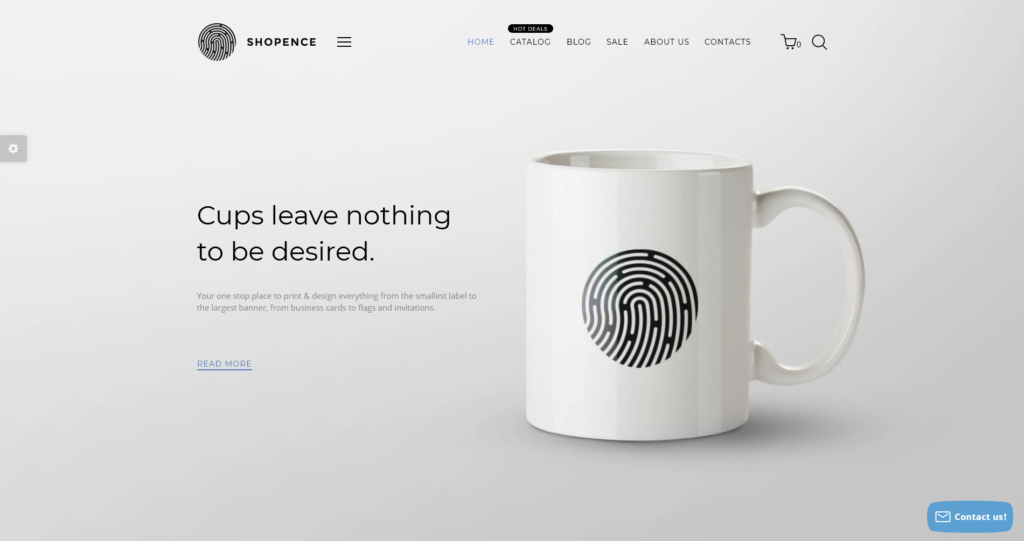 Shopence is a clean and simple modern Shopify theme for your print on demand store. The design of this theme is perfect for any business that needs to sell one-of-a-kind custom products online.
Shopence is easy to customize and comes with a full set of premium features like a responsive admin panel, online chat, accordion dropdown menus, Google Maps Integration, and advanced theme customization options.
Shopence Printing Company Theme offers everything you need to run a professional e-commerce site at an affordable price. With this theme, you can start your business right away without having to struggle to get a theme to work that's not made for a print-on-demand eCommerce site. Instead, all you'll need to do is just install Shopence and focus on building a thriving print-on-demand business on Shopify.
Master Print – Print Shop Shopify Theme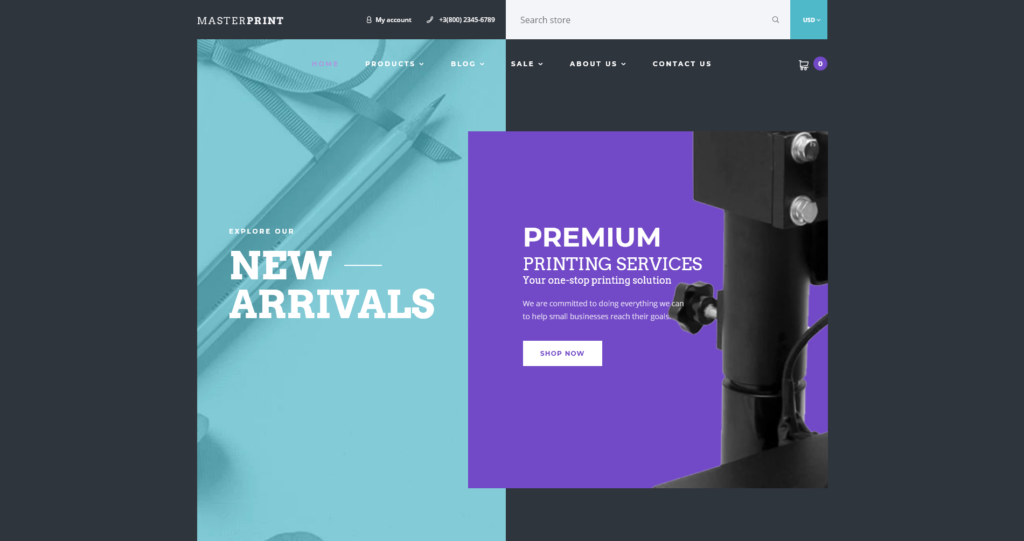 Master Print is the perfect theme for your print-on-demand website. It has everything you need to showcase your business and increase sales. With its clean design, powerful control panel, and a built-in pop-up window with upsell options, it's easy to see why this is the best Shopify theme for print on demand businesses.
With this theme, you can easily customize your site with its powerful control panel that lets you quickly adjust any elements on your site. You'll have access to various headers, product search with autocomplete function, increase sales with a built-in pop-up window with cross-sale options, and ready-made page layouts for categories, product pages, and a blog.
The Master Print Shopify Theme also includes a countdown timer which allows customers to know when they should place their order in to get it before Christmas or before a sale closes out.
These promotional features are great because they allow customers to purchase additional products at discounted prices while browsing your website. Lastly, the blog section incorporated in this theme can also be used to provide information about new products or upcoming events that might interest potential customers, and every part of this theme has been SEO optimized so people can find your listings and blog posts on Google.
TEEPRO – T-shirt Printing And Dropshipping Shopify Theme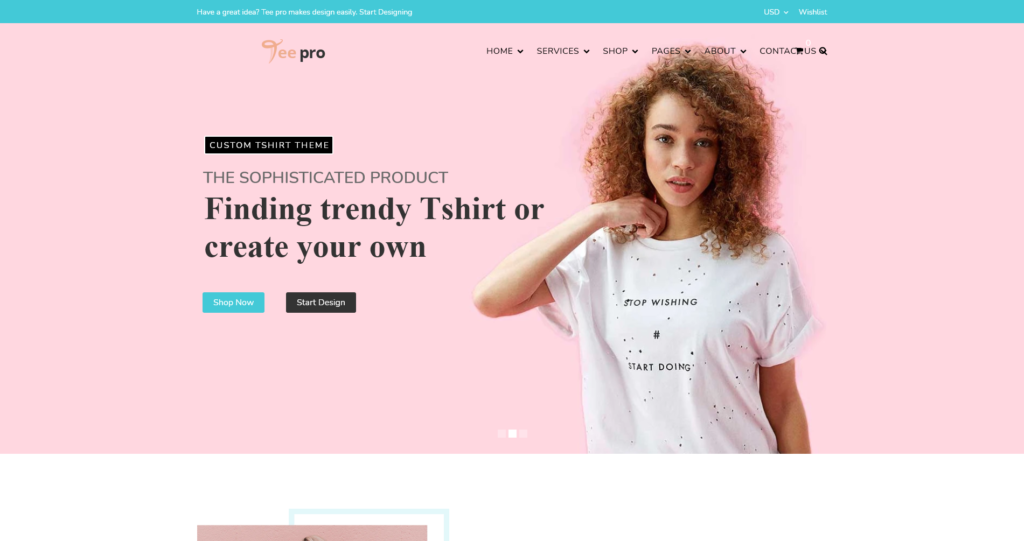 TEEPRO is one of the best Shopify themes for print on demand stores. It's fully customizable with color pickers, font selectors, and more. You'll also love its responsive design and one-page checkout that increases conversion rates by reducing cart abandonment.
With this amazing theme, designing t-shirts is as simple as using the online designer tool. Your customers will love creating their own designs using the TEEPRO Print Shop. The Online Designer tool lets customers create their personalized products using their own photos and images on their tablet, desktop, laptop, or mobile phone.
The TEEPRO Theme also supports One Page Checkout. This fast checkout process can help increase conversions by reducing the number of steps needed to purchase a product. This feature alone can help reduce cart abandonment and increase a customer's cart value.
Overall, TeePro is one of the best Shopify themes if you want to sell personalized print-on-demand products on Shopify.
TeePerfect – The best choice for business T-shirts, Printed Products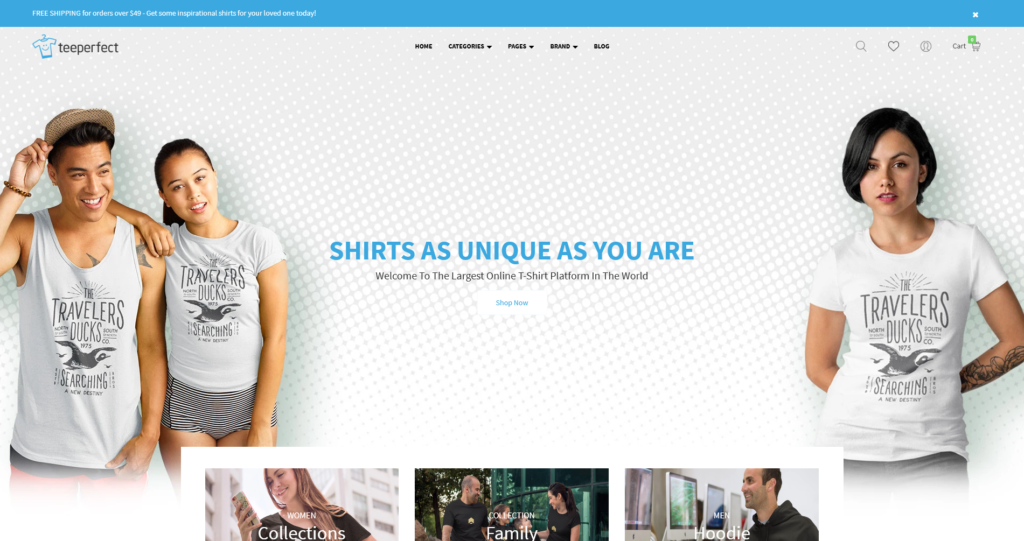 TeePerfect has everything you need to get started in one place from professional templates, SEO-ready code, banner sliders, product carousels, and more. It's all designed with a modern style and beautiful interface so your store can be as unique as you are
TeePerfect is one of the best choices for selling t-shirts and printed products. It also offers free support and updates as well as a fully responsive design that looks great on any device. Plus, with banner sliders and custom animation features, your print-on-demand shop will be ready to go in no time. You can also choose from over 500 Google fonts to make your store's typography unique, and it's fully SEO optimized that will drive free traffic to the listings on your site.
Modern Print Solutions Shopify Theme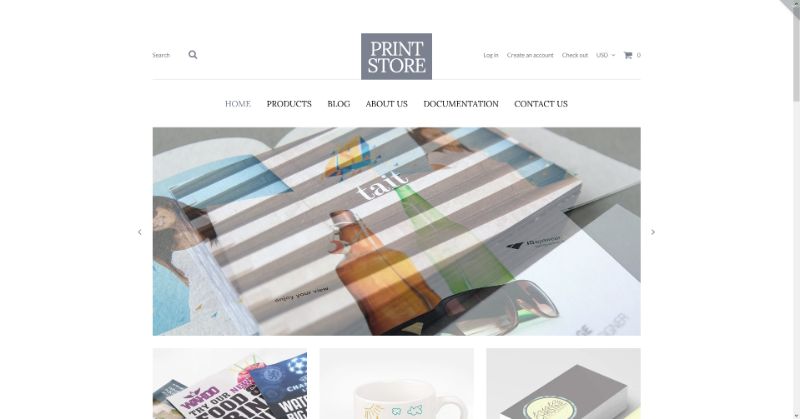 The Modern Print Solutions Shopify Theme is compatible with all of your favorite print-on-demand services, and it has been designed from the ground up for selling print-on-demand products online. This means setting up a print-on-demand shop with this theme will be a breeze!
All you'll need to do to get this theme up and running is install any one of the popular print-on-demand Apps like Printify (Free Account), then upload your design files. Best of all you can even use this theme without any customization at all if you want to test out your market before building out a fully branded print-on-demand store.
Printex – Print Shop Multipage Modern Shopify Theme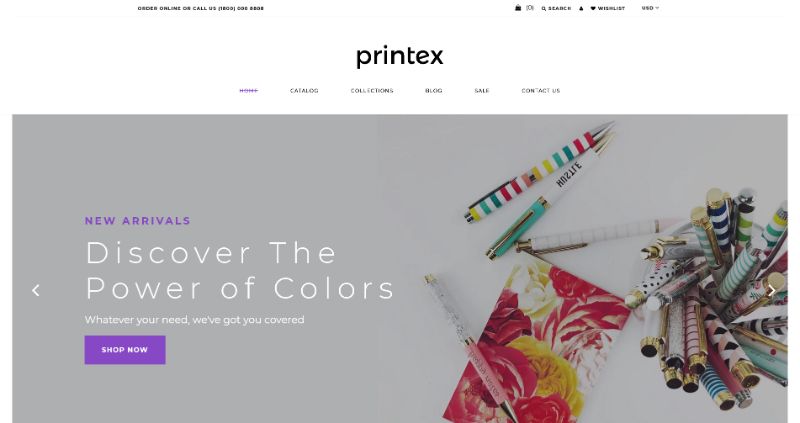 The Printex Print Shop Theme is the best Shopify theme for print on demand stores. It's perfect if you want to sell one-of-a-kind items, or you can even use it to sell wholesale print-on-demand products to corporate clients.
This theme has been designed with creatives in mind so it's easy to use, intuitively laid out, and beautifully designed. You can customize your site with ease thanks to the powerful admin panel that lets you change colors, fonts, layouts – everything!
With this theme, you get access to all of the features that make up a modern eCommerce store like product pages with multiple images per item as well as customer reviews on every page.
If You Want To Learn More About The The Printex Print Shop Theme (Click Here)
Vanity Shop – Shopify Theme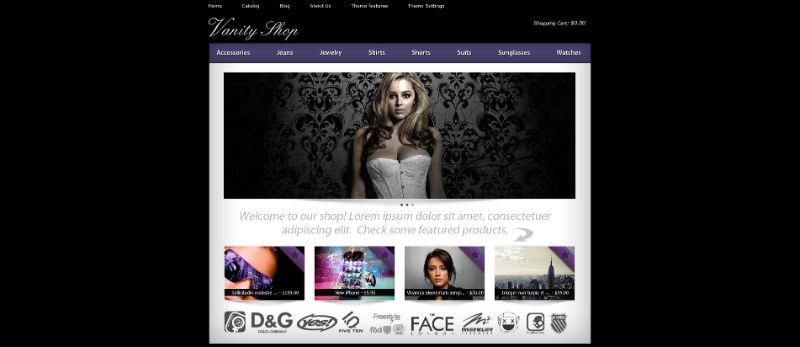 The Vanity Shop is the best Shopify Theme for selling custom-printed products. It has a clean and simple design that will let you create a beautiful online shop with ease. This theme includes all of the features necessary to run an eCommerce business, including product pages, blog posts, collections, and more! You can also customize this template with your own brand colors and fonts.
Intra Art – Multi-purpose Shopify Theme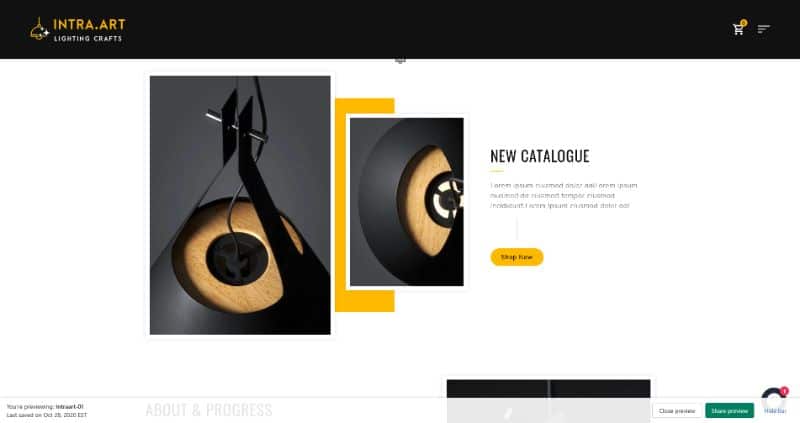 Intra Art is the perfect Shopify Theme for your online store. It's designed to be user-friendly and simple, but it also has some really cool features that will help you build a beautiful store. The Intra Art Theme comes with 5+ Custom Layouts, Tabular Products, Custom Font Libraries, Blog Layouts and it's fully SEO Optimized. Best of all, you can use this theme with print-on-demand services like Printify or Printful (Learn More)
Minimosa – Art & Design Studio – Shopify Multi purpose Responsive Theme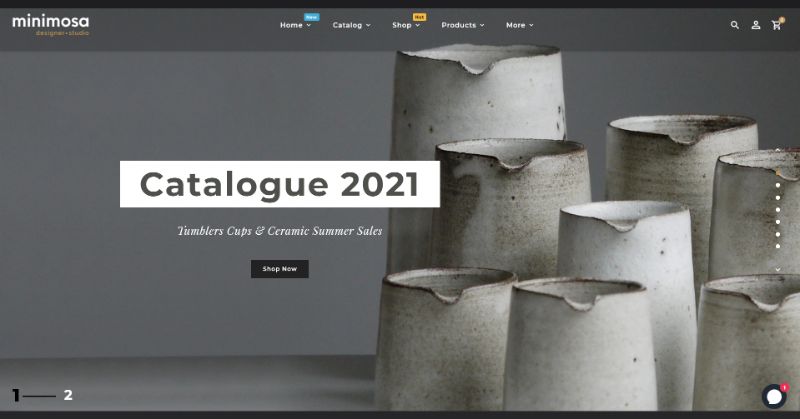 The Minimosa Art & Design Shopify Theme is the perfect theme for any artist, designer, or creative person. It's built with creativity in mind and it has all of the features that you need to run your business. This theme includes most of the same features as the Intra Art Theme, but it has its own unique design that you can view for yourself by trying out the demo site.
Nesos – Multipurpose Shopify Sections Theme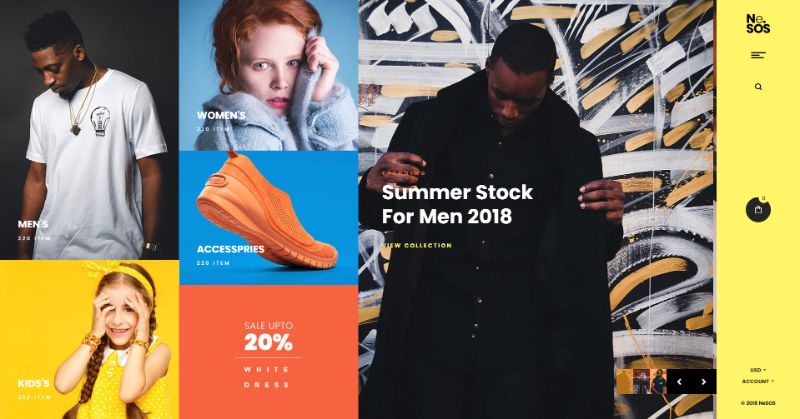 The Nesos Multipurpose Shopify Theme is the perfect solution if you're looking to create a store with many different types of products. It features over 55 pre-built homepages, 8+ product layouts, blog templates, and multiple Shopify sections ready blocks. The Nesos Multipurpose Shopify Theme also comes with creative inner pages and a unique blog layout.
This multipurpose theme will allow you to build your dream store without any limitations on what type of products you want to sell! With this theme's flexibility, it can be used as an eCommerce site for selling products that require extensive customization options.
UNO – Multi Store Responsive Shopify Theme

The UNO Multi Store Responsive Shopify Theme is the perfect solution for any kind of eCommerce store. It has a clean modern design, it's lightweight, and it's very easy to customize. That makes it a great starting point if you want to stock your store with a wide range of print-on-demand products. You also don't have to choose between selling physical or digital products with UNO because this theme does both.
Best Free Shopify Alternative
Molten Print Shop Website Template – Shift4Shop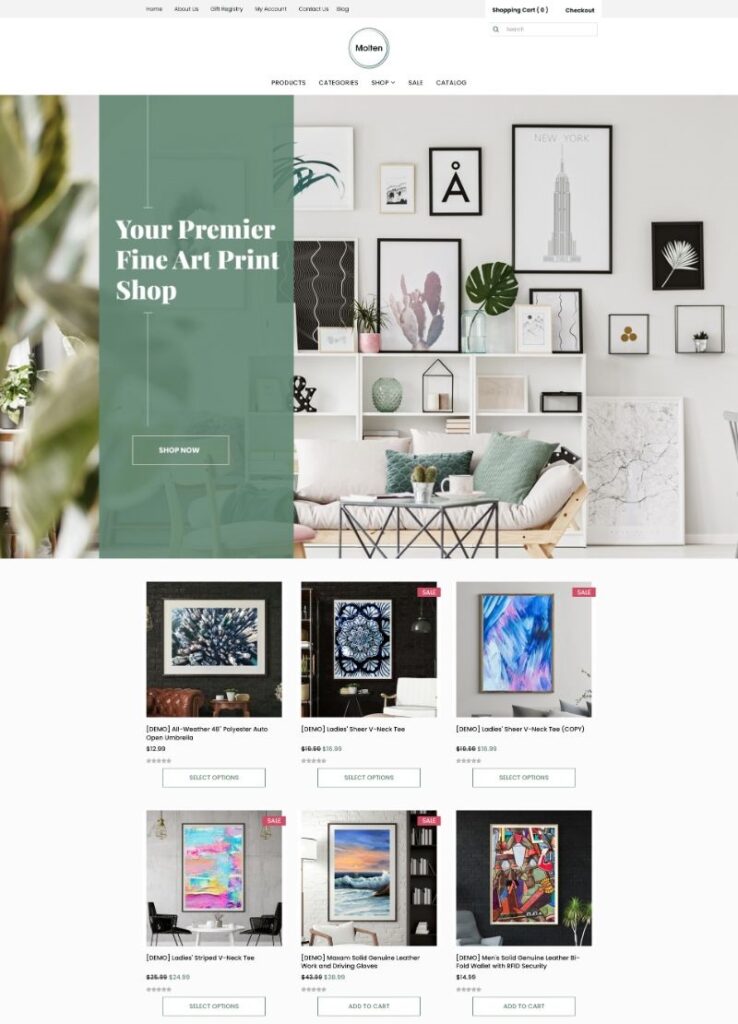 The Molten Print Shop Theme is a free website template for print-on-demand businesses. It features an intuitive, mobile-friendly design with a clean minimalist aesthetic and large product images to showcase your custom designs.
Running a Shift4Shop will only cost you $0/month, unlike Shopify that charges $29.99/month per store or more, making it one of the best options if you're looking to set up your first eCommerce Shop.
If you want to build a completely Free Shift4Shop eCommerce Website (Click Here)
Best Shopify Print-On-Demand Apps
Printful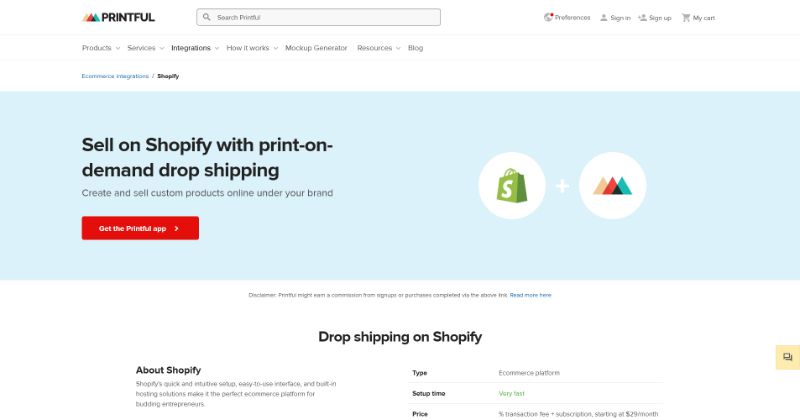 Printful (Shopify App) is one of the most popular print services on the Shopify App Store. With Printful you can quickly order hundreds of products, including posters, canvas prints, t-shirts, hats, and mugs right from your Shopify store with just a few clicks.
Printful offers many different types of products that are perfect for any type of print-on-demand entrepreneurs such as T-Shirts Hats Mugs Hoodies Jackets Backpacks Posters & Canvas Prints And more…
Printful charges a $29 per month subscription fee along with a small transaction fee when someone buys something from your store.
Printify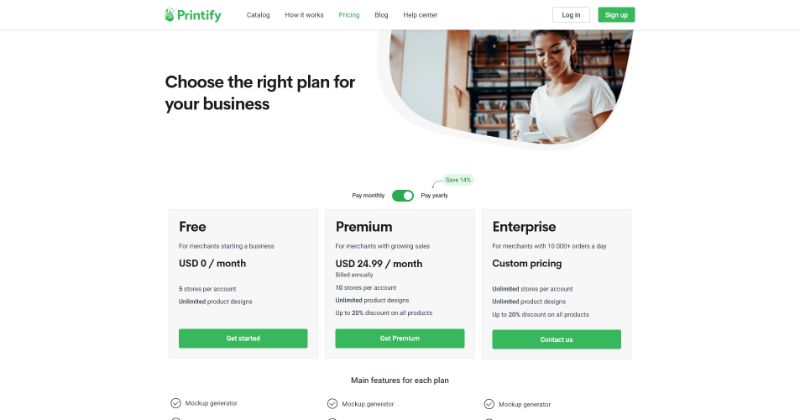 Printify (Try Free Plan) is an excellent print-on-demand service that integrates with Shopify. With Printify, you can sell hundreds of different items and their prices are often lower than other print-on-demand services like Printful.
Best of all, Printify offers a free plan that supports up to 5 stores!
Click here to get started with Printify today (Free Sign Up)
How to Build a Print-On-Demand Store on Shopify
When it comes to starting a business, there are many different options. It can be overwhelming when you start looking at all the possibilities and deciding what path is best for your company. One popular option that entrepreneurs often choose is print-on-demand (or POD)
For entrepreneurs, there are many benefits to using Shopify to build a print-on-demand store. One of the biggest benefits is that it's fairly easy to set up, and you can have your own online store up and running with just a few clicks. Plus, you'll have access to all kinds of apps and extensions that will help you customize and expand the functionality of your online store.
Shopify makes it easy for anyone to start a print-on-demand business, but there are some things that Shopify doesn't provide like a Logo, Graphics, and Videos.
In the following section, we'll go over some of the best places to get a logo designed for your new print-on-demand store.
How To Create a Logo for a Print-On-Demand Website
Creating a logo for a print-on-demand website can be very time-consuming. If you're not an artist or a designer it's hard to create something that looks good and is also unique.
Most people don't have the time, money, or skills to make a professional-looking logo for their business. This means they end up with bad logos that look amateurish and cheap.
The best way to get a professional logo at an affordable price is 48HoursLogos (View Price). This service offers professional design services from real graphic designers; that make sure your new logo looks great on business cards, social media profiles, and websites – even if your budget isn't huge.
If you already have a logo in mind, or if you want to create your own logo for free, you can use Canva (Click Here for a Free Account)
Free Videos for a Print-On-Demand Website
Do you need videos on your print-on-demand website? Of course! Video is one of the most important elements in creating an effective eCommerce store. It can help increase engagement and conversions. But it's also expensive and time-consuming to produce quality original content for your site.
Envato Elements gives you access to hundreds of stock videos that you can use on your Website, YouTube Channel, or Video Advertisements. These are high-quality stock video clips that are free from copyright restrictions so they can be used freely to support the marketing efforts on your eCommerce site.
Print-On-Demand

Website Name Ideas

If you have an idea for your website name, but it's taken, you may be out of luck.

Thankfully there are a few free tools that can help you find available names before you register a new domain for your print-on-demand eCommerce store. You can get some website name ideas using the Shopify Domain Name Generator (Try Now)

This generator will give you hundreds of different combinations to choose from so that when one name is taken, another unique option may be available to use instead.