Do you offer a service? If so, you know how important it is to have an online presence, and one of the best ways to create a website to sell your services online is by using Shopify. However, it can be hard picking a theme, and that's why we put together this list of the best Shopify theme for services that include all the features necessary to run a successful service business in a wide range of industries.
We've also included some tips towards the end of this page that will show you how to add an appointment booking form to your site, and how to grow your online presence by using social media and E-Mail marketing strategies.
Best Shopify Theme for Services
Nora – Hardware Store, Plumbing Shopify Theme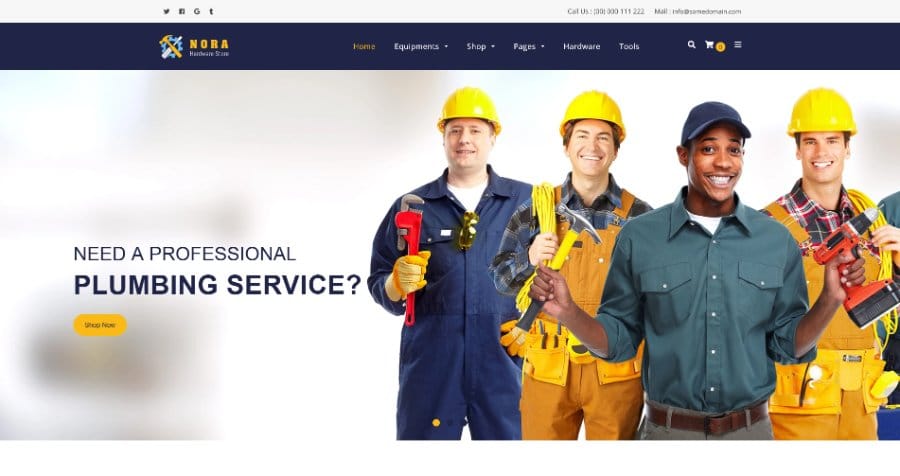 Nora is an eCommerce theme designed specifically for service providers like plumbers, electricians, and home repair companies. It has all of the tools that you need to create a thriving business online – SEO features, responsive design so anyone can shop from their phone or tablet, social sharing buttons so potential customers can share links about your services with their friends…plus a lot more
Gym Active – Sports Clothing & Fitness Equipment Shopify Theme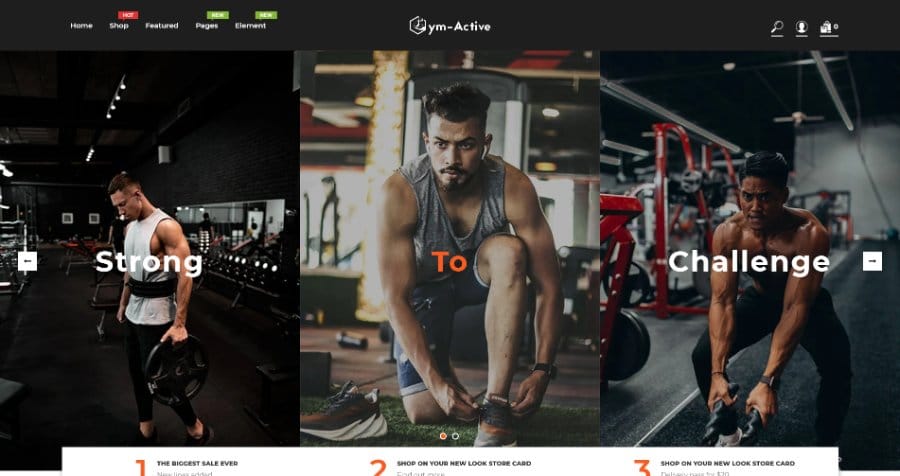 The Gym Active Shopify theme is designed specifically for those who want to build an online presence for their gym or studio. It comes with plenty of features and elements which help you showcase your services, products, and events in an engaging and interactive manner.
Gym Active is a fully responsive Shopify theme with a clean design and modern typography. With its full-width slider on the homepage, it offers an eye-catching experience from the first second a visitor lands on your site. The theme is also optimized for mobile devices which ensures every user gets a great shopping experience regardless if they are using a desktop computer or tablet/phone device.
Pookal – Flower Shop and Florist Shopify Theme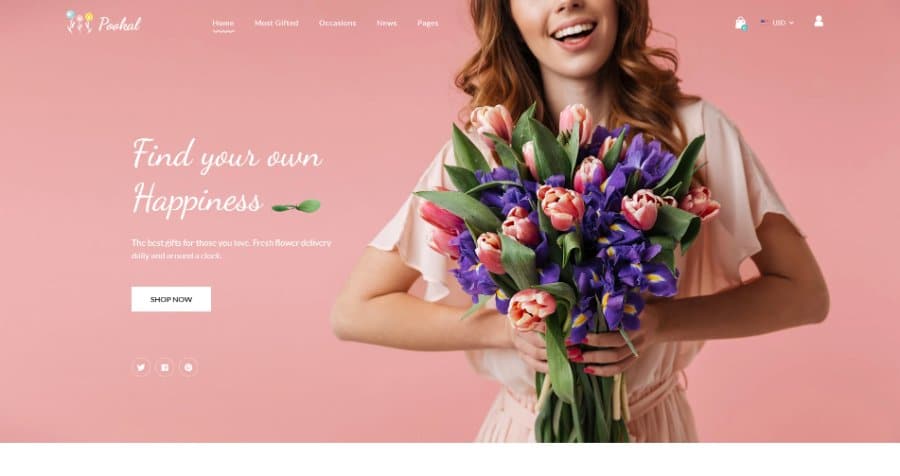 Pookal is an eCommerce theme designed specifically for modern flower shops and florists who want to build their own online business. This theme allows you to sell a wide range of products and services including offering beautiful arrangements of fresh-cut flowers in addition to gardening supplies, seeds, live plants, and more.
This theme comes with all the features you need including SEO optimization, social media integration, responsive design, Google My Business support (for local businesses). It also has customizable fonts, multiple layout options, and product filtering options on category pages so customers can easily shop your inventory based on color/size/price range, etc.
Hair Salon Responsive Shopify Theme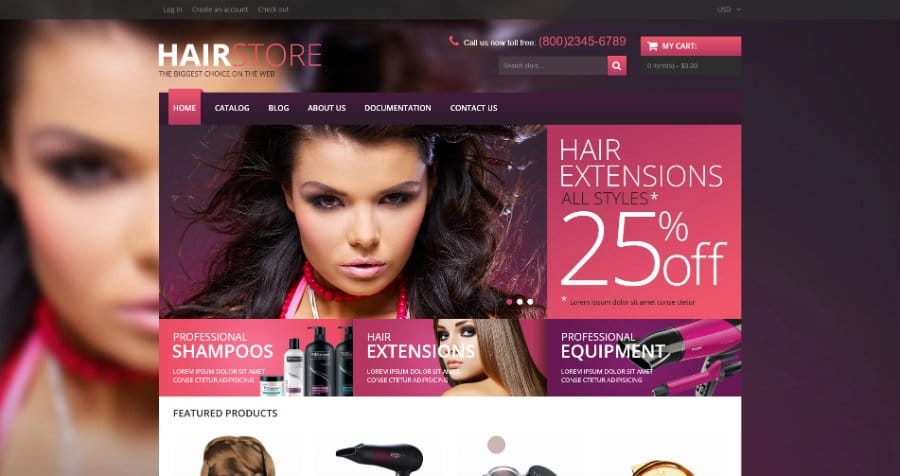 The Hair Salon Responsive Shopify Theme is the perfect theme for any hair salon owner. It's responsive, SEO optimized and comes with tons of features that make it easy to manage appointments, sell products online, and reach new clients.
This is a great way to diversify your revenue streams and reach new clients who may not have found you otherwise. It also makes it easy to list your salon on Google My Business, which is important if you want more customers coming in through search engines like Google or Bing.
Bakins | Shopify Cake Shop, Bakery Theme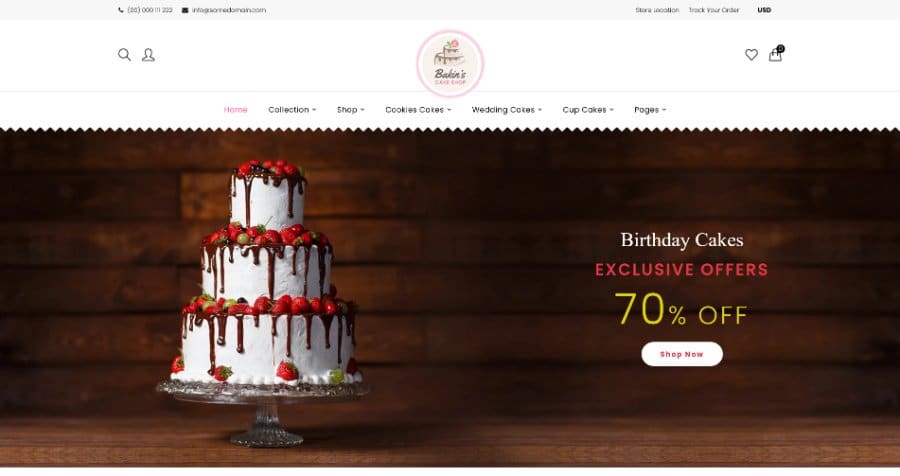 Bakin's is a beautiful Shopify theme specially created for bakeries and cake shops that lets you quickly create a visually stunning website. It has advanced search options, responsive design, and tons of customization options so you can showcase your products like never before!
With this theme, it's easy to differentiate between different types of cakes and pastries on your site because each product category comes with its own color scheme. You can also easily display all categories at once using the advanced mega menu feature.
The Bakins Shopify theme was created specifically for the bakery and cake shop niche, but it's perfect for any kind of store selling food online. With its beautiful design, responsive layout, advanced search box, and the full-featured mega menu we're sure you're customers will love this theme.
Empire Shopify Theme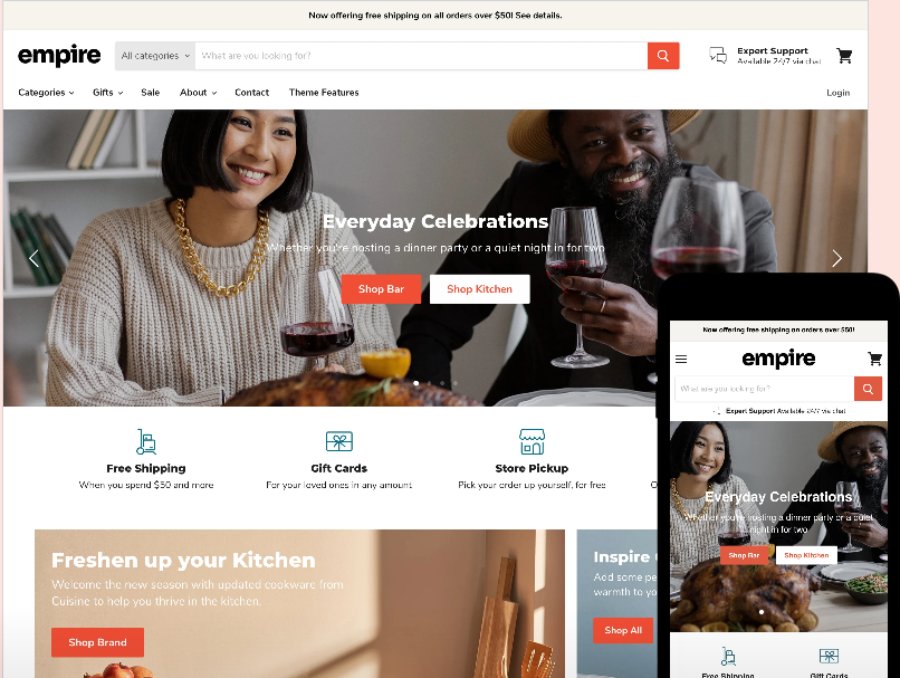 Empire Shopify Theme (14-Day Free Trial) gives you everything you need to build an amazing online presence for your business, including customizable promotional tiles that let you promote sales and featured products right on your homepage. This way, when someone visits your site looking for something specific (like dog grooming or pest control) they'll see it immediately without having to dig around in category pages.
The Empire Shopify Theme also features in-person pickup options, so shoppers who are looking for local businesses can easily drop by your storefront.
Life Coach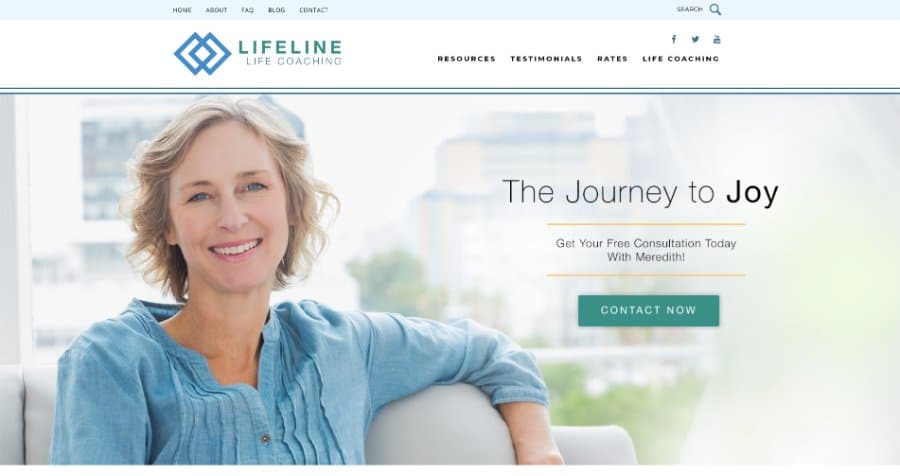 With the Life Coach eCommerce Theme, you can easily create a beautiful website that helps customers get started on their journey towards reaching their goals. You'll be able to showcase your expertise and experience, as well as highlight some of the most important services you offer through testimonials from past clients.
Customers will also appreciate having access to additional resources such as blog posts and videos that explain more about what it means to work with you in greater detail. And if they're interested in learning even more about what makes up your coaching services, then they can always click on an individual service page for details like pricing information and descriptions of each service offering so there are no surprises when it comes time for them to contact you directly
The Life Coach Theme is completely free, and you can set up and run a Shift4Shop for no cost, unlike Shopify which will run you $29.99 a month.
If you want to build a completely Free Shift4Shop eCommerce Website (Click Here)
Real Estate Agency Responsive Shopify Theme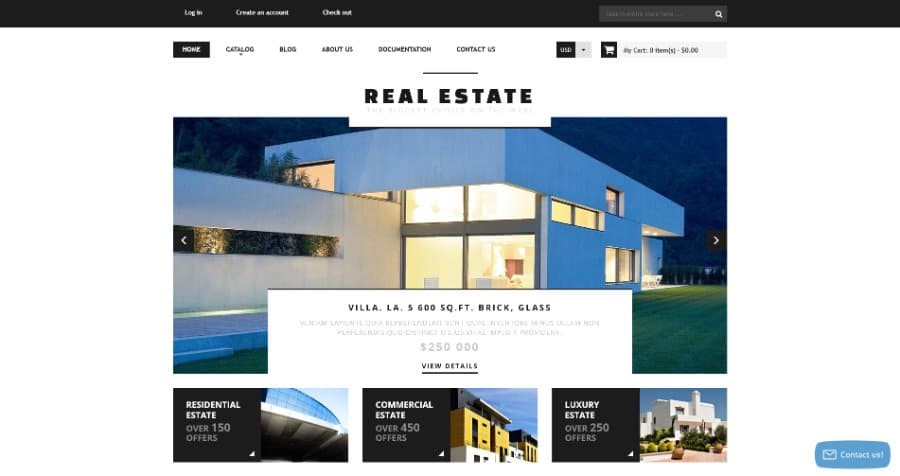 This is one of the best Shopify themes for real estate agents. It has all the features you need to showcase your properties and keep up with the ever-changing real estate industry. Plus, it's SEO Optimized so potential clients will be able to find your site on search engines like Yahoo, Bing, and Google without any additional work on your part.
With this theme, you can show off all of your listings, and you can even provide virtual showings too. Plus you can collect E-Mails using the newsletter pop-up, so you won't have to worry about missing out on any opportunities because this theme will help you get more leads than ever before. And if someone wants to contact you or schedule an appointment to see one of your listings, they can do it right from their browser using the built-in live chat system where they can connect directly with you.
YourStylist – Hair Salon Shopify Theme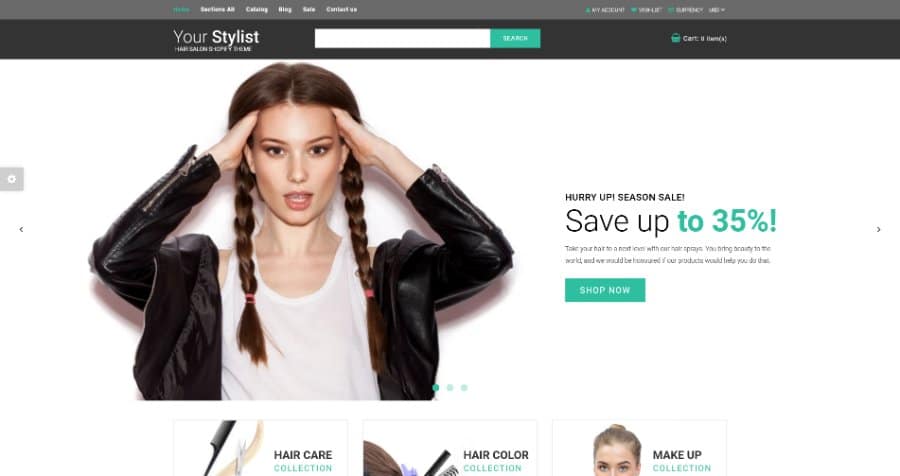 YourStylist is the best Shopify theme for services. It's perfect for any hair stylists, beauty salons, and other service providers that need an online presence. With this theme, you can book appointments with your customers or sell products on your website.
You'll also be able to diversify your revenue streams by selling products like shampoo or makeup in addition to haircuts. Plus, it's easy to build a professional-looking website with the drag-and-drop page builder and you don't need any technical experience at all!
The best part about this theme is that it's compatible with Shopify booking apps. This means that all of your customer data will be synced automatically between the app and your site – no more manually inputting appointments anymore!
Garden Plants | Gardening Store, Landscaping Service Shopify Theme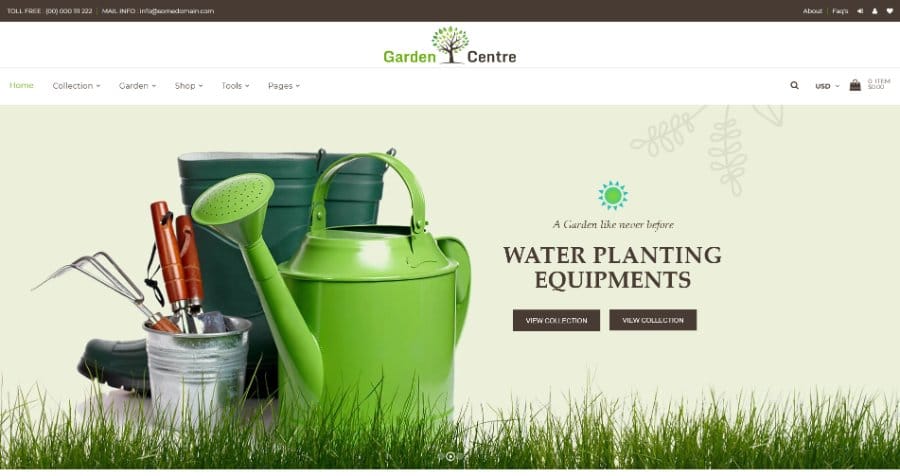 The Garden Plants Shopify Theme is the perfect solution for outdoor service-based industries. It's designed specifically for landscapers and gardening companies, so it has all the features you need to run a successful business online. You can easily display photos of your work, collect customer testimonials, sell physical products, and you can even offer sprinkler installations and maintenance services all from a single store. And with the built-in E-Mail newsletter pop-up, this theme makes it easy to collect E-Mail addresses from potential customers using an E-Mail marketing platform like Constant Contact (Free Trial)
Food & Restaurant Responsive Shopify Theme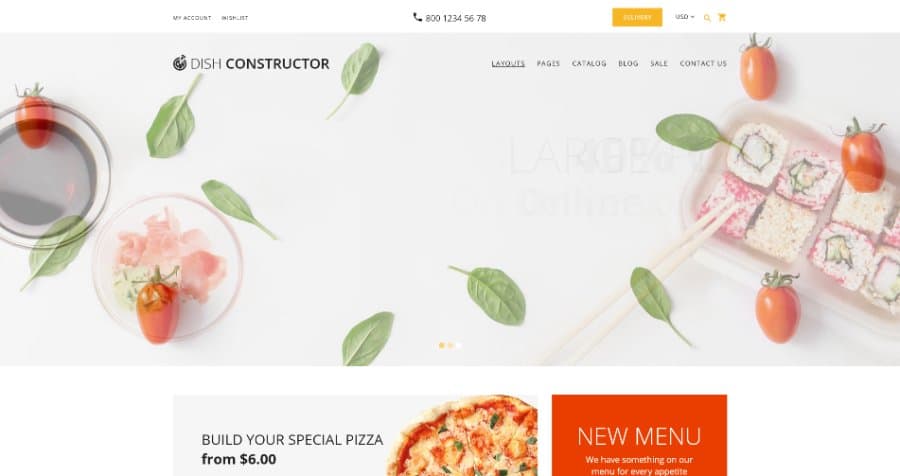 The Food & Restaurant Shopify Theme is designed to make it easy to create an eCommerce store and sell delicious food that you deliver right to your customer's door. With 3 pre-made layouts, responsive design, fast loading times, live chat feature, customizable homepage, and more – this is the best choice for any restaurant looking to get started on Shopify.
With the Food & Restaurant Shopify Theme, you can get your new website up in no time with the built-in drag-and-drop page builder. This will let you quickly customize your homepage so it matches your brand, or you can make it look just like your restaurant or physical store.
This theme also has a built-in pizza builder that will let your customers pick their ingredients that go on their pizza, and it can be customized to work with other types of food orders. This template comes with all of these features and much more – making it easier than ever before to start selling any type of food product online.
Gopher | Grocery Store Shopify Theme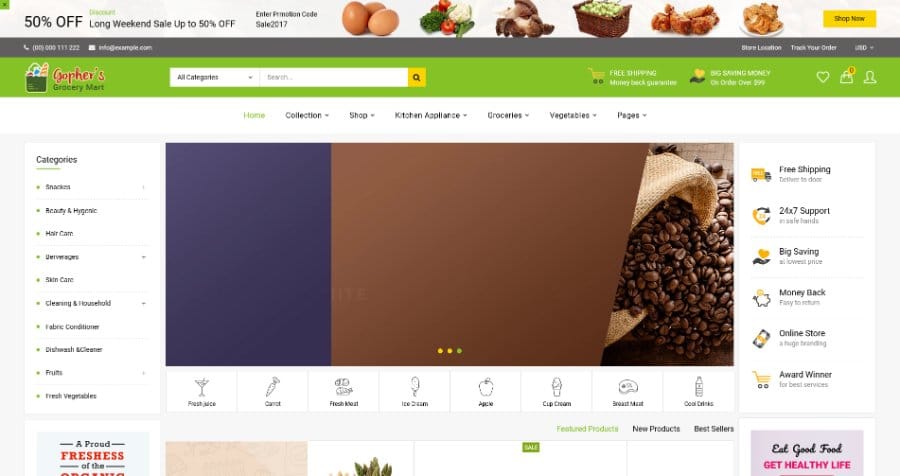 Gopher Grocery Store is a Shopify theme for online grocery delivery stores, delis, and general stores. The foodservice industry is constantly changing and you need to keep up with the latest trends. With this theme, you can stay on top of your game by providing customers with an easy way to order food or groceries from home or work.
Gopher Grocery Store also lets your customers register, login, and manage their orders through their own user accounts, which makes it easier than ever before to run an online food delivery store.
This theme also has a branded checkout process that will ensure customers have a cohesive experience when they shop at your store. It also features social media integration, so customers can share links to your site on Twitter, Facebook, Pinterest, and more.
Handyman – Drag & Drop Plumber, Construction Tools Shopify Theme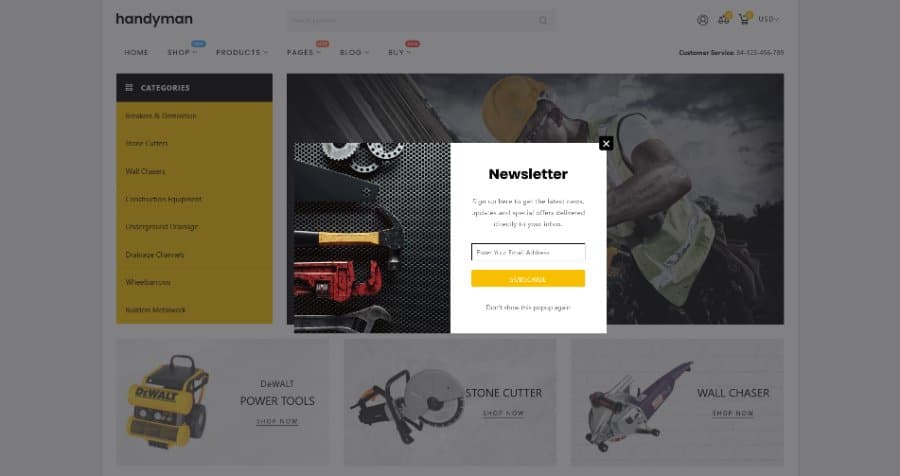 The Handyman Shopify Theme is the perfect theme for contractors, and it has all of the features you need to get your business up and running in no time. You can use this theme with apps like Tipo or Sesami, which allow customers to book appointments online. This theme also works well with Quote Apps such as Globo Request a Quote App, so it's easy to deliver quotes directly from your site
With a Fully Responsive Web Design, this theme will look great on any device – desktop computer, laptop, tablet, or smartphone. Plus, the translation feature makes it possible for people who speak another language to use your site and read about what you offer in their native language.
Balle – Dance Studio Shopify Theme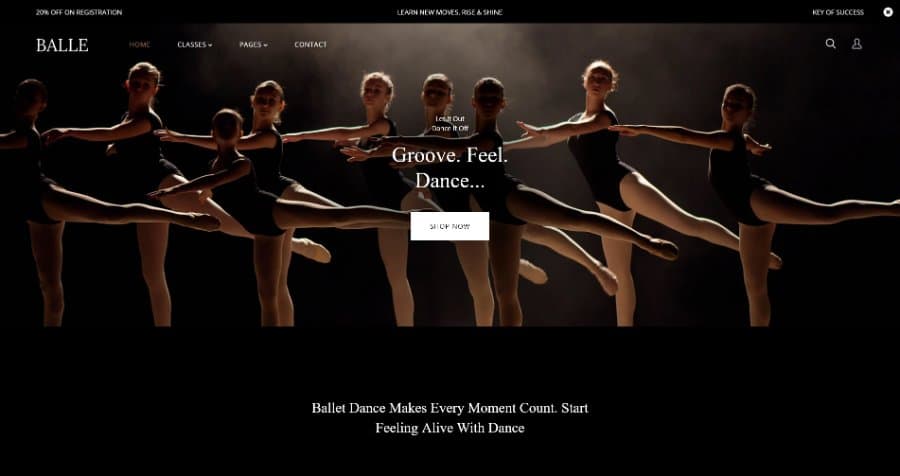 Balle Dance Studio Shopify Theme is the perfect theme for a dance studio. It includes all of the features that are necessary to run an online business, including a drag and drop page builder, enhanced instant search, SEO optimization, and more. You can also customize it with any one of the pre-made layouts or create your own layout from scratch.
Dance studios have a hard time attracting people because they're competing with other distractions like Netflix, video games, and social media. Balle Dance Studio can help you overcome these challenges by providing an easy-to-use website that can help put a modern spin on the classic dance studio. That means you can use it to help bring more customers into your studio, or you can offer live classes online that people can take from the comfort of their own homes.
Shopify Booking App
Tipo Appointment Booking
The Tipo Appointment Booking Shopify App makes managing your schedule easier than ever before by allowing you to create unlimited appointment slots on any day of the week.
With this app's advanced calendar syncing technology, you'll be able to sync your appointments directly from Tipo Appointment Booking into Google Calendar or Apple Calendar so that you can easily share your schedule with all of the members of your team.
Tipo Appointment Booking will also send automatic reminders to your clients via email which means no more missed bookings.
Sesami: Appointment Booking
Sesami is a plug-and-play Shopify app that replaces the default calendar interface with an intuitive booking experience designed specifically for selling services online.
This app will allow your customers to schedule their appointments directly from inside your website without needing to phone up anyone first!
You'll also get notifications about upcoming bookings so you know exactly how much free time there is before each appointment starts.
All these features are included right out of the box, and there is a free plan option available that you can use to try out this app.
Shopify Quote App
Globo Request a Quote
Globo Request a Quote makes it easy for your customers to request information about products or services by filling out a simple form on your website. All of this information can be easily accessed through your Shopify admin dashboard so you can quickly respond with quotes, product lists, answers, etc. This can help speed up the client acquisition process, and it will ensure that your customers have all the info they need before making a final purchasing decision.
How To Market a Service Based Business on Shopify
There are many different ways to promote your service-based business online. You can use social media, email marketing, and even word of mouth. You should identify which methods work best for your company and continue using them in order to reach more potential clients.
In the following sections, we will cover three methods that you can use to start marketing your service-based business and drive more traffic to your Shopify site.
E-Mail Marketing
E-mail marketing is a very powerful and effective tool for service providers. It's a great way to stay in touch with your customers without being too pushy, as well as ensuring you're always on their minds when it comes time to make another purchase.
Many different strategies can be used for e-mail marketing, but the most popular one is through "newsletters." Newsletters provide valuable information about your company, products, or services while also providing an opportunity for customer interaction by asking them questions and encouraging feedback.
The best way to get started with e-mail marketing is by setting up an autoresponder sequence. This will mean that every time someone subscribes to your newsletter they will automatically receive future newsletters from your company on autopilot.
Constant Contact (Free Trial) is a great way to create engaging email marketing campaigns that will help grow your customer base. Best of all, with Constant Contact, it's extremely easy for you or one of your employees to set up and manage an E-Mail campaign in a short amount of time.
Social Media
There are many benefits to using social media marketing as it can be used in several ways. First, you can use social media as an avenue of customer service and support.
Second, you can provide live updates on your services or products.
Thirdly, you can even promote your business by running contests that involve users tagging themselves on Facebook (or other networks).
Lastly, if customers have had a good experience with your company they may feel more inclined to share this on social media, which could lead to increased word-of-mouth advertising for your company
Paid Advertisements
If you own a service-based business or are considering starting one, then paid advertisements might be the quickest way to grow your business. In fact, being able to spend money on advertising to test out your market is often an important part of determining whether your new business will be successful in the first place.
The three most popular types of paid advertisements for service-based businesses include Google Adwords, Facebook Ads, Youtube Ads, and Microsoft Advertising.