Choosing the best free eCommerce platform for a small business can be a difficult task. With so many different options on the market, and with new platforms emerging all of the time, it can be hard to keep up with all of the eCommerce platforms out there and what features they have to offer.
The truth is that not every business needs to pay a recurring monthly expense just to run an online store. In fact, if you are just starting out selling online then you might want to consider one of these full-featured free solutions before investing your time and money into an expensive eCommerce platform.
Best Free eCommerce Platform for Small Business
Best Free eCommerce Platform for Small Business
Shift4Shop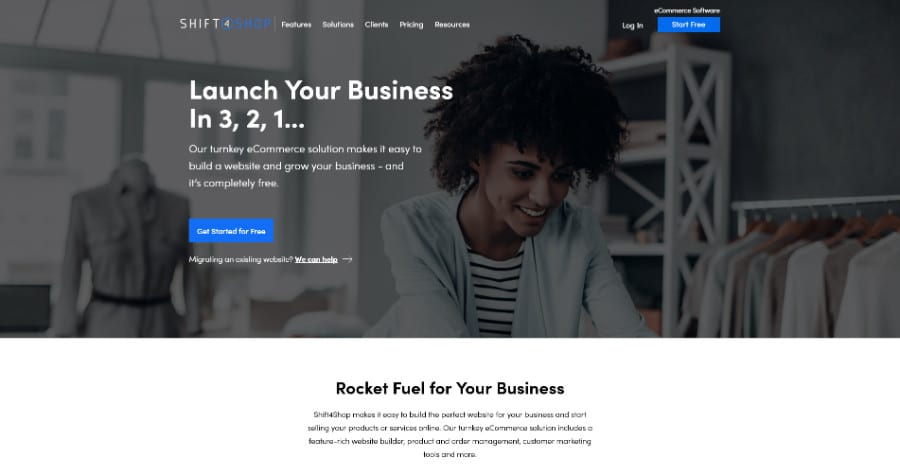 Shift4Shop (Get Started for Free) is the best free eCommerce platform for a small business. It's completely free for life with no revenue caps or limits on products or bandwidth.
Most other free eCommerce platforms charge you for upgrades or make it hard to create a professional-looking store. But with over 100 free themes available on Shift4Shop anyone can build a professional-looking eCommerce website in minutes.
Shift4Shop offers everything you need to run your business with no limits on products, traffic, or revenue. Plus, Shift4Shop provides excellent customer service and they will answer all your questions and help you get your eCommerce site started with 24/7 support.
If you're looking for an eCommerce platform that doesn't cost anything at all, then Shift4Shop is the right choice.
Shift4Shop offers all the features of more expensive platforms without any hidden fees. It also has built-in email marketing tools that support up to 25,000 subscribers at no additional cost.
You'll also get access to SEO & marketing tools so you can grow your sales along with coupons and discounts, abandoned cart features, and more – it's never been easier to set up a free eCommerce store than it is with Shift4Shop.
Click this link right now to build a free eCommerce store using Shift4Shop
Weebly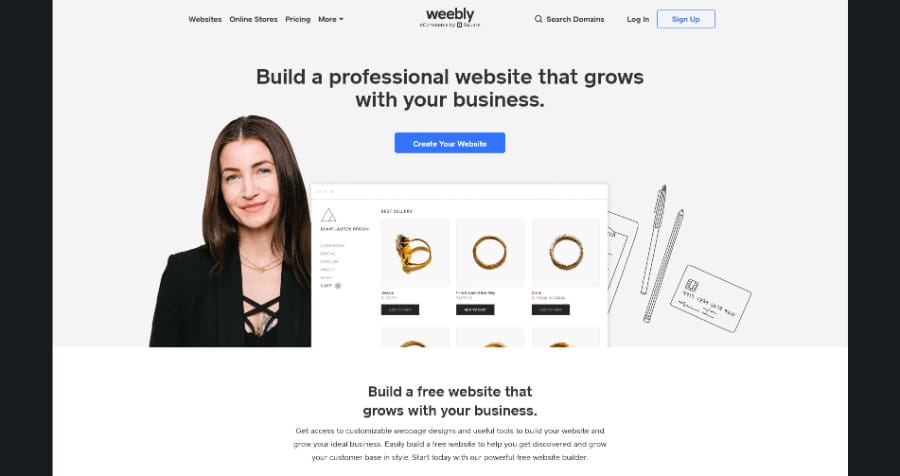 Weebly (Create Your Website) is a free eCommerce platform that makes it easy to create an online store. There are plenty of options when it comes to setting up an online shop, but none of them offer the ease-of-use or affordability of Weebly's free eCommerce platform. Not only does Weebly let you build an eCommerce store for free, but it also provides you with tools for managing inventory as well as shipping and tracking orders.
Thousands of small businesses use Weebly every day to build their online presence and showcase their work. Whether you're an individual looking to start your first site or a small business owner who wants an easy way to get your products in front of customers, the Weebly eCommerce platform can help you achieve your goals faster than ever before.
With Weebly's easy-to-use drag and drop page builder, you can create beautiful websites without any coding skills. Weebly also has a mobile app that integrates with their sites, so you can track your store's performance on the go.
You also won't have to worry about product limits because Weebly allows you to list unlimited items, so there are no limits on what you can sell. And with a free Weebly site, you can offer in-store pickup to your local customers, which is a nice feature to have in this ever-changing world. Plus, with detailed shipping and inventory tracking Weebly makes it easier than ever before to reach new customers anywhere in the world.
Sign up now for a free eCommerce Plan at Weebly.com
Constant Contact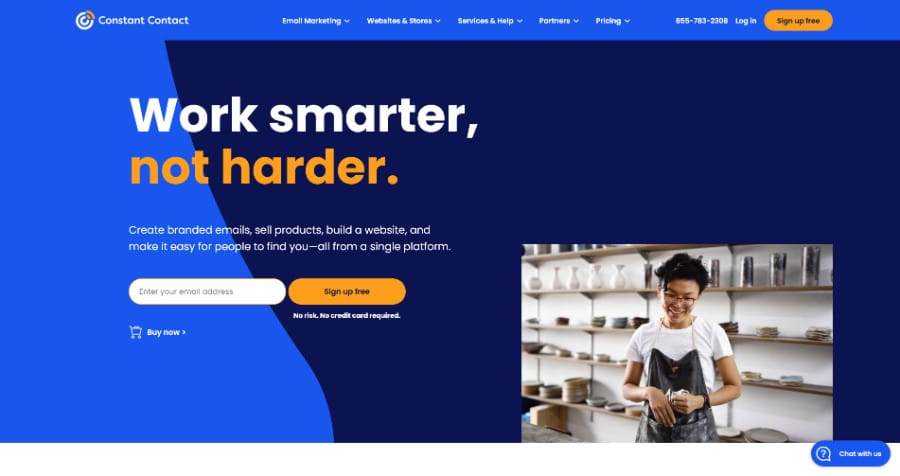 Constant Contact (Sign Up for Free) is the best free eCommerce/E-Mail marketing platform for small businesses. With Constant Contact, you can create professional-looking email campaigns, manage customer relationships, and sell products online.
Constant Contact is the easiest way for small businesses like yours to market themselves on the internet without breaking the bank. Their powerful marketing tools are easy enough for anyone on your team to use. Plus, they offer 24/7 support so if you ever have a question about how something works, you can reach their customer support team anytime.
The Constant Contact Website Builder is one of the best eCommerce platforms for a small business since it allows users with no coding knowledge whatsoever to build professional-looking eCommerce websites quickly and easily. With this tool, anyone can get started selling products online without having any technical experience at all, and all Constant Contact Websites are mobile responsive so they look great on smartphones as well as desktops and tablets.
With the built-in E-Mail marketing features that come with Constant Contact, you'll have everything you need to market your business in one place – from creating newsletter templates and sending out emails to managing your customer contact list and more. Best of all you don't need any technical skills or have to download any expensive software to use these powerful tools. And Constant Contact is always adding new features so you'll never run out of ways to connect with your customers.
Start using Constant Contact today by signing up for a free account!
Square Online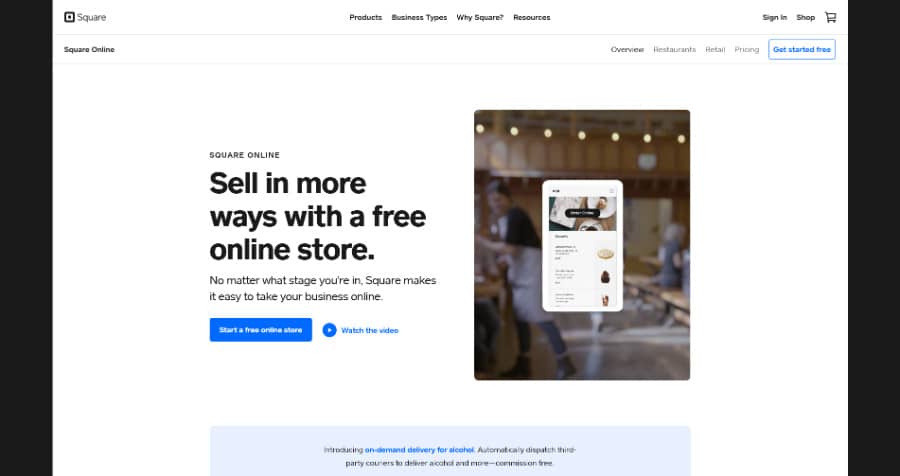 Square Online (Start a Free Online Store) is a free e-commerce platform that makes selling online simple with no monthly fees or hidden costs. With Square Online you don't have to worry about hosting your site or paying any additional setup fees as other solutions require.
Square Online stores are hosted by Square on secure cloud infrastructure that meets PCI standards so your data is safe from hackers. And Square Online takes care of everything from top to bottom including payment processing (2.9% + 30¢ per transaction)
Square Online's AI-powered site builder makes it incredibly simple for anyone with basic computer skills to create a professional-looking eCommerce store in minutes without any coding knowledge required.
You can get up and running in minutes on Square Online's free eCommerce platform since it makes it easy for anyone to create an online store for a small business or nonprofit organization. With Square Online you can manage inventory, set prices, track sales, process payments, and more all from one place using tools that rival premium eCommerce plans.
Sign up today for a free Square Online eCommerce Plan
Big Cartel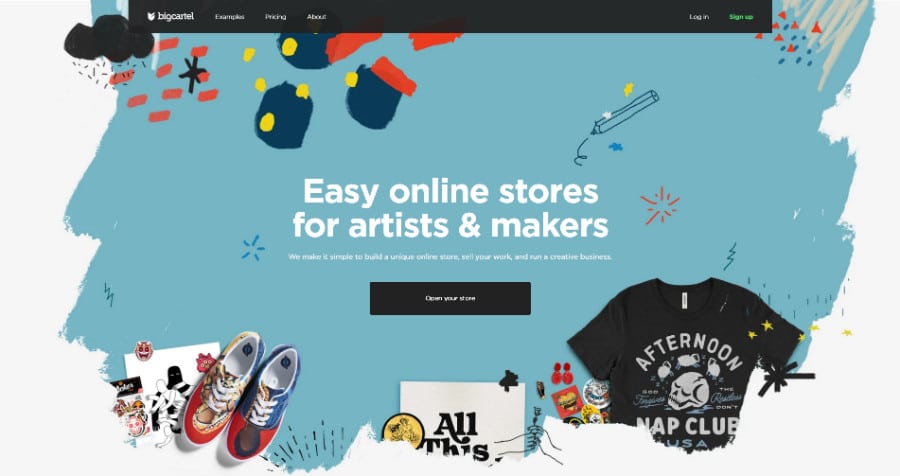 Big Cartel (Open Your Store) is the best free eCommerce platform for beginners. With a simple design and easy-to-use interface, it's perfect for small businesses just getting started with an online store or those looking for a simpler option than other major platforms.
Other eCommerce sites charge monthly fees that can add up quickly, especially when you're starting out with low sales volume. Big Cartel doesn't have any hidden costs, no setup fees, and no transaction fees or monthly subscription fees.
Big Cartel offers everything you need to get your business off the ground including inventory management tools like product variations and stock levels; shipping features that make it easy to offer online and in-store pickup options, built-in payment processing and more.
Big Cartel is the best free eCommerce platform for small businesses that only want to sell a handful of products online. It's quick to sign up with no long-term commitments, and you get 5 product listings on the free plan.
There are also no credit card requirements when you sign up for the free plan, and it supports both online and in-store sales. Plus, there are plenty of themes available for free that you can use to build a professional-looking online store on Big Cartel.
Click here now to sign up for the Big Cartel Free Plan
Best Free Ecommerce Software
WooCommerce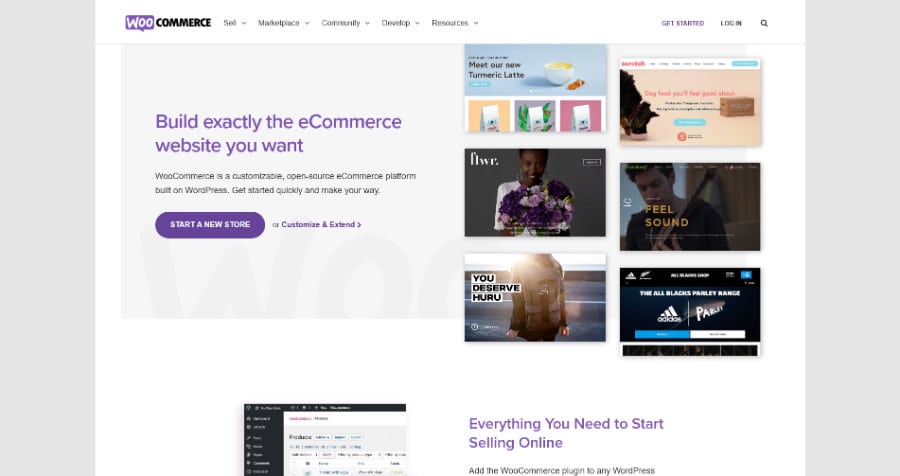 WooCommerce (Start a New Store) is a free eCommerce platform designed to be the most flexible way to run your online store. Plus, it's based on WordPress, which powers over 30% of all sites on the internet.
Thousands of developers have built businesses using WooCommerce including many Fortune 500 companies and small business owners who sell anything from t-shirts to gadgets across industries like apparel, electronics, health & beauty, and more.
With WooCommerce, you can sell anything online for free, and all you'll need to pay for is hosting costs. Best of all since it's based on WordPress you also get access to a large library of free plugins that will help you quickly add new features to your eCommerce store.
WooCommerce also supports Stripe, PayPal, Square, Amazon Pay, Apple Pay, and Google Pay. And you can even track your store's performance from anywhere using the WooCommerce Mobile App.
Overall, WooCommerce offers an affordable and scalable solution for online stores of all sizes, from small shops to global enterprises. It's easy to set up, customize and manage – no coding skills required. And it's open source so you can install extensions or make your own modifications to your site as needed.
Click here to get the WooCommerce WordPress Plugin
OpenCart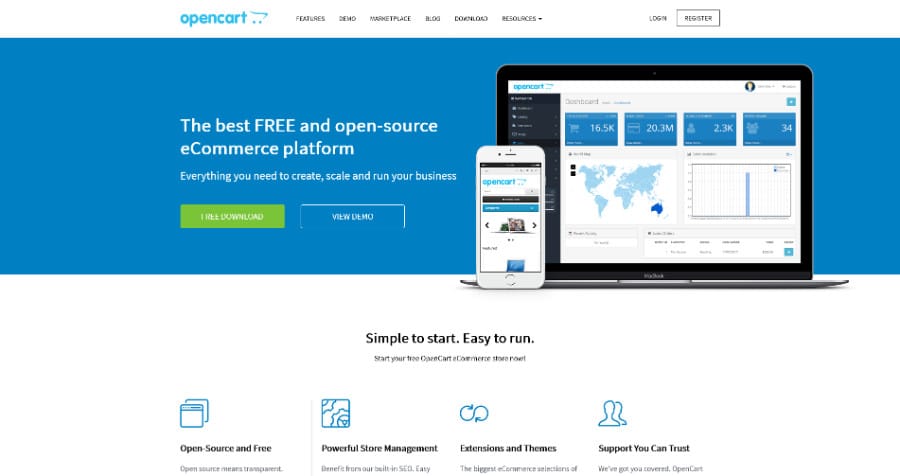 OpenCart (Free Download) is a free eCommerce platform that makes it easy for merchants to start selling products online. You can install OpenCart on your own servers, or use one of the many cloud hosting providers that support it. The latter option allows you to have a fully operational website in minutes!
OpenCart's philosophy is based on offering users a free eCommerce solution that will help them grow and manage their business online. You don't need any technical expertise to customize or use OpenCart since everything can be done via the user-friendly interface
OpenCart is open-source, so you can download it for free and use it however you want. You'll never have to pay any monthly fees or anything like that because OpenCart is 100% free! Plus, there are tons of payment gateways available with OpenCart including Amazon Payments, First Data, Klarna, LiqPay, Skrill, and PayPal just to name a few.
Opencart also comes with powerful features such as SEO Optimize product pages, which means your store will be found on Google without any extra work from you! And OpenCart also has a full selection of modules and themes that will let you customize your site however you please.
Click here to get started building a store with OpenCart today
PrestaShop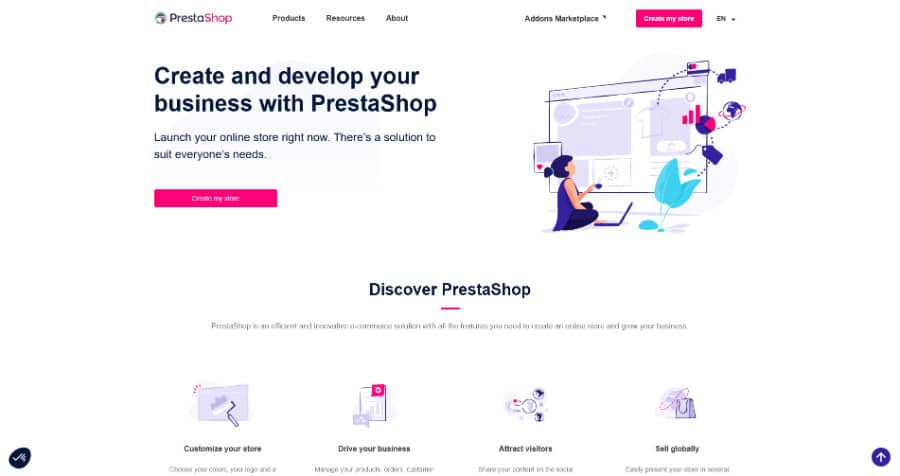 PrestaShop (Create a Store) offers all the features necessary to create an attractive store and grow your business on any budget. The software is simple enough for beginners, and it can be customized by advanced users who want more control over their online store's appearance.
With PrestaShop's Free eCommerce Platform, anyone can set up an online store quickly and easily without having to pay for expensive software licenses or missing out on important features.
This free e-commerce software gives you all of the tools needed to manage every aspect of your business – from inventory management to customer relationship management (CRM).
PrestaShop is a full-featured eCommerce platform that's perfect for both large and small businesses.
Click here to learn more about the PrestaShop eCommerce platform
Magento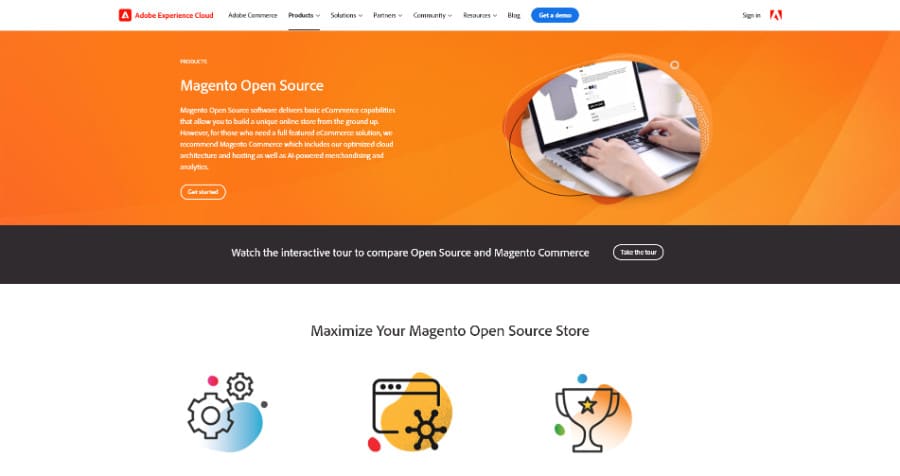 Magento (Get Started) is one of the leading open-source eCommerce platforms that is used by some of the leading retailers and brands to power their online stores.
Magento provides everything you need to sell online, including a flexible shopping cart for your products, order management tools, customizable checkout pages, inventory tracking features, marketing support, and more. You can also choose from an extensive list of free extensions available in the Magento Marketplace to customize your store.
Magento offers a complete solution with all the capabilities you expect in a premium eCommerce software platform. The goal of the Magento Open Source eCommerce Project is to give small businesses around the world access to powerful technology, so they can grow their business with the same powerful tools that only bigger companies can usually afford.
The best part about Magento is that it's completely free! There are no strings attached – there are no fees or licensing costs associated with using this open-source platform. Magento offers enterprise-level functionality at absolutely no cost so that anyone can build a beautiful website without breaking the bank.
Click here to learn more about Magento
Best eCommerce Hosting Platforms
Cloudways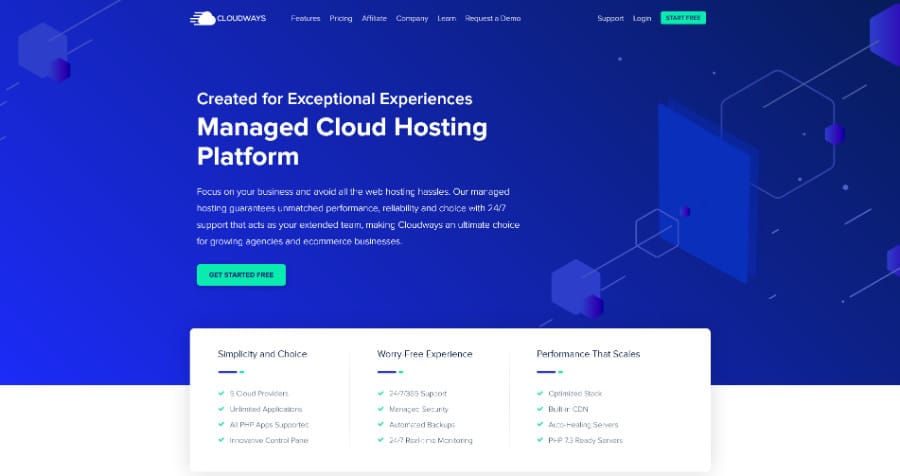 Cloudways (Get Started for Free) is one of the best eCommerce Hosting Platforms. Plus, they offer a variety of plans that will fit any business's budget since the offer plans starting at $10 per month.
With Cloudways simple and intuitive interface, it's easy to manage all of your applications from one place. You can choose between 5 cloud providers, and there are no limits on the number of websites you can host on your account.
Cloudways delivers a worry-free experience with 24/7 support, managed security, automated backups, and 24/7 real-time monitoring that ensures that you never have to worry about downtime or data loss again.
Cloudways server performance can also be scaled as your store grows with the click of a button. Plus, the VPS servers at Cloudways are fully optimized and self-healing, so you won't need to do anything if your store starts to experience a sudden traffic surge.
Click Here to Get a 3-Day Free Cloudways Trial Today
LiquidWeb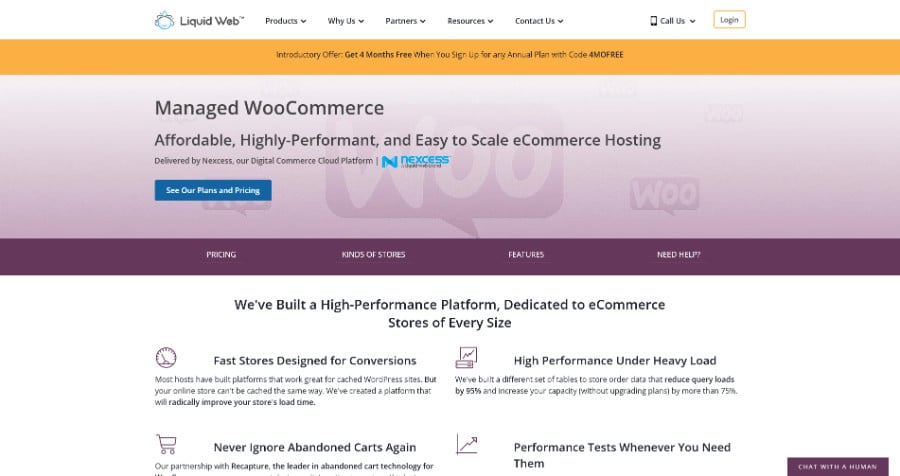 LiquidWeb's eCommerce Hosting (View Plans) makes it easy for you to launch and grow your own online store. They offer a variety of plans, including shared hosting, VPS hosting, dedicated servers, and cloud solutions. Plus, all of LiquidWeb's eCommerce options offer fully optimized servers that were designed to host large eCommerce stores.
LiquidWeb provides the most reliable hosting solutions on the market, at prices that won't bust your budget. Best of all Liquid Web's industry-leading support team takes care of everything from server maintenance to security updates so you can focus on building your business.
LiquidWeb is the best eCommerce hosting platform for Magento and WooCommerce stores. With their managed WordPress and WooCommerce services, you can rest easy knowing that your store will be running smoothly at all times. Plus, their team of experts is always on hand to help with any issues or questions you might have. And they offer a variety of plans for every budget, so you can easily find a service package that meets your business's needs.
Click here to see all of the eCommerce hosting plans at LiquidWeb.com
Kinsta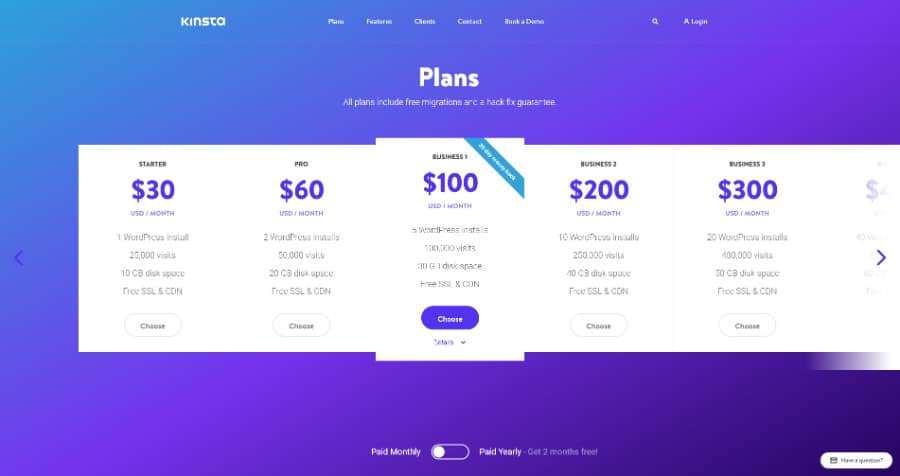 Kinsta (View Plans) offers managed WordPress hosting that is secure, fast, and reliable. They take care of everything related to running a server, so you don't have to worry about it. You get all the benefits of running your own server without any of the hassle or cost involved in managing it yourself.
The problem with WordPress or WooCommerce is that hosting it yourself can be difficult and expensive. But you don't have to sacrifice quality or reliability for cost when you choose Kinsta as your hosting provider.
Kinsta's managed cloud platform allows them to deliver enterprise-level features at an affordable price point, even for small businesses. Their high-performance servers use Google's Cloud Platform which means they are lightning-fast and highly secure. Plus, Kinsta handles security patches for you so you don't have to worry about keeping your site safe from hackers or other threats.
Kinsta's network is built for speed, so your site will load faster, which can help you increase your eCommerce stores conversion rate, and hosting your site on Kinsta is also good for SEO since it will improve your Google PageSpeed scores.
With Kinsta you also get access to expert WordPress developers that will help you resolve any problems you might have. They also offer excellent support via email, chat, or phone. And they offer free migration services if you're moving your site over from another host.
Click here now to learn more about Kinsta's Hosting Plans
Best Free eCommerce Platform for Small Business with a Free Trial
Shopify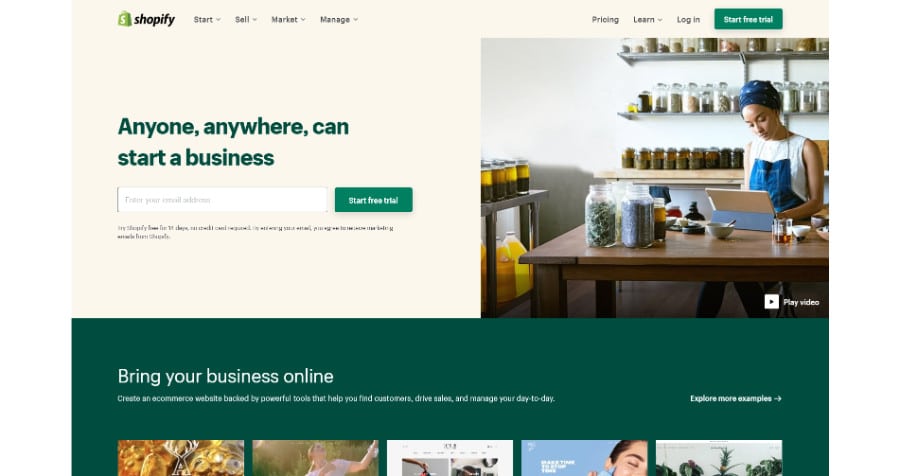 Shopify (Free 14-Day Trial) is the leading eCommerce platform for small and medium-sized businesses. They offer a full set of tools to help you easily sell online, including an industry-leading point of sale solution.
With over 1 million merchants worldwide Shopify is the number one eCommerce platform, and Shopify allows you to quickly get started building an eCommerce store with everything you need in one place.
Best of all Shopify has the largest selection of themes and eCommerce Apps that make it easy to build a high converting eCommerce store.
Whether you're running an international business or selling locally, Shopify has all your bases covered when it comes to payments, shipping rates, and taxes so that your customers can complete their purchases without any hassle at all.
Click here for a Free Shopify 14-Day Free Trial
Wix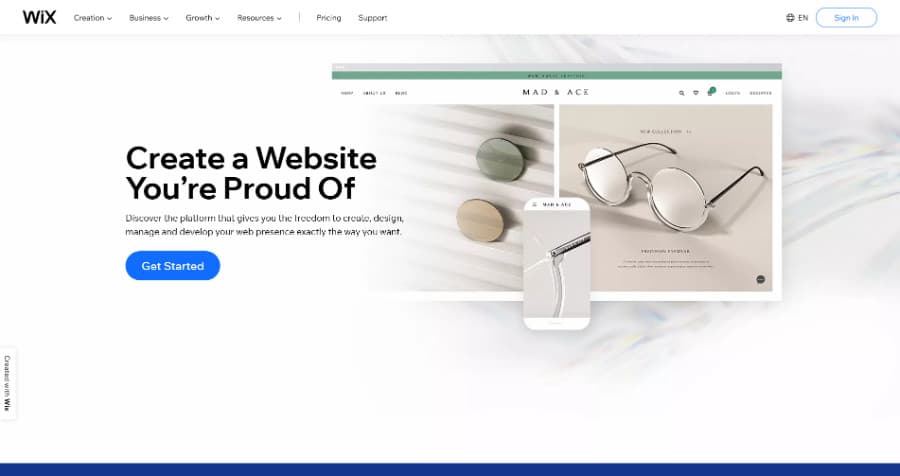 Wix (Free Trial) offers a fully-featured, professional eCommerce platform for only $49 per month. That's less than most businesses pay for their electricity bill!
With Wix, you can open your online store in minutes without having to hire an expensive developer or spend hundreds on monthly fees.
Wix also has an easy-to-use site builder that gives you full control over your website's content and functionality, so that you can grow your online business without any technical experience at all.
Squarespace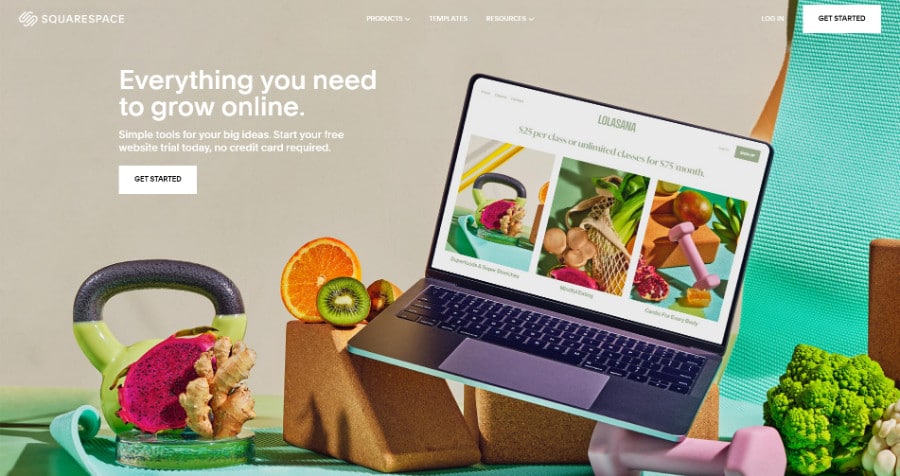 If you're looking to sell online, Squarespace (Free Trial) has everything you need to build your business's web presence. From a beautiful eCommerce website that looks great on any device to an integrated shopping cart, inventory management tools, and recurring payment options Squarespace has everything covered.
With Squarespace's simple drag and drop interface, setting up an online store is quick and easy. In just minutes, you'll have all the tools needed to create a professional storefront to sell your products or services in record time.
Squarespace eCommerce plans start at $26 per month (billed annually) so it won't cost much to get started selling online today! And if you ever want more than what comes with the basic eCommerce plan you can and upgrade to the Advanced plan for $40 a month.
Click Here Now to Start Your Squarespace Free Trial Today (No Credit Card Required)
BigCommerce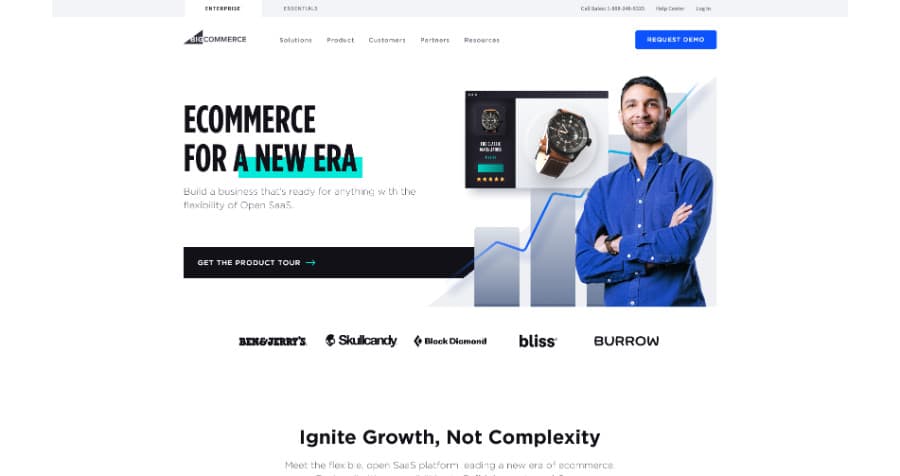 BigCommerce Essentials (Free Trial) is the best eCommerce platform for small and medium-sized businesses. It's easy to use, powerful, and affordable. And you can get started with a free trial today!
BigCommerce Essentials has a dedicated team that will help you build buzz, find your target customers, and drive more site traffic. Plus, with their easy-to-use Page Builder tool, you can create a beautiful eCommerce site without any coding experience. And if you ever get stuck or have any questions the eCommerce experts at BigCommerce will provide you with personalized advice on how to optimize your site for conversions.
Click here to sign up for a free trial of BigCommerce