If you're looking for the best Squarespace template for actors then you've come to the right place. I'm sure you already know that when you want to present a professional acting portfolio then an actor website is a must in this day and age.
Luckily, Squarespace makes building a website easier than ever especially for people with no technical experience.
You can start with any one of the pre-made Squarespace templates on this page. Then all you'll need to do is add some text, photos, videos, and any other personal touches to the Squarespace template.
Then when you're done adding text and images to your website all you'll need to do is hit publish to have your website ready for the whole world to see.
Best Squarespace Template for Actors
Miller Template Squarespace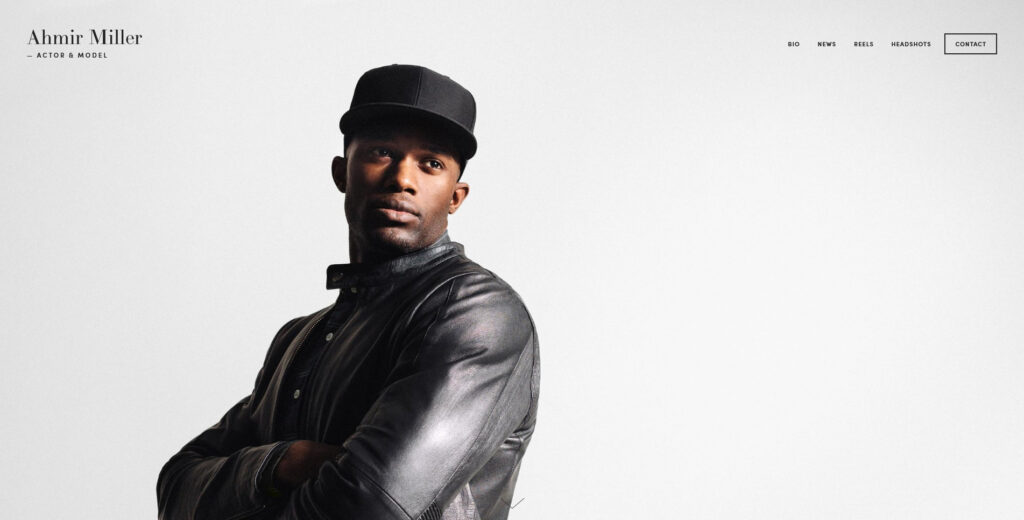 The Miller Squarespace Template is the best Squarespace template for actors since it's a custom made actors portfolio template. This Squarespace template has sections for an actor biography, headshots, videos, and news updates. This portfolio template even has a contact form built just for actors that will alert you to any potential booking opportunities.
The Miller Squarespace template also takes advantage of modern responsive design techniques. That means your site will look great on a wide range of devices like desktops, tablets, and Smartphones.
The Miller template also has nice visual flourishes like a mobile-friendly menu, image carousels, and parallax scrolling that makes it really stand out as one of the best Squarespace templates for personal branding.
Cruz Squarespace Template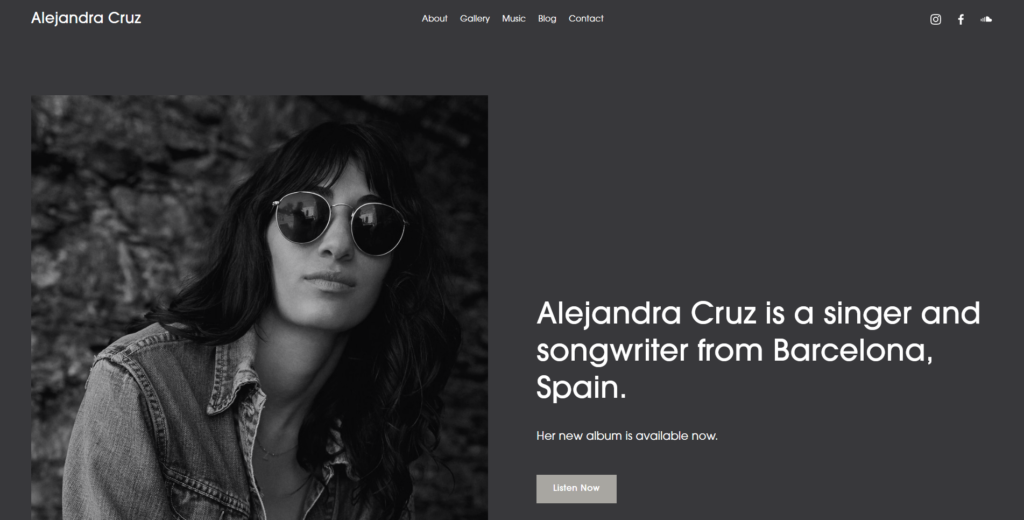 The Cruz Squarespace Template is a portfolio template that's perfect for actors, models, and musicians. This Squarespace template has sections for a resume, gallery, audio, video, and a blog. This professional website template also has built-in social media icons for Facebook and Instagram to help grow your following on multiple platforms.
The Cruz Square space template also has support for multimedia, so you can easily embed demo reels on your media page. The design elements of the Cruz template are also on point since it incorporates text and image transitions on every page.
If you're looking for one of the best Squarespace templates for creatives then you'll want to check out the Cruz Squarespace Template (View Demo)
Wells Squarespace Template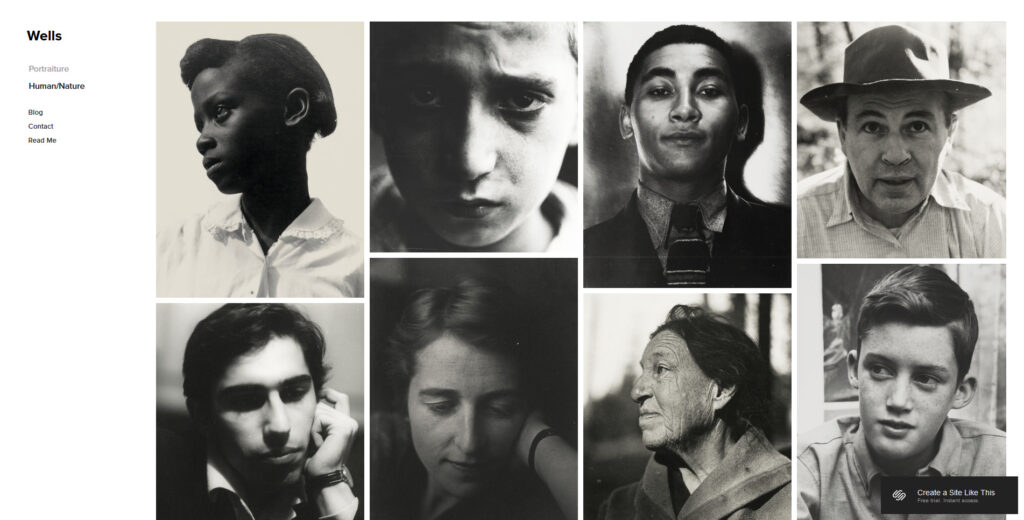 The Wells Squarespace Template is one of the best Squarespace portfolio templates for actor websites that are image-heavy. This image grid style website template is a great way to put your headshots front and center, and it can even be used to brainstorm storyboard ideas. In addition, the Wells template also has sections for a blog, contact form, and a resume.
Hart Squarespace Template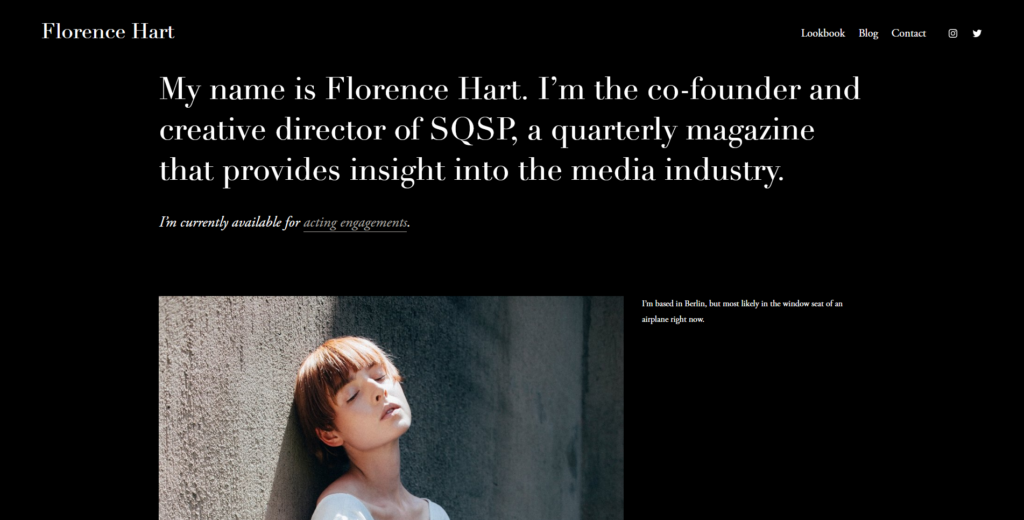 The Hart Squarespace Template is a new Squarespace template that's made for actors and models. This template has sections for displaying large high-resolution images and multimedia. It also has support for a blog and it integrates with Facebook, Instagram, and Twitter.
Noll Squarespace Template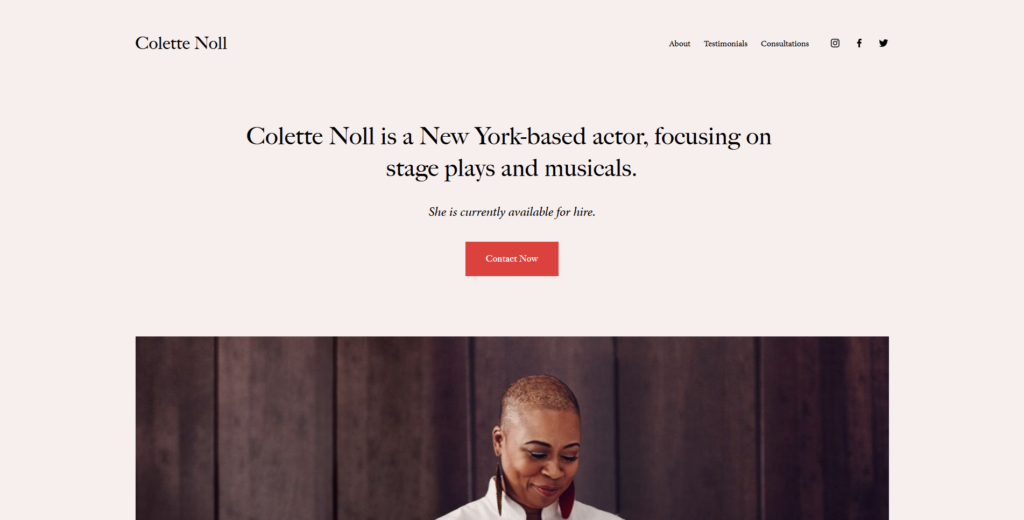 The Noll Squarespace Template is the best Squarespace template for a personal brand. This template focuses on a design that can increase the likelihood of getting a casting director to book you for a role, or call you in for an audition.
This Squarespace template achieves better conversions since it uses a landing page format that displays an image and a brief biography with a button that links to your contact page. This sets it apart from a regular portfolio template since it gets right to the point and tells people where they can find your booking information.
Tepito Squarespace Template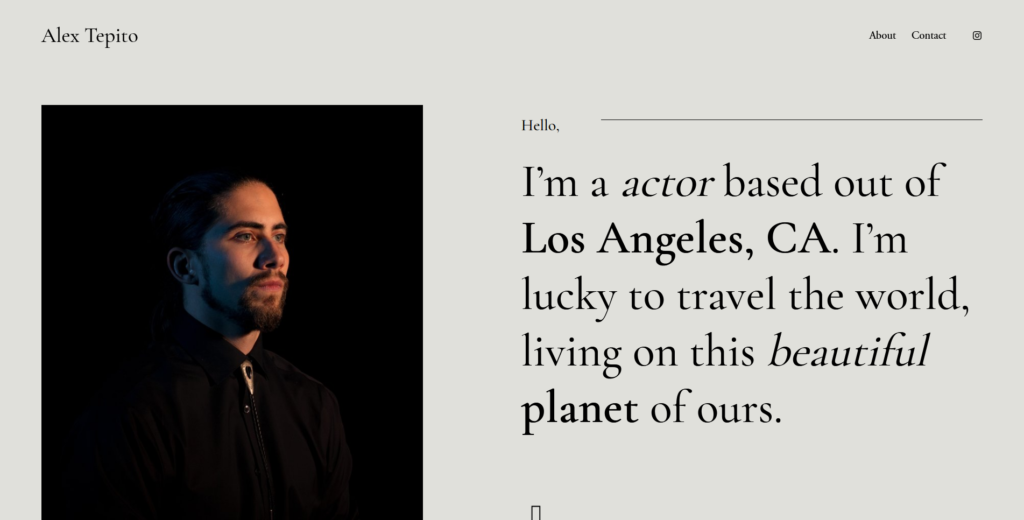 The Tepito Squarespace Template is one of the best Squarespace templates for portfolio websites. This template has sections for an actor resume, social media, and photos. It also has a unique gallery that resembles a storyboard layout along with custom image transformations when you scroll the page.
Cami Squarespace Template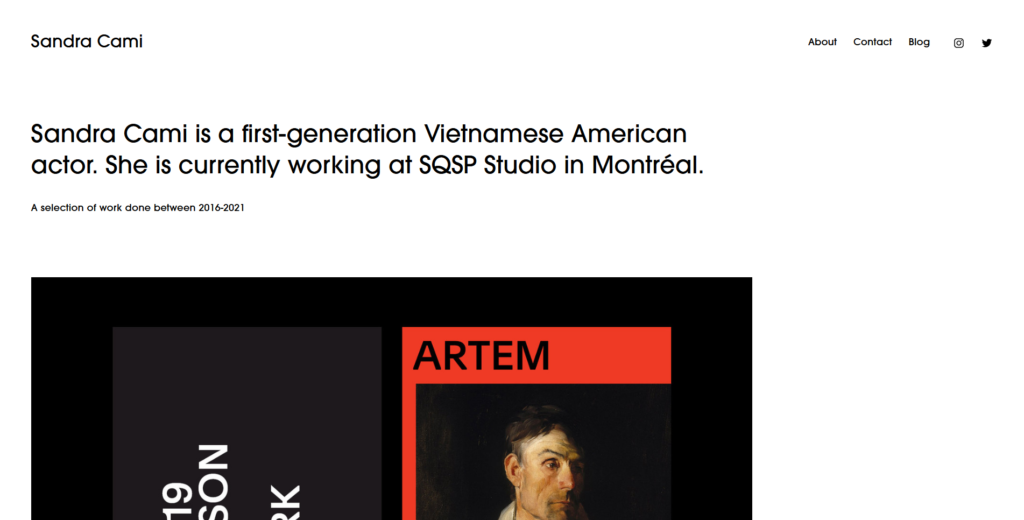 The Cami Squarespace Template is one of the best Squarespace templates for creatives. This template has sections for a blog, actor bio, photos, and social media. It's also a very easy template to work with since it has a minimalistic design that you can easily customize to suit your needs.
Otto Squarespace Template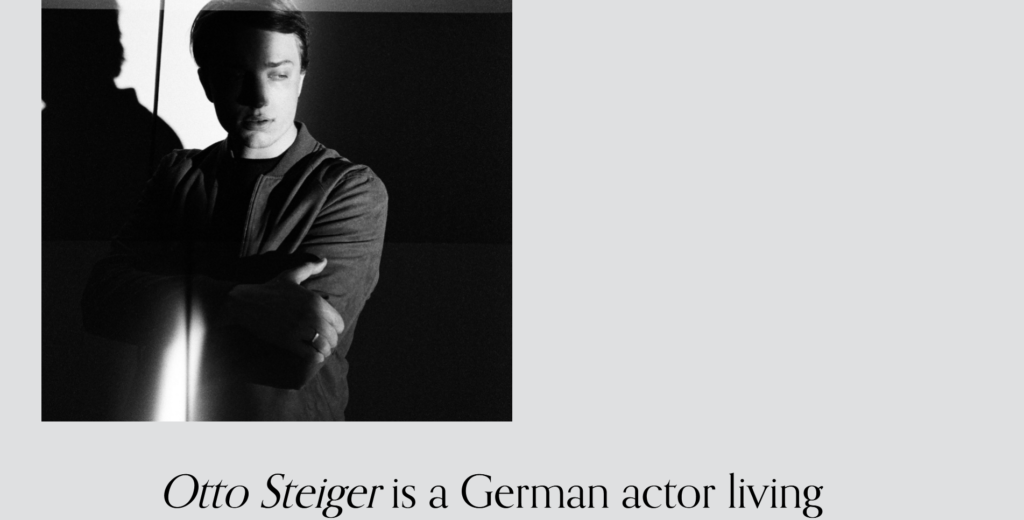 The Otto Squarespace Template is a minimalistic website template that you can use if you want to start your actor website from a clean base. This Squarespace template doesn't have any pre-defined sections, so you can be creative and customize it however you please.
How To Make an Actor Portfolio Website Using Squarespace
A Squarespace website makes it easy to show off your resume, headshots, audio, and even video clips. In the following sections, we'll address the most important things you should add to your new Squarespace website once you choose your template.
Acting Resume
One of the most important things casting directors will look for on your website is a concise acting resume. This will help them quickly check out your credits and credentials to see if you're right for the role they are looking to fill, which means you'll be more likely to get more auditions and bookings.
A good acting resume should also present some of the following personal and biographical information:
Name

Contact Information

Height

Weight

Hair Color

Eye Color
Actor Site Branding
A professional looking actor website will need to have good personal branding. That means you should think about making a logo and a simple Favicon to personalize your page. This can be done easily with an Online Logo Creation Software like Canva (Try Now) even if you're not a graphic artist.
Actor Headshot and Photos
When you build your Squarespace website you want to make sure you have lots of images on hand to fill out each page. Most importantly you should have your best headshot on your Squarespace website's homepage, along with a link to more headshots on a separate page.
You also want to include images of your previous work or any other photoshoots that you think might be relevant to landing a job or an audition.
Also, you can get creative with your images and add filters and color grading using Canva (Try Now)
Actor Demo Reel and Videos
Videos are becoming more important to casting directors since they can convey more information about your acting abilities. That's why it's important to at least have one demo reel on your website that shows off your best work in a quick and concise way.
You can make a Demo Reel using Envato Video Templates (Try Now) even if you don't have any video editing experience. Then you can host your videos on Vimeo (Try Now), which is a better option than YouTube since they won't run any distracting advertisements on your videos.
Squarespace Portfolio Examples built by Real Actors
Here are some other great Squarespace portfolio examples built by real actors making a living in the theater, music, movie, and media industry: