If you're looking for the Best Squarespace template for churches you've come to the right place. On this page, you'll find a list of new Squarespace templates that make it easy for anyone to create a church website that's ready to meet the needs of a modern congregation.
Best Squarespace Template for Churches
Comet Template Squarespace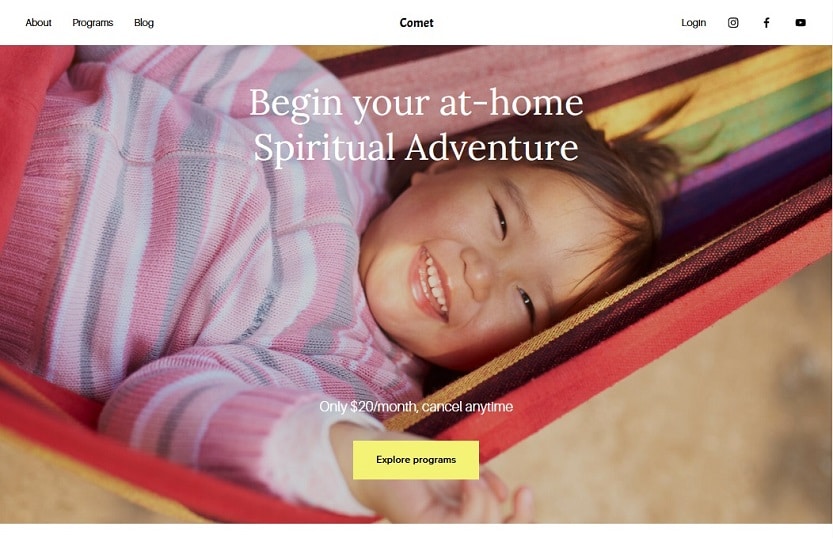 The Comet Squarespace Template is one of the best Squarespace templates for churches that provide programs to their local community. This template has layouts for a Blog, Program Details, and an About Page.
The Comet Template can be customized very easily by changing a few lines of text and by adding some of your own images. The blog can also be used to share weekly sermons and to update parishioners on upcoming church events and activities.
Another great feature of the Comet Template is that it supports membership subscriptions for church programs. Anyone who signs up for a membership will get their own account, where they can log-into a special members-only section of the website.
If you want to see all the features of the Comet Demo Site (Click Here)
Clove Template Squarespace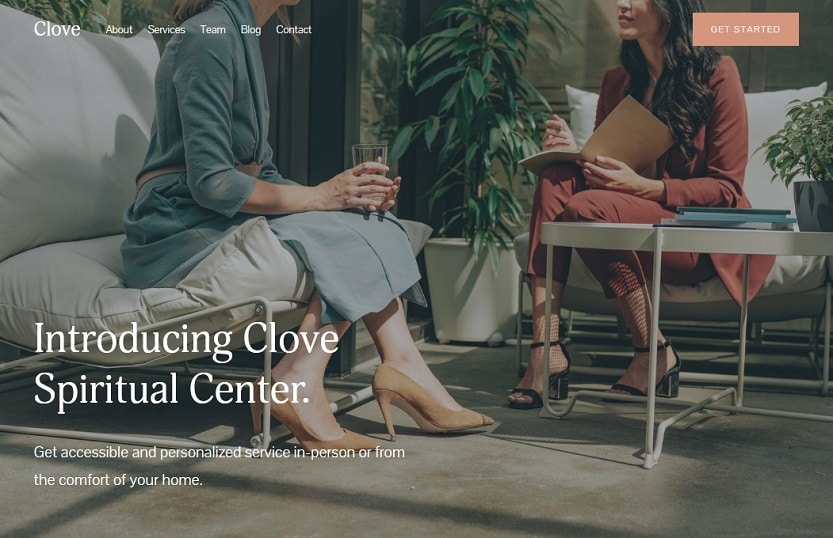 The Clove Squarespace Template makes a great starting point for setting up a church website. This template has sections for an About Page, Services, Team Page, Contact Page, and a Blog
The Clove template can also be used to book appointments, reserve seats, or schedule events using the built-in Squarespace scheduling application.
Lusaka Template Squarespace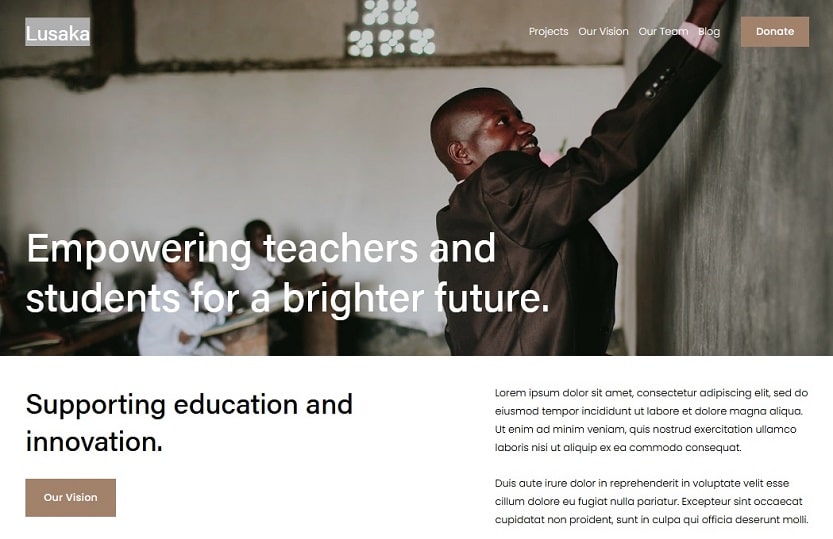 The Lusaka Squarespace Template is a great website template if you want to inform your parishioners about church activities and services.
The Lusaka template is very well designed and it incorporates custom animations and screen transitions. Also, this template has a clean layout that's very easy to navigate, and it can be quickly customized to meet the needs of your church.
The Lusaka Template is also focused on collecting donations using Squarespace donation buttons that make it easy to process online payments. If you want to see this template in action you can visit the Lusaka Demo Site (Click Here).
Soria Template Squarespace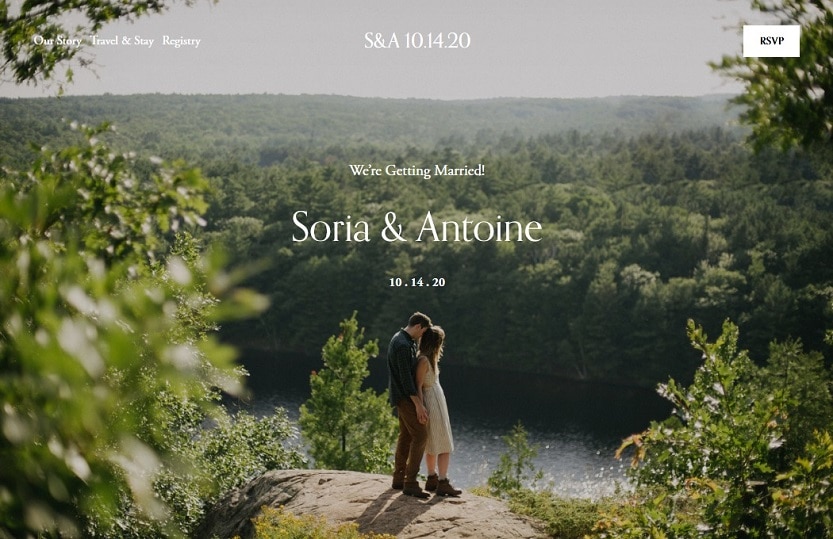 The Soria Squarespace Template is the best Squarespace template for churches that officiate weddings. This template can be quickly updated for each ceremony, and it can also be used as a way to book and schedule new weddings
The Soria template also has sections for informing visitors about upcoming wedding ceremonies. And it even has built-in Google Maps support so members of the wedding party can easily find the location of your church on their Smartphone or tablet.
Clarkson Template Squarespace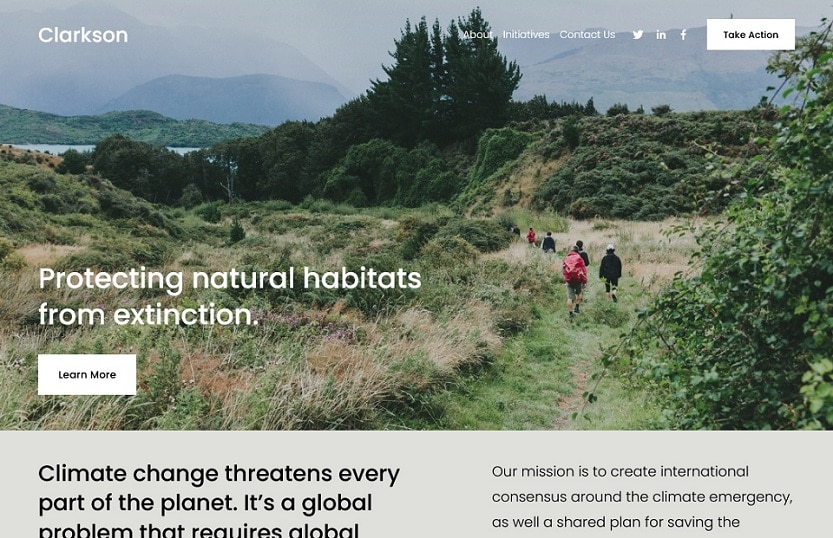 The Clarkson Squarespace Template is made for churches that have a mission that they want to drum up support for online. Visitors are immediately drawn to the "Take Action" button at the top of the page, where they can volunteer or donate to your church or support a cause.
The Clarkson Template also supports social media integrations, which makes it easy for people to share your site with all their contacts on LinkedIn, Twitter, and Facebook.
Roseti Template Squarespace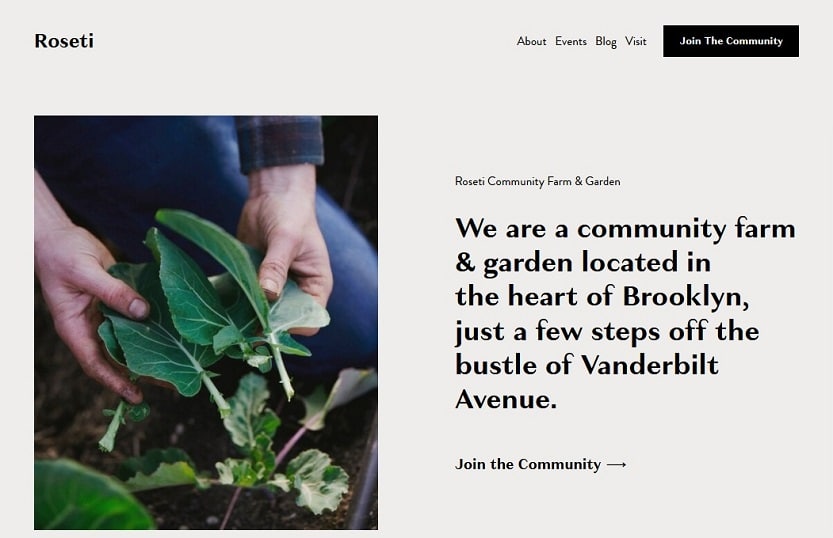 The Roseti Squarespace Template is a great website theme for churches that hold food drives and support local food pantries. This template can also be used to keep people informed of sermons, classes, and local events.
This mission-driven Squarespace template can also be used to collect donations and to sell tickets to events and charity drives.
The best thing about the Roseti template is that it has a minimalist design that makes it very easy to customize. You can view the Roseti Template Demo (Click Here) if you want to try it out for yourself.
Colima Template Squarespace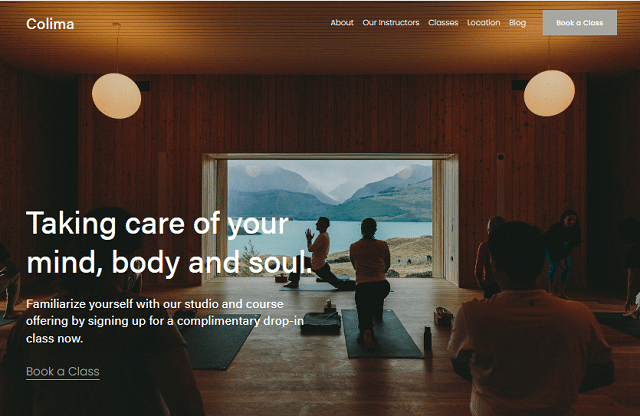 The Colima Squarespace Template is a great starter template for a church that needs to schedule events or classes. With this template, people can book, and pay for classes or events online using Squarespace Scheduling and Payments.
This template also has a wide assortment of blog and content layouts. It also includes a Google Maps integration, so parishioners can easily find your church's location.
Paloma Template Squarespace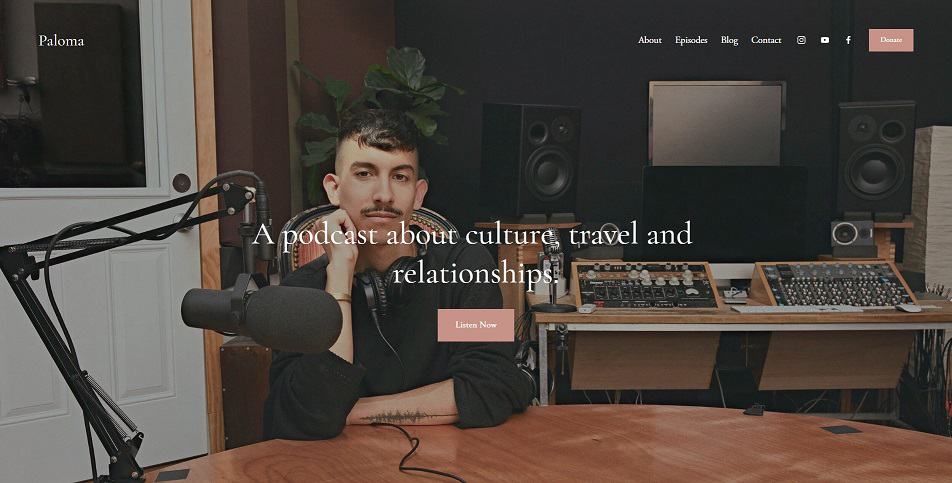 The Paloma Template is the best Squarespace template for a church that wants to host a Podcast or any other multimedia content. This template makes it easy to incorporate an audio player on each page where parishioners can listen to Podcasts, music, or recorded sermons. And you can also add videos to this template from online video hosting platforms like YouTube or Vimeo (Learn More)
Almar Template Squarespace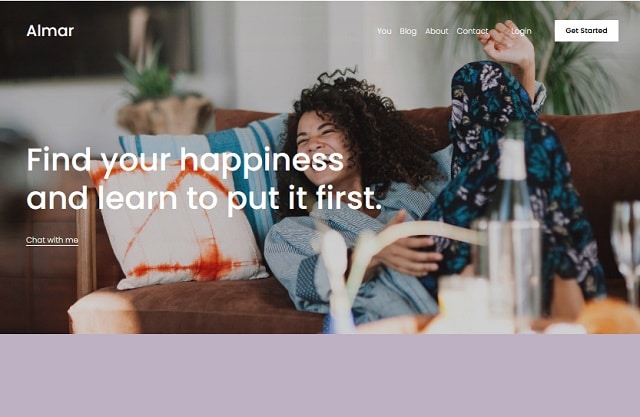 The Almar Squarespace Template is a great template for a church or pastor that wants to have a more personal connection with their congregation.
With this template, you can easily share sermons, stories, and updates on a regular basis using the built-in blog pages. This template is also a great choice for collecting monthly donations since it supports memberships and recurring subscriptions.
Euclid Template Squarespace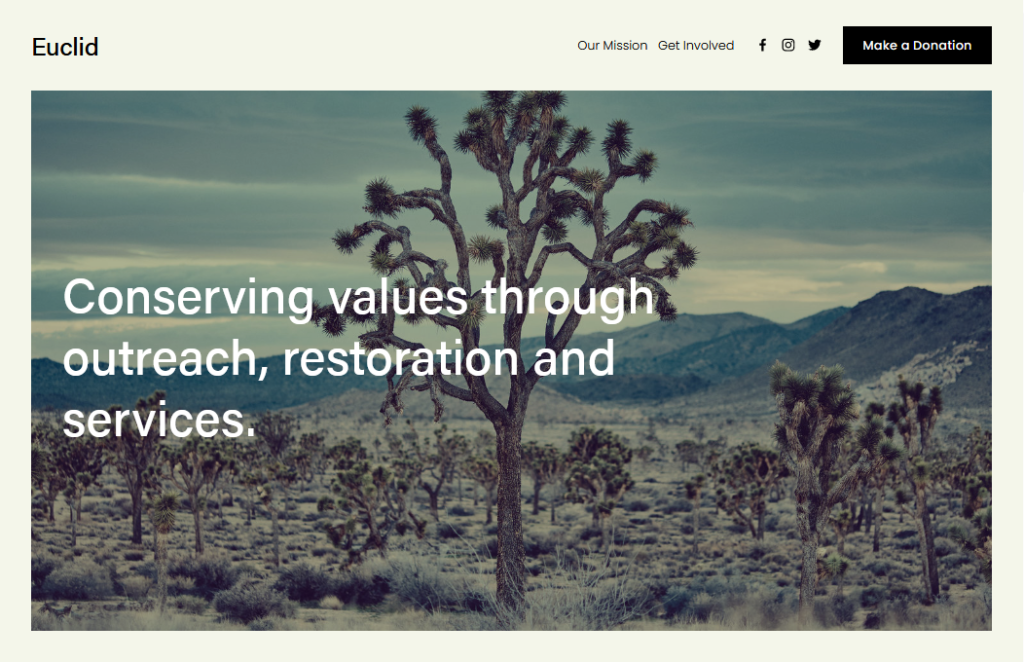 The Euclid Squarespace Template is designed for non-profit organizations that accept donations. This is a great starter template that can quickly be converted into a church website simply by replacing the text and images.
The Euclid Template also has a clear call-to-action donation button at the top of each page. Donations can be collected using the Squarespace donations integration, which connects directly to PayPal, or you can use any other third-party donation platform.
The Euclid Template also has excellent social media support with links to Facebook and Twitter on each page. This makes it easy for visitors to share anything they like on your site, which can help grow and build interest in your digital congregation.
How To Run a Successful Church Website
Church Member Updates
A church website is one of the best ways to keep the members of your church updated about events, services, and classes. Squarespace also makes it easy to post a calendar where people can be notified of any scheduling changes.
Church Blog
A website is a great way to spread the message about your church to a wider group of people than you could ever reach in a physical location.
A blog can be used to create a more engaging way to spread your message with text, images, and videos. This can be a great way to reach out to the younger generations, and also to connect with people that don't usually go to church on a regular basis.
Church Podcast
Starting a church podcast is a great way to educate and inform people about religion. You can use a podcast to post recordings from past sermons, or you can use a podcast as an addendum to your regular services.
A podcast can also be used to promote events, conduct interviews, and have call-in shows with parishioners.
If you're interested in starting a Podcast for your church there are some excellent Wix and Squarespace templates for Podcasts.
You can also get a free Podcast Website and Podcast Hosting at PodBean (Learn More) if you want to give Podcasting a try.
Church Outreach
A website will allow you to reach new people online that you would most likely never meet in person.
With a website, your church will show up on search engines when anyone searches for churches in your area.
You can also share links to your website on social media to reach out and connect with people across the country that might be interested in your church's mission.
Share Church Video
A church website is a perfect place to share videos of sermons or to broadcast live video. You can host past sermons on video hosting sites like Vimeo (Learn More).
Live video feeds can also be broadcast right from your church using Vimeo Livestream for any parishioners that can't make it to a service.
Church Website Donations
A website makes it easy to collect donations online using PayPal, Debit Cards, or Credit Cards.
People will also be able to make donations on a website 24/7 since websites never need to take time off or sleep.
A church website can also receive donations from around the world, so people can support your church even if they aren't able to visit your church's physical location.