Squarespace is a great platform for small businesses and bloggers. It's easy to use, affordable, and has many features that make it easy to set up a website.
Luckily, there is an increasing number of Squarespace plugins that have been released in recent years that will help you improve the SEO on a Squarespace website.
In this article, we'll introduce you to some of the best Squarespace SEO plugins so you can keep your site at the top of the search engine results.
Squarespace SEO Plugins
Smart SEO Squarespace Extension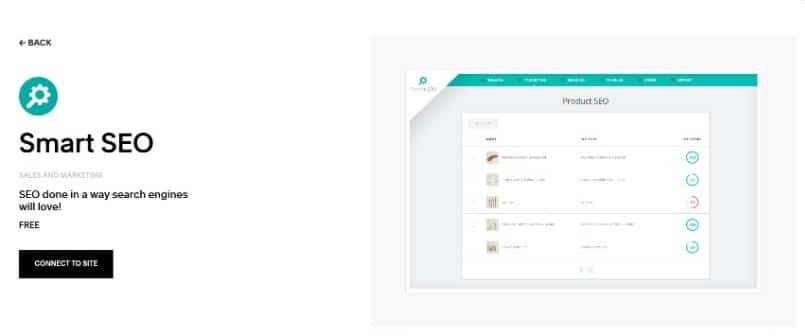 The Smart SEO Squarespace Plugin (Free Download) is the perfect tool for any business owner that wants to optimize their website. It's easy to use and generates meta tags and alt tags in seconds. You can also use it to generate product meta tags, which will help your products rank better on search engines.
Squarespace Smart SEO Features
Smart SEO Dashboard
Smart SEO has an intuitive interface that lets you easily edit meta titles and descriptions without any coding knowledge. It's a one-stop-shop for all of your SEO needs, with templates and dynamic conditions that make it easy to stay on top of your site's SEO configuration.
Image SEO
The Image SEO tool helps you optimize your image ALT tags for search engines. Optimizing your images can be time-consuming and tedious, but with the drag-and-drop interface in Smart SEO, it's a quick and easy process.
With Smart SEO you can organize all of your image SEO in one place, so you won't have to worry about missing out on an opportunity to improve the visibility of your site on Google Images
Product SEO
Smart SEO includes a product SEO tool that helps you optimize your product meta tags, product image ALT tags, and the SEO meta title of your product. It also gives you an actionable SEO score that will help you understand how well optimized your product listings are for search engines.
With Smart SEO's easy-to-use graphical interface, it's never been easier to make sure your products rank well on search engines. And in the long run, this will help increase search traffic to your site, which will ultimately lead to more free organic product sales.
Square Studio SEO Pro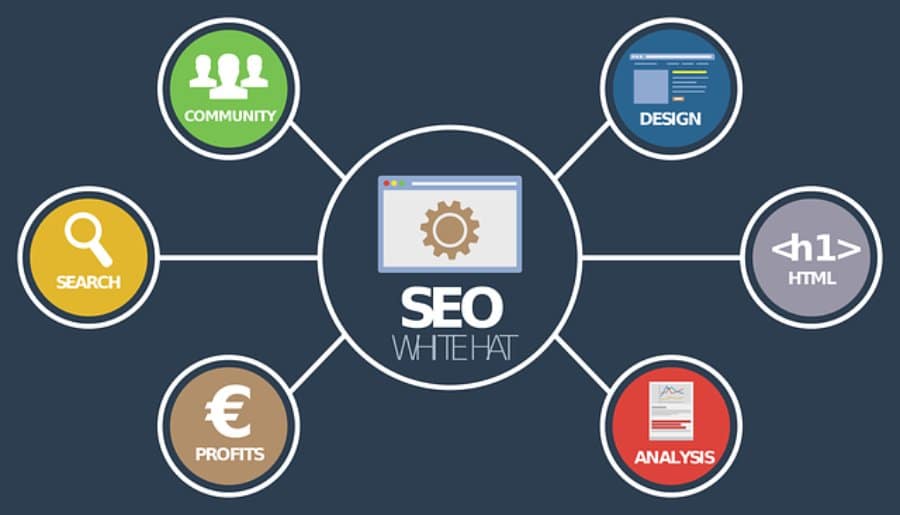 Square Studio SEO Pro (Get Plugin) is a full-featured Squarespace SEO Plugin that analyzes a site's most important SEO metrics, and it will also walk you through ways to improve the SEO on your Squarespace website. This plugin features over 22 different SEO indicators, including on-page optimizations, meta description length, title tags, and more.
Square Studio SEO Pro Features
General SEO Score
The General SEO Score in Square Studio SEO Pro is an easy-to-use tool that helps you identify weaknesses in your website's meta titles, meta descriptions, content length, keyword density, and more. It also provides tips on how to fix these issues. And you can use the General SEO Score as a Squarespace SEO checklist before you publish a new page or blog post.
Readability Score
The Readability Score in Square Studio SEO Pro is an easy-to-use tool that measures the readability of any web page, blog post, or document.
This feature is designed to help writers and editors improve their writing by providing feedback on the readability of their content.
Square Studio SEO Pro checks multiple readability indicators, including the Flesch Easy Reading Score, Transition Words, Passive Voice, and Paragraph Length.
Keyphrase Optimization
Square Studio SEO Pro checks the keyphrase density on every page, and it gives you tips on how to improve the keyword optimization of your content, which over time can help your site rank higher on Google search results.
Squarespace SEO Courses
Squarespace Tips: The Importance of Categories & Tags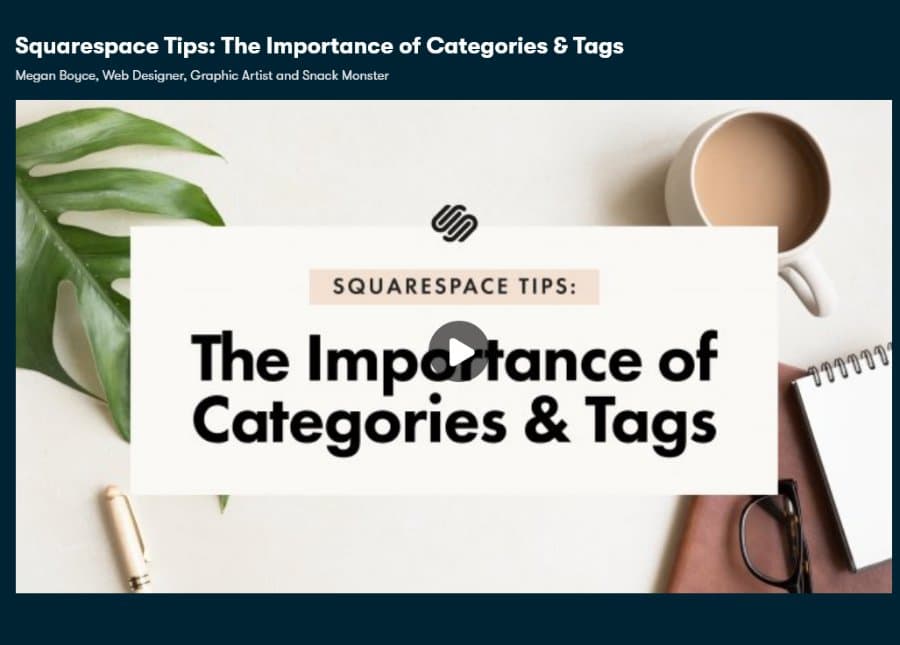 This Squarespace Course (Free Sign-Up) will cover everything you need to know about Squarespace Categories and Meta Tags.
Categories are a way of organizing content on your site so that visitors and search engines can easily find what they're looking for.
Tags are keywords or phrases that help people search for information about your business online. They also help improve SEO (Search Engine Optimization) by giving search engines more information about the content posted on your site.
You'll learn how to set up categories and tags in this course, as well as how best to utilize them within your Squarespace website. And don't worry – everything is explained in easy-to-follow training videos with useful examples that you can immediately put to use!
Squarespace SEO Tutorial – Squarespace Website SEO Tips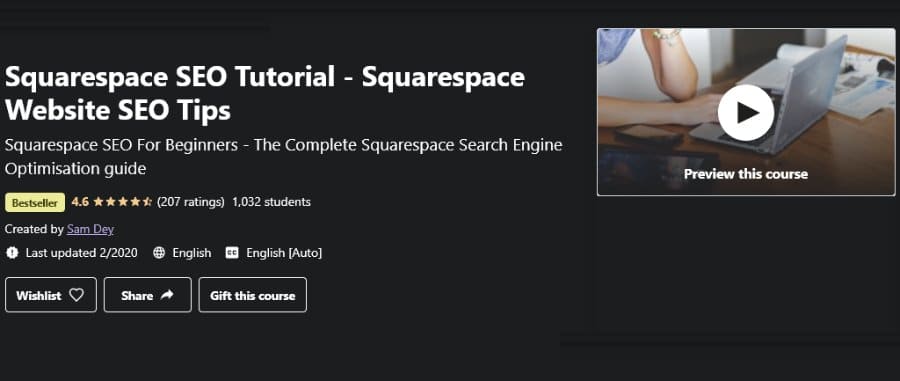 This Squarespace SEO Course (Preview Course) will help you understand the basics of ranking a Squarespace website. You'll learn how to optimize pages for SEO, and what SEO options are available in Squarespace. The course is 1.5 hours long with on-demand video content so you can learn at your own pace.
This course will give you everything you need to properly implement SEO best practices on your Squarespace site so you can improve your organic rankings. The result? More traffic from search engines like Google or Bing.
Search Engine Optimization (SEO) with Squarespace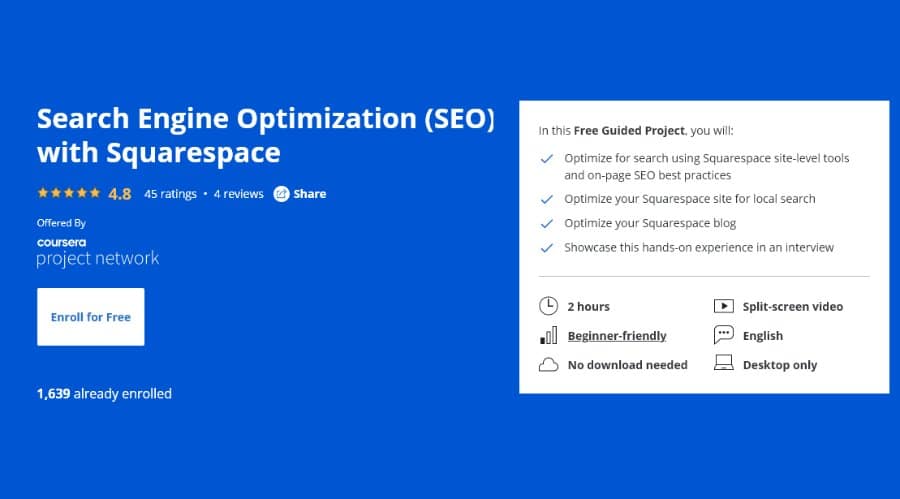 Search Engine Optimization with Squarespace (Enroll for Free) will teach you how to use the tools that Squarespace provides to optimize your site's SEO. You'll also learn how to optimize for search rankings using site-level tools, local search features, and how to improve your on-page SEO.
This course will teach you everything from basic optimization techniques like adding keywords into the title tags of each page to more advanced strategies such as creating content-rich blogs.
By taking this class, not only will you learn how easy it is to get started with Squarespace, but you'll also gain valuable knowledge about improving your website's rankings
Squarespace SEO Review
Squarespace has become very popular with small business owners and entrepreneurs thanks to its ease of use, customization options, and beginner-friendly features. But if you're using it without taking advantage of all of its SEO potential, then you've probably been missing out on an opportunity to rank higher in search results.
One of the best things about Squarespace is that it already comes with a full set of built-in SEO tools, which automatically optimizes your content for search engines to improve the visibility of your site on search engines like Google, Bing, Yahoo, and DuckDuckGo.
In the following section, we'll go through all of the different SEO tools that are built into Squarespace. These tools make it easy to improve your site's visibility and rankings on search engines, with little to no effort on your part.
Automatically Generate Squarespace Sitemaps
Squarespace is a content management system that provides an easy way to create and maintain your website. One of the most important SEO features it offers is automated sitemaps, which are generated when you upload new pages or update existing posts.
SEO Optimized Titles and Descriptions
Squarespace automatically creates SEO-optimized titles and descriptions for every blog post, which is a great time-saver. It will also create meta tags for your website, which will also help with your site's SEO.
SEO Optimized URLs
Squarespace automatically creates short SEO Optimized URLs for your content. This makes your site's URLs more readable, shareable, and search engine friendly.
SSL Certificates
Squarespace domains come with a free SSL Certificate that can help improve a site's SEO. That means the URL of your website will be using secure sockets layer encryption (HTTPS). This signals to Google and other search engines that you take security seriously, and Google takes SSL Certificates into account when it comes to a site's rankings.
Schema Markup
Squarespace automatically generates Schema Markup for things like events and products. Schema markup is a set of HTML tags that structures information in a way that's easy for search engine crawlers to digest. This helps search engines understand the content on your site without having to rely solely on keywords or any other page-level ranking factors.
Mobile-Optimized
Every Squarespace template is fully mobile-optimized, which makes it easy to build a great-looking site on any device, and having a mobile-optimized site also improves SEO rankings. This is even more important now since as of September 2020 Google has switched to mobile-first indexing for all sites.
Social Media Meta Data
Squarespace automatically generates metadata for Facebook, Twitter, Pinterest, and other social sharing sites that allows them to display the title, description, and featured image associated with your post when people share your content on social media sites.
Squarespace SEO Tips
As a business owner, you may not have time to think about your website's SEO strategy. It's easy to get overwhelmed with all the strategies that are out there, and often people will just stick with what they know. But not having an SEO plan for your website can be detrimental to the success of your site.
In this section, we'll outline some tips on how to optimize your Squarespace site for search engines so it ranks higher in SERPS (search engine results pages), so you can generate more leads and sales from organic traffic!
Optimize Your
Domain Name
The first thing you need to do when setting up SEO (search engine optimization) on a new site is choosing the right domain name. This will be the most recognizable part of your URL and should include both keyword phrases related to what you sell as well as keywords people would use in their searches for what you offer.
Google Search Console
Google Search Console is a free tool from Google that gives webmasters access to information about how search engines crawl and index their site, as well as diagnostics for site errors.
Get Verified
You can verify your Squarespace site on Google Search Console by following these simple steps in this article (Click Here):
Submit your Squarespace Sitemap
Once Google Search Console has verified your site you'll want to submit your XML site map:
Click Sitemaps in Google Search Console

Then Find "Add a New Sitemap"

Type in the following text "sitemap.xml"

Click Submit
That's all you have to do to get your Squarespace sitemap added to Google Search Console.
Now you can move onto on-page SEO optimization strategies that will help your posts and products rank higher in search results
Optimize Your Title Tags
It's important to optimize your website title tags for search engines. Since the primary goal of a website is to get visitors, making sure they can find it through search engine results is crucial. One way to do this is by optimizing your site name, page titles, and descriptions with keywords that are relevant to your business.
Setup Google Analytics
Do you know how much traffic your website gets? If not, then you'll want to set up Google Analytics. Google Analytics allows you to see the number of visitors and where they are coming from. This is invaluable information for any business owner looking to learn more about the visitors coming to your site.
Setting up Google Analytics is easy and it only takes a few minutes when you follow these simple steps:
1) Go to analytics.google.com
2) Log in using a Google account
3) Setup a property by clicking on "add"
4) Give it a name
5) Then add the tracking code to your Squarespace site