When it comes to gaming website design, you want a theme that is designed for gamers. There are many themes out there that claim they are perfect for gamers but don't actually have the features and functionality necessary to build a fully interactive gaming website.  In this post, you'll find the Best WordPress themes for Gaming Websites that have been built and designed from the ground up for Game Review Sites, eSports Teams, Game Developers, and Video Game Streamers
Best WordPress Themes for Gaming Websites
Gameworld WordPress Theme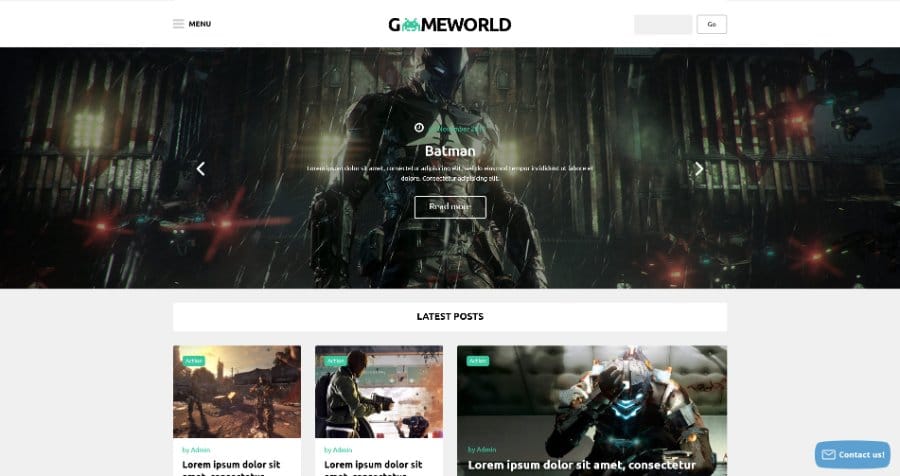 The Gameworld WordPress Theme is a responsive theme that is perfect for gamers and game developers. It features an elegant design with plenty of customization options to help you create the best gaming website possible, whether it's about games review or gaming products.
The Game Portal WordPress Theme Features Parallax scrolling effects; Image lazy loading, Responsive layouts & Retina-ready graphics/images + Unlimited colors schemes! That means this template has been designed from scratch for high-resolution devices, which ensures everything looks pixel-perfect on any device including 4k Monitors
The Game Portal WordPress Theme also boasts a mega footer with website categories, contact form, Facebook Like Box, social icons, newsletter subscription form, contact details, and popular post widgets.
Overworld – eSports and Gaming Theme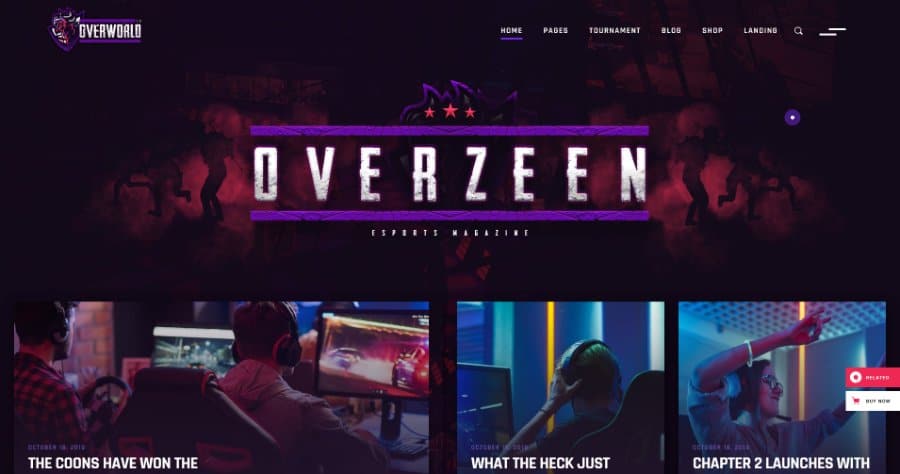 Overworld is the perfect theme for gamers, eSports enthusiasts, and gaming fans. It's got everything you need to create a gaming magazine or create a custom site for your gaming tournaments & more. You also get tons of elements custom-built for gaming sites like player lists, match lists, and tournament listings!
The best part about this theme is that it's super easy to use since it includes a free copy of WPBakery. All you'll need to do to create an awesome-looking gaming website is just drag and drop content into place using the intuitive WPBakery page builder.
Overworld is a powerful theme that provides gamers and eSports professionals with the tools needed to create an amazing website full of high-quality content. With over 100 professional gaming shortcodes, you can transform your Overworld template into anything including a large competitive eSports tournament website with fully interactive events when it's paired with live streaming plugins like Stream Box Pro.
Gaming Fan Board WordPress Theme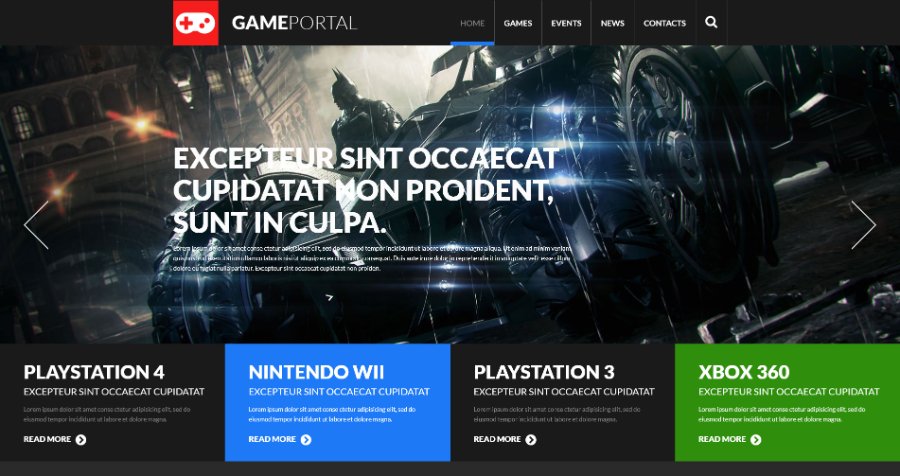 The Gaming Fan Board WordPress Theme is one of the best WordPress themes for a gaming website. It comes with a clean and professional design that will make your website stand out from the competition.
The Gaming Fan Board WordPress Theme is fully responsive, so it will look great on mobile devices. It also includes plenty of customization options to help you create a site that stands out from all of the other websites using free WordPress themes.
PlayerX – A High-powered Theme for Gaming and eSports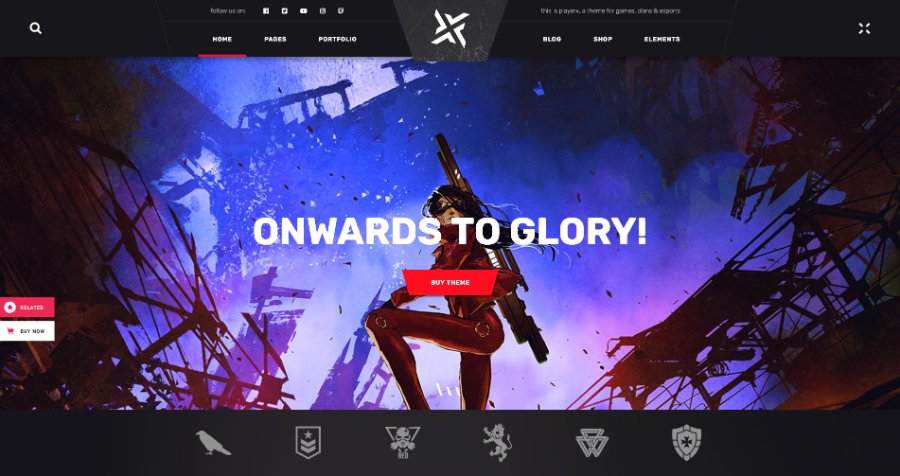 PlayerX is the best WordPress theme for gamers, eSports teams, and gaming studios. It has everything you need to create an incredible website with tons of customization options and features, it will be easy to make a website for any genre of game.
PlayerX is a uniquely powerful, high-quality, and fully responsive WordPress theme. And it's powered by the best live streaming plugin on CodeCanyon: Stream Box Pro.
This ground-breaking plugin lets you stream webinars, events, or anything else in real-time! It's also perfect for gamers with custom widgets that include Steam Summaries, Achievements, Gear, and Stats to keep players up to date on their progress!
Check out the PlayerX demo now to see all the features this theme has to offer!
Game Reviews WordPress Theme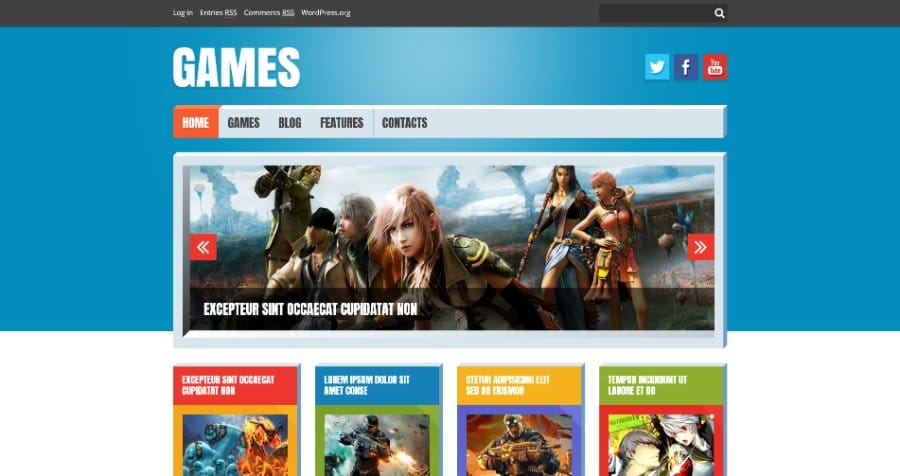 The Game Reviews WordPress Theme is a great choice for a gaming website. It comes with plenty of customization options and features that will make your site an attractive destination for all types of gamers.
This theme is SEO optimized and it's fully mobile responsive. It includes a blog section, social media integration for Facebook Page or Twitter account as well, and it has an integrated contact form that will allow you to receive feedback from your visitors.
This template has a unique design that combines flat shapes and volumetric tiles that create an interesting 3D effect that will delight your visitors. The design is also a perfect fit for fans of role-playing and card games like Magic the Gathering, Pokemon, and Dungeons & Dragons
Entropia – Gaming and eSports Theme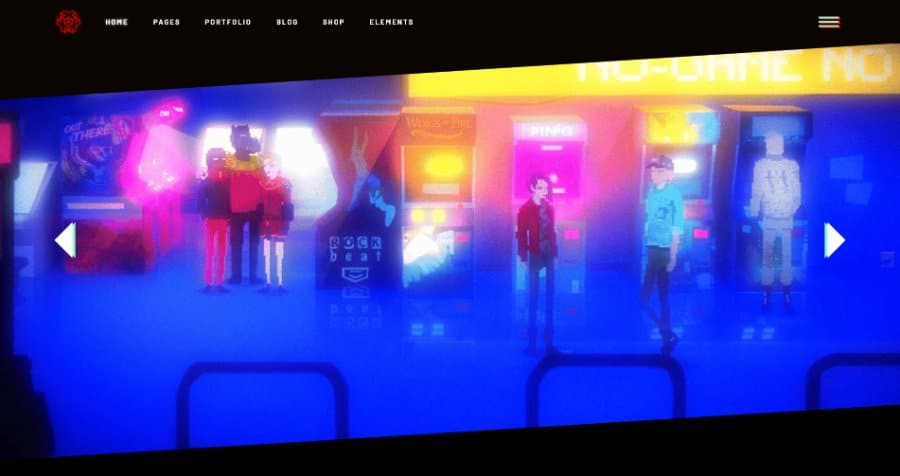 Entropia is the perfect theme for gamers, eSports, tournaments, and video game influencers. You won't find another theme like this one currently on the market! Not only does it have incredible features but it also has an amazing design that's sure to impress your visitors.
The theme features several multiple professionally designed pages to showcase high-quality content such as galleries, portfolios, or blog posts in a number of different styles.
Entropia offers has multiple predefined layouts for different types of presentations: full-width, pagination, boxed, and many other possibilities
The WPBakery Page Builder plugin is also included for free with the Entropia Theme. With this plugin, you can customize any part of the page layouts. It also supports full-page background images, or background video embeds from sites like YouTube and Vimeo.
Entropia is a WordPress gaming niche theme that is also perfect for professional gamers, eSports teams, and their sponsors.
The Entropia gaming and eSports theme also supports fully flexible layouts, branding options, portfolio pages, and blog templates which will let you can have a professional-looking eSports website up and running in a matter of minutes.
Eldritch – Epic Theme for Gaming and eSports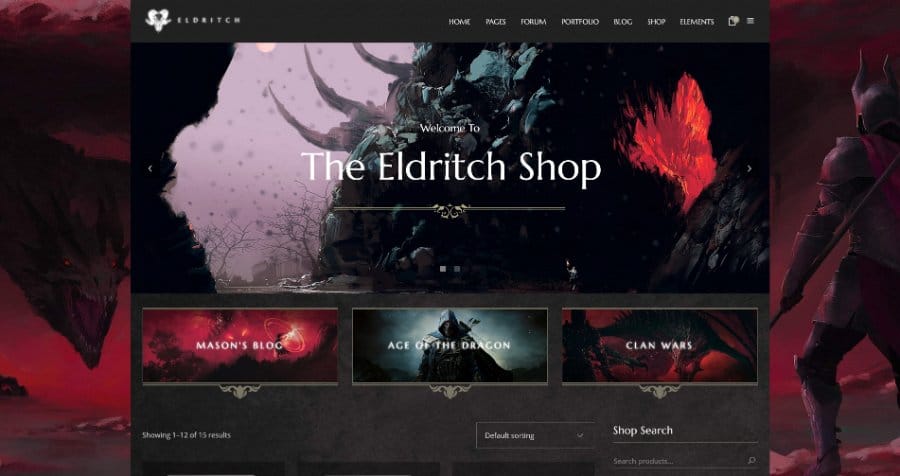 Eldritch is a WordPress theme that's made for gamers and anyone else in the video game industry. It comes with enthralling homepage designs including eSports match layouts, showcase slideshows, blog layouts, and more to help simplify your website's content.
Eldritch has been designed by gamers for gamers so they know exactly what you want from your gaming website theme – be sure to check out the Eldritch Demo Page before making any decisions on which theme is best for your gaming website
SquadForce – eSports Gaming WordPress Theme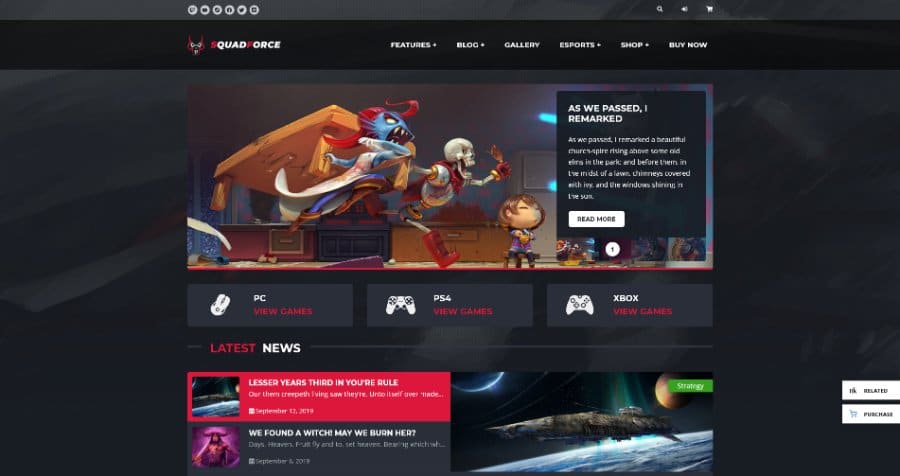 SquadForce is a Gaming and eSports WordPress theme. It can be used by game portals, startups, news portals, eCommerce stores, gaming forums, or game review websites.
SquadForce is a WordPress theme for gamers and fans of eSports. There are also dozens of options to customize the site to match the look and feel of your brand.
The built-in WordPress Gutenberg Plugin takes care of all your page-building needs. While the powerful CyberPress plugin helps you create contests, matches, games, players, and teams with just a few clicks.
Squadforce is also compatible with the Visual Portfolio plugin that lets you easily build slideshows, galleries, or blog post archives.
With all these features you can easily create any layout that you want without having to code anything yourself. And with tons of custom layout blocks in Gutenberg, anyone can build an awesome-looking gaming website with the SquadForce Theme.
Game Addict – Clan War Gaming Theme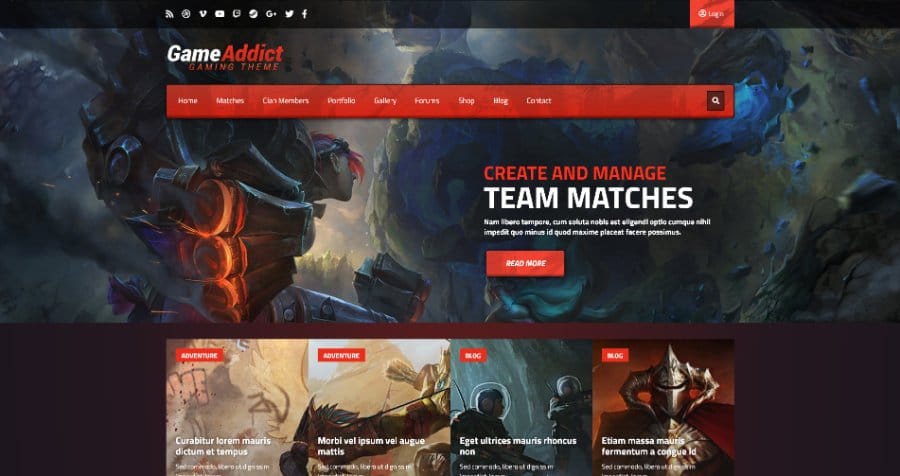 Game Addict is the best WordPress Theme for clan-based games. You can create and manage your own clan wars, including different maps, teams, and games. To see this them in action check out all the amazing options in the Demo Site!
The Game Addict Themes' easy-to-use interface will make it so anyone can create their own clan gaming website with team matches and forum support.
It also features several templates to choose from, unlimited colors & backgrounds, elaborate typography, and other neat functions like a gallery slider, Isotope Image Galley (worth 14$), custom CSS3 animations, and much more.
Godlike – Game Theme for WordPress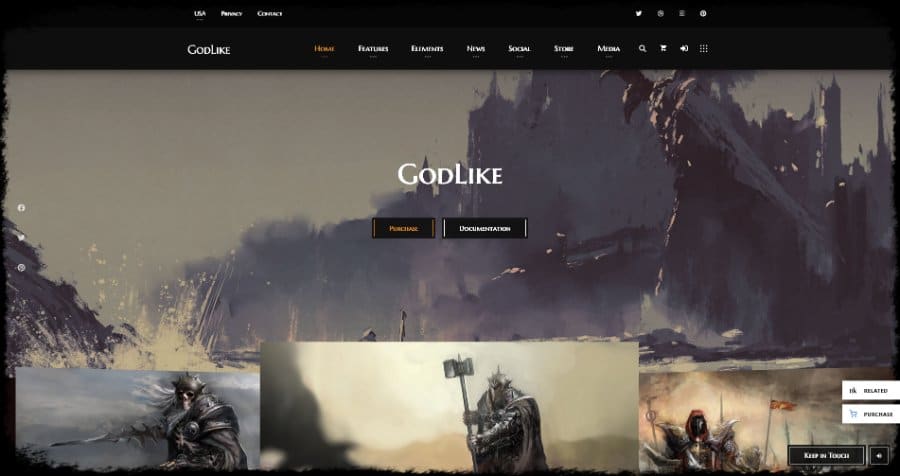 Godlike is the best WordPress theme for game websites. With it, you can promote your games, grow up a community and open your own online store since it offers full WooCommerce support.
You can sell video games, iOS, and Android apps, movies, and more! Its powerful page builder will help you make any layout in minutes. And it has 27 pre-built shortcodes that will let you build anything from a social network, blog, or video game review site.
Plus there are 4 navigation styles to choose from, and dozens of custom elements like progress bars, countdown timers, video blocks, and icon boxes. That makes this one of the most versatile themes with a unique style of its own that truly sets it apart from all the rest.
Game Portal Responsive WordPress Theme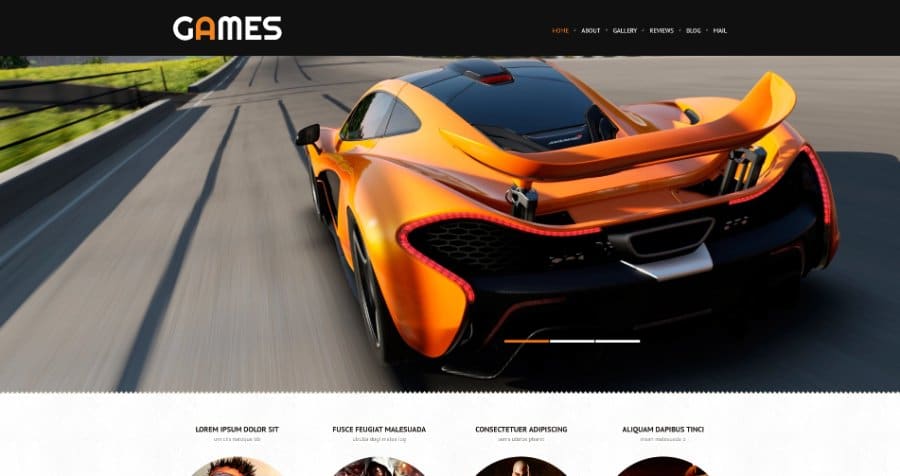 The Game Portal Responsive WordPress Theme is the easiest way to create a gaming website. With this theme, your site will look great on any device – desktop, tablet, or phone. And it comes with plenty of features that make it easy to create a full-featured gaming website for your viewers and readers.
The Game Portal WordPress Theme is your all-in-one solution for a gaming website. With responsive design and SEO friendly coding, this theme will provide the perfect atmosphere for site visitors to browse your game reviews, products, or get more information about eSports teams
The Game Portal Theme also features parallax scrolling, which creates a more immersive visually engaging experience. It also takes full advantage of image Lazy Loading effects that will make your site load faster and provide a smoother experience for visitors.
The Game Portal Theme also comes with plenty of customization options that you can use to build an online video game store, or just to create an amazing blog about games.
Arcane – The Gaming Community Theme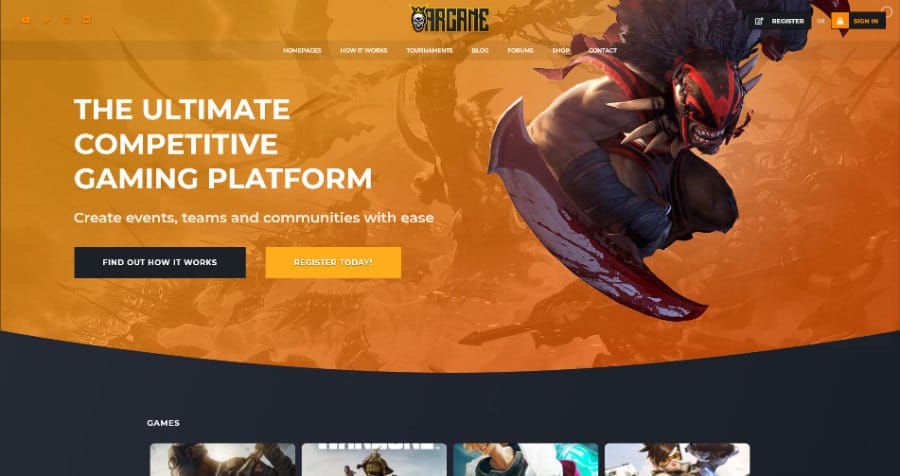 Arcane is the perfect theme for any gaming community. With a wide range of customizable features, you'll be able to create and manage tournaments between teams and users with ease. You can also use this theme to create team wars or clans!
Arcane is a social networking solution for clans, teams, and communities. With Arcane, you can create your own clan or team. Clan features in Arcane include forums, blogs, chat boards, and more.
With tonnes of features included such as a tournament system, team wars system, rating system, and bbPress support, Arcane has something for everyone – players or organizers!
Cloux – Game & Gaming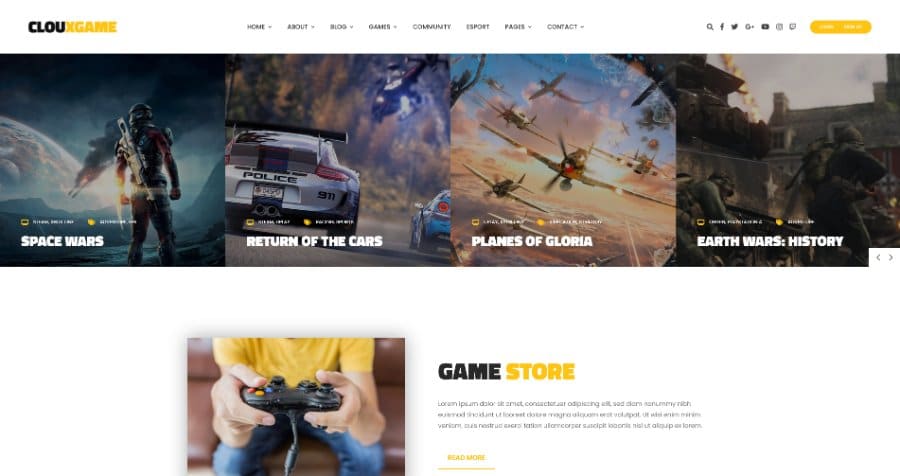 Cloux is a multipurpose WordPress gaming theme that supports game listings, game publicity, game reviews, and eCommerce video game stores.
You can customize the style and layout of the Cloux Theme with either the WPBakery page builder or the Theme Customizer plugin.
You can also use Cloux to list games, promote them, review them, or even sell them using the WooCommerce Plugin. Plus it has tons of other features like blog posts and forums that are perfect for cultivating an active community of loyal followers.
Cloux is also an excellent WordPress theme for game companies that want to build a website to promote their game on App Stores like Apple's App Store, or the Google Play Store.
Blackfyre – Create Your Own Gaming Community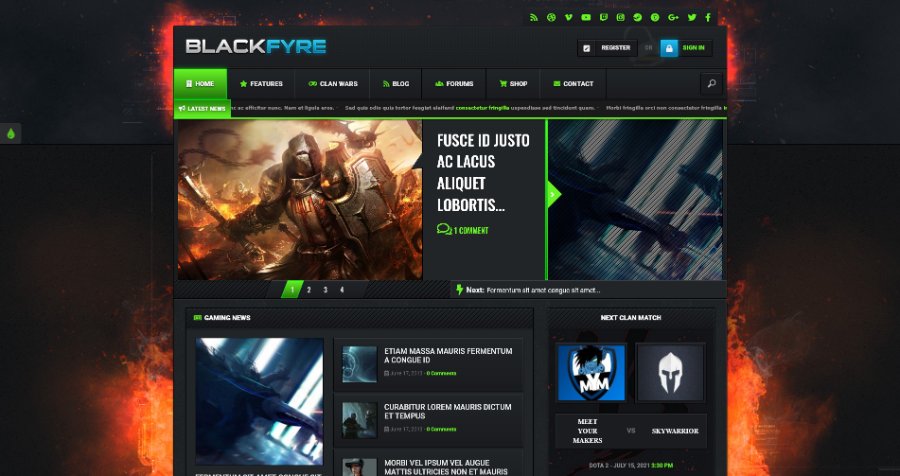 Blackfyre is the perfect theme for any type of game. Whether it's a strategy, RPG, or FPS – this gaming theme has got you covered. With tons of features and admin control, your job is just to focus on games. And with Blackfyre, that's easy!
You'll be able to customize everything from clan wars to front-end forms without having to worry about user access control. It's perfect for clans, guilds, and other groups of gamers who are looking for a great way to connect with each other.
It's also easy to set up forums, chat rooms, events calendars, and more, and you can customize the look of the site by choosing from over 100 different colors and backgrounds!
Click on the Demo Link to try out Blackfyre!
Oblivion – The Ultimate Multi-Purpose Gaming Theme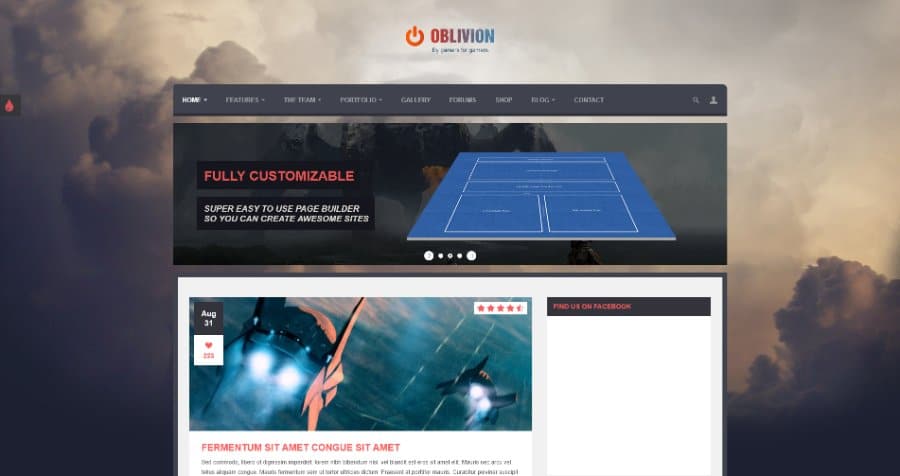 Oblivion is the ultimate gaming theme for creating review sites or a portfolio for your games. It's perfect for any gamer or developer who wants to make a site quickly and easily.
With tons of features like unlimited colors, bbPress forum compatibility, rating systems, drag and drop page builder, Isotope Gallery ($14 value), parallax slider, and WooCommerce support – Oblivion offers everything you need to build a gaming website at an affordable price point of only $52.
PixieHuge | eSports Gaming Theme For Clans & Organizations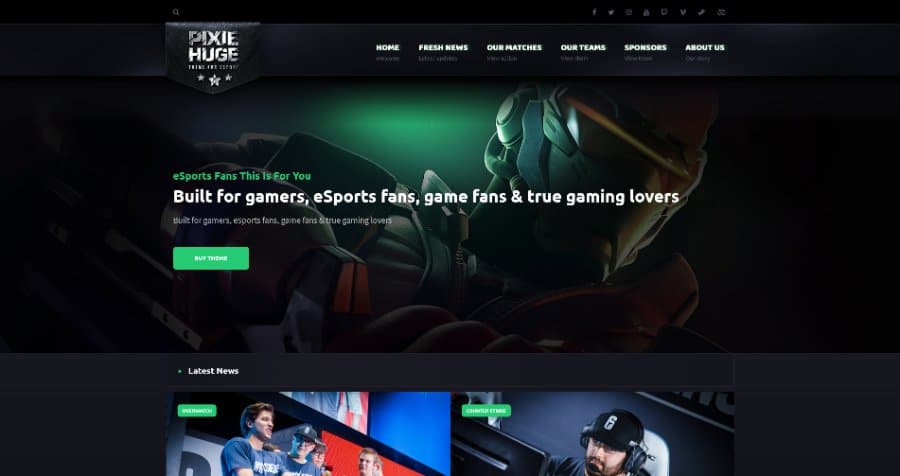 PixieHuge is one of the best WordPress themes for an eSports organization or q gaming clan. It's built with the latest design standards in mind, so you can feel confident that your site will look great and be easy to manage.
This theme has a dark color scheme that will be attractive to gamers, eSports fans, and anyone who appreciates high-quality design. You can customize every aspect of this theme with full control over colors, sections, and page layouts.
There are unlimited teams available so you can create one for each game if you want! The list of players includes their profiles, upcoming matches, and results, watch live streams from all around the world, sponsor promotion opportunities (with logos), news posts/blog section with categories or post archive and it also features a Twitter feed integration.
Orizon – The Gaming Template WP version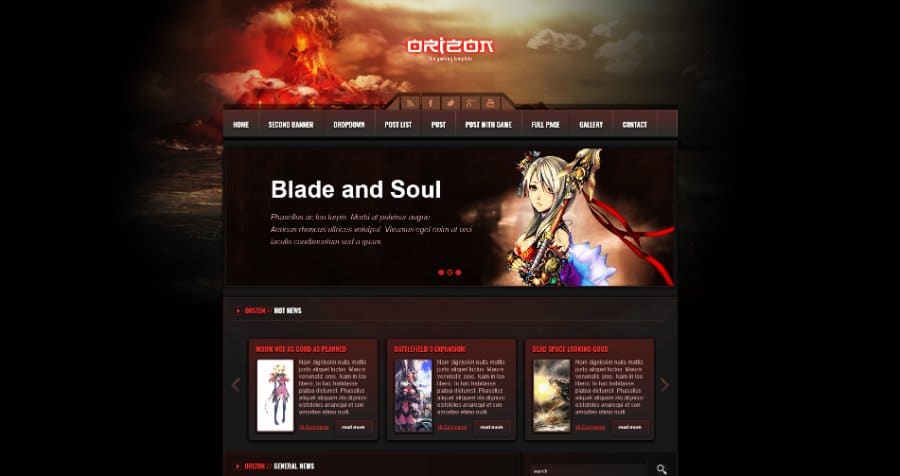 Orizon is the perfect WordPress Theme for game reviews and gamer forum sites. It's designed specifically for gamers and those who want to share their gaming experience with others. With a ton of features like galleries, reviews, and more; it has everything you need to get started building your own gaming website.
Orizon has two colors to choose from, and five background combinations, which will allow you to give your site an individual look and feel. The theme also includes two main sliders to choose from – Parallax and Tab selector – as well as galleries that are ready for use in your posts.
You can also add video game reviews using the built-in review system, so visitors can see what other people think about a game before they consider buying it for themselves!
GoodGame – Twitch Integrated WordPress Gaming News Magazine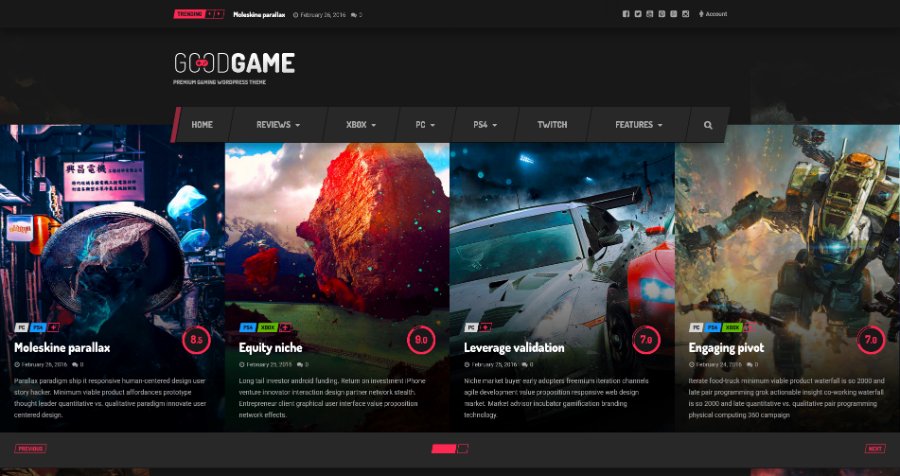 GoodGame is the perfect theme for any WordPress site looking to cover gaming news. It features everything you need, including a powerful review system that will make your reviews stand out from the competition.
You can also easily embed video reviews or game trailers from YouTube, Vimeo, and others with just one click. And if you want to integrate your Twitch account this theme supports a wide assortment of video game streaming providers.