On this page, we've curated a list of the Best WordPress Themes for Online Magazines. These themes are fully mobile responsive, and they all have multiple custom layout options for news sites and magazines.
I'm sure you already know that WordPress is one of the best platforms to use if you plan on creating an engaging online magazine.
What you might not know is that some of the most popular news sites and online magazines use WordPress to create beautifully designed websites that get millions of visitors every day.
Luckily WordPress makes it easy for small publishers to create an online magazine without hiring a bunch of developers, or having the backing of a multi-billion dollar company.
So if you're ready to start building an online magazine we're sure you'll find the perfect theme in this comprehensive list of WordPress magazine theme ideas
Best WordPress Themes for Online Magazines
Newspaper WordPress Theme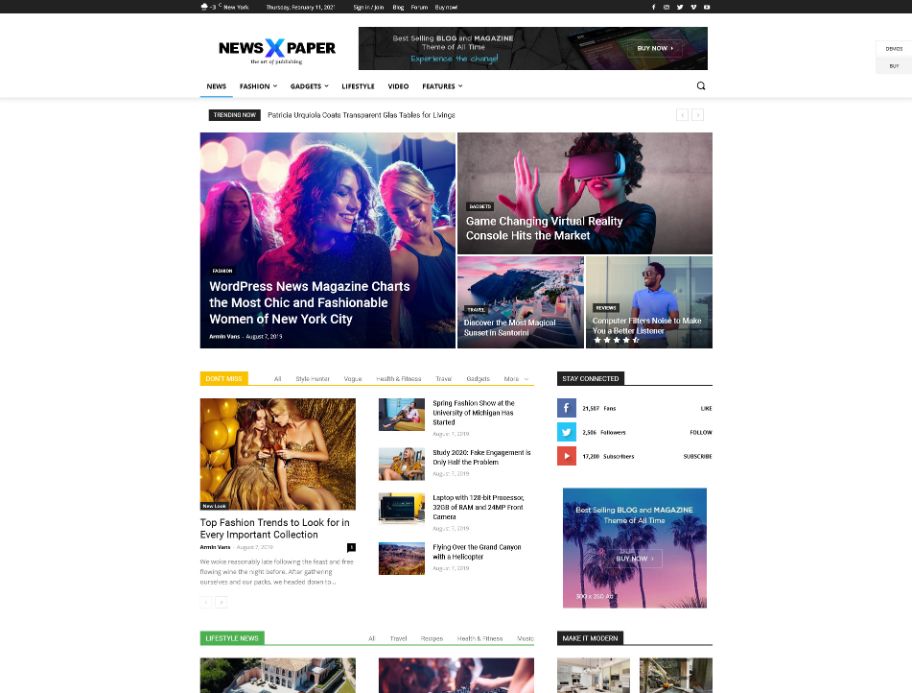 Newspaper is the best WordPress theme for online magazines and news sites. This theme is a great choice for anyone looking to start an online magazine, or for publishers that want to upgrade to a fast responsive theme that can handle a growing catalog of magazine content.
This theme is used on over 100,000 websites, and it has a 5-star rating from thousands of satisfied customers. It's also one of the easiest WordPress themes to customize since it's compatible with Gutenberg and the tagDiv Composer Page Builder. You also get 80+ pre-made demo sites with free graphics and dozens of professional magazine layouts.
Newspaper is also one of the best WordPress themes for advertising since it's fully optimized to integrate with Google AdSense, or higher-paying Ad platforms like Ezoic (Learn More).
The Newspaper theme offers excellent social media support and it has a built-in YouTube and Vimeo integration. It even comes with a free social counter plugin that tracks shares and other important user engagement metrics.
Newspaper is also a very fast-loading theme that's optimized for the future of SEO with Google transitioning to a mobile-first index. You also get full support for AMP pages and caching plugins like WP Rocket.
Overall, Newspaper is one of the best WordPress Magazine themes for publishers that want a theme that can grow with their site as they add more content and get more traffic.
If you want to see this theme in action you can try out the Newspaper Demo Site (Click Here)
Journo – Creative Magazine & Blog Theme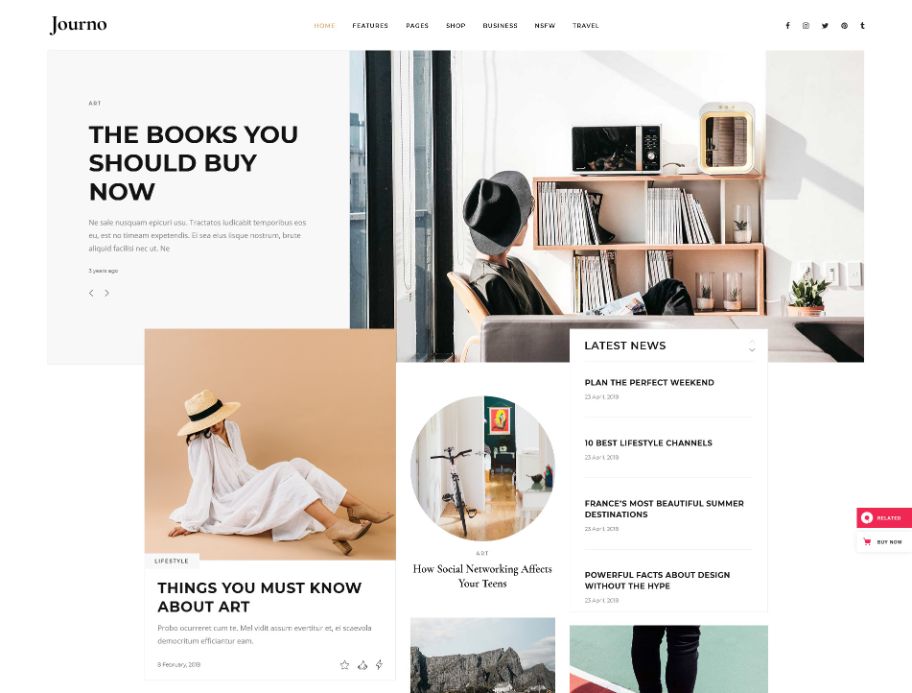 Journo makes it easy to create a professional online magazine for the new media landscape. With its minimalist design and clean responsive layout, you can give your readers the actionable bite sized content that modern media consumers crave.
Every part of the Journo theme is fully customizable using the WPBakery Page Builder. You also get dozens of beautifully designed pre-made layouts that rival anything you would see in a large publications print magazine.
Journo might have an understated design, but that doesn't mean it skimps on backend features. You get free access to the Revolution slider that you can use to create striking slideshows on any page. As was previously mentioned you also get a free WPBakery license, which is a $45+ value.
The Journo WordPress theme also includes support for social sharing features, and you can also add Instagram and Twitter Feeds into articles and standalone pages.
To top it all off the Journo theme also includes a high-converting newsletter pop-up that will get casual visitors onto an E-Mail List (Constant Contact Free Trial), so you can turn them into loyal magazine subscribers.
The Issue – Versatile Magazine WordPress Theme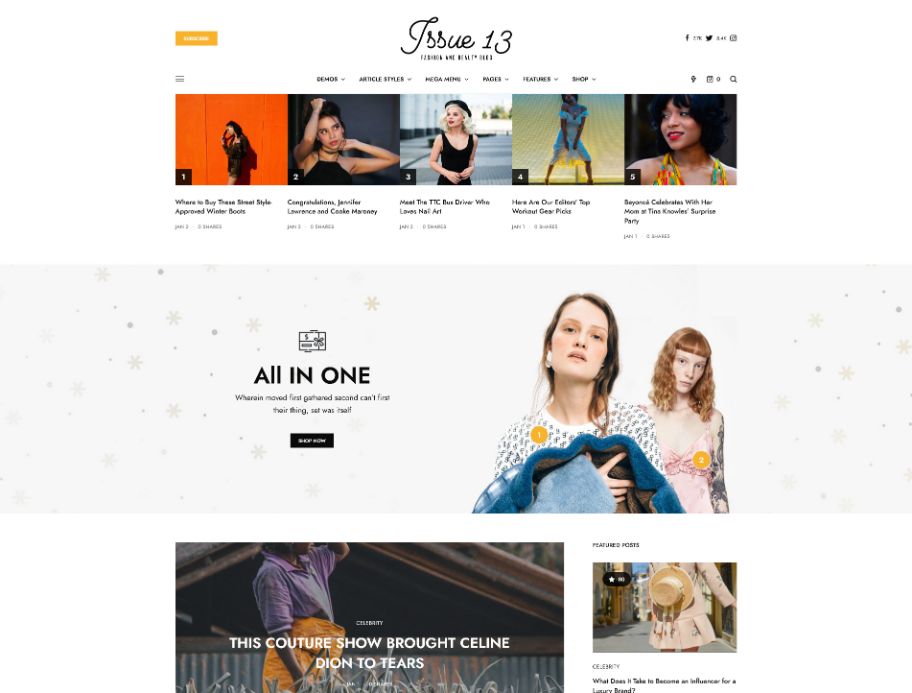 The Issue is one of the best magazine WordPress themes that features a clean modern design. This theme also comes with dozens of free pre-built demo sites and over 8,000 layouts that you can use as a base to create any type of magazine site.
The Issue theme also gives you access to Fuel Studio, which is an exclusive selection of constantly updated templates that you can use on your site. Also, you get dozens of custom widgets, galleries, fonts, and custom icons.
There is also a full set of custom social media widgets made specifically for The Issue Theme that track and display social share counts.
It's also easy to monetize this WordPress magazine theme since it has advertising sections incorporated into all of the page layouts.
If you want to see this theme in action you can try out The Issue Demo Site (Click Here)
Newsmag – Newspaper & Magazine WordPress Theme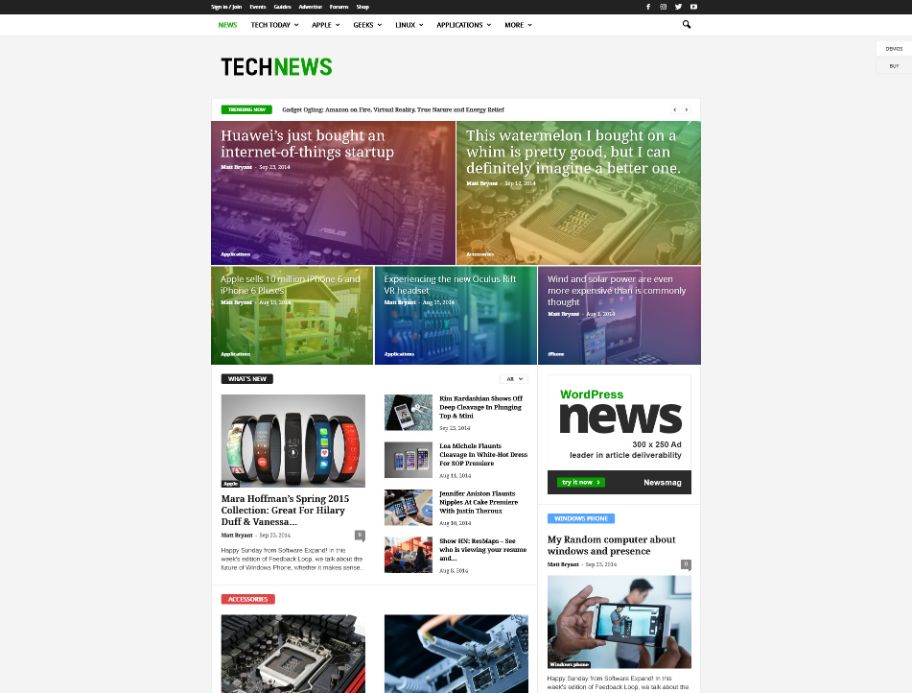 Newsmag is one of the best news magazine WordPress themes.
The Newsmag theme is built for publishers to create engaging content covering any topic and is laser-focused on magazine-style content. The Newsmag theme comes with 14+ pre-built websites: NewsMag 4, News Magazine, Scandal Magazine, Good Food Magazine, Car News, and Tech News just to name a few.
Newsmag is fully mobile responsive and it supports AMP right out of the box. It's even one of the few WordPress themes with advertising space that you can customize in each post. And it's 100% AdSense compliant since the theme layouts won't alter or move any of the advertising blocks once they load.
Newsmag is one of the most popular premium WordPress Themes on the Envato Marketplace. It currently has a 5-star rating from thousands of happy customers and it has been downloaded and used on tens of thousands of sites.
The Newsmag Theme is made by tagDiv which is the same group of developers that created the Newspaper Theme. With Newsmag they have taken the best parts of the Newspaper theme and boiled it down to just the essential elements you need to build a WordPress online magazine for a fraction of the price of the Newspaper Theme.
Jarida – Responsive WordPress News, Magazine, Blog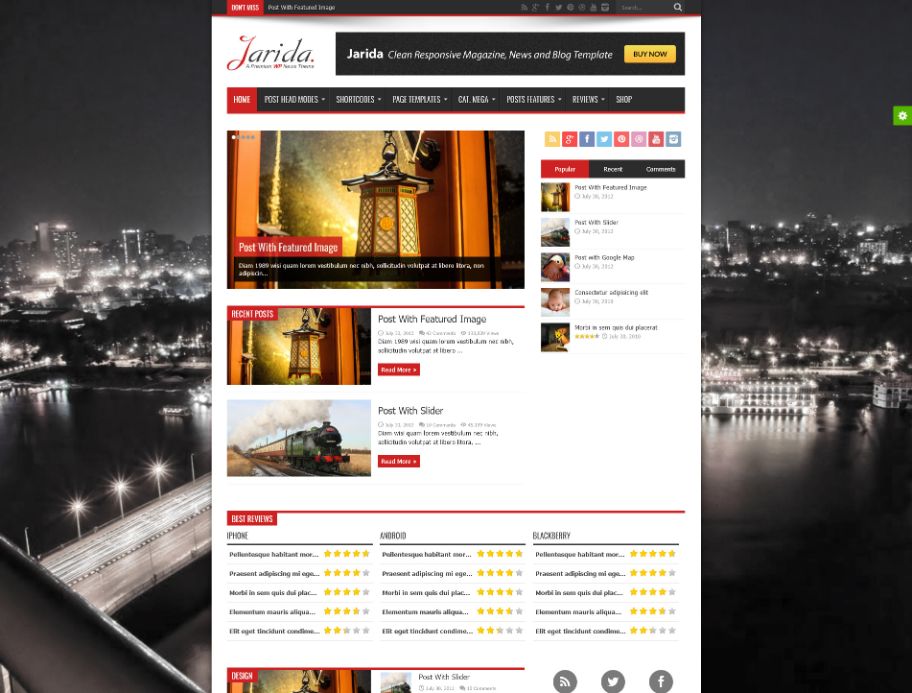 The Jarida WordPress Theme has all the features you need to create a stunning online magazine. This two-column theme has 8 Page Templates, 6 Header, and Footer Layouts, 2 Dynamic Image Sidebars, and 33 Custom Widgets.
Jarida has a built-in review system that has a drag and drop interface that supports different review criteria like Stars, Percentages, and Points Systems. You also get full support for Schema.org Compliant SEO Rich Snippet Review Microdata.
The Jarida WordPress Theme also includes social media widgets for the most popular platforms like Twitter, Flickr, Pinterest, Instagram, and Facebook. In addition, you can add social media profiles to author biographies and archive pages.
You can also incorporate audio and video into your articles in the Jarida Theme using custom media widgets that support Soundcloud, YouTube, and Vimeo (Learn More).
The Fox – Minimal WordPress Blog Magazine Theme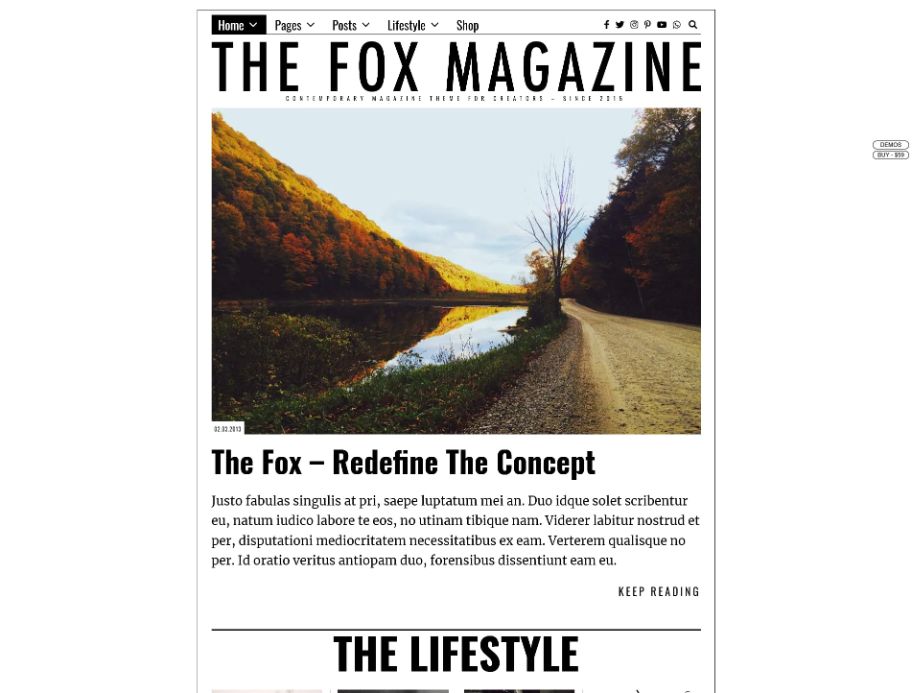 The Fox WordPress Magazine Theme is a modern theme with a unique newspaper-style layout.
The Fox Theme has an original design that allows you to create a memorable site that has the look and feel of a physical publication. That makes it a perfect choice if you're looking to create a magazine that's focused on current events and breaking news content.
The Fox Theme is also very lightweight and it's optimized for fast page load times on Google Page Speed Insights. It's also fully GDPR compliant, and it's respectful of visitor's privacy since it doesn't collect any personal data like email, names, or IP addresses.
The Fox theme even supports multiple gallery styles with a built-in lightbox with a custom Gallery Post Format. It also has dozens of custom layouts and a review system, which will allow you to create any type of content.
The Fox is also one of the only WordPress themes that supports live posts like those you'll find on news sites like the BBC and CNN. This feature lets you broadcast live sporting events, health & safety announcements, and breaking news on special pages that update in realtime.
SmartMag – Responsive & Retina WordPress Magazine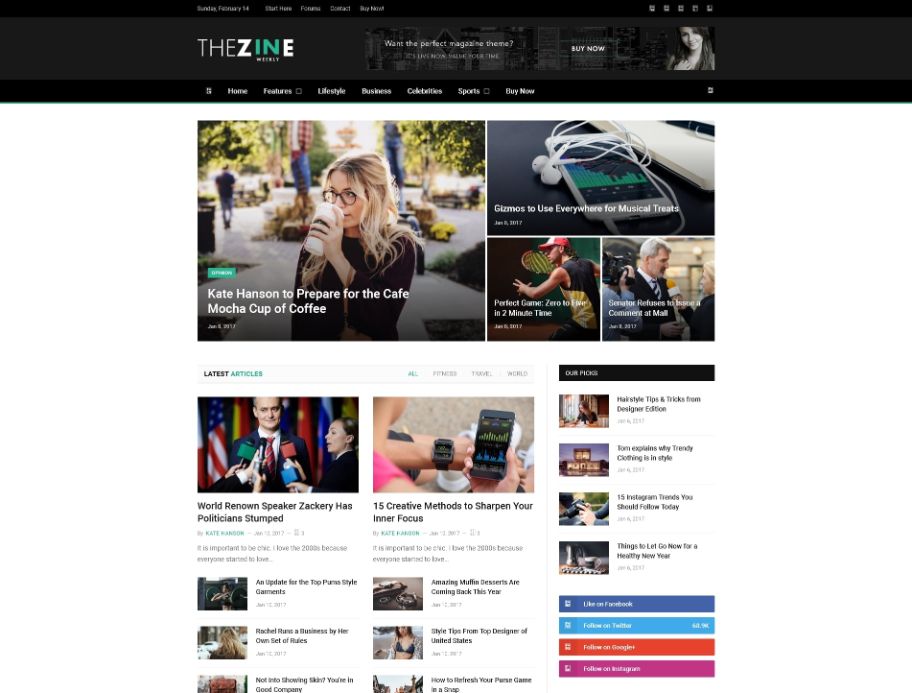 SmartMag is the best selling responsive retina-ready WordPress magazine theme. This affordable magazine theme has a one-click importer with 5 pre-made demo sites and dozens of layouts along with free site content. You also get the Revolution Slider, which is an $18 premium plugin that lets you create dynamic post-based sliders.
SmartMag also has a built-in drag-and-drop page builder and customizable navigation menus that support two styles of mega menus. It even has a mobile menu with an Off-Canvas slider or a regular drop-down menu option.
SmartMag also has an integrated review system with percentage, star, or a points-based scoring system. You can also run a Forum or a Store with the SmartMag theme since it's fully compatible with bbPress and WooCommerce.
Voice – News Magazine WordPress Theme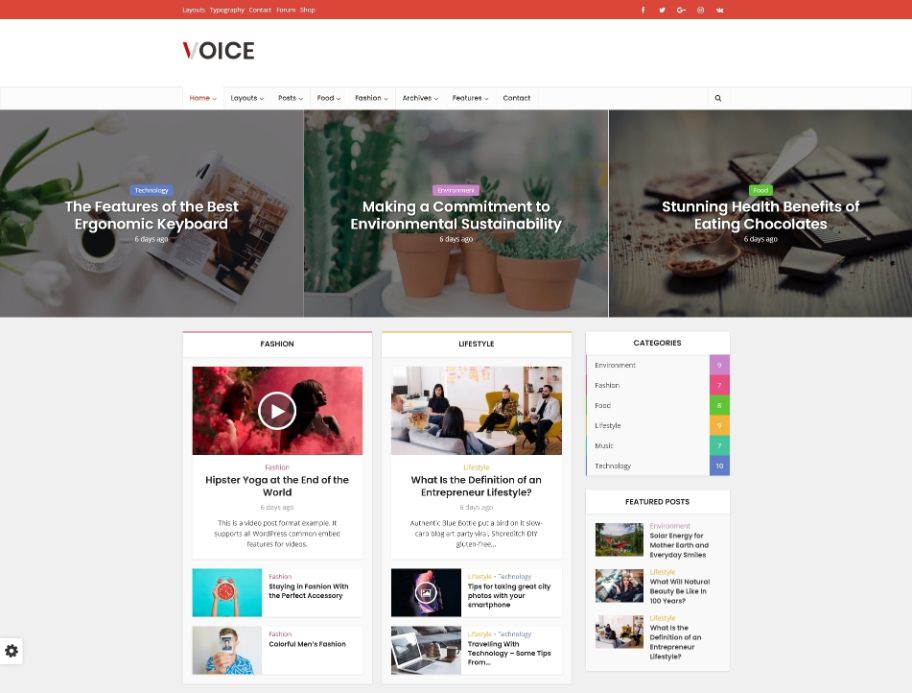 Voice is a fast loading responsive WordPress Theme for online magazines or news sites. If you're looking for a theme with plenty of design options and a flexible layout then you'll want to try out the Voice Demo Site
The Voice has 7 main post layouts and 3 additional layouts for featured articles. It also has a smart post listing system that lets you easily create custom categories and archive pages.
The Voice also fully supports custom post types which will allow you to alter the layout and the content that gets displayed on any page.
The Voice theme also supports paginated posts, which helps increase page views and reader engagement. There is even an infinite scrolling option that you can activate on any post or page that loads another piece of relevant content whenever a reader scrolls down to the end of a page.
True Mag – WordPress Theme for Video and Magazine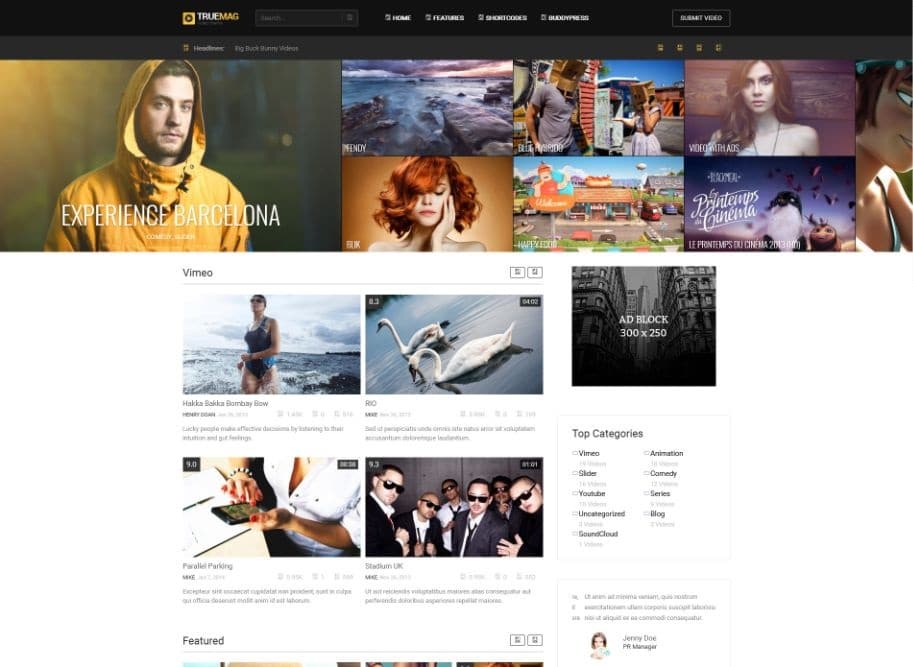 True Mag is a WordPress Theme that was built for print and multimedia online magazines. If you're planning on building a multimedia site then True Mag is definitely one of the best WordPress themes for online magazines with a heavy focus on video.
The True Mag theme supports all of the popular video platforms like Dribble, YouTube, and Vimeo (Learn More). It also can be used with self-hosted videos that you store on your own server, and it has a built-in widget that tracks view counts and video ratings.
True Mag also includes a Video Advertising Plugin that plays advertisements even if you haven't reached the requirements for YouTube monetization. The video advertisement plugin also integrates with Social Locker, which encourages viewers to share your video content on social media.
Anymag – Magazine Style WordPress Blog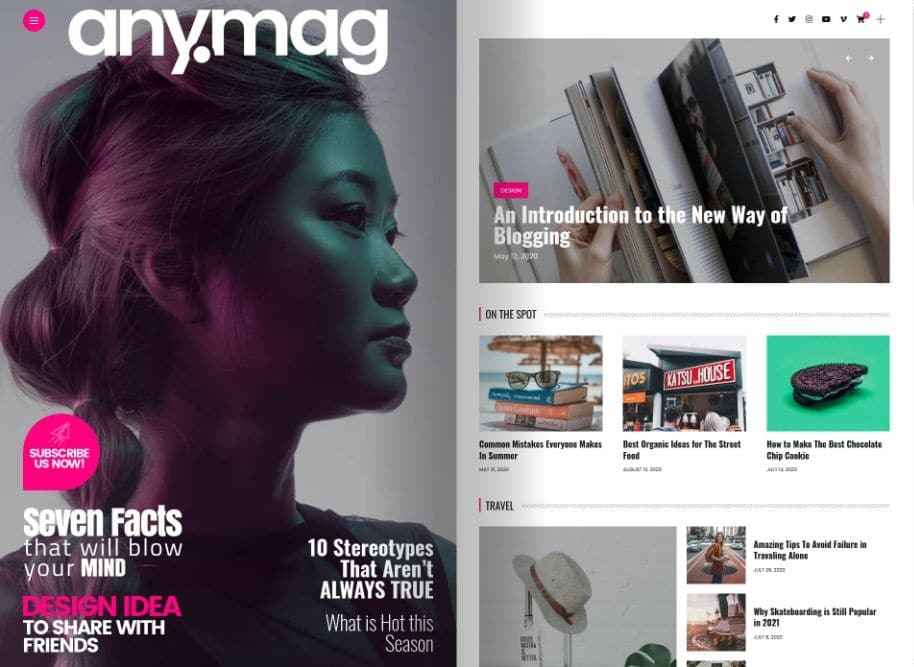 Anymag is one of the few WordPress themes that has the look and feel of a real magazine. All of the posts and pages have custom page-turning animations with a two-column layout that give them the look of a real open magazine.
Words alone really can't do this theme justice, and if you really want to get a feel for how truly unique this theme is we recommend you try out the demo site for yourself
Jannah – Newspaper Magazine News BuddyPress AMP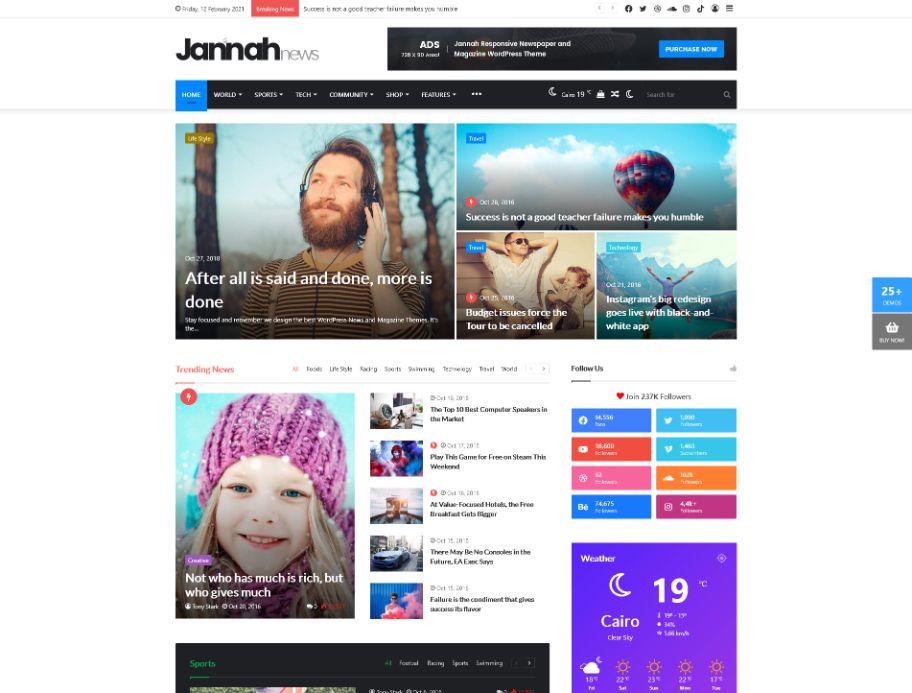 Jannah is a fast loading WordPress theme that supports Google AMP Pages. It also has a full suite of social media widgets, and it has sticky share buttons on every page.
The Jannah Theme is also fully mobile responsive, and it supports mobile live search and multiple mobile menu layouts with custom animations.
Jannah also supports infinite scrolling on posts and pages, which helps increase advertising revenue by reducing bounce rates. It's even possible with the Jannah theme to display real-time public safety and health notifications with maps, graphs, and tables on any post or page.
JNews – WordPress Newspaper Magazine Blog AMP Theme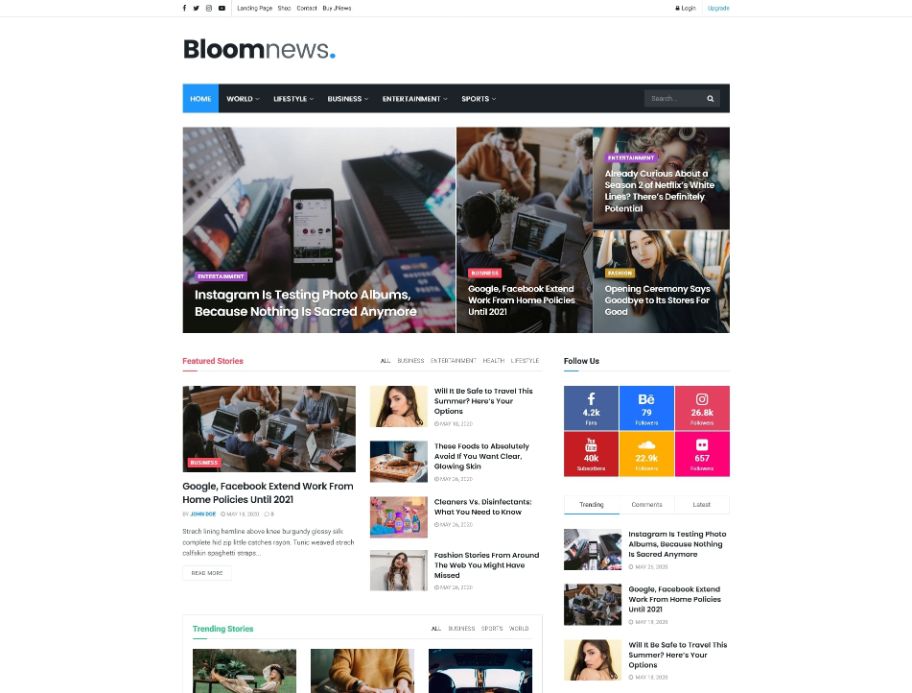 Jnews is the best WordPress Theme if you want to build a subscription-based magazine. This theme lets you incorporate a Paywall system that you can use to restrict access to any post or page. It also allows you to keep some pages free if you want to give visitors a sample of your content to entice them to subscribe to your magazine.
Goodnews – Responsive WordPress News/Magazine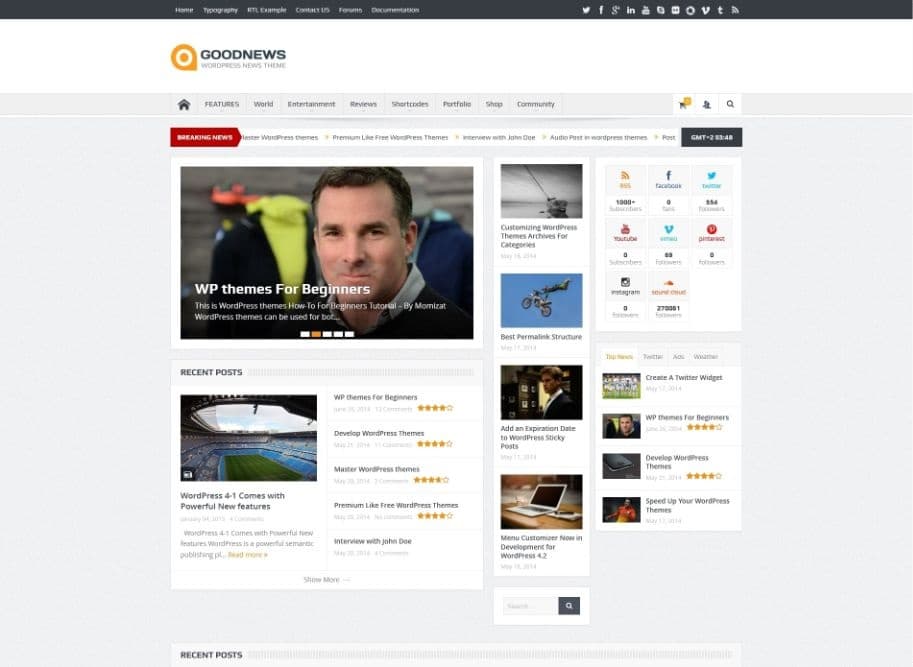 Goodnews is a general-purpose online magazine theme that incorporates several built-in accessibility features. It's also fully SEO optimized and it supports multiple languages. Goodnews also has a built-in monetization system, and it's a very AdSense friendly WordPress Theme
15Zine – HD Magazine / Newspaper WordPress Theme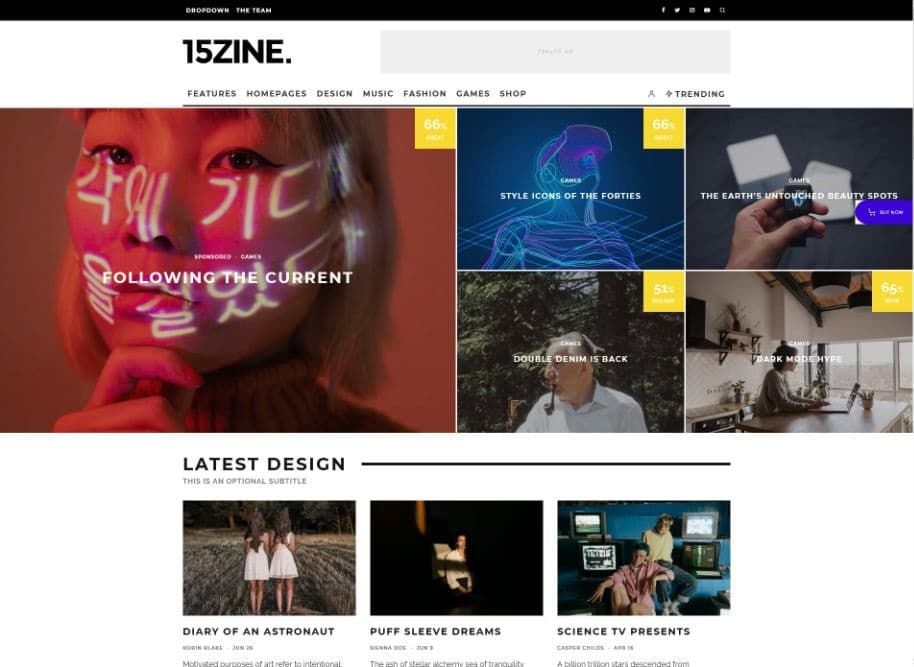 15Zine is a hybrid news magazine theme that's packed with features for modern publishers. Some of the more notable features include a built-in review system and full eCommerce support for articles that are heavily product-focused.
You can edit all the posts and page layouts in the 15Zine HD Magazine Theme using a drag-and-drop page builder. It's also possible to turn regular images into full-screen image embeds without using a plugin, and every layout takes full advantage of parallax scrolling.
The real standout feature of the 15Zine Magazine Theme is the "Trending" mega menu, which prominently displays popular content on your site to encourage visitor engagement, which in turn can increase revenue through increased pageviews.
Uncode – Creative Multiuse & WooCommerce WordPress Theme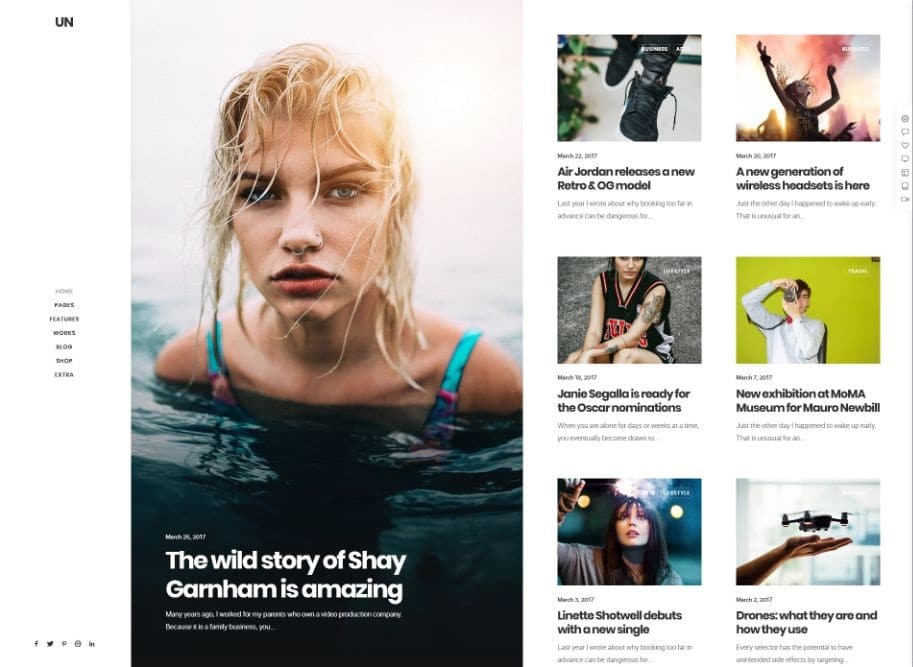 Uncode is an impressive magazine style WordPress theme with a heavy focus on eCommerce. That makes Uncode a great choice for tech magazines that are focused on reviewing physical products. With this theme, you can create articles that help people make complex purchasing decisions. Then you can sell those same products in your store if you want to vertically integrate and capture the profits from the whole shopping process.
Zox News – Professional WordPress News & Magazine Theme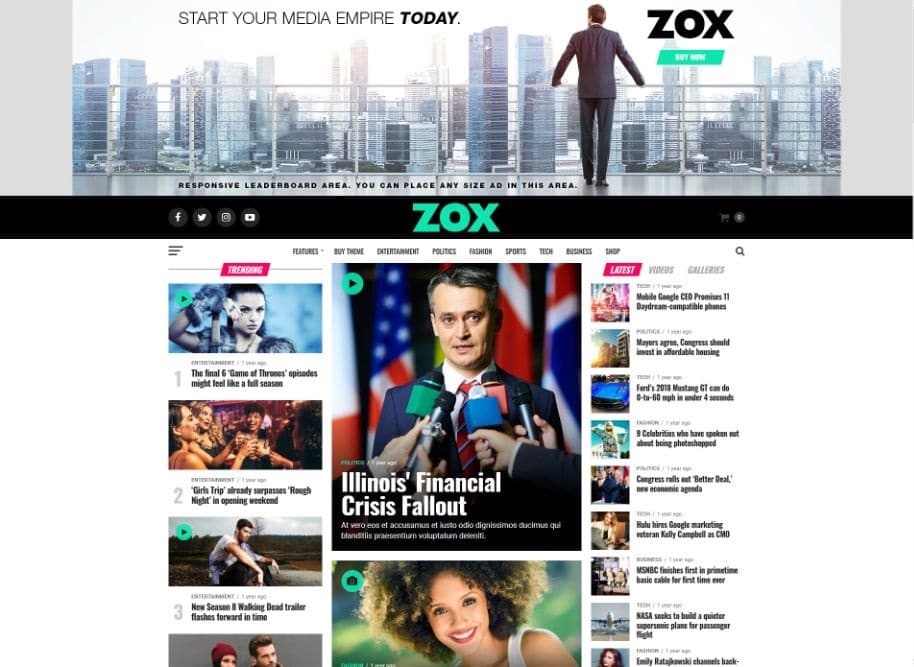 Zox News is a very versatile online magazine WordPress theme. This theme is fully responsive and it has 8 custom article layouts and 5 Homepage design options. Zox News also supports Google AMP for lightning-fast load times on mobile devices.
Zox News also includes over $79 worth of premium online magazine plugins. You get the Reviewer Plugin which allows you to insert review and comparison tables on pages and posts. In addition, you also get the Theia Sticky Sidebar and the Theia Post Slider.
Zox News supports adding teaser posts at the end of each page that look like a regular post. Those embedded posts display a brief summary followed by a continue reading button that helps drive more pageviews. You can also easily monetize the Zox News theme since it has slots for ad units on every post and page.
Valenti – WordPress HD Review Magazine News Theme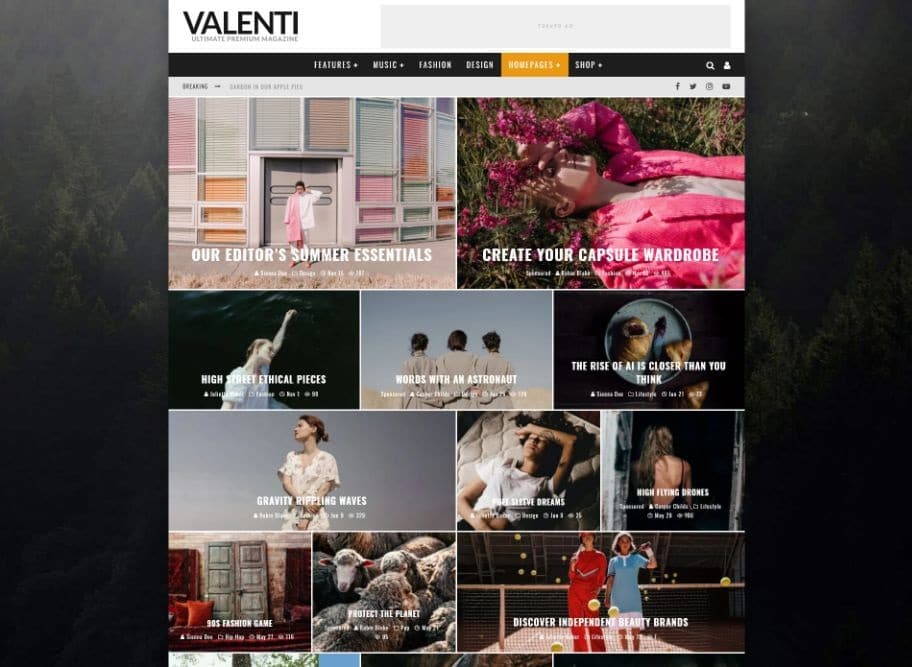 Valenti is a full-featured online magazine theme that has many unique page layouts. You can easily change the look and feel of each post on the Valenti theme with custom featured image layouts each with its own style.
The Valenti theme has a powerful megamenu system that supports retina ready graphics and animated drop-down effects. There is also a built-in review system in the Valenti theme that makes it easy to create editorial review posts about products and services.
Valenti also offers full support for some of the most popular third-party plugins like bbPress, BuddyPress, and WooCommerce.
Sahifa – Responsive WordPress News / Magazine / Blog Theme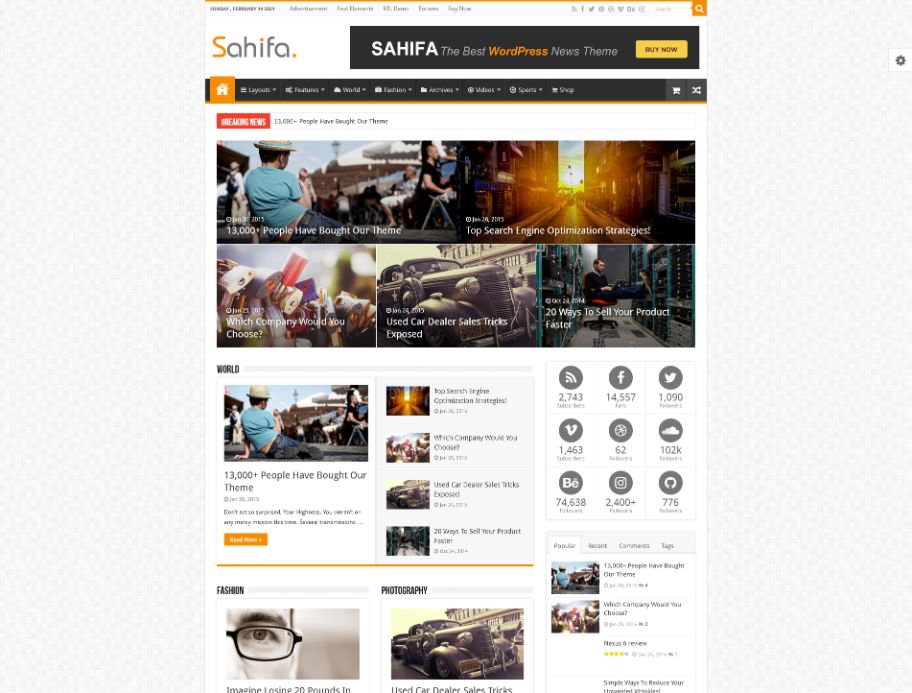 Sahifa is a modern WordPress theme that's made specifically for news sites and online magazines. This highly customizable theme comes pre-packaged with the TiePage Builder that makes it easy to create new page layouts using a drag-and-drop interface.
The features this theme offers don't stop there since Sahifa it's packed with custom elements like an Off-Canvas Navigation Slider, Post View Analytics, Live Search, and a Rating System. You also get multiple WordPress magazine plugins along with dozens of custom shortcodes and widgets.
There is also excellent support for foreign language translations with full WPML support. You can even display real-time public service announcements with charts and graphs on any post or page.
Overall, Sahifa is an excellent WordPress Theme for online magazines that publish new content on a regular basis. All the real-time tools and widgets included with this theme are sure to encourage casual visitors to become loyal followers that come back to your site every day for news and updates.
SimpleMag – Magazine theme for creative stuff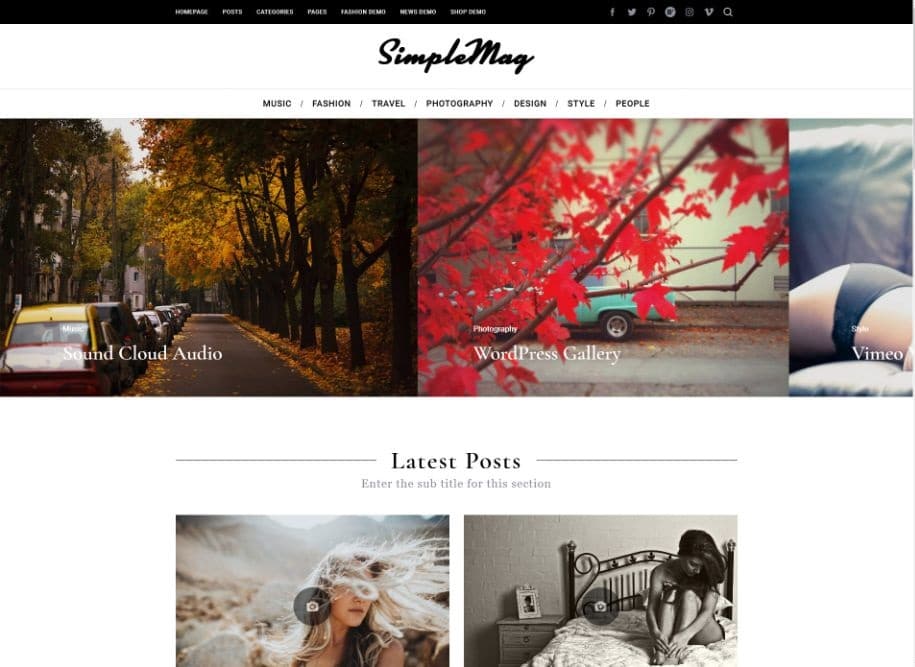 The SimpleMag WordPress Theme makes it easy to build an online magazine if you're on a tight budget. This affordable premium WordPress theme has a fully responsive design with a customizable grid-style layout.
It also has full support for bbPress that will let you build a reader-supported forum, and it integrates with WooCommerce to sell physical or digital products. In addition, it's one of the more AdSense friendly WordPress themes on the Envato Market since it includes custom advertising widgets.
CheerUp – Food, Blog & Magazine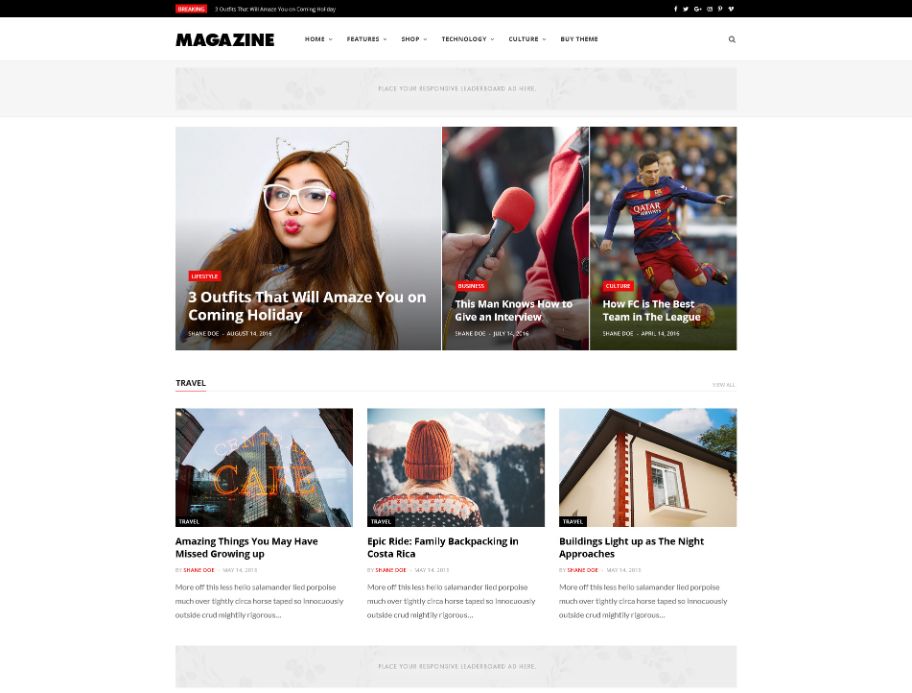 The CheerUp Magazine Theme is a well designed WordPress Theme that has been handcrafted to support all types of websites. It includes 14 pre-made designs and you can download additional demo content for inspiration or just for the free content.
The CheerUp Theme is fully mobile responsive and it comes with a full set of Retina Ready graphics. It also has Google AMP support right out of the box, and it has excellent page load speed and built-in Image Lazy Load Options.
The CheerUp WordPress theme also comes with a full set of social media widgets that make it easy for visitors to share the articles on Pinterest, Twitter, Instagram, or Facebook.
KALLYAS – Creative eCommerce Multi-Purpose WordPress Theme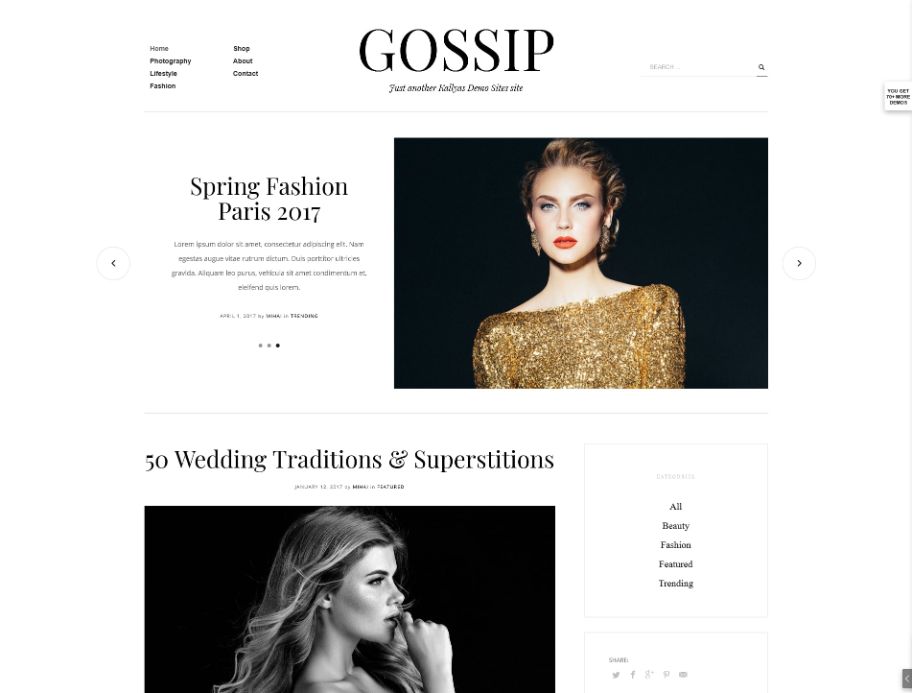 KALLYAS is one of the best selling all-purpose WordPress themes on the ThemeForest market. It comes with 70+ pre-made templates that are all fully customizable using the included Zion Page Builder.
The KALLYAS WordPress Theme is also one of the fastest WordPress themes, which means it downloads quickly even on slow mobile networks. It's also backed by unlimited future updates and 6 months of free professional support when you purchase a single website license.
Buzz – Lifestyle Blog & Magazine WordPress Theme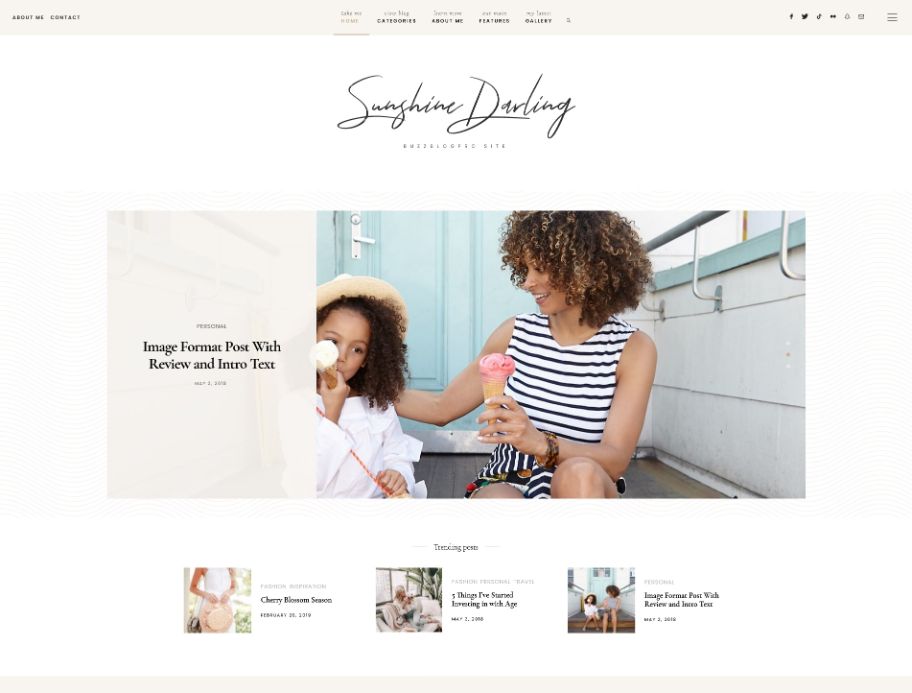 The Buzz Magazine WordPress Theme is a full-featured WordPress theme that's packed with lots of user-customizable options. The theme has full support for Social Media sites like Facebook, Instagram, Twitter, and Pinterest. It also has a clean design with pre-made magazine layouts and dozens of custom widgets.
The Buzz Magazine WordPress Theme is also compatible with the Gutenberg Page Builder, WordPress Security Plugins, and its WooCommerce ready. It's also fully compliant with the EU's GDPR regulations and it supports WPML for quick and easy foreign language translations.
Canvas | The Multi-Purpose HTML5 Template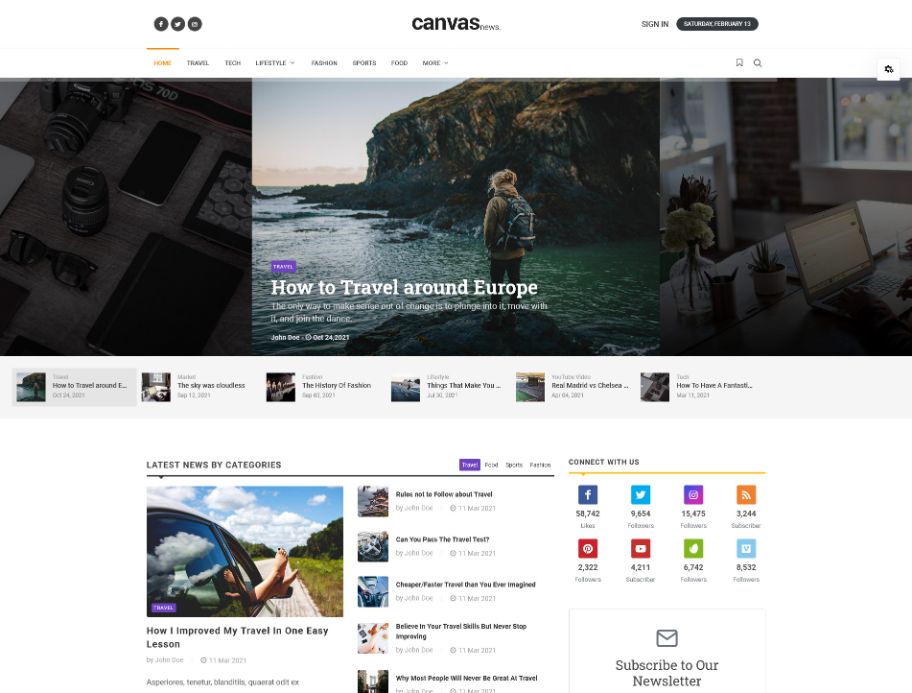 Canvas 6 is a powerful multipurpose WordPress theme that can be easily customized to build an online magazine. This WordPress theme includes over 120+ homepage layouts & 1000+ HTML templates. It also runs on the Bootstrap framework which makes it mobile responsive right out of the box, and it's also very easy to expand and modify the code in a Bootstrap based WordPress theme.
Some of the other great features that you get with the Canvas 6 WordPress theme include 30+ Demo Sites, 165+ Portfolio Templates, 45+ Blog Templates, and custom eCommerce Templates. You also get Free Unlimited Lifetime Updates and excellent customer support when you purchase the Canvas 6 Theme from the Envato Market.