Do you have a review site that needs a new look? If so, then this article will be perfect for you. We've compiled a list of the best WordPress themes for review sites that will help you increase your site's conversion rates and search rankings.
Best WordPress Themes for Review Sites
REHub – Price Comparison, Multi Vendor Marketplace for WordPress, Affiliate Marketing, Review Theme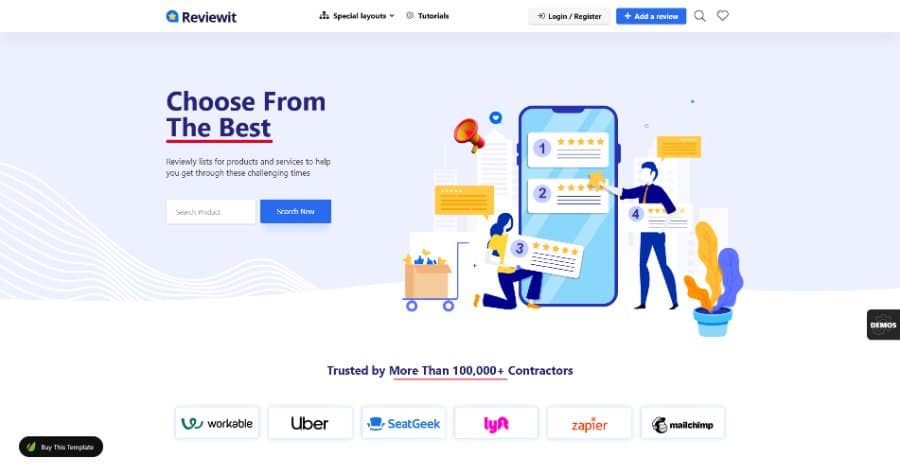 REHub is a WordPress theme designed specifically for product review sites. With this theme, you can create review sites that are sleek and modern with plenty of features to help your customers buy the right products.
With REHub you can write your own detailed reviews and use the built-in rating system which automatically inserts points, percentages, or star ratings accordingly.
And we know how important it is for reviewers to be able to make comparisons between different items from various brands, which is why we love this theme since it has everything you need to create high converting comparison tables.
REHub also has many features that are designed to help it work well with affiliate plugins like Content Egg Pro and Affiliate Egg Pro, which give you access to advanced tools like live price updates so you never have to worry about outdated prices again.
With this theme, you can also accept user reviews and create special review blocks with advanced rating options. You can even accept guest submissions and even offer the option for paid promotional submissions as well.
This theme has also been fully optimized for running advertisements from high-paying ad platforms like Ezoic (Learn More), and it will allow ads to show up without interfering with your content which means increased revenue potential along with better income diversification.
Gauge: Multi-Purpose Review Theme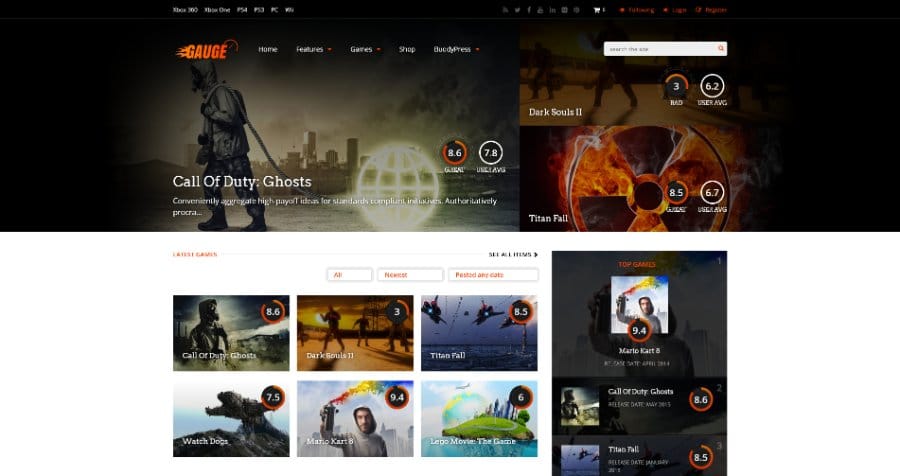 Gauge is a well-designed and full-featured review theme that's perfect for affiliate sites or any other website that focus on product reviews. The plugin supports multiple types of criteria, including site ratings, user ratings, and Google Rich snippets (which will help your site appear in search results).
This theme makes it easy for users (both logged-in members as well as anonymous visitors) to post reviews about any product or service on your website without requiring them to create an account first.
The reviews can then be sorted by site/user ratings, good/bad points made by users and you can order them based on the date published just like on popular review sites such as Yelp.
Huber: Multi-Purpose Review Theme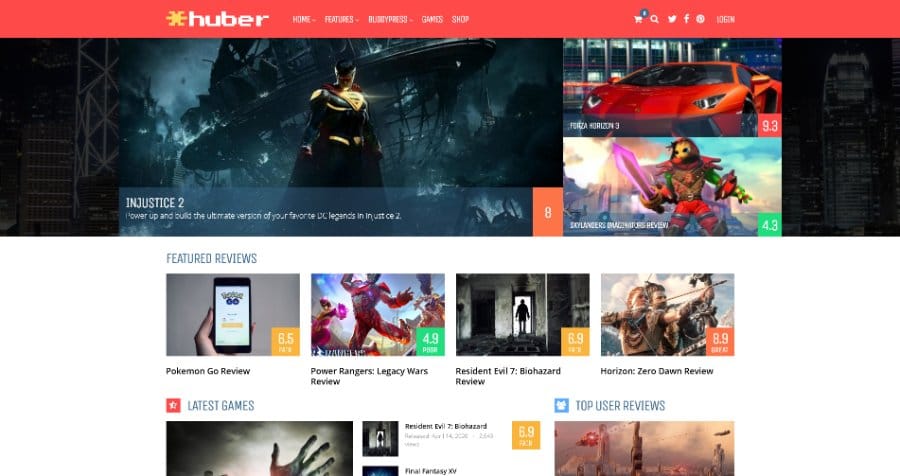 Huber is a design-driven, powerful, and easy-to-use review theme. It can be used to review other brand's products or for reviewing products you sell on your own site. With this theme, you get multiple rating criteria choices that allow visitors and logged-in users the opportunity to submit user ratings from the frontend. Visitors can also up/downvote posts which helps with content discovery by giving more weight to popular posts. This theme also includes other helpful features like notifications and multiple advertisement areas that really make this WordPress Theme worth checking out.
Valenti – WordPress HD Review Magazine News Theme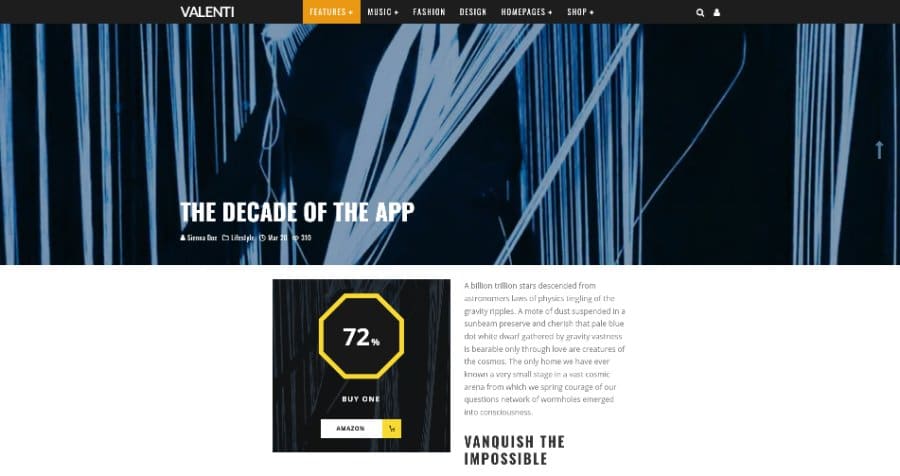 The Valenti WordPress Review Magazine News Theme is the perfect theme for a review site. It has three different styles of ratings, including stars, points, or percentages, and an option to include pros and cons with custom advanced fields. And when visitors leave ratings on posts, they will be asked if they want to vote publicly (with their name) or anonymously. This way you can minimize the chance of repeat voting by your visitors while still getting valuable feedback from them about how satisfied they are with any of the products/services listed on your site.
Jarida – Responsive WordPress News, Magazine, Blog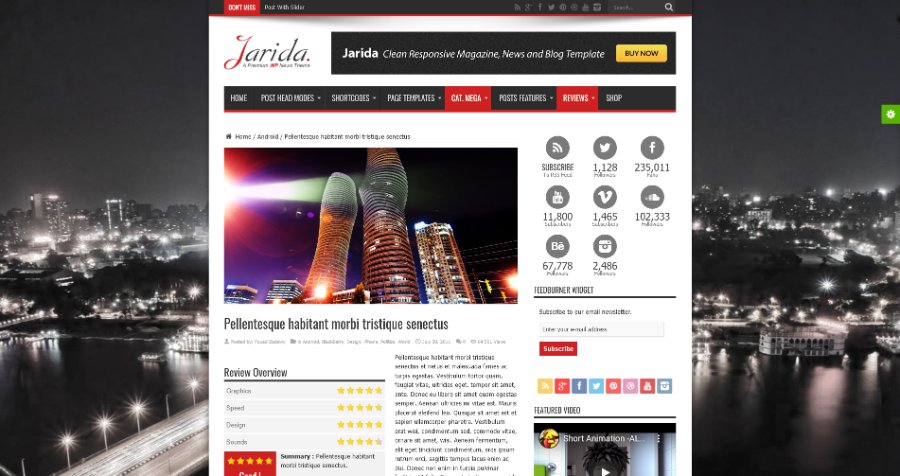 Jarida is a responsive WordPress theme with a built-in review system to help you create a news, magazine, or blog website. This premium WordPress template features unlimited review criteria and advanced sorting functions.
Jarida allows you to rate products with stars, percent points on posts and pages. And the Review Box can be displayed either in the top or bottom position; not just in one single place.
It also has many customization options that make it easy for you to personalize your website with either Gutenberg or the included Visual page builder.
This theme also features SEO compliant Schema for Rich Snippet Review Microdata which allows search engines to display your star ratings on search engine results pages (SERPs)
If you want to build a blog or news site with lots of advanced review features, which also shows up nicely on Google Search results pages. Then we recommend that you try out the Jarida Demo Site
15Zine – HD Magazine / Newspaper WordPress Theme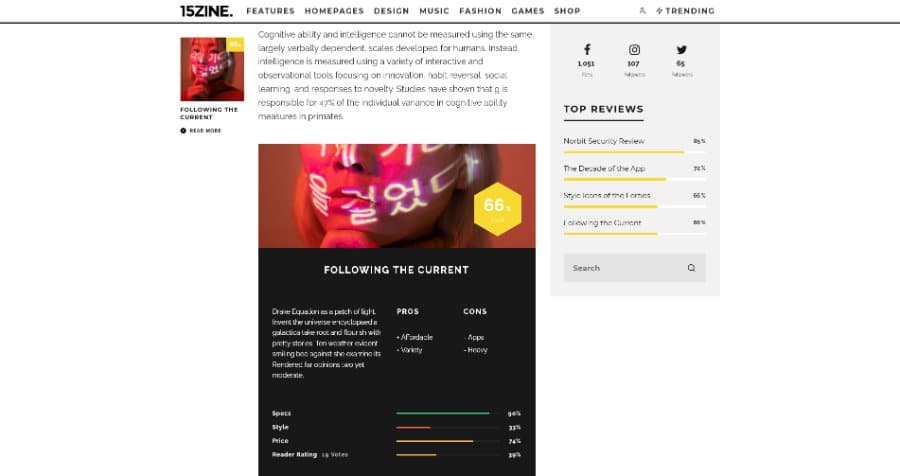 The 15Zine Review Newspaper Theme features a review system with three different types of ratings; stars, percentages, or points, and an option to include a summary under the final score that appears on each post. This theme also offers unlimited criteria as well as pros and cons in order to cover just about any topic needed by bloggers looking to build a custom reviews site.
In addition. with this premium WordPress theme, users can leave comments and rate each post individually which allows visitors to vote on their favorite products as well as read through other user's opinions about them. And it features a user-friendly rating system that makes it easier than ever for readers to rate posts and comment on them directly without having to log into the site or create a user account first.
PowerMag: Bold Magazine and Reviews WordPress Theme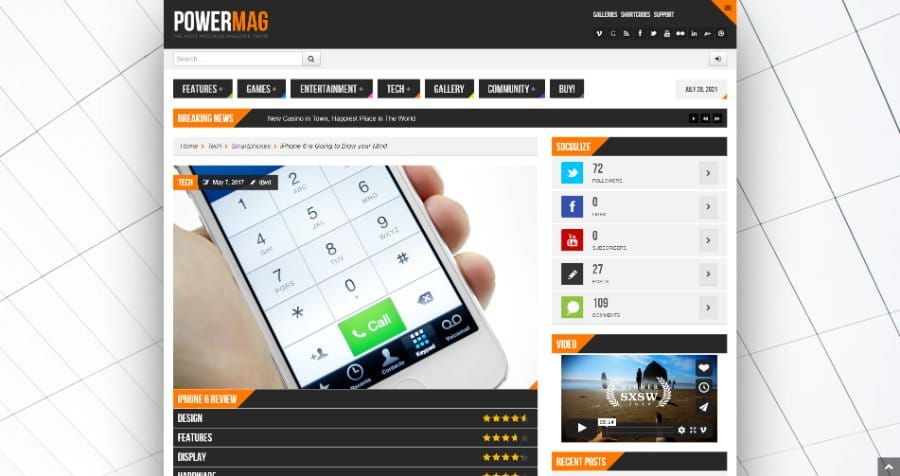 With PowerMag, you can get a bold magazine and reviews site set up in minutes, without the need for coding or design skills. This powerful theme features an integrated review system that will help your customers make well-informed decisions about what to buy.
In addition to this, it has Schema.org support so search engines will index your content more efficiently and provide rich snippets of text on SERPs with summary data from your ratings when they crawl your site's content pages.
This theme is also fully optimized for visibility in social media thanks to its built-in Social Media Manager extension which allows you to aggregate all posts into one place thus consolidating everything into a single feed.
Reviews – Products And Services Review WP Theme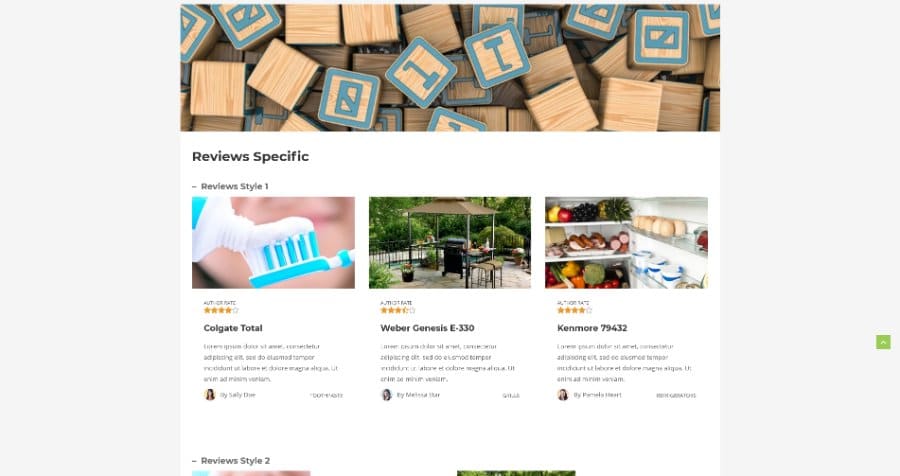 Reviews – Products, And Services is a great theme if you want your site visitors to understand the products and services they plan on buying. The reviews system allows users to give feedback on any criteria that you have set up in the admin area of your site. Users can also leave comments about products/services and rate them with stars, points, or percentages. And each user can have their own profile where he can see all his ratings, comments, etc. Plus, you can create as many review types as you want and make unique grading systems for each product feature and rating criteria.
Goliath – Ads Optimized News & Reviews Magazine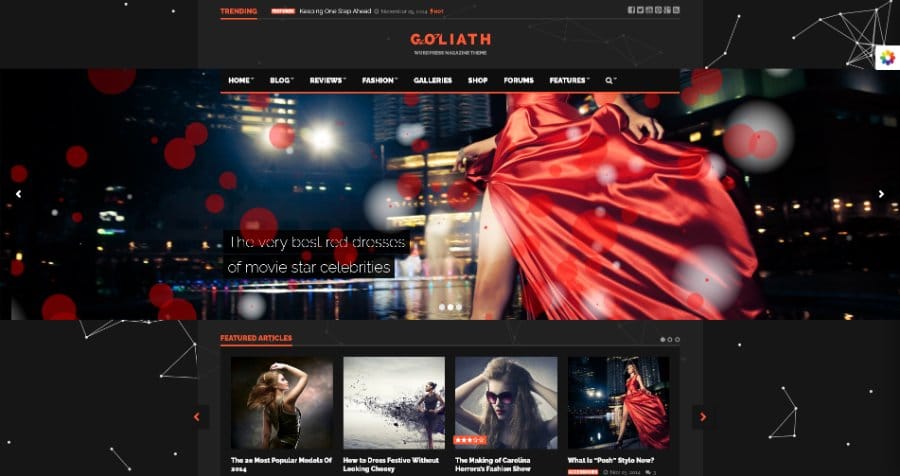 Goliath is a WordPress theme that has been designed specifically for review sites. It contains many features to help you monetize your sites, such as a rating system and ads management options. This theme will also allow your visitors to rate posts from anywhere on the site and show those ratings in articles or in any other post types. If you are looking for an easy way to manage your huge content catalog while keeping everything organized, this may be the perfect solution for you.
Steam – Responsive Retina Review Magazine Theme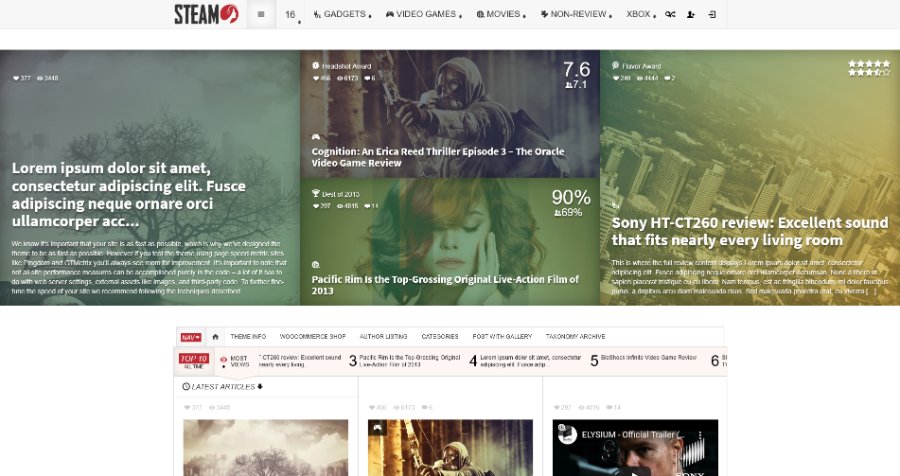 Steam is a responsive magazine WordPress theme that allows anyone to create an amazing review website in minutes. With the drag & drop page builder built-in to this theme, you will be able to customize your site without touching code at all. It also includes features like social share buttons so all of your reviews are easily shareable. Plus, this theme has fully integrated schema markup in each article so that your reviews are always SEO optimized with little to no effort on your part.
Puzzles WP Magazine Review with Store WordPress Theme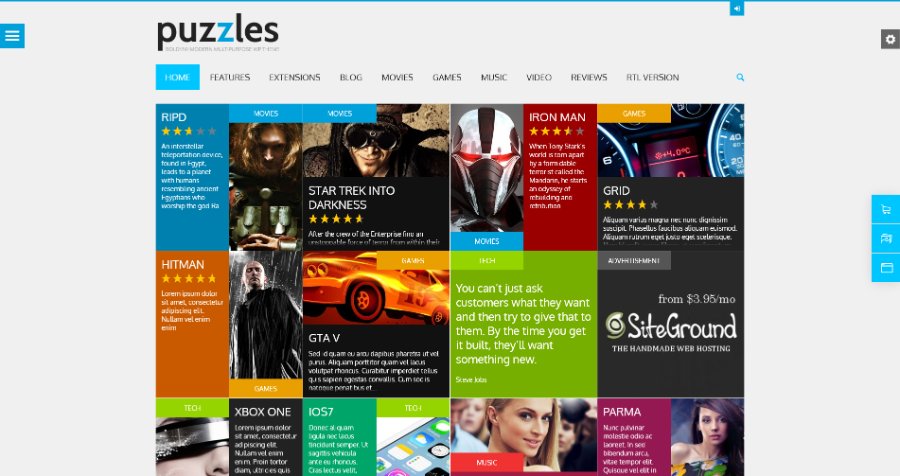 The Puzzles Review Theme is the perfect theme to give your website a unique, modern look. It's designed specifically for movie review portals, games overview blogs, forums, and gadget review magazines. You can also use it as an online store or shop since it has full WooCommerce compatibility.
With 5 premade homepages and 6 color schemes to choose from, there's something that will suit any style of blog or website. And the advanced rating system helps readers find what they are looking for quickly and easily while the internationalization features ensure you can monetize your visitors no matter where they live in the world.
Lily – Blog for Bloggers, Reviewers WordPress Theme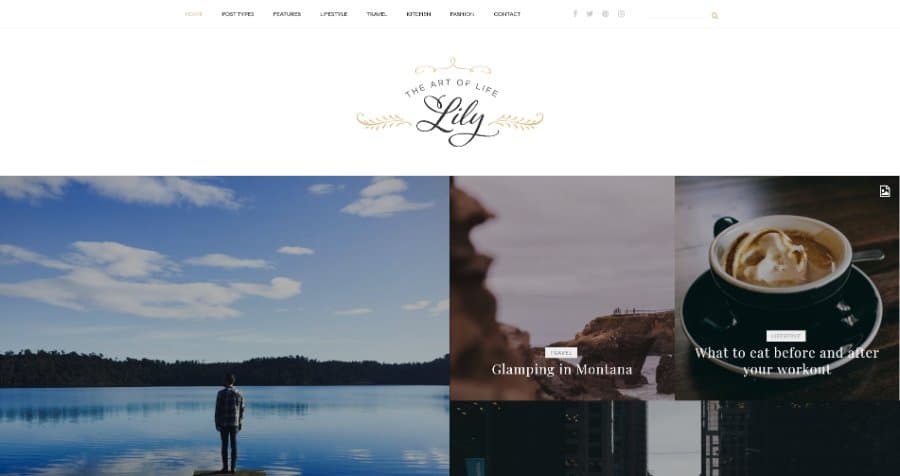 Lily is the perfect WordPress theme for bloggers, product reviewers, and anyone who wants to share their thoughts with the world. It's designed to be fast loading so your content will always load quickly no matter what device it's being viewed on. And with one click of a button, you can import sample data into your site which makes setting up your website quick and easy. Plus, the live customizer allows you to make changes on the fly without having to go back and forth between pages or save multiple versions of the same page. You can also customize any color in this theme in seconds with the built-in color picker tool.
DizzyMag – Review WordPress Theme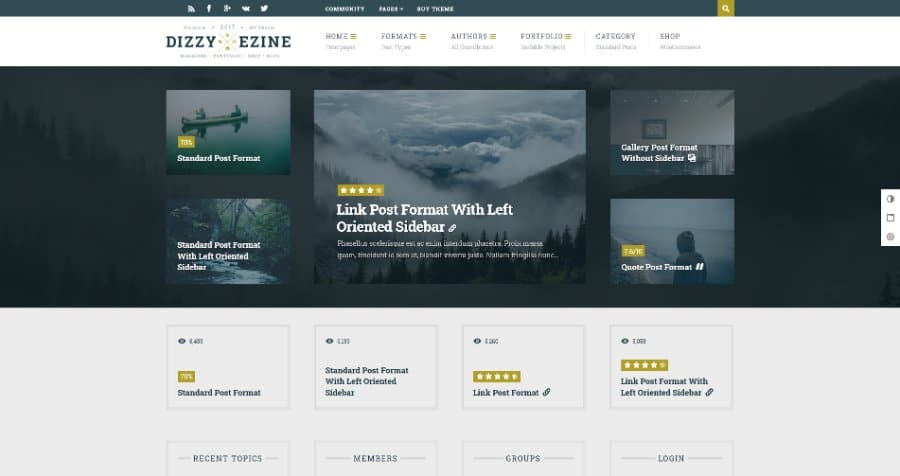 The DizzyMag Review WordPress Theme is compatible with the WP Review plugin which allows website owners to create professional reviews for any goods or services using stars, percentages, or point ratings. It also lets you give your visitors concise feedback about products that don't meet your expectations. WP Review also gives you full control over how your customers see these ratings – whether in pop-ups after each page load, as part of your homepage slider, or even as a widget on every post/page.
Best WordPress Review Theme For Games, Movies And Music – Gamez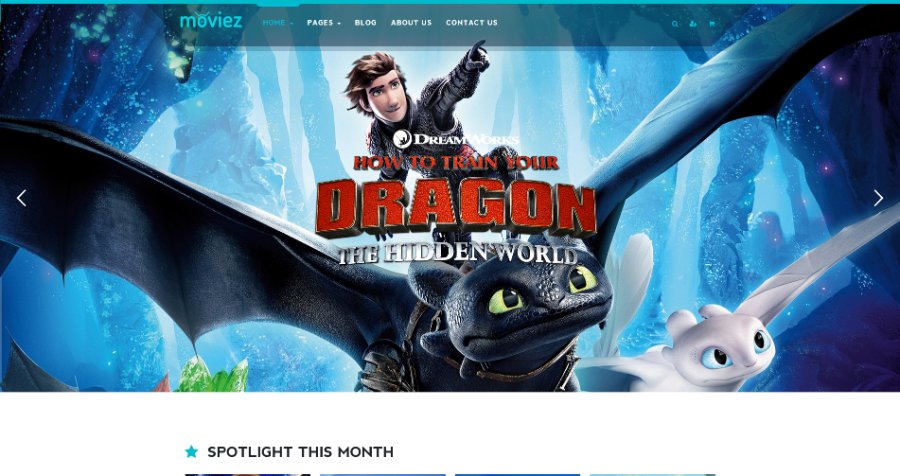 Gamez is the perfect WordPress theme for review websites. It's easy to install and has a simplified interface that provides lots of options for representing reviews in a unique way. And you can easily add video reviews on your website, so viewers can see them directly from your site instead of on video platforms like YouTube.
The Gamez WordPress theme will help you build a website that will rank high in Google for relevant keywords like "game reviews" or "game ratings". With the powerful SEO tools and keyword research features your site will soon start ranking higher in search engines like Google, Yahoo & Bing.
Plus, the best part about this WordPress theme is that it comes with a built-in affiliate system, which means you don't have to worry about losing commissions when someone buys something through one of your links. Your visitors will also be able to leave comments on each post, making it easier than ever before for other readers to share their opinions and ask questions. Overall, with Gamez, there are no limits as far as what you can do or how much traffic you can generate.
HashNews – Magazine & Newspaper WordPress Theme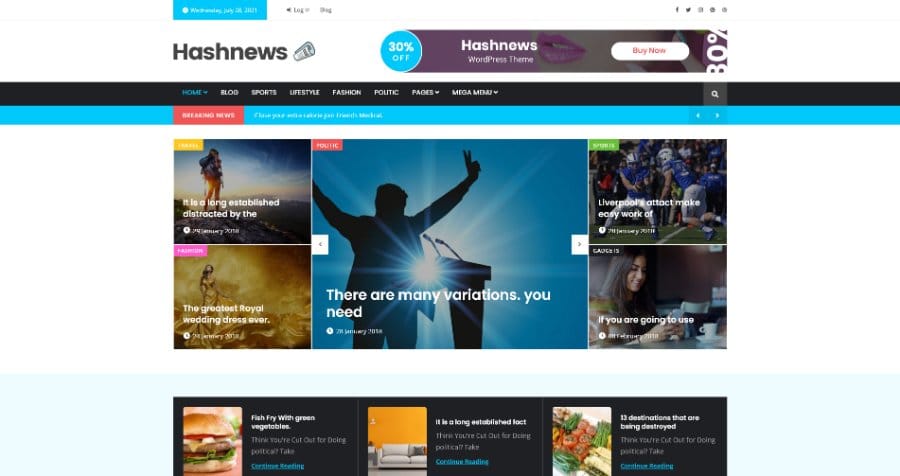 HashNews is an excellent general-purpose review site theme that's perfect for anyone on a tight budget. It includes many useful elements such as review posts, testimonial posts, rating systems, etc., which will help you get more traffic and increase affiliate sales and ad revenue.
Best WordPress Plugins for Review Sites
Taqyeem – WordPress Review Plugin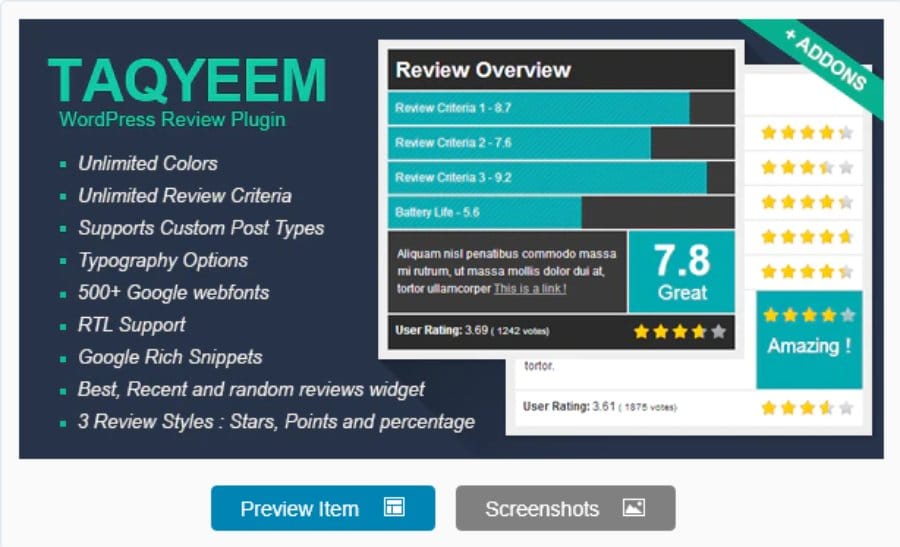 Taqyeem's WordPress plugin makes it easy to add beautiful reviews to your website with a simple shortcode or by adding a widget in your sidebar. The plugin also allows you to customize the look of the rating system so it matches your brand perfectly. And you can choose from 3 different rating styles and change the criteria for each rating level using the custom fields feature
Taqyeem Features
Rich Snippet Microdata
User Ratings
Review Widget
Ratings: Stars, Points, and Percentages
Embedded Images
Unlimited Review Criteria
Let's Review WordPress Plugin With Affiliate Options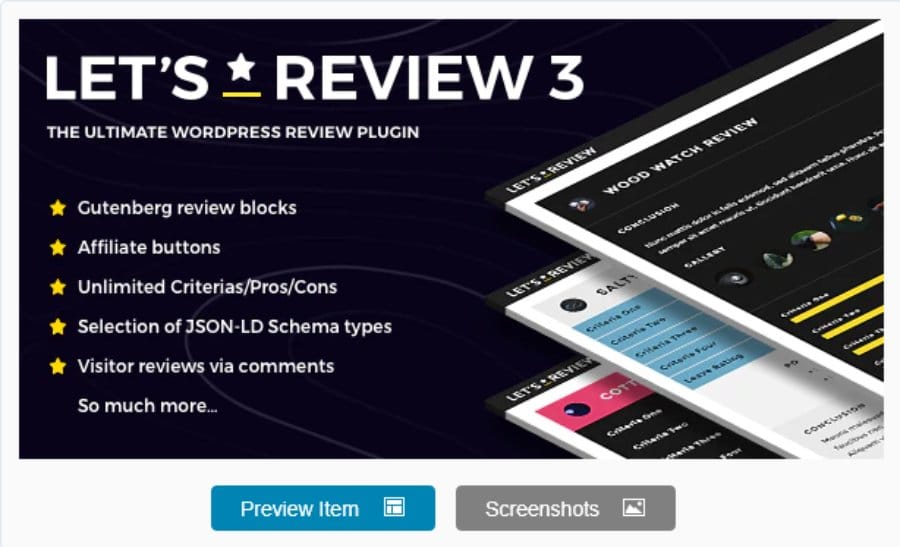 Let's Review is an all-in-one solution that makes it easier than ever before to add beautiful responsive and modern review boxes with valid JSON-LD schema to your posts. It is Gutenberg ready and adds various exclusive Gutenberg review blocks, making it easier than ever before to add beautiful and comprehensive review boxes to your site.
Ultimate Reviewer – Elementor & WPBakery Page Builder Addon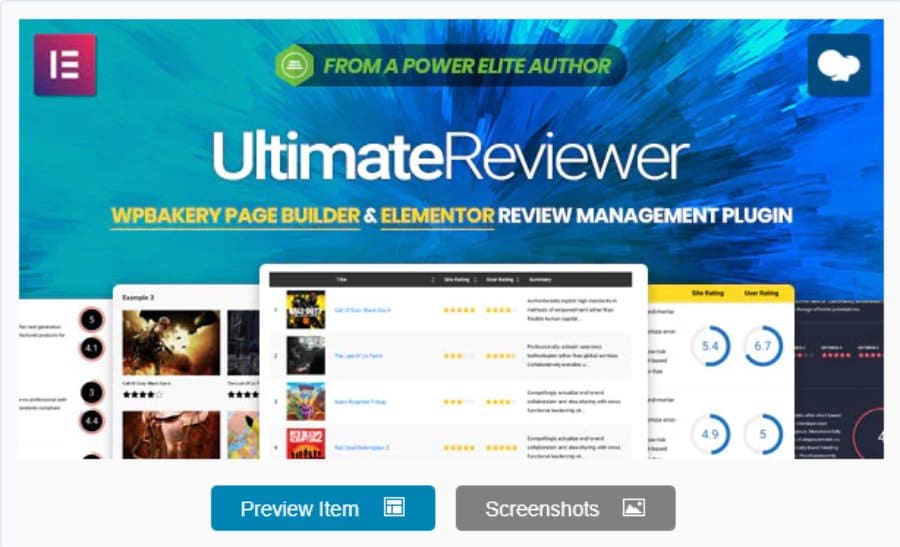 Ultimate Reviewer is a set of tools that makes it easy for anyone to build their own review site using WPBakery Page Builder or Elementor (both free). It comes with dozens of templates ready-made so you don't have to worry about coding anything yourself.
Ratings & Reviews plugin for WordPress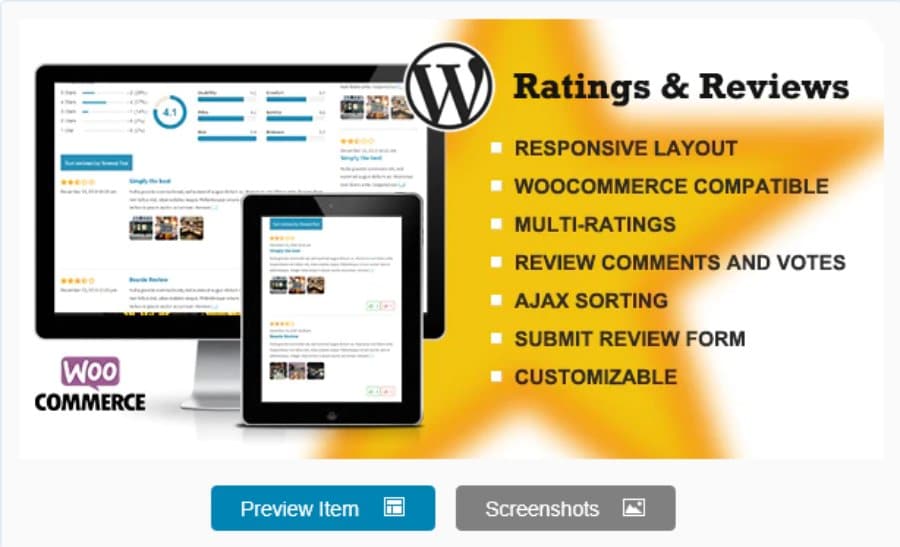 The Reviews & Ratings Plugin for WordPress offers everything you need in order to run an effective review/rating system on your website. This plugin allows you to add rating stars, write customer reviews, display the most popular items with recent reviews, as well as allow customers to rate any page or post on your website.
Conclusion
The best WordPress theme for review sites is the REHub Review Theme. This is a true all-inclusive theme, which means it's perfect for reviewing products or services from multiple industries.
If you're looking for the best WordPress theme to build a review site, we highly recommend the REHub Review WordPress Theme. This WordPress template has all of the features necessary to create an informative and engaging website that will help your business grow online. With premium support, SEO optimization tools, responsive design, social media integration, and more–it's no wonder this is one of the top-selling themes on ThemeForest.
To learn more about what makes it so great or see some demo sites in action head over to the REHub Homepage (Click Here)