If you're a content curator, then this article will be a must-read for you. In this post, we'll go over the best WordPress News Aggregator Plugin so you can quickly build out your website with free publicly available content.
Best WordPress News Aggregator Plugin
Echo RSS Feed Post Generator Plugin for WordPress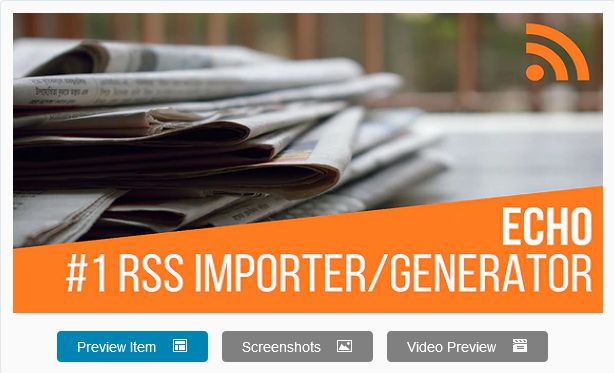 The Echo RSS Feed Post Generator is an easy-to-use WordPress tool that can automatically generate new posts from multiple sources.
The Echo RSS Feed Post Generator is a powerful WordPress tool with many features to help you automate your blog posts without needing any other software tools or services. And it's perfect for bloggers who don't have time to write content on their own.
The Echo Post Generator plugin takes care of everything automatically by posting new content from hundreds of news sources as it becomes available. This way you don't have to spend valuable time updating each individual post yourself, instead, you can focus more of your energy on marketing your site to new readers while still keeping up with important news items that are being shared across social media channels so you can publish them to your site using the built-in RSS feed import feature.
WordPress Publisher Autopilot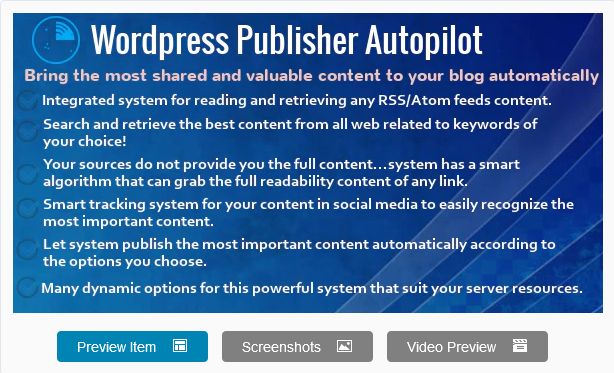 WordPress Publisher Autopilot is one of the best news aggregator plugins available today. Here are some features that make it great, according to our research and testing: It has an integrated system for reading and retrieving any RSS or Atom feed; you can search and retrieve the best content from all web related to keywords of your choice. The plugin also has a smart algorithm that can grab content from any link, whether on Facebook, Twitter, LinkedIn, or Pinterest. With this Smart tracking system for your content in social media, you will be able to easily recognize the most important content published by following blogs with original posts about what you want them to write about. Let System publish automatically according to options chosen so there's
Trendomatic – WebHose + Google Trends Post Generator Plugin for WordPress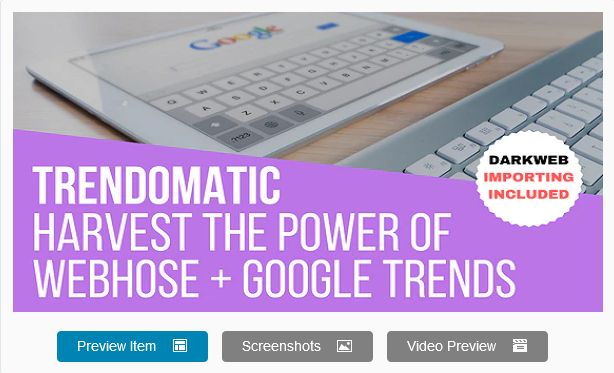 Trendomatic allows anyone with a WordPress-powered site to easily create posts based on any topic they choose using the WebHose API combined with the Google Trends API. With just one click you can generate posts from any category, tag, post type or even manually add search terms by URL. And if that wasn't enough, Trendomatic will also check if each generated post has an image attached before publishing it. If not then it will automatically use the first image found inside the post body so that every generated article looks great on social media channels like Twitter & Facebook without requiring additional editing work from yourself
Premium Cryptocurrency Widgets | WordPress Crypto Plugin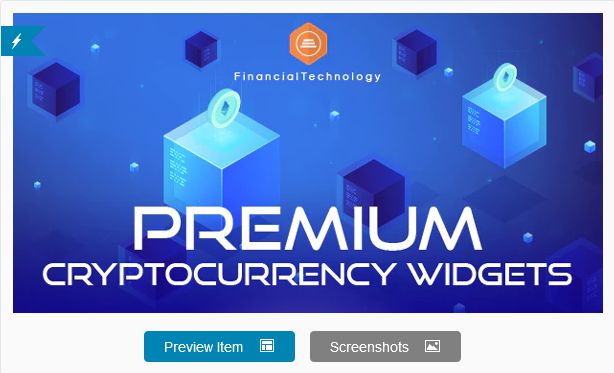 Premium Cryptocurrency Widgets is a WordPress plugin that displays real-time coin quotes, charts, tables, tickers, and news from major Crypto exchanges. This premium crypto tool also allows you to create custom pages for each coin with detailed information as well as price history charts. It's perfect if you're looking to build an informative site about cryptocurrencies or just want to display recent prices on your blog or business website. And with this plugin's included news widgets you can display the latest Cryptocurrency news headlines on your WordPress website.
Stock Market & Financial News Headlines | WordPress Plugin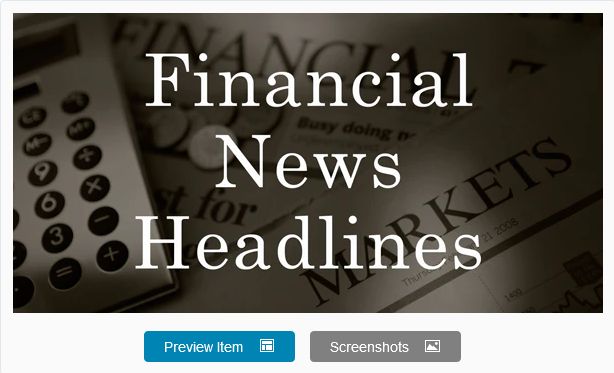 The Stock Market & Financial News Headlines Plugin is the perfect solution for displaying financial market data in a way that will help increase traffic to your site. . With this plugin installed on your site, you can easily add attractive and informative headlines from popular finance publications like Yahoo Finance, Seeking Alpha and other Financial Content providers using simple shortcodes.
The plugin also allows you to customize things like the number of news items per page as well as the total number of headlines displayed on your website so that they match your specific preferences or requirements
Gameomatic – Giant Bomb Automatic Post Generator Plugin for WordPress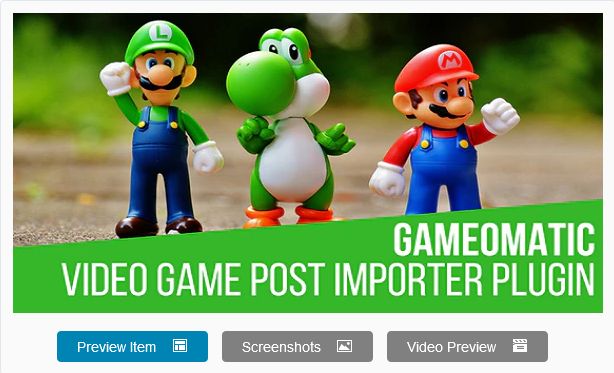 Gameomatic is a WordPress plugin that allows you to import all the information about any video game into your WordPress site. It uses the Giant Bomb database, which has detailed information about almost every video game in existence. The best part? You don't even need to know how to code. With the simple admin interface, you can easily create video game posts and pages with beautiful content related to any game. All you have to do is select which games you want to be imported and let Gameomatic handle everything else.
Pro News Ticker & Marquee for WPBakery Page Bilder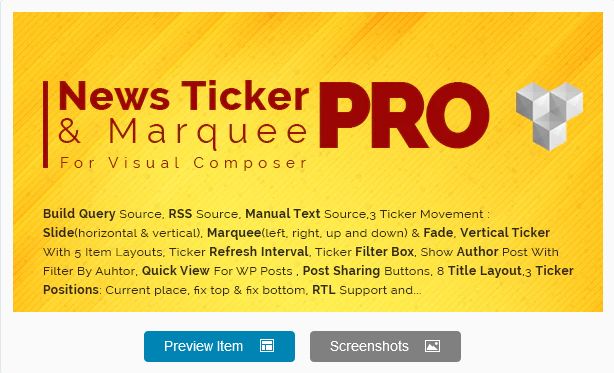 Pro News Ticker & Marquee for WPBakery Page Builder aggregates news from multiple sources on a single page. The ticker displays three sources of content at once, including RSS feeds, manual text entries, and an auto-generated list based on search queries. You can also choose between slide (horizontal), marquee (left/right), or fade effects for each source type as well as customize how often the ticker refreshes new data every day via a time interval setting within the WordPress admin panel.
Hackeromatic Hacker News News Post Generator Plugin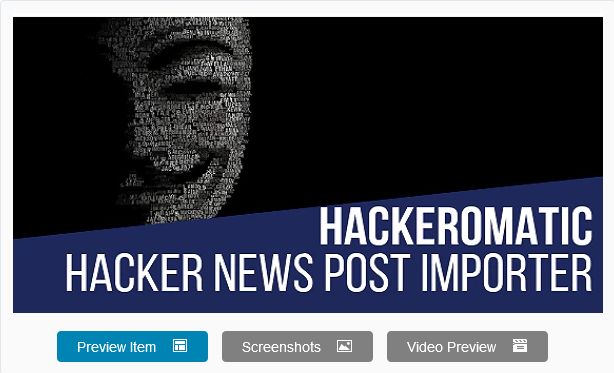 The Hackeromatic plugin lets you import all new posts, top posts, ask posts, and job posts from Hacker News to any page or post of your website using shortcodes. You can also filter the imported content by either post score or post type (story/job).
Plus, if you want to share an interesting article with friends, just copy the story's permalink and send it via email directly from within your WordPress site. And this plugin also includes social sharing buttons so that people could easily share each story on Facebook, Twitter, etc.
Best Free WordPress News Aggregator Plugin
WP RSS Aggregator – News Feeds, Autoblogging, Youtube Video Feeds and More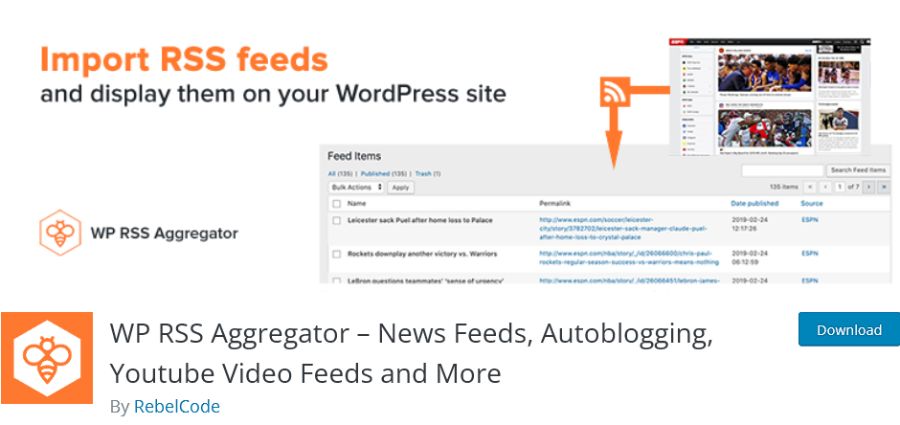 WP RSS Aggregator allows you to add content from an unlimited number of sites. You can manage all your RSS feed sources from a single page and set all the feeds to fetch new content automatically. And you can customize the display templates to match your website's design and set up shortcodes or blocks for instant results on any page. Plus, it has built-in support for YouTube videos so that you can include videos seamlessly in your feed items too.
RSS Aggregator by Feedzy – Powerful WP Autoblogging and News Aggregator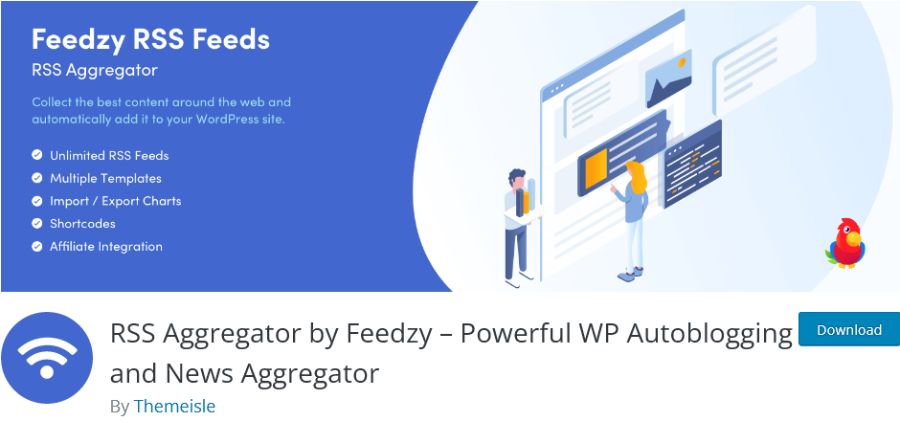 With Feedzy plugin you can import unlimited sources from different domains RSS feeds. The plugin also allows you to organize your imported feeds into categories which makes it easier to manage them on a large-scale website with many taxonomies. It's perfect for bloggers that want an automated solution that will save them hours of work every week. Plus, this plugin works seamlessly with Gutenberg blocks and all of its shortcodes are compatible with WP 5+ new block editor feature.
WordPress RSS Feed Retriever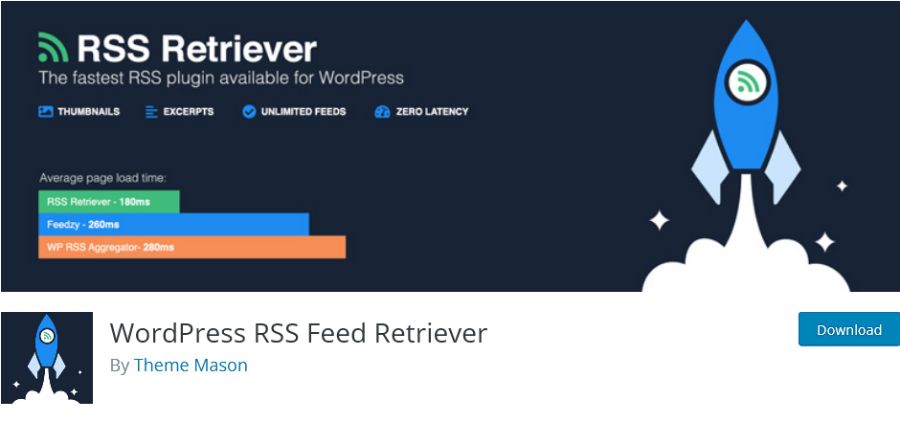 WordPress RSS Feed Retriever is a simple, lightweight, and fast plugin that allows you to fetch as many RSS feeds as you want. You can display the entire RSS feed or just an excerpt of it. The plugin also has settings for controlling how many words are displayed in the excerpt, whether it has a Read more link or not, whether links open in a new window or not, etc…
How To Create a News Aggregator Website
Would you like to create a website that aggregates news for your readers? This section post will walk you through the process of creating your own news aggregation site.
Read on:
Choose an appropriate domain name – e.g., YourNameNews.com
Get a shared hosting plan (Click Here for Web Hosting Starting a $2.99 a month)
Pick some websites to aggregate content from – e.g., NYTimes, BBC, etc…
Share your website on Twitter, Facebook, Pinterest, and other Social Media Sites.
How To Monetize a News Aggregator Site
The easiest way to monetize a news aggregator site is with subscriptions. With this, customers will pay a set amount per month for access to all of the content on the site.
From there, depending on what you're providing, you can charge for additional bonuses which may include an E-mail Newsletter with exclusively curated content.
You can even try to monetize a news aggregator website with affiliate marketing offers from Impact, CJ, and ShareASale.
Finally, even though it would be hard to get Ezoic Display Ads approved on a news aggregator website you might be able to run solo or native ads on your site.