You might be wondering what is the best Shopify fulfillment app? On this page, we will break down some of the top fulfillment apps on the market and determine which one offers the features you need as an eCommerce store owner.
Best Shopify Fulfillment App
ShipStation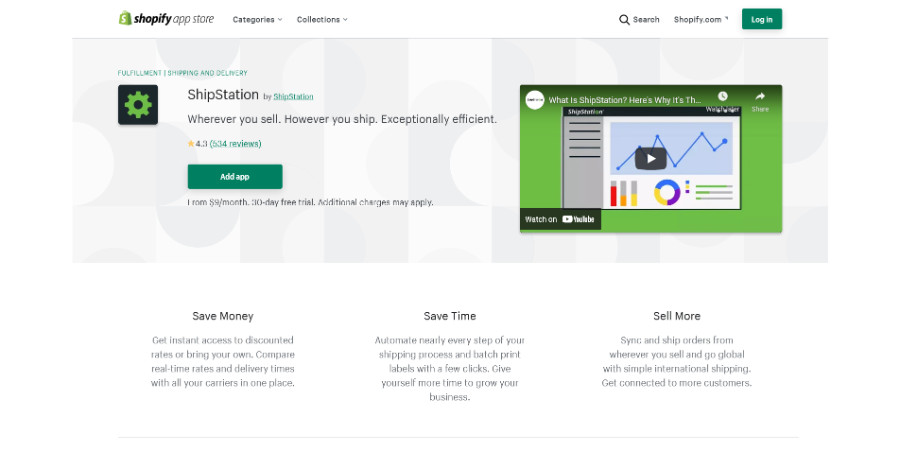 ShipStation (Try Free) is one of the best Shopify fulfillment apps available today. By using this app you can manage every aspect of your shipping process in one place, from tracking sales and printing labels to batching shipments together and automating nearly every step along the way.
With ShipStation, you'll be able to save money on postage by comparing real-time rates with all major carriers in one convenient location, as well as accessing discounted rates through ShipStation's network partners. You can also automate many manual tasks by creating rules that will adjust customer data automatically.
ShipStation also has integrations with Shopify, WooCommerce & Bigcommerce so you can easily manage every step of your fulfillment process for multiple sales channels and marketplaces.
Shippo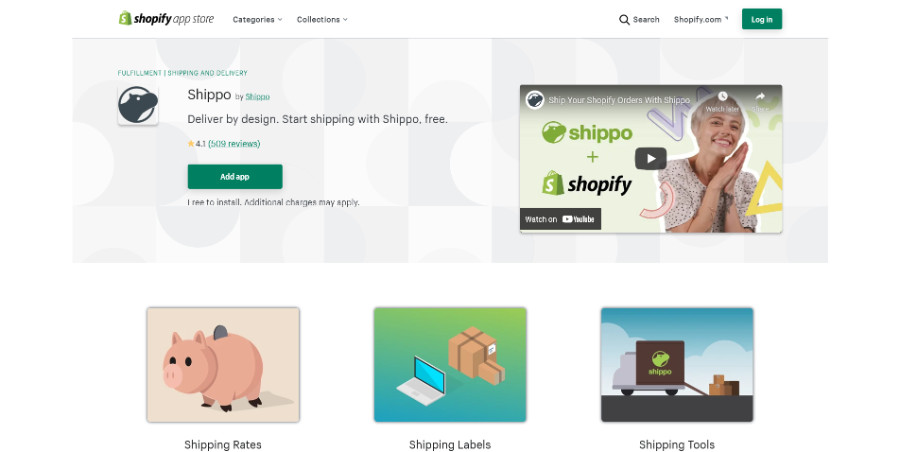 By using Shippo (Sign Up Free), you can instantly access the best shipping rates for USPS, UPS, and FedEx. Plus, Shippo automatically syncs tracking numbers back to your store so customers are notified as soon as their package is on its way. You can also save up to 90% off with Commercial Plus Pricing, and with a few clicks of a button, you will have instant access to discounted rates from hundreds of international carriers.
ShipBob Order Fulfillment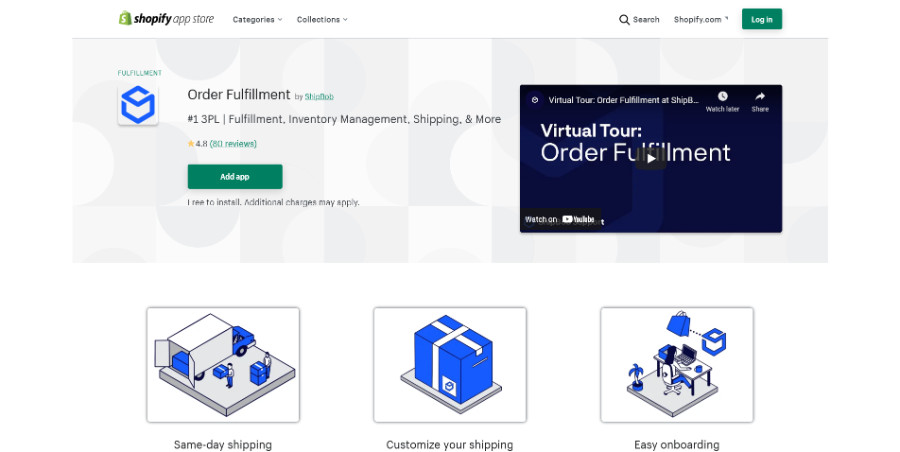 ShipBob provides outsourced order fulfillment services including warehousing, packaging & picking of customer orders as well as direct drop-shipments from one location or multiple locations in the United States (and a growing international footprint)
ShipBob makes it easy for online retailers to ship their packages quickly and affordably. Shopify stores can integrate this app directly into their store(s) in just a few clicks.
Once integrated ShipBob automatically syncs order information with your store(s), including tracking details for each customer. You can then choose which carrier service you'd like to use when fulfilling orders (FedEx Ground, USPS Priority Mail, or UPS).
Plus, ShipBob's prices are transparently based on delivery speed – faster deliveries mean higher costs per shipment.
ShipHero Easy Fulfillment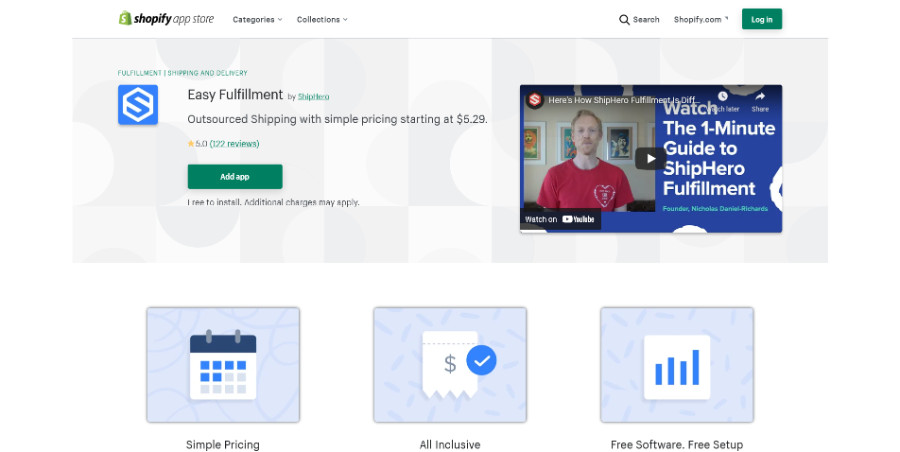 With Easy Fulfillment, you can outsource your order fulfillment to a team of qualified professionals who will take care of all aspects of your shipping, including packing and labeling orders for shipment, tracking, and special deliveries.
Easy Fulfillment also provides real-time inventory management tools that allow them to monitor shipments in progress as well as view current inventory levels at any time. Their system syncs up with Shopify seamlessly so that they always know what's available on hand for purchase by customers. You can also sync inventory from other marketplaces such as Amazon so you never run out of stock again.
By outsourcing your order fulfillment needs with Easy Fulfillment you'll be able to focus more on growing your business while reducing overhead costs significantly compared to managing this process yourself or using other 3PL's since their shipping rates are some of the most competitive in the industry.
ShipMonk | Order Fulfillment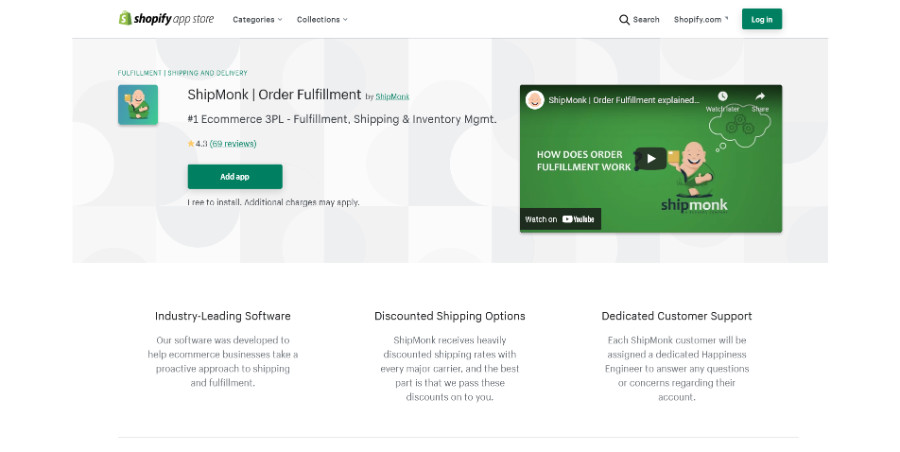 ShipMonk has built an order management platform that integrates directly into Shopify so that all your orders go through one place instead of having to check several dashboards. Their software allows you to manage inventory across all sales channels and ship out packages at discounted rates without worrying about tracking numbers or inventory levels. ShipMonk also offers easy access to real-time shipping rates so no matter what carrier service you use, you'll always get the best deal available
Easyship – All in one shipping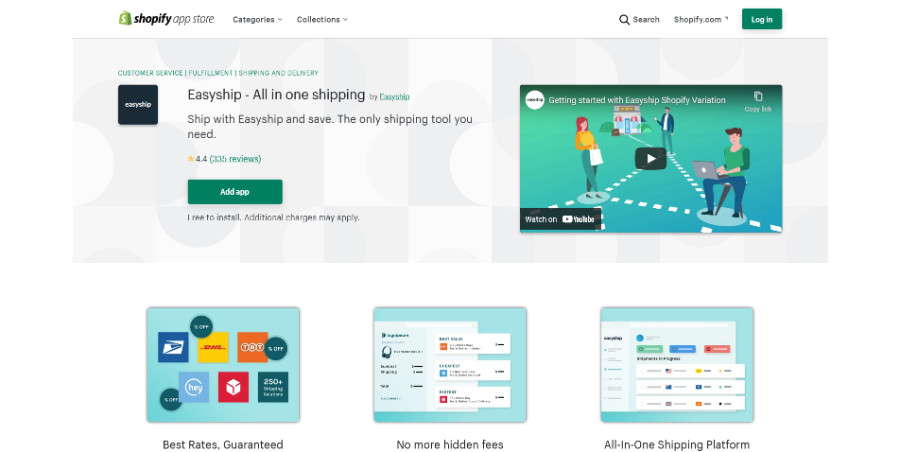 Easyship takes all of the guesswork out of shipping for online stores. Their platform combines your Shopify store with over 250 carriers so that you can always find the best rate on any package, anywhere in the world. Plus, this app tracks every step of your customer's order from checkout to delivery including customs documents and tracking numbers so that you don't have to deal with them yourself.
Auto Fulfill Shopify Fulfillment App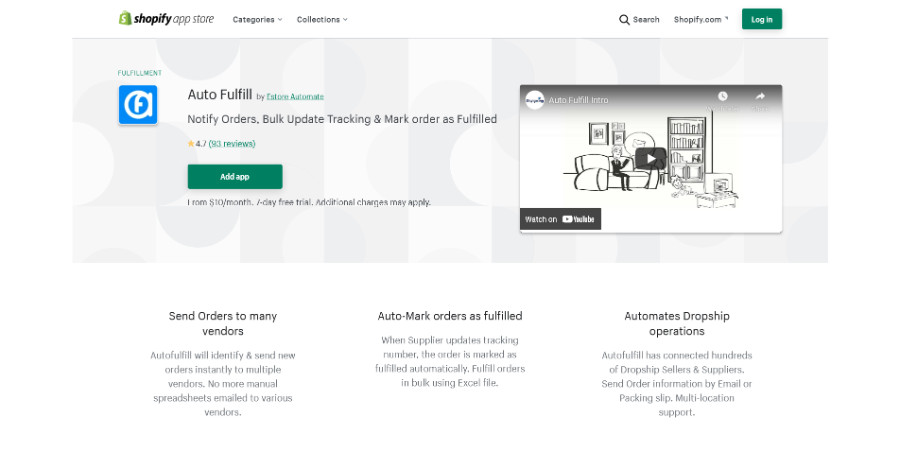 AutoFulfill manages all your shipments, tracking numbers, and vendor information. The software allows you to easily select which products are shipped from each supplier based on order criteria, such as product category or vendor name. AutoFulfill also provides a link for each product that can be shared with suppliers so they can fulfill orders directly without any further involvement from you.
Amazon FBA Shipping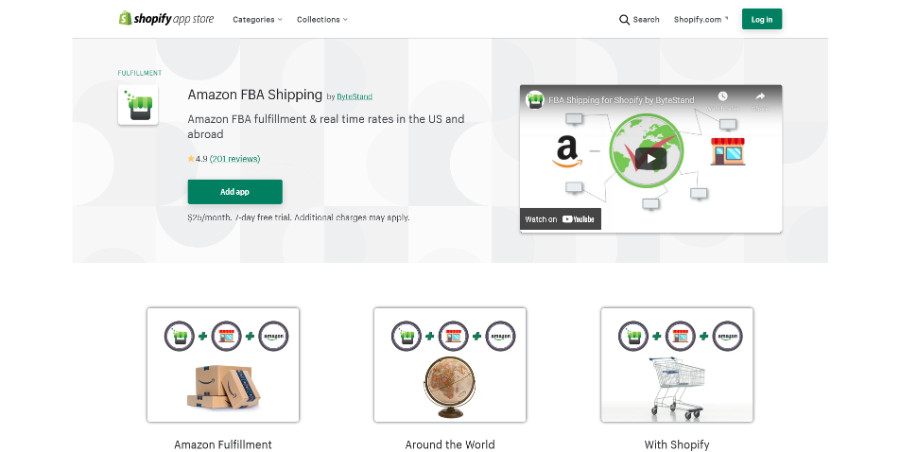 FBA Shipping simplifies the process of shipping items from Amazon FBA to your customers by allowing you to connect all of your accounts in one place. You can then choose which account will be used for each order based on the customer's current address. The app also gives you real-time shipping quotes so that you know exactly how much it will cost to ship an item before accepting the sale.
Order Fulfillment Guru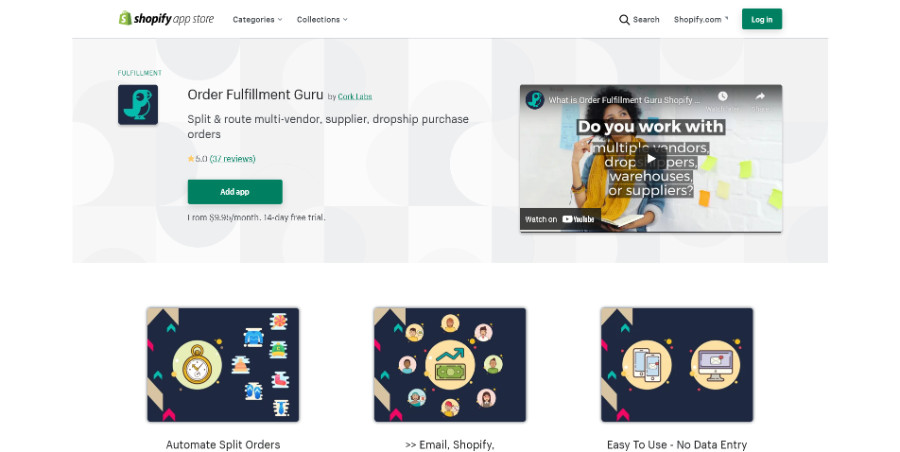 Order Fulfillment Guru is the best solution if you want to save time by automatically splitting your purchase orders into smaller batches so they can be sent out in parallel. You also get advanced rules which allow you to route each order differently depending on the product ordered.
Order Fulfillment Guru gives you the ability to send purchase orders directly from your Shopify admin panel and automatically split and route them to multiple suppliers and warehouses.
This way, instead of having a dozen different shipments going out with tracking numbers that all need to be tracked manually, everything is consolidated into one shipment for each supplier/warehouse combo.
Plus, its easy-to-use dashboard makes it possible for anyone in your business (even nontechnical staff) to handle all of your shipments from one place.
Auto Multi-channel Fulfillment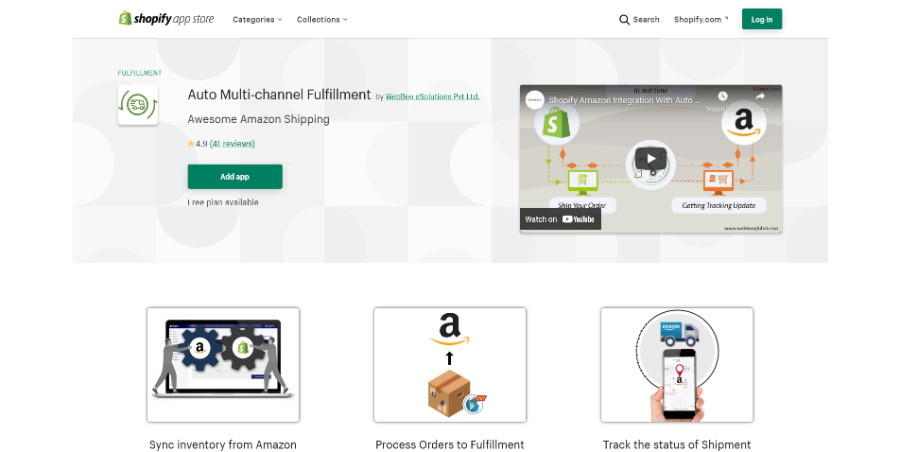 The Auto Multi-channel Fulfillment App helps you fulfill orders automatically with detailed tracking information about your shipments. With this tool, you can sync all your inventory data from multiple marketplaces into one place and then use the same source of information for fulfilling orders in any marketplace without having to worry about managing your stock levels separately for each marketplace. You just need to keep updated about stock status on only one platform (for example Shopify).
Does Shopify Do Fulfillment
Yes, you can opt into the Shopify Fulfillment Network, which is a global group of third-party logistics partners. With access to its world-class supply chain and fulfillment services network, your small business will be able to manage inventory more efficiently while effectively growing your customer base.
How Does Shopify Fulfillment Work
Shopify's Fulfillment Network makes it easy to offer fast, affordable delivery from an automated warehouse network strategically located around the country.
With a single back office that lets you maintain all of your orders from one place your Shopify admin, you're never far away from keeping up with inventory or customer data for any location at any time.
Find out more about how Shopify Fulfillment works by clicking here
How To Automate Order Fulfillment with Shopify
One of the biggest challenges a new online store owner faces is how to handle orders after they have been placed. The time it takes for a product to be shipped out can vary depending on what you are selling and where your products are coming from. In addition, if you sell multiple products or use drop shipping, this process can become even more complicated.
Luckily there are ways that you can automate order fulfillment with Shopify apps to make the entire process easier and less stressful.
If you want the order fulfillment process to happen automatically, install an app like ShipStation.
Use ShipStation's 'Ship Now' feature for items that are in stock and can be shipped immediately
Choose which carrier you'd like to ship with- USPS is cheaper but may not arrive as fast as UPS or FedEx
Once all of these steps have been completed, ShipStation will generate a label for each product ordered on your site
Sign in to Shopify from within the Shipstation dashboard and choose "Print Label"
Print out those labels from inside of the Shipstation dashboard – make sure there's enough paper loaded in your printer.
In case any problems arise during this process (e.g., wrong address), it might be worth it to invest in some extra insurance coverage through Shippo