It's no secret that email marketing is the best way to generate sales and grow your business. With this in mind, we've compiled a list of the best free Shopify email marketing apps.
If you're in a rush here is a quick list of the best free Shopify email marketing apps
Best Free Shopify Email Marketing App
Klaviyo Shopify App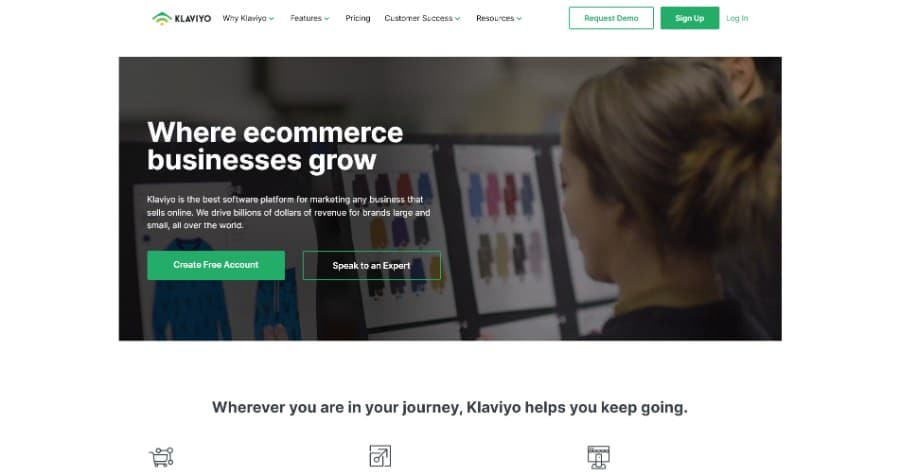 Klaviyo is an all-in-one Shopify email app with no limits or restrictions on what types of rules, triggers, or segments you can use. You can build predictive models using this app's machine learning algorithms and then use those models to target specific customers with personalized messages at scale. Klaviyoalso integrates seamlessly with other popular eCommerce platforms like BigCommerce and Magento so you don't need separate software for each store.
Klaviyo is one of the few email marketing apps on the market that allows you to create customer-level predictions based on any data point in your database. This makes it possible for marketers to send highly targeted emails at scale without having to worry about missing customers who might not fit into predefined segments.
You can also segment your list into unlimited groups so that only people who meet certain conditions will get an email from you at all times. This allows for incredible targeting of specific segments without having to worry about sending irrelevant emails to everyone else. It's really easy – just define the rules once and then sit back while Klaviyo does all the work.
Mailchimp Shopify App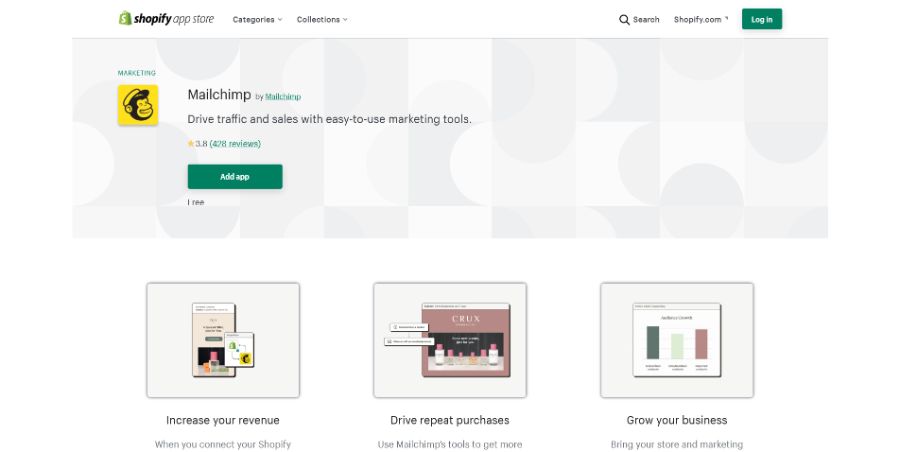 Mailchimp offers a free app for Shopify users so they can easily integrate their Shopify eCommerce store with their email marketing software. By syncing up these two platforms, you have access to all of Mailchimp's tools right from within Shopify. This allows you to build an automated customer journey based on how individual shoppers interact with your brand across different channels.
With Mailchimp, you can easily connect your existing customer list, create automated campaigns based on past purchase history, and sync information between platforms like product names and descriptions.
If you want to learn more about how to use this tool we encourage you to check out their free resources page (Click Here)
Constant Contact Shopify App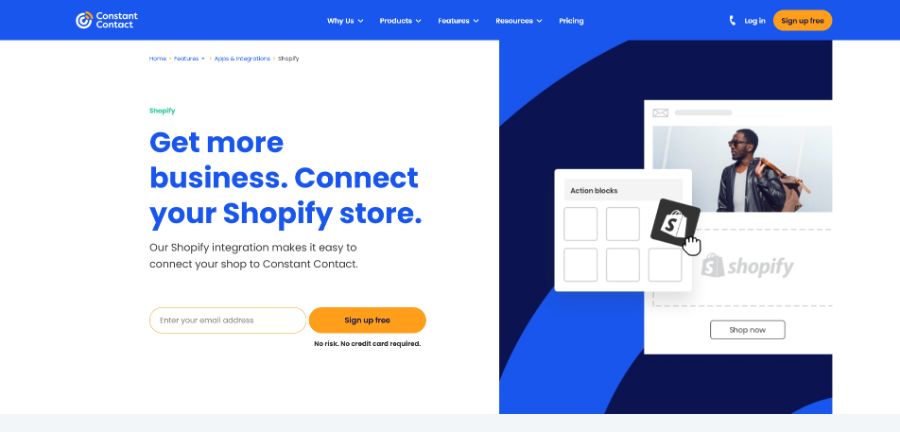 The Constant Contact Shopify App allows you to use your existing Constant Contact account (or create one) and connect it to your store so you can start sending targeted emails with product recommendations, discounts, and more.
This tool allows you to easily connect your Shopify store with Constant Contact so you can target specific segments of buyers based on what they've bought from you before, what they're interested in right now, and even their shopping habits. It also lets you add coupons and products directly from within the app itself — no copying and pasting necessary. Then once all of this information is synced up, sending out emails becomes as simple as clicking a button or setting up an automated e-mail sequence.
The best part about this integration is that you don't need any technical knowledge or coding skills because Constant Contact has already done all the work for you. That means all you need to do is connect your store's customer data and contact information and you'll be up and running in a few minutes.
Privy – Pop Ups, Email, & SMS Shopify App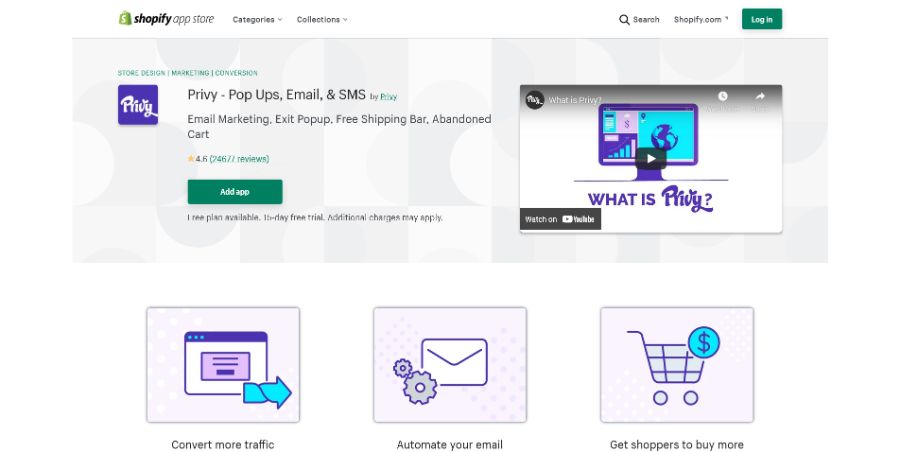 Privy lets you send targeted email campaigns that will help you understand your customer's behavior and increase conversions. With Privy, you can create pop-ups, flyouts, SMS messages & in-app notifications to offer discounts or coupons when they're most likely to convert. You'll also be able to see what works with A/B testing so that you can focus on the content that gets the best results for your business. The best part? It's free for up to 100 email contacts.
Omnisend Email Marketing & SMS Shopify App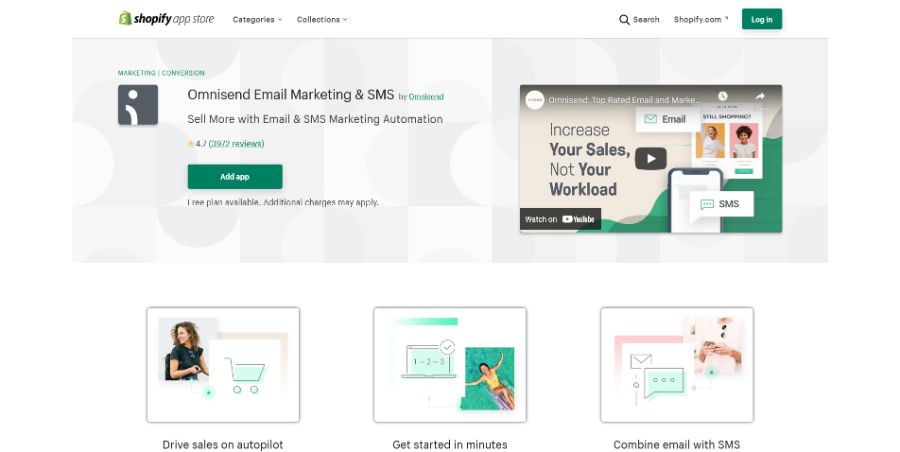 Omnisend makes email marketing affordable and easy for Shopify stores. Send up to 500 emails per month & unlimited SMS messages worldwide using the free plan that includes professional-looking templates, automated campaigns + more. And Omnisend's paid plans start at just $16 /mo which include automation features such as conditional automation based on subscriber actions, content upgrades, drip campaigns + more.
ActiveCampaign Shopify App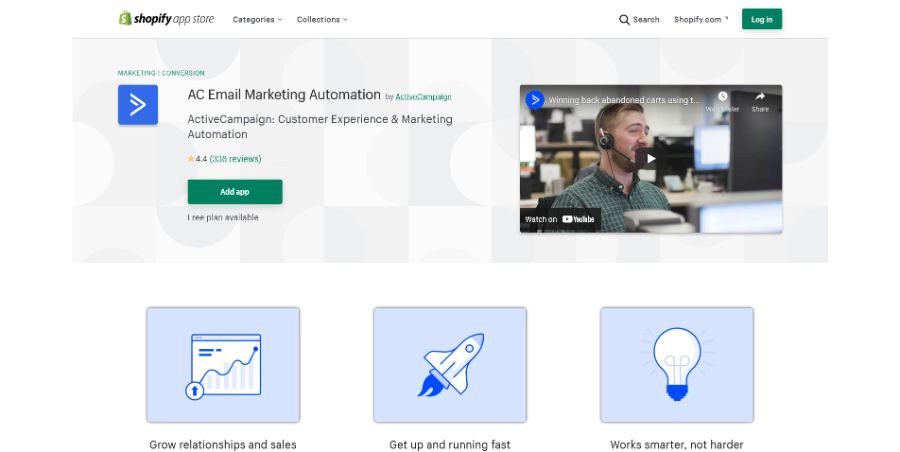 The ActiveCampaign Shopify App is an all-in-one email marketing platform that lets you send automated messages to customers. It also allows you to set up welcome emails and automate workflows so that every customer gets personalized attention when they first sign up for your newsletter or make a purchase on your site. No other Shopify app gives you this level of control over how and when potential customers interact with your brand, and you can get access to all of their premium features when you sign up for a Free Trial of ActiveCampaign (Click Here)
SmartMail: Email Marketing & Pop Ups Shopify App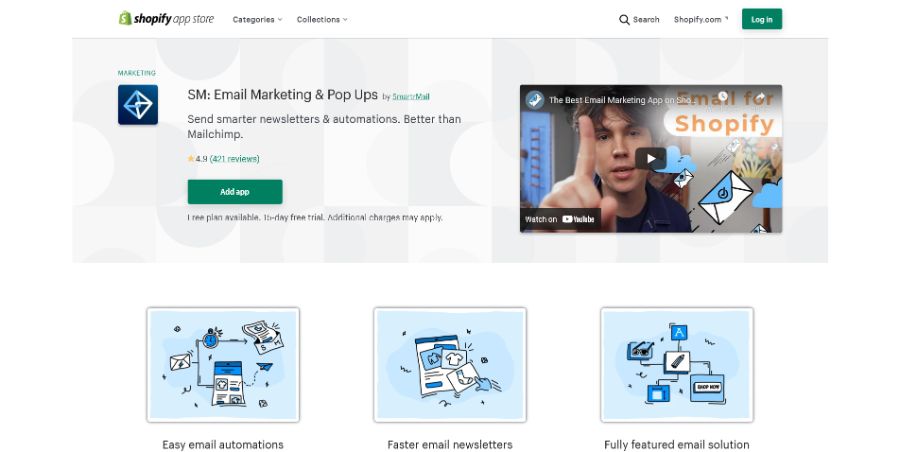 The SmartMail Shopify app is a great option for those looking to send and manage email newsletters. It's an easy-to-use, free service that can help you reach up to 1000 subscribers with your messages. If you need to send more than 5000 emails per month or want the ability to segment certain groups of recipients based on their activity within your store then check out their paid plans which start at $19/month.
Seguno: Email Marketing Shopify App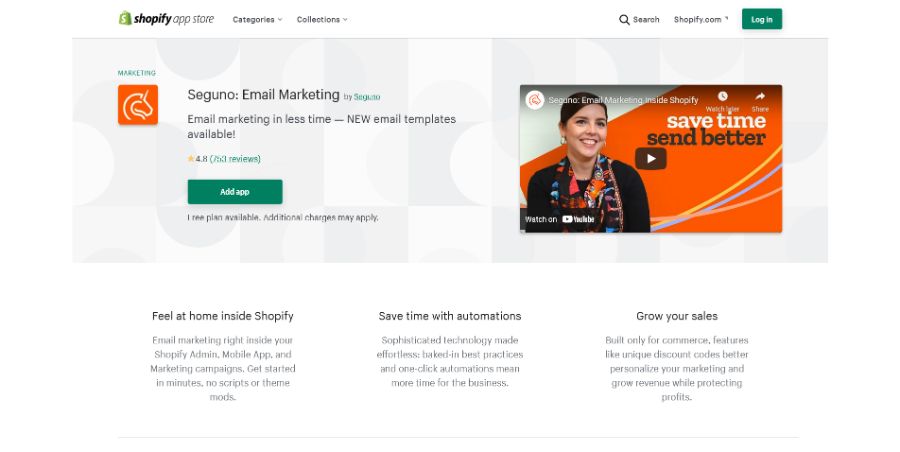 The Seguno email marketing app is a great free tool for Shopify stores to use if they want to grow their customer list. The free plan has a 250 subscriber limit, but it provides unlimited sending of emails and newsletters with pre-built automations. This means that you can set up automated messages on your store so people don't have to wait too long before hearing back from you after purchase. Support via chat or email is available as well which will save you some time when setting it all up.
AVA SMS,Email Marketing,Pop Up Shopify App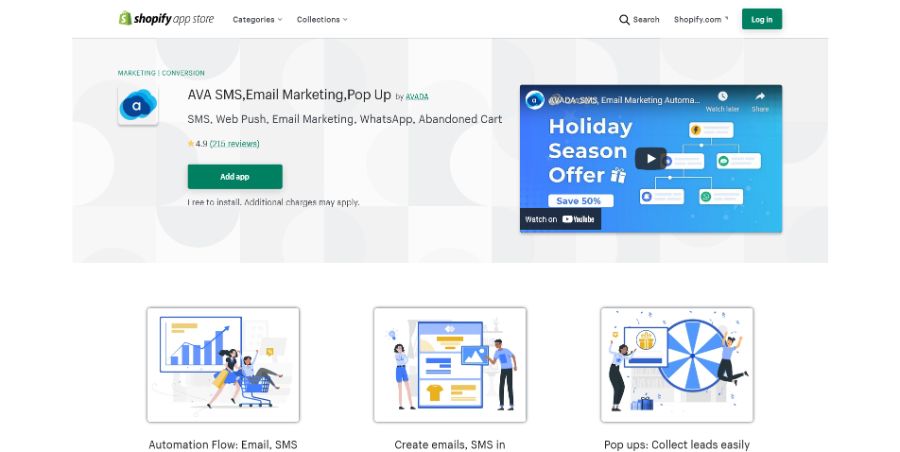 The AVA SMS, Email Marketing, Pop Up Shopify App is a free app that allows you to send text or email marketing campaigns from within your Shopify store's backend. To get started with the app, simply connect it to your site and start sending out personalized messages tailored for each recipient's interests. This Shopify app will save you time in creating emails and texts while giving managers full control over what they want their customers to know about their products. You can also track how well these campaigns are performing by looking at reports on who opened them, clicked through links, or even made purchases. You can get started with up to 500 contacts for FREE or pay from $9/mo based on the number of subscribers in your list.
MailerLite Email Marketing Shopify App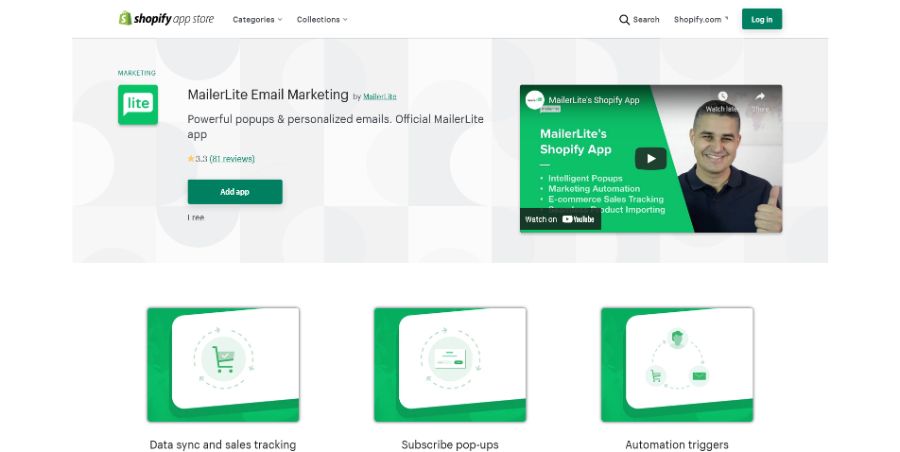 One of the best free Shopify email marketing apps is MailerLite. This app will sync customer data and purchase history from your Shopify store to MailerLite, so you can track new sales revenue generated from your email campaigns. In addition, with a Forever Free plan, which includes up to 1,000 unique subscribers, you have access to all of the features that are included in their paid plans for only $0/month.
How To Set Up Email Marketing on Shopify
Have you ever wanted to add email marketing to your Shopify store? The following section will go through the steps of how to do so.
How To Add Email Marketing to Shopify
Install a Shopify E-Mail marketing app
There are a few different apps available to help you integrate your emails into Shopify. Some can handle your newsletter blasts, while others work with your checkout process, but the one we recommend is AWeber. It's easy to use and specifically designed for e-commerce stores, so it should be a good fit for most stores when you're just getting started.
Embed an E-Mail Opt-In iFrame
If you don't want to install an email marketing app you can embed an opt-in form that will allow you to grow your email list through Shopify – you can either embed them directly or have a developer on Fiverr (Click Here) help you the first time if you're new to Shopify.
Does Shopify Include Email Marketing
Shopify does offer e-mail marketing for all Shopify plans with their monthly subscription (2,500 emails for free and $1 for every 1,000 additional emails)
Click Here To Read More About Shopify Email Marketing
Shopify Email Marketing Pricing
2,500 emails for free.
$1 for each 1,000 additional emails
Shopify Email Marketing Course
Email marketing is a powerful way to grow your business. But if you're not doing it right, you could be losing out on opportunities and customers. Below you'll find the top five Shopify email marketing courses that will teach you how to do it right- from the basics of setting up an email campaign to crafting compelling subject lines and sending time-sensitive emails.
Shopify Academy Email Marketing
Are you interested in learning about email marketing? If so, Shopify academy has a Free Email Marketing Course that's perfect for beginners (Click Here)