Loyalty programs are a great way to incentivize your customers and keep them coming back, and on this page, we'll help you find the best Shopify loyalty app.
Best Shopify Loyalty App
Smile Rewards & Loyalty – Best Shopify Loyalty App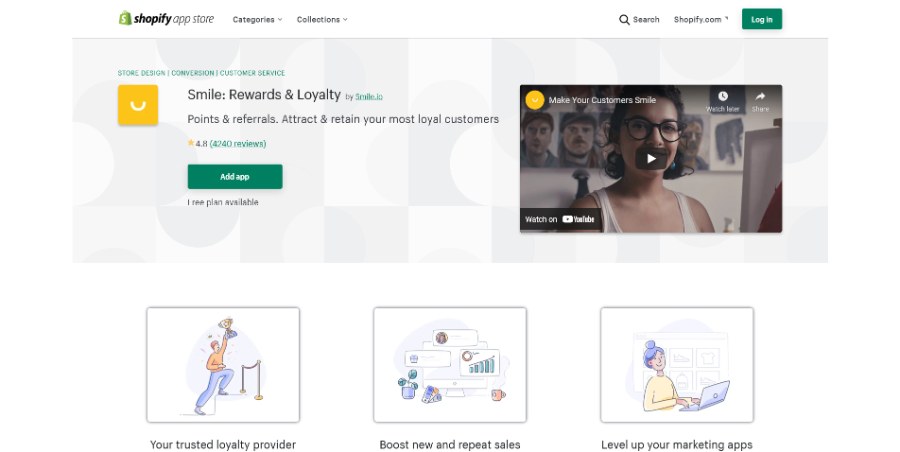 Smile Rewards & Loyalty is a loyalty app that can help you build customer loyalty and boost sales. This app will track all of your customers' actions in order to offer them points, which they can then redeem for rewards or gifts at checkout.
You'll also be able to create campaigns with bonus points and urgency promotions where points expire after so many days without a purchase. Plus, you can even create VIP programs with this app where you can reward loyal customers with perks like exclusive releases as well as other special privileges such as early access to new arrivals before everyone else has seen them.
Click here to learn more about the Smile Rewards & Loyalty App
Growave – Loyalty, Wishlist +3 – Best Shopify Loyalty App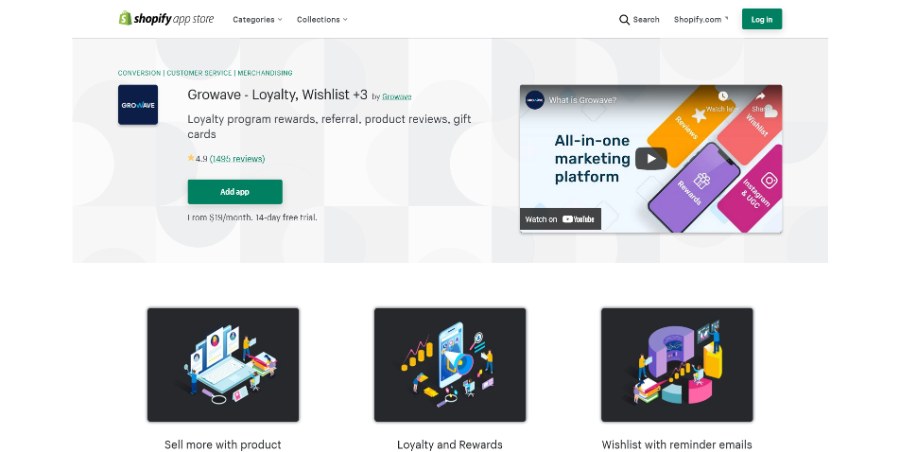 Growave is a complete, rewards, referral, and loyalty app for Shopify. It allows you to create a loyalty program with points systems, rewards with discounts, in-store cash, and free products. Plus, you can even create a VIP system with exclusive offers.
This app also lets you set up an affiliate program where members can earn commissions or points when they share links to the products on your site with friends, family, and their followers.
Plus, the wishlist feature will help you recover lost sales by reminding customers about products with custom alerts and notifications, so you won't lose a potential sale again.
Yotpo Loyalty & Rewards
Yotpo offers a fully customizable loyalty & referral marketing platform that's free for Shopify stores with up to 100 orders per month. This app helps you create VIP Tiers, build custom reward levels based on purchase history or frequency, and more. Yotpo also includes SMS notification support which sends out personalized messages after customers make their first purchase, earn points, or refer someone new.
Best of all, Yotpo's Loyalty & Rewards app is designed specifically with small online retailers in mind. And it's easy-to-use interface allows even non-technical users to create a robust rewards program with minimal effort and no upfront costs.
Rise.ai Gift Cards & Loyalty Program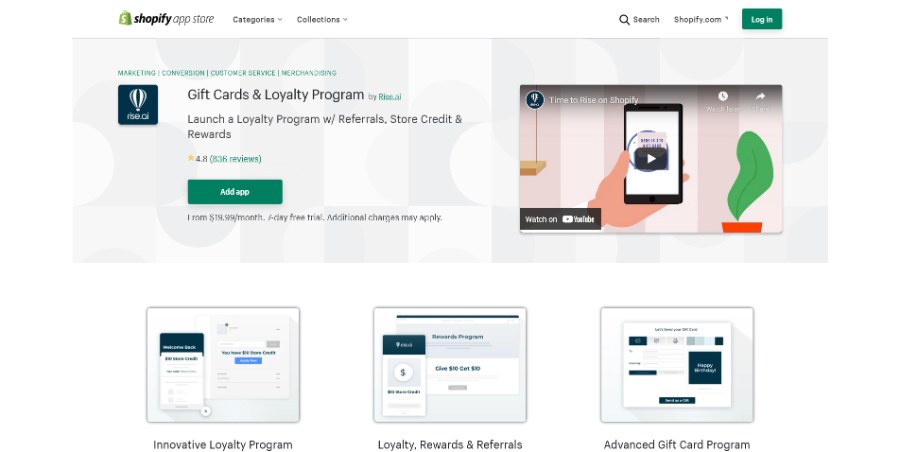 The Rise.ai Gift Cards & Loyalty Program app makes it easy to reward customers for their purchases and promote repeat visits. It also lets you create gift cards with custom text, email messages, images, and more.
Plus, with this app, you can launch a proactive rewards program that will help increase your conversion rates by rewarding shoppers who visit regularly or refer friends and family members through social media channels like Facebook, Twitter, or Instagram.
S Loyalty, Rewards & Referrals – Best Shopify Loyalty App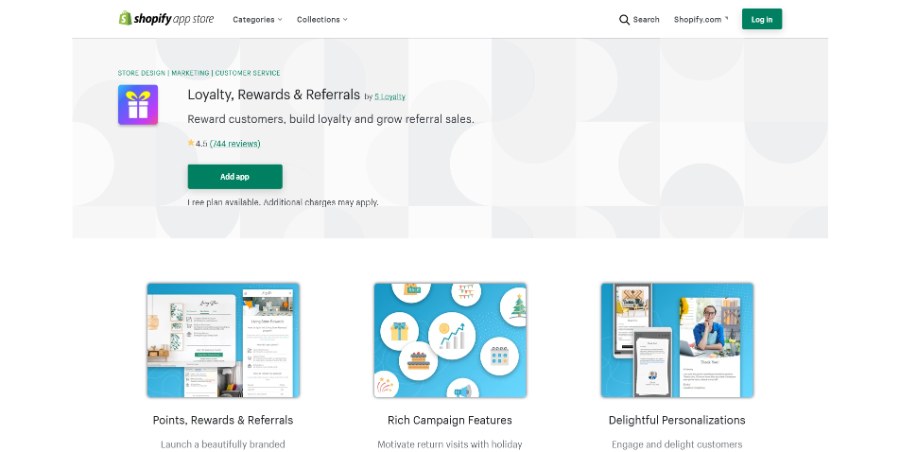 The S Loyalty Rewards & Referrals App is the best choice for creating a beautifully branded customer loyalty program on your Shopify store. Its easy-to-use admin panel allows you to create various campaigns, while its attractive templates allow you to customize every aspect of your loyalty programs from colors and logos down to special onboarding messages. This app also has a built-in affiliate system so customers will also be rewarded whenever they refer their followers, family, or friends.
Rivo LOYALTY, REWARDS & REFERRALS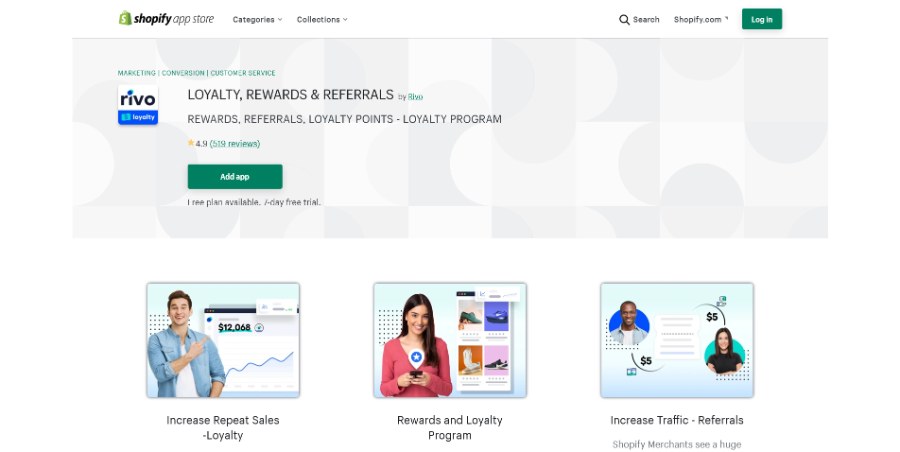 Rivo LOYALTY REWARDS & REFERRALS is an app designed specifically for Shopify merchants who want to create their own custom rewards program and referral system that matches the look and feel of their brand. Plus, this app makes it easy for you to set up beautiful referral widgets that drive traffic through social media channels like Facebook, Instagram, and Twitter as well as email marketing campaigns from Mailchimp, Constant Contact, or any other email provider you choose.
LoyaltyLion Loyalty, Rewards and Referrals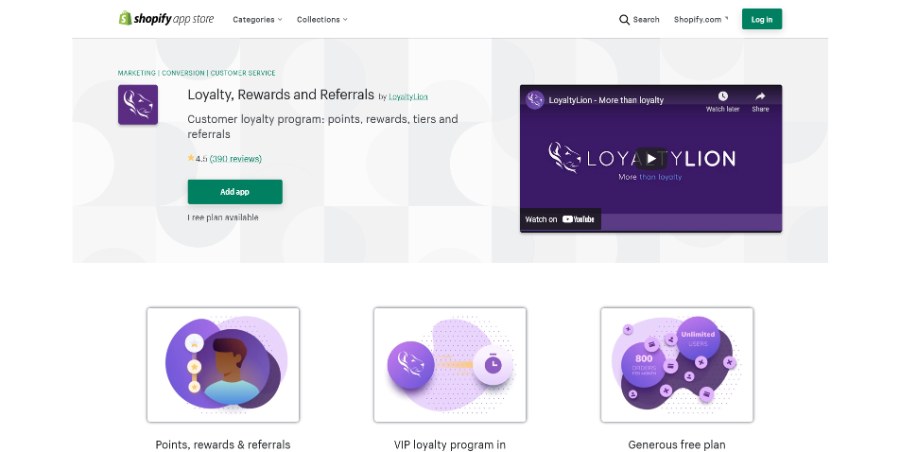 LoyaltyLion is the easiest way to build a powerful customer loyalty system for your Shopify store and it has a free plan that includes unlimited referrals for stores with less than 800 orders per month. And this app takes care of everything from setup to analytics, so you can focus on what matters most – growing your brand.
Plus, with LoyaltyLion you can build a points and referrals program in minutes with rewards that go beyond discounts, allowing customers to redeem their points for things like free shipping or early access to VIP sales.
Bold Loyalty Points & Rewards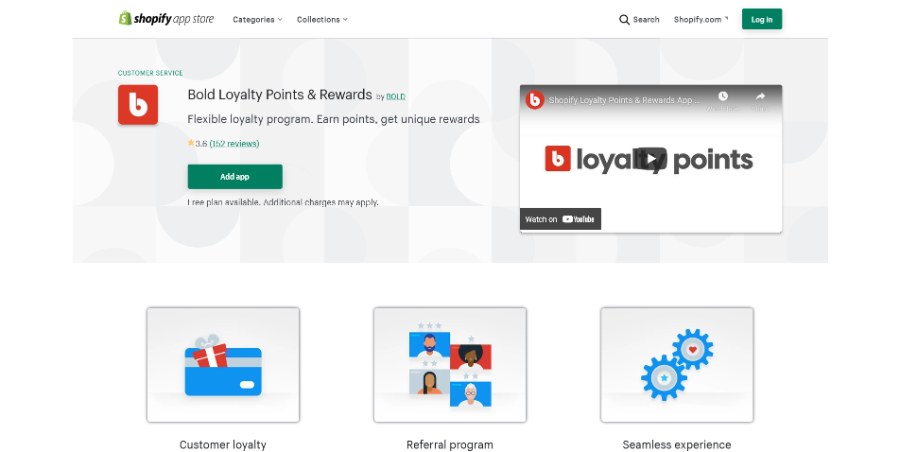 Bold Loyalty Points & Rewards Shopify App is a loyalty app that lets you reward your customers with points for making purchases, sharing your store on social media, and referring new customers. And once members have collected enough points they can be redeemed for discounts as well as custom rewards like limited-edition items, product samples, and charitable donations.
Stamped.io Loyalty & Rewards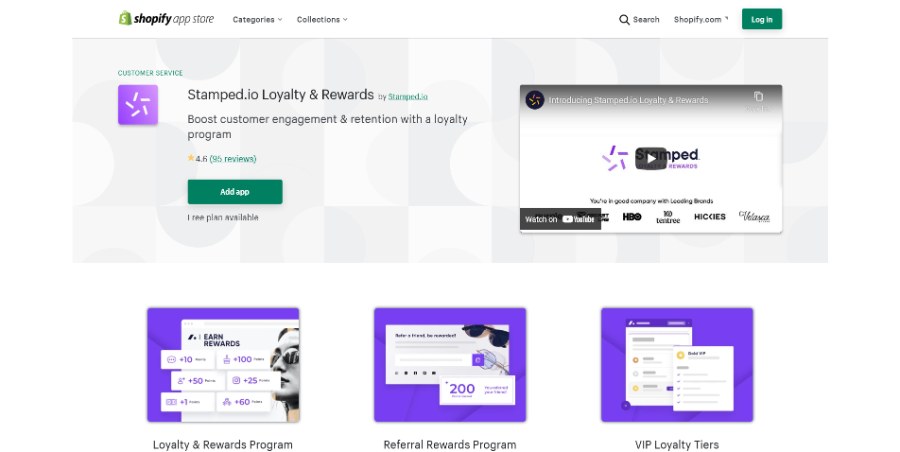 Stamped.io is the best Shopify loyalty app because it offers a variety of features that will help you attract and retain customers, including customizable rewards programs with points for different types of purchases. You can also manually adjust point values to create special discounts tailored to certain demographics like age or clothing size. Plus, Stamped.io will even send automated email notifications, so your customers will immediately know when they've reached a new milestone in your loyalty program.
Glow: Loyalty Points & Rewards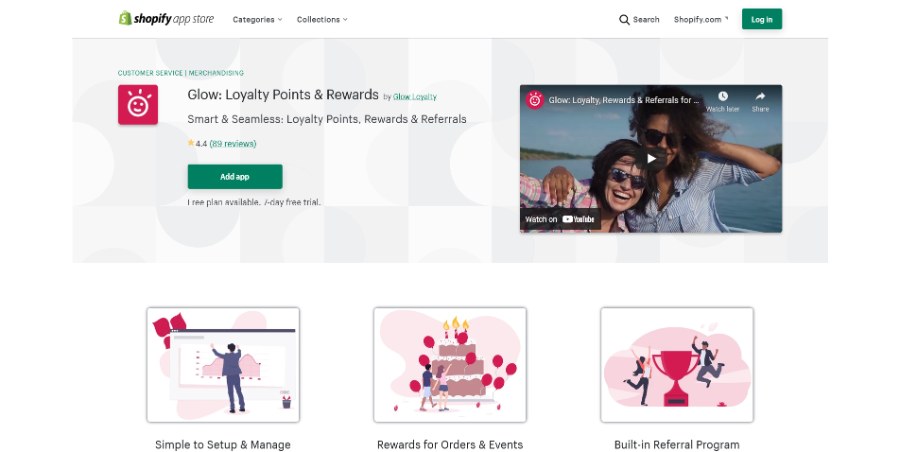 Glow is a loyalty app that is easy to set up and customize, with options like custom point names, rewards, birthday rewards, cashback coupons, and more. There are also VIP tiers available in this app if you want to reward your best customers with more loyalty points and unique one-of-a-kind offers.
Zinrelo Loyalty Rewards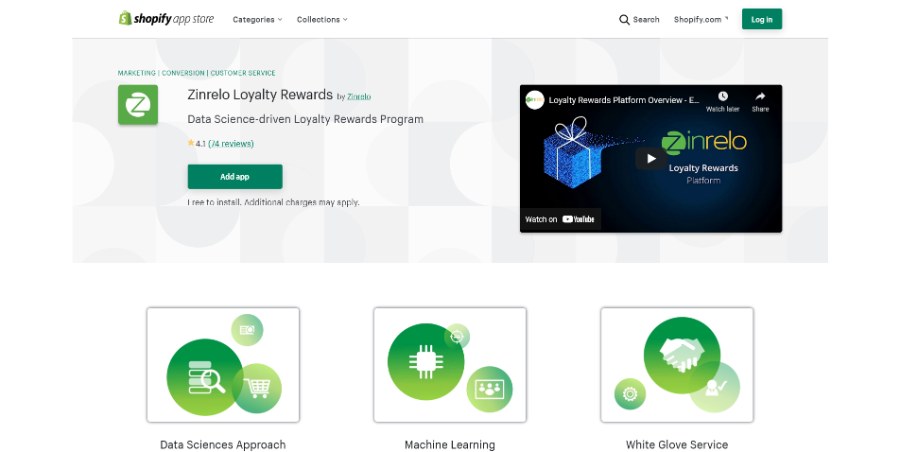 The Zinrelo Loyalty Rewards App for Shopify was designed by data scientists with years of experience in loyalty marketing, customer retention, and revenue optimization. The goal of this app is to increase sales by creating the right rewards strategy for each customer. Zinrelo does this by using machine learning algorithms to analyze past transactions, segment customers into clusters, and make recommendations based on their behavior patterns.
What Is A Loyalty Program
A loyalty program is a system that rewards customers for frequent purchases. Most loyalty programs give customers points or rewards for every dollar they spend which can then be redeemed for discounts, cashback, free products, or exclusive membership rewards.
And the main goal of a loyalty program is to increase repeat sales without having to spend money attracting new customers all the time. Plus, it's a win-win situation where both you and your customer both make out in the end.
How To Create a Loyalty Program on Shopify
Did you know that you can create a loyalty program on Shopify? By setting up a loyalty program, you can reward your customers for their purchases and keep them coming back for more.
Below, we'll go over some tips on how to create a loyalty program on Shopify. We'll also look into some of the benefits and drawbacks of running a loyalty program. So, if you're looking to start rewarding your customers, keep reading.
How To Set Up a Loyalty Program on Shopify
Install a high converting Shopify theme
Add your products
Install a Shopify loyalty app
Offer discounts and free shipping codes as rewards for repeat customers
Tailor the rewards you offer to suit your store
Promote your loyalty program on Twitter, Facebook, Pinterest, and Instagram
Does Shopify Have a Loyalty Program
Shopify doesn't include a loyalty program with their service, but there are dozens of great apps that are designed specifically to work with Shopify stores.
Benefits of Customer Loyalty Programs
Loyalty programs provide cost-effective marketing opportunities
Benefits of customer loyalty include increased sales, repeat business, and word-of-mouth advertising
Loyal customers spend more money and stay with brands longer than non-loyal customers
Customer loyalty programs can be used as an incentive for companies to keep their prices competitive by rewarding loyal customers with discounts on future purchases
Disadvantages of Loyalty Programs
Loyalty programs are costly for businesses
It's difficult to know how many customers will actually sign up for the program
Customers may prefer cashback or discounts over points that can't be redeemed until after they've spent a certain amount of money
Many customers also forget about their loyalty points which means business owners miss out on potential sales