Does your Shopify store need a size chart app? If so, we will walk through what to look for in a size chart app and then review some of our favorites. We hope this article helps make it easy to find the best size chart app for Shopify stores that will fit your business's needs.

Best Size Chart App for Shopify
Kiwi Size Chart & Recommender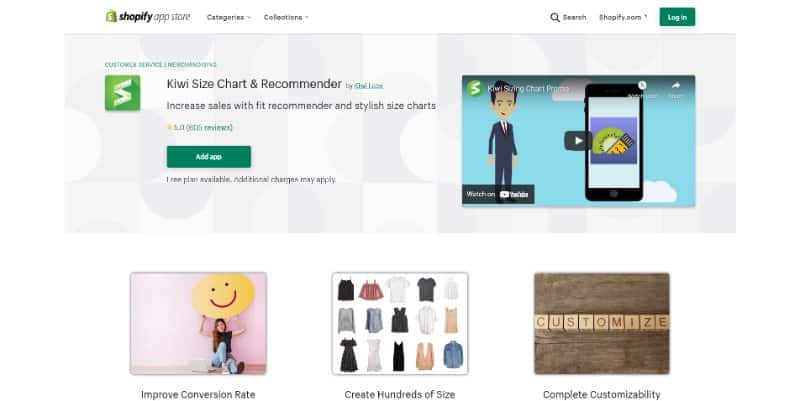 Kiwi Size Chart & Recommender (Get App) is a tool that allows you to create a customized sizing chart for your Shopify store. For e-commerce stores that sell apparel, the most common problem is incorrect size recommendations for products on your site. In fact, it's estimated that 75% of online clothing sales are returned due to bad sizing decisions by the shopper.
The Kiwi Size Chart App helps you solve this problem by recommending sizes based on customer input (like gender and age) to improve conversion rates and minimize returns.
This Shopify app uses machine learning techniques combined with real data from thousands of people in order to make accurate predictions about what sizes will fit each person best. This makes it much easier for people who are shopping online to know exactly which size they should choose before making a purchase.
Size Matters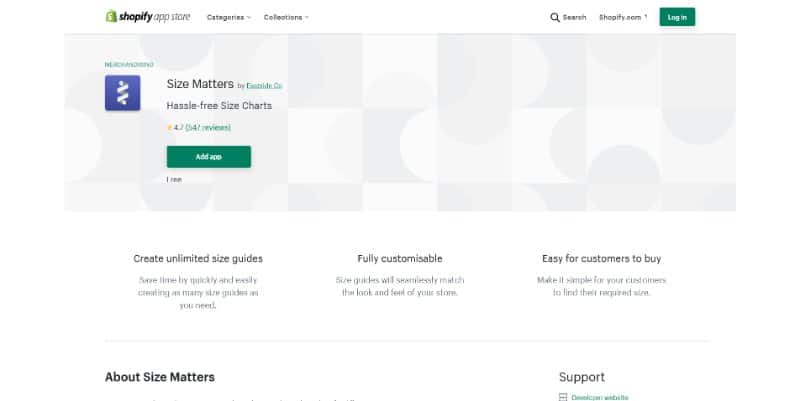 With the Size Matters Shopify App you can create as many size guides as you need from one easy-to-use app with limitless customization options and professional support. And you'll be able to effortlessly generate a sizing guide for all of your products at lightning speed, saving hours of work down the line. Plus, you can customize these guides with CSS to fit in perfectly with the look of your store, so you can create a size chart that stands out from the crowd.
AVADA Size Chart: Size Guide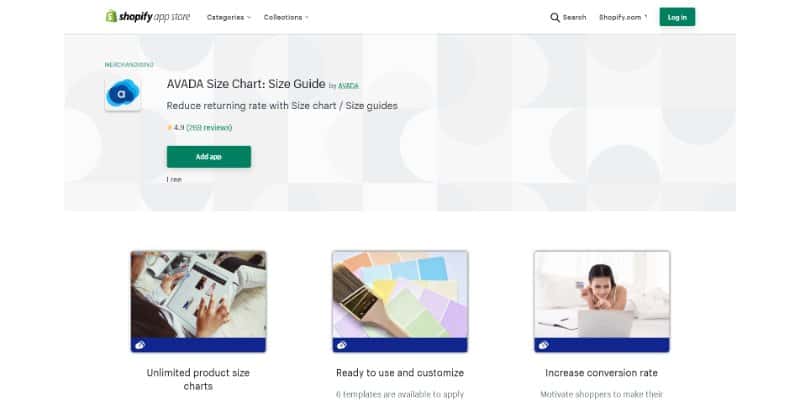 AVADA Size Chart is the best size chart app for Shopify. With 11 templates to choose from, you can customize your own unique sizing charts that are specific to your products and customers with no coding knowledge required.
With the AVADA Size Chart, you will be able to place a link or button on any page of your shop (product pages, collections, and homepage) so shoppers can easily find their perfect fit before they buy anything.
These size charts also come in 2 styles–inline links where the user clicks through each item one by one OR floating buttons which let users scroll down and open the size chart from any part of the page.
Plus this app supports Google Analytics so you'll know how well these size charts have been performing as soon as they are deployed.
POWR Product + Size Chart Tabs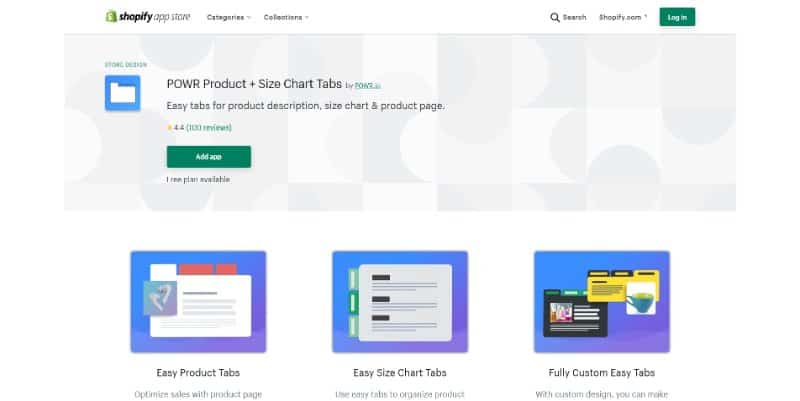 POWR Product + Size Chart Tabs make it possible to fit more information on less screen real estate without sacrificing clarity or organization. This app helps retailers get more out of their existing store design by allowing them to showcase critical information like sizing guides and care instructions in an organized tabbed layout that doesn't take up too much room on the page.
Ultimate Size Chart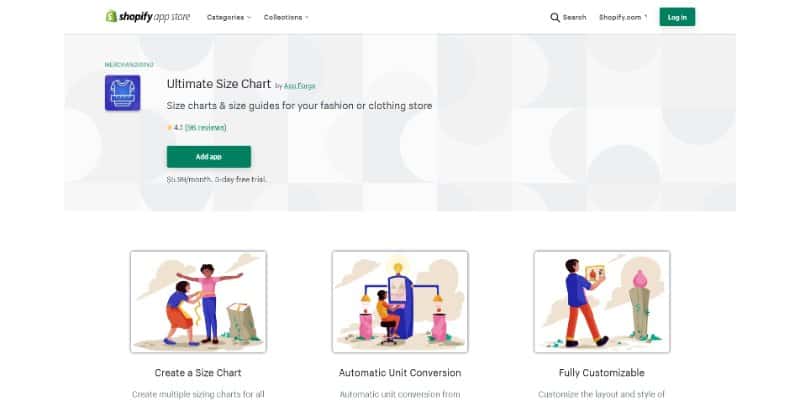 Ultimate Size Chart is an app that helps you automatically add size chart links above the add to cart panel in your product page and it allows your customers to view responsive size charts for each product from their mobile phones, tablets, or desktop computers.
You can also use the CSV Importer feature if you want to import products from other websites instead of creating them manually. And with customizable templates, you will be able to create a unique look for your store without wasting any time or money on expensive developers.
BF Size Charts & Size Guides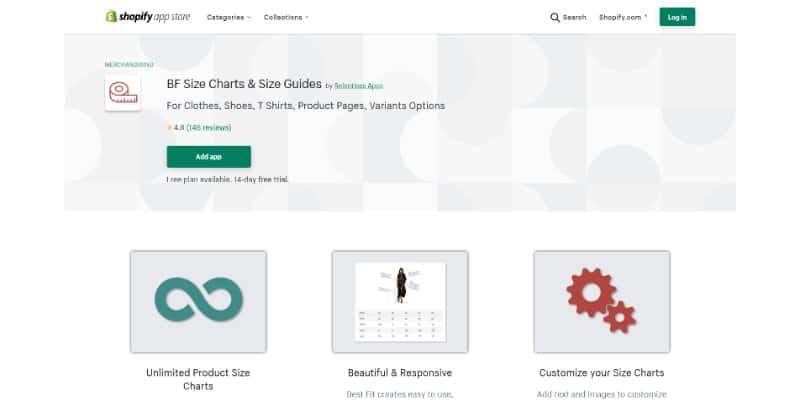 BF Size Charts & Size Guides lets you create custom size charts in seconds so that every customer can find their perfect fit. With this handy tool, it's easy and simple to customize your size charts with custom titles, descriptions, and images.
With the BF Size Charts & Size Guide App you can even add products or collections from select vendors on specific pages by choosing which ones should appear in those lists.
Plus this app makes it really easy to change the color of the icon and select between small medium or large size guides where shoppers can view your full range of sizes…and more importantly find the right size item before they place an order.
Clean Size Charts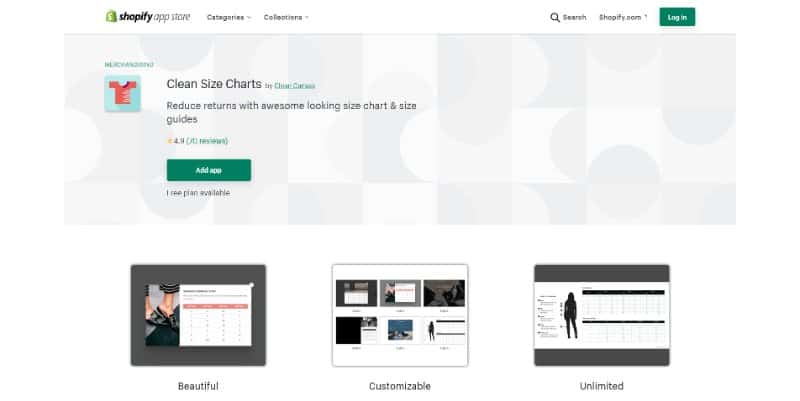 Clean Size Charts is an easy-to-use app that lets you create beautiful size charts with just one click. You can also use the predefined templates or start from scratch – it doesn't matter since they are all fully customizable so they will perfectly match your brand identity as well as product images, colors, patterns, etc. And when people visit your size guide page (or pop-up window) they will see a professionally designed table with rows containing information about each specific product category such as 'size', 'color, variations, customization options, etc.
Size Chart – Clothes Fit Guide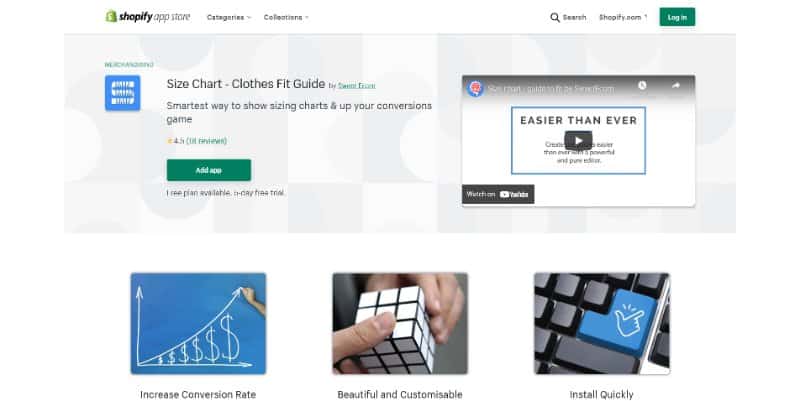 Size Chart – Clothes Fit Guide provides you with templates that already have sizes and measurements so all you need to do is customize them accordingly. You can also choose from dozens of different pre-existing size charts in this app such as clothing, shoes, lingerie, etc., making your life even easier.
Plus, this powerful tool has many features that make harmonizing your international size charts a breeze including auto-conversion between US/UK units of measurement (and geo detection).
Upify Size Charts & Size Guide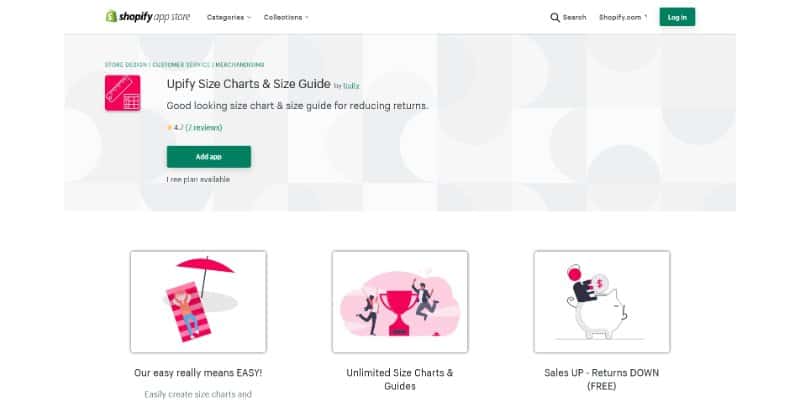 Upify makes creating awesome-looking size charts easy for Shopify store owners. With Upify you can import any chart from the internet or create your own using the simple editor. You can then choose where on your page you want to show the chart based on matching conditions like a specific product, collection, tags, vendors, etc.
With this affordable size chart app, your customers will love how easy it is to find what fits them best in your store. And they'll be more likely to purchase and less likely have to return items because they picked the wrong size. All this means increased sales and lower return rates for your business.
Image Size Chart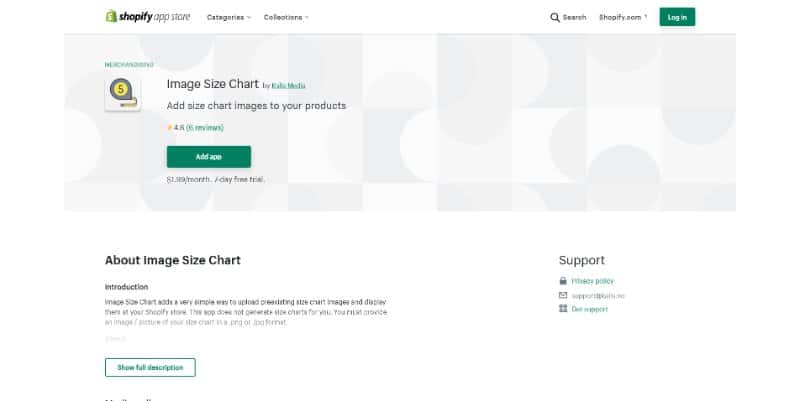 Image Size Chart will let you upload a pre-existing image file of your size chart and add it to any product in just a few clicks. You'll also be able to specify separate images for desktop and mobile users so that customers always see the best version of your sizing information. This app will even resize, crop, and process the image automatically so that your size guide images are 100% compatible with Shopify's existing responsive design templates.