Are you looking for the best free Shopify theme for a clothing store? If so, on this page, you'll find a list of the top 10 Shopify themes for clothing stores. They all come with different features and layouts, so take a look at them all to see which one suits your needs. We're confident that you'll find something here that will work great for any clothing brand or fashion business.
Best Free Shopify Theme for Clothing Store
Dawn Shopify Theme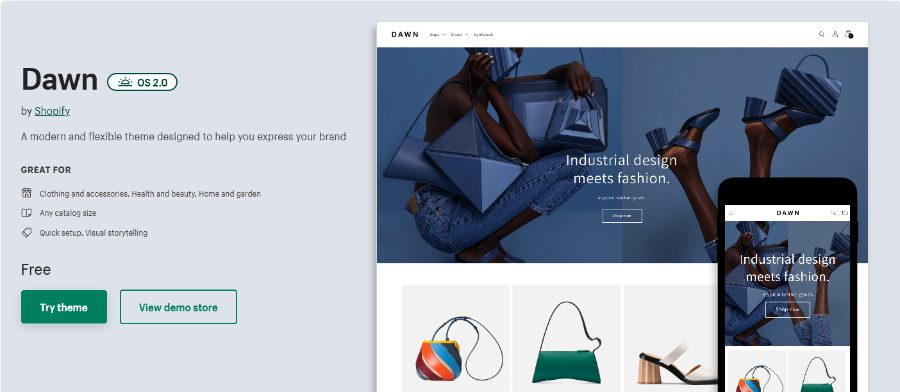 The Dawn Shopify Theme combines ease of use with powerful customization options that will allow you to create an online store that reflects your brand identity. This free Shopify theme has been designed specifically with clothing retailers in mind, but it's flexible enough so that anyone will find this highly adaptable theme extremely useful. It comes packed with features like large photos on product pages, cross-selling capabilities, and more than 150 element blocks so you can build out your site with Shopify's new drag and drop page builder.
Best of all, this theme is completely free to use even when you sign up for a 14-Day Shopify Free Trial (Click Here)
Mode Fashion Theme – Shift4Shop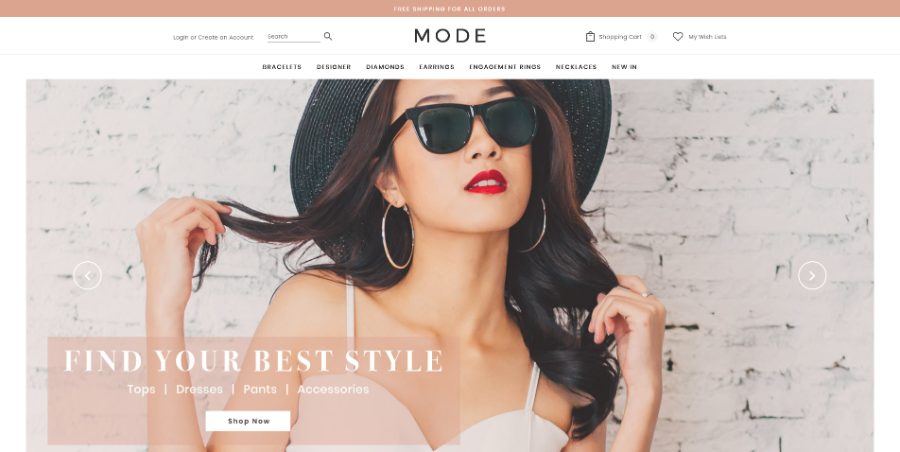 Mode is the perfect free eCommerce theme for clothing stores because it offers everything you need in an online shop — from sleek product pages to clean navigation and a responsive layout that works on any device. Plus, it's easy to set up and use, so you won't have to waste time getting your new online store running smoothly.
Best of all, Mode has been designed with fashion in mind with large images that showcase items beautifully so each page will make your customers feel like they're browsing through a high-end boutique rather than an online store.
The Mode Fashion Theme is completely free, and you can start a Shift4Shop without a monthly subscription, unlike Shopify which will cost you $29.99 a month.
If you want to build a completely Free Shift4Shop eCommerce Website (Click Here)
SuitUP – Fashion Store Free Elegant Shopify Theme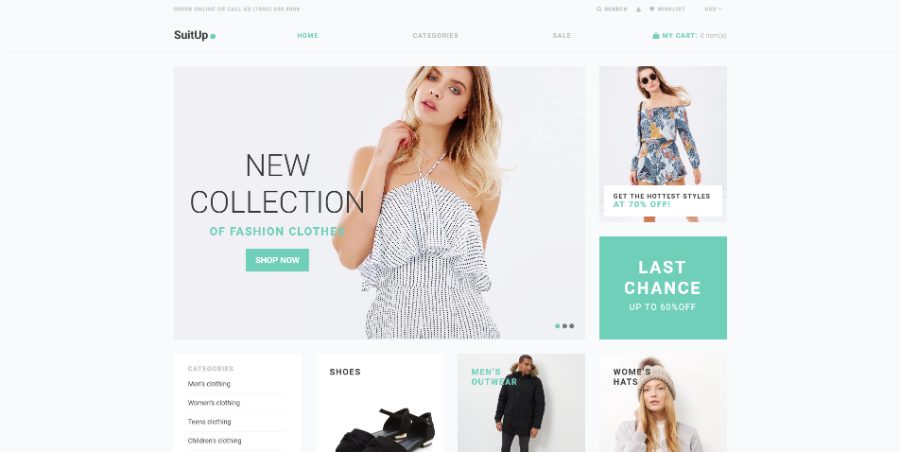 SuitUP is a free Shopify theme that will help you create your online store faster and easier than ever before. It was designed with simplicity in mind as well as functionality. With this premium Shopify theme, it's easy to showcase your products and bring customers back for more.
If you want a beautiful eCommerce website without having to spend time or money on design – SuitUP is the perfect solution for you. This clean and professional template will give an elegant look to any clothing brand or business owner who wants their product presented in style.
Plus, SuitUP comes with everything necessary for running an online store such as multiple category pages, cart page layout options, wishlist function, and much more.
Apparelix Free Shopify Theme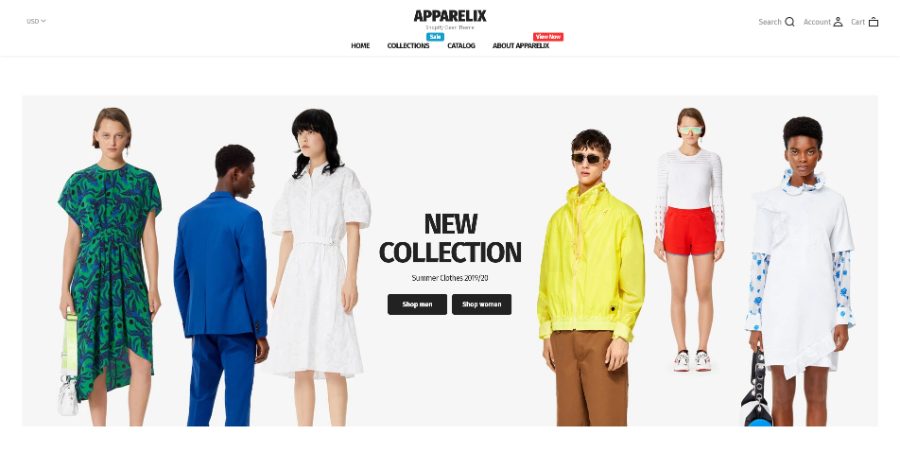 If you're looking for a free Shopify theme that is easy to customize and works on all devices, look no further than Apparelix. This template features four drag & drop sections, an eye-catching banner section, a slider module with carousel functionality, a featured products area, and it even has blogging support. Plus its SEO friendly.
Plus, the premium version of this template features 20+ home page variations, 10+ child Apparelix themes, single product theme, 3 header versions, and 3 footer versions. with the option to include a lookbook gallery as well.
If you want an easy way to start building your online store without having any coding or design experience then give the Apparelix Free Shopify Theme a try today.
Styler – Apparel E-Commerce Stylish Shopify Theme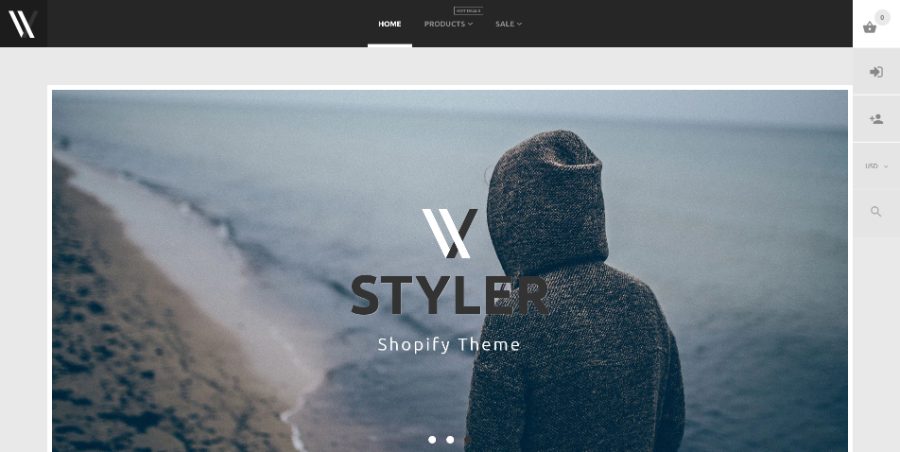 Styler is one of the best free Shopify themes for clothing stores because it can be customized easily without any coding skills required. It comes with multiple design options which will help you create an attractive website in no time. And it is fully responsive, so your products will look perfect on all devices including mobile phones and tablets. You can also change the color of each element individually using a simple to use color picker tool or choose from predefined colors provided with the theme.
Twices – Free Multipurpose Section Shopify theme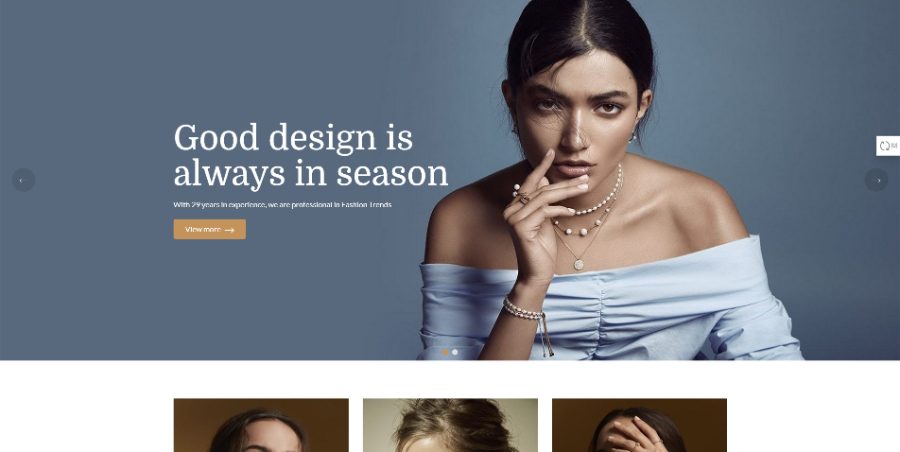 Twices has all of the major features you need in a modern online store such as responsive design, retina-ready graphics, fast loading speed, etc. Also, the theme is fully customizable so you can change colors and fonts easily to match your brand identity. It also features Mega Menu support which allows you to display various menus within one menu bar which helps users navigate through categories more efficiently than traditional dropdown menus. Best of all it works well with many plugins including E-Mail Marketing Apps, Upsell Apps, and Size Charts.
Clothes Free Apparel Responsive Shopify Theme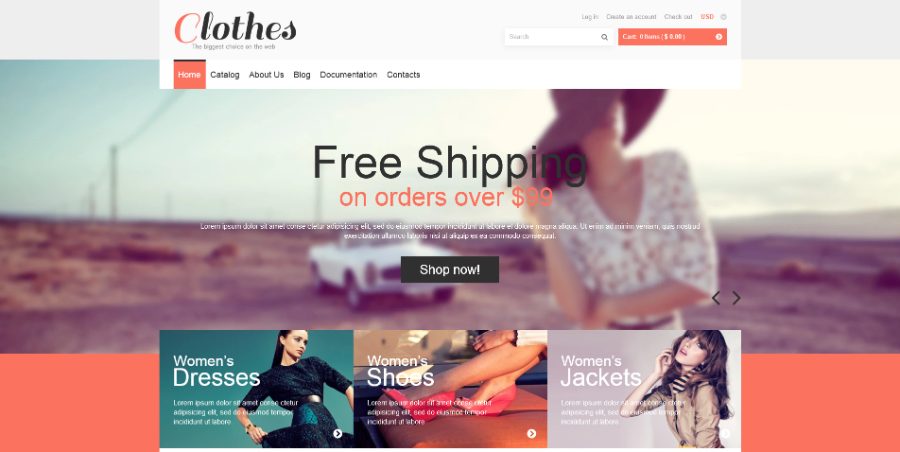 Clothes Free is one of the best free Shopify themes for clothing stores. The design is very modern and clean with lots of white space which makes it user-friendly. It comes packed with all the necessary features like multi-language support, product quick view, filterable portfolio products, etc., that you need on your online apparel website. It also includes multiple homepage layouts (full-width slider & blog layout) as well as various blog templates (blog page & single post). Moreover this free Shopify theme allows you to add custom CSS code in order to make custom design adjustments if needed.
Best Shopify Theme for Clothing Store
Ella – Multipurpose Shopify Sections Theme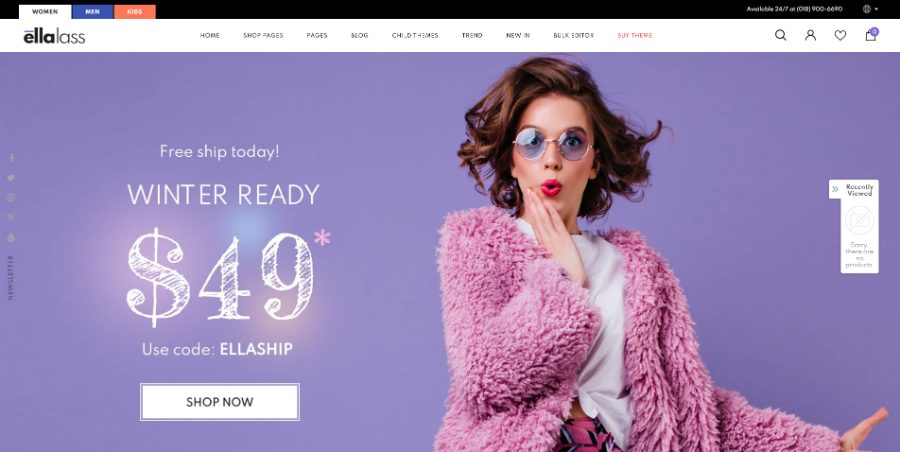 Ella is a multipurpose Shopify theme that comes packed with tons of features such as 22+ stunning homepage layouts (including a blog layout), 16+ page templates (product template, collections template, etc.), 10 header styles & unlimited color schemes.
Ella will help you create an amazing-looking e-commerce website that can compete with Amazon by giving your customers what they expect from an online shopping experience – beautiful product images, detailed descriptions, and reviews from other buyers along with fast delivery options. And your site will be mobile friendly so it looks great on any device including smartphones and tablets as well as desktop computers.
Wokiee – Multipurpose Shopify Theme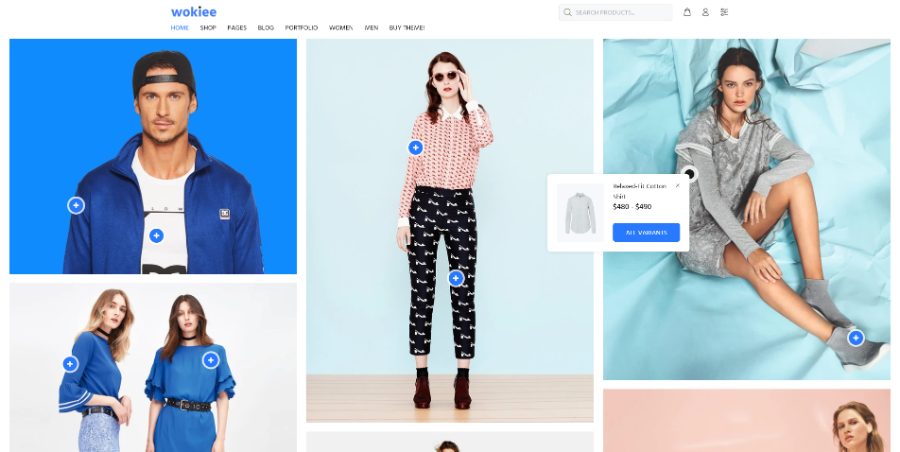 Wokiee is a multipurpose Shopify theme that features multiple product pages along with a wide assortment of header and footer variants. You can also add media such as 3D models, embedded videos, or YouTube videos to any one of your product pages. This theme even comes with an Instagram shop feature which is essential for brands in the fashion industry.
Wokiee even supports dynamic checkout buttons with countdown timers (to increase conversions). It also includes Google Rich Snippet support which helps you get higher rankings on search engine result pages when customers are searching for what your store has to offer on Google or Bing.
Fastor – Multipurpose Shopify Sections Theme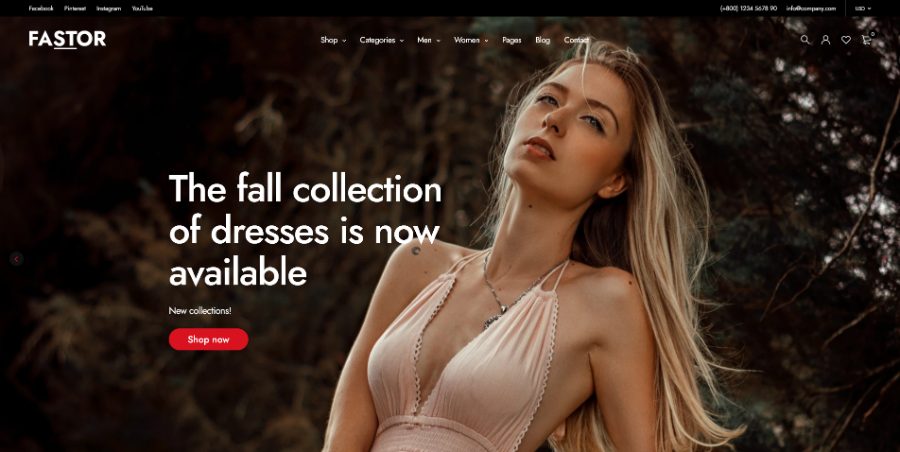 Fastor is great for all types of stores, especially clothing stores. Not only does it have unlimited colors and 57+ pre-made templates, but it also has an auto price update feature so you don't need to worry about changing prices when they change at your suppliers. If you're looking for a stylish and easy-to-use Shopify theme, Fastor is a perfect choice. The multipurpose design can be used in all sorts of stores with different purposes like clothing stores, furniture shops, and more.
Shella – Multipurpose Shopify Theme. Fast, Clean, and Flexible.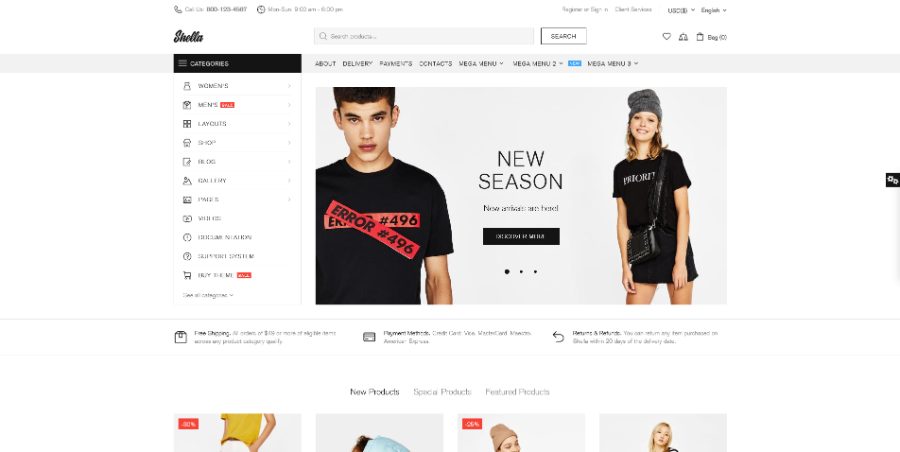 Shella is a powerful, versatile theme that can be used for any type of online store. It's perfect for clothing stores because it offers tons of color options and has advanced swatches to make sure your product photos look their best. And with 100+ live customization options, there are plenty of ways to customize this template so that it matches both your brand voice and aesthetic perfectly.
Kalles – Clean, Versatile, Responsive Shopify Theme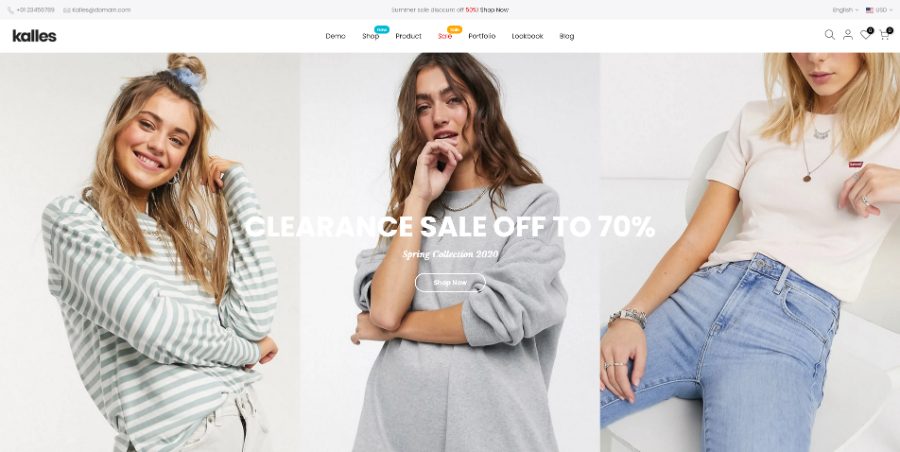 Kalles is a clean, versatile, and responsive Shopify theme that will be perfect for any clothing store. It comes with a Mailchimp integration so you can easily send newsletters to your customers and it even has full Klavyio support. Plus, this theme has the ability to calculate free shipping thresholds automatically by taking into account the weight of the package and its destination zip code. This particular feature allows you to offer different pricing options based on where your customer lives in order to maximize sales even more.
How To Start a Clothing Store Online
Starting an online clothing store is a great way to make money. You can sell anything from t-shirts, jeans, dresses, etc. And with the rise of eCommerce platforms like Shopify making it easier than ever to start your own business, there has never been a better time to be an entrepreneur.
If you are interested in starting your own business or if you have already started one but are struggling to find success then read on for some tips on how to get your online clothing store off the ground.
The following sections of this post will give you some tips about how to start a clothing store on Shopify so that you can create a successful online store in no time.
Shopify makes it easy to start a clothing store, but you'll still need a Logo, Videos, and a unique domain name if you want to build a successful clothing store.
Below we'll show you where you can get an affordable or free logo, stock photos/videos, and domain name ideas for a clothing store.
How To Create a Logo for a Clothing Store
Creating a logo for your clothing store is the first step to making your business stand out from the rest. The right logo can draw in customers and encourage them to shop with you. So, how do you create that perfect logo?
The following logo design platforms will help you create a professional logo for a clothing store:
48 Hours Logos (View Price) will create an affordable professionally designed logo for a clothing store in under 2-days just as their name implies. The way it works is that a team of talented designers will come up with dozens of logo options that are custom-tailored for your store. Then all you have to do is simply pick out and pay for the one that you like.
Otherwise, if you're trying to keep costs down you can create a logo yourself for free using Canva (Free Sign Up)
Videos for Clothing Websites
Do you want to increase your sales? If you want to add multimedia elements to your eCommerce website there are a number of places where you can get stock videos, but they can be pricey.
If you're looking for affordable videos to use in your marketing and on your site then we recommend Envato Elements (Try Now). They offer a royalty-free stock video library where you can get unlimited downloads for a fixed price.
Creative Clothing Store Website Names
If you're a clothing store owner and in need of creative names for your website, there are several helpful tips to keep in mind. One way is to use the name of the store as part of the domain name so that when someone searches for your site they can easily find it. Another option is to include keywords related to the products that you sell.
If you need help coming up with a creative name for your clothing store you can try out the Shopify Domain Name Generator (Click Here) to quickly test some ideas out.