Today, there are so many Shopify themes to choose from. And it can be hard to find the perfect one that aligns with your Instagram marketing strategy. Below you'll find a list of some of the best Shopify themes with an Instagram feed built-in.
Shopify Themes with Instagram Feed
Qrack – Responsive Shopify Theme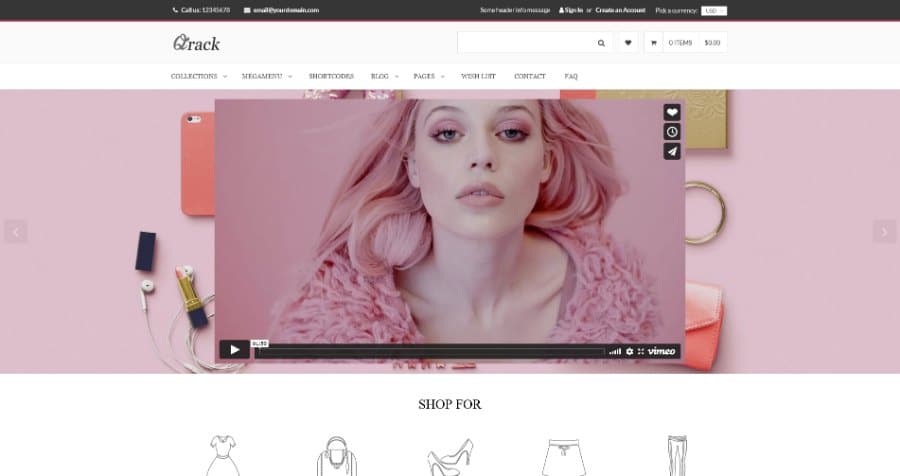 Qrack is a fully responsive theme for Shopify with an Instagram feed and Twitter widgets built-in. If you want a modern shop with everything included – this is the right theme for you. All major social networks are supported including Facebook, Twitter, Pinterest, etc. You can also easily change everything in this theme via the powerful Options panel without touching any code at all. And this theme can be used as a multipurpose eCommerce store or for a specialized shop (fashion, electronics, etc.).
Virgo – Shopify Theme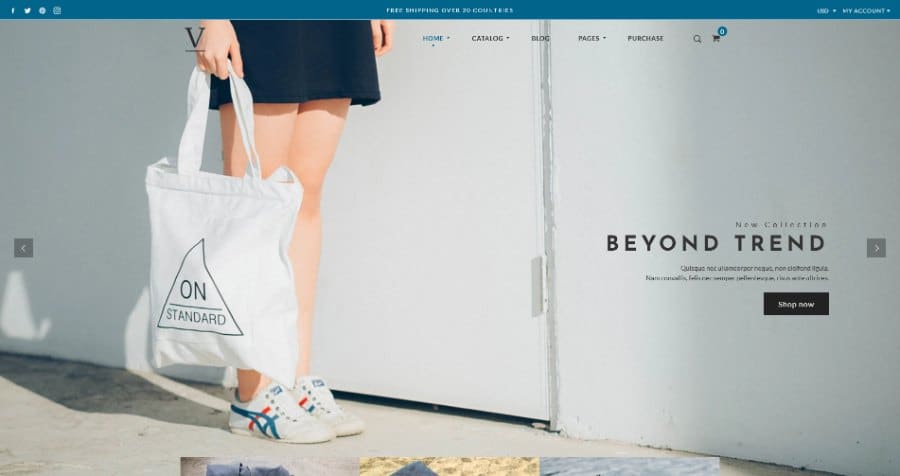 The Virgo – Shopify Theme comes with a built-in Instagram Feed that makes showing off your brand and products easier than ever before. You can easily post new photos from your computer or mobile phone without having to log into any third-party apps. And with the Virgo –Shopify theme, you can show off all of your product's high-resolution photography in a beautiful eye-catching layout that helps drive interest and conversions. This theme has been designed for fashion stores but it works great for other industries as well, including jewelry stores, flower shops, and more.
BeoShop – Drag & Drop Responsive Shopify Theme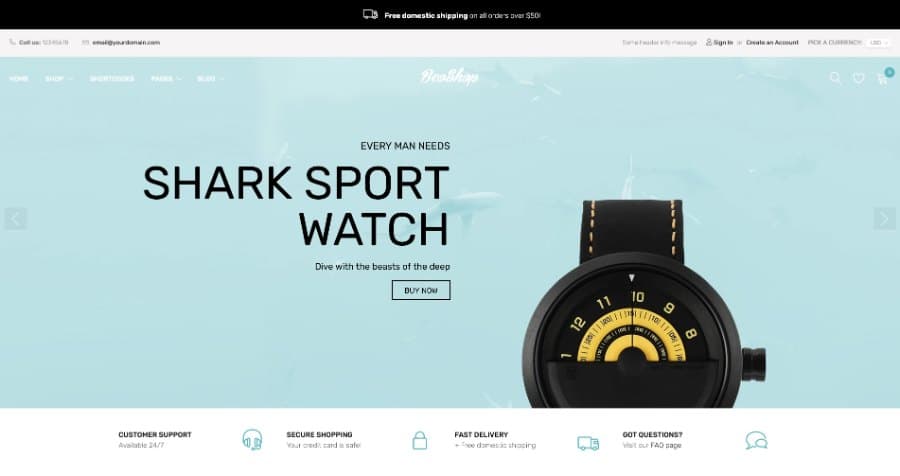 BeoShop is the best Shopify theme with an Instagram feed built-in. It's super easy to set up, and you don't need any coding knowledge or experience to get it looking just the way you want it. Not only that – it has many more cool features like unlimited colors, a parallax effect on all sections & pages, and much more.
BeoShop is also one of the most flexible Shopify themes which will allow you to customize almost everything about its layout from font size down to header height, etc.
Plus, you can change the width of your product grid, add an Instagram feed or create a carousel gallery anywhere on your site without using any third-party apps.
Overall, this theme comes packed with tons of awesome features that you can check out at the BeoShop Demo Site (Click Here)
Savemart – Market & Electronics Shopify Theme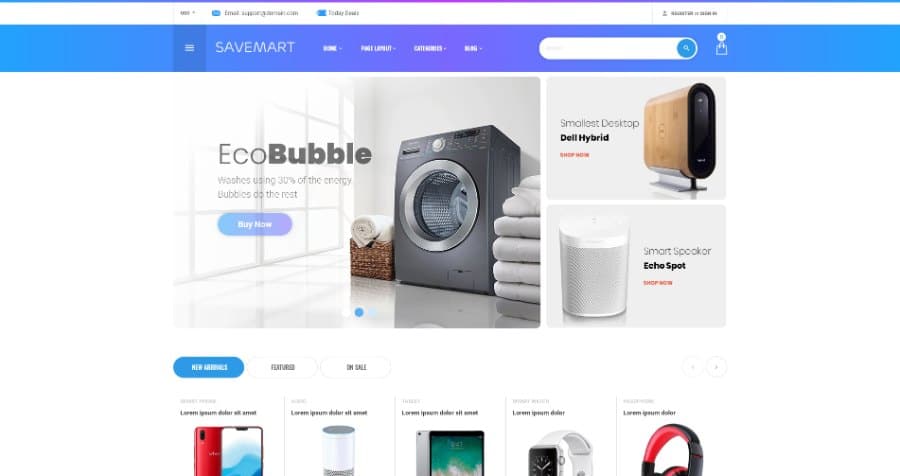 Savemart is the perfect theme for showcasing high-resolution images of your products or services on Instagram. With its built-in full-width Instagram feed, Savemart makes it easy for shoppers to browse through stunning photos of what you have on offer. This eCommerce theme is also optimized for large product imagery so that people can get a better view of what they're buying before they buy it.
This engaging and immersive theme features an Instagram feed at the top of each page so customers can see your updates in real-time. And you don't have to choose between using social media or traditional marketing—with this theme since it works with PPC, Social Media, and SEO Content Marketing.
Owlshop – Minimalist Ecommerce Shopify Theme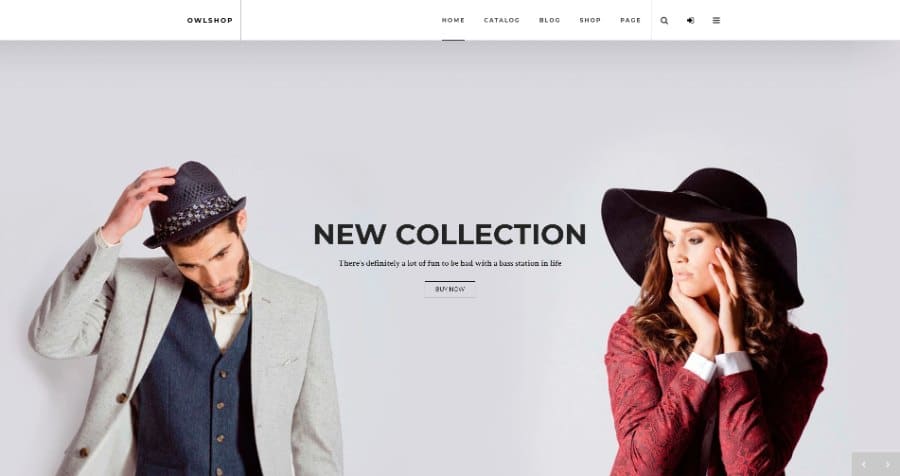 Owlshop is a minimalist Shopify theme that lets you sell your products without sacrificing page speed or usability. This theme has been carefully designed to give you as much control as possible while keeping things simple for your customers.
With Owlshop you get an eCommerce website that looks beautiful and professional on any screen size or device your customers use to browse your products. Plus this theme includes some powerful features like an Instagram feed so you can display the latest photos from your accounts right alongside your trending items.
Cleanify – Responsive Shopify Theme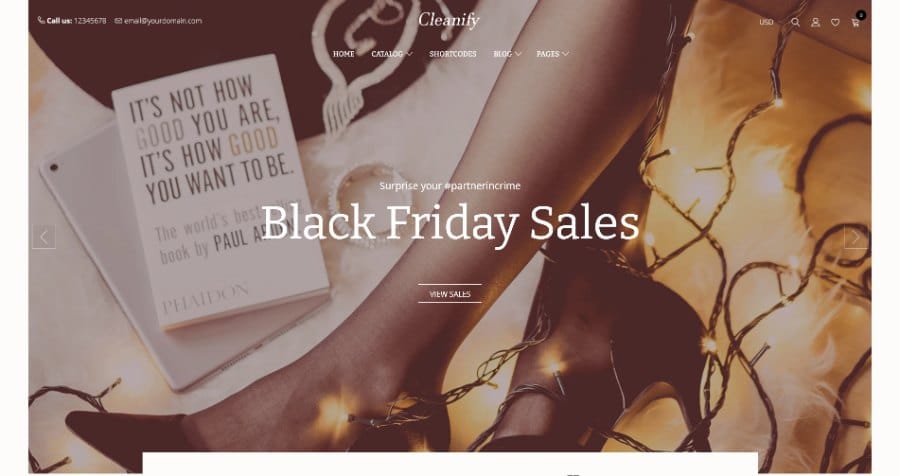 Cleanify was created specifically for fashion stores and other types of shops that sell products online. The clean design makes it easy to create an eye-catching storefront on any device or screen size. And it has a built-in social media integration so customers can follow you on Facebook, Twitter, Pinterest, or Instagram from anywhere on your site.
Story Quest Shopify Theme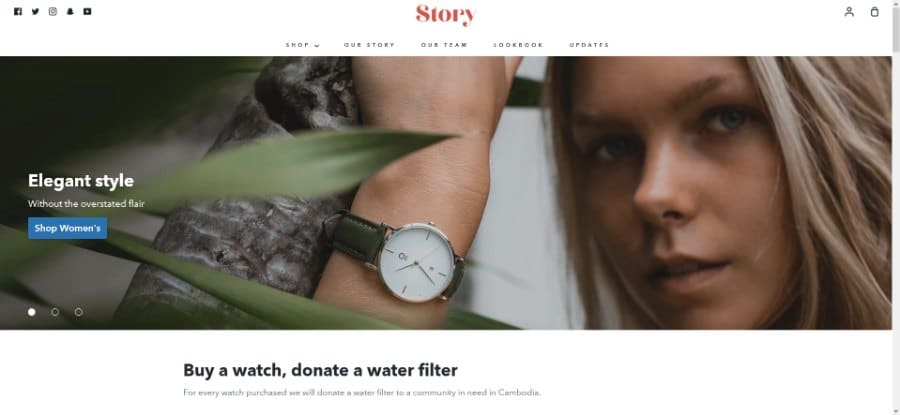 Story Quest is different because it was designed with a focus on social selling. This theme is perfect if you're looking to create story-focused product pages that showcase collections in an editorial style. And it even allows you to display high-resolution images on your product pages to help visually convey your brand message.
Overall, this Shopify theme is perfect for any type of eCommerce store including fashion brands, lifestyle blogs, or for selling custom products.
Best Shopify Instagram Feed App
Instafeed – Instagram Feed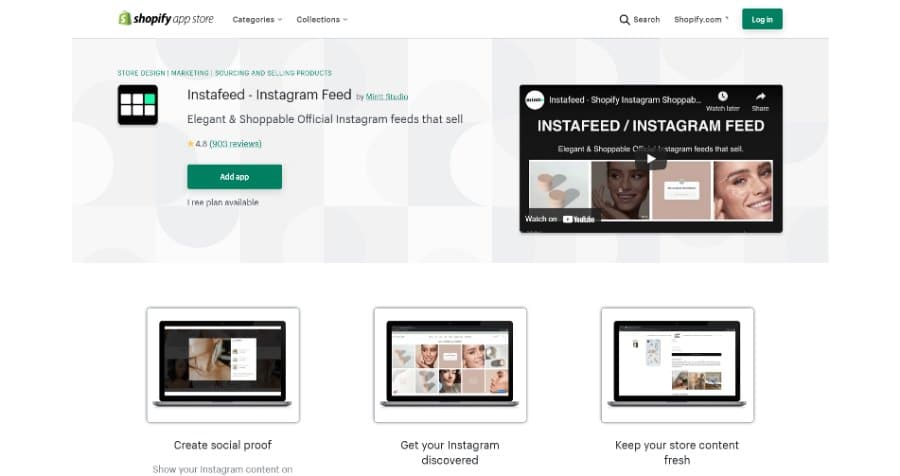 Instafeed is the best Shopify app for automatically posting your Instagram content to your store. Managing your Instagram feed can be a pain. You have to log into multiple accounts, scroll through the posts you don't want to feature, and then copy-paste them on your store.
Instafeed solves this by allowing you to manage your Instagram feed directly from the Shopify admin dashboard so there's no more logging into multiple accounts and scrolling through irrelevant content. Instead with Instafeed all you need to do after you install the app is link your account insert a custom Instagram feed anywhere you want on your site.
Instagram Feed + Stories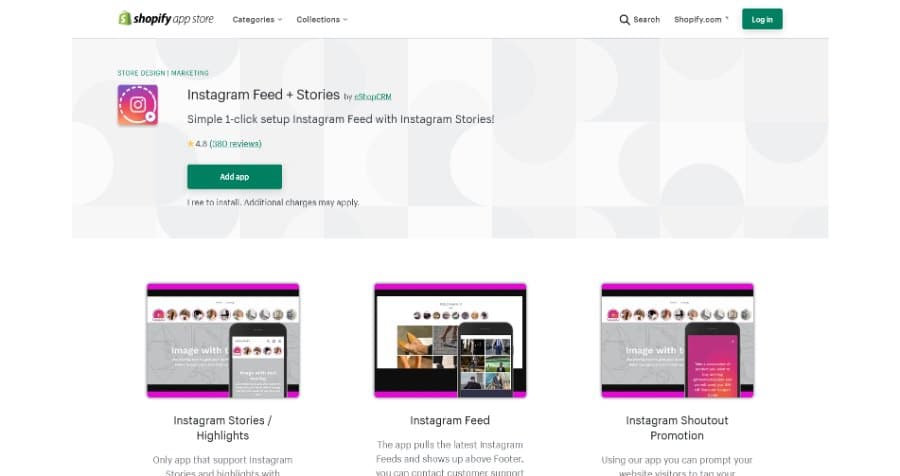 The eShopCRM app is one of the few apps that can show your IG Stories and Highlights in an attractive way on your Shopify Store. With eShopCRM you can create your own feed that will be shown above your website footer (or anywhere else) and prompt visitors to tag you in order to receive discounts or coupons via direct message. And this app is super easy-to-use, just pick one of the pre-made templates, customize it if needed, and get started.
Instagram Feed & Slider Pro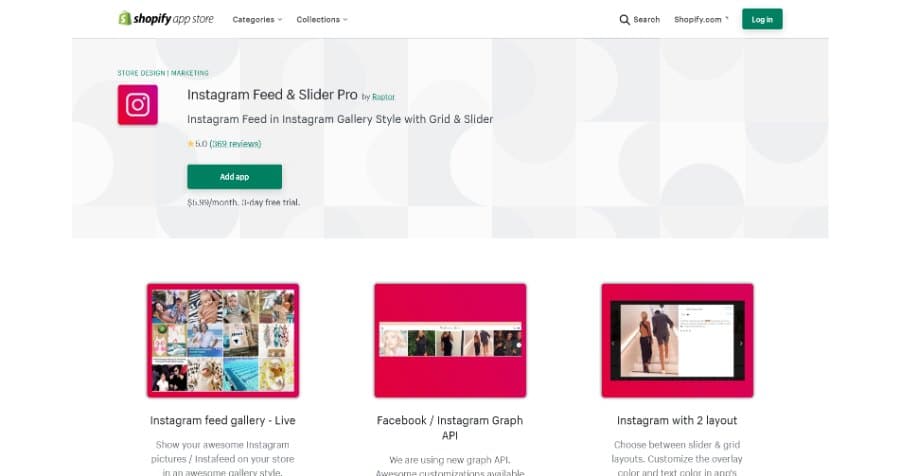 With Instagram Feed & Slider Pro, you can add an awesome Instagram feed gallery from multiple users onto any page on your website with just a few clicks. This app has many customization options so you can choose which images show up in the feed and how they're displayed. It also lets you create slideshows of multiple feeds at once if you want to include images and testimonials from more than one user or Instagram account.
Instafeed, Instagram Feed Shop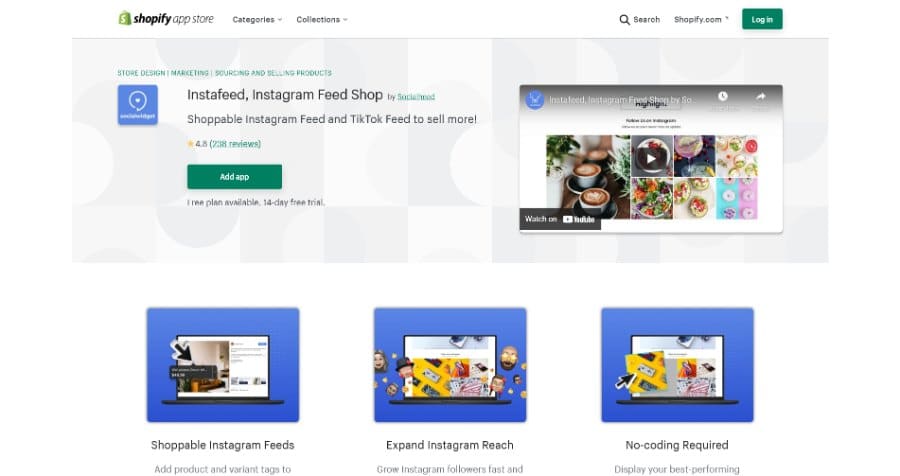 Socialhead's Instafeed App helps brands attract new customers by creating shoppable feeds on Instagram that convert visitors into buyers.
If you want your shop feed to attract new followers and drive sales, you need more than just product images. You need shoppable hashtags, calls-to-action (CTAs), and product tags that will make it easy for visitors to find what they're looking for at a glance.
Socialhead Instafeed is the best solution for this because it is a simple yet powerful Instagram feed app that allows users to create beautiful, shoppable feeds in minutes without any coding required. And it's an all-in-one Instagram marketing tool that lets you add products from multiple shops into one single feed or create individual social proof feeds per shop.
Shoppable Instagram Feed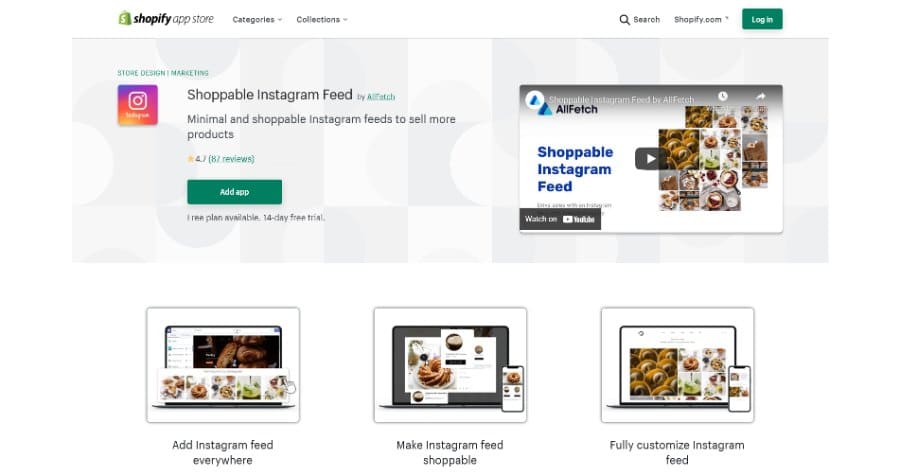 AllFetch is a shoppable Instagram feed app that enables your customers to shop directly from your Instagram feed. It allows you to add any number of images in the custom-made grid layout or showcase a single product on any page without taking up too much space or distracting visitors from other important elements. And you can even set different designs for desktop & mobile to make it fully responsive.
Covet Instagram Feed + Photo Gallery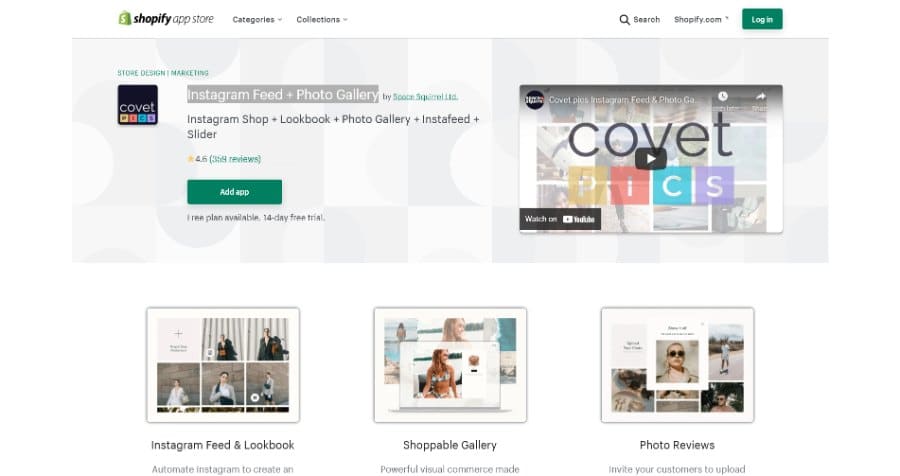 Covet gives you everything you need to curate a beautiful Instagram gallery with ease. With this app, creating an engaging feed has never been easier. Its simple drag-and-drop interface makes it easy for anyone to use. And it also has some awesome features like shoppable galleries, photo reviews, and more.
With Covet, not only can you automate posting but you can create gallery pages or showcase seasonal looks in limited-time photo galleries.
Customers will also love being able to scroll through beautiful imagery and make purchases directly from your feed without leaving the site.
Lastly, the unique Photo Reviews feature allows customers to leave comments on your Instagram posts.