Do you need a beautiful theme for your jewelry store that doesn't cost any money? Shopify has plenty of free themes that are perfect for any kind of business, including an e-commerce website for jewelry.
Trying to find the perfect theme can be an overwhelming task, especially when you have so many different options. You want something that is easy to navigate and has a clean layout. And of course, it needs to be responsive and fast-loading!
Don't worry; we've done all the research for you. In this post, you'll find the Best Free Shopify Theme for Jewelry, along with some helpful tips on how to create a beautiful online jewelry store.
Best Free Shopify Theme for Jewelry
Classygift – Gifts Templates E-commerce Shopify Theme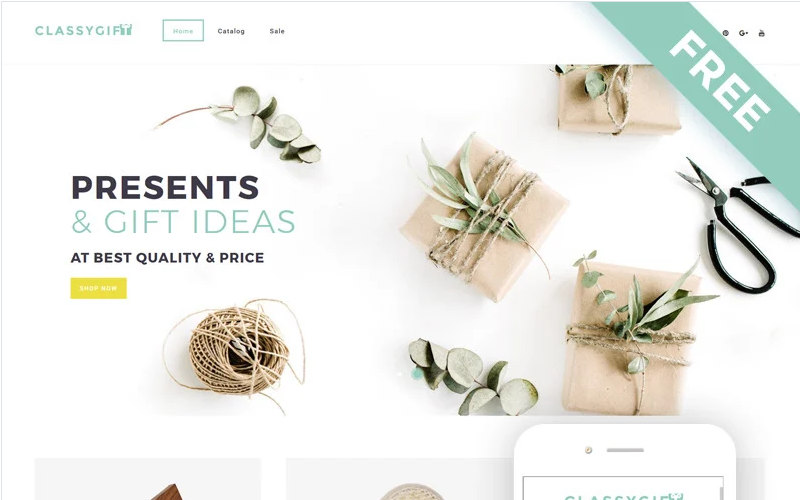 Classygift is the perfect free Shopify theme for any jewelry store. It looks beautiful and professional, with an elegant layout and refined style. The design is clean and simple, which makes it easy to navigate through the site. This theme also includes all of the features you need in order to build a successful eCommerce store – like Google fonts, sorting options, mega menu, multi-currency support, and more!
Bijoux Jewelry Theme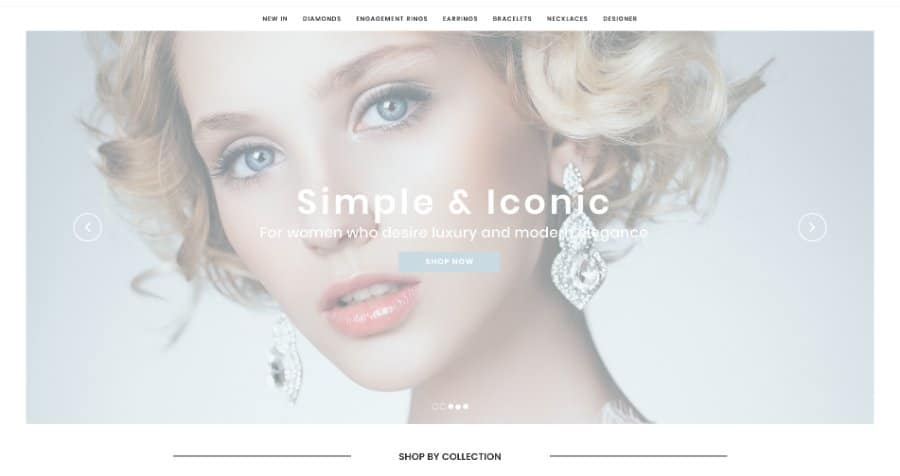 The Bijoux Jewelry Theme is the perfect free theme for selling luxury items. It's easy to use and has all the features you need to build a beautiful eCommerce store, including a responsive design, image carousel banners, showcase promotions, trending products, and custom animations. Plus it comes with tons of customization options so you can create a store that looks truly unique.
Not only is the Bijoux Jewelry Theme totally free, but you can also start a Shift4Shop without having to commit to a monthly subscription, unlike Shopify which will cost you at least $29.99 a month.
If you want to build a completely Free Shift4Shop eCommerce Website (Click Here)
Multifly – Fashion Store Free Elegant Shopify Theme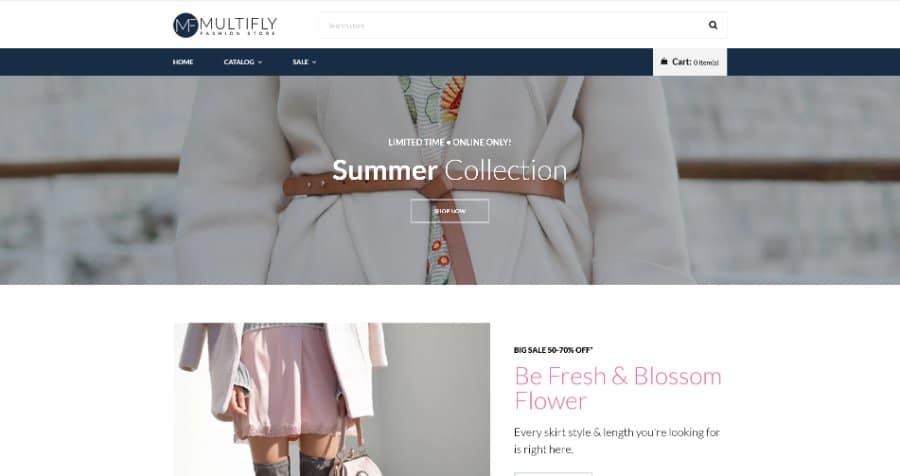 Multifly is the perfect eCommerce store template for anyone looking to start an online business. It's designed specifically for fashion and jewelry, so it's easy to customize if you want to set up your own jewelry website. Plus it includes all the tools you need to make your site look professional and beautiful – without having to spend lots of money on a Shopify developer!
With Multifly, you can create a stunning website that will show off your products in style. And this Shopify theme is mobile-friendly your customers will be able to shop from anywhere on their phones or tablets as well as on desktop computers.
Plus there are tons of free features included with this theme that you can see for yourself when you check out the Multifly Demo Site (Click Here)
Boundless – Black & White Shopify Theme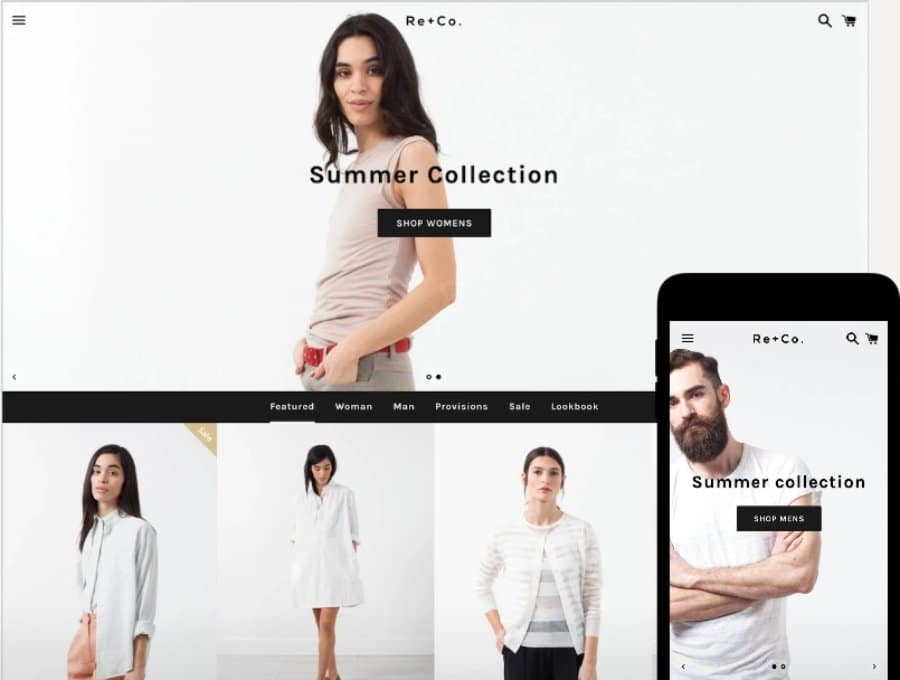 If you're looking for a Shopify theme that's perfect for jewelry, then look no further. Boundless is one of the best free Shopify themes on the Shopify Theme Store. It's been designed to showcase your products beautifully and make browsing easy with sticky navigation and fixed menus.
This template has everything you need to build an eCommerce store from scratch or customize it to suit your needs.
You'll love how many features are included in this free Shopify theme like high-resolution images, single product galleries, full-width collection images, and you can also feature jewelry demonstration videos using YouTube or Vimeo embeds on the home page!
Get started building your own eCommerce store today by installing the Free Boundless – Black & White Shopify Theme (Click Here)
Best Shopify Theme for Jewelry
Newelise – Jewelry Elegant Minimalistic Shopify Theme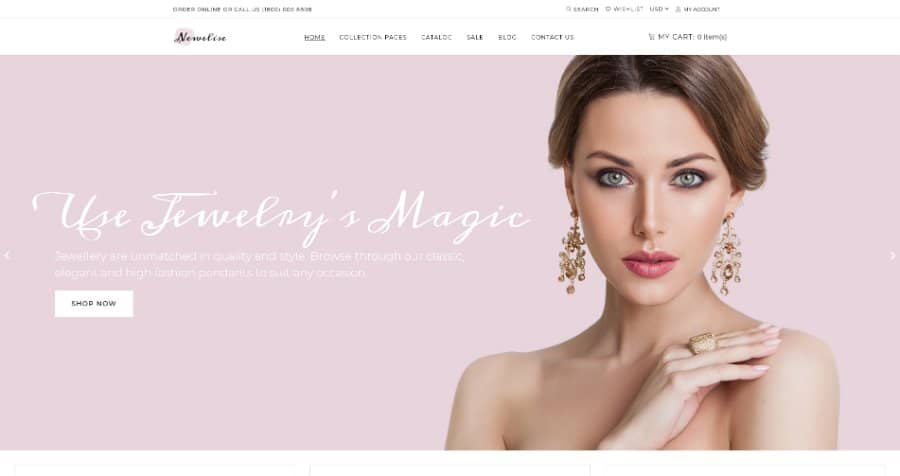 Newelise is the best Shopify Theme for Jewelry. It's packed with features that will make your jewelry business look professional and modern. With dozens of pre-built pages, dynamic cart functionality, built-in customer wishlists, product comparison features, social media sharing options, and more – it's easy to see why this theme is the perfect choice for any online jewelry store owner.
Jwelshine – The Jewellery & Fashion Premium Shopify Theme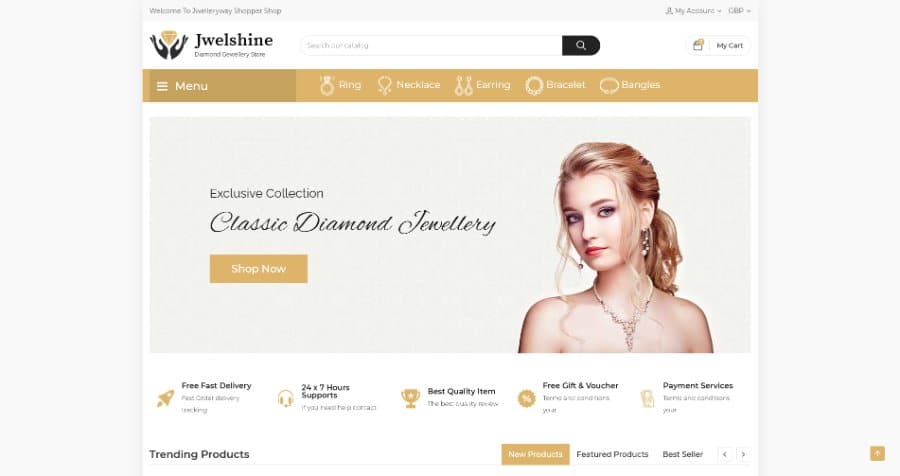 Jwelshine is the perfect theme for any jewelry store. It has tons of features to help you showcase your products, and makes it easier than ever to sell online. You can customize the homepage with one of two layouts, or anyone of the unique sticky header variations.
Jwelshine is responsive so it works on all devices, and it has a built-in blog where you can post about new arrivals or share tips and advice about buying jewelry. Plus, this theme also offers an Amazon affiliate integration, which will allow you to refer customers to Amazon and earn a commission when they purchase anything on Amazon's website.
Glamira – Jewelry Store Responsive Shopify Theme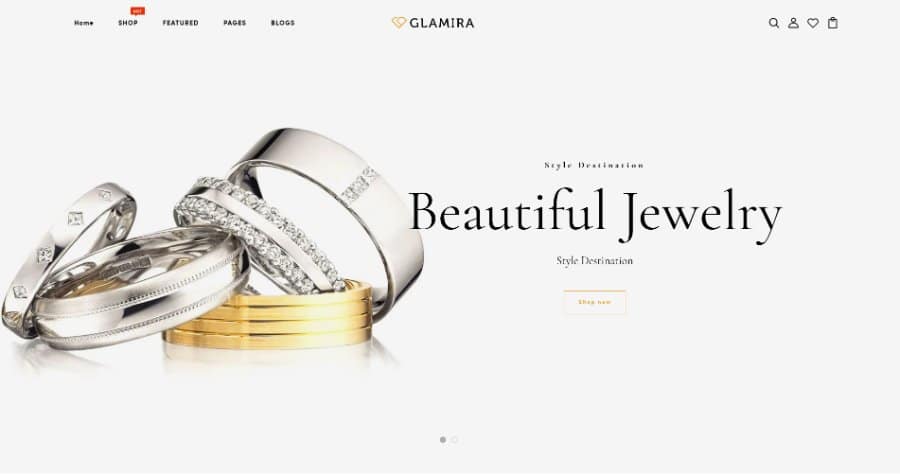 Glamira is the best Shopify theme for jewelry. It has tons of features to help you sell more jewelry and make your store look amazing. You can add upsell products, Facebook chat boxes, dynamic cart checkout options, custom lookbooks, order notifications, and much more!
With Glamira's drag & drop page builder you'll be able to create beautiful pages in no time at all. And with its full Oberlo compatibility it's simple to import products from any supplier into your store!
Glamira also comes with advanced variant swatches so customers can see what they're buying before they buy it. Your customers will love how quick and easy this makes their shopping experience!
Plus, this theme is SEO optimized so that search engines like Google will find your site easily when someone searches for something related to what you sell. That means more traffic coming to your site which will equal more sales in the long run.
Rose Jewellery Shopify Theme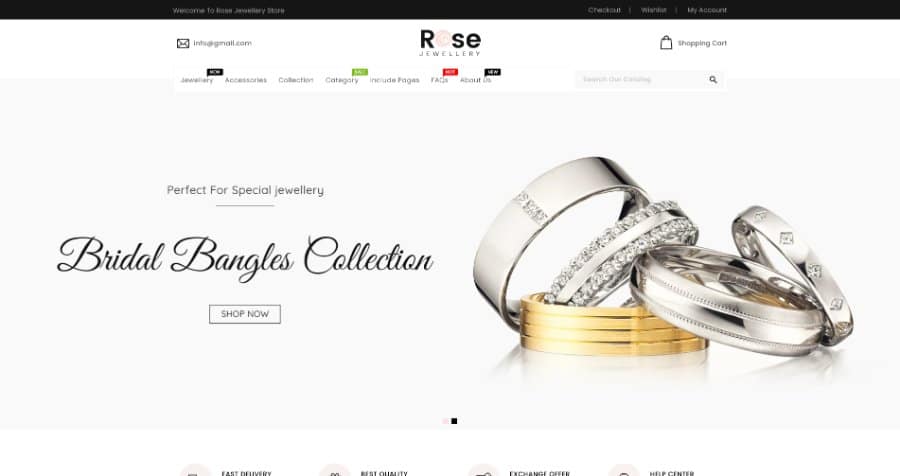 The Rose Jewellery Shopify Theme is a great theme for any jewelry store. It has a clean and professional design that will make your customers feel confident in their purchase. The best part about this theme is that it's easy to use, so even if you don't have much experience with coding or design, you can still create an amazing website! Plus, the Rose Jewellery Shopify Theme has been fully optimized to load quickly, has drag-and-drop sections, product reviews, product quick view, sales countdowns, and more.
Shine & Sparkle – Jewelry Store Clean Shopify Theme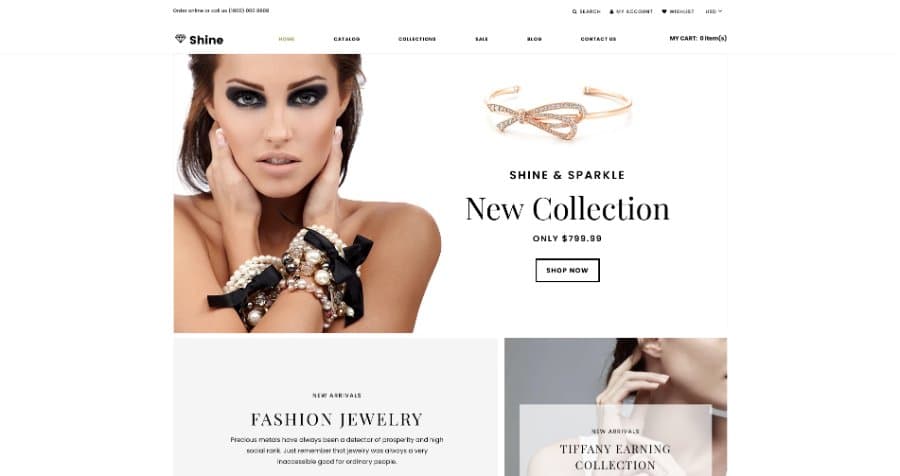 The Shine & Sparkle Shopify Theme has been designed to help you create an eCommerce store that looks professional and modern, while also being easy to use. It's perfect for those who are just starting with their first online jewelry business or have been in the game for years. Whether you want to sell gold jewelry, silver jewelry, diamond rings, or anything else in between – this theme will help you do it.
You can customize your website with the built-in advanced theme options and make it look exactly how you want it to be seen by customers. With tons of features like a Google Maps integration and drag and drop page builder– there's no limit on what you can achieve.
You'll love how easy it is to customize your site with this beautiful design. With tons of features that help you showcase your brand in style – like the blog module and attractive breadcrumb with parallax image – this theme will truly make your online store shine.
Rock Jewelry Shopify Theme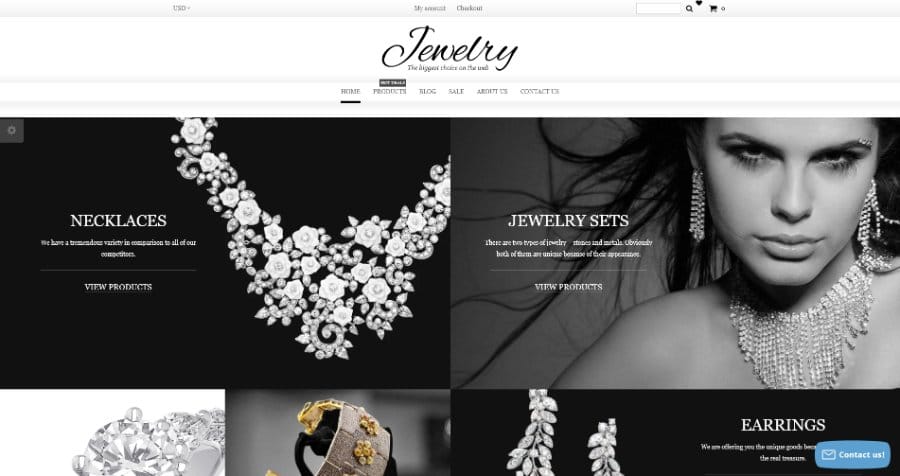 The Rock Jewelry Shopify Theme is the best theme for jewelry stores built on Shopify. This theme offers a variety of features that will help your store stand out from the rest. You can customize your store with advanced theme options like a blog, and a hybrid online store. Plus, this theme comes with a built-in online chat feature so you can communicate with customers in real-time.
Kala Jewelry Responsive Shopify Theme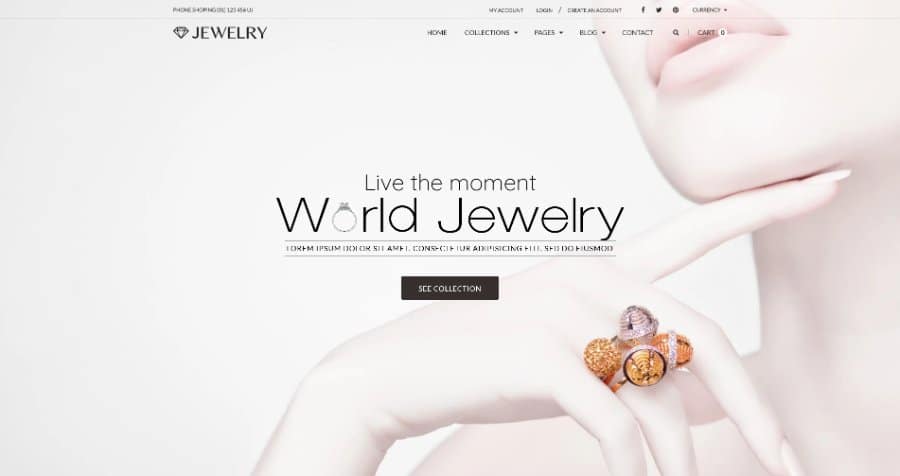 Kala Jewelry is the perfect responsive Shopify Theme to showcase your beautiful jewelry designs. With this theme, you'll be able to customize every aspect of your store with ease. You can upload your own logo and favicon, use the complete Google Web Fonts library, and even add social sharing buttons on products!
This theme has everything you need to make an impactful online presence without breaking the bank. Its easy-to-use interface makes it simple for anyone to set up their store in minutes. And if you're looking for more features from the developer down the road you'll get 6-months of theme updates at no extra cost.
Click here now to start building your jewelry store today with Kala Jewelry Responsive Shopify Theme
Jewelry Shopify Theme – DesignThemes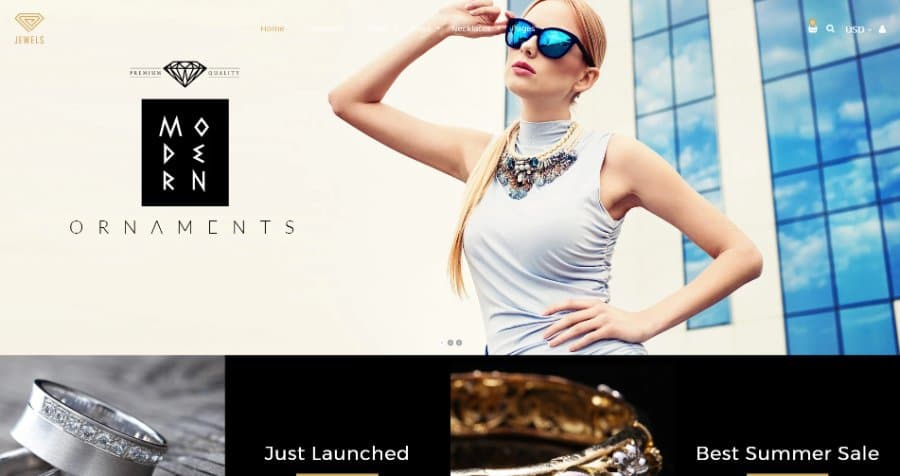 The Jewelry Shopify Theme is the best choice for a jewelry store! It's a professional, responsive and modern theme that will help you create a beautiful online store in no time at all. With its drag-and-drop sections builder, it's easy to customize your website with just one click.
The Jewelry Shopify Theme also includes 5 different styles of mega menu, and it has a quick shop feature, which allows customers to add products directly into their cart without disrupting them while they browse around your Shopify eCommerce store.
Click this link right now and get started with the Jewelry Shopify Theme by Design Themes
Mirora – Watch & Jewelry Store Shopify Theme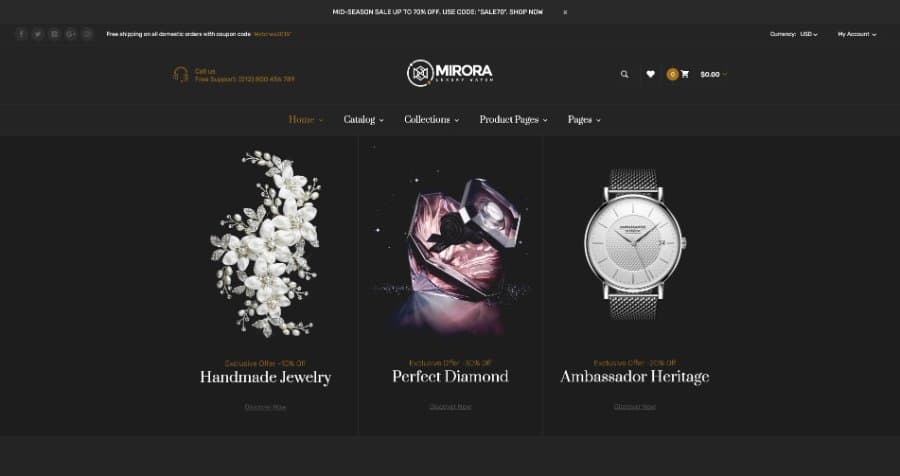 Mirora is the best Shopify theme for selling jewelry and luxury watches online. With a clean, modern design, it's perfect for any type of high-ticket eCommerce store. Plus, it features a refined design that sets it apart from most Shopify stores.
Jewelry Dropshipping Suppliers
Inventory Source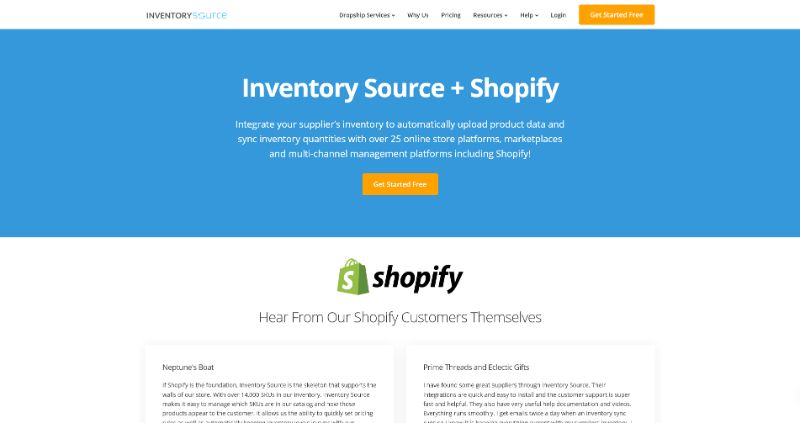 Inventory Source (Get a Free Account) is a Shopify app that helps you automate your dropshipping business.
Dropshipping is the hottest trend in eCommerce, and it's not going anywhere anytime soon. But if you're just starting out, it can be hard to find reliable suppliers for your products – which means lost sales and wasted time.
That's where Inventory Source comes in! They give you access to their complete supplier list for free so you never have to worry about finding new suppliers again.
And when you sign up for their automated dropshipping system, no more spending hours looking for products on Alibaba or other sites – just set up what items are available from each supplier and let the Inventory Source app do all of the work!
Sign up today for free access to Inventory Source (Click Here)
Salehoo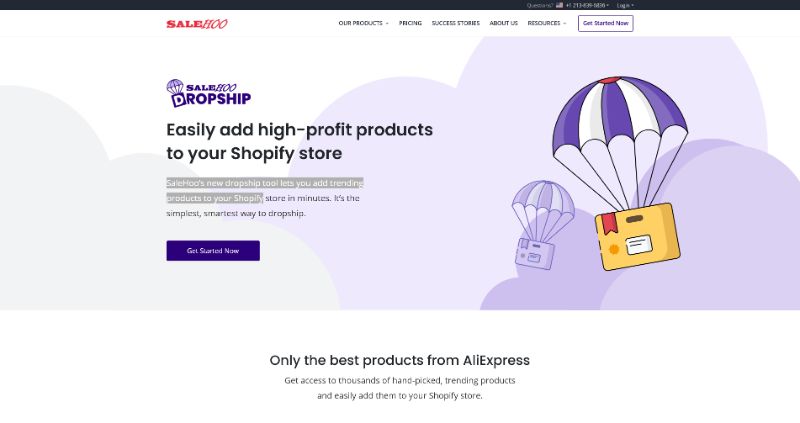 Salehoo (View Suppliers) is a leading eCommerce sales platform that specializes in dropshipping fulfillment. With over years of experience as the global leader in the dropshipping industry, they have built up a relationship with thousands of suppliers that will quickly and securely deliver products to any destination worldwide.
If you want to learn more about Shopify dropshipping using SaleHoo you can take their complete Shopify Dropshipping Video Course (Learn More)
Spocket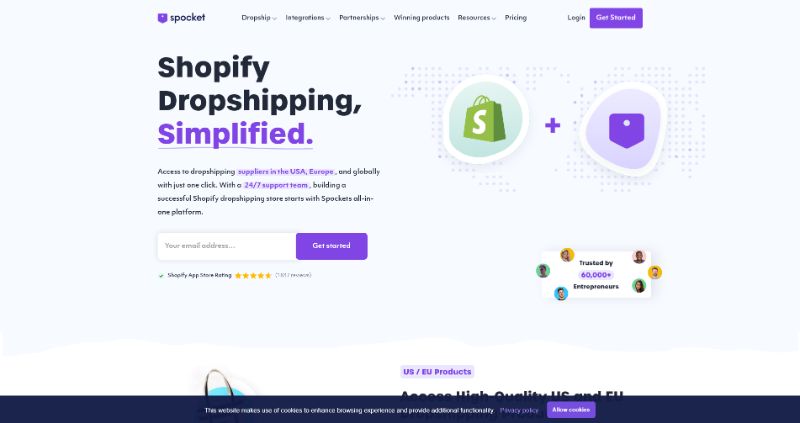 Spocket (Get a Free Account) is the best Shopify dropshipping app out there. With its easy-to-use interface, you'll be able to find and import products in seconds. Plus, you won't have to deal with suppliers in China that take forever to deliver your orders because Spocket only works with US and EU-based suppliers that will deliver right to your customer's door!
Sign up now for a free trial of Spocket! With the Spocket app, you'll be able to start selling jewelry right away without the usual hassle or risk associated with dropshipping on Shopify. And best yet – everyone who signs up gets an unlimited trial period so they can see how easy it is before making any long-term, commitments.
How To Start a Jewelry Shop Online
Starting a jewelry shop is hard work, but with the right tools and know-how, it can be done. In the rest of this post, we're going to discuss how to build a professional-looking jewelry shop online.
Below you'll find some places where you can get a professionally designed logo, stock photos, videos, and a unique domain name for your new jewelry store.
How To Create a Logo for a Jewelry Store
A logo is the first thing a company needs to establish its identity. But what if you don't have any design skills? Here are a few tips on how to create a logo for your jewelry store if you're on a tight budget.
48 Hours Logos (View Price) is one of the best places to get an affordable professionally designed logo for a jewelry store.
Otherwise, if you want to save a little money and you have some design skills you can create a logo using Canva (Free Sign Up)
Jewelry Videos for Websites
The internet is a thriving marketplace for all things, including jewelry. There are thousands of eCommerce stores and many more online marketers vying for your attention. The question is: how do you get people to notice your website or store in this crowded market? One way is to make videos that stand out from the crowd.
The benefits of adding video and other media include improving your site's customer experience, strengthening brand recognition, or you can promote new products and services that could otherwise go unnoticed.
You can get access to a full catalog of unlimited stock video downloads on Envato Elements (Try Now). These videos can be used as supporting footage in video marketing materials, or as video backgrounds on a Shopify eCommerce site.
Creative Jewelry Website Names
The first step to coming up with the perfect name for your online jewelry store is researching names to see if they are already taken. If the name you want is already in use by another store you can get some fresh ideas from the Shopify Domain Name Generator (Click Here)