In this article, you'll find a list of the best free Shopify themes for electronics stores and what each theme has to offer. We'll also cover some points about how to find reliable electronics suppliers, and how to get started building an eCommerce store.
Best Free Shopify Theme for Electronics
CarAudio – Car Parts eCommerce Clean Shopify Theme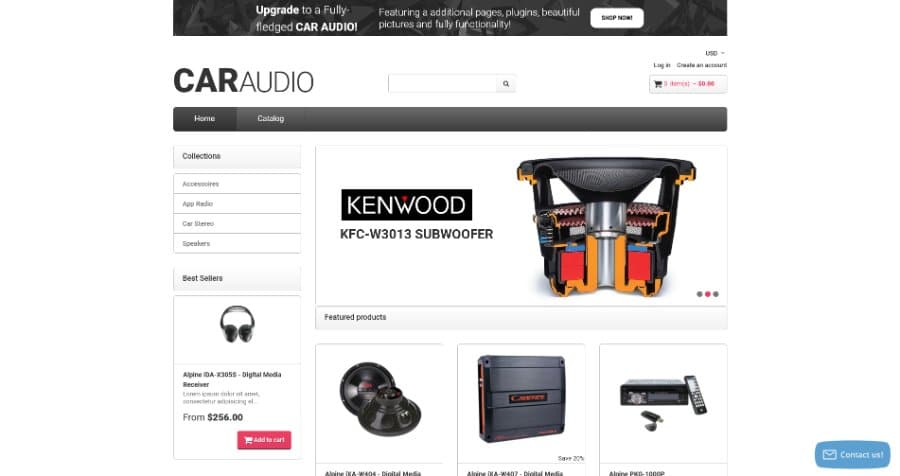 CarAudio is a free, responsive, and retina-ready Shopify theme. It's perfect for selling all types of electronics online – from TVs to laptops. You can also use it as a blog to review electronics. Plus, this theme has tons of features that you won't find in any of the free themes on the Shopify Theme Store
This theme comes with advanced options like a Google Maps integration so you can give online shoppers directions to a physical store. It also includes a dropdown menu that makes it easy for customers to browse through different categories without having to leave a product listing. And if you're looking to get into dropshipping this theme is compatible with Oberlo and Spocket (Get a Free Account)
If you want to see all the features this theme has to offer try out the CarAudio Demo Site
Supply Shopify Theme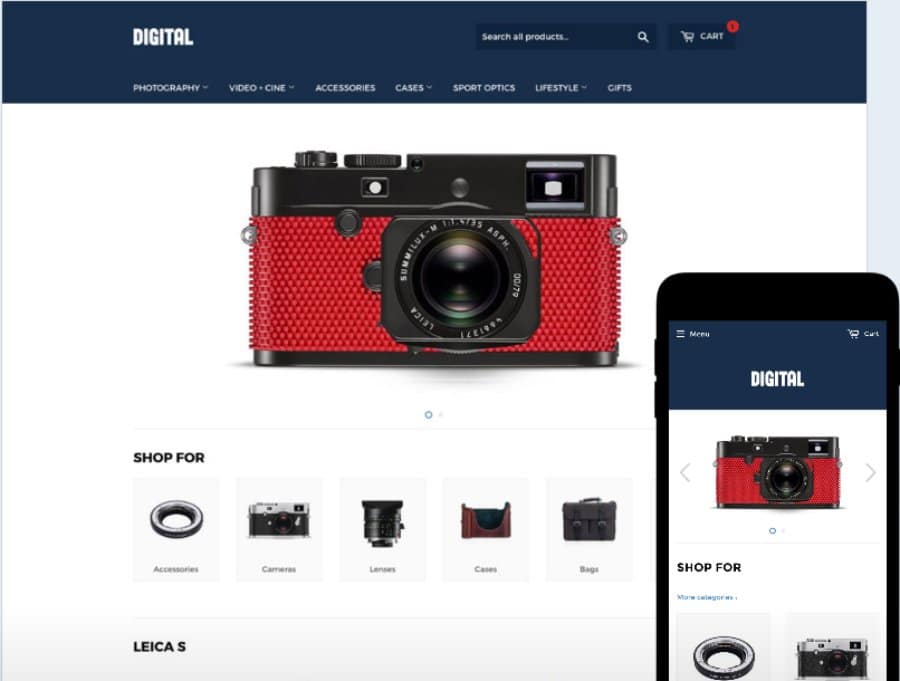 Supply is a clean, modern, and professional Shopify Theme that will help your store stand out from the crowd. It comes with all of the features you need to make your business successful online – including a mobile-friendly design, customizable content sections on the home page, search engine optimization, and social media integration.
The Supply Shopify Theme is the best free theme available on the market. It's fully supported by Shopify, and you can start using it now with a 14-day Free Shopify Trial!
Simmons Tech Template – Shift4Shop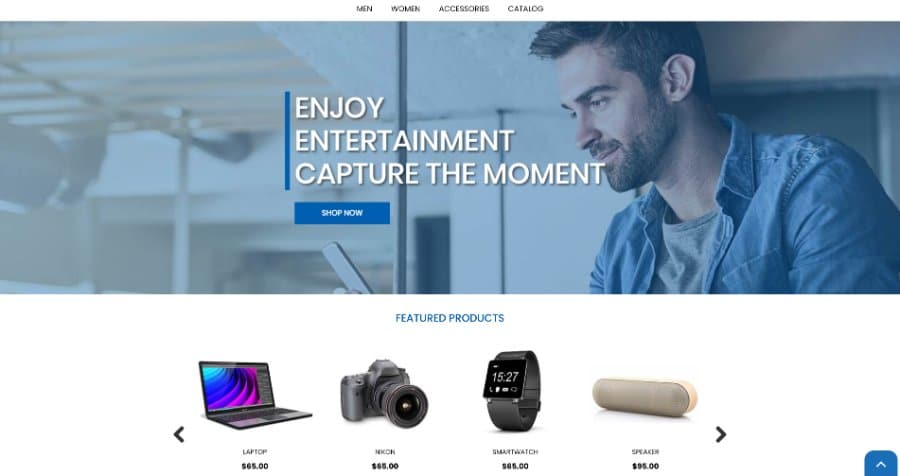 The Simmons Tech eCommerce Theme is a professional theme that's perfect for an electronics store since it has a sleek modern design. This theme also includes dropshipping support to help you get started with running your business without having to worry about inventory or fulfillment. Best of all it's completely free to download with no restrictions or free trial limits.
The Simmons Tech Theme is completely free to use, and you can start a Shift4Shop without a monthly subscription, unlike Shopify which will cost a minimum of $29.99 a month.
If you want to build a completely Free Shift4Shop eCommerce Website (Click Here)
Best Shopify Theme for Electronics
Twinvolt Electronic Shopify Theme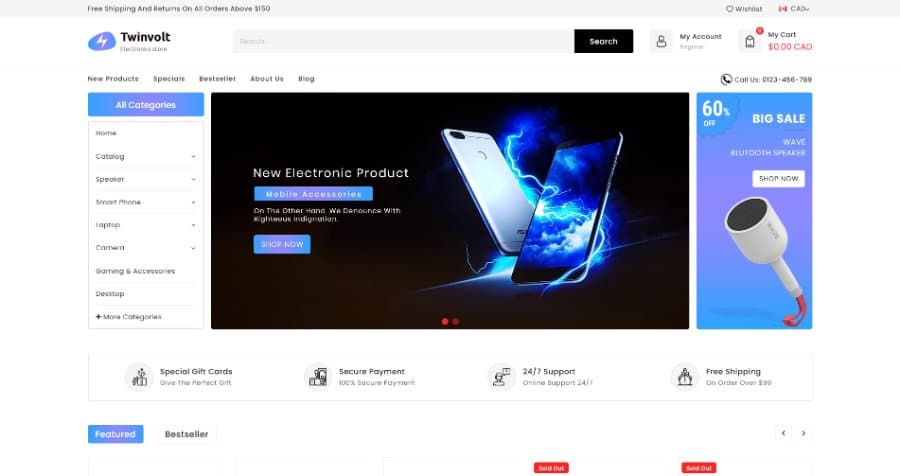 The Twinvolt Electronic Shopify Theme has been designed with the needs of an online electronics retailer in mind. It comes with all the features and extensions you need to create a professional-looking website without having to hire a developer or designer.
With this theme, your customers can find what they want quickly and easily on your site thanks to its intuitive design and powerful search engine optimization tools. You'll also be able to showcase your products beautifully with its unique product detail layout, product image zoom, sorting options, quickview option, and many other custom built-in features.
Elestorm – Electronics Store eCommerce Clear Shopify Theme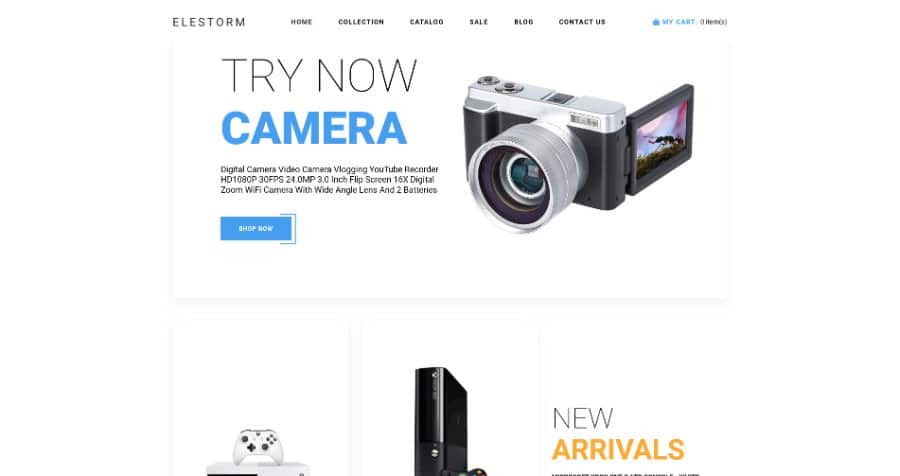 Elestorm is the perfect theme for any electronics business. It's compatible with all of the most popular Shopify apps and it has a fast loading time. You can use this theme to sell drones, gadgets, smartwatches, home computers.
Elestorm is Retina ready and it scores 90+ on Google Page Speed Insights and 96% on GTmetrix. This means your customers won't have any issues with loading times or performance when they are browsing your site.
Elestorm is the best choice if you want to create an eCommerce website that has a full set of professional features without spending too much time or money!
Soundking – Electronics Online Shopify Theme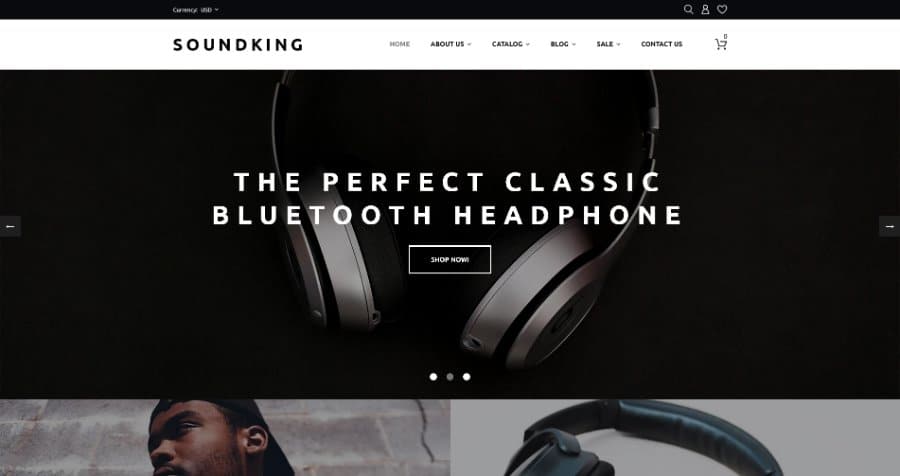 Soundking is the best Shopify theme for selling headphones, but it can be used to sell any type of electronics. It has a fully responsive design, and it comes with retina-ready graphics. Plus, it supports most major Dropshipping apps like Oberlo, Salehoo, Inventory Source, and Spocket.
This theme includes all the features you need to run a successful eCommerce site – including Google Maps support if you have a physical location, social media integration, and more. You'll also be able to fully customize your website to suit your needs with the included sample content and the built-in drag-and-drop page builder.
Rock Electronics Retailer Shopify Theme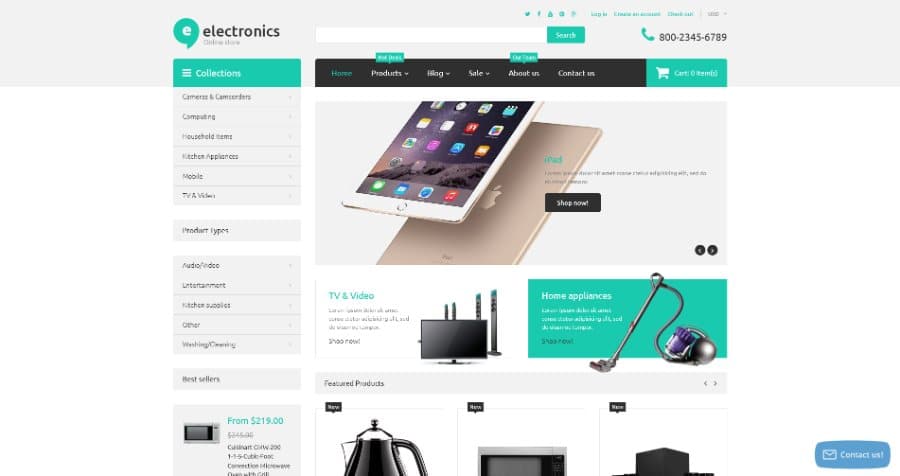 The Rock Electronics Retailer Shopify Theme is the best theme for an electronics store. This theme is perfect for any online retailer who wants to compete with retail giants like Amazon. It features a responsive design, search-engine friendly product listings, online chat, dropdown menu, and Google map. The advanced theme options allow you to easily customize your site without touching any code.
Rock Electronics Store Responsive Shopify Theme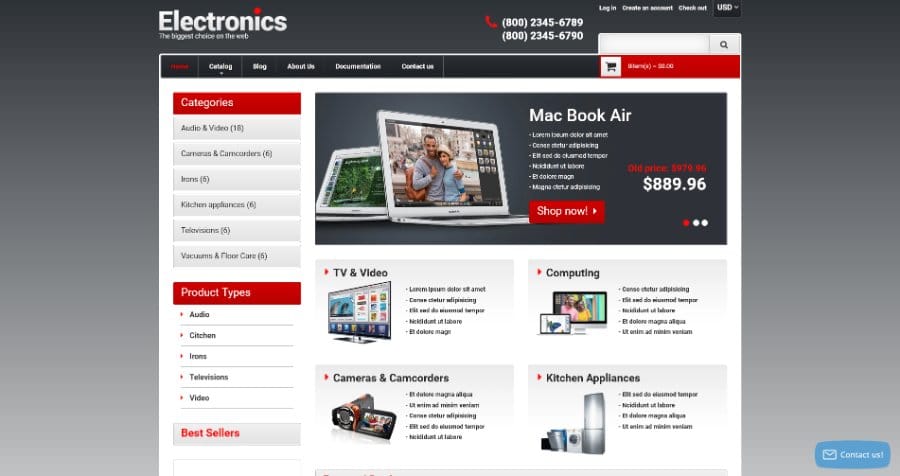 The Rock Electronics Store Responsive Shopify Theme is a classic theme geared towards selling gadgets and electronics. It features a responsive admin panel, search-engine friendly code, online customer support chat features, custom dropdown menus, and Google maps support. Plus, a blog section is also included with this theme that can be used for creating detailed product support guides.
Electro Electronics Store Shopify Theme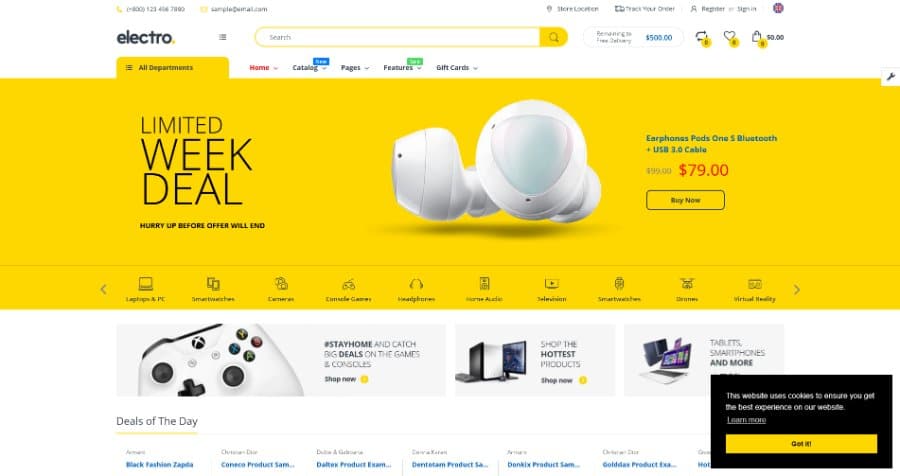 Electro is a clean and modern Shopify theme that will help you create an online store to sell any kind of electronics. It's perfect for any type of business, from small to large. The design is responsive so it looks great on all devices, including desktop computers and mobile phones. Plus, you can customize all the colors in this theme to match your brand and your logo.
With this theme, you can add products and customize layouts with ease thanks to its advanced admin panel which includes a drag-and-drop page builder. And the customer-facing side of this theme offers a wide range of features such as product filtering by category or price range, cross-selling products in the sidebar, adding custom fields like size or color options, etc.
And if that wasn't enough – there's also a built-in wishlist feature! This will allow your customers to save items they are interested in, and they'll be able to quickly view them again the next time they visit your site.
Best of all, this template was designed specifically with beginners in mind so that anyone could set up their shop quickly and easily with no previous experience required.
Basel – Multipurpose Ecommerce Shopify Theme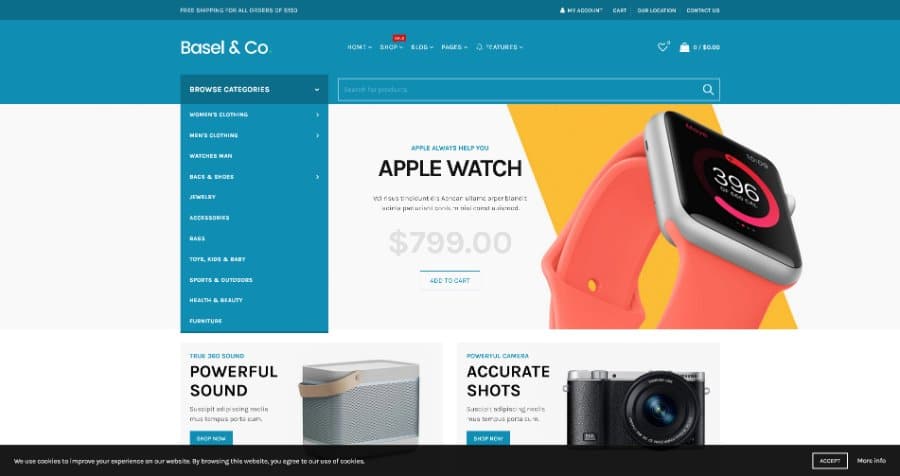 Basel is a multipurpose eCommerce Shopify theme that has been designed to help you sell any type of product. It has 4 general layouts, 3 sidebar layouts, 2 icon fonts for headers, 7 portfolio styles, and 4 product hover animations.
Basel is fully responsive and has a ton of features like an easy-to-use drag and drop page builder, 100% mobile responsiveness, and support for both Shopify 2.0 as well as 1.x stores!
With this theme, you can create any type of store imaginable – from fashion to electronics! And it comes with 6 months of free updates and 24/7 Live Technical support
Digital World – Sectioned Responsive Shopify Theme for Electronics & Hi-Tech Store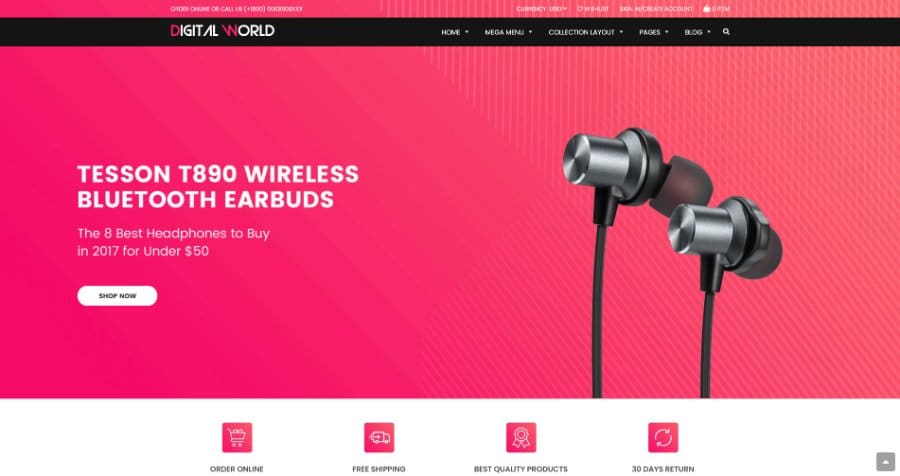 Digital World is a responsive Shopify theme that includes 10 unique homepages, 7 header styles, 5 footer styles, and 3 collection grid layouts, and it also has 4 custom blog styles. This template is designed specifically for stores in the electronics niche – which means it's perfect if you sell phones, computers, cameras, or anything else related to technology.
Legend – Multipurpose Responsive Electronics Shopify Theme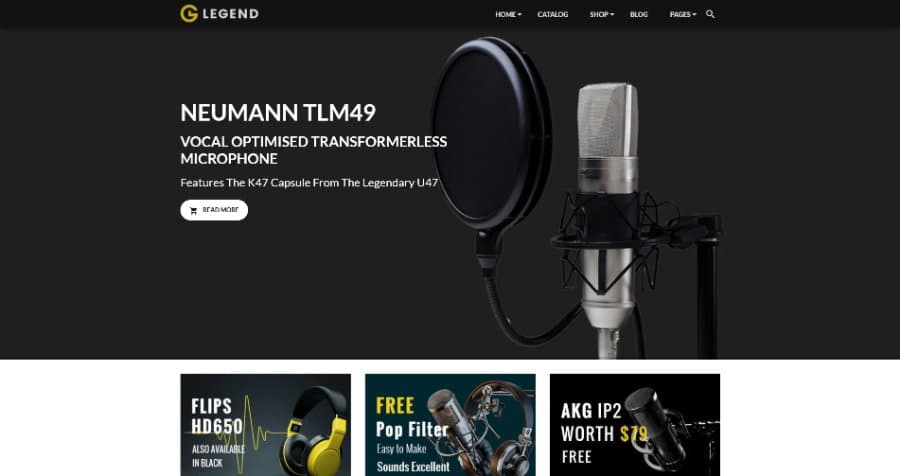 Legend is the perfect multipurpose responsive Shopify theme. It comes pre-installed with 8 different layouts and tons of features to make your store stand out. You can use it for any type of website, from an online shop to a blog or portfolio site. It's also perfect for any store that sells electronics, whether it be laptops, cameras, or cell phones. Plus, this theme features an advanced mega menu system that allows you to organize your content in logical categories that will guide shoppers to your best-selling products.
Electronics
Dropshipping Suppliers
Inventory Source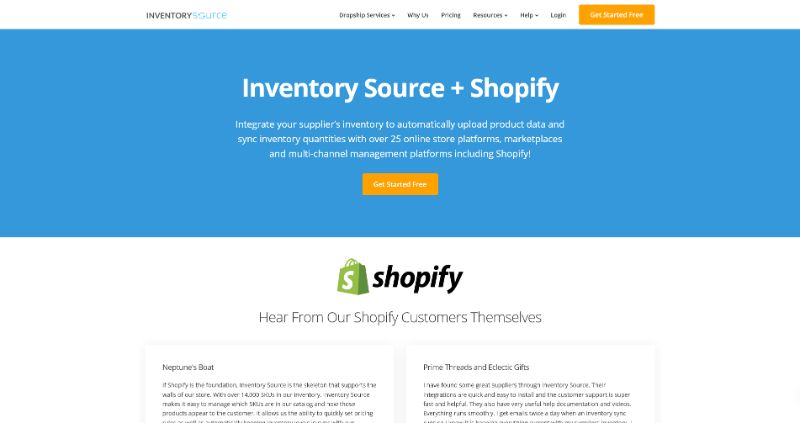 Inventory Source (Get a Free Account) is a great service that will help you with all your dropshipping needs, whether you're on Shopify or not. When you sign up for a free account they'll even give you access to their complete supplier list at no cost, so you can try them out before you install their Shopify App.
Salehoo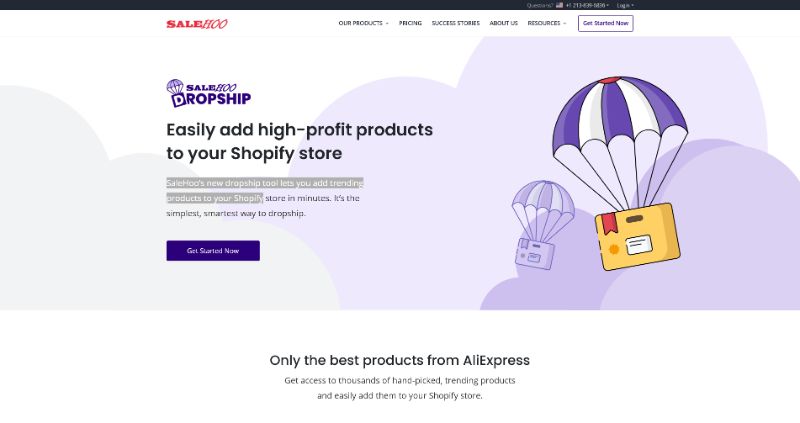 Salehoo (View Electronics Suppliers) is one of the best dropshipping services for a Shopify eCommerce store. With Salehoo, you'll get access to thousands of products that you can list and ship to your customers without needing to purchase any inventory for your store.
Salehoo is perfect for anyone from beginners to experts that are looking to build out a Shopify dropshipping store.
You can learn more about Shopify dropshipping using SaleHoo with their 20-Hour Shopify Dropshipping Video Course (Learn More)
Spocket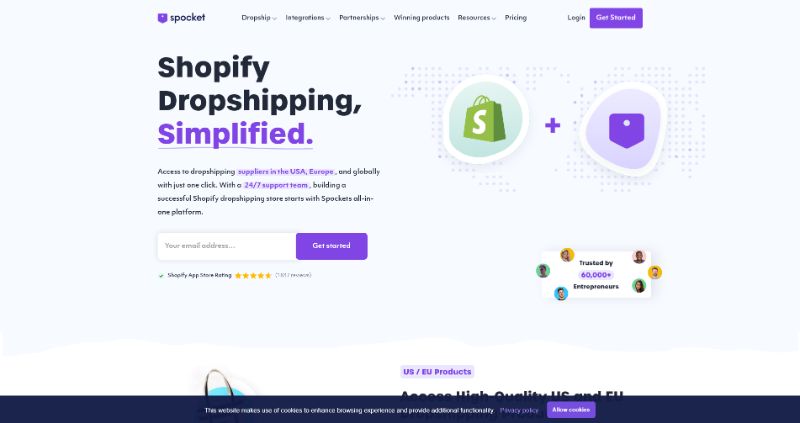 Spocket (Get a Free Account) is the best Shopify dropshipping app for gadgets and electronics. With Spocket you can ship products from hundreds of US and EU-based suppliers all from the back-end of your Shopify store.
Spocket offers a Free account that will let you try out their service and view their suppliers, and their paid accounts will allow you to list up to 20,000 unique and premium products on your Shopify store.
H
ow
T
o
S
tart
a
n
Electronics Store
Online
Entrepreneurs are always on the lookout for new and innovative ways to grow a profitable business. One of the most popular trends right now is starting an e-commerce store that's powered by Shopify, meaning you can start a business with just your laptop! But what if you're not sure where to get started?
The following sections of this post will give you some tips about how to start an electronics store on Shopify so that you can create a successful online store in no time.
Shopify helps take some of the hard work out of starting an electronics eCommerce store, but you'll still need a Logo, Videos, and a unique domain name if you want to build a successful electronics shop.
Below we'll show you where you can get an affordable or free logo, stock photos/videos, and domain name ideas for an electronics store.
How To Create a Logo for an Electronics Store
Your logo will be the first thing your potential customers will see when they visit your site. It is important to get a logo that reflects your brand in order to attract customers, but it can be difficult and time-consuming if you don't know where to start.
The following logo creation services will help you create a professional logo for your electronics store without breaking the bank
48 Hours Logos (View Price) will design and deliver an affordable professionally designed logo for an electronics store in under 2-days just as their name implies.
If you're working with a really tight budget you can create a logo for free using Canva (Free Sign Up)
Electronics
V
ideos for
W
ebsites
Video is becoming a core feature that customers expect to see when they are shopping online.
If you want to add multimedia elements to your eCommerce website there are a number of places where you can get stock videos, but they can be pricey.
If you're looking for high-quality videos that won't break the bank we recommend Envato Elements (Try Now) since they offer a royalty-free stock video library where you can get unlimited downloads for a fixed price.
Creative Electronics Website Names
If you need help coming up with a creative name for your electronics store you can use the Shopify Domain Name Generator (Click Here) to quickly test some ideas out.