If you're looking for the best Wix template for a resume, this post will help you out. We're going to share 10 of our favorite templates that are easy to customize and have great-looking designs.
On this page, you'll find everything from simple templates with a clean professional layout, to more advanced designs with custom fonts, animations, and support for high-resolution graphics.
Best Wix Template for Resume
Timeline Resume Wix Template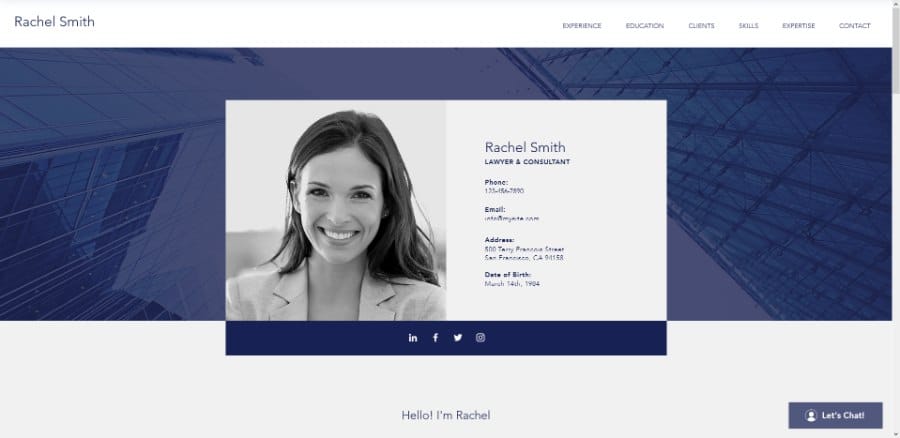 The Timeline Resume Wix Template will get you noticed instantly while also helping you showcase all of your hard work and accomplishments in their best light. This eye-catching template includes an animated timeline with custom icons that you can use to concisely layout your work experience throughout your life. Plus, it features live chat support that will allow you to communicate with potential employers in real-time, and it has an embedded contact form so hiring managers and recruiters can leave you messages even when you are offline.
Manager Resume Wix Template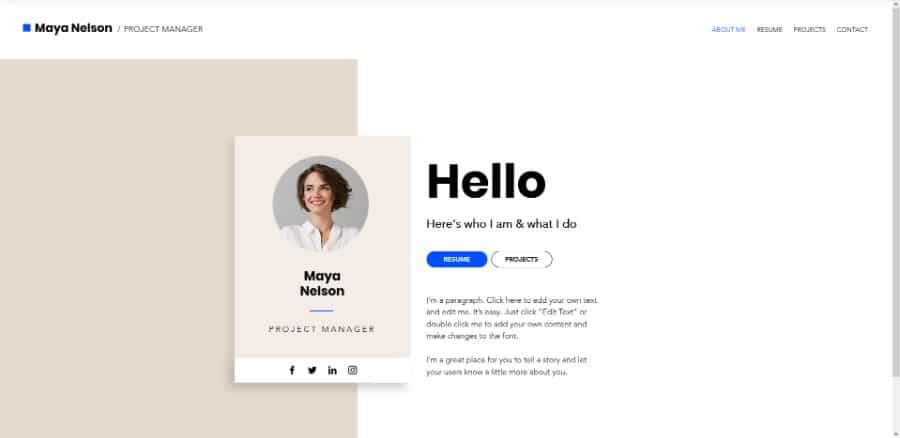 One of the best resume templates on Wix.com is the Manager Resume Template, which has a clean uncluttered design and card-style layout that makes it easy to navigate. It also includes a page for your resume and another page for an interactive project portfolio where you can upload files of any type including photos, videos, PDFs, or other documents such as contracts or proposals. To try out this template yourself click here
Marketing Resume Wix Template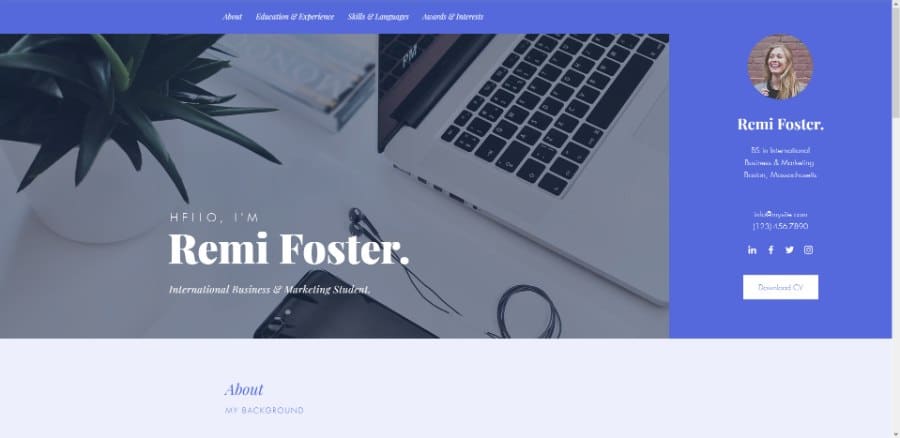 The Marketing Resume Wix Template is perfect for college graduates entering the workforce for the first time. It has an eye-catching layout as well as animated skillset charts that allow you to highlight your skills and accomplishments on a timeline. The best part? You can even add a downloadable CV or upload your current work experience in order to demonstrate the skills you bring to the table. Plus, this resume template includes social media links (LinkedIn, Twitter, Facebook), where hiring managers can easily find more information about you to see if you be a good cultural fit for their company.
Creative Resume Wix Template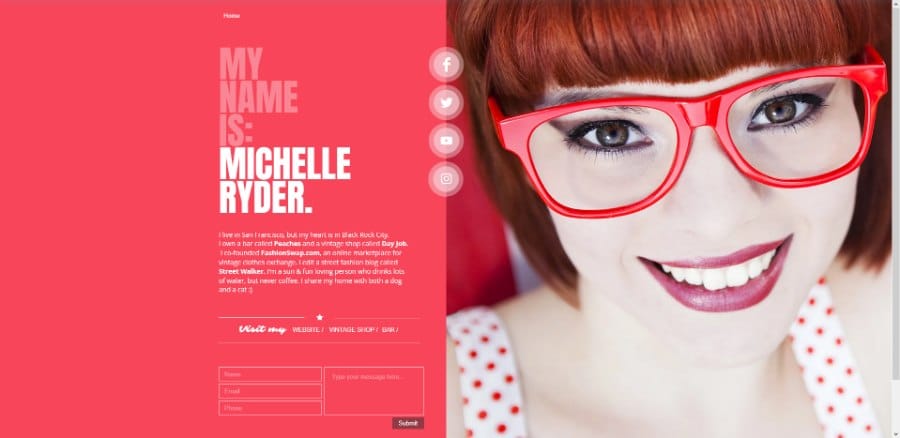 The Creative Resume Wix Template is perfect for artists and creative professionals. Its bold colors, clean design, single-page layout, and contact form make it an attractive choice that will stand out to prospective employers and clients. And the social media integration makes it easy for employers to find you on the web or connect with you in other ways without having your personal information out there and exposed to prying eyes.
Speaker Resume Wix Template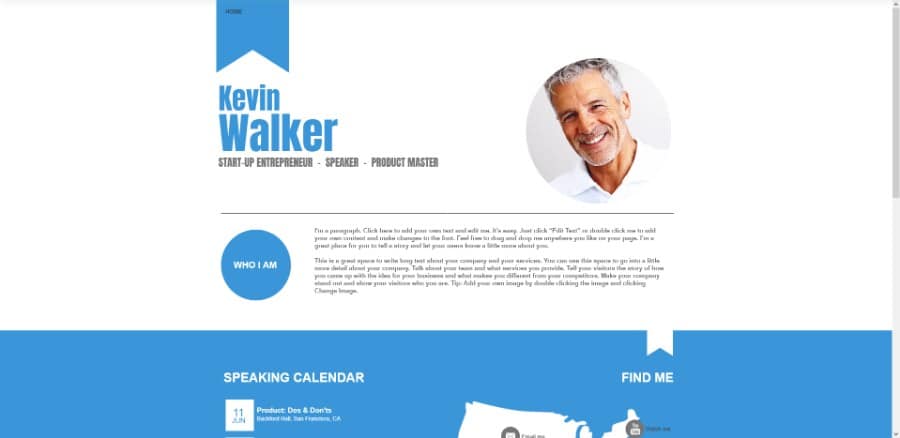 The Speaker Resume Wix Template is a beautiful, single-page layout that features a brief biography section, an availability calendar, and a built-in contact form. This template allows you to showcase your past experience as well as what new clients can expect from working with you or attending one of your speeches or contracting out your event planning services.
Developer Resume Wix Template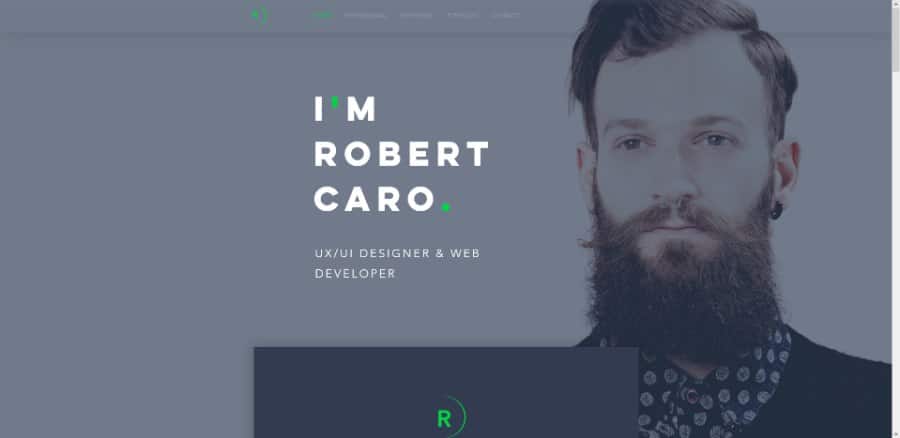 The Developer Resume Wix Template gives you all of the key features that will make your work stand out from other applicants and increase your chances of finding success in today's competitive job market. This template features a timeline of all your past jobs in chronological order with links to the projects you have worked on. And the design is professional and clean, so it will be easy for employers or potential clients to get an idea of what kind of work they can expect from you. Best of all you can highlight your web design portfolio with links to some of your latest projects and open source contributions on Github.
Editor Resume Wix Template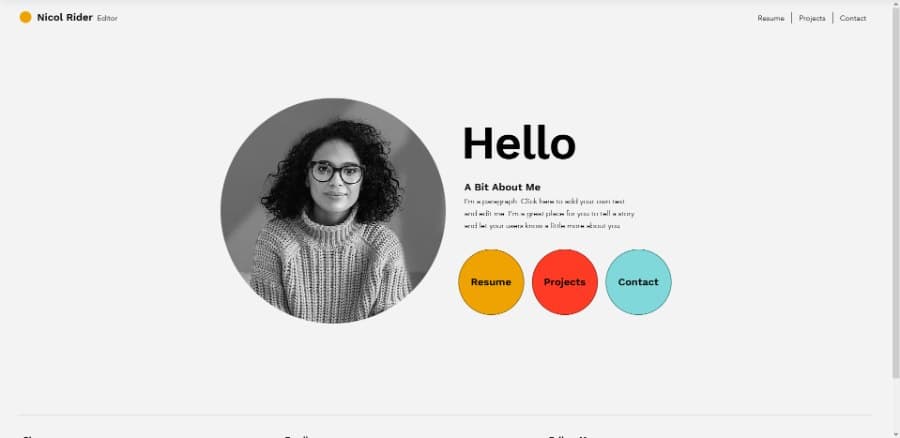 The Editor Resume Wix Template is a clean and to-the-point resume template that has all of the features you need for an online professional profile. This simple design will help make sure that people know exactly what they can expect if they hire you, while also giving them an easy way to contact you if they want more information about your experience or skillset. If you're looking to make your job hunt easier by having a straightforward online resume with no fluff, then this template could be the best choice for you.
Business Resume Wix Template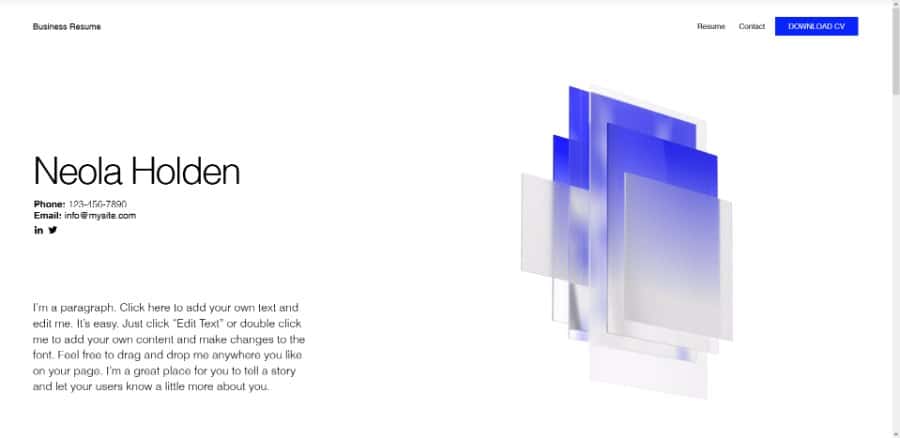 The Business Resume Wix Template is perfect for job seekers with a long work history and lots of skills to offer. It's easy to read, has a clean design and it features clearly delineated work experience sections that are easy to absorb for hiring managers who are in a rush. Plus, it even includes the ability to add a downloadable CV in PDF format.
Writer Resume Wix Template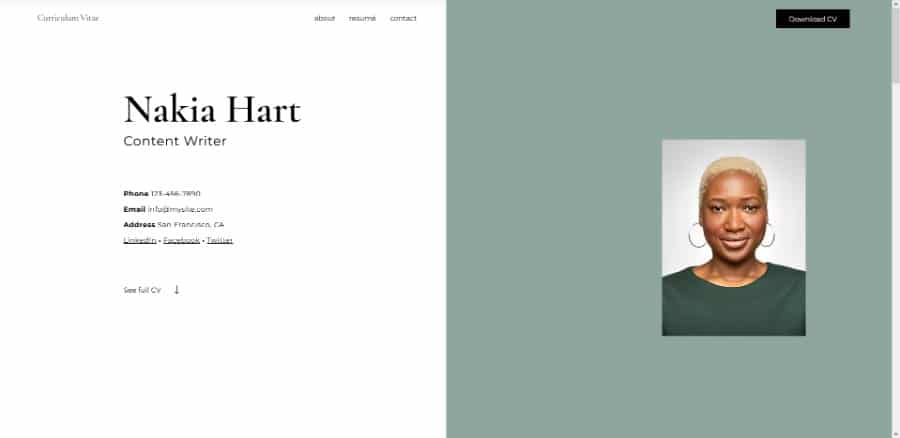 The Writer Resume Wix Template is perfect for freelance content writers and authors. It features a work experience timeline, education section, key achievements section, contact information, and downloadable CV option. If you are looking to share your resume online with employers or want to include it on social media sites like LinkedIn or Facebook then this template will be the best option for you. In just a few minutes of customization time using Wix's simple drag-and-drop editor, you can make sure that your profile stands out from all the other resumes competing with each other online.
Acting Resume Wix Template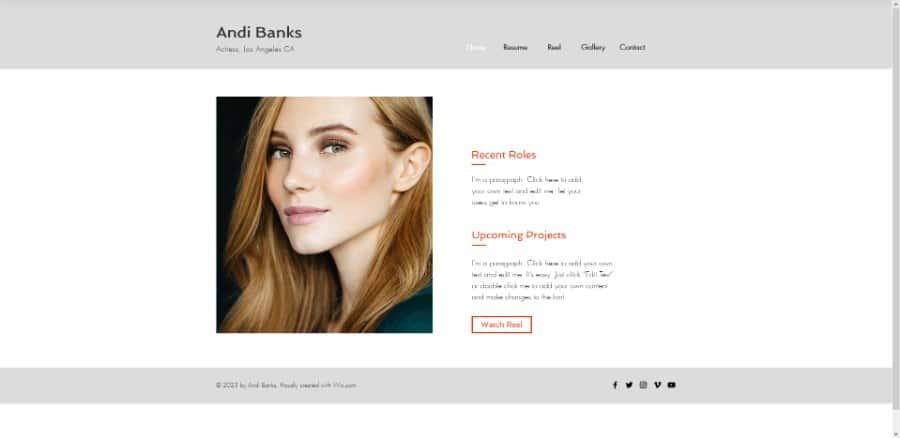 The Acting Resume Wix Template provides a one-stop-shop with all the tools and features you need in order to get hired. It has a demo reel page, contact details, acting resume sections (acting experience), and a photo gallery page that makes it easy to share headshots. This template also includes a social media integration where you can post updates about yourself on Facebook or tweet links from Twitter, share videos from YouTube and Vimeo and bring them all together on your own professionally designed Wix site.
Related: Best Squarespace Template for Actors