Pre-orders are a great way to build buzz around your product and help you take orders for products you don't have in stock. In this article, we'll explore some of the best pre order apps for Shopify that will make it easy to set up your own pre-order program. Read on for more information about all of these top-rated Shopify Pre Order Apps.
Best Pre Order App for Shopify
Pre-order Now – PreOrder – Shopify App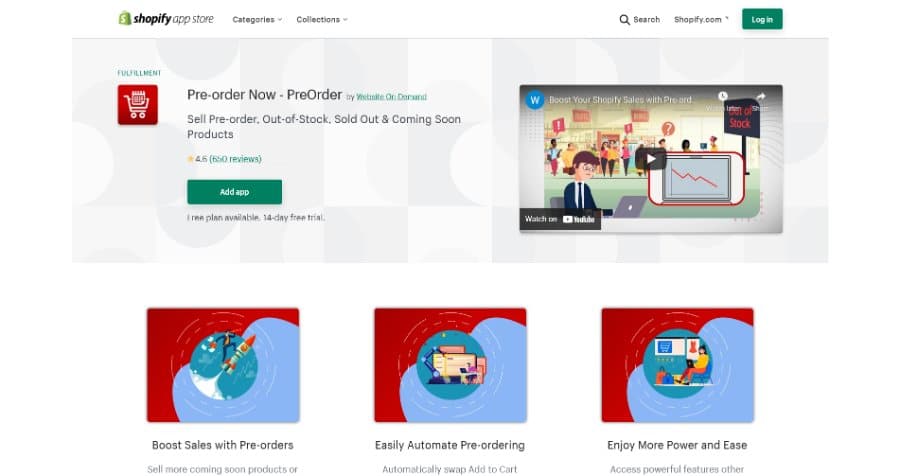 Pre-Order Now is one of the best Shopify apps that will help you sell more products by allowing buyers to pre-order items before they're in stock.
If a customer wants an item that's currently out of stock, then this app will display a "Pre-Order" button instead of an Add To Cart button on the product page.
Once the item comes back in stock, it will automatically remove the "Pre-Order" button so you don't have to do anything except updating your inventory as usual.
Best of all, this app works seamlessly with your current website design, so there is no need to hire a developer or change any code at all.
Plus this app gives you access to powerful marketing features like discounts on pre-orders, tagging products before they're released, email templates & notifications, mixed cart alerts…and much more.
Globo Pre-Order – Preorder NOW – Shopify App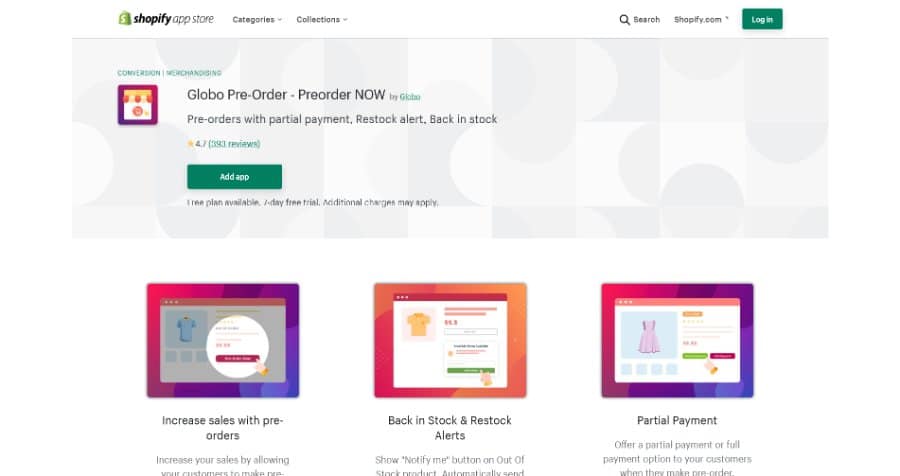 The Globo Pre-Order app for Shopify is one of the easiest ways to add preorders to your online store, and it helps you take advantage of time-sensitive consumer interest in your products to maximize sales.
This app allows you to control which products or variants should be available for preorder and when those orders should start/stop processing based on specific criteria such as inventory level, date, or time, and it also features a pre-order countdown timer.
You also have full control over whether or not partial payments are allowed during the process and if there's a discount applied automatically at checkout once a product has been ordered as part of a pre-order promotion.
This app will also automatically enable a "pre-order" button when there are not enough items in stock, and it will send out restock notifications when more products become available again so that your customers are automatically updated on the status of their order in real-time.
Pre-Order Manager 2.0 PreOrder – Shopify App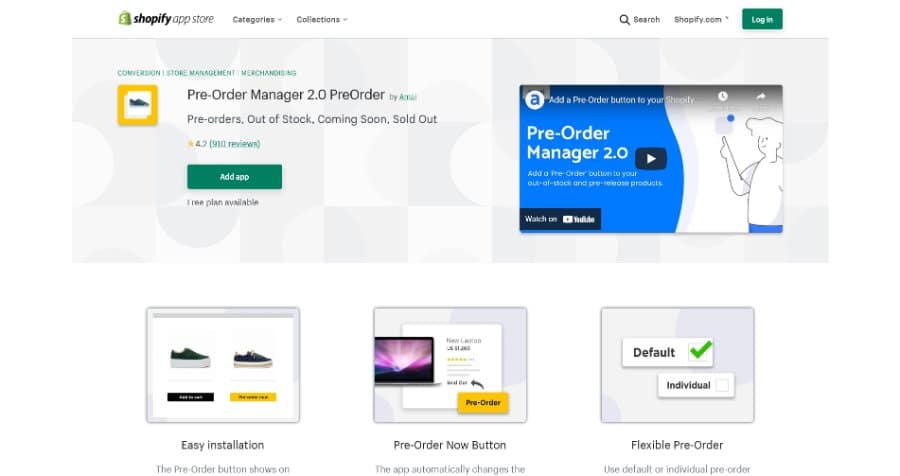 Pre-Order Manager 2.0 is the best app for managing your Shopify store's pre-orders and it comes with a wide range of features to help you stay ahead in this competitive space.
Pre-Order Manager 2.0 has some great bulk operation features that can save you time when setting up all your pre-order products or even just selecting which ones you want to set as available for pre-order. This will help save those items from going out of stock while leaving other items on backorder so they'll be ready once you can fulfill those orders.
You also won't need any theme customizations at all with this app because it works seamlessly with most themes on ThemeForest and in the Shopify Theme Store, and more.
If you're looking for an easy way to incorporate pre-orders into your business you can try out Pre-Order Manager 2.0 for free to see if it's right for your store.
Timesact Discount Pre-Order – Shopify App
Timesact Discount is one of the best pre-order apps for Shopify. You can set up pre-orders for specific products or variants, as well as offer discounts on pre-orders. It also lets you edit bulk variants and update multiple products with ease.
In your store's backend, a "Pre-Order" tag will show up in your order list so you know which orders have been placed ahead of time. And if you want to limit how many people can place a pre-order, just set limits. If not, then unlimited pre-orders are available too.
Finally, the availability date allows you to specify when the product will be ready for shipping – this way you won't have to worry about pre-order customers overwhelming your customer support team.
Pre-order Today – Shopify App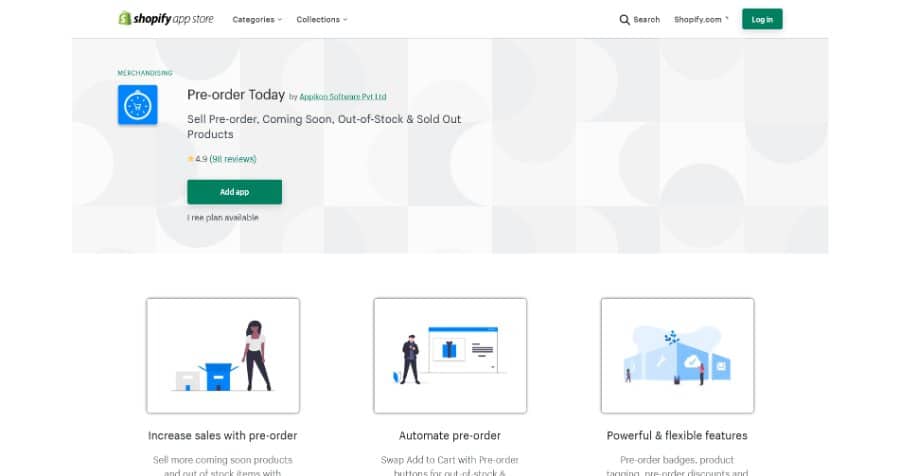 The Pre-order Today Shopify App is the simplest way to create and manage preorders on your Shopify store. With this app, you can set a pre-order status for any product or collection that's coming soon as well as allowing shoppers to purchase out-of-stock products.
You'll also be able to offer discounts on all items in pre-order mode with just a few clicks from your Shopify dashboard.
This app also has fully customizable email notifications so your customers will know exactly when their purchase has been shipped, so you won't have to worry about your customers waiting around wondering if they missed an update on their order.
Advanced PreOrder (Partial Pay) – Shopify App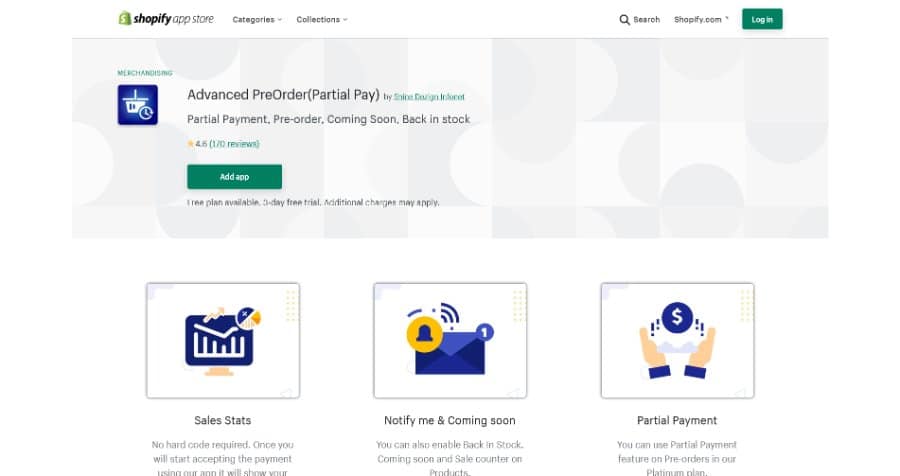 The Advanced Preorder App for Shopify is a simple tool that allows you to turn off your "add to cart" button and replace it with a pre-sale button. This way, customers can place their order even if the item is not in stock yet.
This app has full control over which items should be available for pre-sale on each page or collection. And this app saves time by automatically enabling/disabling pre-orders without any manual labor required from you.
Plus, the Advanced PreOrder app for Shopify lets you easily set up an auto-notification email for your customers letting them know when the product they ordered is available.
You can even let them pay part of the price up front and then charge their credit card once the item becomes available.
This way, they don't need to worry about forgetting about their order or missing out on getting the best price if there are any discounts offered while they wait for their order.
KAD PREORDER – Shopify App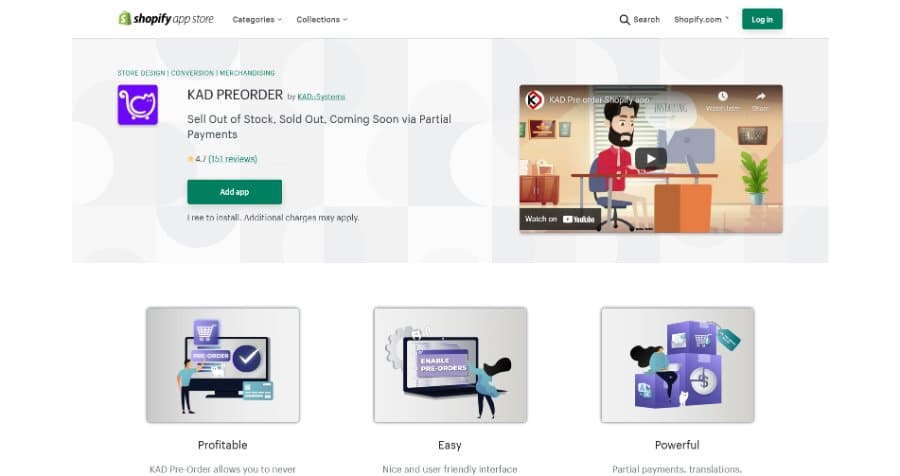 KAD PREORDER is a Shopify app that lets you set up preorders in minutes and automatically charge buyers partial payments as you count down towards your product launch date. Your customers will receive email notifications when they place orders and you'll have access to reports so you can track how many people are buying into your preorder campaigns. Plus, this app makes it easy for non-developers to customize this app's CSS code so that you can get all the elements to look exactly how you want them to look on your store pages.
Preorderly • Pre-order PRO – Shopify App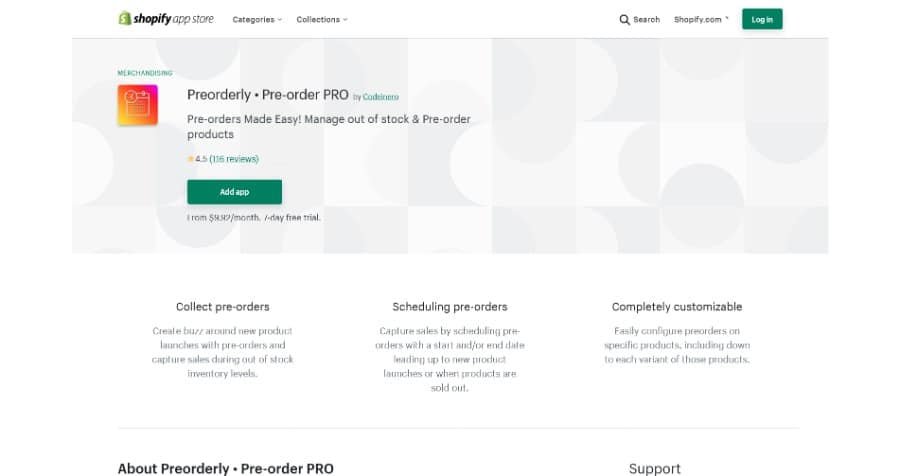 Preorderly is a Shopify app that allows you to manage your out-of-stock and pre-order products. This app makes it easy to define which products are available for pre-order, how many units can be purchased, when the product will become available or end up on backorder, etc.
This app also lets customers know when they can expect their purchase with cart labels as well as email alerts containing availability information once the customer has completed checkout.
Preorderly also allows you to manage out-of-stock and pre-order products from one convenient location. And you can apply different settings on each variant or entire product line so that you have granular control over all of your products.
Additionally, this app lets you limit the number of available units per item so that people don't overbuy. It also gives Shopify store owners complete control over start dates and end dates/times for orders containing pre-ordered items.
Finally, this app was designed with customization in mind so you can get it to match your brand guidelines perfectly.
PreOrder Me – Shopify App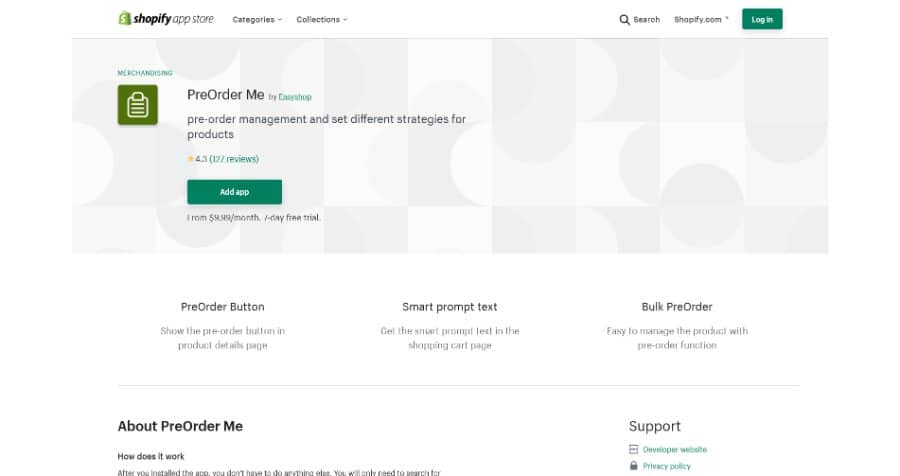 PreOrder Me is a simple app that makes it easy for retailers to set up their own pre-order campaigns and automatically add them as orders in Shopify. By managing all of your upcoming products with one tool you can easily adjust pricing, availability dates, or even change product details based on how well they're selling before launch.
Shopy Pre-order – Shopify App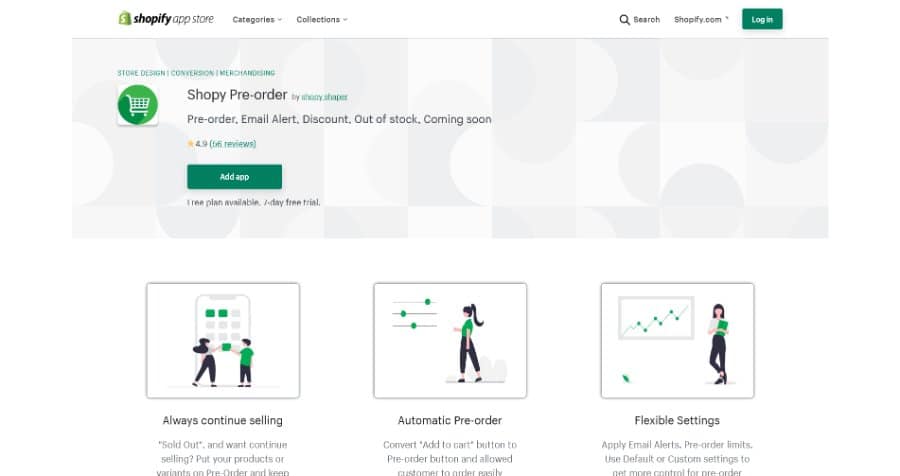 Shopy Pre-order is the best app for Shopify that enables pre-orders on any product or variant. It also includes email functionality and notifications, discounts for pre-order items, and it features a coming soon count down timer. It also has an analytics dashboard that will help you monitor how many customers have placed their pre-orders before they are shipped out.
Conclusion
After reading this article, we hope you can confidently determine the best pre‑order app for your Shopify store. We've provided a review of some great options to help you make an informed decision in choosing what's best for your needs and budget.
When it comes down to it, all of these apps offer something unique that sets them apart from one another; they're just different enough that it might come down to how much customization is necessary.