Do you need to create a Shopify store for your custom products? If so, we've compiled a list of the best Shopify themes for custom products. Whether you're running an e-commerce business or just want to offer bespoke items on your own store, these themes will help transform your site into something more than a stock Shopify theme can offer.

Best Shopify Theme for Custom Products
Molla – Multipurpose Responsive Shopify Theme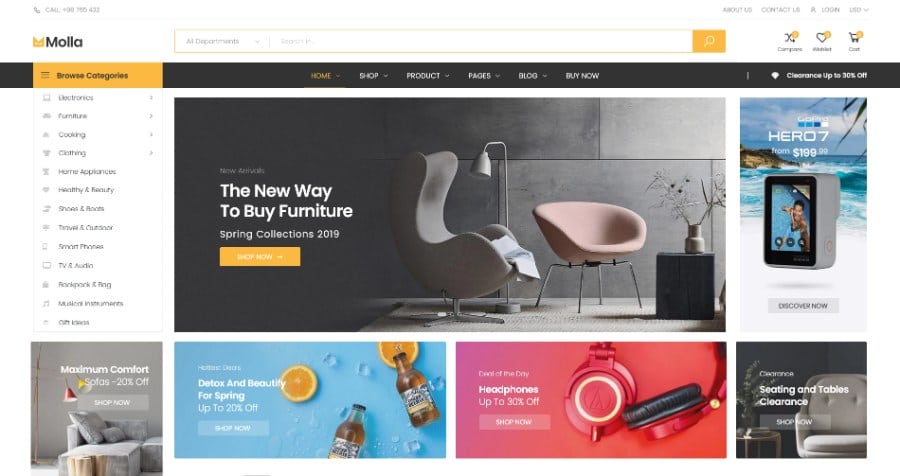 Molla is a multipurpose responsive Shopify theme that lets you build beautiful and informative product pages with ease. This theme also comes with 20+ pre-made home page layouts so that you can jumpstart your next project in minutes.
This theme also has a sticky cart feature that allows users to checkout faster by adding products directly from a product page onto their shopping carts and checkout without having to load multiple pages.
Molla is the perfect solution for a custom product store because it's powerful enough to handle all kinds of custom products, but it's simple enough so anyone can use it without needing technical skills.
It has everything you need from modern design and animations to powerful admin panel options and advanced search functionality.
Plus, it integrates with the Ryviu Product Reviews app so you can directly import product reviews from your Amazon and Etsy stores.
KarDone – Multipurpose Designs Shopify Theme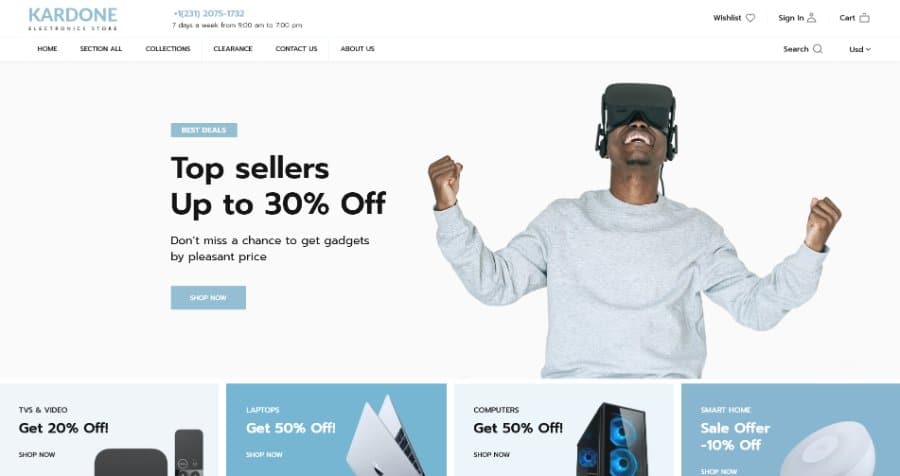 KarDone is the best multipurpose Shopify theme that offers unlimited opportunities for selling custom products. It's a perfect fit for any business, whether you're starting a dropshipping store or building a brand online.
This theme has over 100 unique home page templates which can be customized with drag-and-drop functionality using the Shopify visual page builder tool. Plus, this theme also offers custom Login Forms and User Registrations, so your customers can build their custom products and return later to complete their order.
This Shopify theme is also fully compatible with popular Dropshipping apps like Oberlo and Spocket (Free Trial), so you can start selling in minutes without having to worry about sourcing inventory or fulfilling orders yourself.
Modular Shopify Theme
Modular is a fully responsive Shopify theme with infinite scroll (no pagination), quick buy buttons on product pages, customizable product grids for collections or brands in the header area as well as products on collection pages. It also includes customer testimonials from your customers displayed throughout your store! All this while still being 100% mobile-friendly.
Click Here To Get Started with a 14-Day Shopify Free Trial
Avone – Multipurpose Shopify Theme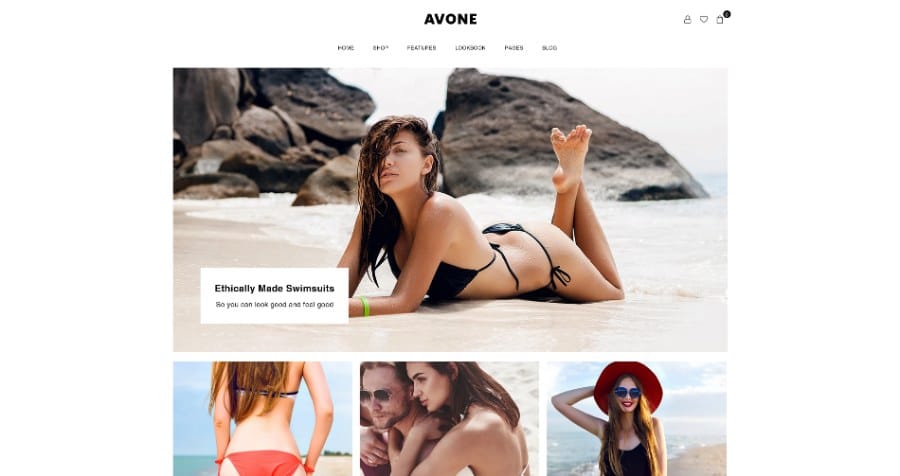 Avone is the number one multipurpose Shopify theme on the Envato market. It's perfect for any type of business, from clothing stores to furniture shops and everything in between.
With 28+ pre-made demo layouts, you can set up your store in minutes with no coding required. You'll also be able to customize every aspect of this theme with the Shopify visual page builder. And the design is 100% responsive so your customers will have an amazing experience whether they're browsing on their phone or desktop computer.
Avone includes GDPR ready features and has SEO-optimized code so you can rank higher in Google search results without spending hours tweaking settings yourself. Plus, this theme also comes with product notification popups and newsletter popups that will help boost customer engagement metrics and conversion rates.
Handy – Handmade Shop Shopify Theme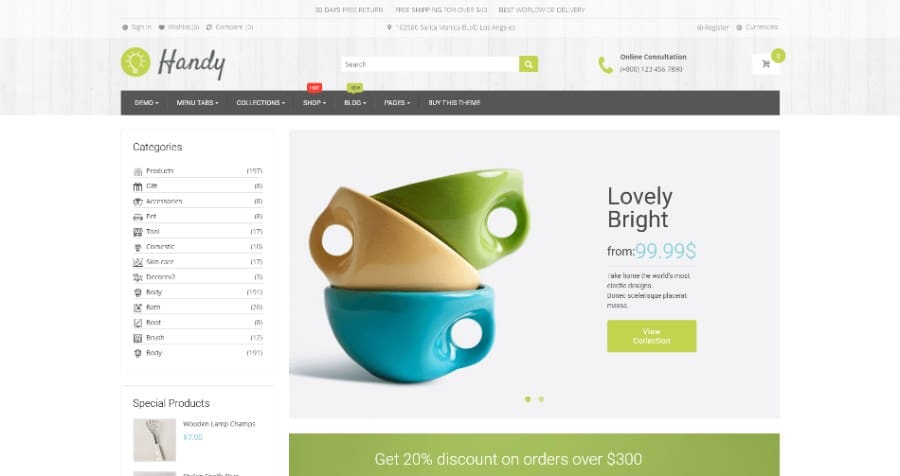 Handy was designed specifically for custom handmade products like jewelry, clothing, print-on-demand items, or any other creative craft product that can be sold on Shopify. With this theme, you get everything you need to start selling your creations right away.
Handy is the perfect theme if you plan on selling bespoke items online. It's also mobile responsive so you don't lose customers on their phones. There are 20+ different shop layouts included with this theme so you can build your site exactly how you want it without any coding knowledge required. Plus, this theme has blog support so you can keep customers coming back for more content about what inspires you as an artist or craftsman.
With Handy, building your store has never been easier or faster. It takes just minutes to get started and then all of the hard work is done for you so all you have to do is enjoy running your business. Plus, when you buy the Handy Shopify theme you get a 30-day Growave free trial and over a dozen free apps that are worth thousands of dollars if you had to purchase them separately.
Car Tuning eCommerce Template Shopify Theme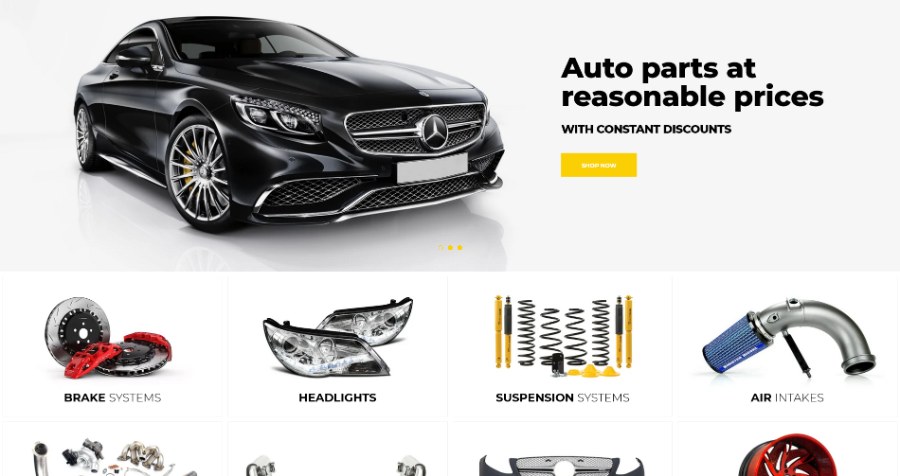 The Car Tuning Shopify Theme has been built for stores with large product catalogs which means you will be able to sell products with dozens of options and hundreds of variations.
This theme is also fully responsive so it looks great on mobile devices as well as desktop computers making sure that even people who shop from their phones can find what they need quickly and easily.
You also get an Online chat feature with this theme, which allows customers to talk directly with your customer support team 24/7 instead of waiting for someone to respond days later via email or phone call.
Zeexo – Multipurpose Shopify Theme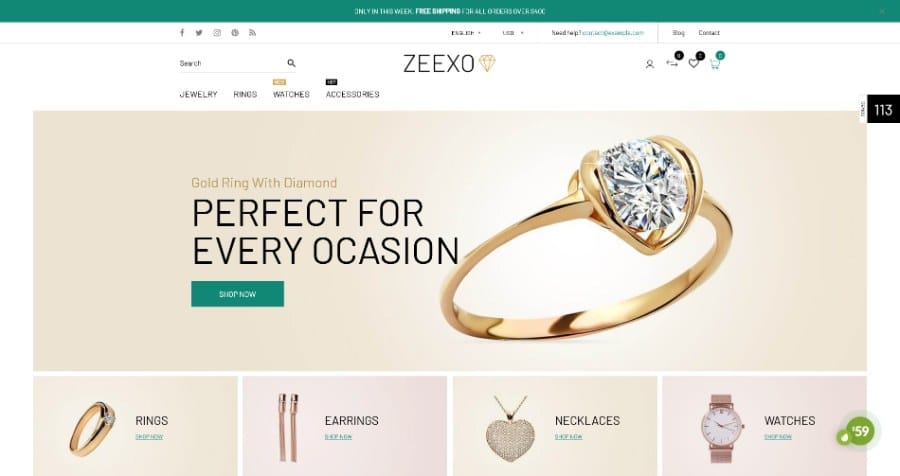 Zeexo is a multipurpose Shopify theme that can be used for any type of online store. It has been designed to make it easy to create an attractive, professional-looking website in just minutes.
This theme allows you to choose from over 100 pre-built demo sites, each with its own unique look and feel. You also have full control over the entire layout of this theme; site width, content area, sidebars, product tabs, and more.
This multipurpose Shopify theme comes with everything you need to build a beautiful online store, including Social sharing icons that are built into every page which helps boost social proof as well as your SEO traffic by having your products appear in Pinterest search results.
NexGeek – Multipurpose Responsive Shopify Theme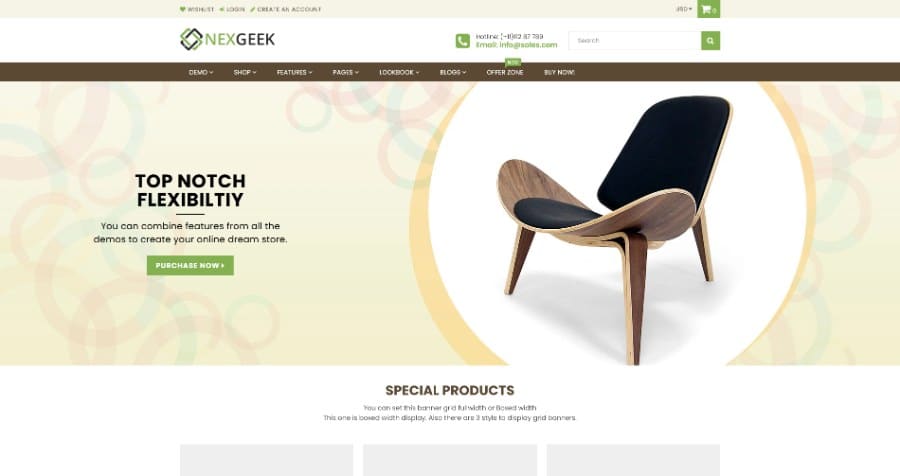 NexGeek is the best multipurpose Shopify theme for custom products. It's a perfect solution for any type of store, whether you sell T-Shirts, shoes, jewelry, or anything else. This theme also includes over 100+ pre-built demo stores to help you get started quickly and easily – no coding required.
This theme also has excellent support for different product variants so that your customers can find what they are looking for faster than ever before. It also has a unique color swatch system on product lists so that shoppers will know exactly what's available before they click over to the product description to learn more.
NexGeek is the best Shopify theme for any type of store, whether it be clothing or electronics. And you can customize every aspect of your store and make it unique to your brand with the built-in drag-and-drop Shopify visual page builder support.
Expanse Shopify Theme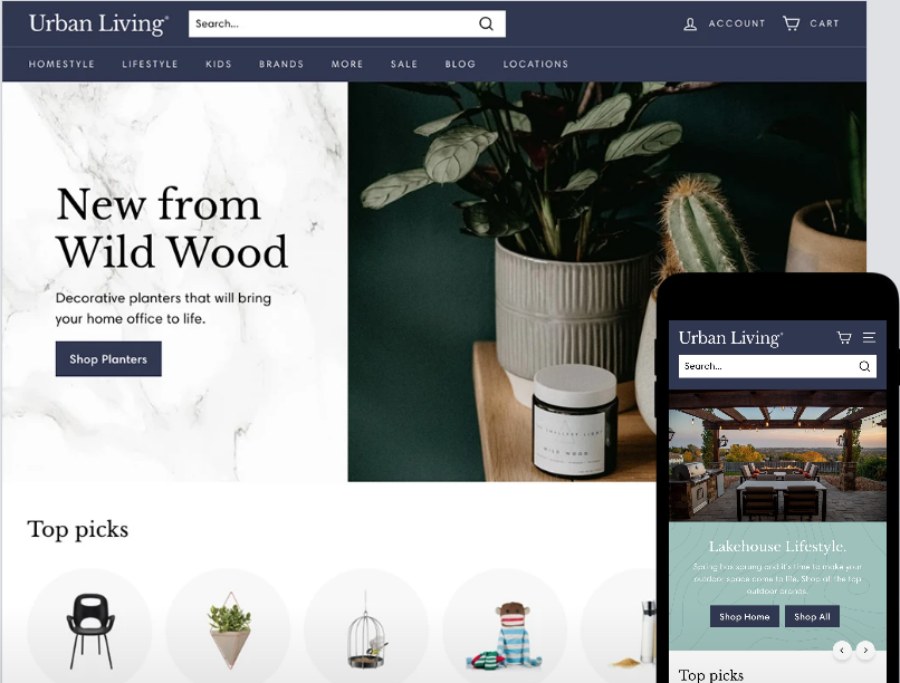 The Expanse Shopify Theme allows you to display custom collection tiles within another collection, so customers can quickly find what they want without having to go through every single product in your catalog. You can also allow customers to quickly add items from any page on your store straight into their cart by using the built-in quick buy feature. Plus, if you're running a large online shop then you will love the fact that this theme has a mega menu system with drop-down lists which allows customers to easily navigate stores with large catalogs.
Bikes Bike Shop eCommerce Template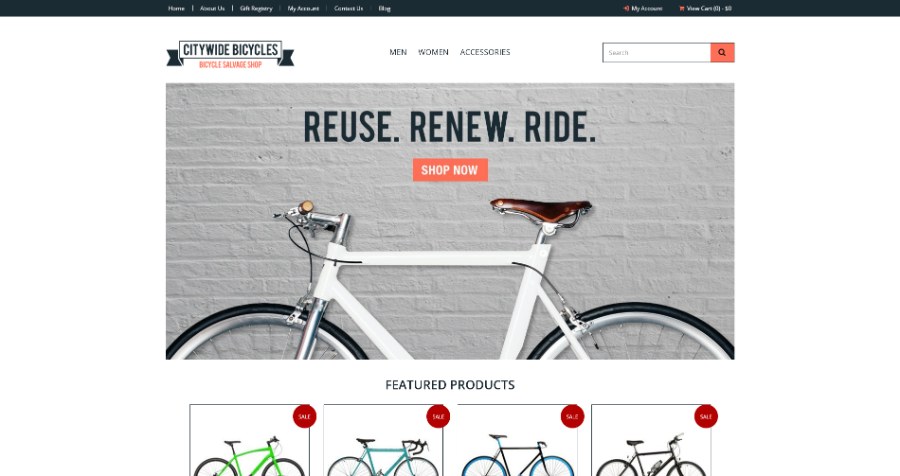 Bikes Bike Shop is a free theme with tons of powerful features designed specifically for bike shops and other retail businesses selling custom products. It's perfect for clothing boutiques, sporting goods stores, electronics retailers, and more. The clean design of this theme gives your store an upscale appearance without needing to spend thousands of dollars on custom web development services or SEO marketing consultants.
With Bikes Bike Shop Theme you also get a fully functional eCommerce site that looks great and costs $0 per month. Unlike Shopify which at a minimum will run you at least $29.99 a month.
If you want to build a completely Free Shift4Shop eCommerce Website (Click Here)
Shopify Product Options Limit
Shopify has a limit of 3 options and 100 variants for a single product. For example, Shopify will allow you to have 3 different product options available for the same t-shirt, and you can have up to 100 color variant combinations in total.
How To Sell Custom Products on Shopify
Custom products are a hot topic these days and for good reason. With the rise of eCommerce platforms like Shopify, it's now easier than ever to sell custom products online.
The best option for selling custom products on Shopify is to use a custom products app or use one of the themes that allow users to make changes or additions related to product options and variations.
Using a third-party app is better because you don't have to touch any code, and you get more advanced features that support more product options.
Overall, you'll find that a combination of both a good theme for custom products and a Shopify App that supports custom products offers the best of both worlds. Especially if you're looking to sell items that have dozens of product options and hundreds of variations.
In the following section, we'll go over some of the best Shopify apps for custom products that you can use with any of the themes in this post.
Best Shopify App for Custom Products
Infinite Product Options – Shopify App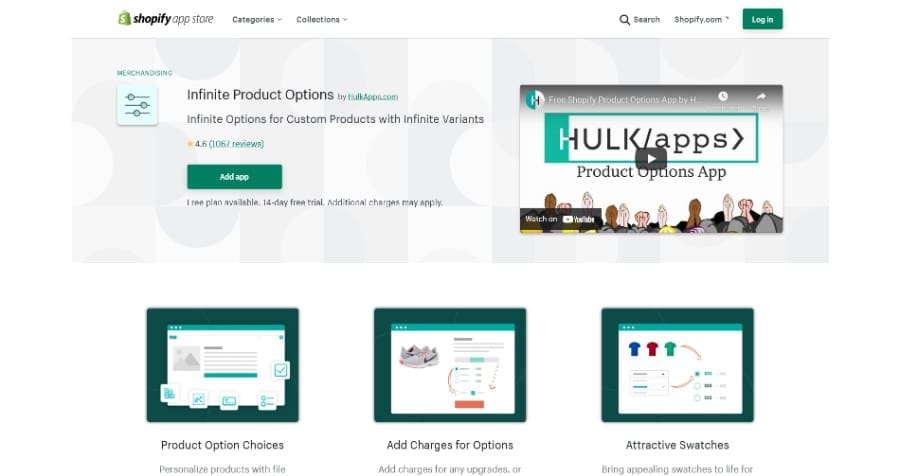 The Infinite Product Options App for Shopify is the best way to offer a superior shopping experience and increase sales. With this app, you can create unlimited options for your product variants that will be visible directly on product pages.
This Shopify app lets you easily add an infinite number of customization options, so your customers will be able to select their preferred size, color or even add custom graphics or text to their orders as they see fit.
Infinite Product Options will help increase sales by providing a better shopping experience for your customers. And it will also make your job easier since you won't have to manually update each variant in stock every time there is a change in inventory levels or price changes due to market fluctuations.
Variant Custom Product Options – Shopify App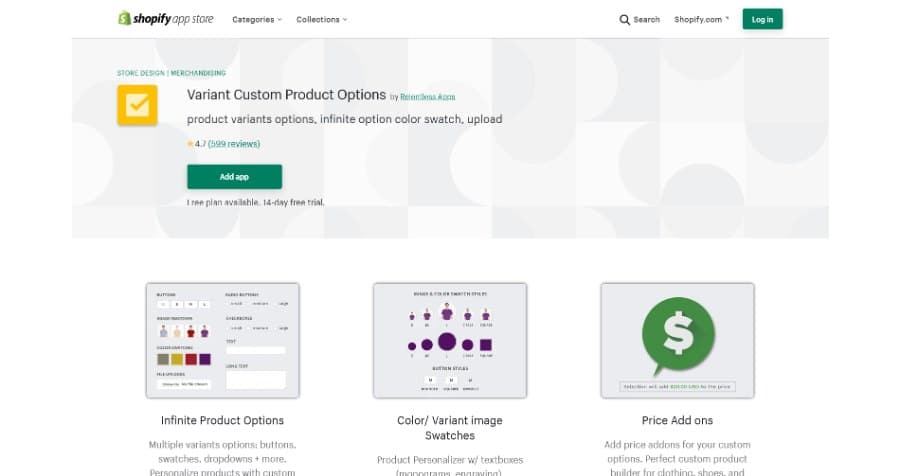 Variant Custom Product Options is one of the best Shopify Apps for custom products. It's perfect for any business that wants to offer more options, such as colors, sizes, or prices. It's easy to use, and it lets you create unlimited product options. You can also add conditional logic so that certain product options will only show up if a customer selects certain criteria. And with the built-in Product Customizer, your customers can personalize products by uploading files or adding custom text to products.
Custom Product Options – Shopify App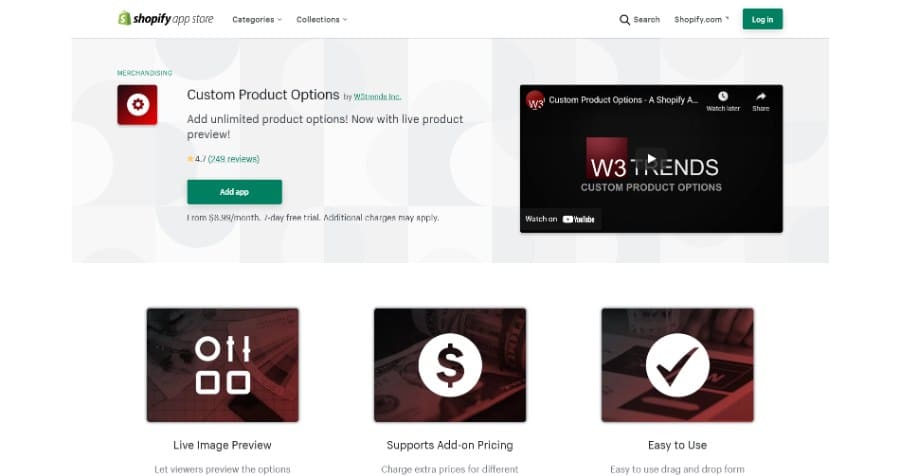 Custom Product Options is a very popular Shopify App for custom products. With this app, you can create any product option imaginable. You can have up-charges and hide variant fields depending on customer selections.
Custom Product Options is a Shopify app that lets you offer custom products in an easy way. It's perfect for any business with products where customers may need more than one option or variation of the same product. Plus, the live product preview makes it quick and easy for customers to see what they are purchasing before they buy it.
Custom Product Builder – Shopify App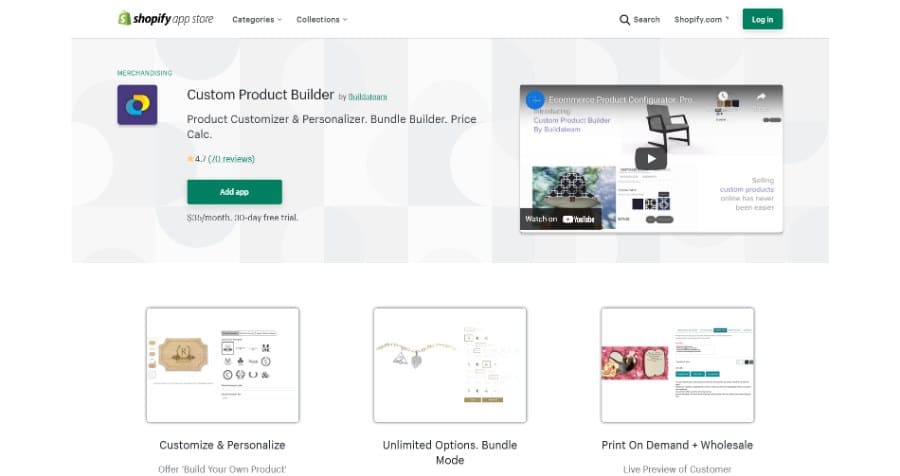 The Custom Product Builder App is perfect for stores that want to sell a wide range of custom physical and digital products. With the live preview, conditional logic, and gallery with 3D and video options, this app makes it easy to offer your customers a 'build your own product' experience.
This app also allows for unlimited options so you can customize each product to meet even the most particular customer's needs.
The Custom Product Builder App also has a bundle mode that makes it easy to bundle together different custom items in one purchase.
Plus, the Custom Product Builder App lets you offer print on demand and engraved products in your stores, and if you want to sell custom wholesale products this app will handle bulk price calculations as well.