Do you want to start your own furniture store? Or maybe you already have a shop but are looking for the best Shopify theme that will help it stand out from the competition. Either way, we've put together this list of some of the best Shopify themes for furniture stores so that you can find the perfect Shopify theme for your business.
This post is full of great information on how to choose the right theme and then customize it with plugins so that you can showcase all of your inventory and be up and running in no time.

Best Shopify Themes for Furniture
Hebes – Modern Furniture Shopify Theme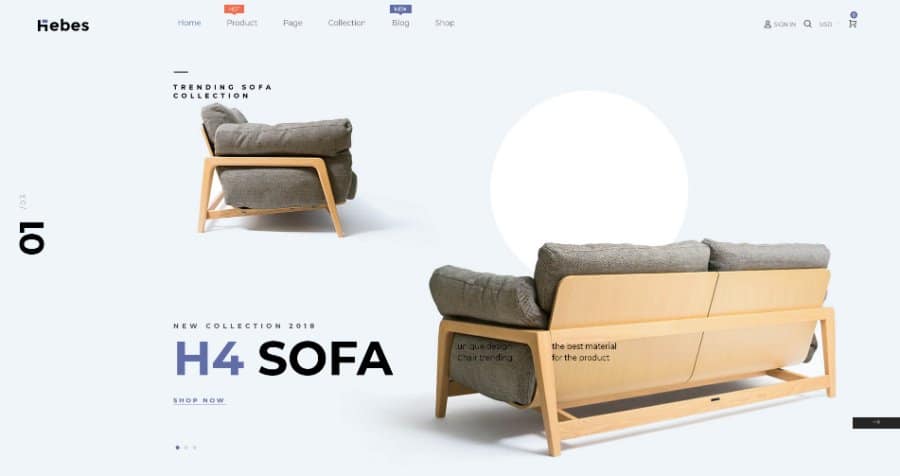 Hebes is a beautiful eCommerce theme that was built with furniture sellers in mind. With 16 pre-built homepages, 8 pre-build headers with a sticky header feature, and 10 product list layouts, product carousels, and an Instagram feed – it's easy to create the perfect layout for your furniture store.
Hebes has a clean design that makes browsing simple and the product page layouts help customers find exactly what they want quickly and easily so they can check out faster than ever before. You'll also get tons of features like social media integrations, sticky sidebar menus, multiple banners & custom block sections, google maps integration, and much more
Click Here Now To Try Out The Hebes Demo Site
Debut Light Shopify Theme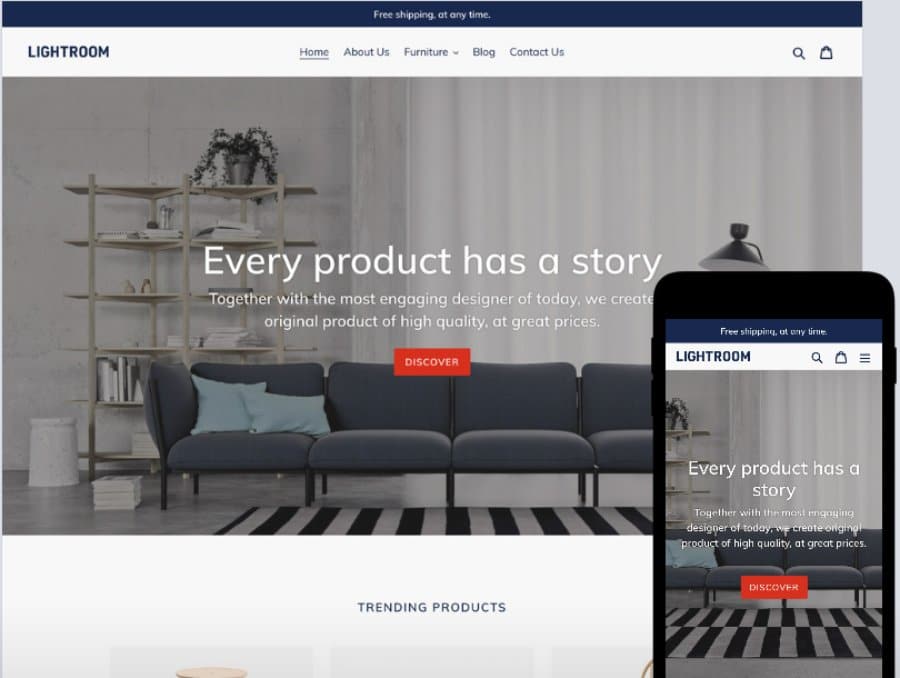 The Debut Light Shopify Theme is the best free Shopify theme for furniture store owners who want to stand out from the competition with an eye-catching design that attracts new customers and helps retain existing ones.
With this Shopify theme, you'll be able to show your products in their best light by highlighting multiple product images and creating custom slideshows, as well as displaying customer testimonials and promotional banners throughout your store.
Plus, the Debut Light Shopify Theme even lets you add a video on your home page to showcase select pieces of high ticket furniture that you currently have for sale in your store.
Best of all The Debut Light Shopify Theme is free to download and you can try it out now when you sign up for a 14-Day Shopify Free Trial (Click Here)
7nine – The Furniture & Interior Premium Shopify Theme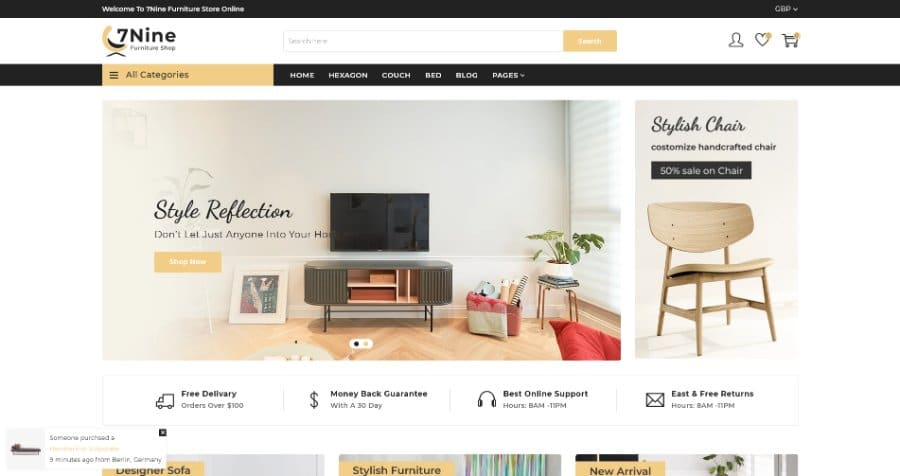 The 7nine Furniture Premium Shopify Theme has everything from custom layouts to sticky headers and more – all of which are designed specifically with furniture stores in mind. There's even blog support in this theme where customers can read about different products or browse through your latest posts to drive more organic and social interest in your store.
7nine is the best Shopify theme for furniture stores and interior design shops. It's easy to customize, has dark mode layout options, 2+ homepage layouts, unique sticky header variations, multiple grid and list options, and quick view popups.
7nine also includes amazon affiliate links support so you can earn commissions on products that you don't even carry in your store.
7nine also has custom-designed product detail pages and custom filters so your customers can quickly find the exact furniture they are looking for without having to hunt around all over your store.
Hayway High End Furniture Store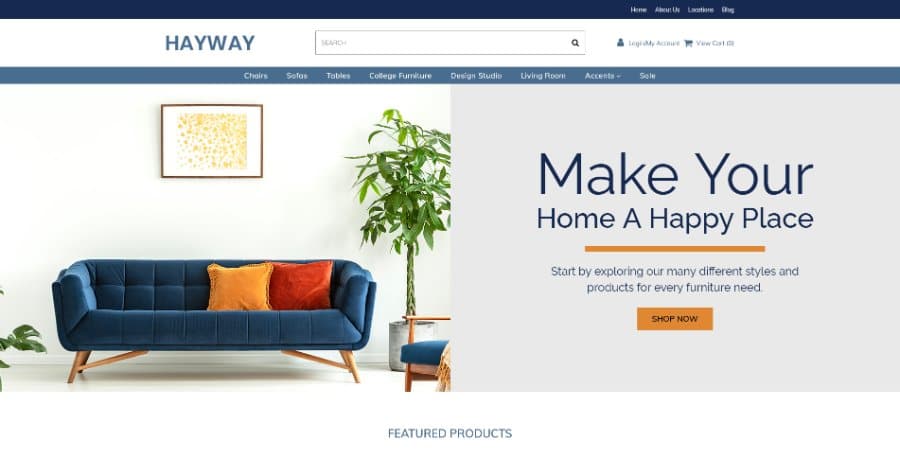 Hayway is a clean and organized eCommerce theme that has the look and feel of a high-ticket furniture store.
Hayway High End Furniture Store makes it easy for anyone to find exactly what they want with its beautiful home page design. It has quick links in the header that will take shoppers directly to their favorite brands or categories of furniture.
And Sellers can utilize the large banners at the top and middle of the page to promote their best products or new sales.
And when customers need help deciding on a product, they can easily search for it by typing into this store's prominent search bar located at the top of every page in the navigation menu.
Hayway High End Furniture Store is a completely free eCommerce theme, and you can start a Shift4Shop without a monthly subscription, unlike Shopify which will cost you $29.99 a month.
If you want to build a completely Free Shift4Shop eCommerce Website (Click Here)
Furniture Shopify Theme – Furni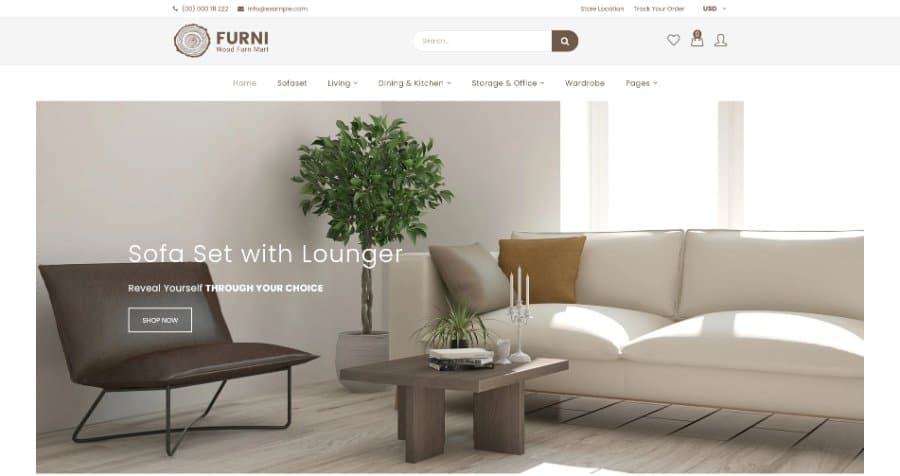 Furni is the best e-commerce theme for a furniture store. It's mobile responsive with advanced typography options and it includes all of the features that you need to grow your business. And you can customize it in any way that suits your needs with the Shopify Visual Page Builder. Plus, it has 5 different styles of mega menu so you can find one that fits perfectly with your brand.
Furni is a beautiful e-commerce theme made specifically to cater to all of your needs as a seller of furniture. From its modern yet aesthetically pleasing design to features like pop-up search boxes – this theme makes it easy for customers to browse a large catalog of products. Plus, buyers will be able to quickly find out everything they might want to know about your products from other customers thanks to this theme's built-in review system that will help improve trust and increase conversions.
Click Here to Try Out The Furni Furniture Shopify Theme Demo Site
Layla – Shopify Furniture Store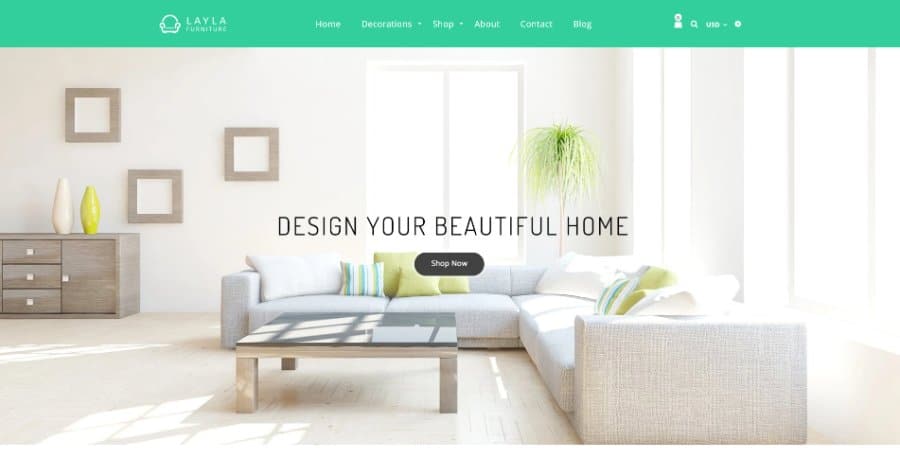 The Layla – Furniture Store Theme is an elegant eCommerce theme designed specifically for furniture store owners who want their online store to look as good as their products do in real life.
With Layla, you'll be able to set your furniture store up with an elegant and sophisticated theme. The theme includes a responsive design so that your site will look seamless on any screen size, including computer monitors, mobile devices, tablets, and even TVs.
This theme also has a unique Compare Products feature, where customers can compare more than one item at a time before they make a purchase.
It also has a customer reviews tab that lets customers leave feedback on any page within the site and also provide their own unbiased opinions on your products
Plus, this theme has also been fully SEO optimized making it easy for your site to rank on search engines like Google and Bing and pull in free traffic.
Uray –  Furniture Shopify Theme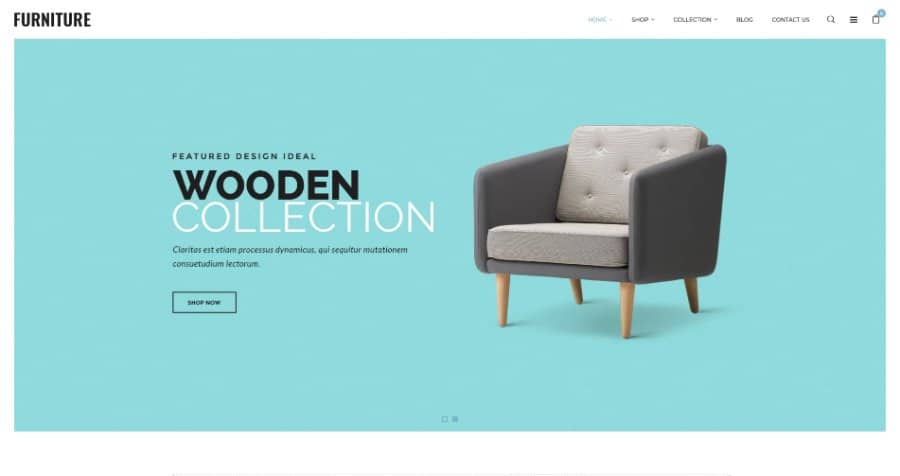 Uray is the best Shopify theme for Furniture Stores. It has all of the features you need to showcase your products in an elegant way with images and videos.
It also has a grid mode the will allow you to display your products in a clean, organized manner while the list mode allows you to show off your products with detailed descriptions and prices.
It also features a QuickView option that lets customers view any product on their screen without having to leave the page or scroll through endless pages of products.
This theme also has a customer reviews section that will help build trust between you and potential buyers when they see what others are saying about each item before purchasing it themselves.
And this theme also has social networking features built-in, so people who visit your site can share their experience with friends on Facebook or Twitter.
Finally, this theme has predefined style pages such as a contact page, 404 pages, and FAQ page which means less work for you since everything is already set up right out of the box.
Furnish – Minimal Furniture Shopify Theme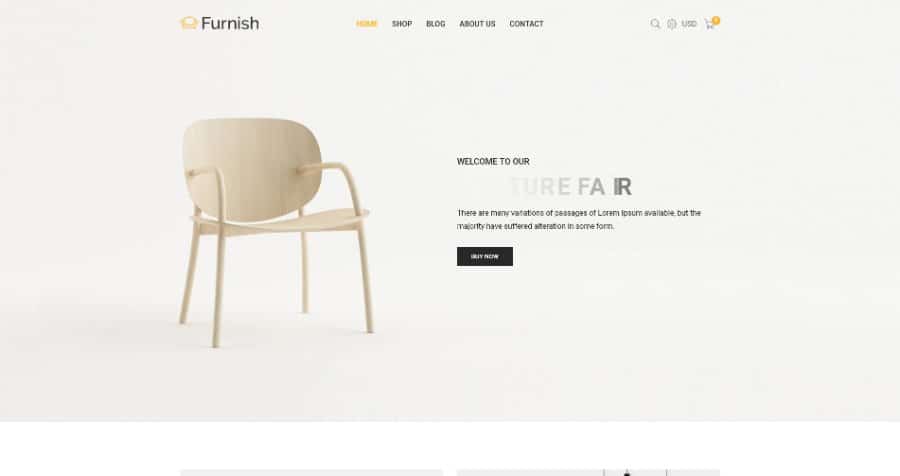 The Furnish Theme is a well-built and designed Shopify theme that's perfect for any furniture store. This minimalist eCommerce theme makes browsing easier by organizing information in list or grid formats to give consumers a more immersive experience of all the items available in your store.
Furnish has also been cleverly designed to make exploring new furniture pieces more enjoyable, and it can be configured to show multiple facets of a single item so shoppers can get an accurate idea about how things would look in their home before they decide to ship a large heavy piece of furniture to their front door.
Furnilife – Furniture Shopify Theme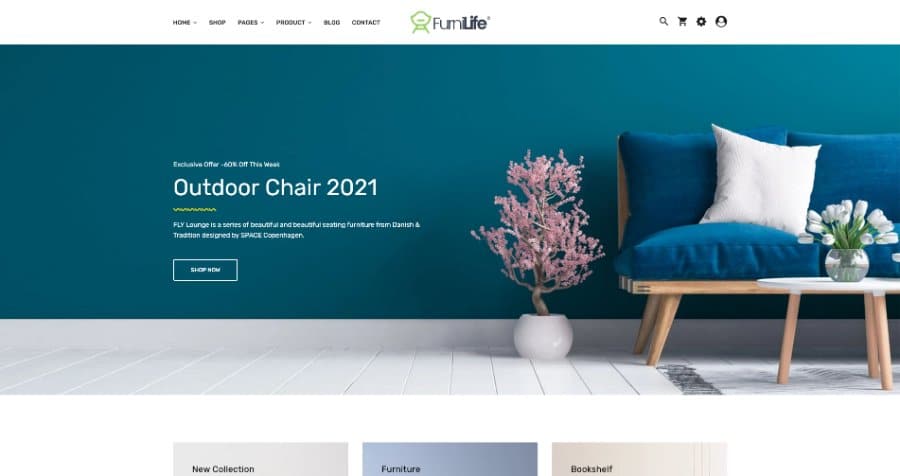 Furnilife is one of the best Shopify themes for furniture stores. With 4 home page variations, 3 header variations, and 3 slider variations you can easily customize this theme to fit the look and feel of your brand.
Plus, Furnilife offers Shopify Visual Page Builder support so you can create any layout you want with a drag-and-drop interface. And the developers of Furnilife are constantly adding more layouts on a regular basis.
Furnilife is a Shopify theme with a clean, uncluttered design that makes it easy for your customers to find what they are looking for. You'll also be able to set up product feeds in Instagram or Pinterest style grid layouts so your customers can quickly see everything your store has to offer.
Furnilife also has features like sales countdown timers, shop grid view and list view, newsletter popups, and notification bars that will help increase consumer engagement and improve conversion rates.
Indecor- Furniture eCommerce Shopify Theme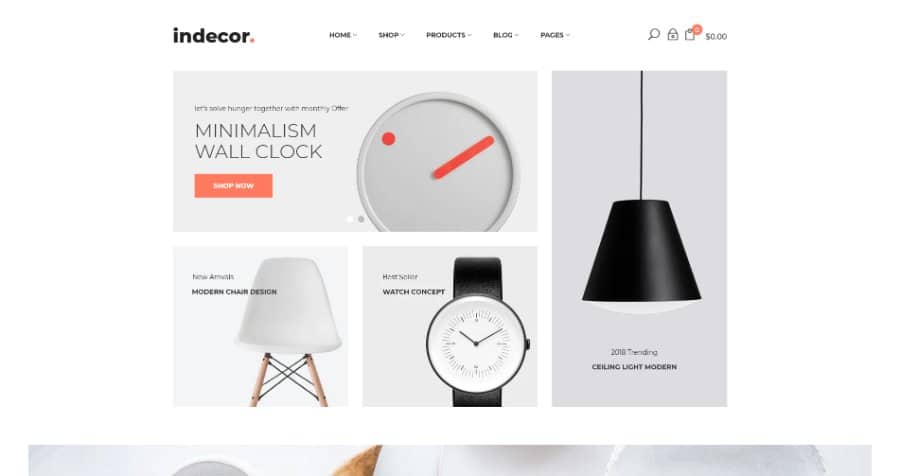 Indecor is the perfect Shopify theme for creating a high-converting furniture store. And it has tons of features to help you increase your conversions and keep customers coming back.
Some of the features that you get with Indecor include newsletter popups, notification bars, product quick view, and featured products to get more attention from potential buyers and turn them into loyal customers.
With over 18 pre-built sections, tons of customization options, and unlimited colors available, this theme has everything you need to create a stunning online store.
Timber – Shopify Themes Furniture Store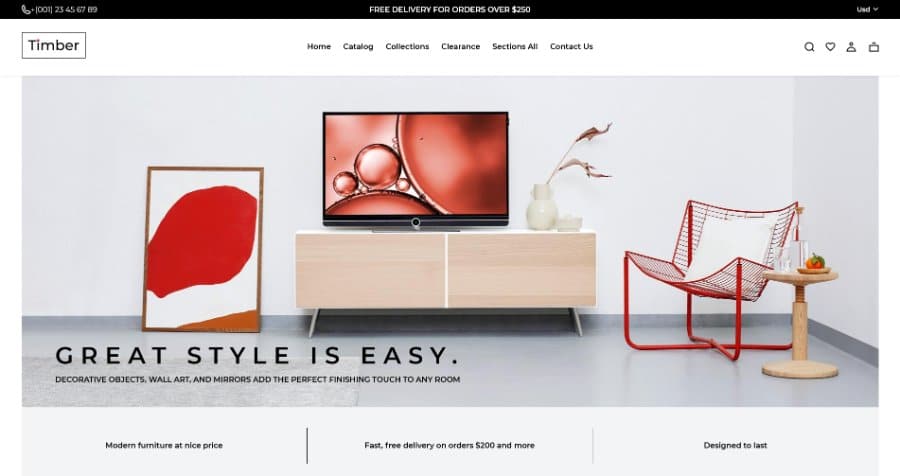 Timber is a modern Shopify theme that comes with an awesome homepage banner slider that beautifully displays your best products. You can also choose to display featured products or even customize the look of the banners yourself.
With Timber, you will be able to create a beautiful online store for selling furniture faster than ever before. And this theme is fully responsive which means it works perfectly on mobile devices as well as computers and laptops, making it easy for customers to browse through your product catalog from anywhere at any time.
Plus, this theme has been designed with SEO in mind – which means this template is as search engine friendly as possible so you don't need to worry about your site missing out on any free organic search traffic.
Alie – Best Furniture Shopify Theme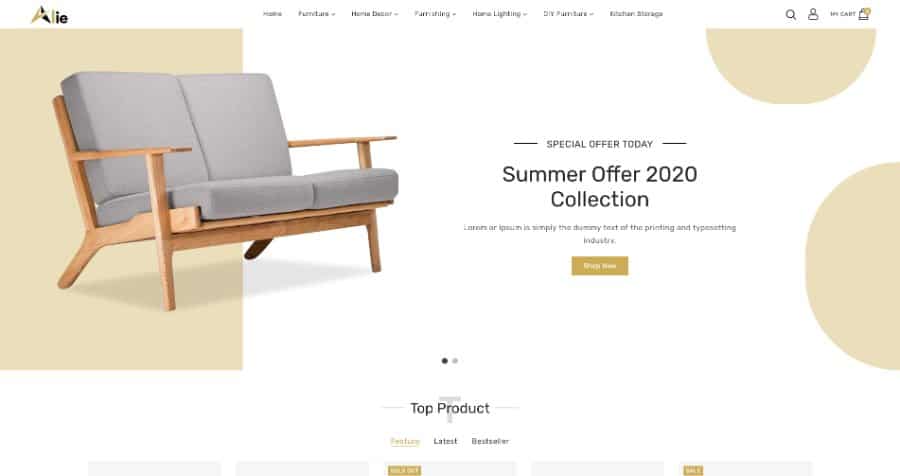 Alie is a premium Shopify theme that will help you create an online store with a modern refined design. You can use it to sell furniture, home decor, or any other product.
With Alie, you'll have access to all of the latest features small businesses are looking for in an eCommerce store including one-click installation, slideshows, custom branding, grid/list view mode, and more.
Alie is a powerful theme that gives you everything you need to create an amazing online store. With advanced features like product detail design, advance refine search, convenient product view and more, your customers will love it.
Plus, you can customize every aspect of your site with this theme. From colors to fonts, images, and even the layout – you can make it perfectly fit the look and feel of your furniture store. And don't worry about making mistakes because Alie has a built-in live customizer so you can see changes as they happen in real-time.
Best Shopify Apps for Furniture Stores
Delivery Date Schedule Shopify App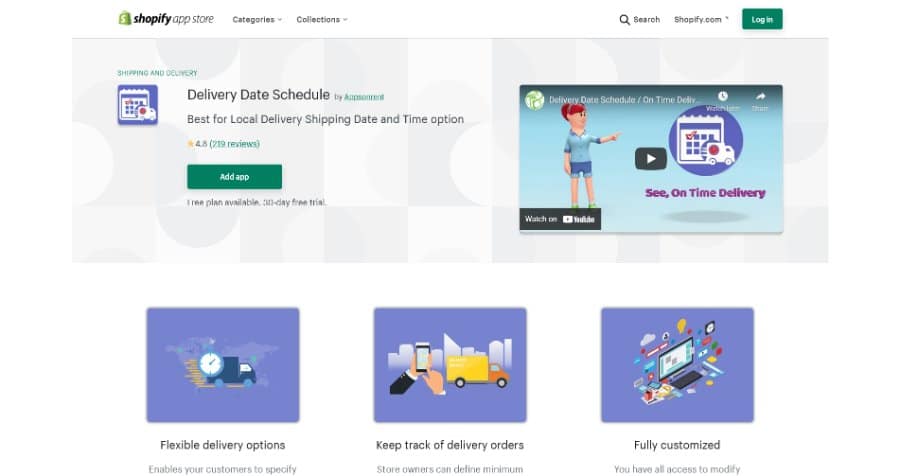 The Delivery Date Schedule App helps you manage deliveries more efficiently and effectively by allowing customers to schedule their own delivery date and time slot. This app makes it easy for your customers to select the ideal day and time for their order to arrive without having any confusion or uncertainty about when it will arrive.
If you're a furniture store owner, then you understand the importance of delivery dates.
Trying to keep track of all your orders can be hard if they are not scheduled in advance.
With the Delivery Date Schedule App, you'll have an easier way of managing customer's expectations on when their order will be delivered with just a few clicks on their end.
You'll also get notified via email once they've submitted their desired date and time slots so that there is no need for endless follow-ups.
Advanced Bundle Products Shopify App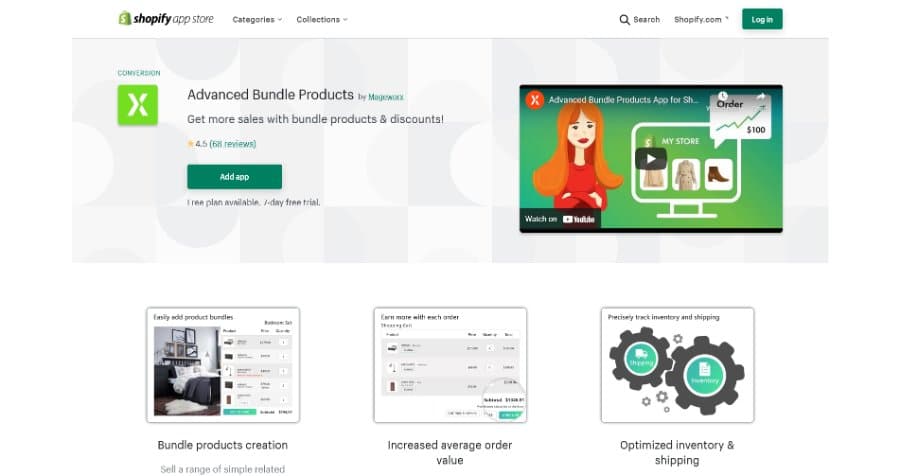 The Advanced Bundle Products Shopify App lets you sell multiple products together as a bundled offer. It's a real problem that most eCommerce stores don't have an advanced bundle product feature and are missing out on additional revenue opportunities. With this app, you can quickly and easily generate bundled products, aka grouped products. This is a great way to increase your store's revenue as it allows you to reap more profit and increase your average cart value.
Request Quote & Hide Prices Shopify App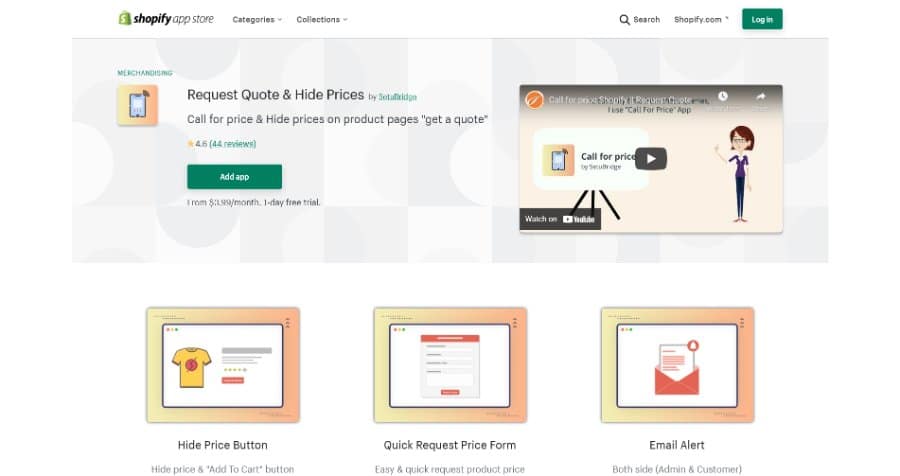 The Request A Quote & Hide Prices Shopify App helps furniture stores by providing a Call For Price button which allows customers to request price quotes from your store or sales team.
This app allows you to hide the price and show only "Call For Price" button on all product pages of your Shopify store. By clicking on that button, customers will be redirected to a contact page with a form asking for their name, email address, and phone number as well as details about the product they are interested in (size, color, etc.).
You can also set up an auto-responder message which will be sent back after a customer submits his/her request for a price quote. In addition, both admin and customer receive an email notification when someone has submitted a request for a price quote or changed their inquiry status from "inquiry" to "price quoted".
Deliveright White Glove Shopify App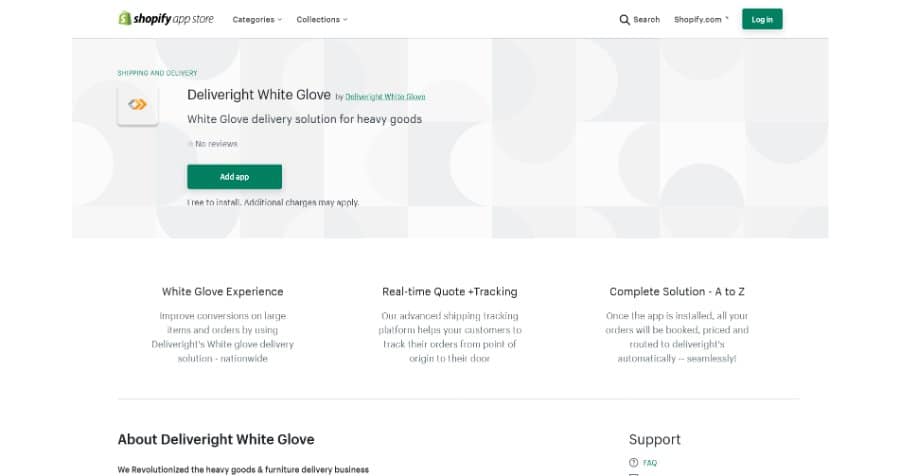 The Deliveright White Glove Shopify App is perfect for furniture stores that tend to sell larger, heavier products that require special handling. Customers expect the same white-glove service they get from traditional retailers – which is not easy for online sellers who don't have the resources of their brick-and-mortar competitors. Many eCommerce business owners struggle with how best to handle these orders, which can negatively impact conversions and customer satisfaction.
Deliveright's White Glove solution solves this problem by delivering your customers' purchases directly into their home or office using professional movers equipped with all necessary equipment and tools for the safe delivery of large items such as appliances and furniture.
Plus, the entire order fulfillment process is fully automated through this app so you can focus on what matters most – growing your store.
Conclusion
The Shopify themes and apps we've reviewed are designed to help furniture stores find success online. Whether you want to sell a wide variety of products or focus on one niche, there is a theme for you. If you need some extra guidance in building your store, feel free to contact us.
Click Here to Start Building Your Furniture Store Today with a 14-Day Shopify Free Trial