Do you want a grocery store website that is both functional and aesthetically pleasing? Check out our list of the best OpenCart themes for grocery stores. You'll be blown away by how easy it is to create a site with these beautiful, professional templates.
Best OpenCart Themes for Grocery Stores
Grocery and Shopping OpenCart 3.X Multistore Theme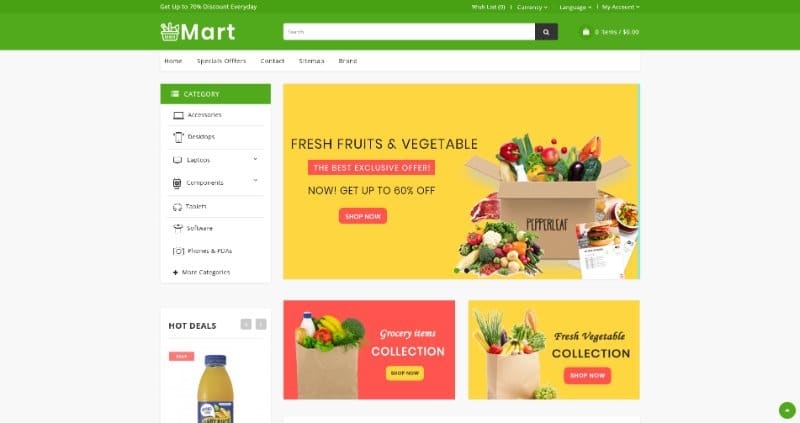 With the Grocery and Shopping OpenCart Theme, you can create an online store that will be easy to navigate and look great on any device. You'll never have to worry about customers not being able to find what they want or having trouble checking out. Plus, this them offers a one-click install so you don't need any coding knowledge at all.
This theme features a real-time shopping cart and has unlimited language support. You can also customize this theme to look however you want with product sliders as well as grid/list view options. And if that wasn't enough already, there's more. This theme is mobile responsive which ensures your website looks great no matter what screen size it is viewed on.
Bigmarket – Multipurpose Responsive Grocery Opencart Theme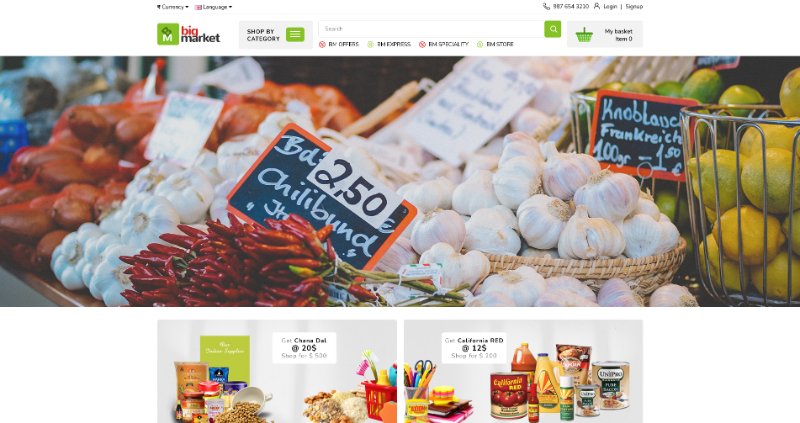 Bigmarket is a flexible OpenCart theme that allows customers to easily navigate your site and shop for products. It has a clean visual design paired features such as product quick views, testimonials, automatic related products, bestseller product sliders across different layouts, and more. The simplicity of this OpenCart theme makes it easy to use while providing extensive customization options:
Bigmarket Features
– Creative layout designs
– Integrated blog module
– Fast live search
– Automatic Related Products Module
Flavero – Organic Food OpenCart Store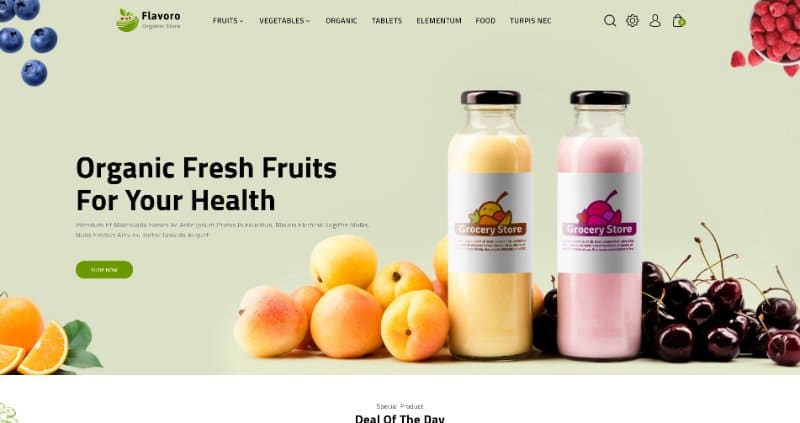 Flavero is the best OpenCart theme for grocery stores. It has a one-click install, mobile-friendly design, and tons of features to make your store stand out from the crowd. You can customize your site with dynamic layout options or grid/list view modes. And the highly customizable Mega Menu will allow you to create multiple menus on one page so you can keep customers engaged while browsing through your products. Plus this them has built-in translation capabilities to support shoppers that speak different languages.
Plus, this theme offers guest checkout options which makes this theme perfect if you are running an online business that sells food items to the general public.
Flavero also has a built-in Google Rich Snippets Integration which allows search engines to display more information about your company when someone searches for your grocery store on Google, Yahoo, or Bing.
Click here to try a demo of the Flavero – Organic Food OpenCart Store Theme
Grano – Organic & Food Opencart Theme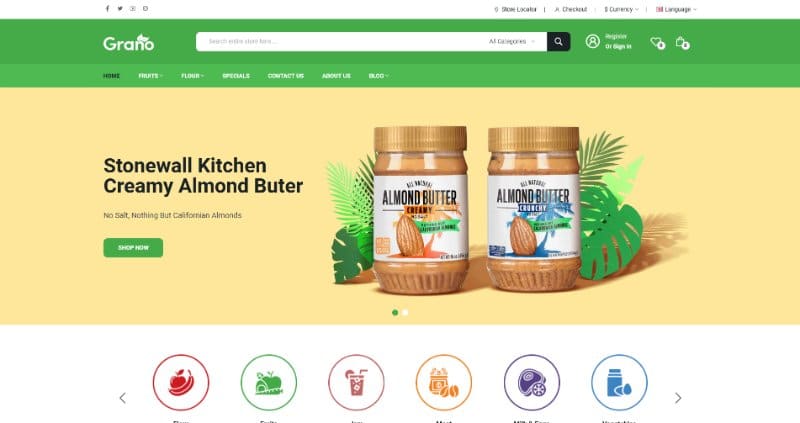 The Grano Organic Food Theme for OpenCart allows you to sell more products and increase your profits by displaying featured deals on your home page, like "Today's Deal", "Best Seller" or any other deal of your choice. This way you can offer customers special discounts on the most popular items that you have to offer.
Grano is the perfect solution for any store owner who wants to sell high-quality organic groceries at affordable prices. The layout of this Opencart theme is simple yet elegant with 4 home page options you can choose from.
This theme also includes a Daily Deals module which allows you to showcase special deals on selected products each day of the week. And it has a related products slider that helps customers find other items they may be interested in while browsing through your store.
Click Here Now to Try Out The Grano – Organic & Food Opencart Theme
Flipmart – Supermarket OpenCart Theme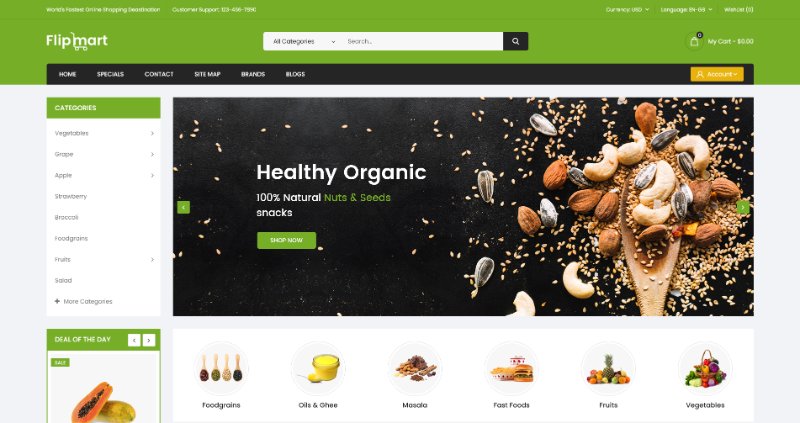 Flipmart is the perfect theme for a supermarket. It's responsive, SEO optimized, and has many features that will help you sell more products. You can use this theme on any OpenCart version and it comes with 6 different layouts so you'll be able to find one that suits your needs perfectly.
Flipmart will help you bring your store to a new level and reach a larger audience. It's a specialized grocery store theme with all sorts of features for an easier user experience. Whether you are running on OpenCart or PrestaShop, Flipmart will work with a number of free and open-source eCommerce platforms.
With this theme, you'll never have to worry about missing out on a sale because customers can't find what they're looking for in your store. The advanced search feature allows shoppers to quickly find what they need by category or keyword – all without leaving the page. And this theme also has a Deal of the Day section where you can showcase new items every day at an unbeatable price.
Mega Shop – Opencart 3 Multi-Purpose Responsive Theme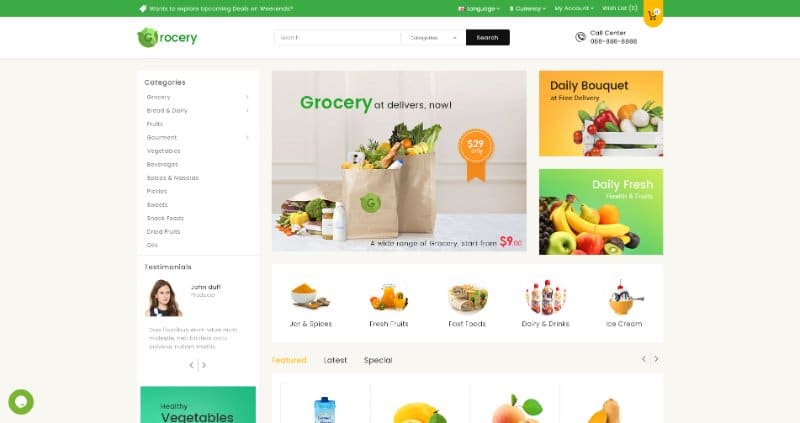 Mega Shop is a multi-purpose OpencCart theme designed for grocery store owners who want to create an attractive website that works well on all devices. This template package comes with 14+ pre-made layouts and 3 different header styles so you can find the perfect design for your brand. This theme also includes custom slideshows, extra fields on product pages, full-width sliders, product image rollover effects, guest checkout options, and more…
Doing business online has never been easier with Mega Shop's responsive theme package. With these designs, creating an eCommerce website has never been easier than before. These designs are compatible with all major browsers and include blog modules too – making it perfect for anyone who wants their customers to stay up-to-date with their latest news or offers available at their store.
Shoppe 2.0 – Opencart 3 Multi-Purpose Responsive Theme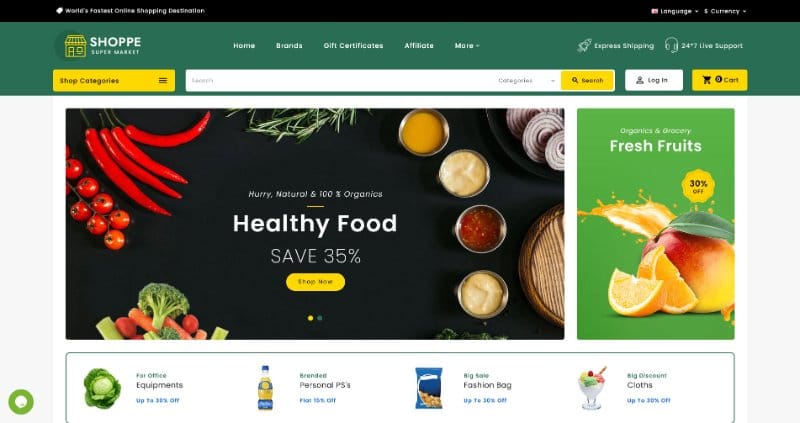 Shoppe 2.0 is the perfect theme for any type of online store, including a grocery store. With 20+ pre-made layouts, it's easy to get started and customize your site. Whether you're looking for a simple layout or something more complex with many different pages, this theme has got you covered.
Shoppe 2.0 also includes guest checkout so that customers can purchase items without having an account on your website. Plus, you'll never have to worry about people not being able to find what they are looking for because customers can filter products by categories or custom attributes instead of scrolling through all the products on a page.
There are even social links built into this template so that shoppers can share their favorite items with friends on Facebook and Twitter right from within the shopping cart.
Click Here To Try Out The Shoppe 2.0 – Opencart 3 Multi-Purpose Responsive Theme
Mega Store – Opencart 3 Multi Purpose Responsive Theme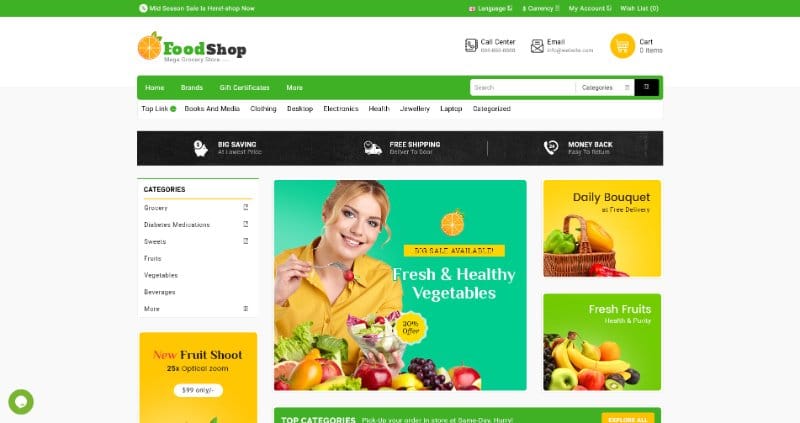 The Mega Store Opencart Theme is one of the best OpenCart themes for large stores. This theme has 9+ pre-made layouts with graphics included to make it easy to quickly build out your store.
With features like custom slideshows, extra fields on product pages, full-width sliders, product image rollover animations, and guest checkout features – this theme has everything you need to build a successful grocery store online.
Plus, this SEO-optimized theme will help your site rank higher in search engines like Google and Yahoo. And this theme even has a built-in blog module to attract more visitors to your site and keep your customers up to date with what's going on at your store.
Veggie – OpenCart Multi-Purpose Responsive Theme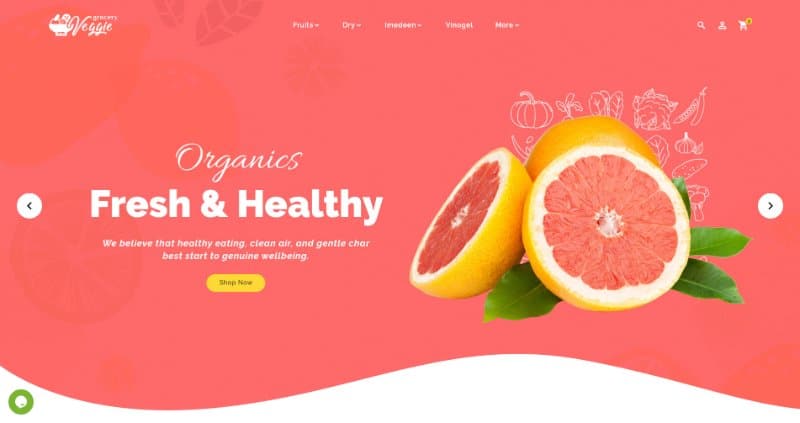 Veggie is the perfect theme for any grocery store. It has 6+ pre-made layouts to help you showcase your products in an engaging way. You can also customize pages with this theme's powerful theme options. Plus, it's easy to import sample data so you don't have to start from scratch.
This theme also features social share buttons on every page, so customers will be able to easily share their favorite products with friends and family. And if they need help finding more information about a particular item, this theme features special post types that can be customized with testimonials and detailed product descriptions.
Veggie is a perfect choice. It's an easy-to-use, responsive, and multi-purpose theme that will help you create a beautiful online store in no time. You can use it to sell anything from groceries to pastries. With 6+ pre-made layouts, product comparison features, product sale labels, and more – Veggie has everything you need to make your business successful.
Big Market – Opencart Multi-Purpose Responsive Theme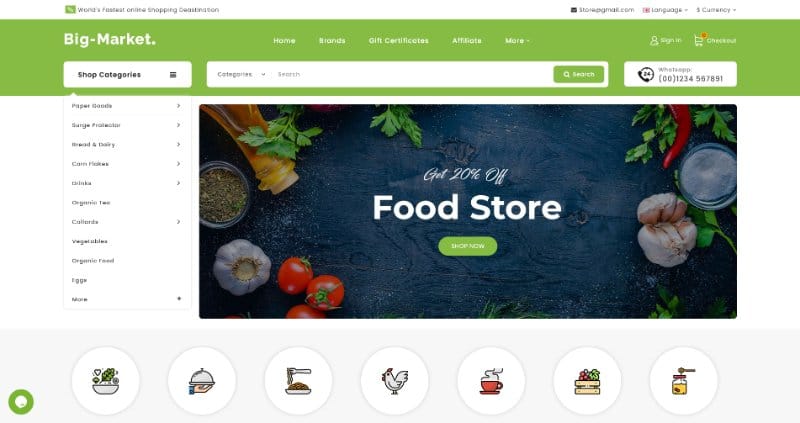 Big Market is a responsive theme for OpenCart that has been designed with the needs of grocery stores in mind. It includes 9 pre-made layouts, custom fonts, graphics included, SEO optimized pages, a blog module, and more. And you can customize it to suit your needs or use one of the many pre-made layouts available.
With this theme, you will be able to create an online store that looks clean and professional without any coding knowledge needed. This theme is perfect for anyone who wants their store to stand out from the crowd.
The design is fully customizable so you can change colors and fonts as well as add new pages if needed. There are also plenty of features such as a full-width slider on product pages, guest checkout option, category list with tree view option, etc which will help improve user experience on your website.
Your customers will love the full-width slider and product image rollover zoom effects. Shoppers will also be able to easily view all the details about products, And if they want to buy something right away? The popup add to cart feature will create a friction-free check-out process.
The best part about this theme is that it comes with all these amazing features but at an affordable price. So what are you waiting for? Get started today by clicking here.
Best OpenCart Extensions for Grocery Stores
OpenCart Point of Sale (POS)

OpenCart Point of Sales (View Price) is a powerful point of sales module for your OpenCart store. It allows you to manage and control the sale transactions from beginning till the end, including invoicing and accounting.
If you are looking for an open-source POS solution that can be customized according to your business needs, then this extension is just right for you. We have designed it in such a way that it will suit all kinds of businesses – small or big.
This point of sale software comes with every feature required by any kind of retail business. You don't need to worry about integration because this app helps take care of that part for you.
The best part about this POS app is that it comes with no monthly fees. And you can install it on as many stores as you need without paying any extra money. OpenCart Point of Sales also provides installation support for clients who are having trouble installing or configuring the app themselves.
Cash on Delivery Fee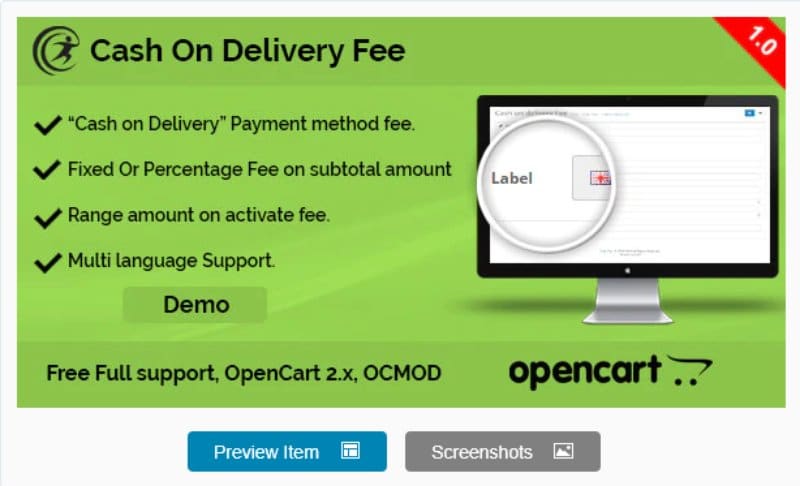 The Cash on Delivery Fee Extension (View Price) lets you add a cash-on-delivery option to any product within your OpenCart shop using an intuitive admin panel interface with no coding required. Your customers can now choose between standard shipping methods like ground, express, overnight, etc., or they can select cash on delivery as their payment method.
If your store doesn't offer Cash on Delivery (COD) payment option, you might be losing money and customers. Most shoppers avoid paying extra fees by choosing another store or going with PayPal instead of a credit card. By adding COD features to your eCommerce website, you can attract more customers and boost sales while reducing cart abandonment rates at the same time.
Easy Opencart Stripe Payment Module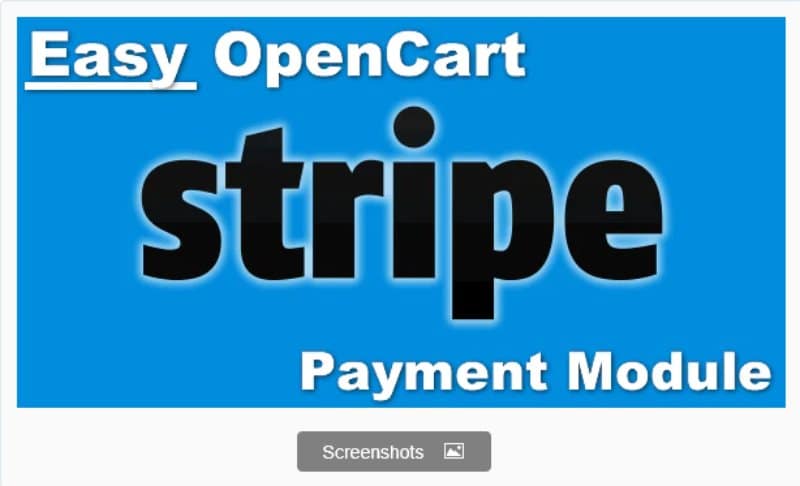 The Easy OpenCart Stripe Payment Module (View Price) makes integrating Stripe into your website as simple as possible. Just download, install, and start accepting credit cards right away.
Most online stores are still using the traditional credit card payment gateways. This means that customers will leave your site to go to a third-party gateway and enter their credit card information there, which can be very frustrating for customers.
Stripe is an innovative solution that allows you to accept payments directly on your website or mobile app. The best part about Stripe is that it's simple and easy to use, doesn't require any technical knowledge from the merchant, and works seamlessly with OpenCart.