If you're looking to create an online store that sells home decor, then this post is for you. We have researched the best Shopify themes for Home Decor and found out which ones offer excellent support, have beautiful designs, and include built-in features geared towards interior design.
Best Shopify Theme for Home Decor
Minimart | Minimal Shopify Theme For Furniture, Home Decor, Interior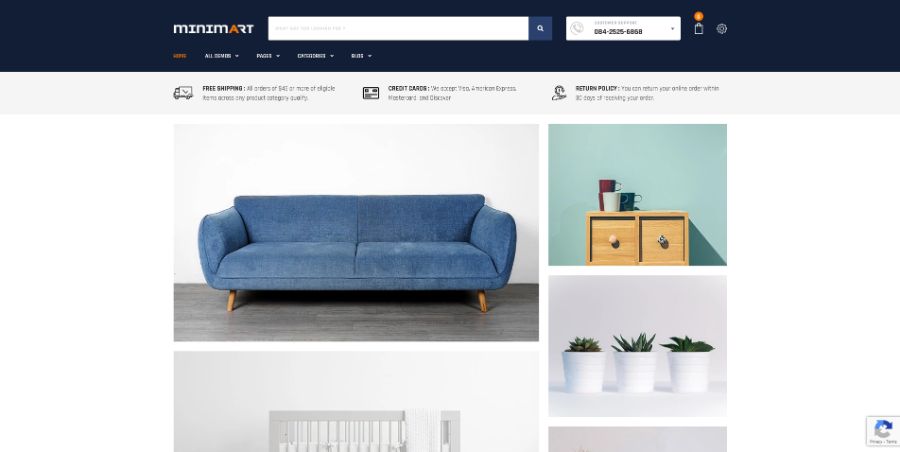 Minimart is a Shopify theme that was built from scratch to be as lightweight and easy to use as possible, while still being super powerful and flexible at the same time. It's perfect for creating an online store for any niche, especially if it's related to home decor or interior design
This Shopify template comes packed with powerful features including MegaMenu, Product Image Zoom, Product Video Playlist, etc. It also has all of the essential tools needed to create a high converting Shopify store such as Wishlists, Member Rewards, Order Printer, etc.
And with Minimart, you'll get everything you need to build an amazing-looking website without having to hire developers or spend countless hours trying to build out your store.
Furniture Shopify Theme – Furni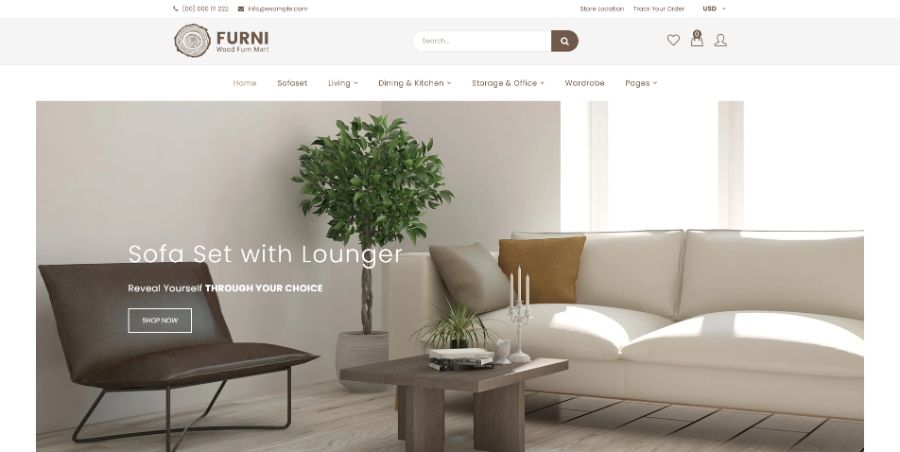 Furni is the ultimate furniture store template for anyone who wants to create an amazing e-commerce website with gorgeous visuals and easy navigation.
The theme comes with 5 different styles of Mega menu (Vertical Menu, Horizontal Menu, Slide In Menu, Fullscreen Slider & Boxed Layout).
You can choose from 3 types of Header (Default Header, Flat Design Header & Minimalist Header) and 3 types of Footer (Default Footer, Simple Footer & Modern Style Footer).
And with all the built-in features and layouts in this versatile theme, you'll be able to build a home décor store that truly stands out from the crowd.
BigMarket – Shopify Multi-Purpose Responsive Theme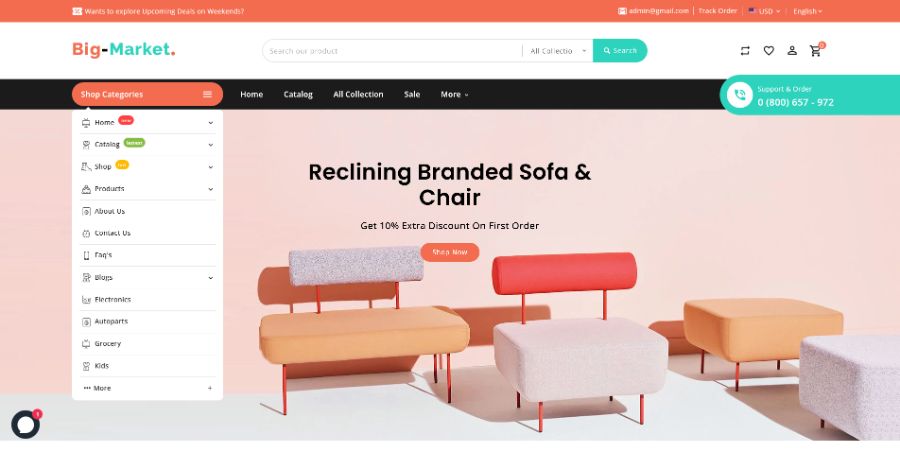 BigMarket is one of the best Shopify themes for home decor with over 10 pre-made layouts, and over 100+ design variations, making it easy to create a beautiful online store without having to ever touch a single line of code or hire a developer.
With Bigmarket, you can create your own unique style within seconds via the powerful theme options panel. You can also choose from a variety of header styles, set up custom labels on products, or use the smart grid system to present your products in an elegant manner.
Plus, with BigMarket, you can have an amazing-looking store up and running in minutes by customizing the base theme or you can start with one of the pre-made templates.
Decora – Shopify Multi-Purpose Responsive Theme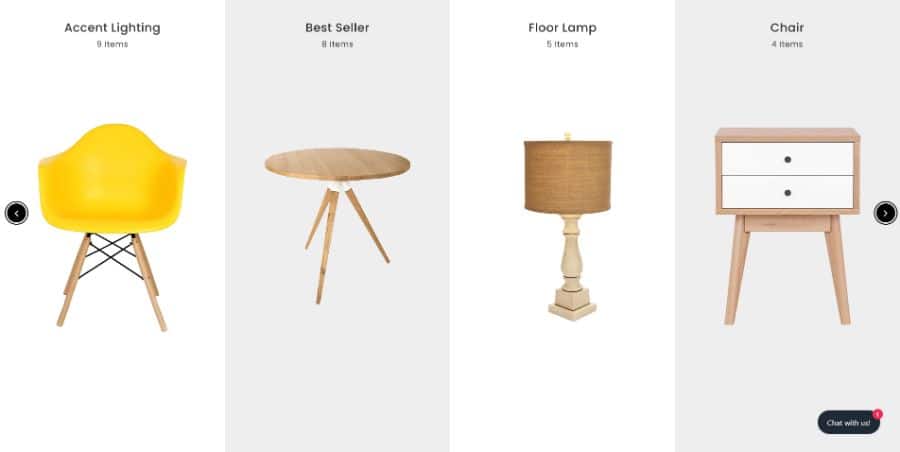 Decora is one of the best Shopify themes for home decor. With 5 pre-made layouts, 100+ options and variations, and 3 styles so it won't matter if your store sells custom products or furniture – there is a layout for each type of product vertical.
Decora also comes with the OWL image carousel to help grab customer's attention, And this theme also comes with a built-in testimonials section that you can use to feature testimonials from happy customers on your site to help increase sales.
Decora even comes with pre-made blog post designs that can be used in your marketing strategy to get more recognition for your brand
Overall, if you're looking for a Shopify theme that's packed with features we recommend that you try out the Decora demo site and see everything it has to offer for yourself.
Dmart – Shopify Multi-Purpose Responsive Theme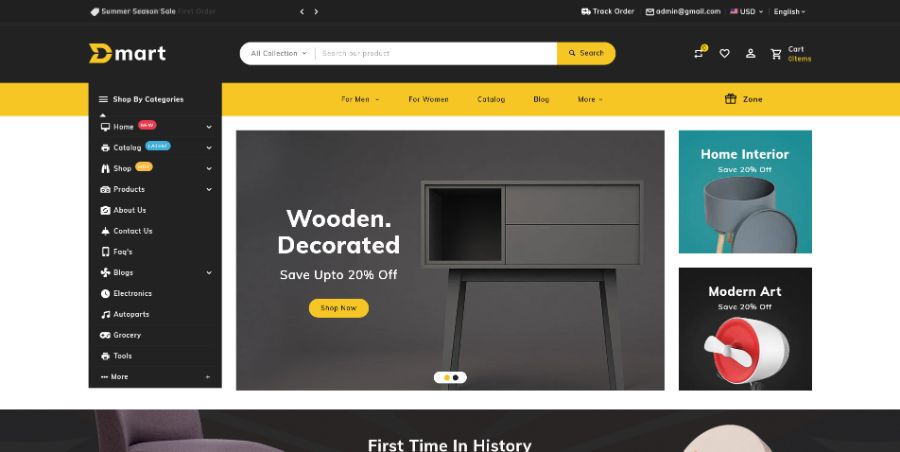 Dmart is a Shopify theme with 15+ multi-purpose layouts, custom fonts, and graphics. It's fully responsive and includes all the features you need to create a professional website for your business from scratch or as an upgrade from another template.
Furniture Shopify Theme – ArtFurniture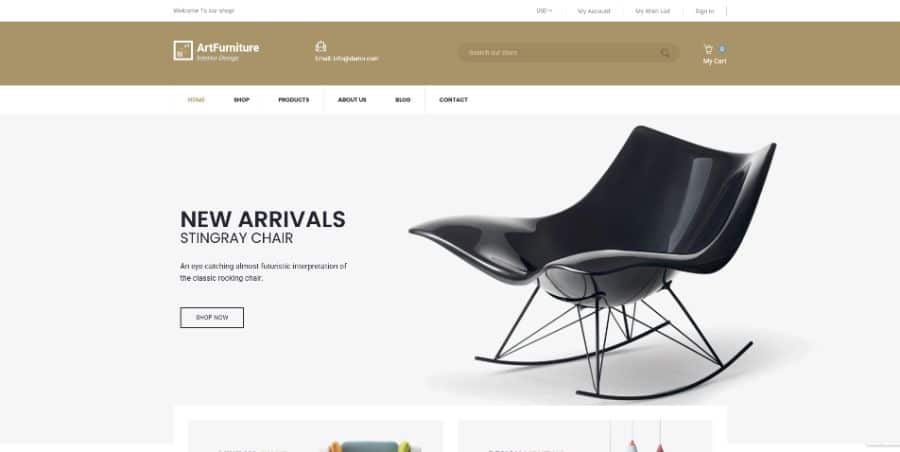 The ArtFurniture Shopify Theme is a sleek, modern theme that offers powerful features like Social Media Integration and customizable banners. This Home Decor theme has 4+ Home versions along with 4+ Headers, 4+ Sliders, and multiple Footer layouts. And the ArtFurniture Shopify theme is perfect for any business looking to sell furniture or home decor products.
Nomos – Minimal, Clean & Beautiful Shopify Theme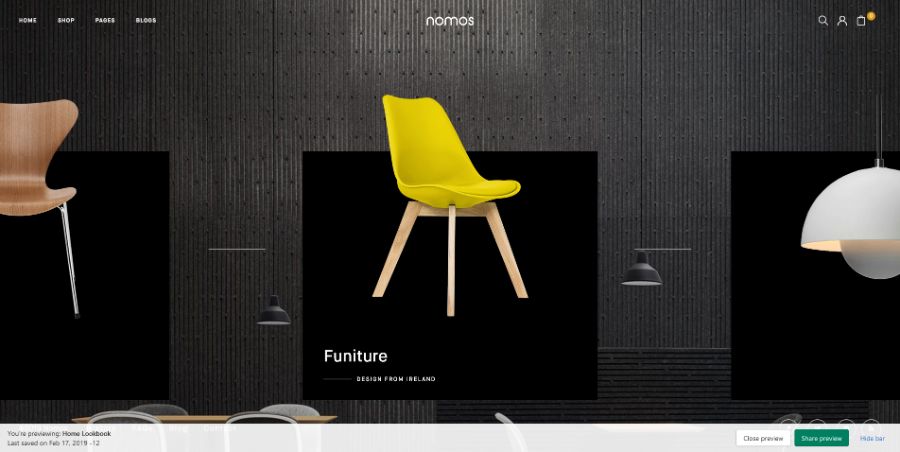 Nomos is a clean and minimal Shopify theme that has all the features you need to run a home decor store.
With this theme, you can customize everything from fonts and color schemes down to individual product page layouts to suit what works best for your brand or design aesthetic without worrying about hiring a developer.
Nomos is also fully compatible with Oberlo which means it will be easy for you to import your products from any supplier, automatically create collections, upsell your products, and more.
So if you're looking for a minimalist but modern template then look no further than Nomos
Layla – Shopify Furniture Store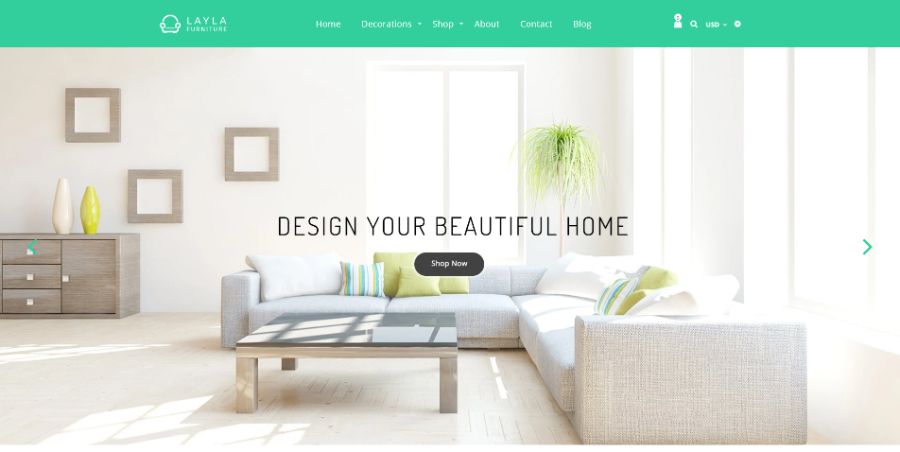 Layla – Shopify Furniture Store is the best theme for home decor. It has a variety of built-in features, including a responsive design and custom information widgets. With its clean lines and subtle colors, this template will make your store look professional without needing to spend hours scrolling through templates or hiring an expensive designer.
In addition, with Layla's customer reviews module, customers have an opportunity to leave feedback about their experience with products they've purchased-which could boost future sales. And the social media integration will make it easy for visitors to share your store's products on multiple social media platforms.
The Layla Shopify theme also lets you easily brand your checkout with a fully customizable checkout process which lets you add in your logo, graphics, upsells, and customer reviews so shoppers feel confident about their purchase before handing over their credit card number.
Optimize – Minimalist Shopify Theme For Furniture, Home Decor, Interior & Gift Shop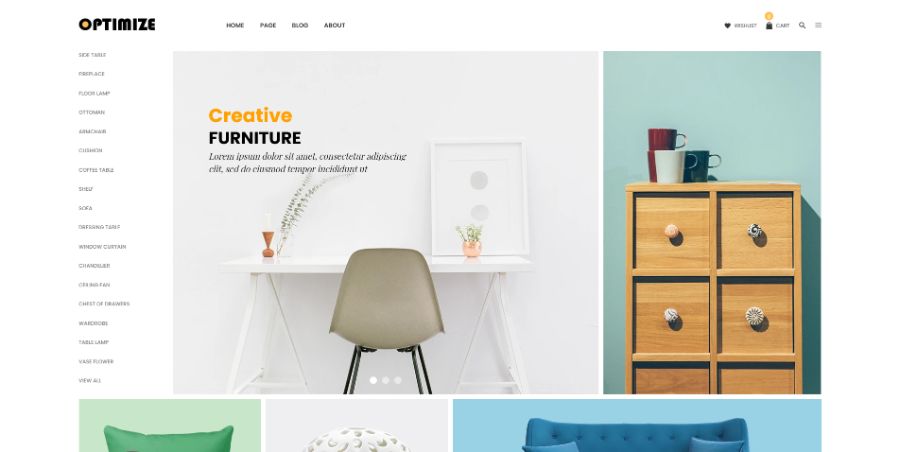 Optimize is a minimalist Shopify theme with clean lines and bright colors that will make your product the focal point of the page. It includes all of the important Shopify theme features like Oberlo compatibility, multipurpose language support, Google Fonts, social media integration, and even an easy-to-use blog section for you to share stories about yourself or your products.
Indecor – Furniture eCommerce Shopify Theme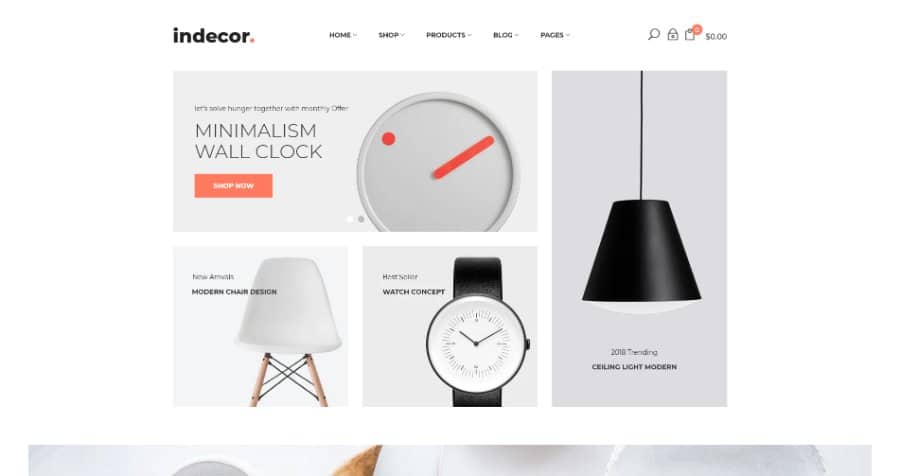 You can use the Indecor Shopify Theme with the Shopify sections page builder and it comes with all of the features that you need in order to create a beautiful home décor store. The team behind this product made sure that they included everything from mega menu support to newsletter popup capability, so all you need to do is upload items and start marketing your store
Stark – Home Decor Shopify Theme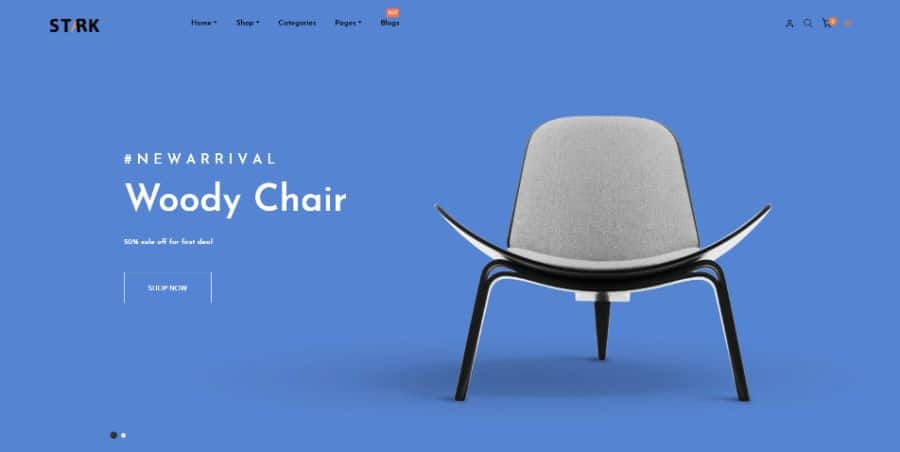 Stark is a home decor Shopify theme that provides you with all of the tools you need to take your store from basic and bland to beautiful. Whether you're looking for a way to make your website more engaging or want an easy-to-use theme, this theme has been designed for both beginners and experts alike.
GoExpress – Shopify Multi-Purpose Responsive Theme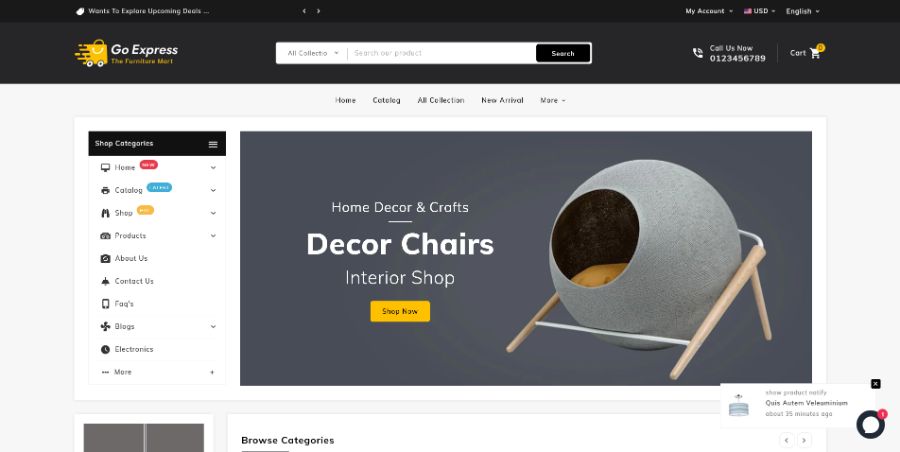 The GoExpress theme has a ton of features and is easy to use, making it perfect for any type of business. With 10+ pre-built layouts, this template can help you get started quickly while still providing an unlimited number of customization options to suit any need or taste.
Not only does this responsive theme come in both light and dark color schemes, but it also includes graphical elements like banners, carousels, buttons and more so you don't have to spend time hunting down images elsewhere.
It also is fully SEO optimized and it has multilingual capabilities so you can serve customers around the world in their own language.
Rock Modern Furniture Shopify Theme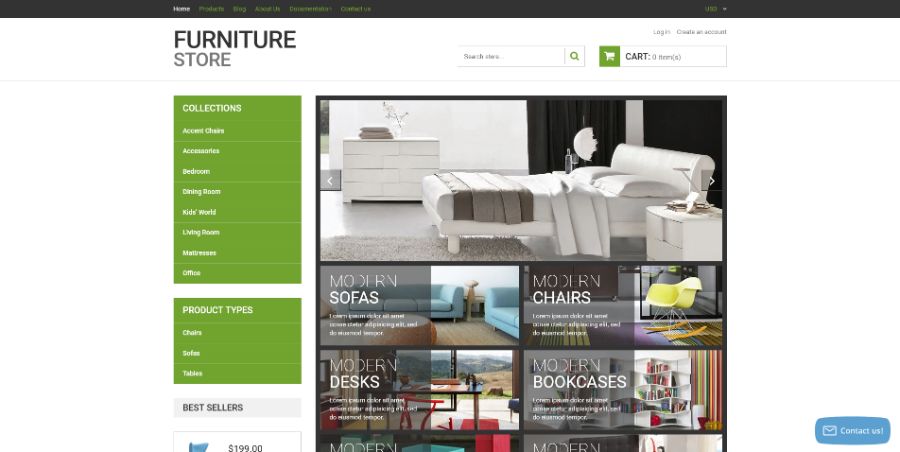 The Rock Modern Furniture Shopify Theme is a great way to build your online presence and get more sales. This theme has been designed with customer experience in mind, so you can create an intuitive and responsive store that will help customers find what they're looking for quickly and easily.
You also have the ability to customize this design as much as you want without ever needing any coding skills. It provides everything from unlimited colors to social media integration, making it perfect for almost any type of digital store or business venture.
Home Decor Dropship Suppliers
Inventory Source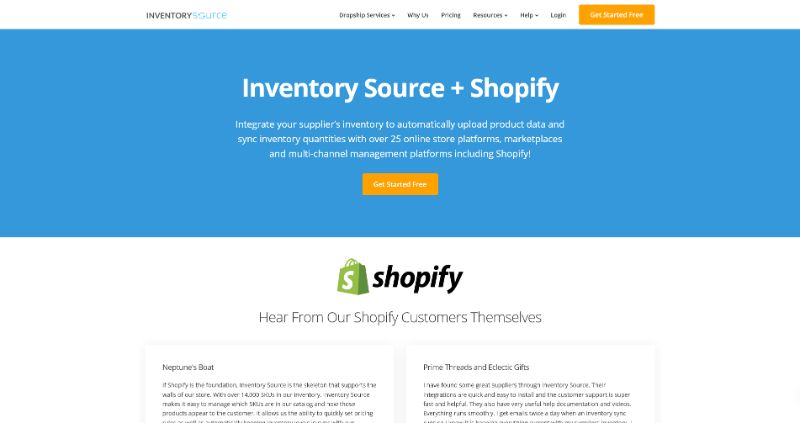 Inventory Source (Sign Up for a Free Account) makes it easy to find and connect with the best drop shippers on the market. They provide a massive supplier list that includes hundreds of home goods suppliers, as well as an inventory management system that integrates directly with Shopify.
Inventory Source makes it easy to find the best home decor dropship suppliers in just a few clicks. You can search by category, or you can use their advanced filters to narrow down your search results.
Once you've found drop shippers that meet your needs, all of their contact information will automatically be added to your inventory management system so that you never have to waste any more time searching for them again.
You can view their full supplier list after signing up for any plan at no cost by clicking this link.
SaleHoo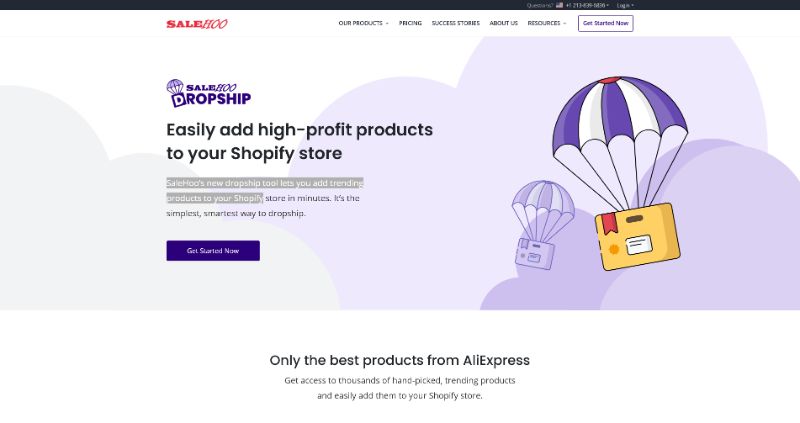 With SaleHoo's App (View Suppliers) for Shopify, all of the hard work of running a dropshipping store will be taken care of for you.
Once you set up the SaleHoo App, everything happens automatically – when customers buy from your store it gets shipped directly from the seller straight to their door.
SaleHoo also makes sure that every single item in its catalog is available at competitive prices from reputable sellers who offer fast shipping times.
If you want to learn how to set up a fully automated dropshipping store with SaleHoo you can take their excellent 20-Hour Shopify Dropshipping Course (Click Here)
Spocket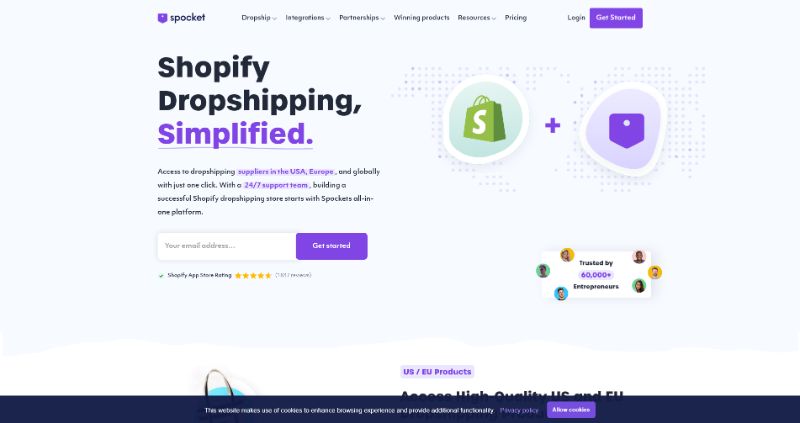 Spocket (Get a Free Account) is a great option for those looking to start their own business as an online seller through dropshipping, and the best part is that they have suppliers in both the US and EU. That means you can offer your customers fast shipping times without having to wait around on items from China or Hong Kong.
If you're ready to get started with your new e-commerce store, sign up today for a free account at spocket.com