Are you looking for the best free WordPress theme for a podcast? A podcast can be a great way to share your expertise and opinions with the world. If you're just getting started, though, figuring out what equipment to buy or where to host your show can feel overwhelming. Fortunately for you, there are plenty of free WordPress themes that are perfect for podcasts that you can check out for yourself below.
Best Free WordPress Theme for Podcast
Podcast By ILOVEWP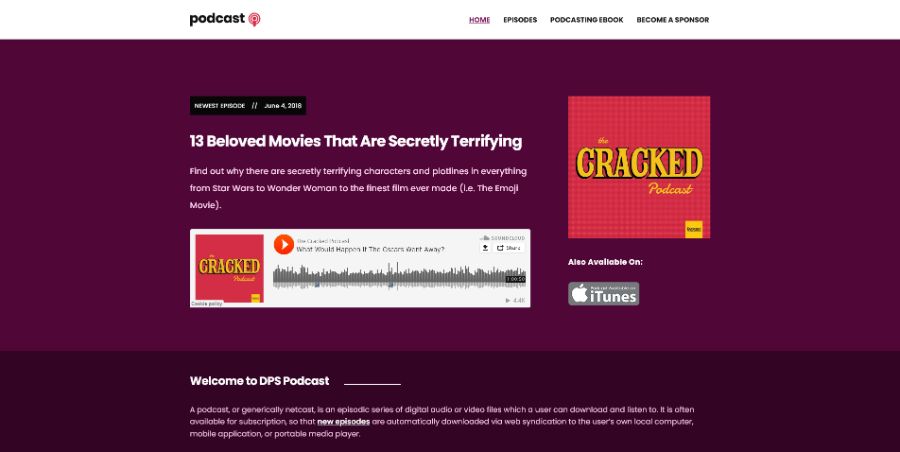 The ILOVEWP team created their Podcast theme to make podcasting easier for everyone. With this theme, even people who don't know anything about podcasts or WordPress can build their own website in minutes without having any technical experience at all.
This free WordPress theme makes it super simple to add your episodes from Spotify, SoundCloud, Libsyn, YouTube, Apple Podcasts, and Google Podcasts so listeners can listen on their favorite platform. And this theme will automatically pull in your latest podcasts when someone visits your site so they never miss an episode.
If you're looking for the best free WordPress theme for a Podcast we highly recommend that you install ILOVEWP's Podcast theme and try it out for yourself.
Podcaster SecondLine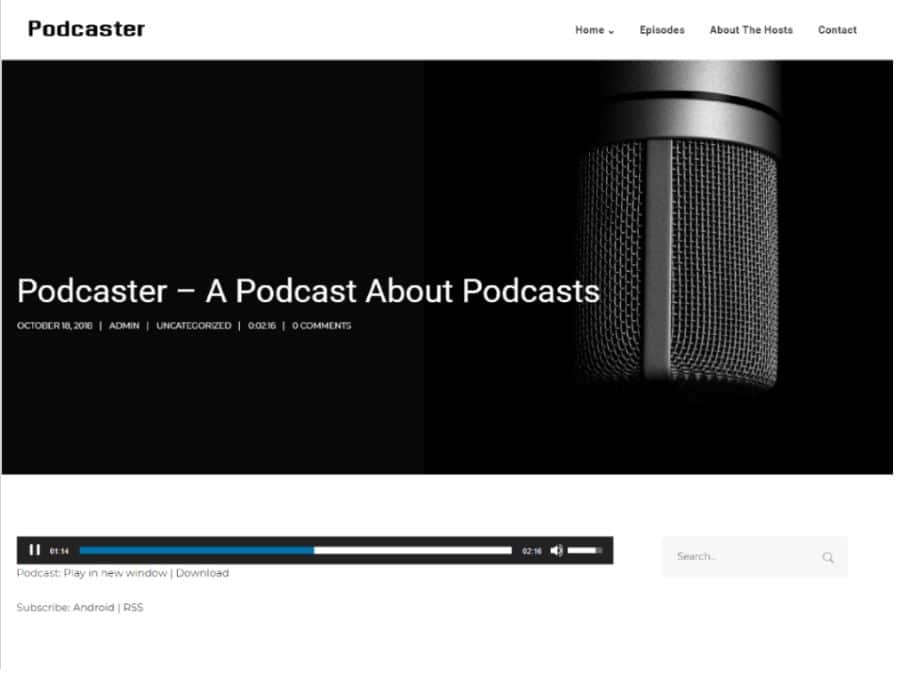 Podcaster SecondLine is the best free WordPress theme for podcasters who want an easy way to create their audio or video show without spending money on expensive WordPress themes.
This WordPress theme has everything you need to start your podcast right away. You can easily upload episodes, manage playlists, add images, and more thanks to its intuitive admin panel that will help you control all aspects of your site from one place.
Click Here if you want to try out a live demo of the Podcaster SecondLine WordPress Theme before installing it on your site
Simple Podcast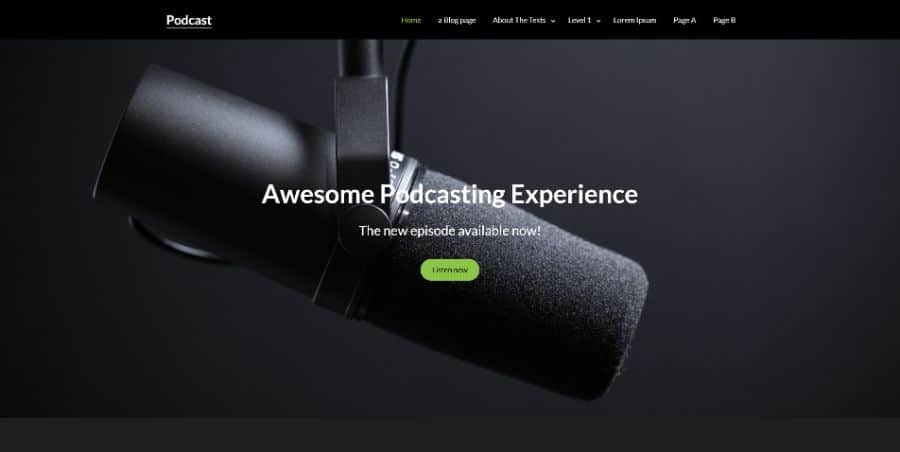 Simple Podcast was created specifically for podcasters so it has everything you need in one place. It has an embedded player with all the bells and whistles (like post/page analytics) as well as other marketing tools like opt-in forms or email capture boxes. And as its name suggests it's simple to use, so it's perfect for both experienced site builders and beginners.
Castpress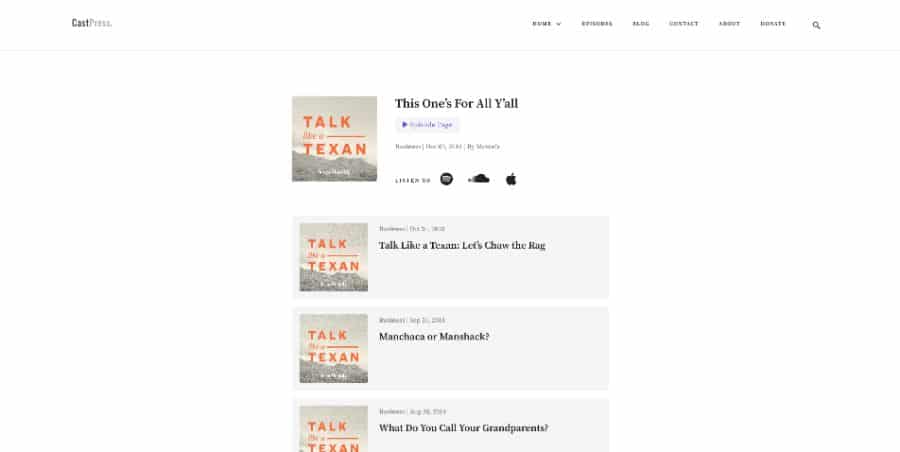 Castpress makes it easy for anyone to start their own podcast. You don't need any coding skills or design experience all you have to do is install this WordPress theme and start publishing your podcasts.
This theme has a minimalist interface that will make managing your podcast a simple process. And with its built-in audio player, listeners can play your podcasts directly from your website without having to click off and go to another platform.
Quadrat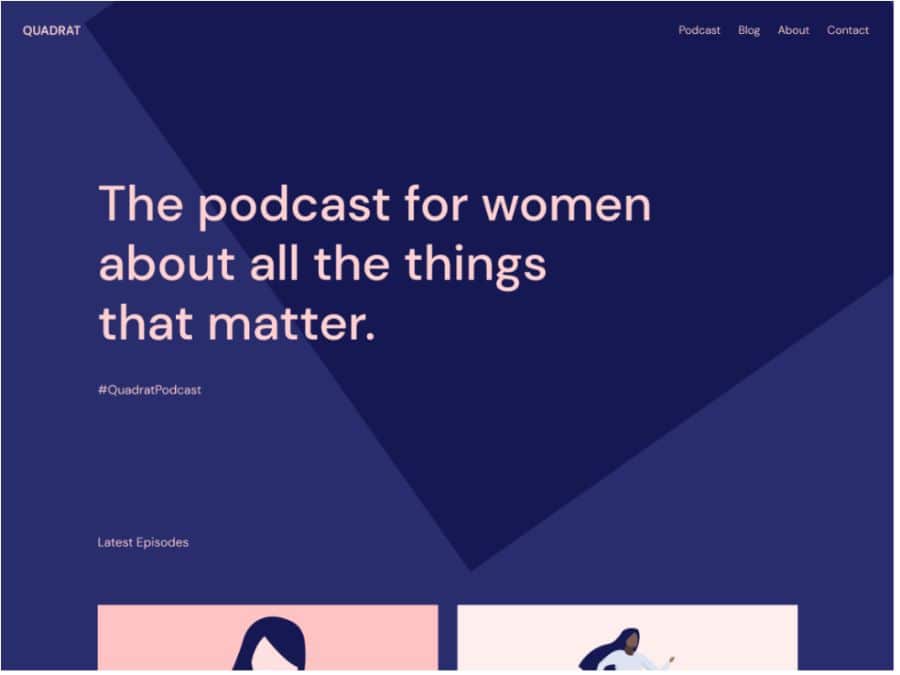 Quadrat is designed specifically for podcasts and has all the features you need to create an awesome website without being overly complex or expensive. It includes custom templates for your show notes, media player, blog posts, and more. Plus you can easily customize every aspect of your site using WordPress Live Customizer.
Best WordPress Theme for Podcast
Singum – Podcaster Multipurpose Classic WordPress Elementor Theme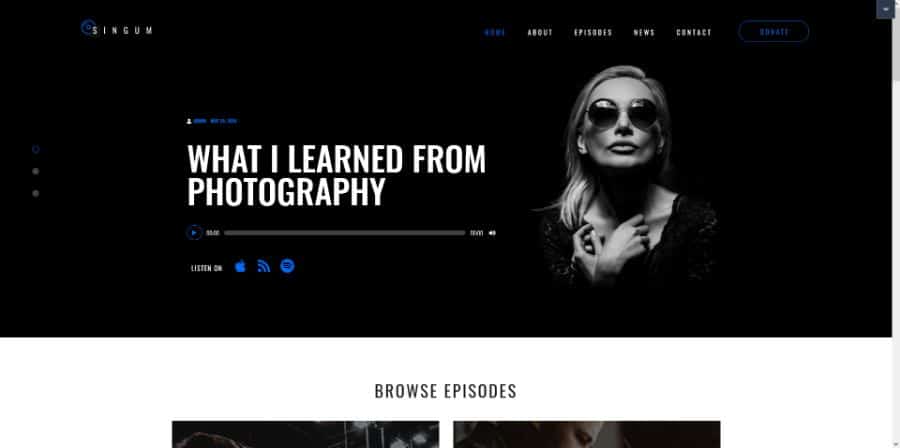 Singum is one of the best WordPress themes for podcasts. It comes with the Elementor page builder that lets you customize every element of your site in minutes so that you have complete control over how it looks. Plus, you can even create beautiful landing pages with ease using the included premium JetElements plugin for Elementor.
Whether you're running a podcast or publishing articles, Singum has everything you need to create a site that stands out in the crowded digital media market.
Megaphone – Podcast WordPress Theme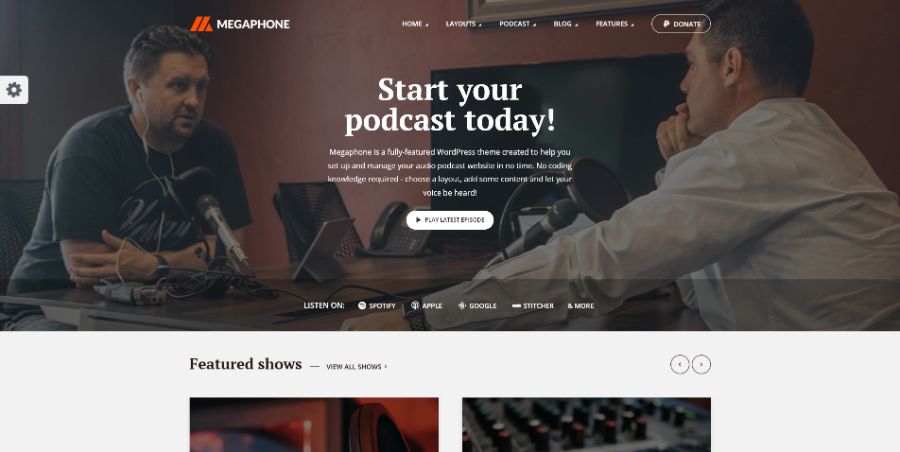 Megaphone is a fully-featured WordPress theme specifically designed for audio blogs and podcasts. Setting up a podcast website can be quite complicated. Most free WordPress themes are not designed for podcasts, and even if they were, most of them don't offer the necessary features to manage your audio content.
Megaphone helps you overcome these problems. It offers all the tools you need to set up an amazing podcasting website in minutes. With its easy-to-use interface, powerful customization options and built-in monetization features it's perfect for beginners as well as experienced podcasters who want to take their podcasting business to the next level.
Wpcast – Audio Podcast WordPress Theme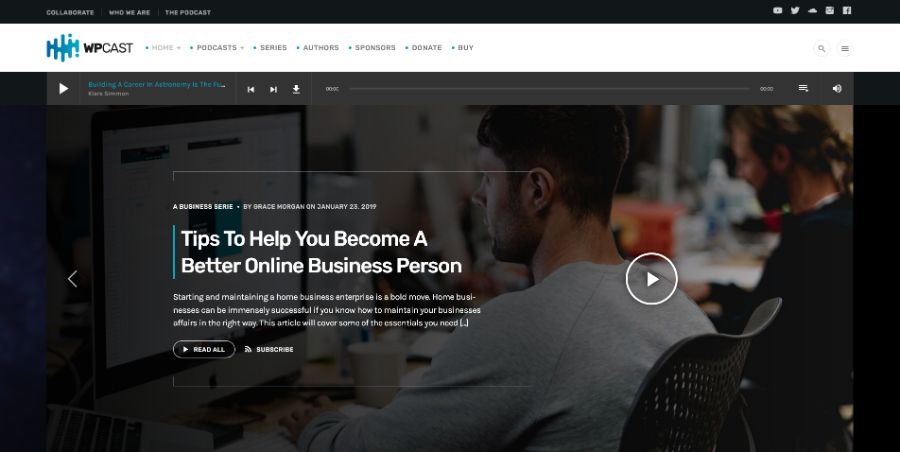 Wpcast makes creating and publishing podcasts a breeze. This simple yet powerful WordPress theme allows you to start your podcast website with just a few clicks. It includes all the features you need for publishing high-quality podcasts such as an unlimited number of episodes per feed, custom post types, smart episode categories, and tag management.
This podcast theme allows you to generate RSS feeds for all of your episodes, so that users can subscribe via iTunes or YouTube Music. You can also use the built-in player on the homepage of your website so that visitors don't have to leave your site to listen to your podcast
You can also use the built-in player to stream audio and video files (you can even embed YouTube videos) without any additional plugins.
Soundbyte – Podcast/Audio WordPress Theme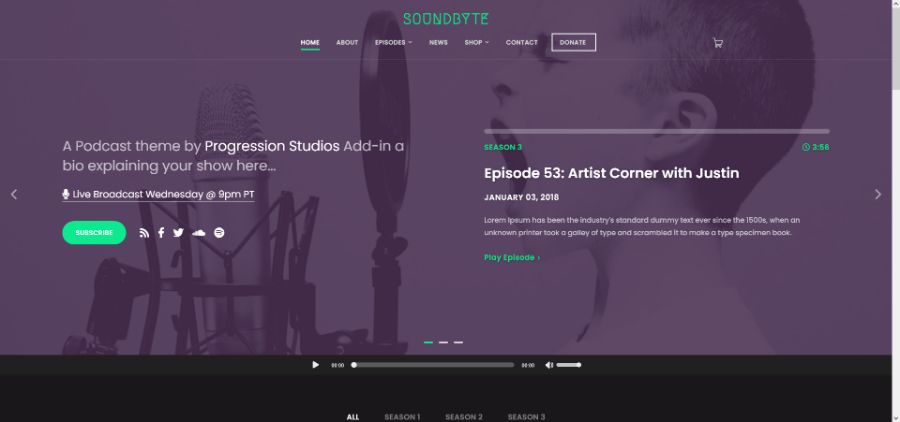 Soundbyte is the perfect WordPress Theme for podcasters. With an easy-to-use drag & drop page builder, boosted elements add-on, and RSS feed support, you can easily create a website to promote your podcast.
It also includes premium sliders to make any webpage come alive with beautiful slideshows of your most recent episodes or monetized blog posts. The best part? You don't need any programming knowledge because the demo importer will get you up and running in just minutes.
Fastcast – Podcast WordPress Theme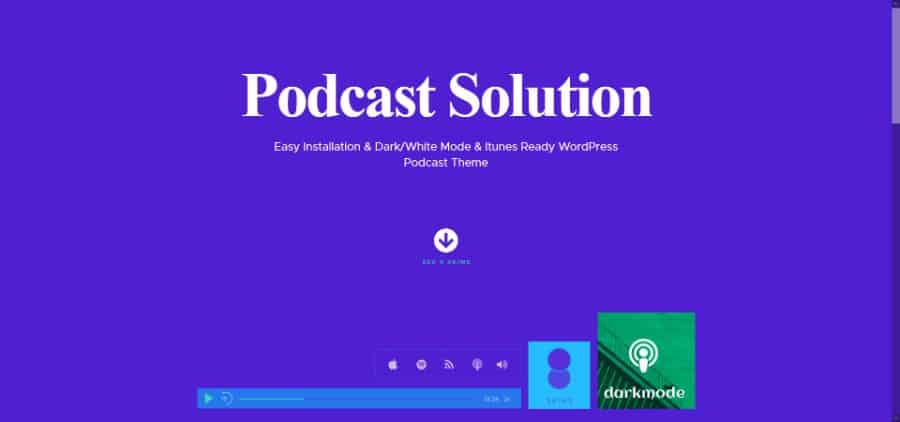 Fastcast is a podcast WordPress theme that includes 8 different skins, dark and white mode, Powerpress plugin compatibility for easy iTunes feed creation, and android support to make it compatible with Google Podcasts.
With this theme, you can also add your youtube videos or embed code in the post content to create a video episode of your podcast. This theme also has fast navigation making it quick and easy to find what you're looking for on any device be it a smartphone, desktop computer, or tablet.
Castilo – Audio Podcast WordPress Theme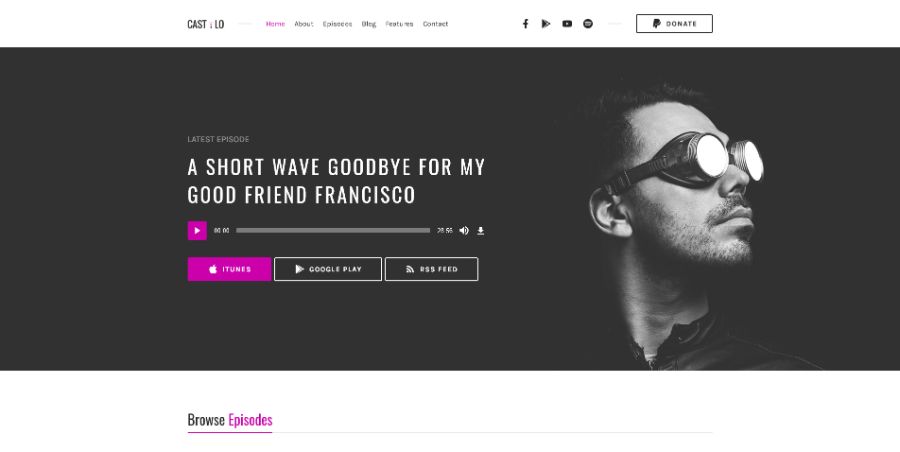 With the Castilo WordPress theme, you can build a professional-looking website with high-quality audio files that will be easy to find on iTunes, Google Play Music, or any other RSS-based directories.
This theme plugin offers daily statistics about your podcasts, including total listens and where they come from (direct downloads vs player plays). You get to see how many listeners use the site's native audio player versus iTunes or Stitcher.
All of this information helps you optimize your content for maximum exposure. This theme even has an advanced automated system that adds download links in SoundCloud accounts when new episodes are published.
Podcaster – Multimedia WordPress Theme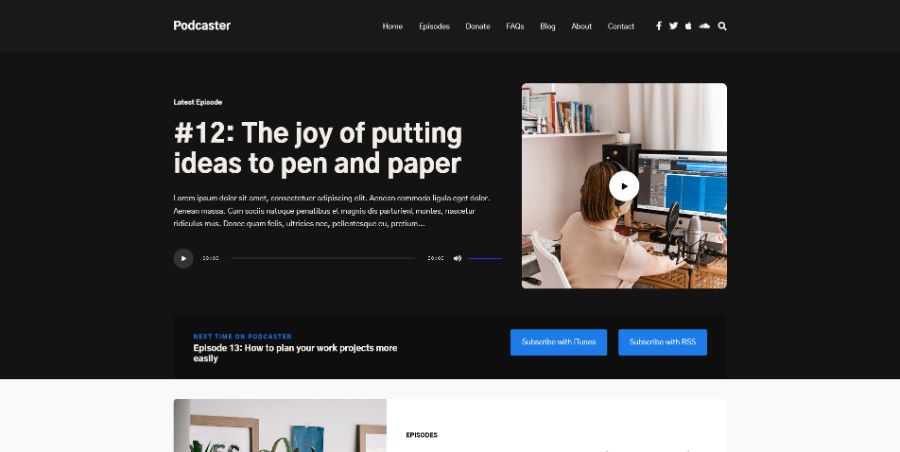 Podcaster by Themestation is specifically designed and optimized for podcasts and comes with the following features:
BluBrry PowerPress
Seriously Simple Podcasting plugins
RSS feeds
Email subscriptions
Custom Header Images
Featured Guest Pages
Best Free Podcast Platforms
One of the best podcasting platforms that offer free podcast hosting is Buzzsprout
Plus, if you use our link to try out Buzzsprout (Click Here) and decide to upgrade to one of the premium plans you'll even get a Free $25 Amazon Gift Card just for signing up.
Buzzsprout Free Podcast Hosting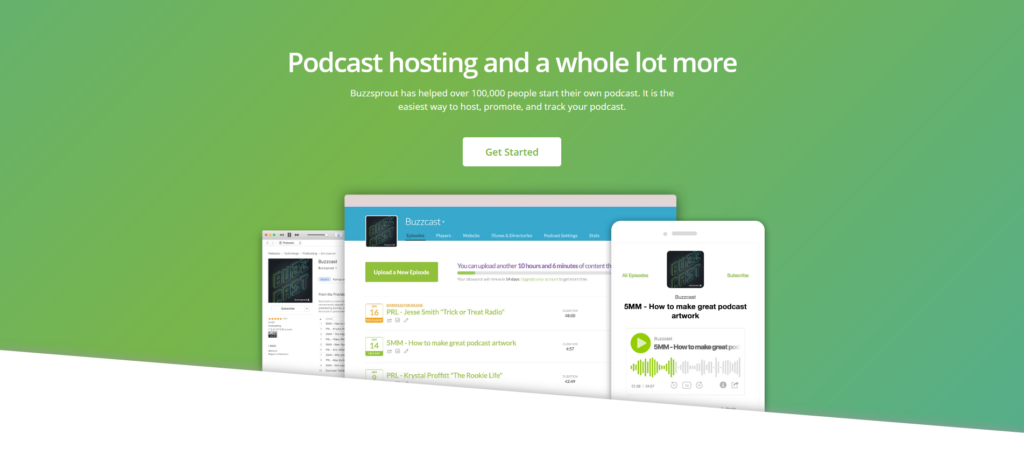 Buzzsprout Podcast Hosting (Learn More) is one of the best podcast distribution platforms and you get a free professional podcast website included with all of their plants
With the Buzzsprout free plan, you get 2 Hours of Monthly Audio Uploads, Podcast Analytics, and support for Teams.
Buzzsprout Paid Plans (View Pricing) come with additional hours of audio storage space and no time limits on hosting.
Overall, with Buzzsprout, you get an all-in-one podcasting solution with unlimited storage space, no time limits on your hosted episodes, and flexible pricing plans that are perfect for new podcasters who don't have any listeners yet.
PodBean Free Podcast Hosting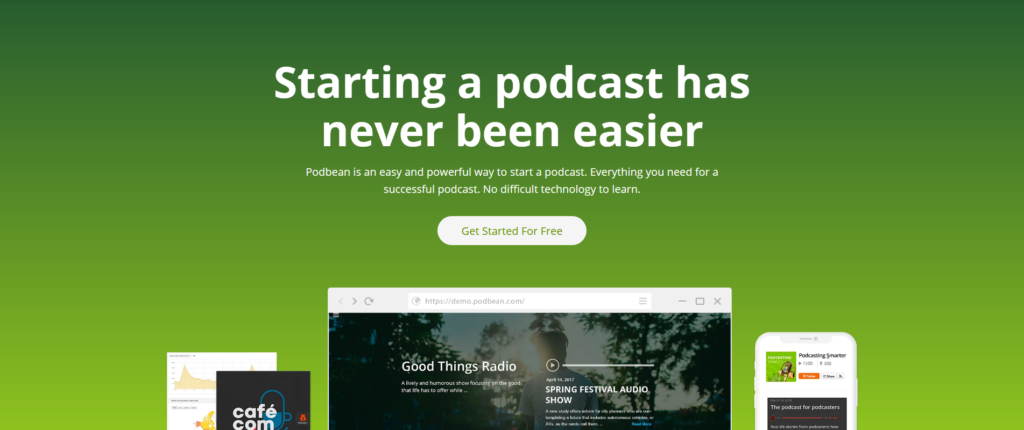 PodBean (Get Free Account) makes it easier than ever to start your podcast without breaking the bank. With 5 hours of free audio storage and 100GB bandwidth per month, you have everything you need to launch your first episode today.
You can also upgrade at any time if you find that you need more space and bandwidth than the free Podbean plan offers as your podcast grows over time.
If you upgrade to a Paid PodBean Plan (View Pricing) you get unlimited hosting and bandwidth, along with monetization features and support for custom domains.