Does Wix Offer Email? If you want to know if Wix offers email hosting, Wix doesn't offer that service. However, Wix does make it easy to set up a custom business mailbox using a 3rd party service such as Google Workspace or Microsoft 365 Outlook
Keep reading if you want to learn more about How To Set Up Email on Wix, and how much Wix Email Costs.
Also, if you're looking to learn more about Wix Email Marketing you'll find more information about the Wix Email Marketing platform on this page.
Does Wix Offer Email
Does Wix offer email? Yes, Wix does offer Email from a 3rd party provider, and if you want a custom domain email (e.g. @mail1.com or @yourcompanyname.com) you will need to sign up for a Google Workspace account.
Wix makes it very easy to link a Google Workspace Account to your custom domain. All you have to do is go to the "My Mailboxes" page within your Wix dashboard and click on the button that says "Get a Mailbox"
LIMITED TIME: Wix Free Trial (Click Here)
Does Wix Offer Email Accounts
No, Wix does not offer Email Accounts Directly. Email accounts are not included in the basic Wix hosting package but are available for an additional fee from 3rd party Email hosting providers. When you sign up for an account with one of these services, you can acquire your own personalized Email accounts and get access to various features like spam filters, virus protection, and cloud storage.
Does Wix Offer Email Hosting
Does Wix provide email hosting? No, Wix does not offer Email hosting. Instead, you need to use a 3rd party email service such as Google Workspace or one of the many business Email hosting platforms on the market.
Wix Email Cost
The cost of Wix Email will depend on which 3rd party email hosting provider you choose. You may be able to have your email hosted for as low as $10/year. Considering that many email hosts are priced from $2-$10 per month, this is a much lower upfront cost and will more than pay for itself in savings over time.
Namecheap Professional Business Email is one of the best options if you're looking for a low-cost Email hosting plan starting at less than $1/month.
Or you can choose to go with Google or Microsoft that have Email hosting plans that start at $5 per month.
Wix Email Pricing
Wix Email pricing will depend on your third-party email hosting provider. Here are a few of the most popular options:
Google Workspace: Starting at $6 per month
Rackspace Email: Starting at $2 per month
Zoho Mail: Starting at $1 per month
Microsoft 365 Outlook: Starting at $5 per month
Namecheap Email: Starting at $0.84/per month
Wix Email Address Cost
Each Wix Email address will need to be purchased separately from an Email hosting provider. The costs for each additional Email address at some of the leading Email hosting companies are listed below.
Google Workspace: $6/Email Address/month
Rackspace Email: Starting at $2/Email Address/month
Zoho Mail: Starting at $1/Email Address/month
Microsoft 365 Outlook: Starting at $5/Email Address/month
Namecheap Email: Starting at $0.41/Email Address/month
Wix Email Hosting Alternatives
Rackspace Email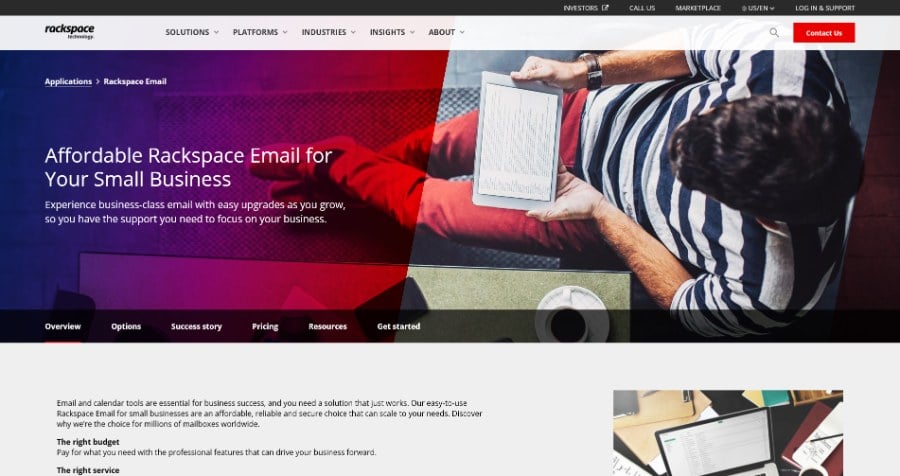 Rackspace Email Hosting (View Plans) has a reputation for providing excellent customer support while offering enterprise-grade reliability at affordable prices that are well suited for small businesses as well as large enterprises.
Rackspace Email Hosting also provides unlimited emails sent per month on every user account which means you don't have to worry about hitting monthly quota limits or paying additional fees to send more emails than usual in one month due to increased activity (e.g., holidays).
With Rackspace Email's easy-to-use web interface you can manage all your hosted domains from anywhere in the world via PC, Mac, or mobile device without having to log in to multiple accounts on different servers
Rackspace Email Hosting provides a reliable, cost-effective solution to your email hosting needs. With enterprise-grade service for less than $2/user/month and unlimited emails sent per month with every user account. And you also get access to professional support 24 hours a day 7 days a week – so you never have to worry about downtime again
Zoho Mail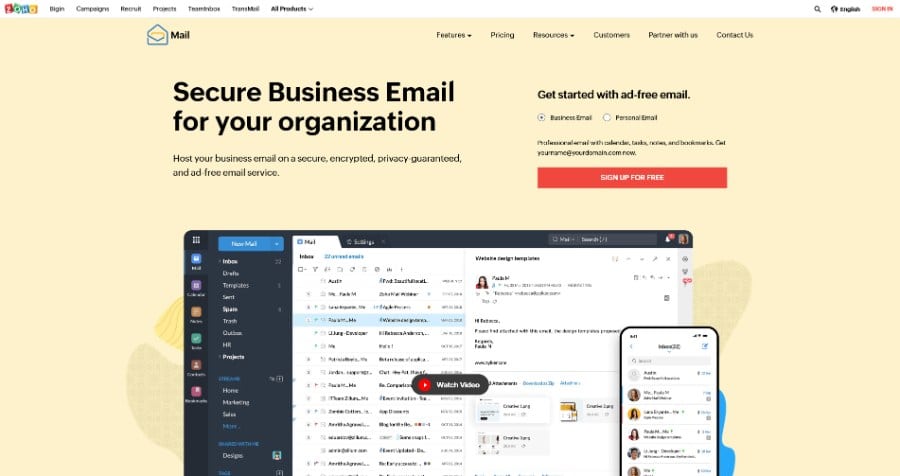 Zoho Mail (View Plans) is a complete business email solution that will help your company manage all of its incoming and outgoing communications, while also offering additional tools like a Calendar, Contact & Task Management, and much more.
The Zoho Mail platform includes features such as an inbox search engine, user-friendly spam control options that you can set up for each account.
This allows customers to access their mail anywhere they are which is really helpful if employees work remotely or travel frequently.
Plus, Zoho Mail integrates seamlessly with custom domains from any domain name provider so you won't have to rely on Wix's somewhat limited built-in E-Mail support
G Suite Gmail – Google Workspace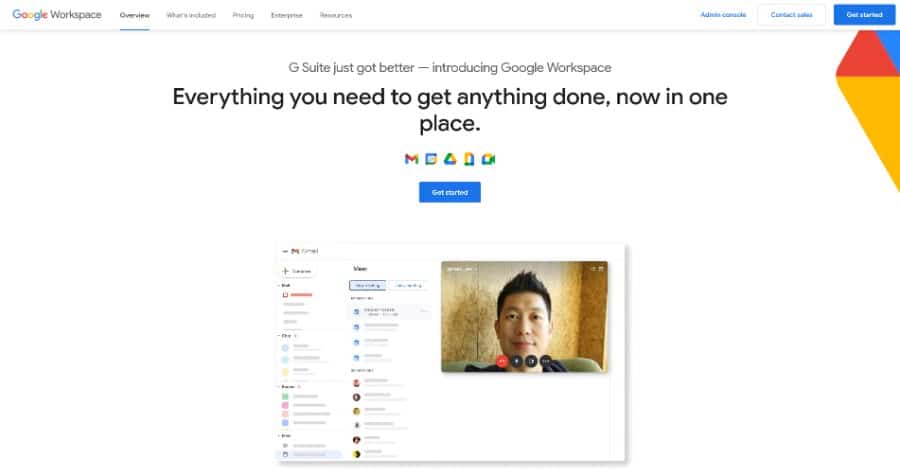 Google Workspace (View Plans) is a productivity and email hosting solution that makes it easy for small businesses to stay connected, work together, and get more done from anywhere in the world.
Google Workspace comes with everything you need to run your business from one place—secure email (Gmail), video meetings (Google Hangouts), shared calendars (Google Calendar), and cloud-based productivity tools like Docs, Sheets & Slides so everyone on your team has access to their files wherever they are.
Microsoft 365 Outlook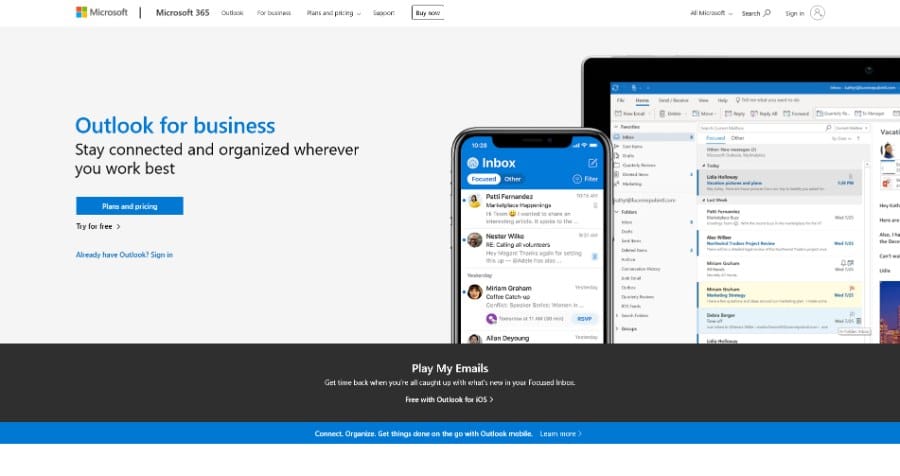 Microsoft 365 Outlook (View Plans) is a cloud-based email service that's easy to use and can be accessed from anywhere using any device including smartphones or tablets. Plus, your files will also be backed up in Microsoft's OneDrive so they can always be recovered even if something happens to your computer or mobile device.
Microsoft 365 Outlook also offers advanced email security that protects your company from hackers and phishing scams with spam filtering, antivirus protection, malware scanning built into your mailbox.
Plus, it can be accessed from anywhere using any device including smartphones or tablets so you can always stay connected no matter where you are or what devices you're using.
Does Wix Do Email Marketing
Yes, Wix does have an Email marketing platform called "Ascend." The main use cases for Wix's Email marketing platform include sending out email campaigns, embedding opt-in forms on your Wix site where people can sign up for your newsletter, and creating custom email automation.
Wix Email Marketing
Wix makes it easy for you to create beautiful newsletters with professional templates and a drag-and-drop editor. All you need is a Wix account. With their email marketing solution, you can also easily manage your subscribers directly from the same platform where you design your newsletter campaigns—no complicated integrations are needed.
Wix Email Marketing Features
Wix Email Templates
With Wix Email Marketing Templates you don't need any graphic design experience or expensive software. The drag-and-drop editor makes creating an eye-catching email as easy as creating a great-looking Wix website.
Wix Email List
Wix Email Lists let you quickly and easily add new subscribers right from an opt-in form on your site. Wix offers plenty of features that will help you grow your email list, including the ability to collect E-Mails and nurturer your contact list with broadcast Emails and automated campaigns right from your Wix dashboard.
Wix Email Automation
Wix Email Automation is a powerful tool that lets you create automated, personalized email campaigns for every stage of your sales funnel, from initial contact through final purchase. It's easy to use and it makes sure that your messages are sent out only when they're needed most – so you get better results with less effort.
With Wix's email automation tool, you can create campaigns with dynamic content and schedule them automatically so they go out at just the right time. Your customers will love getting relevant updates from your business in their inboxes while you save yourself a lot of work.
Wix Email Analytics
With Wix email analytics you can track the performance of each Email campaign and optimize future emails for better results. Track opens, clicks, and delivery rates in real-time so you can see which content is resonating with recipients. And you can also do split tests that allow you to compare two different versions of a message to determine what works best for your audience.
Wix Email Marketing Pricing
Ascend Basic: ~$10/month
Ascend Professional: ~25/month
Ascend Unlimited: ~$50/month
Wix Email Marketing Alternatives
Constant Contact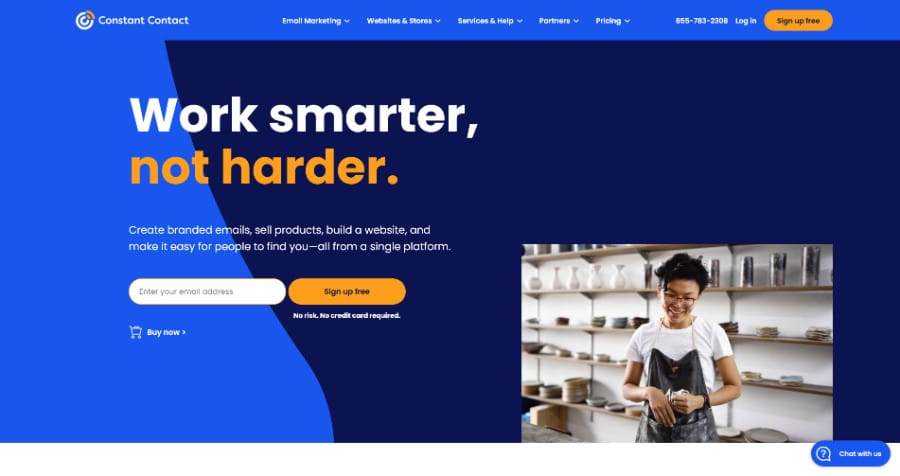 Constant Contact (Free Trial) makes it easy for small businesses like yours to reach customers with targeted emails based on their behavior – from abandoned cart recovery messages that help recover lost sales to targeted offers for products and coupons that increase engagement in just a few clicks.
Active Campaign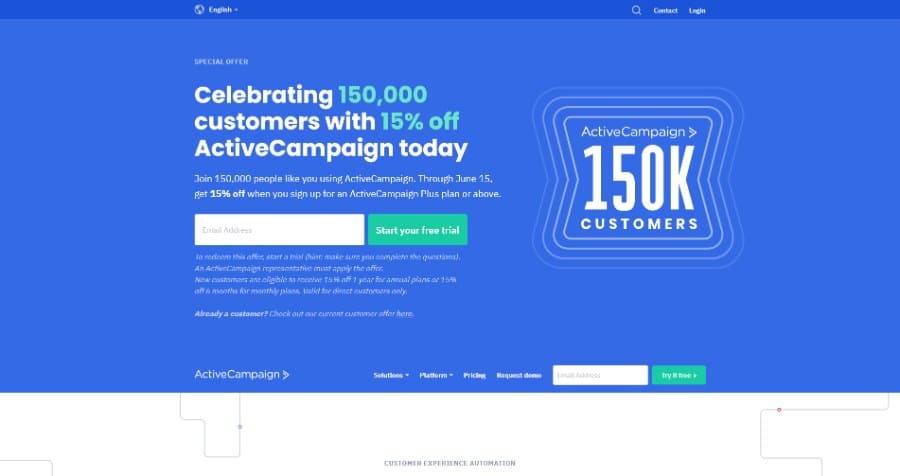 Active Campaign (View Plans) will save you time, money, and headaches by automating your email marketing workflow so you can focus on growing your business instead of worrying about how to get started with e-mail marketing.
Active Campaign makes it easy to set up automated emails like welcome series or abandoned cart reminders so you can focus on other things. All without having to worry about the technical details of setting up campaigns yourself or spending hours writing follow-up messages and newsletters.
Plus, Active Campaign has affordable plans starting at only $9 per month for up to 500 subscribers.
AWeber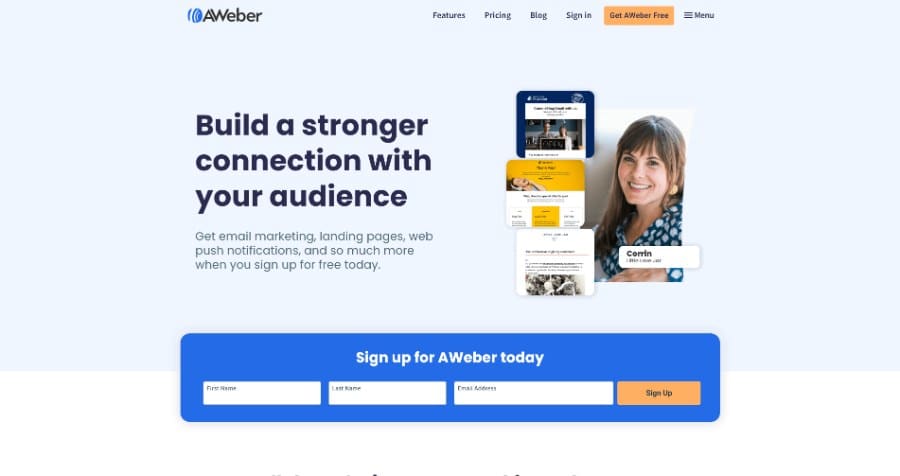 Aweber (Free Plan) has a simple interface that anyone can use to create beautiful emails without any design experience at all. Their library of professionally designed templates makes it easy for you to send high-quality newsletters that convert customers into leads and sales.
Plus, AWeber has made building a subscriber list as simple as possible by offering free tools like landing pages and sign-up forms, so people can join your newsletter when visiting your site – with no extra work required from you.
MailChimp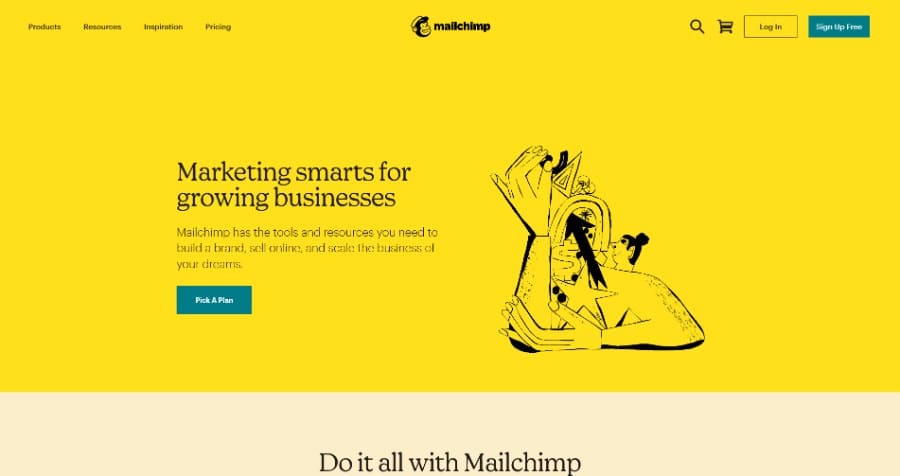 MailChimp (Free Plan) makes it simple for anyone to create and send beautifully designed emails that get results. Mailchimp has an incredibly intuitive user interface that will allow you to create beautiful emails with ease and it's also affordable starting at just $0 per month if you have up to 2,000 email subscribers.