Choosing the right website platform for your band can be difficult. There are so many to choose from and they all have their own pros and cons. In this post, we'll compare Squarespace vs Bandzoogle in order to help you decide which one is best for you.
We'll cover features like pricing, design customization, ease of use, hosting options, etc., so that by the end of this article you will be able to make an informed decision as to which service works better for your needs.

Squarespace vs Bandzoogle
Many musicians are looking for a website that will help them promote their music and sell tickets to shows. The two most popular options are Squarespace or Bandzoogle, but which one is best? This article compares the features of both services so you can decide which one is right for you.
Squarespace Details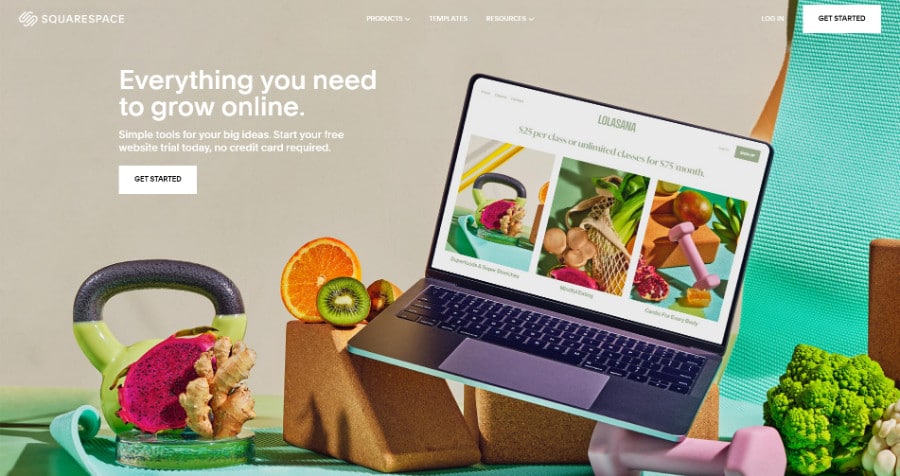 Squarespace (Free Trial) makes it easy to build an amazing-looking website. They take care of all the technical details so that you can focus on what matters most—your content.
Their drag-and-drop tools let you customize the look of your website with ease without writing any code. And their templates make it simple to get started quickly so that you can launch in minutes instead of months. Plus they're mobile responsive by default which means your site will look great on phones as well as desktops.
Squarespace also makes it easy to add eCommerce features like shopping carts and payment gateways, or you can build out your site further using Squarespace extensions or anyone of the hundreds of custom integrations.
Squarespace also provides musicians with all of the tools they need to create an online store. They offer features like templates, merchant accounts, and analytics so you can make your business run as smoothly as possible.
If you're looking for a way to sell your music or merchandise online then Squarespace is your best option if you want to sell physical and digital products online.
Squarespace Features
Squarespace Modern Website Templates
Squarespace provides templates so that musicians can quickly create their own websites. Squarespace offers many different templates, which you can customize to fit any style. Some of the template options include: Classic, Music Blog, Band Site, Album Site, Events Page, Portfolios and more.
Squarespace SEO Optimized Sites
Squarespace has been designed with SEO in mind, which means it will be easier than ever for visitors to find your site on search engines like Google or Bing. Not only does this make it easier for fans to reach out and contact you, but if you're looking at marketing yourself through online avenues such as social media or blogging, a well optimized site can help increase the odds of getting discovered by new audiences who are interested in what you have to offer.
Squarespace eCommerce Support
Squarespace is a full featured eCommerce platform that is perfect for musicians. It makes it easy to create an online store and start selling music online. Squarespace also provides all the features you need to have your own website, blog, portfolio, or store where you can sell your music and merchandise like CDs, vinyls, t-shirts, etc.
Squarespace Blog Support
Squarespace makes it dead simple for musicians to publish a blog. With a Squarespace blog you can upload your latest photos from the studio session or your live shows using a user friendly web based editor. You can also post articles about what inspires you to make music and share them with your fans and interact with them in your blog posts comment section
Squarespace Customizable Site Settings
Squarespace is a website builder that lets musicians create their own website without the need of design skills. There are many options in the Squarespace dashboard that allow anyone to customize the look and feel of their site. It's easy to add albums, videos, music player, blog posts and more with just a few clicks on Squarespace's intuitive user interface.
Squarespace Audio Player
The new Squarespace built-in audio player is a user-friendly, robust platform for musicians to share their music. With this feature, artists can upload and manage all of the audio content on their site from one place in just a few clicks. The player also features full playlist functionality so people can listen to your entire catalog without ever leaving your website.
How much does Squarespace cost?
Personal Plan: $144 billed annually or $16 per month
Business Plan: $216 billed annually or $26 per month
Basic Commerce Plan: $312 billed annually or $35 per month
Advance Commerce Plan: $480 billed annually or $54 per month
Bandzoogle Details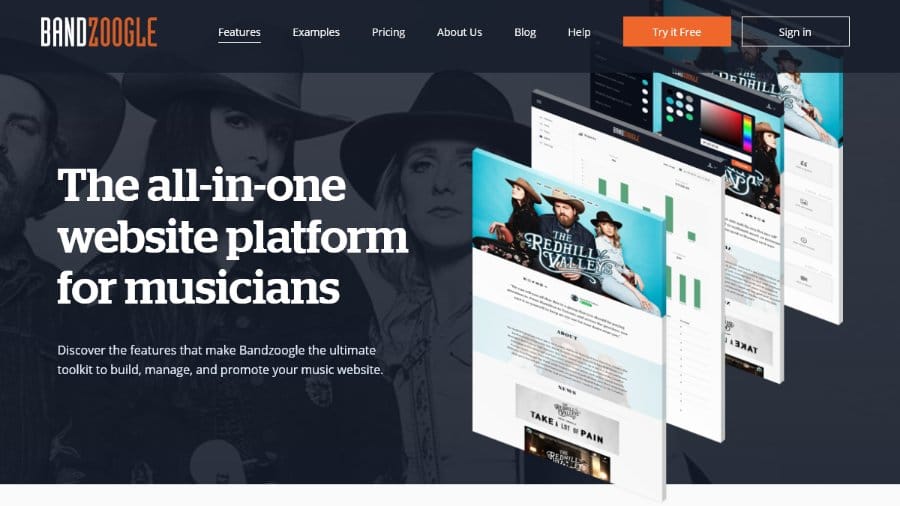 Bandzoogle (Free Trial) is a company that offers web-based tools for musicians to create and manage their websites, social media pages, and promotional materials. The site's various features are designed with the musician in mind. And it is possible to create an entire website for your band on Bandzoogle without any prior knowledge of web design or coding.
You can also sign up for Bandzoogle Pro which gives you access to everything on the site plus many other features such as digital distribution, unlimited bandwidth, unlimited storage space, custom domain name registration at no extra cost (includes free SSL certificate), and more.
Bandzoogle Features
Bandzoogle Templates
Bandzoogle is a website that offers templates for bands to create their own websites online. These templates are easy to use and make creating your own professional-looking site quick and simple. With the Bandzoogle template, you can customize your band's website by uploading music, photos, videos or even blog posts about what it's like being in a band.
Bandzoogle Visual Designer
Bandzoogle offers a visual webpage designer that makes it easy to customize the elements on any page and you can choose from hundreds of preloaded templates designed specifically for bands. These templates can be customized with unlimited color schemes or uploaded graphics. You can also make changes to the HTML code if you're familiar with how it works in order to build your perfect site from scratch.
Bandzoogle SEO Optimized Sites
Bandzoogle Sites are fully SEO optimized so your music can be found when your fans search for your band on the world's most popular search engines (Google, Bing, Yandex, DuckDuckGo, and more).
Bandzoogle Social Media Support
Bandzoogle connects with social media networks like Google, Yahoo., Twitter, Facebook, Instagram, YouTube and Vimeo (Learn More).
Bandzoogle Ecommerce Support
Bandzoogle also offers a full-featured eCommerce platform that helps musicians, artists and other creatives sell their music, merch, tickets and more. You can even use the power of crowdfunding to fund your project or event in just days as well as sell subscriptions for monthly recurring income, so you can make a living doing what you love.
Bandzoogle Promotions
Bandzoogle's e-mail marketing solution is an affordable way for bands to keep in contact with their fans. Their E-Mail Marketing system allows you to send your newsletter, make announcements and share tour dates from one central location. You can also customize the design of your newsletter – choose from a variety of templates or create your own design and promotional content.
Bandzoogle Analytics
Bandzoogle analytics provides the tools needed to see how customers are using your website. These reports can also be used for customer engagement, conversion rate optimization and more. With this knowledge of what's happening on your site, you will have a better chance at driving sales by understanding your fans' behavior online. You can even find out which pages they visit most often or track audio player metrics like playtime, downloads, and album sales.
How much does Bandzoogle cost?
Bandzoogle Lite: $8.29/month
Bandzoogle Standard: $12.46/month
Bandzoogle Pro: $16.63/month
Is Bandzoogle Free?
Bandzoogle is not free, but they do offer a 30 Day Free Trial. This trial will allow you to use all of Bandzoogle's features and enable you to create an entire website for free. If you decide that the Bandzoogle platform isn't worth the monthly/annual fee after your trial, you can simply cancel at any time.
Which is Better Bandzoogle or Squarespace?
Bandzoogle and Squarespace both offer a variety of templates that are easy to use. However, if you're looking for more customization options with your web hosting provider, then we recommend going with Squarespace.
Bandzoogle is an all-in-one website builder for musicians, bands, and music entrepreneurs. Squarespace does not have a specific focus on the musician market but it has a lot of features that make it more versatile.
If you're just starting out the pre-made templates might be enough for now. But as time goes by and you grow in popularity, it's worth considering how much flexibility will suit your needs down the line. And building an online presence from scratch can become increasingly difficult due to limited template choices and technical limitations imposed by tools like Bandzoogle.
If you do plan on using their promotional tools, then the additional cost of Bandzoogle can make sense as it would save time setting up an account from scratch while still getting access to all the marketing benefits they offer. The best course of action will depend on what type of site you need and how experienced you or your band is when it comes to building websites.
Conclusion
Squarespace and Bandzoogle are both great options that offer diverse features to suit many different types of businesses. If you want an easy-to-use site builder with a user interface that's modern and clean then Squarespace might be for you.
But if you need a site builder that's geared towards the needs of musicians then Bandzoogle will give you what you're looking for without ever having to leave their platform
If you're having trouble making up your mind you can give each platform a try:
Squarespace Free Trial (Click Here)
Bandzoogle Free Trial (Click Here)