Are you looking for a way to connect your Wix site to Shopify? If so, you're in luck. In this article, we'll show you how to do just that. We'll also give you some tips on the best way to set up a Wix Shopify integration. So let's get started.
Can You Connect Wix to Shopify
Yes, you can connect Wix to Shopify using Zapier or Automate.io. These platforms allow you to connect various web applications together, such as Wix and Shopify, in order to automate tasks between them. This way, you can sync your products and orders between the two platforms without writing any code.
To do this, you first need to create an account with Zapier or Automate.io and then connect the app to both your Wix and Shopify accounts. Once you have done that, you will be able to create automations between the two platforms.
For example, you could automate the process of creating new Shopify products whenever a new product is added to your Wix store, and much more that we'll go over in more detail below.
Best Wix Shopify Integration
Zapier Wix Automations
Zapier is a robust automation platform that lets you send information between Wix Automations and Shopify. You can use pre-defined automation rules as triggers, or set up new ones to handle the data flow seamlessly. With Zapier you get pre-defined automation rules, like New Blog Entry or New Customer, as triggers for your automations in one platform (Wix), while the actions happen in another (Shopify).
If you need help getting started with Zapier's Wix Automations Click Here
Automate.io Wix Integration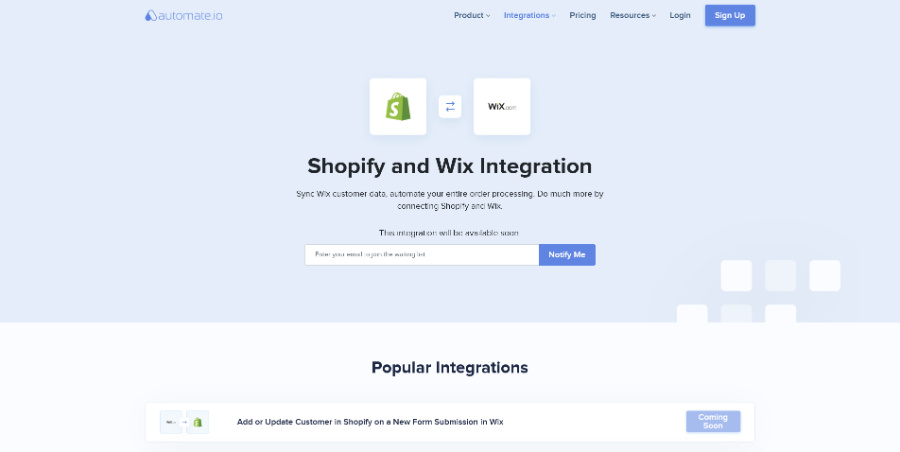 Automate.io for Wix allows you to connect two of the biggest eCommerce platforms so that data is updated automatically between them without any manual effort from yourself or IT staff members – saving time, money, and resources. This means less downtime for both sites as well as fewer errors when orders are placed on either platform. It also gives customers peace of mind knowing their information won't be lost during the transfer process and having access to all their order history after they complete the checkout process on either platform.
If you want to see all of the events and tasks Automate.io offers click here
Can I Switch from Wix to Shopify
Can I move my Wix website to Shopify? Yes, you can switch from Wix to Shopify. However, you will need to use a third-party migration app to move your data over.
To use a migration app, you'll first need to create a new Shopify store (Free Trial) to import your content into Shopify. Finally, you'll need to connect your Wix store to your Shopify store. You can find apps to do this below or you can hire a migration specialist if you don't want to do it yourself.
Wix To Shopify Transfer
If you are looking to transfer your Wix website to Shopify, the following apps will allow you to import a Wix website to Shopify. They will also make the transition as smooth as possible. So, if you are ready to make the switch, keep reading.
Best Wix To Shopify Migration App
LitExtension Wix Import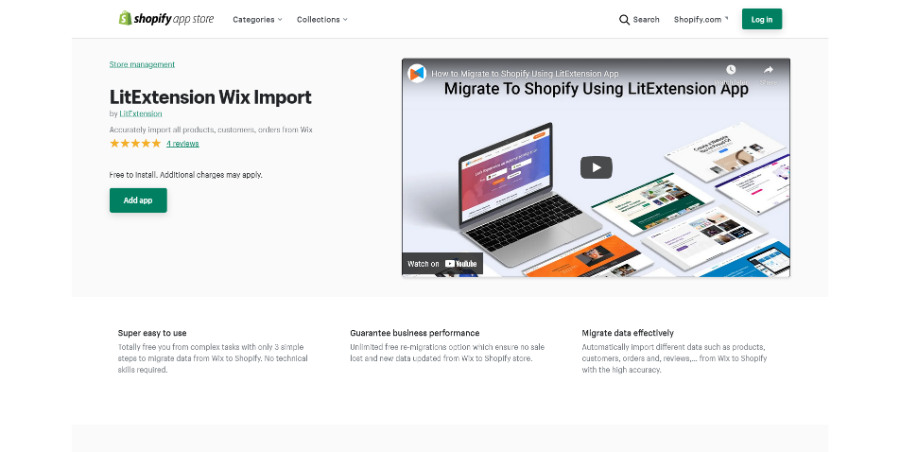 LitExtension Wix Import will automatically migrate your data from Wix to Shopify in just minutes. This app makes transferring everything simple and painless so that you don't have to worry about losing data or potential sales due to lost contact information when migrating platforms. Plus this software handles everything so that you can transfer different types of information such as customers, Wix to Shopify product migration, orders, and reviews from your old Wix site into your new Shopify store.
Cart2Cart Wix Migration App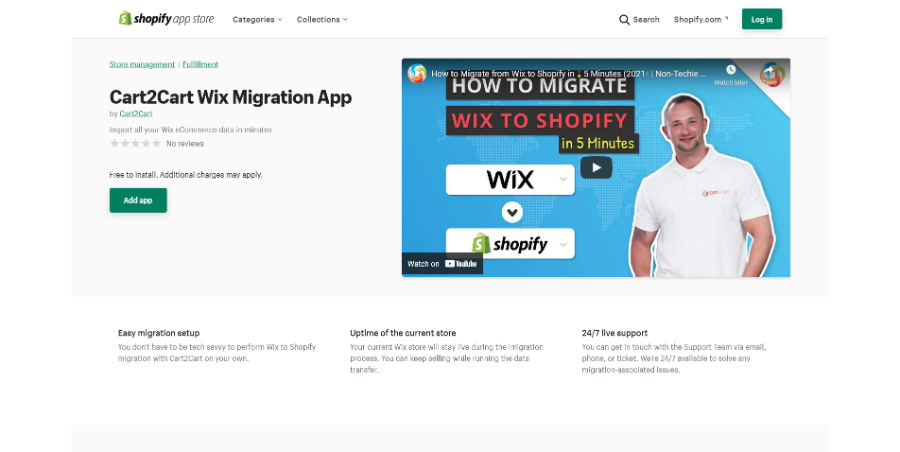 With the Cart2Car Wixt Migration App, you can migrate your store in just a few clicks. This app has an easy-to-use wizard where you only have to specify Source and Target stores, select what data should be migrated, set up additional options such as redirects and extra fields mapping (if needed), click "Start Migration" button – that's all. And once this app is done migrating your Wix store we will create 301 redirects (redirect Wix to Shopify) so users and SEO page rank won't get lost after you move your website over to a new platform
How To Add Shopify Buy Button to Wix
If you want to learn how to add a Shopify 'Buy' button to your Wix website, you can follow the steps below:
Open your Shopify Store's admin page and create a "Buy" button for the item that you want to sell on your Wix website. Then copy the embed code and save it in a text document or keep it in your computer's clipboard.
Next, sign in to your Wix account and choose the site you want to add the Shopify Buy button. Then select the "Edit Site" option.
Open up the Wix Website Editor in your browser, and then press the plus button ("+") then select the option "More".
Choose the "HTML Code" option to insert the Shopify embed code into a section on your Wix website using the HTML widget.
Click "Enter Code" in the dialogue then paste the Shopify Buy Button embed code into the text area and then press "Update".
If you want to make any changes you can do so on the "Page Edit" screen. Once you're satisfied, click "Save" to publish the changes you've made.
Wix Shopify Alternatives
WooCommerce
Magento
ZenCart