Can you sell Clickbank products on Shopify? This is a question that many people have, and the answer is it depends. There are a few things you need to consider before deciding whether or not to sell Clickbank products on Shopify. In this article, we will discuss some of the pros and cons of doing so.
Can You Sell Clickbank Products on Shopify
Yes, you can definitely sell Clickbank products on Shopify. However, you don't necessarily need to use Shopify in order to sell Clickbank products. You could use a separate landing page builder or website specifically devoted to selling Clickbank products. This might be a better option if you're not particularly interested in setting up and managing a full-fledged eCommerce store.
Can You Sell Clickbank Products That You Didn't Create on Shopify?
You can link to Clickbank products you didn't create but they will still need to be sold via their Clickbank sales page since there is no way to embed the sale directly into your Shopify store.
You could, however, use a Shopify app that allows you to add an affiliate link to a buy button that would let your customers purchase the product directly from the Clickbank vendor.
Using Clickbank with Shopify
If you're looking for a way to promote your Shopify store, you may be considering using Clickbank. Clickbank is a digital marketplace that connects merchants and affiliates, making it easy for you to find affiliate partners to promote your products.
In this guide, we'll walk you through the steps to connect Clickbank to your Shopify store using Zapier.
Can You Connect ClickBank to Shopify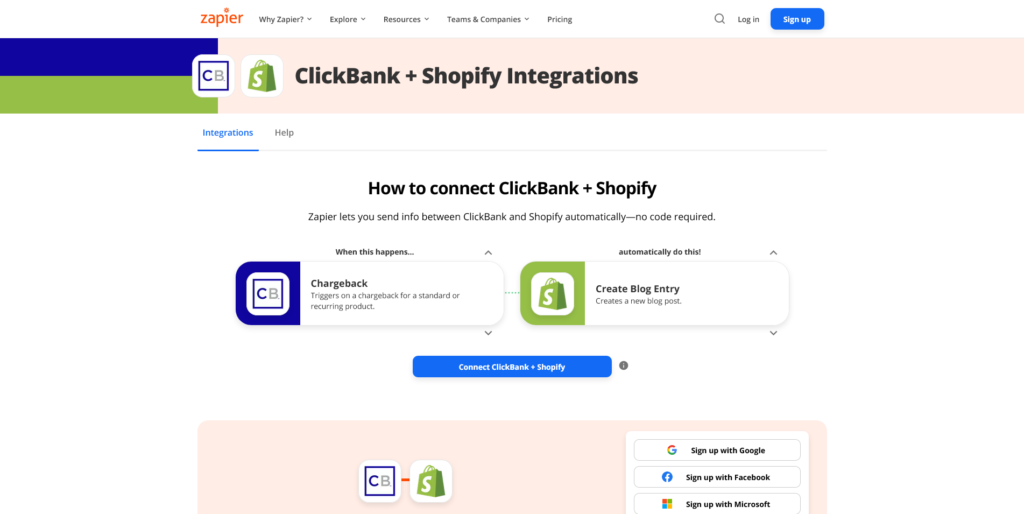 To connect ClickBank to Shopify, you'll need to use Zapier. Zapier is a tool that allows you to connect different applications together so that data can be transferred automatically between them.
ClickBank Shopify Integration
To set up the ClickBank Shopify Integration, you'll first need to sign up for Zapier if you don't already have an account. Once you're logged in you will need to create a "Zap" by clicking on the "Make a Zap" button on the Zapier website.
Then, you'll need to search for the ClickBank Shopify Integration. You can then specify the details of the connection – for example, which of your ClickBank products should be connected to Shopify, and what events you want to trigger the automation process.
How To Connect ClickBank To Shopify
Sign In to Zapier and Authorize both ClickBank and Shopify
Pick an app to serve as a trigger
Decide what actions you want each trigger to automate from either app
Choose the data you want Zapier to send from Shopify to Clickbank or vice versa.
Why Would You Want To Connect ClickBank to Shopify?
There are a few reasons why you might want to connect ClickBank to Shopify. One reason might be to create a streamlined sales pipeline between the two platforms. This can help you manage your sales and inventory more effectively and make it easier for customers to purchase your products.
Another reason you might want to connect the two platforms is that it can help you increase your sales conversions. When customers are able to purchase products seamlessly from your Shopify website, they're more likely to buy what you're selling. And when you have a strong sales funnel in place, it's easier to make sales and grow your business.
What Are the Benefits of Connecting ClickBank to Shopify?
Establishing a connection between Shopify and ClickBank allows you to manage your shop's inventory from a centralized location
Automated order tracking makes it easy to keep track of your sales and inventory levels
You can easily create customized sales funnels for each order
You can use Shopify's vast app ecosystem to create custom eCommerce solutions that Clickbank doesn't offer
Automatic payment processing ensures that you get paid promptly for your sales
The connection helps you to build a multi-channel online presence and attract new customers
Shopify vs Clickbank
Shopify is good for physical products because it offers a lot of features that are useful for managing and selling physical products, such as inventory tracking, shipping apps, and order management tools.
Clickbank is good for digital products because it's built specifically for selling information products (like e-books, video courses, etc.), and it has a lot of features that make it easy to create and sell digital products, such as payment processing integrations, automated delivery systems, and built-in affiliate marketing tools.
Clickbank Affiliate Products vs Shopify Affiliate App
Which is the best platform for you to set up an affiliate program? Clickbank or Shopify? The answer depends on a few factors, such as your budget, time constraints, and level of technical expertise.
If you're looking for a hassle-free option with a large pool of affiliates that are ready and waiting to promote your products, then Clickbank is probably the better choice for you.
However, if you want more control over how your affiliate program works and don't mind putting in some extra effort getting started, then a Shopify Affiliate App may be the better option.