On this page, we're going to look at the best Shopify apps for abandoned cart recovery so that you can increase conversions and put more money in your pocket.
Best Shopify App for Abandoned Cart Recovery
Consistent Cart – Abandon Cart Shopify App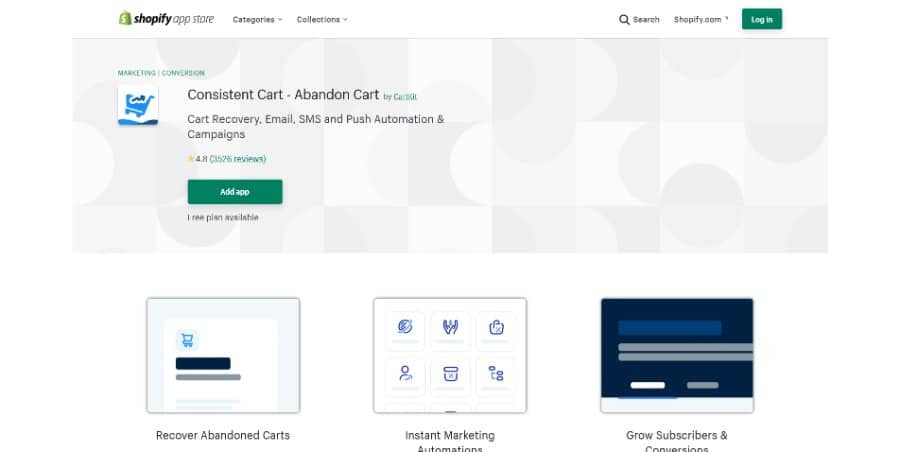 Consistent Cart helps online store owners recover abandoned carts by sending automated push notifications, emails, and SMS text messages to customers who abandon their shopping carts
And this simple yet powerful app allows anyone to create beautiful email templates in minutes without any design or technical skills needed.
Consistent Cart even has a smart auto-stop feature that ensures each abandoned cart recovery email or push notification is sent only after double-verification by your customer.
That means Consistent Cart's intelligent algorithm stops sending emails once the order has been placed successfully on your store, saving you time and money while reducing spam complaints from shoppers about being bombarded with too many messages.
Privy – Pop Ups, Email, & SM Shopify App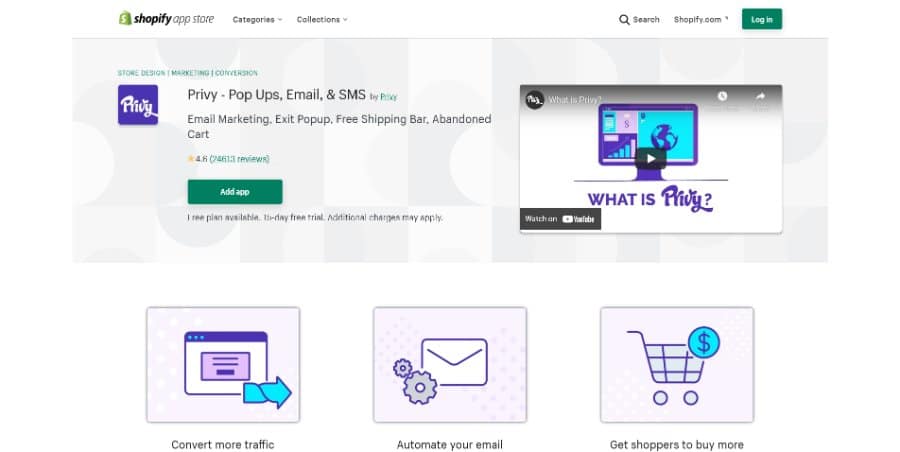 Privy allows e-commerce stores like yours to trigger pop-ups, emails, and SMS text messages when customers add items to their shopping carts but do not complete a purchase.
We've found that these triggered messages convert at higher rates than regular email marketing campaigns because they appear at exactly the right moment – when customers are most likely ready to buy.
Plus, with Privy's powerful analytics dashboard you can track which products sell best using triggered messaging, so every message sent is optimized for maximum revenue.
ABANDONED CART RECOVERY HERO Shopify App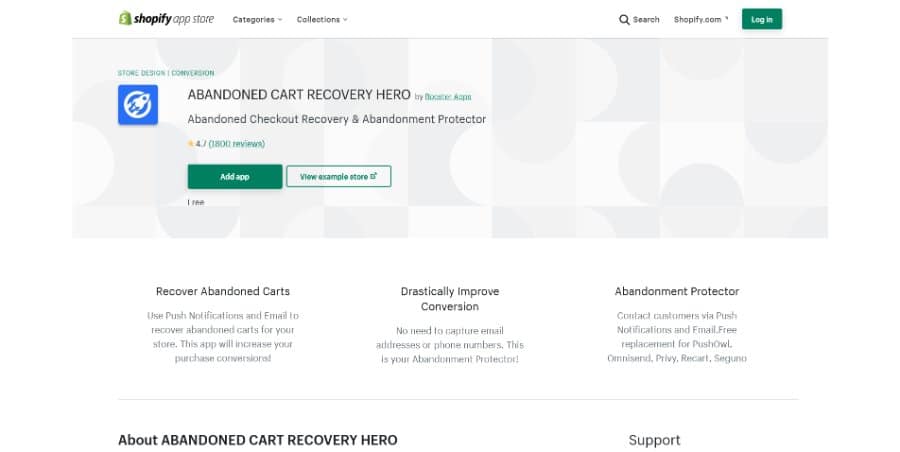 ABANDONED CART RECOVERY HERO is the best Shopify app for recovering abandoned carts and increasing purchases. It can trigger browser notifications to bring back visitors who have left without checking out, or you can use email recovery for those that checked out but didn't complete the payment process (you'll get an order number with every sale).
This app works on its own, so you don't even need any technical knowledge to set it up. Just install it and let the app do all the work while you focus on other important things like marketing or customer service.
PushOwl Web Push Notifications Shopify App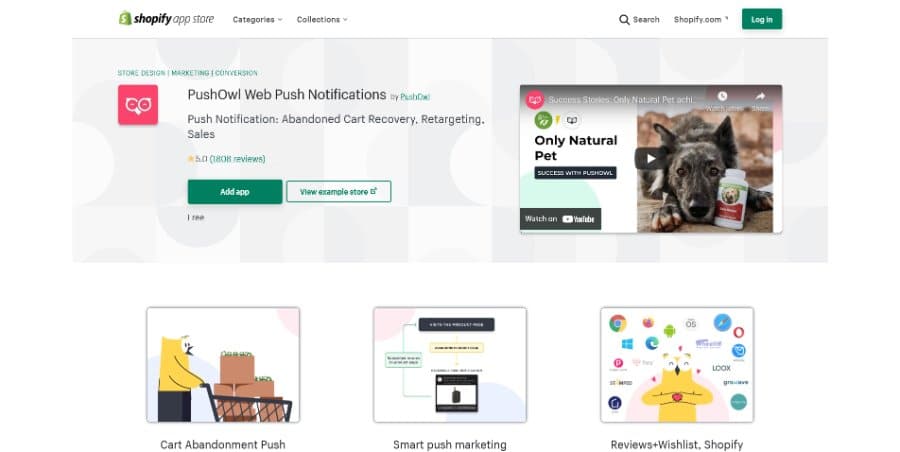 PushOwl lets you reach your customers with a push notification that appears on their desktop or mobile browser in Chrome, Safari, Firefox, Edge, etc… This way you can remind them of their abandoned cart without requiring them to install an app or leave what they're doing right now.
PushOwl is a great abandoned cart recovery app since website visitors often respond to push notifications much better than emails or SMS messages. You can also use the smart alert feature which sends out reminders at just the right time – before people forget about or lose interest in the items they left in their cart.
Whatsapp Chat + Abandoned Cart Shopify App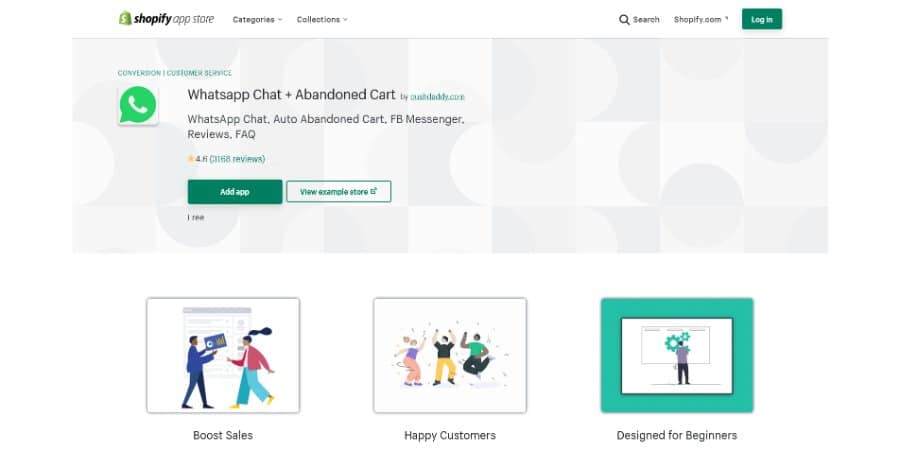 The Whatsapp Chat + Abandoned Cart Shopify App will automatically send an automated message through WhatsApp messenger and Facebook messenger when someone abandons their cart on your store.
The Whatsapp Chat + Abandoned Cart Shopify App is also great for sending special promos or coupon codes that have expired so that people who abandon their carts can still redeem them.
Best of all, this app creates a direct line of communication between you and the customer which makes it easy to follow up with customers without having to guess what they were interested in buying before abandoning their cart.
Abandoned Cart Recovery Email Shopify App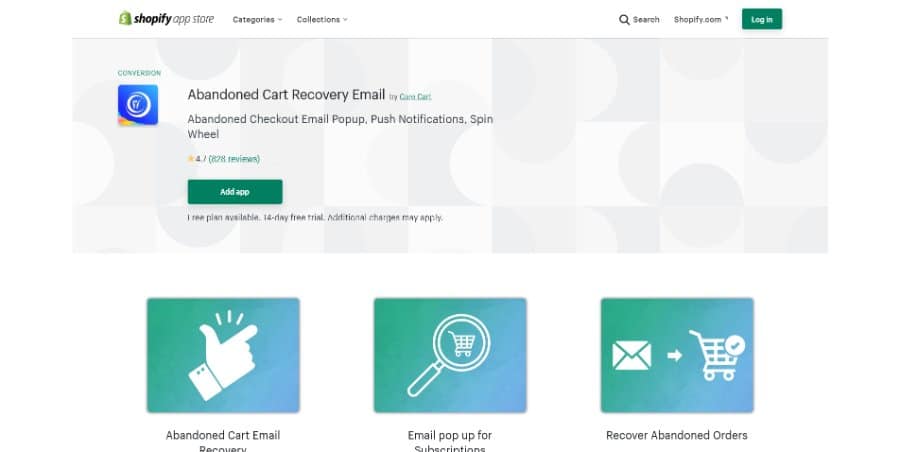 The Abandoned Cart Recovery Email Shopify App helps you recover abandoned carts and win back lost sales. This app has features like "Care Cart" that offers a discount code to all visitors who have added products to their shopping cart but didn't complete the order process for some reason or another.
It also has a Spin-a-Sale feature so visitors can play a Spin the Wheel game to win discount codes in order to encourage them to make a purchase.
Plus, it has an Email Capture popup that requests emails when customers add a product to their cart. And it even supports Web Push Notifications that alerts shoppers about abandoned orders via push notifications sent directly to their browser.
Automizely Emails & Pop Up Shopify App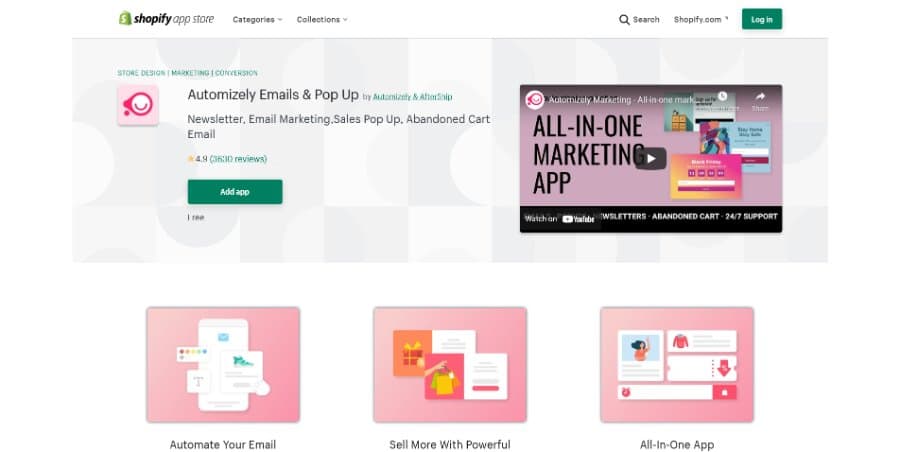 Automizely's Abandoned Cart Recovery allows you to easily create relevant messages based on customer behavior with a flexible email builder and A/B testing tools. You can also use this app to trigger emails based on buyer journeys, product purchase history, or any other criteria you define so customers get exactly what they need when they need it most.
For example, if someone buys men's clothing but not women's clothing in one shopping session, this app will automatically trigger a message that will be sent after their order has been placed reminding them about the items they didn't buy for the ladies in their life – which is especially useful around the holidays.
Omnisend Email Marketing & SMS Shopify App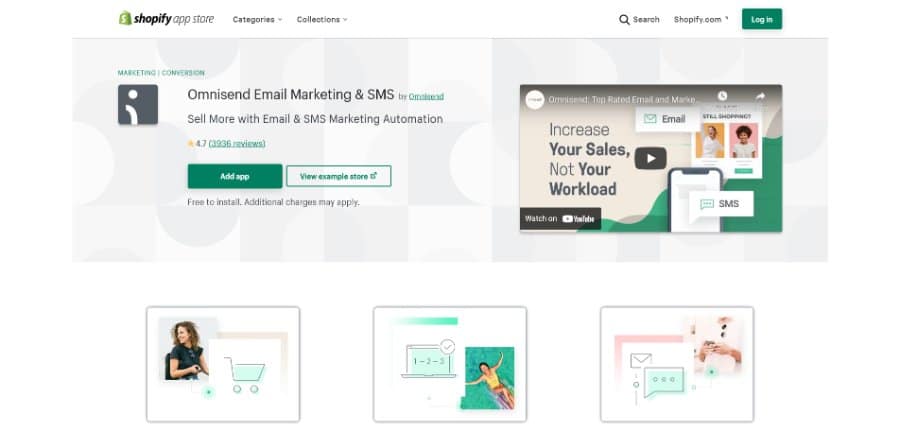 Omnisend allows you to automate ALL aspects of your email marketing campaigns so you can focus on what really matters – growing sales. This app integrates seamlessly with Shopify allowing you to create automated workflows using triggers such as abandoned carts, new subscribers, product reviews, etc. You can send personalized emails based on customer behavior (based on their shopping history)
SuperLemon Shopify App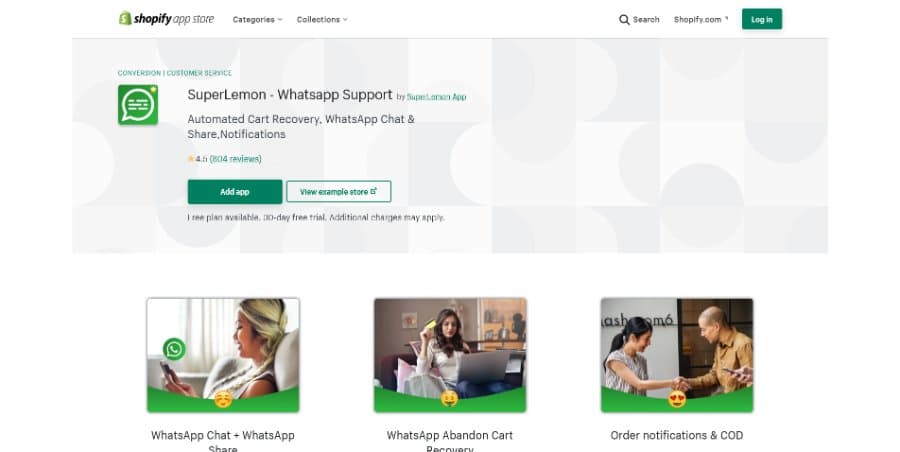 SuperLemon is a complete and easy-to-use app that can help you recover lost sales by automatically sending personalized messages with discounts and coupons to your customers who have abandoned their carts.
The app also allows you to send manual follow-up messages in order to get back to those who didn't open or respond to your automated message. You can even customize your own E-Mail templates, making it easier than ever for you to reach out and win back a customer with a personal touch.
Abandoned Cart Recovery Shopify App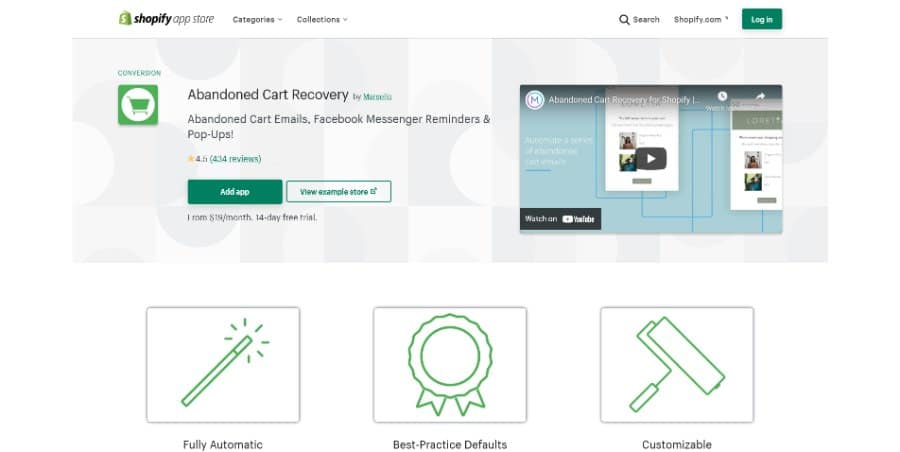 The Abandoned Cart Recovery Shopify App combines automated emails with Facebook Messenger Reminders and Exit Intent Pop-ups to help you get those sales back.
With this app, you can automatically send 3 follow-up emails after someone abandons their cart on your store or website using great-looking templates that are easy to customize in minutes.
The Abandoned Cart Recovery Shopify App can also set up Facebook Messenger reminders so customers can save products they're interested in then receive messages later on when they've left
Abandoned Cart Reminder Shopify App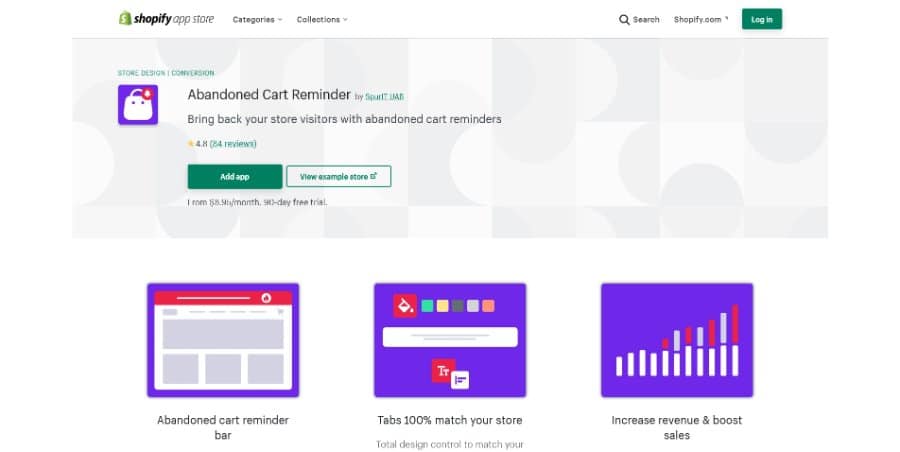 The Abandoned Cart Reminder Shopify App is an easy way to get more sales from customers who have left your site without purchasing anything. With this app, it's easy to increase conversions with abandoned cart reminders that are triggered when the shopper leaves the checkout page or goes away from your website altogether. You can further increase conversion rates by adding discount codes in these messages so that customers receive extra motivation to complete their purchases.