Do you have a website that you built using Wix? If so, there's a good chance that you're looking for ways to monetize it. In this article, we'll discuss the possibility of selling ad space on your Wix website. We'll cover the pros and cons of doing so, and offer some tips on how to earn ad revenue on a Wix website using a number of different ad platforms like Ezoic (Learn More). So, if you're interested in learning more, keep reading.
Can You Sell Ad Space on Wix
Yes, you can sell ad space on Wix, but you are limited to using the Wix Image Element to create and manage your ads.
If you're looking for a more comprehensive option, you can use a third-party provider like Google AdSense or Ezoic (Learn More). These providers offer more options for targeting and measurement, and they typically provide higher clickthrough rates and earnings than Solo Wix Display Ads.
How To Upload Ads to Wix
Once you get a sponsor for your site you can upload ads to your Wix site with a link. The process is very simple – just follow these steps:
Sign in to your Wix account and open the website you want to add the advertising creative.

Click on 'Add' in the top menu bar and then select 'Image'.

Upload the display ad image

Enter the details for your ad, including the URL you want visitors to be redirected to when they click on it

Publish your changes and you're done.
Does Wix Have ads
No, Wix does not have ads that will allow you to monetize your site, but on their entry-level plans, they will run a small Wix ad on your site.
You can, however, run your own ads on your website using Adsense or other 3rd party marketing integrations to monetize your Wix website.
Related: What Do Wix Ads Look Like?
Wix Advertising Services
Wix AdSense App

The Wix AdSense App (Get App) makes it easy for you to add Google Ads on a Wix website without any coding skills or editing HTML code. Having Google ads on your site is great, but it can be hard to find the time and energy to manage them. To make things easier you can download the free Wix app that automatically places AdSense ads in positions where they will be most effective. This way you can spend more time working on your business and less time managing ad placement.
With the Wix AdSense app, you also can customize the look of your ads so that they match the design of your site, and control how many ads are displayed at once based on what's most important for you (clicks or impressions). Plus the Wix AdSense app features detailed analytics that will help you track performance over time.
Ezoic Wix Integration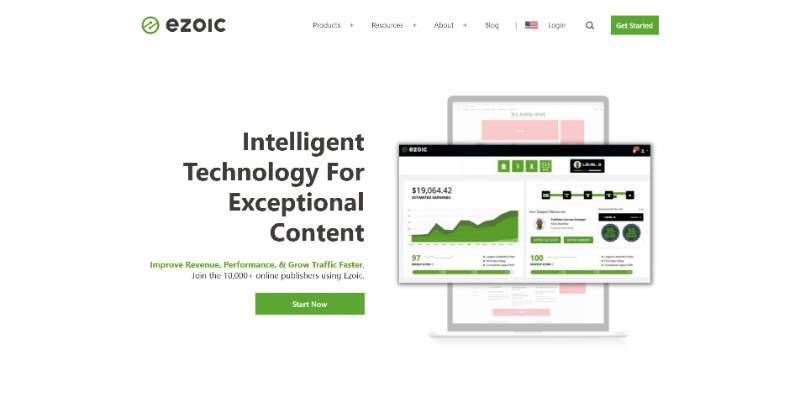 Ezoic (Free Sign Up) is a complete marketing platform that will help you make more money, improve your conversion rates and get more traffic. It's the only tool you need to intelligently monetize, produce and market content.
With Ezoic you can optimize your site for SEO and generate ad revenue with ease. And their video player lets you earn more from your site with video ads that you can't get access to when you use Google AdSense.
Plus, their analytics tools are second to none since they allow you to see what is working best for your audience so you'll know exactly what type of content you should create next.
Mediavine Wix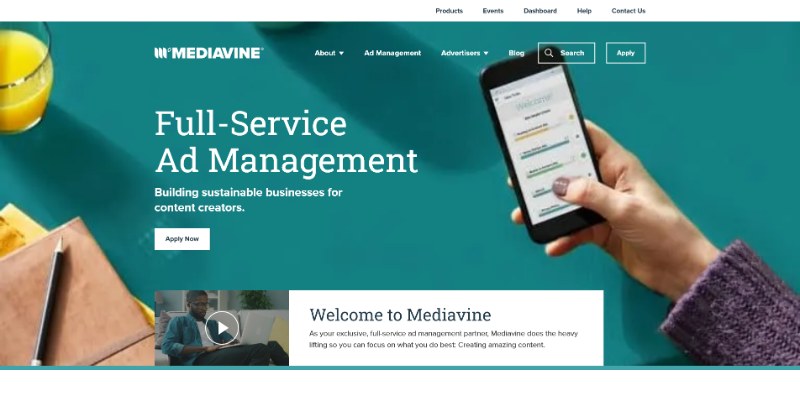 Mediavine is an all-in-one platform that allows you to earn top dollar from display and video ads, and they optimize your site's ad placements without you ever touching code or dealing with ads. However, they require that you have 50,000 sessions in the previous 30 days (per Google Analytics) in order to apply to their ad network.
Wix Affiliate Marketing Website
If you're looking for an alternative to selling ads on Wix, and want a way to make money from your website without the hassle of selling anything, consider joining an affiliate program. When you join an affiliate program, you can promote other people's websites in exchange for commissions on sales.
Best of all, most affiliate programs even have a collection of pre-made display ads that you can place on your Wix website, so you can test out if it's even worth selling ad space on Wix
Conclusion
There are many ways to generate revenue on your Wix website. You can sell ads, do a sponsorship deal with an advertiser, or add affiliate links to your posts. These three methods are all great options if you want more control over your monetization strategy without having to rely solely on ads.