This post will review 10 of the best Wix templates for Real Estate Professionals that are currently being used by top-performing realtors to create high-converting websites for their property listings.
If you are a real estate professional looking for an affordable and easy-to-use website builder, then Wix (Free Trial) is the perfect platform. It offers templates that will allow you to be up and running in minutes even if you have never built a website before.
Whether it's a residential property or commercial property you have for sale, these templates offer all of the tools and features you need to showcase and close on more properties than ever before.
Best Wix Templates for Real Estate
Real Estate Consultant Wix Template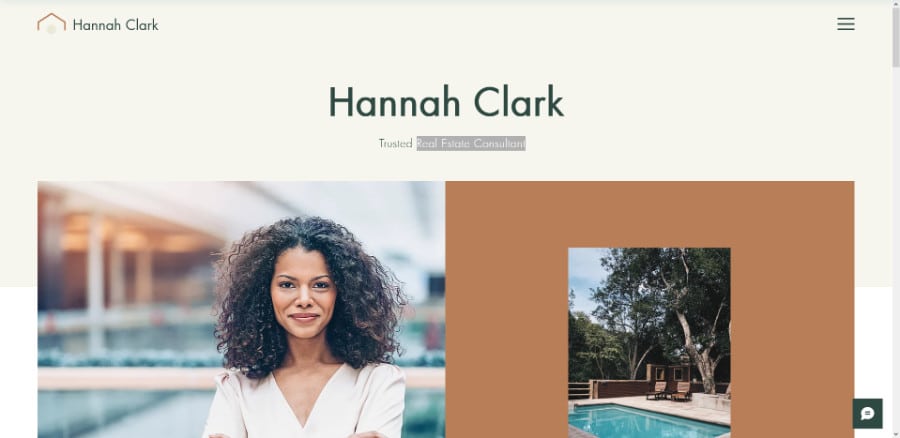 The Real Estate Consultant Wix Template offers a fresh new take on how your business should be branded online. This Wix template makes it easy for you to create an attractive website that includes all of your social media accounts so that you can spend more time closing deals than maintaining your online presence. This template also comes with a built-in booking app, which allows potential clients to schedule appointments directly from your site without having to pick up the phone or email back and forth.
Real Estate Landing Page Wix Template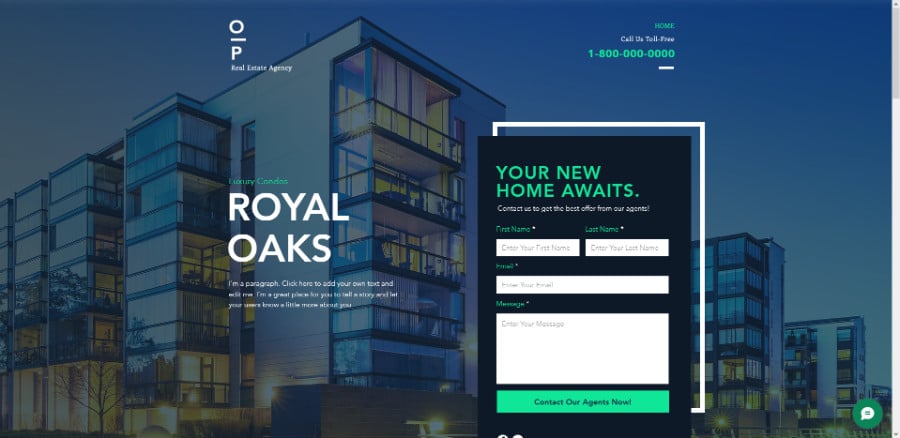 This Real Estate Landing Page was created with a focus on getting leads for real estate agents. We know that lead capture forms are essential in this competitive market, but we also understand that they need to look good too. That's why this template features a clean design that helps get your message across without distracting potential buyers from signing up for more information about your services or properties.
Real Estate Firm Wix Template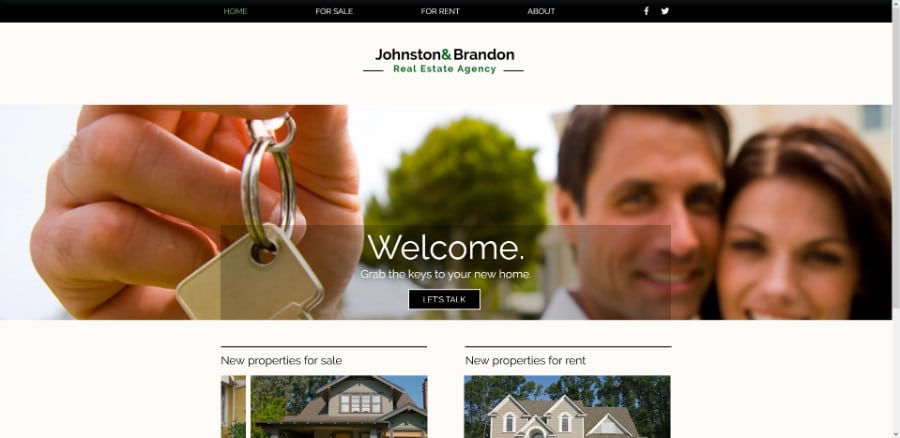 The Real Estate Firm Wix Template is perfect for any real estate firm since it comes with everything you need in order to showcase properties on your website. You can easily add new listings, photos, and videos using the drag-and-drop builder interface which makes creating content fast and easy. Plus this template is fully responsive so it will automatically adjust its layout depending on what device or screen size your visitors are using (desktop, smartphone, or tablet).
Luxury Real Estate Firm Wix Template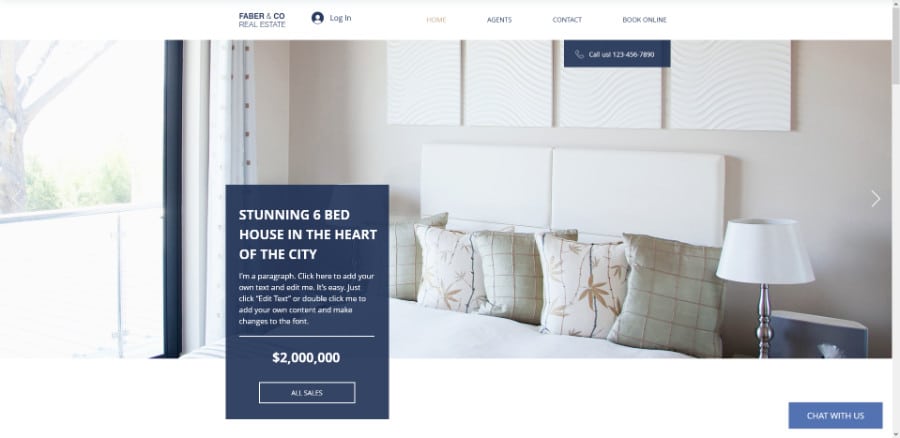 The Luxury Real Estate Wix Template offers everything you need in order to create a professional-looking website that will help you sell high-end real estate fast. With this Wix template creating beautiful websites for yourself and your clients has never been easier.
Luxury home buyers are looking for an agent that offers more than just exposure on the MLS, they want access to top agents and personalized service.
The Luxury Real Estate Wix Template for real estate professionals allows you to list your properties directly on your website. You can easily add new listings using the built-in property management system and integrate live chat into the site so clients can contact you instantly if they have any questions about available properties.
By offering this level of personalization you will be able to differentiate yourself from other agents and win over high-end clients in the crowded luxury real estate market.
Single Family Real Estate Landing Page Wix Template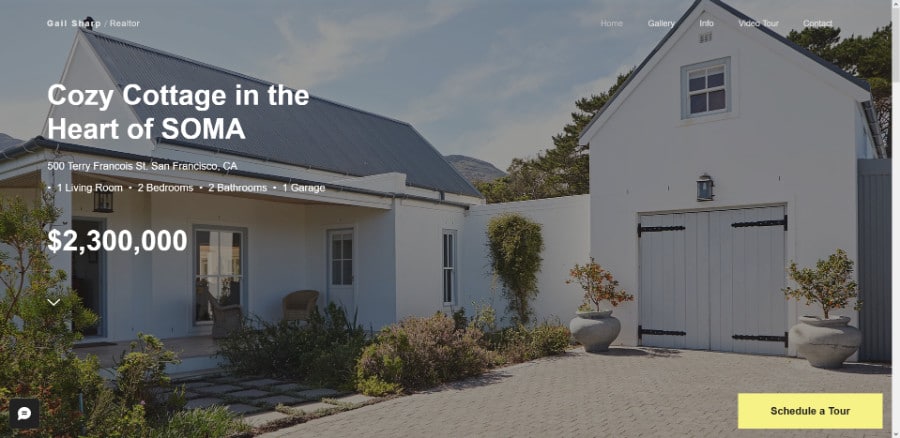 This Real Estate Landing Page Template is perfect for any real estate agent looking to expand their reach in today's digital world. This is not your average real estate website template. With its clean layout and modern typography, this landing page has been designed with conversion in mind. It's perfect for showcasing one listing at a time while providing an immersive experience that will help buyers fall in love with your property online before they even set foot inside it in person.
Contemporary Real Estate Firm Wix Template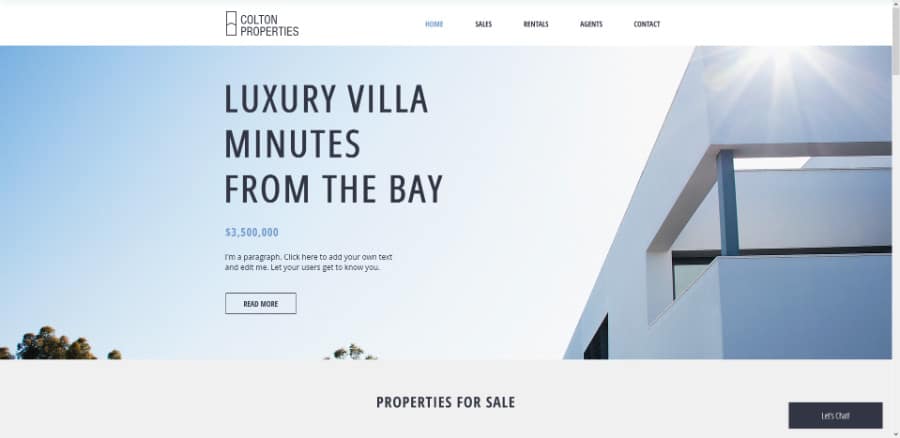 This Contemporary Real Estate Firm Wix Template is clean and professional so that you can showcase your listings in style. You'll be able to make a great first impression on potential buyers with this eye-catching design. The staggered grid layout makes it easy for visitors to browse through multiple property listings at once while still keeping them organized by price range or area of interest. This theme also has some slick animation and parallax scrolling effects, which will help keep people engaged as they scroll down the page looking at different properties.
Property Group Real Estate Wix Template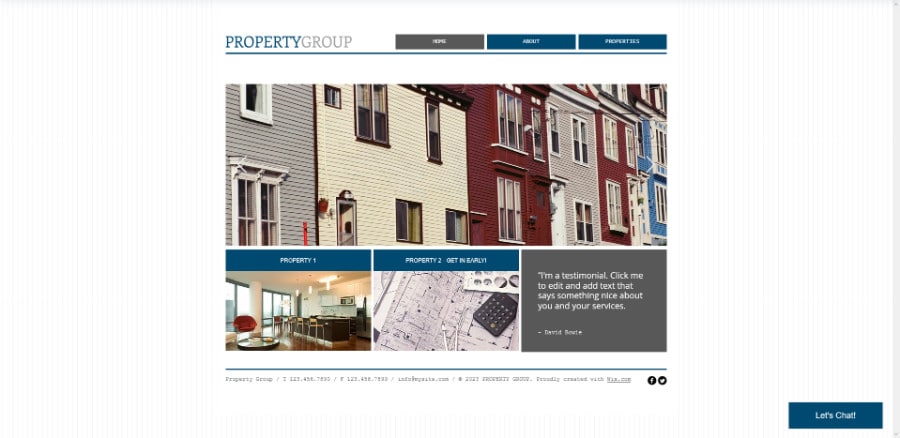 This Wix Template was designed specifically for property groups and real estate syndicates who want a simple design that gets straight to the point with no fluff or clutter getting in the way. Plus it includes a live chat integration so potential investors can reach out about investment opportunities directly from the site without having to call anyone first. And it has a showcase page that can be used to feature properties, so investors can quickly peruse all of your multi-family properties and apartments from anywhere in the world.
Real Estate Agency Wix Template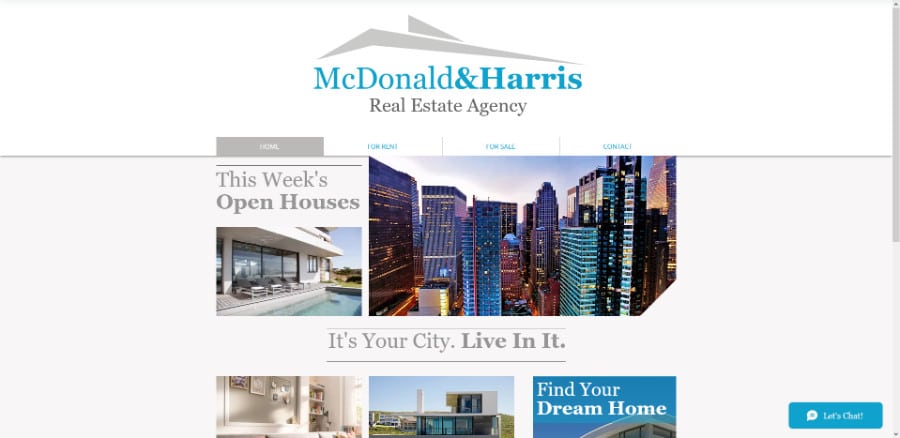 This Wix Template is perfect for high-end residential real estate agencies that are focused on selling luxury homes and apartments. This template lets you show off your properties with high-resolution images, videos, and virtual tours.
The site is fully responsive and will look great on any device including mobile phones, tablets, laptops, and desktop computers. This template comes with all of the features you need plus plenty of extras such as a contact form built right into Google Maps so potential clients can quickly get directions to your listings right on your site
Rental Real Estate Wix Template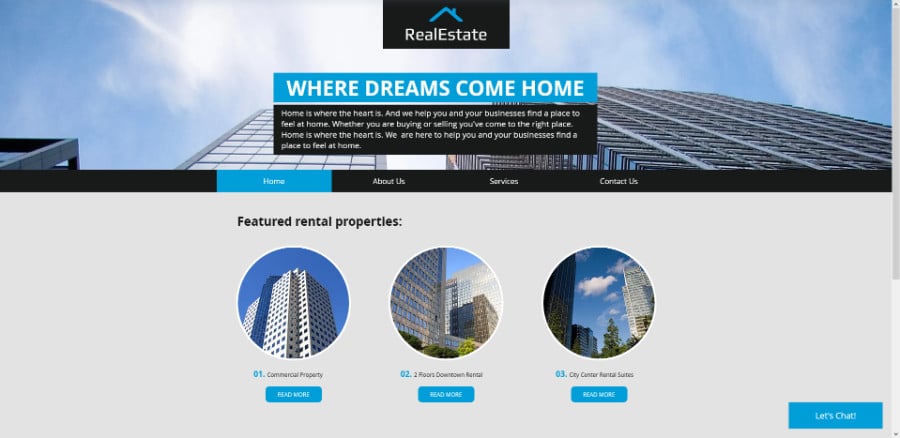 With the Wix Rental Real Estate Template, your company will have a website that is both attractive and functional. This site is built with all of the features you need to get more traffic and convert them into leads who are interested in renting your properties.
And your team can easily edit the content on any page using Wix Editor so they don't need advanced coding skills to make changes when new listings become available or pictures need updating. The design also includes an easy-to-use contact form so visitors can reach out directly if they want more information about one of your properties or would like to schedule a showing right away.
Architecture Firm Wix Template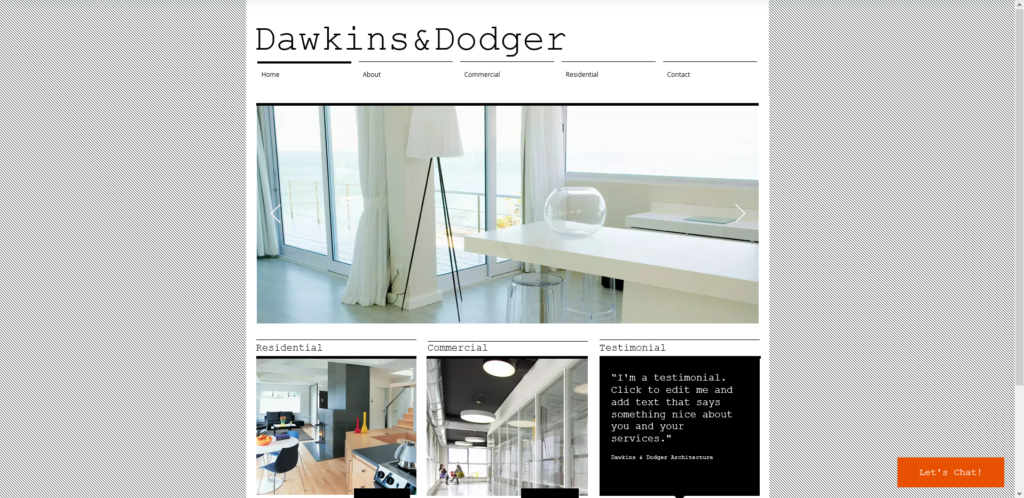 This Wix Template was made specifically for architects who want an easy way to create their own online portfolio but don't want to spend hours learning how to code HTML or CSS. This template has everything that an architect needs to show off floorplans and renderings to client testimonials. It also has social sharing built-in so you can easily post your work on multiple platforms like Facebook, Twitter, Instagram, and Pinterest without having someone else make it all happen.
Best Wix Real Estate App
Virtual Tours Wix App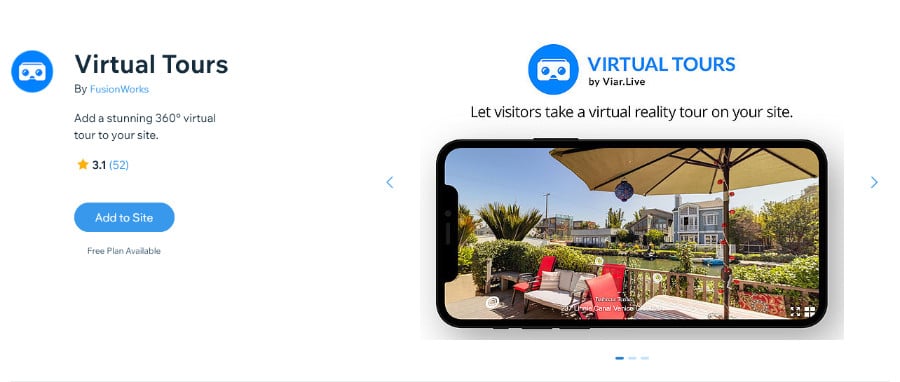 Virtual Tours (Free App) allows real estate agents to create 360 panoramic views so they can add immersive virtual tours to their listings.
The Wix Real Estate App also allows agents to easily add hotspots to specific areas of interest within each VR Tour so they can provide more information about unique features or hidden gems inside their listings.
This app also works great for real estate businesses without professional photography equipment since it makes it easy for anyone to create stunning VR experiences using the camera on most smartphones (iOS and Android).
Futurestay Vacation Rental Booking Wix App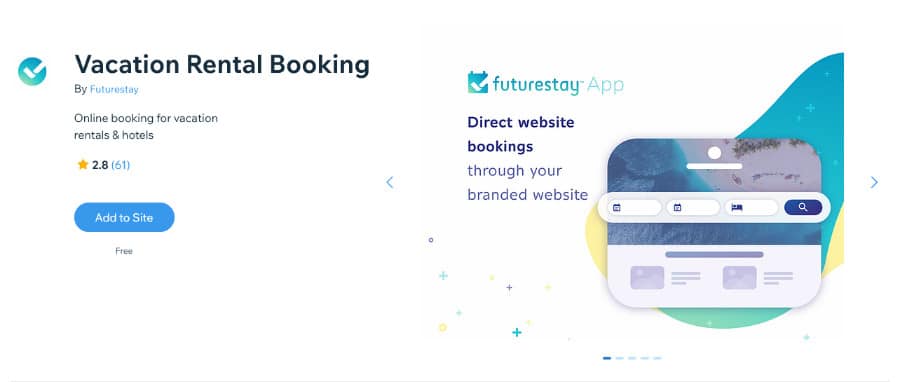 Futurestay (Free App) is the best vacation rental software built specifically for Wix websites so that you can seamlessly connect everything together using one simple dashboard while still keeping full control over all of your data in one place.
Futurestay has created the perfect solution for vacation rental listing agents that want to accept direct website bookings without having to pay fees or set up a complicated system.
By using this Wix app you can connect your listings directly with Booking.com, Expedia & Airbnb & Homeaway in just minutes.
The Futurestay Vacation Rental Booking Wix App is the easiest way for property owners and agents to accept direct website bookings.
Plus, you can update calendars, rates, and property information in real-time without having to worry about contracts, subscriptions, or upfront costs. All you pay is a 3% credit card fee and the traveler pays a 5% service fee when they book a short-term rental using this app.
Real Estate Listing Wix App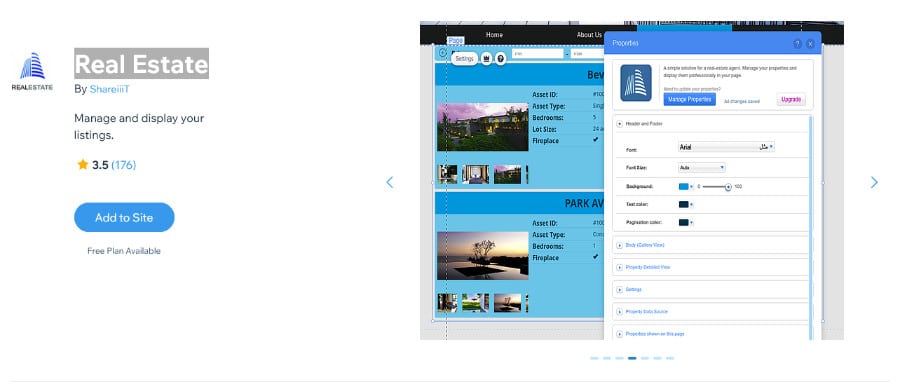 The Wix Real Estate Listing App (Free App) is a great tool for real estate agents that want to display MLS listings on their Wix website. With this app, users can search and filter properties by location, price, or category. They can also view details of each listing including pictures, descriptions, and contact information. Best of all your visitors will be able to save favorite listings as well as send them to friends via email or social media.
Plus this app is fully customizable so that agents can personalize it with their company's branding colors and logo. This way your website will look clean and professional while still providing an interactive experience for potential clients visiting the site.
The listing app is easy to install on your site with a single click from within your Wix dashboard. Then once you connect it to your MLS account it will automatically pull in all of your MLS data and display it on your website exactly as you want it laid out.
Then when a property is updated in your MLS account, this change will be instantly reflected on the website without you having to do anything yourself – it can't be any simpler than that.