If you're an artist looking for the best Wix template, look no further. On this page, you'll find 15 of the best Wix templates for artists that will help you turn your creative ideas into reality.
Plus, all of these templates are free when you sign up for any Wix plan! And if you want to test any of these templates out you can get started today with a Free 14-Day Wix Trial (Click Here)

Best Wix Template for Artists
Art Gallery Wix Template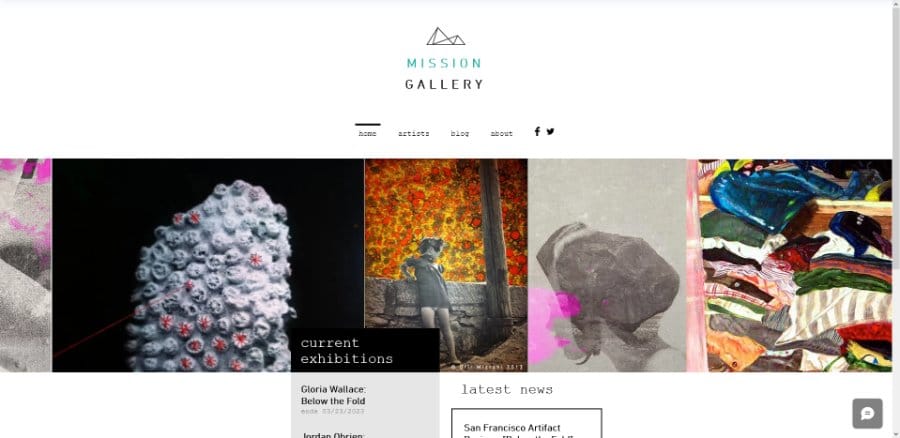 The Art Gallery Wix Template was designed specifically with artists in mind. It allows you to display and sell your art online while also providing opportunities for people to interact with you in person at events, exhibitions, or shows that you're holding. This way you can reach both local patrons as well as visitors from all over the world who may be interested in acquiring some of your original works of art for their collections.
Art School Wix Template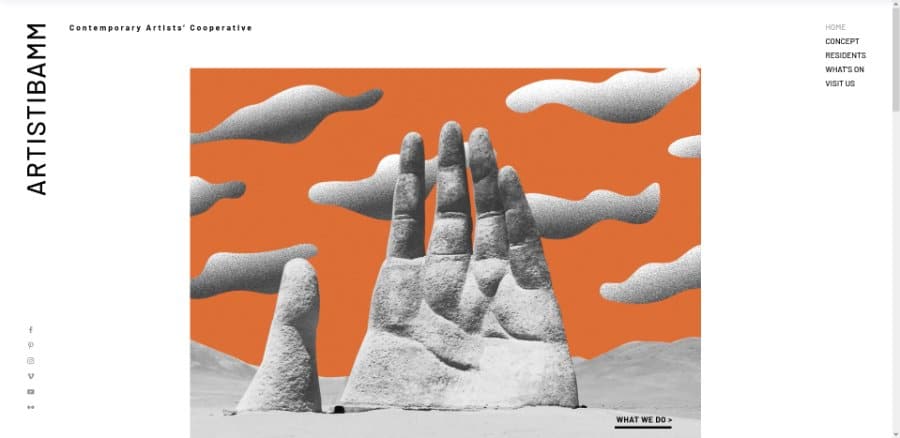 The Art School Wix Template is perfect for art schools that want to create an online gallery and sell courses directly from their website. This template has a clean grid-style layout with bold colors and custom animations. It also includes live chat support so customers can easily contact your business without having to leave the website or fill out any forms! You can also use this template to set up a membership site and accept class registrations and payments from anywhere in the world.
Art Community Wix Template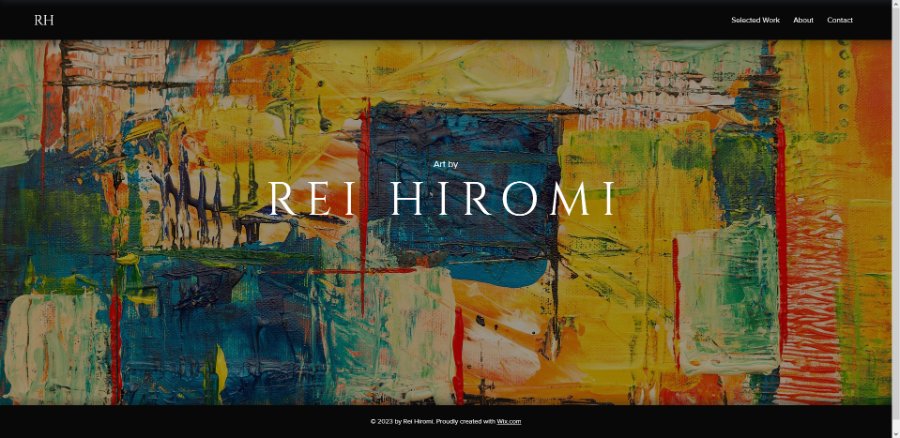 The Art Community Wix Template is perfect for artists' cooperatives, galleries, museums, schools, and other creative professionals. This template can be used as an online portfolio or for promoting events such as exhibitions or classes. The clean layout of the site makes it easy for visitors to find information about you or your work, while also allowing them to easily contact you directly with questions or requests. And the built-in blog will allow you to create posts about what inspires your work, new projects in progress, and more.
Illustrator & Graphic Designer Wix Template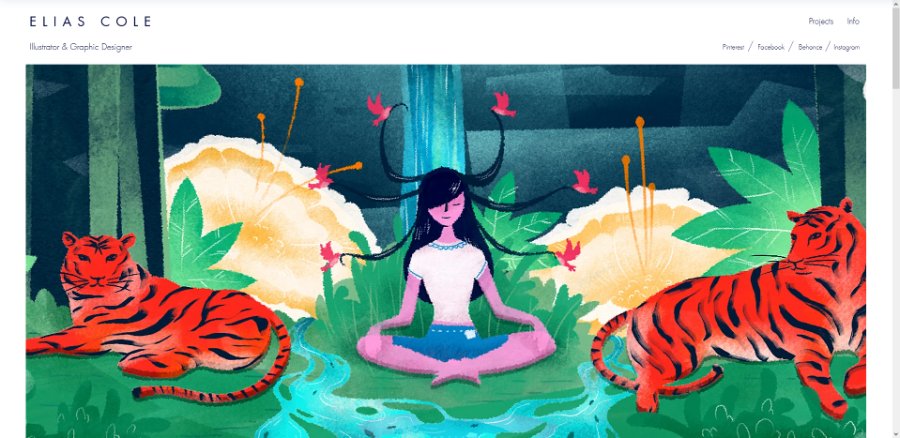 The Illustrator & Graphic Designer Wix Template was designed with artists in mind so they can show off their portfolios online. It's not just for illustrators either; photographers, digital artists, animators, web designers, and other creative professionals will love this template too. Plus, thanks to its unique layout this template is perfect for any artist that wants to create high-resolution full-width image galleries to showcase their art.
Art Store Wix Template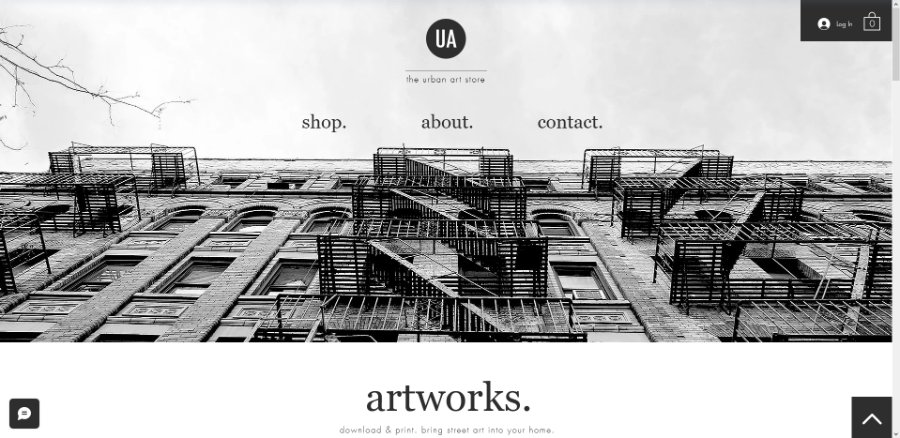 The Art Store Wix Template is perfect for any type of visual artist looking to sell their art online in a professional manner with minimal effort. The site includes everything you need to start selling physical and digital art online from product pages to a built-in shopping cart. Plus, customers can also register for an account to track their orders, or visitors can purchase items as a guest without having an account. And this template also has a live chat feature for real-time customer support, so you can communicate with your customers while they are browsing your products and much more.
XIO Art Gallery Wix Template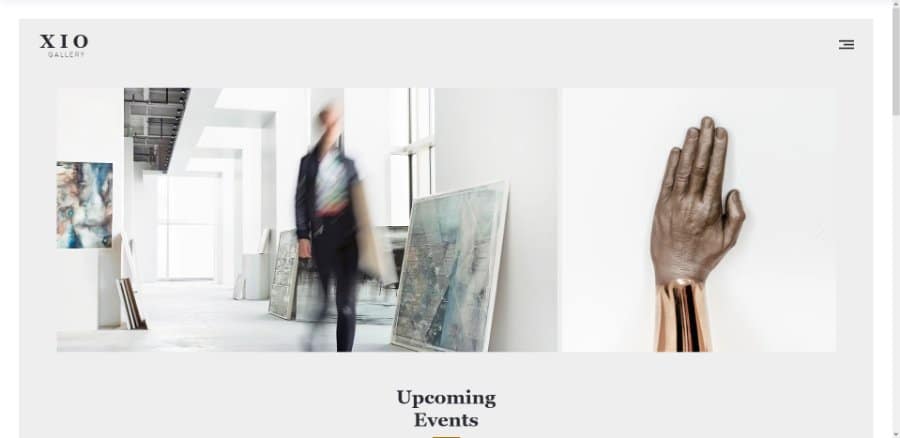 XIO Art Gallery is a simple Wix template for galleries that offers everything you need to create a beautiful online gallery without any coding knowledge required! This art gallery website design has mobile responsive features so everyone can view your site on any device from anywhere in the world, and it also includes social media integration with Facebook, Twitter, Instagram, etc. Plus, you'll be able to sell tickets for exhibitions online using this template as well as showcase news about upcoming artists – all from one easy-to-use platform!
Art Exhibition Wix Template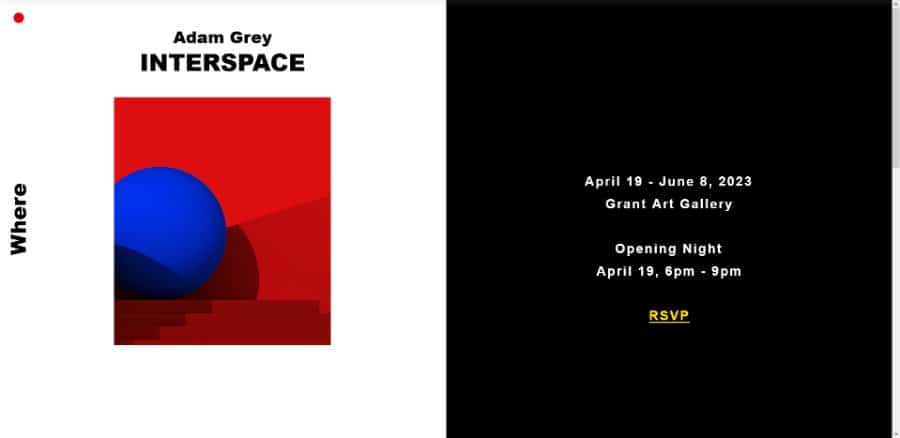 The Art Exhibition Wix Template is for artists that want to showcase their upcoming exhibition and get people excited about it. This template features a one-page design that highlights your artwork with large images, allows visitors to RSVP with their email address, and includes social sharing features so you can spread the word on Facebook or Twitter. Plus, you can easily embed videos into this template as well as additional contact information for press inquiries using the built-in Contact Form Widget.
Victoria Art Gallery Wix Template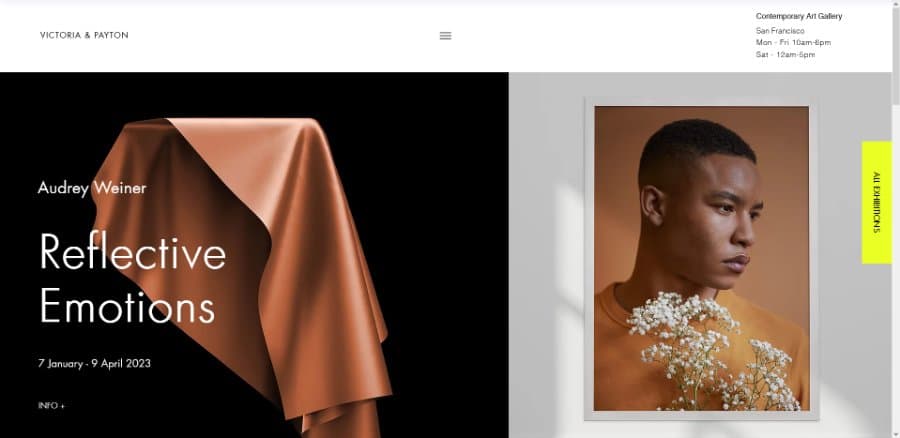 The Victoria Art Gallery Wix Template is made for Avante guard artists and it is completely different from all the other boring templates out there. It was designed to be sleek and modern, but also easy to navigate. You'll find that this design is perfect for promoting upcoming exhibitions, displaying your featured artist's work in an eye-catching way, and even keeping visitors up on the latest news from the art world by reading blog posts about what's going on in the contemporary art scene.
Creative Resume Wix Template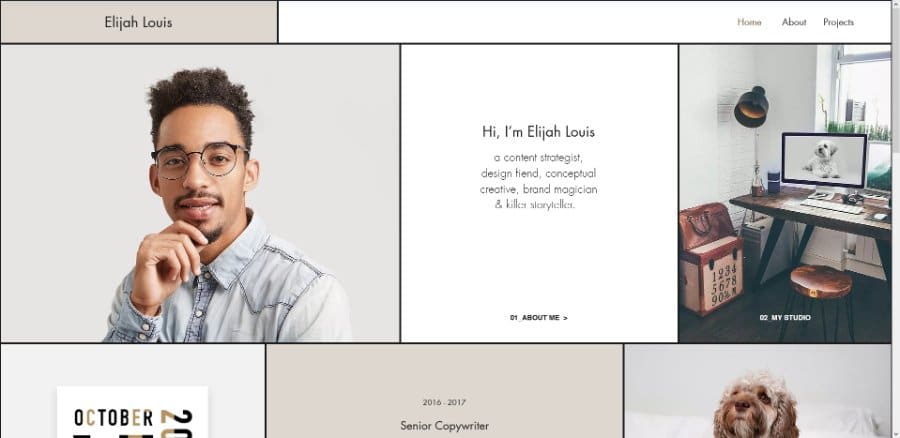 The Creative Resume Wix Template will help you create a professional-looking website that gets noticed by potential employers and recruiters. It includes all the elements needed for your website including a photo gallery, work samples, contact information, portfolio links, and project pages to showcase your past work. The About page is also fully customizable so that you can include personal details such as hobbies or interests that employers like to check out when they are looking to find someone that will be a good fit for their company.
Read More: Best Wix Template for a Resume
Marcus Art Photographer Wix Template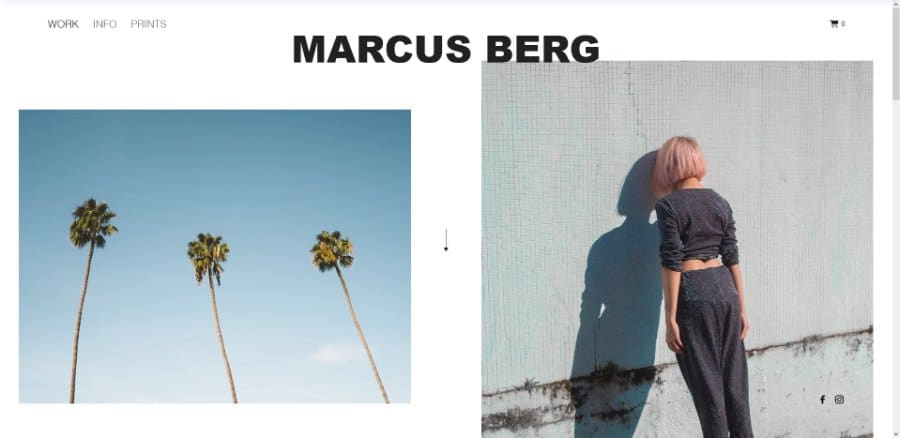 The Marcus Art Photographer Template was built with the needs of professional photographers in mind. It has everything that you need to run an online photo business like a shopping cart and custom galleries that look great on any device. With this Wix template, you can easily create an online store where people can buy photographic prints of your images or purchase stock photos from anywhere in the world 24/7 day and night.
Children's Art School Wix Template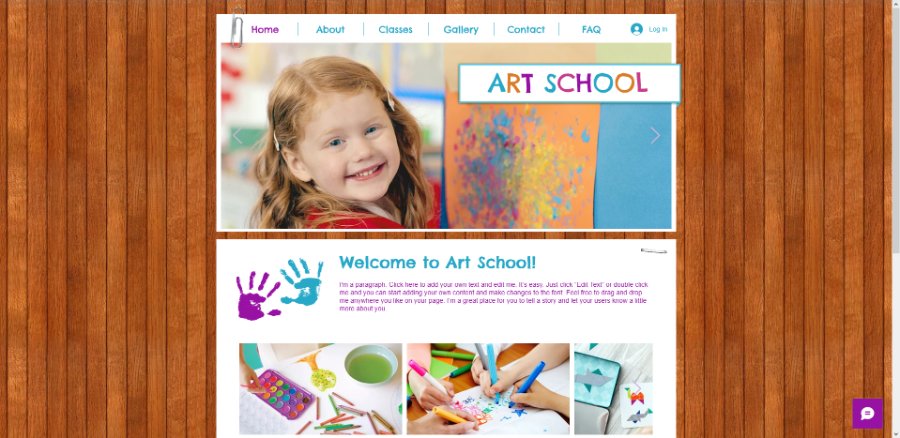 The Children's Art School Wix Template has everything you need to sell classes online and showcase student work on a beautifully designed website. It's perfect for kid's summer camps, church groups, community centers & more!
The Children's Art School Website Template makes booking classes online fast and easy by allowing parents to search through different class options and enroll immediately on your site without having to pick up the phone or send an email back-and-forth with you first.
Plus, the built-in Live Chat feature allows customers who have questions about anything from pricing, locations, class times, or any other queries they might have to get answers quickly without waiting for an E-Mail or a phone call.
Not only will this save you time responding to emails but it will give new parents peace of mind knowing that if they do have any questions about scheduling their child's first day of class everything can easily be done right on your website.
Art Blog Wix Template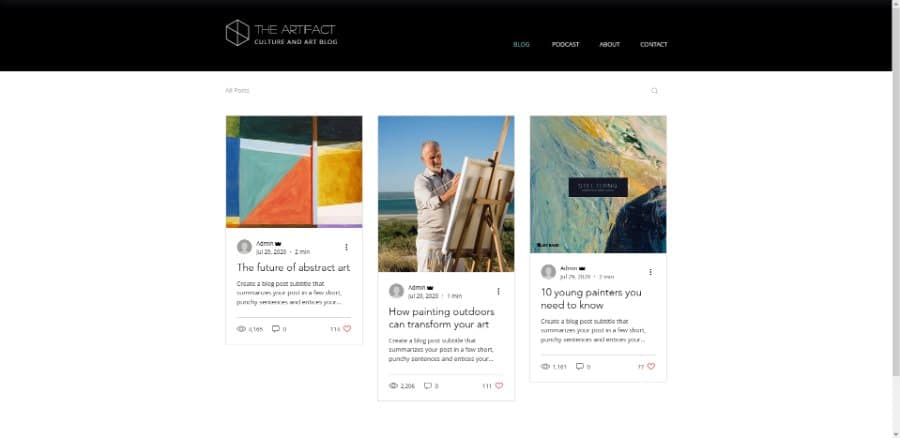 The Art Blog Wix Template is the perfect solution for artists who want an easy way to showcase their artwork online. It's also great for anyone looking for a simple blogging platform with built-in podcasting features. The Art Blog Wix Template makes it super simple for everyone involved – from patrons wanting to support their favorite artists to bloggers looking for new ways to showcase artwork online – because we know how important it is that every artist has an accessible platform where they can be discovered by new audiences around the world!
Artist Drawing Wix Template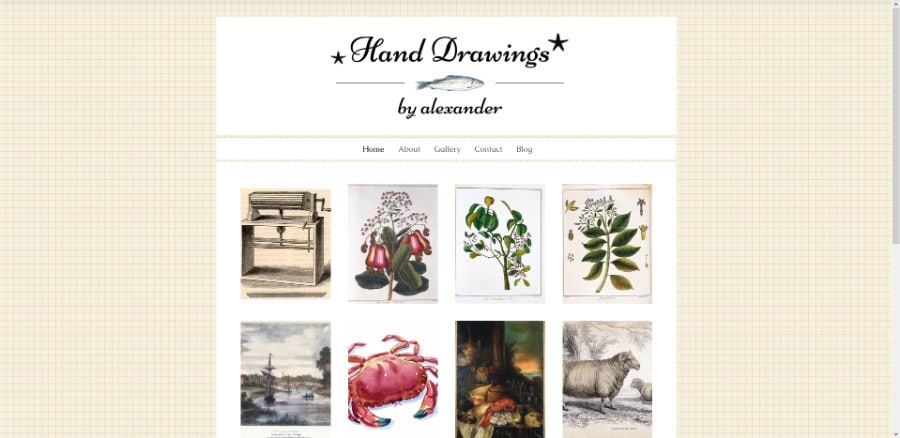 This Wix Template makes it easy for artists to create an attractive website that showcases their work in a way that will bring in more sales. This template offers all of the features needed by artists including a blog section, social media integration, and a gallery section so visitors can easily view your portfolio without having to click through several pages of images. This template is also perfect for crafters that want to create a website to compliment their Etsy stores.
Artist Website Wix Template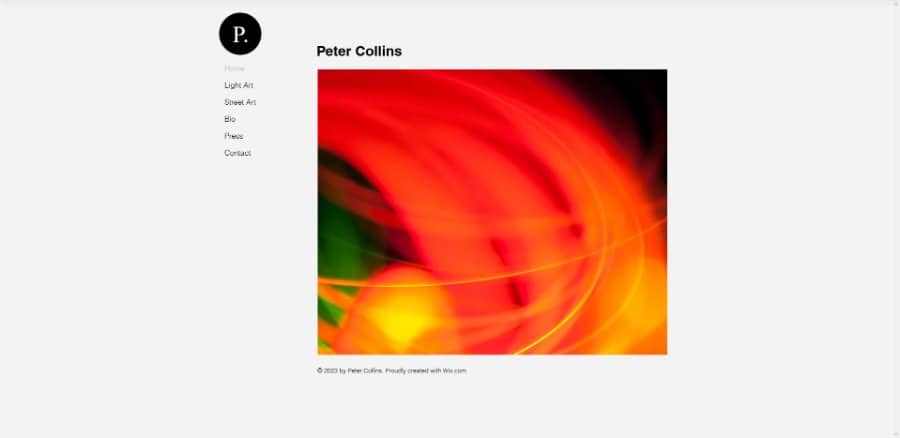 This Artist Website Wix Template is designed specifically for artists and designers who want to share their work with the world in an attractive way. With this artist website Wix Template, you'll be able to build your own beautiful portfolio site in no time at all using drag and drop features. Overall, this is an excellent choice for artists of all skill levels who want a simple template they can use to display their work online with minimal effort.
Best Wix App for Artists
Art Store Wix App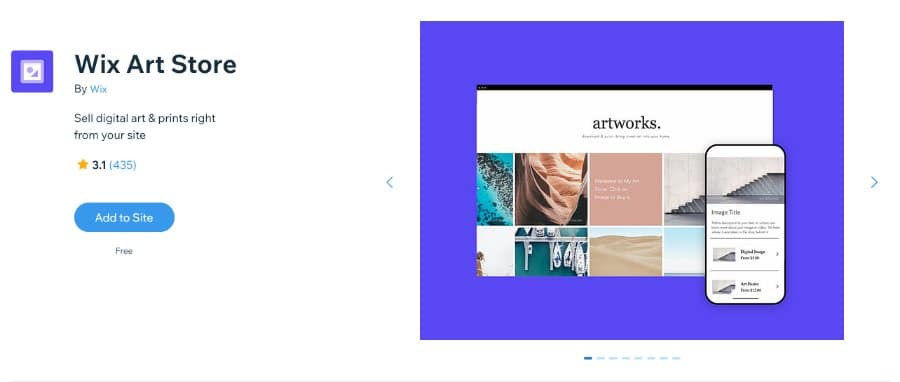 The Wix Art Store App (Get Free App) Makes it easy to showcase and sell your artwork on a Wix website. With the Wix Art Store App, selling digital images or printed items has never been easier. Simply choose from 12 customizable layouts to create a personalized design for each product category.
The Wix Art Store App also lets you add watermarks to your images to keep your images safe from copyright infringement. Plus, you can set up custom licenses for customers who purchase digital files so they are protected legally when using their purchased image in other projects.
And best of all if you decide to sell physical products you won't have to worry about the time-consuming tasks of packaging and shipping, or dealing with customer service issues.
This means that you can focus on doing what you love – creating art!
Pro Gallery Wix App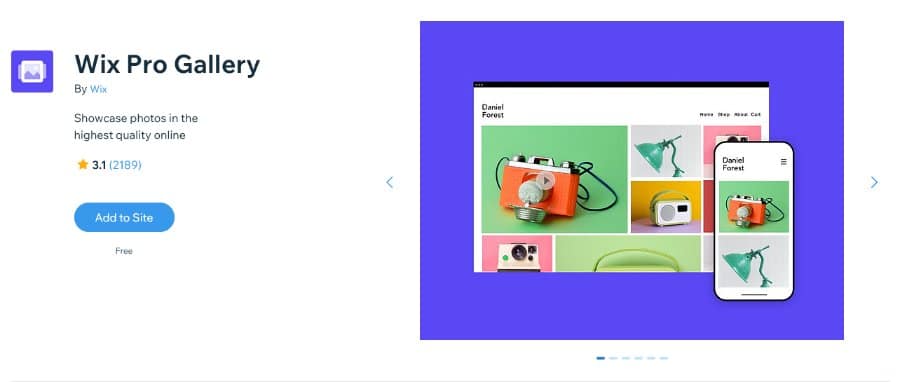 The Wix Pro Gallery (Get Free App) is a completely new way of thinking about galleries. It's easier to use and it looks better than any gallery you've ever used before. With this app, you'll be able to customize your gallery using animations, hover effects, and color overlays so it will stand out from other sites in a sea of boring photo albums. And because we know how important security is for artists, this app includes built-in image protection so you can rest easy knowing your work is safe from hackers or thieves who want to steal your images without paying for them first!
Photo & Video Gallery Wix App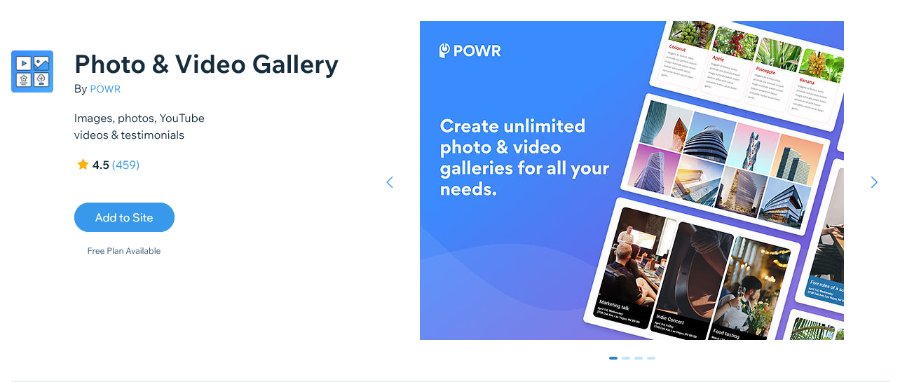 The Photo & Video Gallery Wix App (Get Free App) makes it easy for professional photographers and artists to create stunning image galleries on their websites. It looks great out of the box, but you can customize it so that your gallery matches your brand perfectly. With just one click add captions, titles, and descriptions to each photo or video in your gallery. You can also embed videos from YouTube and Vimeo directly onto your site faster than ever before with the Photo & Video Gallery Wix App
Wix Shared Gallery App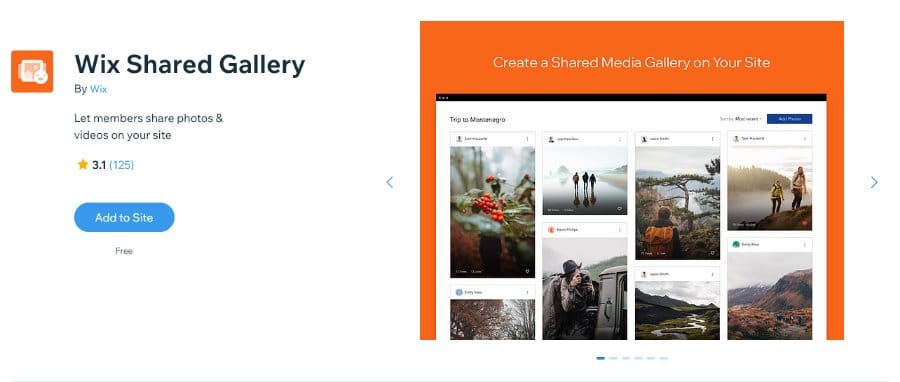 The Wix Shared Gallery App (Get Free App) lets you create a shared gallery on your site where members can upload photos and videos, tag other members, like each others' posts and view comments in one place. This app is great for organizing user-generated content while keeping it safely contained in one area of your website.
Portfolio Wix App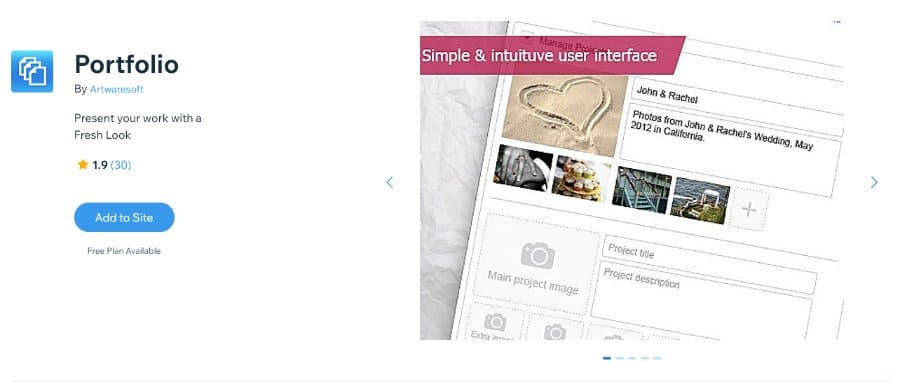 With the Portfolio Wix App (Get Free App), you can create a beautiful, professional and easy-to-use website that will showcase your designs and attract clients to hire you for their projects. With this app creating a stunning portfolio site has never been easier! Just select from any one of the predefined styles or easily customize any style to make it unique just for you! And if that's not enough – all of the templates are responsive so they look amazing on mobile devices as well!
TubePress Wix App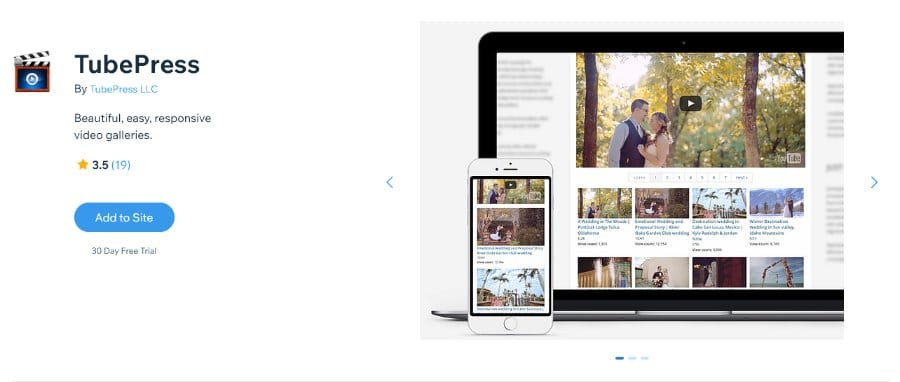 The TubePress Wix App (Get Free App) is the best way for musicians and video artists to share videos online with their fans. With this app, it's easy to add unlimited galleries of videos from YouTube or Vimeo onto any page on your site.
This app will also populate your galleries automatically with the latest videos from your YouTube channel, so you don't have to lift a finger to publish them on your site!
It's also easy to customize each of your video gallery settings so that they match the look and feel of your website. Overall, with this Wix App, adding a professional-looking video gallery to a Wix website has never been easier.