If you're using Wix to create your site, you'll want to find the best review app to help you collect and manage your customer feedback. Fortunately, we've done the legwork for you and compiled a list of the best review apps for Wix. So whether you're looking for an app to help with product reviews, hotel reviews, or anything in between, read on for our top picks.
Best Review App for Wix
Fera Reviews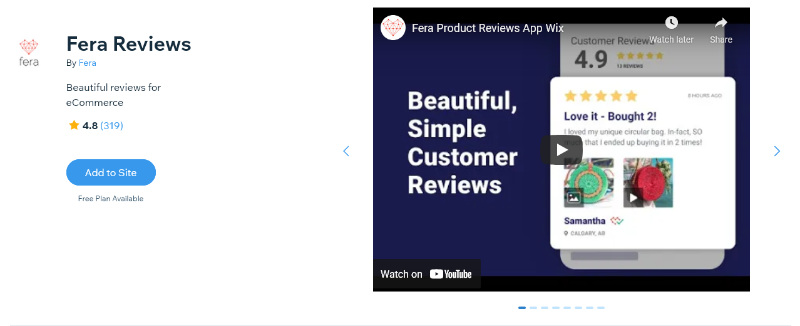 Fera Reviews (View App) is a review app that can help you get more reviews and ratings for your business. It's easy to use- you can import existing reviews from Google and Facebook, and customers are automatically asked for reviews after orders. You can also let customers submit photos and videos with their reviews.
Plans start at just $5/month, and there's a free plan that lets you send up to 10 review requests per month.
POWR Comments & Reviews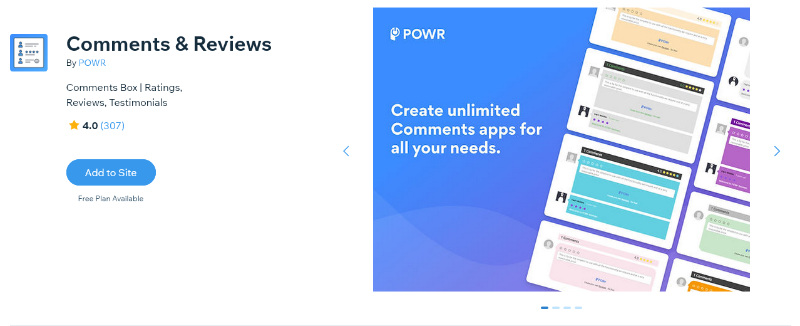 POWR Comments & Reviews (View App) is the best review app for Wix. This app allows you to display star ratings to boost customer confidence with social proof and increase sales. You can also allow upvoting and replies to get more engagement and approve any new comments before they're posted.
With POWR Comments & Reviews, you can display comments, ratings, and reviews on your website in a beautiful and user-friendly way. You can also enable star ratings to boost customer confidence with social proof and increase sales.
Additionally, you'll get automatic email alerts every time you get a new comment on your site so that you can reply quickly and keep the conversation going.
Try POWR Comments & Reviews today (Click Here)
Editorify – Product Reviews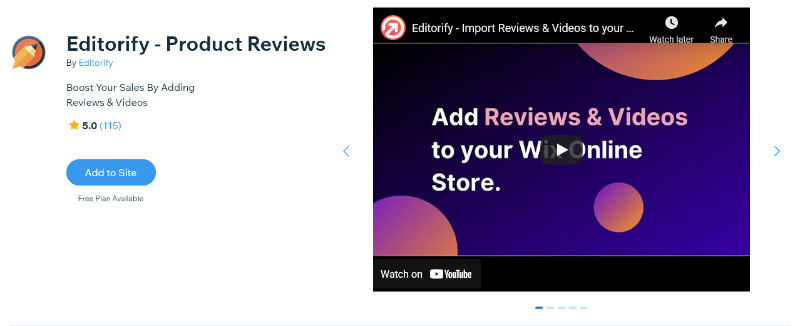 Editorify (View App) is the best app when it comes to importing product reviews from different online marketplaces. The app makes it easy for you to import product ratings, reviews, and photos from top eCommerce sites like Aliexpress, Amazon, Etsy, Dhgate, Taobao, 1688, Wish, Banggood, Gearbest, Walmart, and more.
What's even better is that you can also import explainer videos from popular video-sharing platforms such as Youtube and Vimeo. This will help you increase trust and sales of your products as consumers will be able to see real people using and reviewing your products.
Inffuse Testimonials Wix App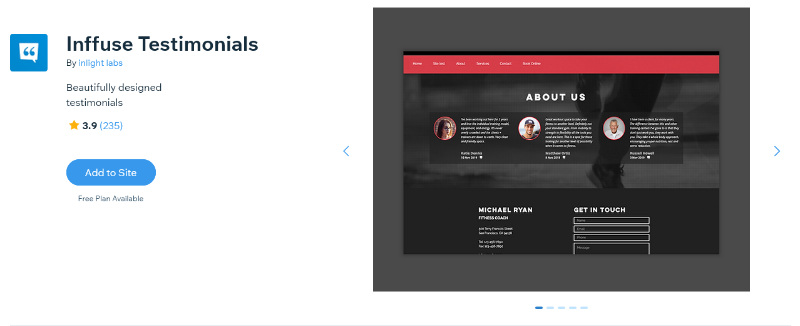 The Inffuse Testimonials (View App) is a great way to collect customer reviews and testimonials from different sources. You can easily customize the look and feel of the app to match your branding and localize it to your language. Plus, this app is easy for customers to use, and provides a simple submission form for them to share their thoughts.
Customer Reviews Wix App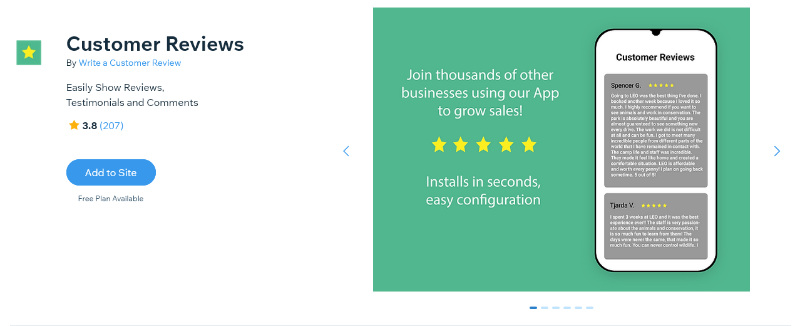 The Wix Customer Review App (View App) is the perfect way to get more sales. This app is simple and easy to use, and it allows you to publish verified reviews on your website. You can also choose to show starred reviews on Google.
Plus, it's free to use and, if you want even more features, you can sign up for a premium plan that allows you to display different reviews on different pages, indexing by search engines, and other added benefits.
Kudobuzz Reviews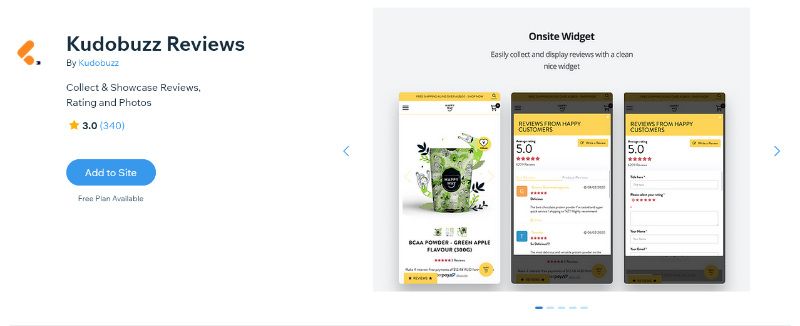 Kudobuzz (View App) has a free plan where you can send out 100 review request emails per month and collect reviews from Facebook. You can also import your existing reviews into Kudobuzz and customize your review widget to match your website's look and feel. Plus, this app's SEO-friendly code will make all of your published reviews easily indexable by search engines, giving you an edge over the competition in terms of SEO rankings.
Testimonial Builder Wix App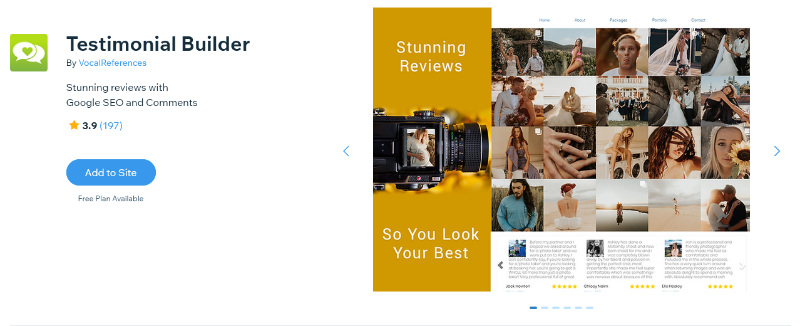 The Testimonial Builder Wix App (View App) makes it simple to import your social media reviews from Google, Facebook and Yelp directly onto your website. Plus, with a variety of different layouts to choose from, you can create a look that's perfect for your business. And if you upgrade to the Pro or Pro Plus plan, your testimonials will be formatted using schema that is readable by Google, which will help improve your Wix site's SEO performance.
Stamped Product Reviews – PoCo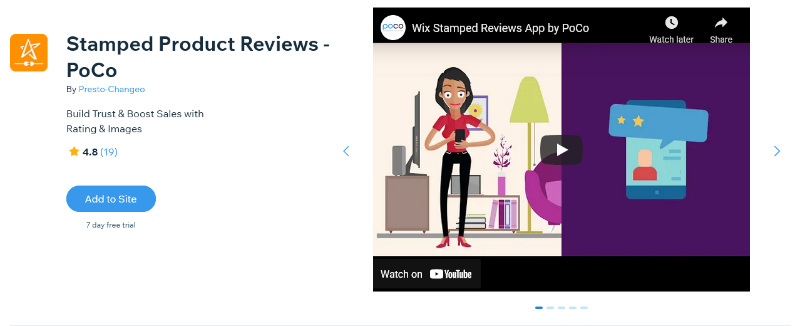 PoCo Stamped Product Reviews (View App) lets you collect and display customer reviews, and it has built-in moderation tools so you can ensure that only real reviews get published. And if you want to take things one step further, you can turn on this app's advanced commenting capabilities so customers can have a private conversation about their experience with your product.
Plus, the free-text search feature makes it easy for customers to find reviews with topics they are interested in. And the integrated social media sharing buttons make it easy for them to share individual reviews with their friends and family.
MyReviews Wix App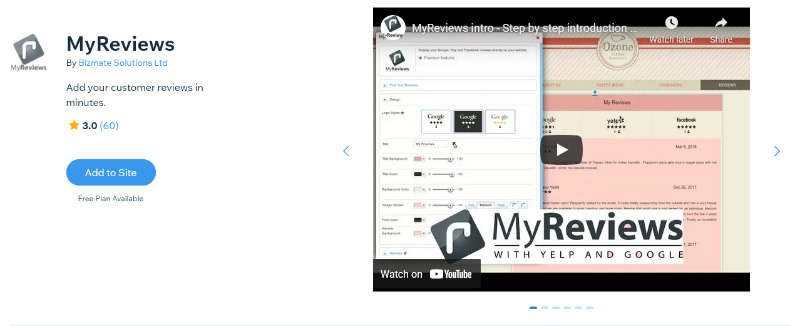 MyReviews App (View App) lets you add your existing reviews from Google, Yelp, and Facebook onto your Wix website. With just a few clicks, you can have your business's reviews widget up and running in minutes – and it's free. Plus, if you upgrade to a premium plan, you can fully customize the layout, styles, and logo to match your brand.
Testimonials Slider Wix App
Want to increase your customer trust and conversions? Displaying customer information for each testimonial is a great way to do that. With the Testimonials Slider Wix App (View App), you can customize the look and feel of the slider to match your site, showcase your top testimonials, and include your customer's name, picture, company, position, and more.
Kewool Testimonials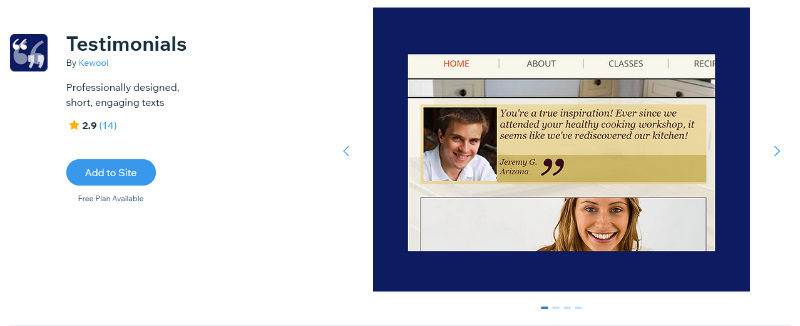 Kewool Testimonials (View App) lets you add engaging and non-intrusive testimonials, quotes, or tips to your site. It's free to try out, so there's no reason not to give it a go. And if you decide that it's right for your business, the pro plan is just $3.99/month.