Are you looking for the best donation app for Shopify? If so, you're in luck. On this page, we will go over the most popular donation apps for Shopify, and we'll discuss their features and how they can help your business. So, without further ado, let's get started.
Best Donation App for Shopify
Shop for Good Donation App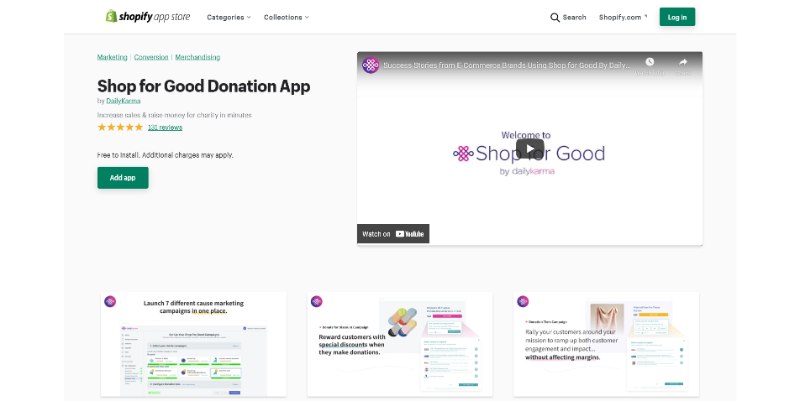 The Shop For Good Donation App allows you to set up donation options like round-up, percentage of sales, or one-time donations using any currency. You can also create custom campaigns where customers can select different donation amounts based on products purchased or even tiered donation levels so they can adjust how much they give as part of their order total.
Shop for Good also gives you access to thousands of different charities so that your customers can easily shop online and give back to reputable vetted charities at the same time.
By installing this app onto your site, shoppers will get notified when they add an item from one of your stores into their cart. When they click on this notification they'll see a list of different causes that are supported by your store's charity partner(s). They're then able to choose which cause they'd like their donation directed towards. This means every purchase made through the Shop for Good App helps make a difference that both you and your customers can stand behind.
Change Commerce – Donation App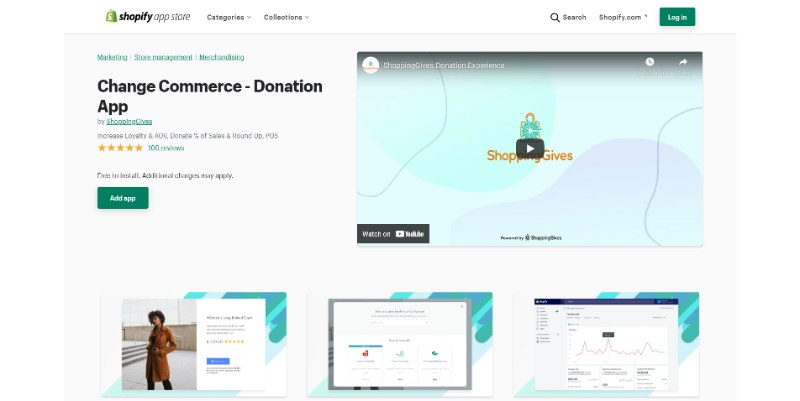 Change Commerce allows you or your customers to donate a portion of their purchase or flat dollar amounts per order to charity. With over 1.5 million nonprofits available, shoppers can easily find the cause they care about most and support it through your store. Plus, this app's Shopify POS integration makes it easy for you to bring your online giving initiatives into your physical locations. And you can manage donation amounts and exclusions by product SKU & variant so that you can choose which products or collections support each one of the causes.
Easy Donation App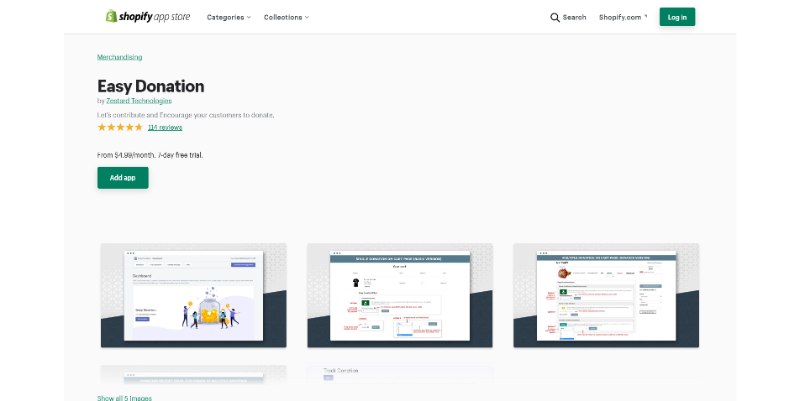 The Easy Donation App lets customers choose how much they want to donate when checking out. This way if someone only has 5 dollars left in their budget but still wants to make a contribution, they can do so without feeling guilty about it. In addition, it lets customers choose which charity they would like their money donated to.
Plus, with the Easy Donation App Shopify store owners also get access to detailed reports of what was collected by date giving them better insight into customer habits throughout the year as well as which customers are donating more than others at any given time.
There are many donation app choices for Shopify, but we think Easy Donation App is the best one for small stores since it's affordable and includes a wide variety of features that will help you grow your business as well as generate more donations for your cause. The Basic Plan starts at $4.99/month which means it won't break the bank, and you can upgrade to the Pro Plan at any time.
You can find out more about the Easy Donation App by clicking here
Sales CountUp Shopify App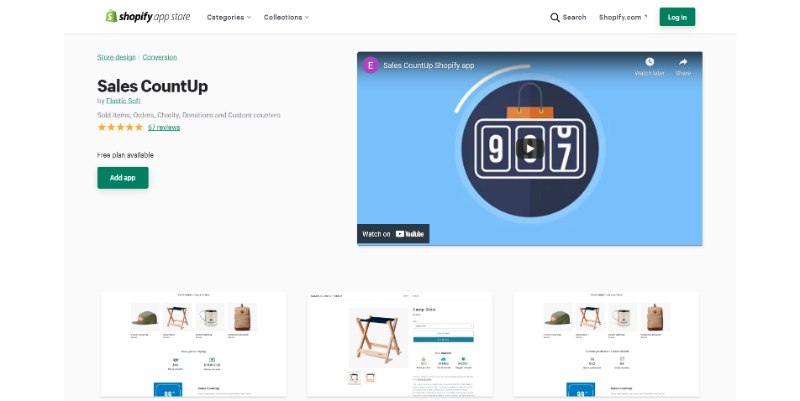 The Sales CountUp Shopify App has many features that will help you maximize profits and improve your customer's shopping experience. For example, with just a few clicks on this application's dashboard, you can set up campaigns to raise money for an event or charity of your choice. You could also organize crowdfunding campaigns by setting up goals and milestones so customers know exactly where their contribution goes when they buy from your shop. And if it happens that one product resonates more than another in terms of sales volume? No problem. With this software, you can highlight products as "bestsellers" which draws attention to them next time someone visits your site – driving even more traffic to those items while also making it possible to help boost the sales of other less popular items.
Give & Grow Donations App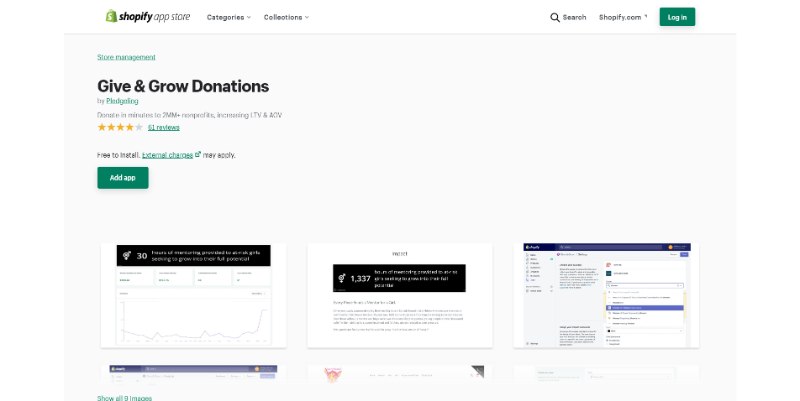 The Give & Grow Donations App is a powerful tool for Shopify merchants looking to generate more revenue and goodwill. It has an easy-to-use interface that can be customized, integrates with the Shopify platform seamlessly, and offers a wide variety of features including customer donations, merchant donation options, and more.
The Give & Grow Donations App is an easy way to get your customers involved in charitable giving. You can choose whether or not you want to donate a percentage of your sales, round up the purchase amount when it's $1+, and select specific products that are associated with charitable causes and nonprofits. Plus, not only does this app offer simplicity for both you and your customer, but it also has one of the largest charity networks in the industry so there's no shortage of nonprofits to support.
Tip Jar Shopify App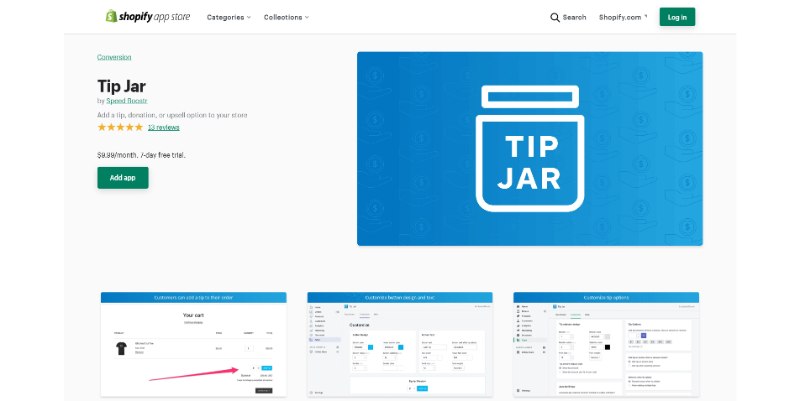 The Tip Jar Shopify App is a free, easy way for your customers to donate or add a gratuity at checkout. This app will help you engage with your customers and generate goodwill by giving them the opportunity to give back even if they don't want to support a cause.
Donate Source – Donation App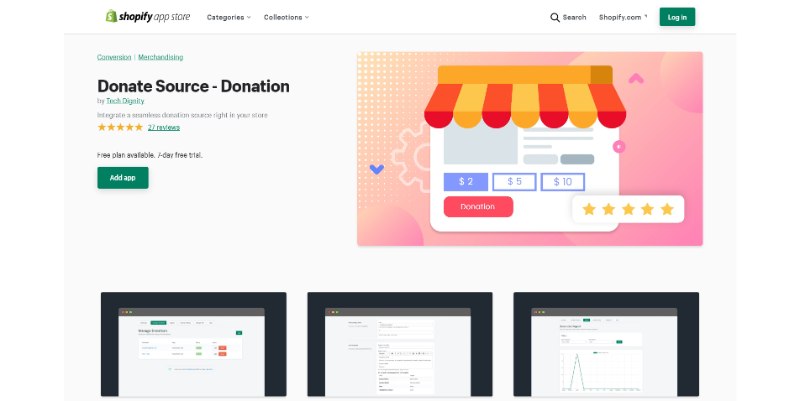 With Donate Source, you can easily add single or multiple donations to your product and cart pages. With this app, you can customize your donation widgets and offer a custom donation option for customers who would like to make a larger contribution than what's listed. Plus, each time a donation is processed this app will automatically send receipt emails after each transaction is made so that you never have to worry about manually sending receipts again.
DonateMate Shopify App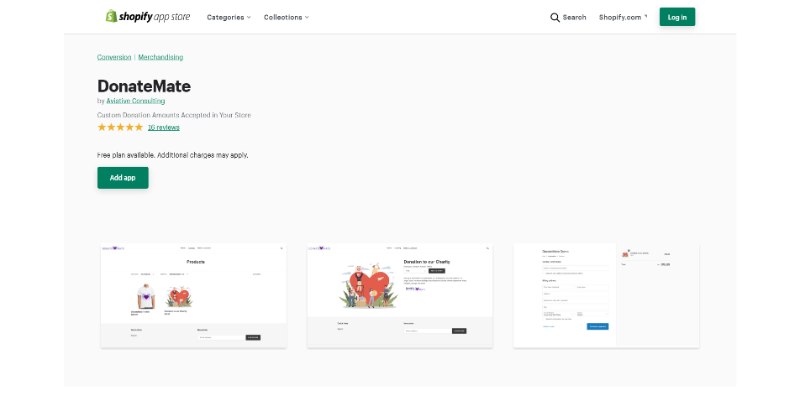 DonateMate offers a variety of features, including accepting donations as post-checkout donations and allowing you to customize your own pricing tiers. And the donation process will go smoothly with all transactions going through your Shopify account, making it easy to manage everything from one central location. Plus, with this app's integration into POS systems like Square or PayPal, there are no limits when it comes to where you can collect donations.
EcoCart: Carbon Neutral Orders Shopify App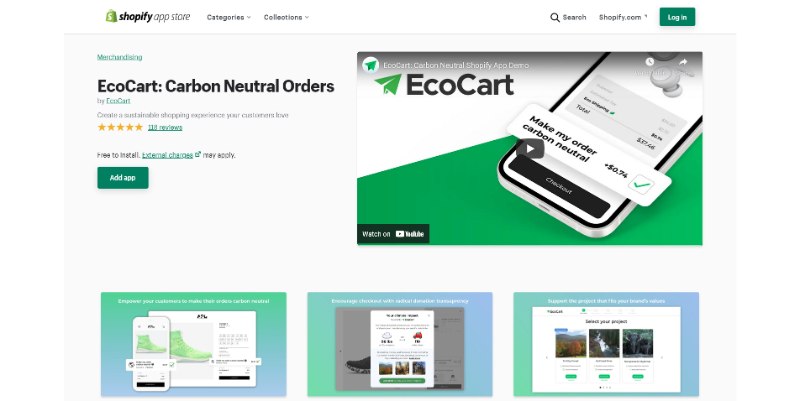 EcoCart is a carbon-neutral online shopping cart. With every order, it offsets your customer's climate impact through strategic partnerships with leading environmental organizations like The Nature Conservancy and Carbonfund.org. This app also provides you with a live dashboard so that you can track how many tons of CO2 emissions are being eliminated for each purchase on your website. If this sounds interesting to you, don't hesitate to click here to see what EcoCart can do for your business.
Verdn – Pledge with Products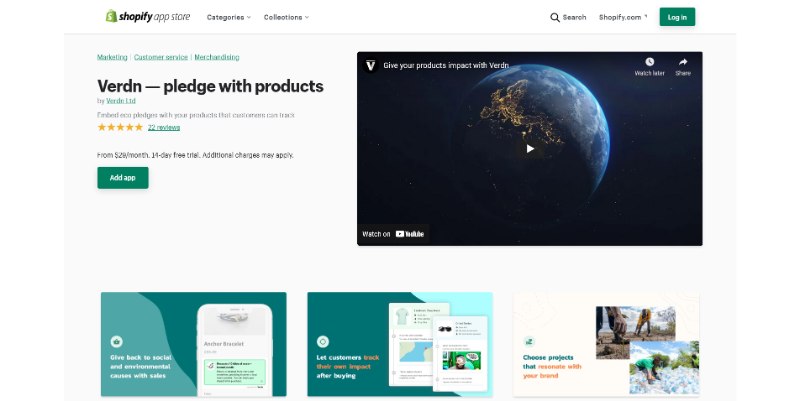 Verdn – Pledge with Products is an app that helps merchants make a difference and donate to causes they care about. It's easy for your customers to see how their purchase impacts the world, and you can even show them their impact in real-time using unique tracking dashboards. The best part? You don't have to do anything else. Simply install the app, create pledges for your products, select one of many tiers of impact starting at $0.20 per pledge, and the app will automatically take care of everything else from there.
Post Purchase Donations Shopify App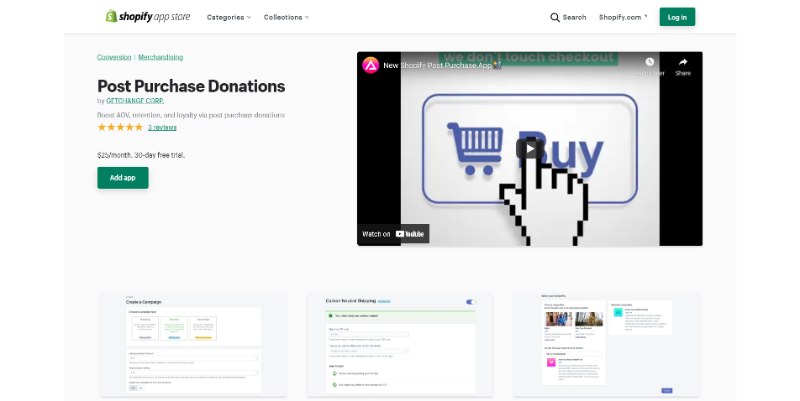 Post Purchase Donations allows you to donate a percentage of your sales or round up the total amount, so customers can feel good about buying more items and donating at the same time. Plus, it makes all donations tax-deductible, and with over 200K registered 501(c)(3) organizations in the United States, all donations meet US tax standards and storefronts will receive a consolidated tax receipt at the end of each month.
Can You Use Shopify for Donations
Yes, you can accept donations on Shopify with a third-party app. There are a number of different options available, but one popular app is the Shop for Good Donation App. It allows you to easily manage donations on your Shopify store, and it integrates with major payment processors, so it makes it easy to use Shopify to collect donations.
How To Accept Donations on Shopify
You can accept donations on Shopify in a few ways:
Use a Shopify app like the Shop for Good Donation App
Use a Payment Processor (Stripe, Square, PayPal) to accept donations.
Accept donations directly on your POS.
Each of these methods has its own benefits and drawbacks, so you'll want to decide which is the best option for you. For example, if you're looking for a simple way to accept donations, using Paypal is a good option. But if you want to track donor information or receive tax-deductible receipts, then using an app like the Shop for Good Donation App would be a better choice.