If you're looking for the best Shopify theme for wholesale, then you've come to the right place. We've compiled a complete list of Shopify wholesale themes that are perfect for any type of business.
These themes include wholesale-specific features such as multiple offers, bulk pricing, multi-location support, customer accounts with group specific logins, and more.
Also, if you're looking to set up Shopify's built-in wholesale channel you'll need to upgrade to a Shopify Plus Account (Learn More)
Otherwise, you can use one of the Shopify wholesale apps you'll find towards the end of this page to sell products at wholesale prices with a Shopify Advanced Plan (Free Trial)
Best Shopify Theme for Wholesale
Wholesale – Mobile UI/UX Optimized Shopify Theme For B2B & B2C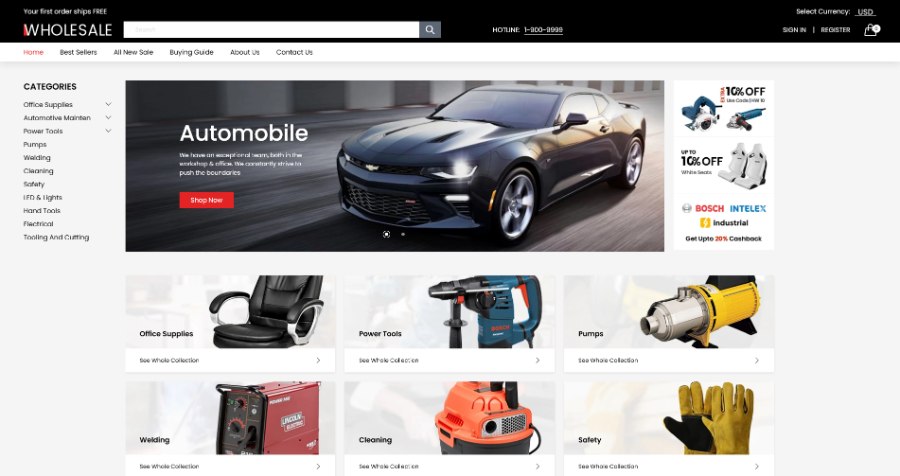 Kala was designed specifically for wholesalers who sell large quantities of products through their online storefronts. This includes both B2B businesses selling industrial goods to other companies as well as B2C retailers who deal directly with consumers on a regular basis.
With Kala Wholesale Shopify Theme, there are no limits to what you can do with your online store. You have access to 80+ home page layouts and 12 header designs so that your visitors can have a unique experience when they visit your website.
Plus Kala offers advanced product filtering so wholesale customers don't need to scroll through endless pages of products, and you can also filter products based on order quantities and wholesale prices.
If you want to see this theme in action: Click here to try the Kala Wholesale Shopify Theme Demo Site
Warehouse | Electronics & Multi-Purpose Shopify Theme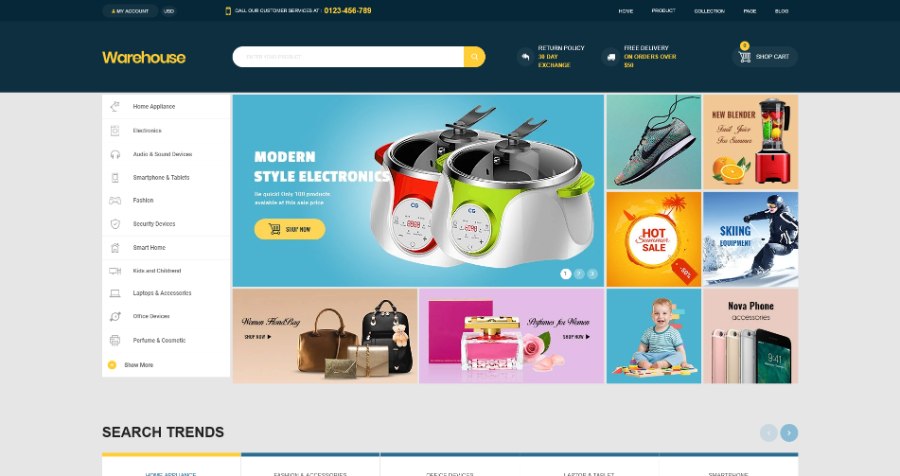 The Warehouse Shopify Theme is the perfect theme to use if you're looking to build a large product catalog Shopify store that offers bulk pricing discounts.
This theme is perfect for selling electronics such as laptops, cell phones, tablets, or any other electronic devices you might sell in your store. It also works great with clothing and accessories shops since it has 18+ premade home page layouts that you can use to showcase your products in style. Plus, this theme comes with 3 Mega Shop Layouts which are completely responsive and look amazing on any device.
It also has product upsell support so that you can increase your sales with ease. And you'll never have to worry about free shipping thresholds or wholesale pricing discounts again because it's built right in.
And with the Warehouse Shopify Theme, you don't need any coding skills because this multi-purpose Shopify template features an easy-to-use drag & drop page builder that allows you to customize everything from colors and fonts down to product images without touching any code.
If you want to see this theme in action: Click here to try out the Warehouse Shopify Theme Demo Site
Torba Shopify Theme – Wholesale Website Design for Marketplace and Retail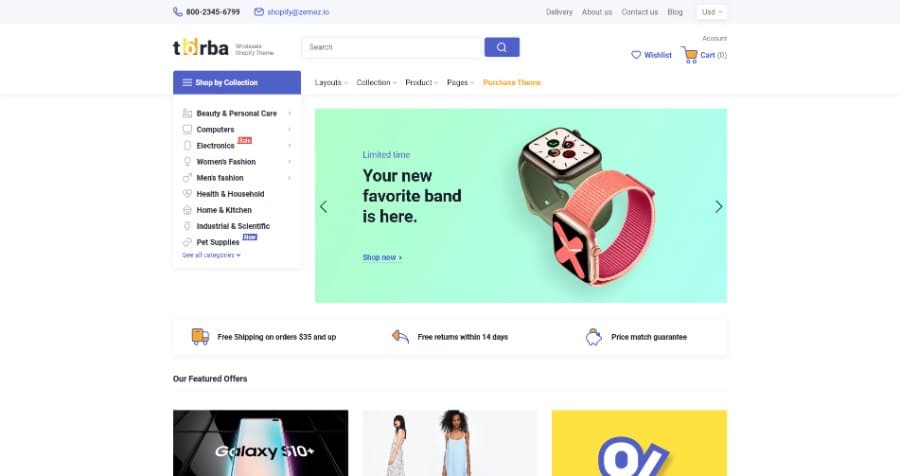 Torba is a Shopify theme that has been designed with the wholesale market in mind. It's perfect for large online stores with a wide assortment of products, and with this theme, you'll be able to create your own marketplace or retail website with ease.
The Torba Shopify theme is a versatile theme that will help you quickly build out your online store. It can be used for many different business types, but it has been designed specifically for wholesale stores with a large assortment of products.
This theme offers a good number of features and tools to help you set up your online shop in no time at all. And you can easily customize the template so that it suits your needs, and it supports most of the top wholesale apps in the Shopify app store.
Bulk – Wholesale | Sell B2B and B2C Shopify Theme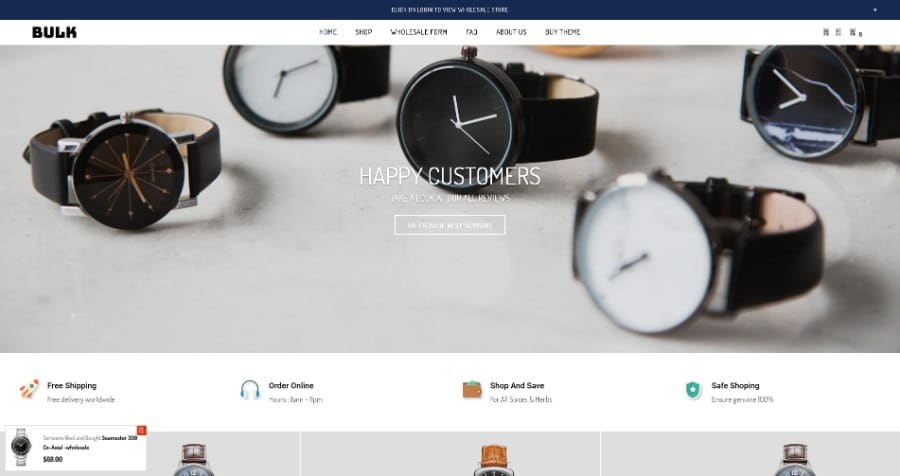 The Bulk Wholesale Shopify Theme is perfect for large wholesale stores. It's custom-coded to support wholesale users and bulk product discounts right out of the gate. It's also fully responsive, and it has a multi-purpose design that makes it a perfect choice for any industry vertical.
This wholesale theme for Shopify is one of the best and easiest ways to set your store apart from other vendors in the marketplace. It's ideal for businesses that focus on wholesaling products in competitive markets that rely on large orders (though this template can be used by any type of business).
Overall, this wholesale theme allows you to streamline your operations so that you can focus more time and energy on growing your business.
Whether you're just starting out or have been doing business for years, we believe that every bulk distributor should check out this wholesale template for Shopify if you want to succeed in today's competitive marketplace.
Kardone Wholesale Store Template Clean Shopify Theme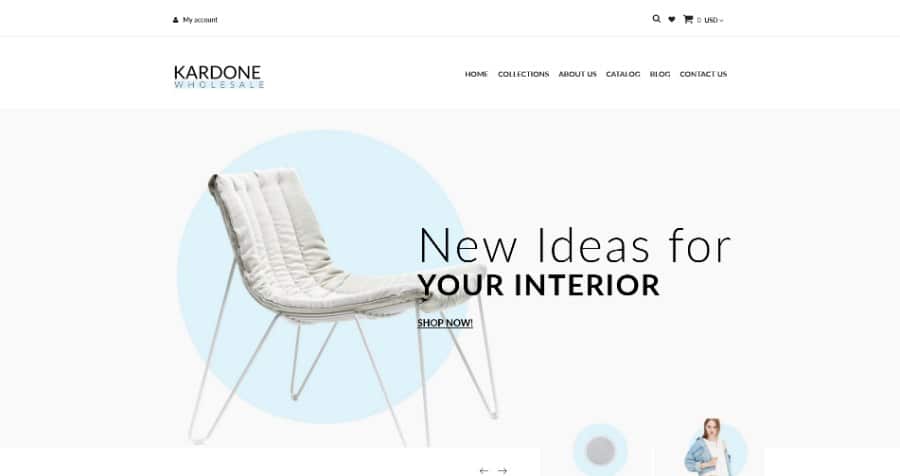 Kardone is a clean, modern-looking theme that offers all the functionality you need to run a wholesale eCommerce business smoothly. It comes with unlimited colors as well as multiple layout options (e.g., boxed or wide). You can import products from a CSV, set up shipping rates based on location or the number of items purchased by customers in their shopping carts – so they won't have any surprises when checking out. Plus this theme lets you add product reviews, enable social media options, and much more.
Wholesale Store Bundle Shopify Theme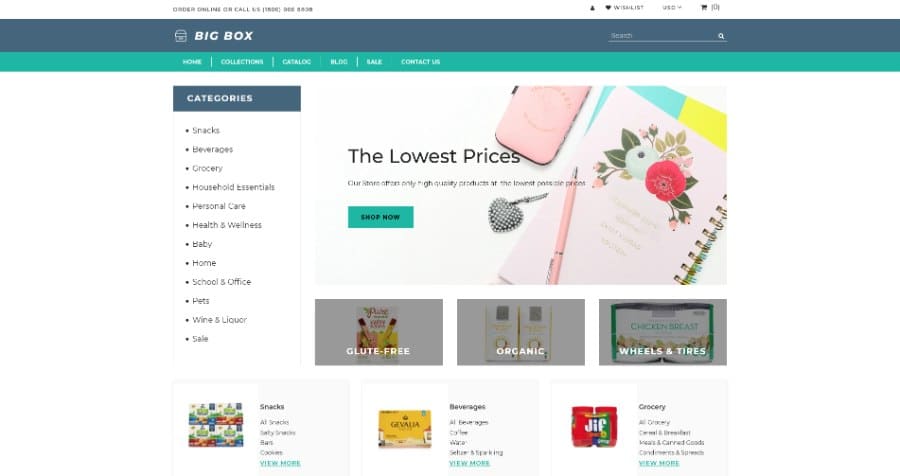 Zemez has the best Shopify themes for wholesale stores. These themes are perfect for any kind of eCommerce-related website or store.
This bundle of premium Wholesale Shopify Themes is available at a hugely discounted price, and each theme comes with loads of features that let you customize your shop the way you like it.
All of these themes have a responsive layout, minimal design, blog support, dropdown menu, and product sliders to create an amazing online presence for your business.
And if you need help along the way Zemez includes 6-Months of customer support with an option to buy an extended support contract.
Warehouse Shopify Theme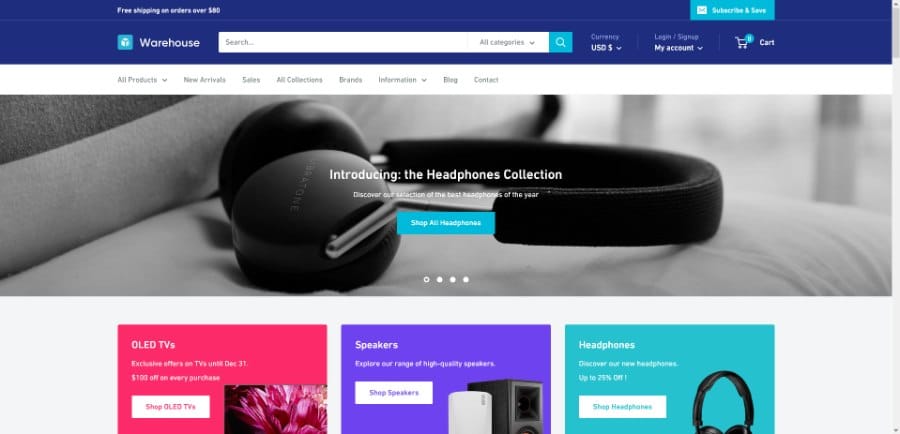 The Warehouse Shopify Theme has many features that help wholesalers manage their online stores and increase sales. With this theme, you will have the ability to create custom promotion tiles with images of your choice, add exit popups to encourage customers to sign up for newsletter or mailing list before leaving the page, and display stock level indicators so you know how many units are in stock when a purchaser makes a large wholesale order.
Shopify – Outstock Clean, Minimal , Drag & Drop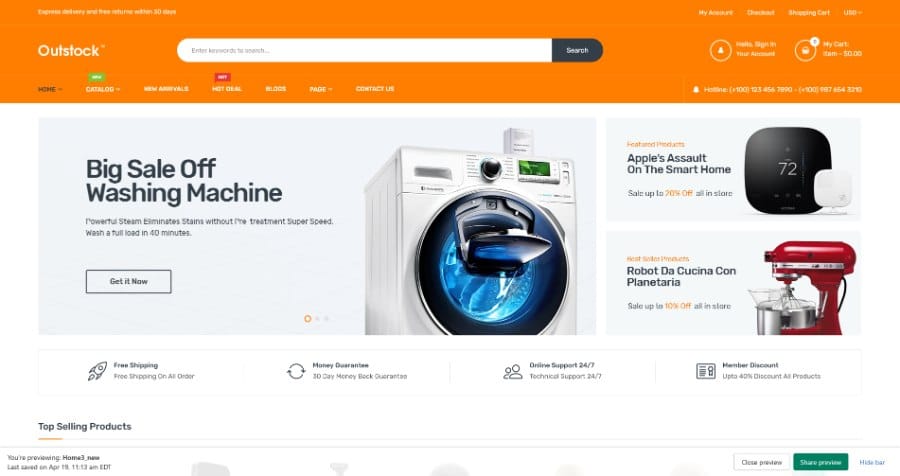 Outstock is the best Shopify Theme for Wholesale. It's powerful, has amazing features built-in, and supports custom wholesale options.
The theme is 100% responsive and it features clean code that's easy to modify. It also has advanced typography options that let you choose from Google Web Fonts or use your own fonts in order to create a unique style that matches your brand identity perfectly.
This theme also supports the Shopify Drag and drop visual page builder that makes it easy to create high converting pages without touching any code at all.
The Outstock Shopify theme also comes with premade newsletter popup templates that will help increase conversion rates by keeping your wholesale customers in the loop about future product offerings. Plus, it has product Sale labels that can be dynamically controlled to offer discounts base on item quantities or order totals.
Vodoma – Fastest Multipurpose Shopify Theme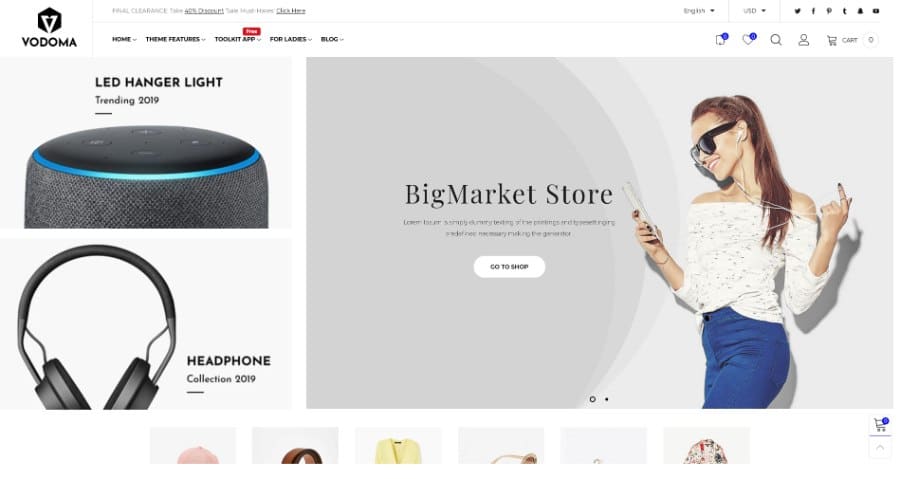 Vodoma is an affordable and professional multipurpose Shopify theme that offers everything you need to build a powerful online store. With its clean design, advanced functionality, and easy-to-use options panel, it's perfect for any kind of business – from small shops selling one product type to large wholesale stores with thousands of products in stock.
Venedor – Premium Shopify Theme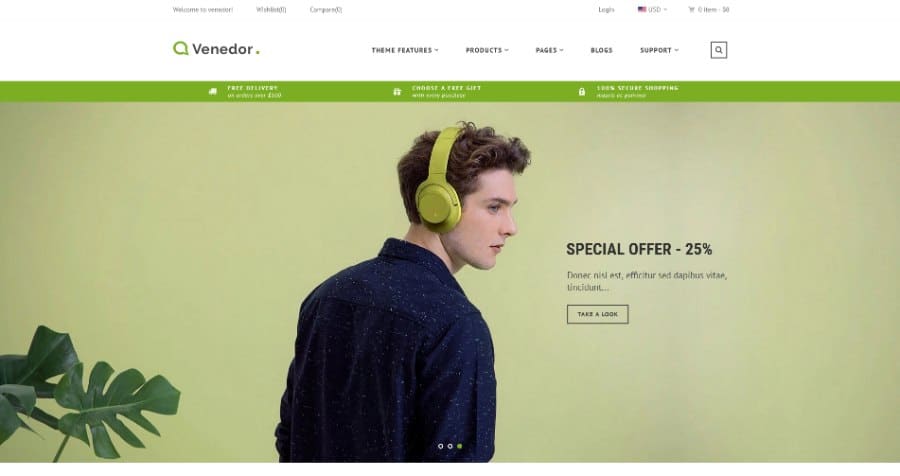 Venedor Premium Shopify Theme is the perfect theme for wholesale distributors of women's clothing, jewelry, and accessories who want to showcase their products without having to create a custom theme. Choose from 11 unique homepage layouts that not only look beautiful but are also Google compliant so you're ranked higher in search engines and get more traffic coming through your door. With 15+ different layout options for both product pages and shop or collections pages, you can use this versatile template as a fantastic starting point for any kind of online store
Infinit – Multipurpose Responsive Shopify Theme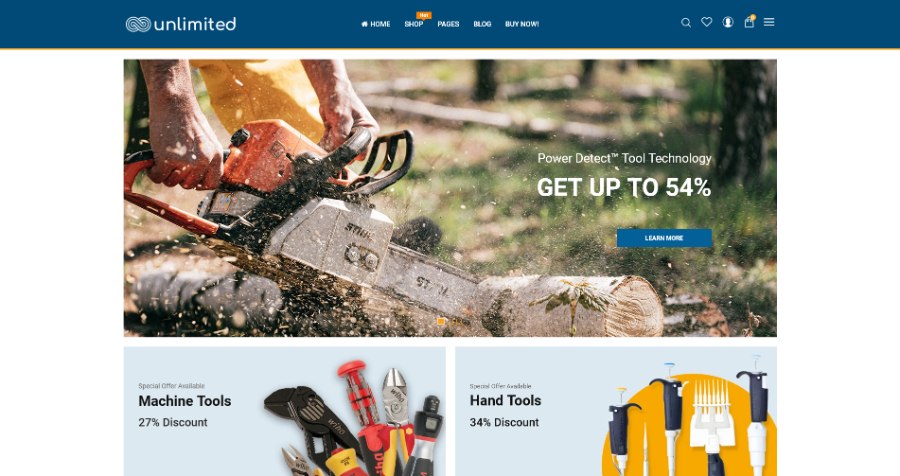 Infinit is the ultimate multipurpose responsive Shopify theme that's perfect for wholesale distributors. With 50+ templates that can quickly be imported and multiple premade demos, there are endless possibilities with this theme. Plus, you can customize your website in any way you want with the powerful advanced admin panel, and it is fully mobile optimized.
Infinit is an innovative, fully responsive, eCommerce website template for Shopify. And it is simple and sleek with a modern store design. The best part about Infinit is that it's very user-friendly which means you won't have to spend lots of time on this theme to make your store stand out. With dozens of templates and unlimited color combinations available, Infinit could be just what you need to propel your business into the wholesale market.
Mega Shop – Shopify Multi-Purpose Responsive Theme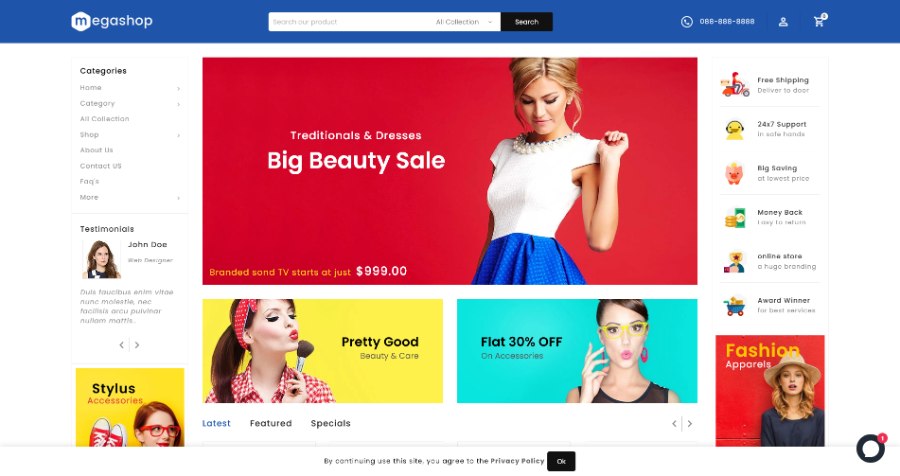 The Mega Shop theme is a powerful, responsive Shopify theme that will help you create an amazing online store. It comes with 14 pre-made layouts (graphics included), multilingual support, mobile-optimized code and it's compatible with all major browsers.
This template has everything you need to build a successful online business. You can customize every page of this template from colors to fonts and more.
The Mega Shop Theme also includes custom social share buttons which are essential in today's digital world where people are constantly on their phones sharing content they love on Facebook or Twitter.
This theme also makes it easy to import large product catalogs. And there are extra fields on product pages that can be used to offer bulk discounts on high-volume orders.
This theme is perfect for any type of wholesale business, from clothing to electronics. It includes all the features you need to create an online store that will grow with your company.
With this theme, you can build a website that looks great on every device and has SEO-friendly code so customers will easily be able to find your product listings when they search for wholesale suppliers online.
Best Shopify Wholesale App
Wholesale Club Shopify App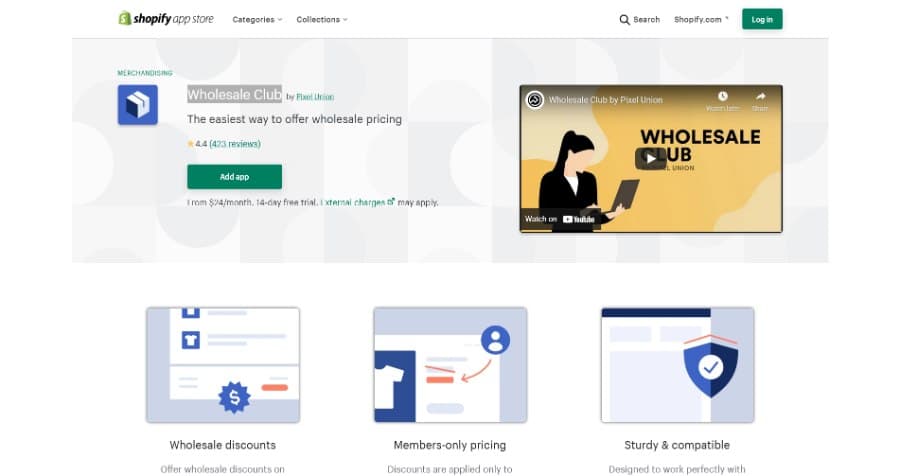 Wholesale Club is the best Shopify app for offering wholesale pricing on a Shopify store. It's easy to set up and offers a variety of features that will help you easily manage wholesale orders. You can group customers into different tiers, set multiple prices, and even set purchase thresholds for better discounts.
Wholesale Club is compatible with Shopify's built-in Sales Channels, and you can set up different tiers of memberships with group-based offers, and Net payment terms are also available.
Best of all, Wholesale Club has an easy one-time setup and merchant support if you need any help during the integration process.
Wholesaler Shopify App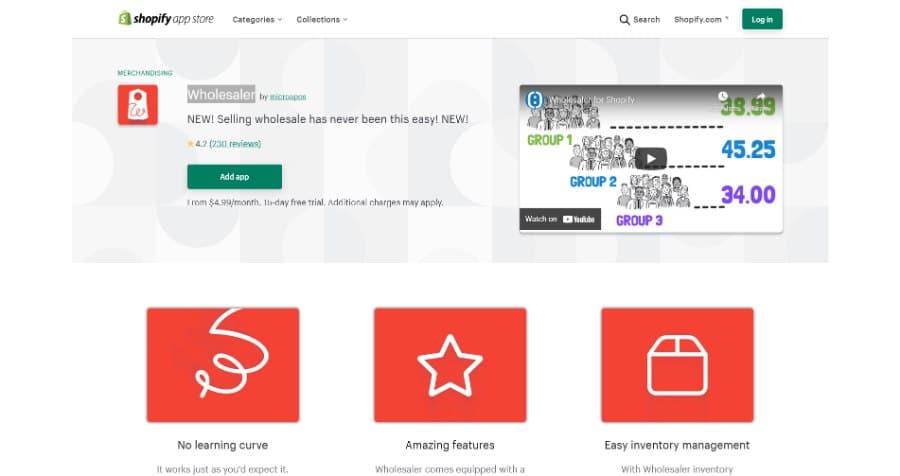 The Wholesaler Shopify App is one of the best wholesale apps on the market. It's easy to use and has all of the features you need to run a wholesale business more efficiently. You can upload bulk product prices, override shipping rates, and even control who sees wholesale prices with built-in membership settings. This app also takes care of tax overrides for certified distributors so that you don't have to worry about removing taxes in each order manually.
Wholesale & Custom Pricing Shopify App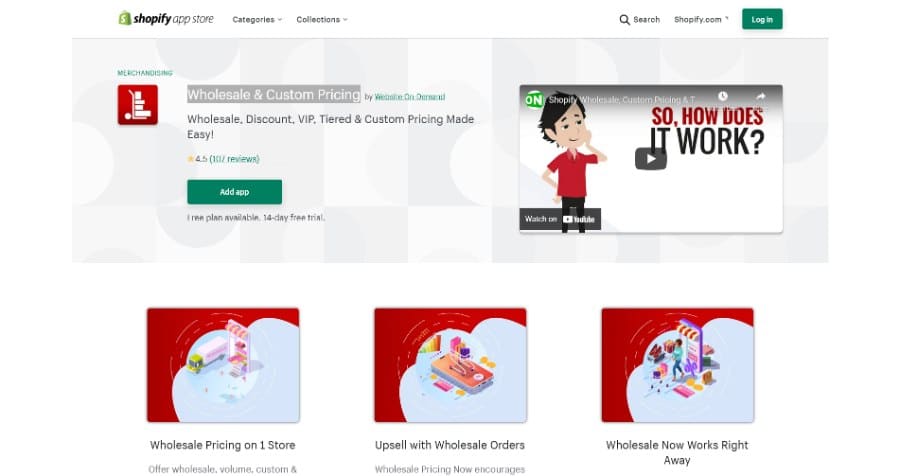 The Wholesale & Custom Pricing Shopify App makes it easy to set custom prices for different customers on a per-unit basis. This app works out of the box with most themes and doesn't require any complicated setup or worrying about duplicates or wholesale pricing being offered to the general public. It also supports net payment terms, so you can easily offer bulk discounts to your wholesale buyers without having to accept upfront payment.
Wholesale Gorilla Shopify App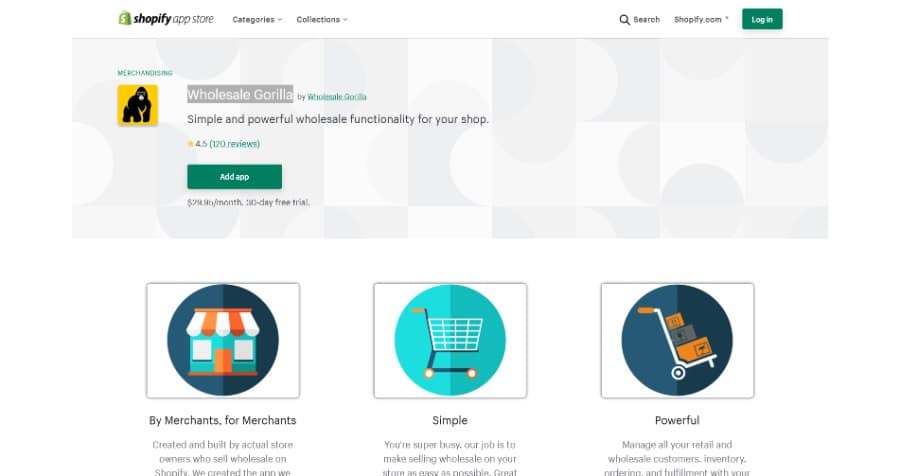 Wholesale Gorilla makes it easy for your customers to order in bulk with variable discounts on their orders. The app comes with customizable messages that take only seconds to set up, so you don't have to spend time managing price adjustments or adding new items on an individual basis.
Wholesale Gorilla also allows you to set minimum quantities per item, which helps avoid overselling issues or having too many leftovers if not enough people buy them before the end of the fourth quarter.
Overall, Wholesale Gorilla is one of the best Shopify wholesale apps if you want to easily manage wholesale orders without spending countless hours setting up complicated pricing structures or creating hard-to-follow manual processes.
How To Do Wholesale on Shopify Easily on the Handshake Marketplace
If you're interested in setting up a Shopify Handshake Marketplace account you can learn more about this fully managed wholesale solution below.
Shopify Handshake Marketplace
The Shopify Handshake Marketplace makes selling wholesale easier than ever before. Shopify created Handshake as a centralized hub for businesses to list their wholesale products on their platform, where retailers can easily find your offerings and place an order from your Shopify store.
All you need to do is add Handshake as a sales channel in your Shopify admin panel, then start listing your product catalogs on the Handshake marketplace.
After that's done, any retailer who visits your listing will be able to see all of your available wholesale product offerings.
Then when they are ready to order they can purchase your products directly from your store.
To enroll in the Handshake marketplace you'll need to fill out and get approved by Shopify, and you can learn more about the whole process at this link (Click Here)