Does Weebly Offer Email? If you're looking for email hosting, Weebly doesn't offer Email Hosting. However, Weebly has teamed up with Google to offer a custom business email inbox with their premium plans (Click Here to View Pricing)
Keep reading if you want to learn more about How To Set Up Email on Weebly, and how much Weebly Email Costs when you use Google Workspace.
Also, if you're looking to learn more about Weebly Email Marketing you'll find more information about the Weebly Promote E-Mail Marketing platform on this page.
Does Weebly Offer Email
No, Weebly does not offer E-Mail directly, but you can get a Weebly business Email inbox when you sign up for Google Workspace.
Google Workspace is a secure service that offers advanced features such as cloud storage, video meetings, and custom business E-Mail at your own domain.
Does Weebly Provide Email Hosting
No, Weebly does not provide Email hosting. You can use a third-party E-mail provider to send messages using your new Weebly domain (eg. Gmail for business).
Some of these providers offer features like cloud storage and they also have advanced productivity tools that make operating your business easier.
The only drawback is that you will be charged by a third party E-Mail hosting platform, but it should be minimal enough, and the benefits of a managed email service outweigh the cost (such as increased usability and security).
Weebly Email Cost
Weebly Email pricing will depend on your third-party email hosting provider. Here are a few of the most popular options:
Google Workspace: Starting at $6/user/month
Rackspace Email: Starting at $2/user/month
ZohoMail: Starting at $1/user/month
Microsoft 365 Outlook: Starting at 5/user/month
How To Set Up Email on Weebly
Weebly is a free website builder that makes it easy for you to create your own site. However, setting up email on the platform can be tricky, but this tutorial will show you how to do it in five easy-to-follow steps.
Step 1
Weebly does not offer an in-house option to set up email accounts, so we'll use Google Workspace for this task instead.
The option to set up Weebly G Suite Email is available in your Weebly account dashboard. All you have to do is go to the G Suite Page in your Weebly Dashboard and enter your domain information.
Step 2
You will be prompted to create a username for your new E-mail for any of the domains that you have connected to your Weebly account.
In order for this process to work, you must have either purchased your domain from Weebly or altered the DNS records of a preexisting domain in order to connect it to Weebly's servers.
Step 3
Once you have selected your username and domain you'll be prompted to enter a password.
After you enter your password you will need to enter your payment information to open a new Google Workspace account.
If you're not sure if Google Workspace is right for you, the 15-day Free Trial Period will allow you to try it out before making any long-term commitments.
Step 4
Now you need to log in to your new Google Workspace account and go through the guided account setup process. When that is done you'll have access to your custom Weebly business email inbox that's linked to your Weebly email domain.
Step 5
Anytime you want to log in to your new account you can go right to your inbox using the G Suite tab in your Weebly dashboard.
Alternatively, you can log in to your E-Mail account directly with your username and password at gmail.com or you can go to mail.google.com/yourdomaninname.com ie. mail.google.com/example.com
Weebly Email Marketing
Weebly Email Marketing is easy to use, affordable, and integrates with your existing website so you can send beautiful emails without any technical knowledge.
With just a few clicks, you can create custom email templates that will convert leads into customers.
Plus, these email templates are mobile-friendly, so they look good on any device – desktop, tablet, or phone.
The best part about using Weebly Email Marketing is that it syncs everything together so if someone buys something from your email promotion, it will be tracked in your Weebly dashboard too.
Weebly Email Marketing Features
Weebly Email List
Weebly's Email Marketing plans let you have unlimited contacts in your email list. Not only that, but it also lets you easily create engaging newsletters to make sure your messages are getting through your subscriber's inbox clutter.
Weebly Email Subscription
Weebly has a built-in Email subscription form, or you can use a form from another service like MailChimp or Constant Contact (Free Trial)
If you're looking for a simple email marketing solution that's easy to set up and manage, Weebly's built-in email subscription form is the easiest way to go.
If you need more features and control then a third-party E-Mail marketing platform like Constant Contact might be a better choice if you need to send large amounts of E-Mail each month.
Weebly Email Newsletter
Sending out a regular email newsletter is one of the best ways to keep your blog readers up to date. But it can be frustrating and time-consuming if you have to create each individual email from scratch.
Weebly's Email Marketing Platform "Promote" solves this problem by letting you create beautiful, professional newsletters with minimal effort on your part. You just need to choose the elements that are relevant for your audience and then let Promote do all the heavy lifting for you.
Promote's Blog Element lets you easily pull content from any page on your site into an attractive newsletter template that will help you stay top-of-mind with subscribers and get more shares, comments, likes, follows, and sales.
Weebly Custom Email
Weebly Custom Email Merge Tags are the perfect solution for sending personal emails to your subscribers. All you have to do is sync up your contacts (or upload a spreadsheet) and then add any of these merge tags into the "Merge Tags" section on each contact record. Then when you send out an email campaign, all of those unique data points will be pulled into the body of the message and displayed as part of each subscriber's name or email address.
Schedule Emails with Weebly Promote – Automated Emails
Sending emails is a great way to keep in touch with your contacts, but it can be hard to remember when you last sent an email and how often you should send them.
Promotes E-Mail automation makes sending emails easier so you don't have to worry about remembering what day it is or if someone has been on your site recently. This E-Mail automation includes triggers like "on the 7th day after signup, send a welcome series email," "after 3 days of no activity on my website, remind them they can get 10% off their next purchase by signing up for our newsletter," and more.
Weebly Promote Email Segmentation
Weebly Promote makes it easy for you to target your E-mails to people who want what you're offering them. To do this you can use segments in your Promote campaigns so that only the right people see your emails.
With Weebly Email Segmentation you can create segments based on people's actions on your site and then use those segments to tailor your marketing efforts. For example, if you want to target people who purchased a certain product from your store over the last month, just add that product ID into a segment and start sending email campaigns targeted specifically towards them. The possibilities are endless!
Weebly Email Segmentation allows you to easily tailor specific messages for different groups of customers so that you can get more value from each customer relationship while also sending fewer emails overall.
Weebly Email Marketing Benefits
Running an email marketing campaign is a lot of work. It's time-consuming, difficult and you can't always be sure if it will pay off. Weebly Email Marketing with Promote solves this problem for small businesses by making it easy for anyone to create professional-looking emails that get results without writing any code or hiring a designer.
Plus, Weebly's drag & drop editor makes designing beautiful emails easier than ever before while their simple templates make campaign creation faster than traditional tools like MailChimp or AWeber (Free Trial)
Weebly Email Marketing Pricing
Weebly Free Email Marketing Trial
Price: $0.00
Contacts: Unlimited
Campaigns: 2 Total Emails
Recipients: 500
Monthly E-Mails: 1,000
Weebly Promote Build Plan
Price: $8.00 per Month
Contacts: Unlimited
Campaigns: 5 Emails per Month
Recipients: 500
Monthly E-Mails: 2,500
Weebly Promote Grow Plan
Price: $25.00 per Month
Contacts: Unlimited
Campaigns: 20 Emails per Month
Recipients: 2,500
Monthly E-Mails: 5,000
Weebly Promote Accelerate Plan
Price: $75.00 per Month
Contacts: Unlimited
Campaigns: Unlimited
Recipients: Unlimited
Monthly E-Mails: 250,000
Weebly Email Marketing Alternatives
Constant Contact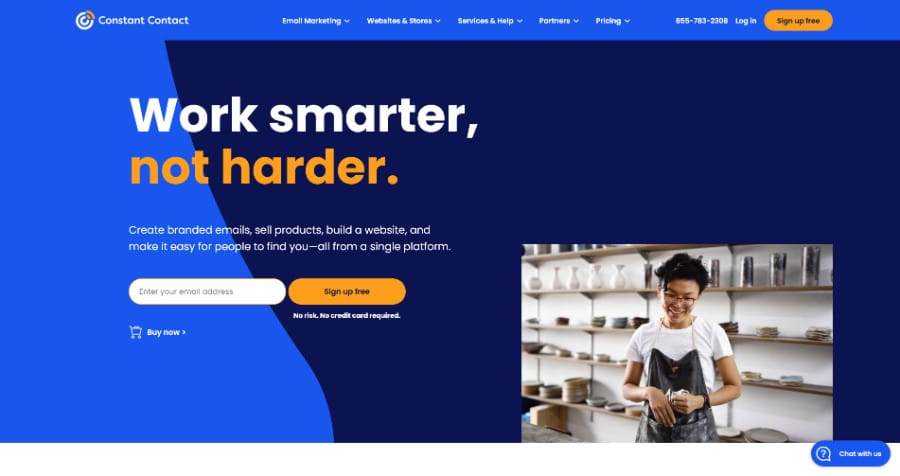 Constant Contact (Free Trial) makes email marketing easy with their automation tools that help you organize contacts into groups and send automated emails based on customer behavior – from abandoned cart recovery messages that help recover lost sales to targeted offers for products and coupons that increase engagement in just a few clicks.
Constant Contact also makes designing your campaigns easy by providing templates for common scenarios like welcome series, birthday reminders, event invitations, seasonal promotions, etc., so all you have to do is fill out the blanks.
Active Campaign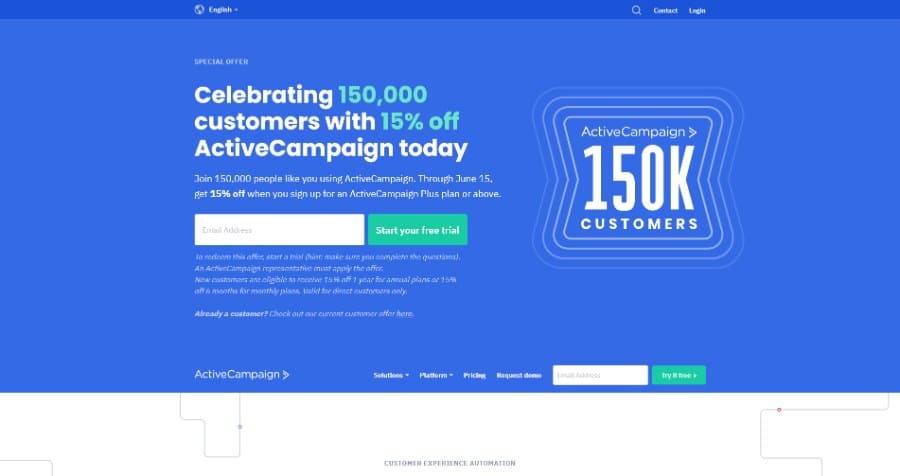 Active Campaign (View Plans) is an easy-to-use yet powerful E-Mail marketing solution that lets you put your email lists and follow-up process on autopilot so you can focus on other things while still keeping in touch with leads and customers through automated emails like welcome series or abandoned cart reminders.
Active Campaign has a lot of features that make it easy to manage your marketing and sales activities. This includes drip campaigns, email automation, A/B split testing, advanced segmentation tools, and more.
Active Campaign also has an intuitive drag-and-drop interface so you can easily create complex workflows without having to code anything. Plus, it's affordable with plans starting at only $9 per month for up to 500 subscribers.
AWeber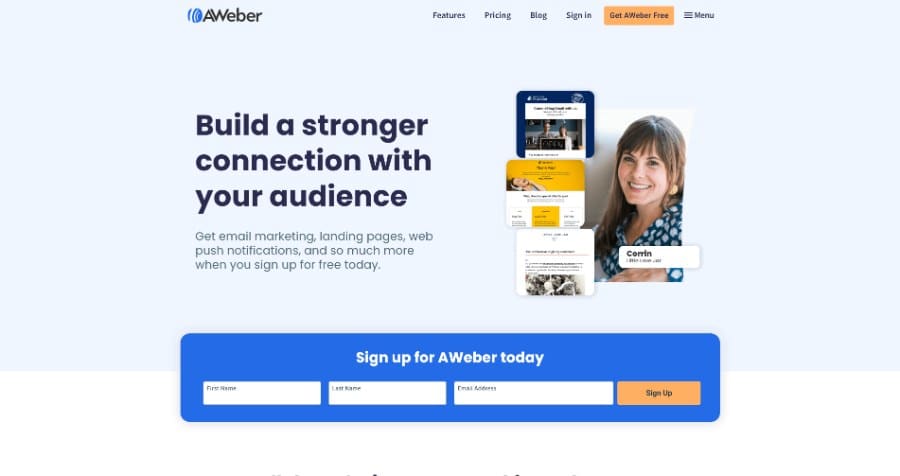 AWeber (Free Plan) makes email marketing easy with their all-inclusive platform that requires zero technical knowledge or coding skills from the user. It's so simple anyone can use it – whether they're an expert marketer or newbie entrepreneur.
You won't need any design experience either because AWeber has a large library of professional templates that are ready for use right away. That means no more spending hours on creating emails that might not get opened and read by customers – just let the experts at AWeber do the heavy lifting for you while you focus on what really matters – growing your business.
MailChimp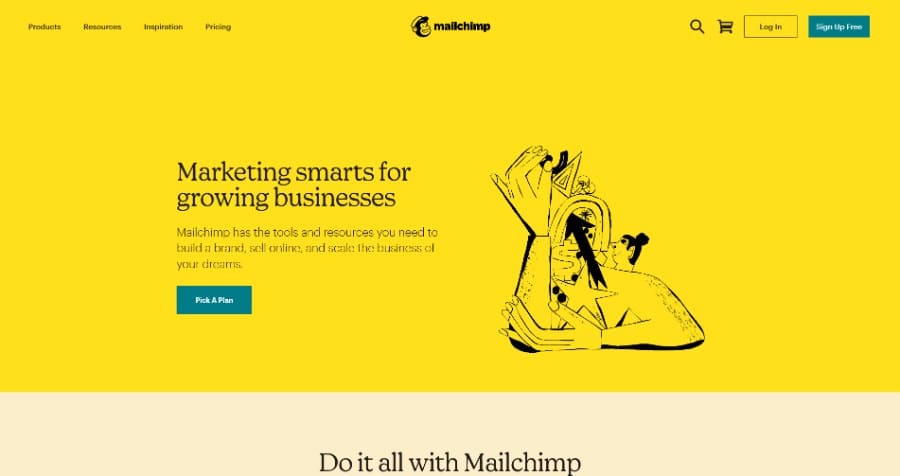 MailChimp (Free Plan) offers everything you need to craft professional-looking emails right from your browser. It's affordable enough for small businesses but powerful enough for large enterprises who want to drive their email campaigns to the next level without the complexity of some of the more enterprise-centric E-Mail marketing platforms.
Weebly Email Hosting Alternatives
Rackspace Email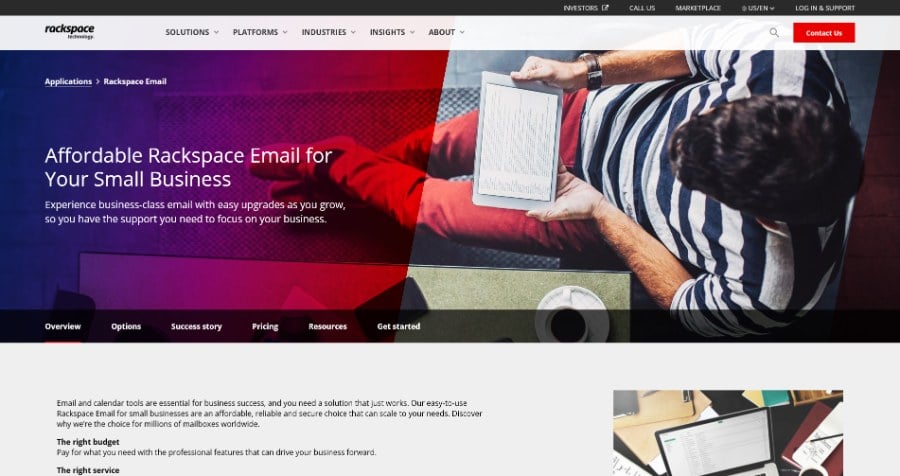 Rackspace Email Hosting has built its reputation on providing reliable email hosting solutions at affordable prices with top-notch security, business-class reliability, and an easy-to-use web interface that can be accessed from anywhere in the world – all at a fraction of the cost of other providers.
With Rackspace Email Hosting you get enterprise-grade email hosting for less than $2/user/month (including storage) as well as unlimited emails sent per month for every user account. You also have access to professional support 24 hours a day 7 days a week via phone or live chat – so you never have to worry about downtime again
Zoho Mail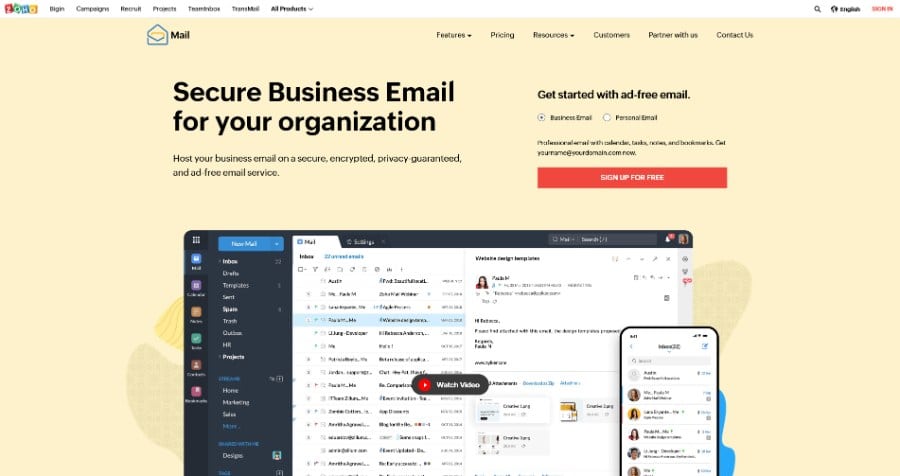 Zoho Mail is a complete business email solution that will help your company manage all of its incoming and outgoing communication, and it provides additional tools like a Calendar, Contact & Task Management, and much more.
The Zoho Mail platform also includes features like an inbox search engine, user-friendly spam control options, mobile apps for iOS and Android devices
It also integrates seamlessly with custom domains so you won't have to rely on Weebly's limited E-Mail support
G Suite Gmail – Google Workspace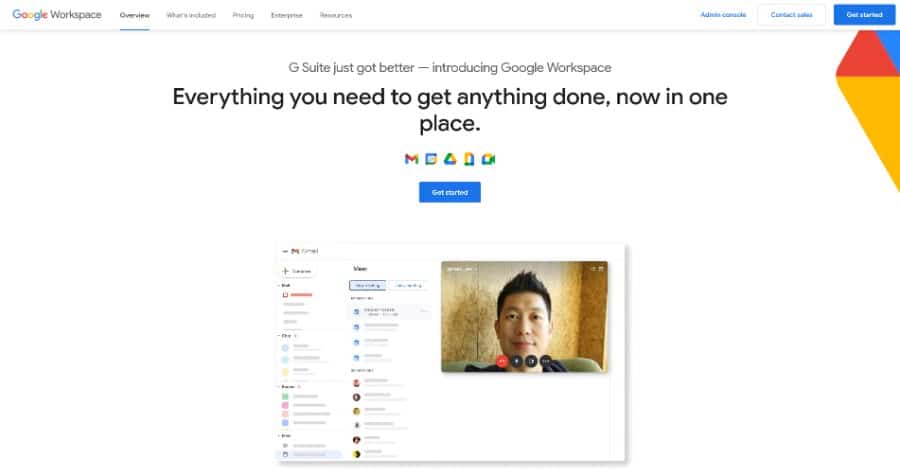 Google Workspace is an affordable productivity and E-Mail hosting solution that gives you everything you need to run your business from a single platform.
Google Workspace offers secure email, video meetings, chat messaging, shared calendars, and more.
Plus, Google Workspace includes a cloud-based productivity suite that allows you to create, edit, and share documents from anywhere.
Best of all with Google Workspace you can access all of your favorite apps like Gmail, Docs, Calendar, and more in one place.
Office 365 Outlook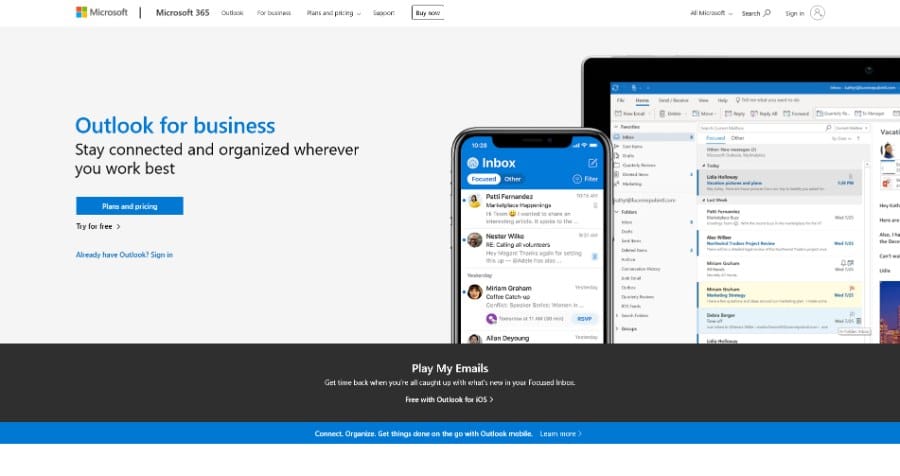 Office 365 Outlook offers a solution by providing a secure, encrypted email service that protects your company's data from hackers and phishing scams.
Microsoft Office 365 Outlook advanced email security gives you peace of mind with anti-spam filtering, antivirus protection, and malware scanning built into your mailbox. It's also easy to use and can be accessed from anywhere using any device including smartphones or tablets. Plus, your files will also be backed up in Microsoft's OneDrive so they can always be recovered even if something happens to your computer or mobile device.