What is the best Wix calendar app? Well, there are many to choose from in the Wix App Store. The following list of Wix Calendar App Extensions will help you find what you're looking for. Best of all, most of these apps are free to download and they offer different features like event management, time tracking, reminders, and much more.
Keep reading to see our full list of the Best Wix Calendar Apps currently available on the Wix App Store.

Best Wix Calendar App
Boom Event Calendar Wix App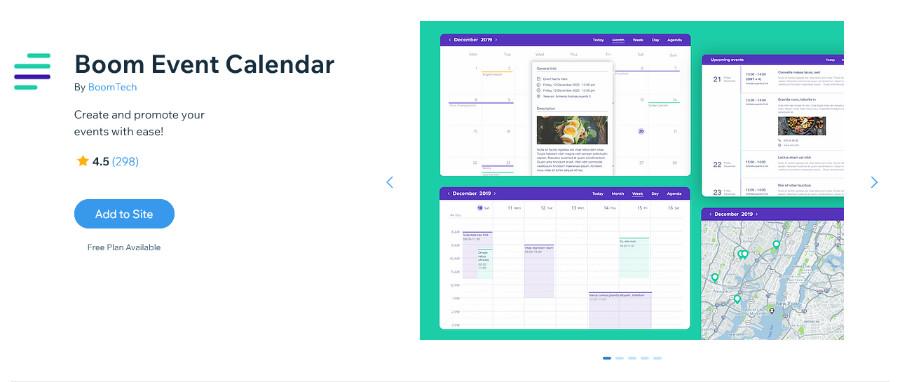 The Boom Calendar (View App) is a professional event calendar that allows you to schedule your meetings or classes in a few clicks. It's designed for managing events of any kind – concerts, festivals, sports championships, etc., but it can also be used by regular businesses or schools.
This Wix app offers the perfect solution for creating stunning calendars on your website with just a couple of clicks. You can add all the necessary information about the event without spending hours setting everything up manually.
Besides that, you also get access to advanced features like registration forms and social sharing options which will help increase attendance at your events. Plus, you can increase engagement with visitors/customers through email reminders and other marketing activities related to specific upcoming events.
Events Calendar Wix App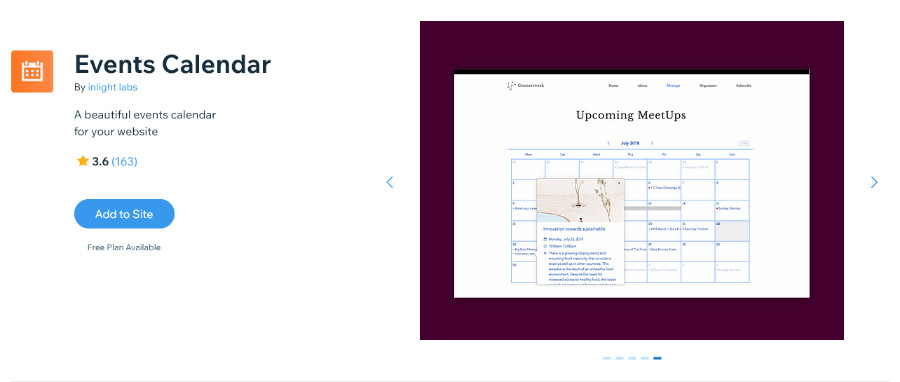 The Wix Events Calendar App (View App) is the easiest way to add a calendar to your website. This free app allows you to easily create and manage events in one place so that you can share them with all of your customers in an instant.
There are different layouts available for every situation, from monthly view calendars, event listings, weekly calendars, and up-to-date agenda-style layouts perfect for wedding planning websites.
Plus, you can reach a global audience with this app since you can publish your calendars in over 30 languages. And if you already have events stored on Google Calendar, Outlook or Eventbrite accounts – you can connect those external calendars directly into the app with just 1 click.
Google Event Calendar Wix App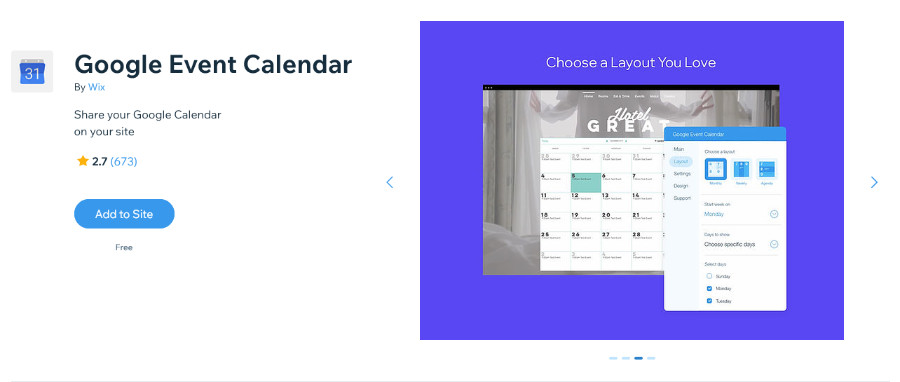 The Google Event Calendar Wix App (View App) will allow you to display a live calendar feed from a Google Calendar account right onto your website. With this app, visitors can see what's happening on any day that works best for them and add those events directly into their calendars with one click. All this while keeping the convenience of managing everything through Google Calendar itself.
Google Calendar is a great tool but there are some limitations when using it as an event manager. For example, if someone wants to save an event from your website they need to copy the URL which isn't convenient at all. With this app, you can let people view and save events directly in their calendars without having them leave your site or copy any URLs.
Plus, the Google Event Calendar App automatically pulls the event data from your calendar, so there's no manual work on your end. It also takes care of formatting it as a proper .ics file so that when users import it they get everything imported correctly. This way you can focus on creating great content instead of spending hours trying to get a calendar app to work.
Online Scheduling Wix App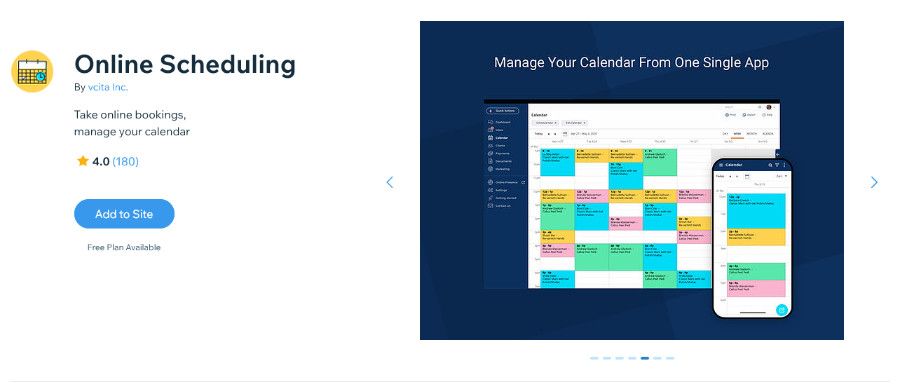 The Online Scheduling Wix App (View App) makes it easy for clients to book appointments with you on their own time, from any device, anywhere in the world. And your clients can browse available timeslots right from your website so they know exactly when you are free before they even contact you.
Plus, you can easily customize your business' offerings and availability and it also syncs with Google Calendar & iCal.
It also has built-in features to send out automated reminders via SMS & Email, and it easily integrates directly into your existing Wix website in just a few clicks with minimal steps needed to set it up.
Schedule Wix App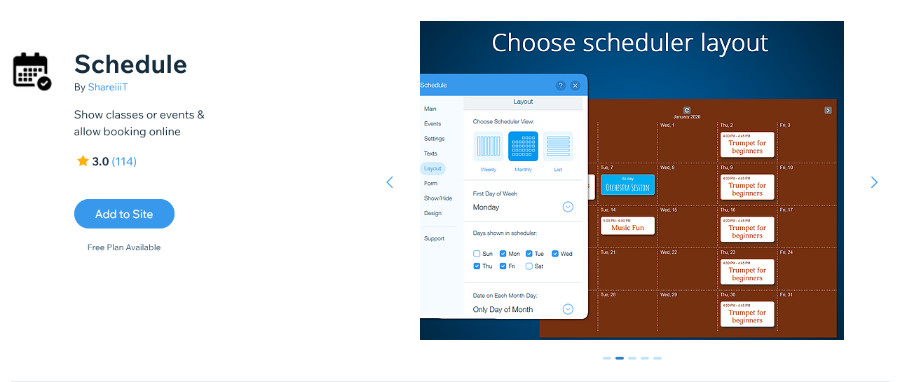 Schedule by ShareiiiT (View App) makes it super simple to create a professional-looking event page for your business that accepts registrations and payments.
This is the best solution for managing events on Wix. This Calendar App allows clients to register directly from your website and pay via PayPal or Stripe without leaving the site. You can choose between a list view or a grid view of all upcoming events, plus set participation limits, registration overdue reminders, payment due dates, etc.
The Schedule Wix App also shows past events in case you want to use them as inspiration for future ones. This feature is very useful if you are running classes like yoga or dance lessons where people might be interested in following similar courses again at some point down the line.
Wix Bookings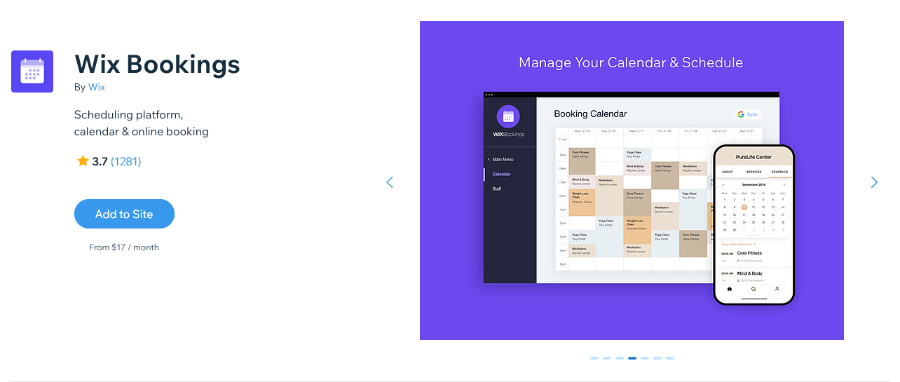 The Wix Bookings App (View App) makes it easy for clients to book appointments and pay securely online, which means less time spent on scheduling and more time doing what you love.
With the Wix Bookings app, your clients can easily make appointments online. They can also buy packages, memberships and make one-time payments directly from your site using their credit card or PayPal account.
The Wix Calendar App also allows your customers to easily book one-on-one sessions or classes from their phone and it connects directly with a wide range of online calendars.
With the new Wix Bookings app you have full access to book appointments, edit working hours for each staff member, sync multiple calendars and even include your own booking policy.  Plus, you can manage everything on the go with the Wix mobile app.
Schedulista Bookings Wix App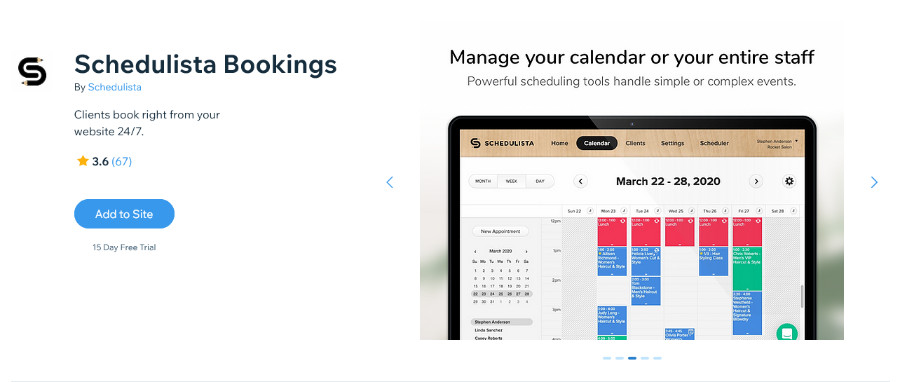 Schedulista Bookings for Wix (View App) gives you all of the scheduling options you need to create an appointment booking form on any page of your website. You can even use the built-in custom fields feature so that you can ask for specific data at booking time, such as their email address or telephone number. It also syncs with Google Calendar, and this app is constantly adding new features based on user feedback like MailChimp integration and repeating appointments.
Schedulista also automatically sends a text message reminder 24 hours before an appointment (you can customize this time) and then again one hour before the appointment starts. Plus, if someone doesn't show up or cancels their booking the app will send another text message reminding them what happened to help limit the effect of no-shows on your business.
Event Viewer Wix App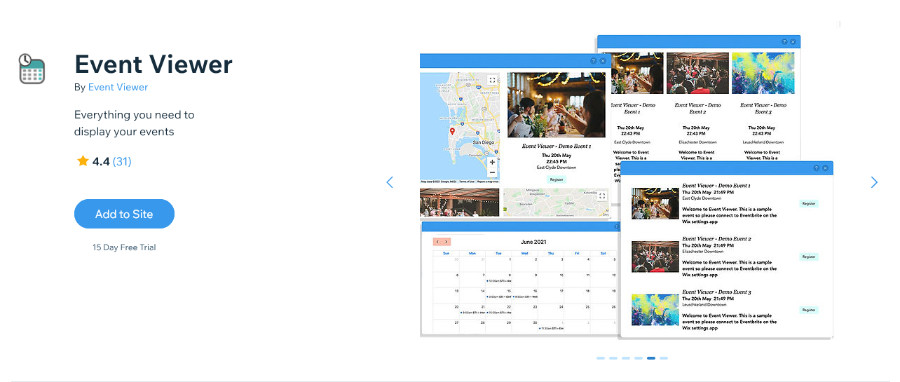 The Event Viewer Wix App (View App) makes running your business easier by helping you manage everything related to events in one place. With this calendar app, users can search and buy tickets to events right on your website.
The Event Viewer Wix App also has a "add to my calendar" button that allows users who visit the page from another website or mobile device to easily save that date in their personal calendars without leaving the page they're already viewing.
And with the Event Viewer Wix App, you can add an event calendar widget in minutes that will display all your upcoming events from any source (Eventbrite, Ticket Tailor, Ticket Spice). And it automatically updates with new ticket sales as they happen. So there is no more need for manually searching for updates on each ticketing site individually.