Have you ever wasted time and money buying a theme that just doesn't work for your hotel? We have the solution for you. This post will focus on some of the best BigCommerce themes for hotels, so you can get started with building your website today.
We'll also cover what to look out for in a BigCommerce theme when it comes to brand image recognition and how to make sure your site is mobile-friendly.
And finally, we'll discuss some features that are helpful when running a hotel website: reservation options, customer reviews, online booking engine integration, and more. So let's dive right in.
Best BigCommerce Theme Hotels
Flagship Modern BigCommerce Theme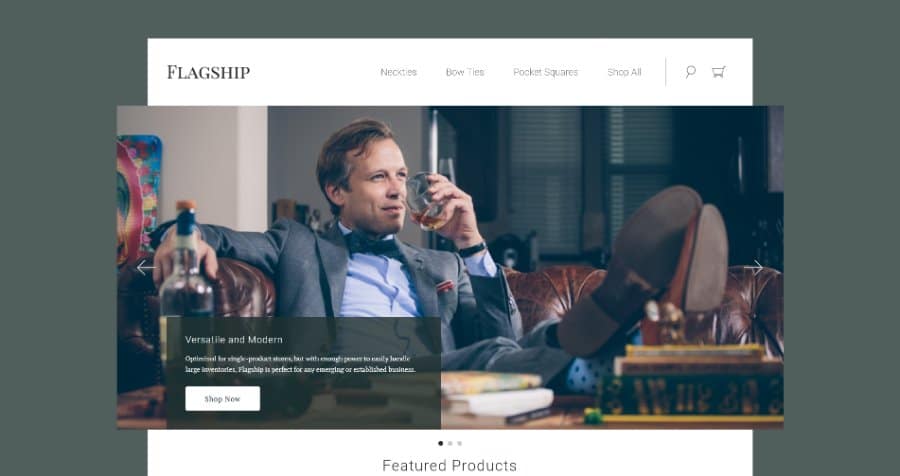 The Flagship Modern BigCommerce Theme allows you to create an online store that will make customers feel like they are visiting your hotel, not just another eCommerce site. This BigCommerce theme is the best choice for hotels with its elegant design and intuitive layout. It's easy to use and it comes with all of the features required by modern businesses, including multiple layouts, powerful customization options, built-in SEO tools, and a fully responsive design that works great on any device or screen size.
All this makes the Flagship Modern Hotel Theme the perfect choice for every type of hotel – from small boutique properties to large chains looking for a bold new look.
With this BigCommerce theme, you can easily showcase your property in style without having to hire web designers or developers at high costs. And the clean design of this theme also shows off all the features of each type of room in your hotel so that guests can choose which one is perfect for their lifestyle or upcoming vacation plans.
Scales Modern BigCommerce Theme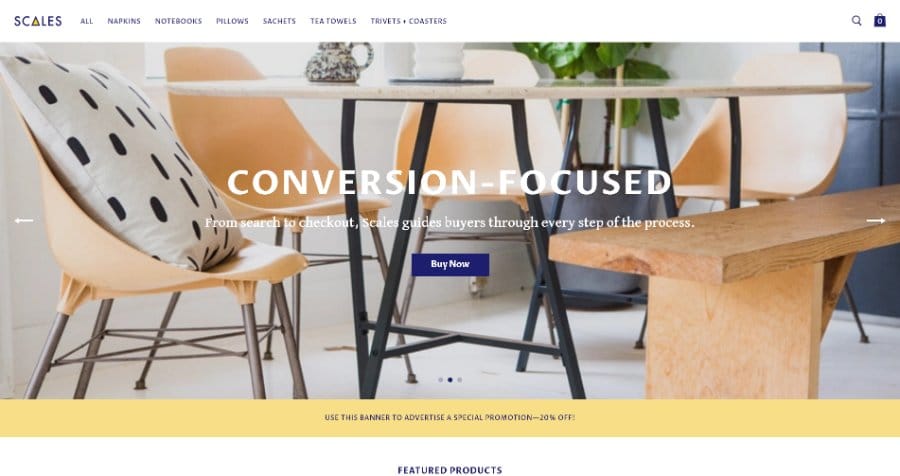 The Scales Modern BigCommerce Theme is an innovative and eye-catching theme designed for ambitious creatives and bespoke brands alike. It's perfect for boutiques, hotels, restaurants, or any other business selling unique products. With its oversized hero area and homepage layout and prominent reviews that drive visitors straight to the checkout page – your conversion rates will soar.
With Scales, you can instantly add an interactive product filter on your homepage or any other page. This will help increase sales by making it easier for customers to find the room they want quickly without having to search through pages of search results.
Plus, this theme has a heavy focus on reviews so that customers can leave honest feedback about their experience with your brand after they make a purchase on your site.
Hero Warm BigCommerce Theme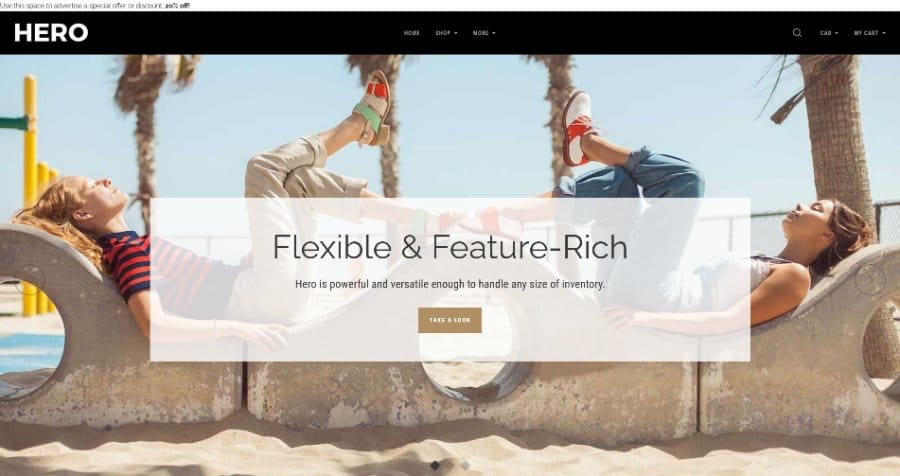 Hero is one of the most popular BigCommerce themes because it's incredibly easy to use while still offering all the features that today's customers expect from an online store. With Hero, you can wow your visitors with a beautiful homepage slideshow or product comparison table that you can use to highlight the features the rooms in your hotel have to offer.
This theme also makes it easy to browse through large listings so that nothing stands between your visitors and a great booking experience. And when it comes time for them to check out, there are no unnecessary distractions—just clear calls-to-action leading straight into the checkout.
Bazaar Light BigCommerce Theme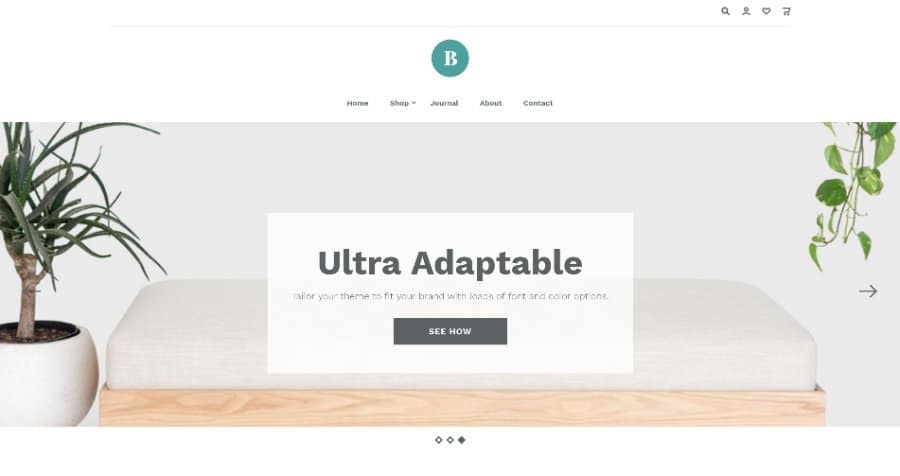 The Bazaar Light BigCommerce Theme is the perfect theme for any boutique hotel, a hostel, or bed & breakfast that wants to stand out from its competitors with an attractive website design.
This BigCommerce theme has all of the features a hotel needs like product filtering, custom colors, Google AMP support, mobile-friendly design, etc… but it also includes some really cool extras that let you create customizable checkout pages, video walkthroughs of rooms or facilities, and much more.
Brixton Luxe BigCommerce Theme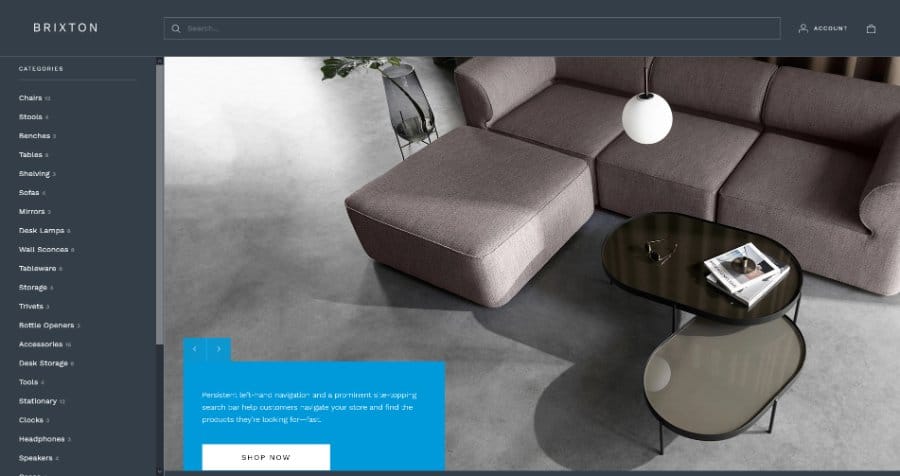 Brixton is a modern, professional-grade theme with an intuitive interface that makes it easy to set up your store on BigCommerce and start selling online quickly. And because it's so versatile you can use Brixton as the foundation for any type of eCommerce store (hotel booking, vacation rental management, etc). It also comes with features like one page checkout and Google SEO support which makes it easier than ever to get new customers through your doors.
Clariss Home BigCommerce Theme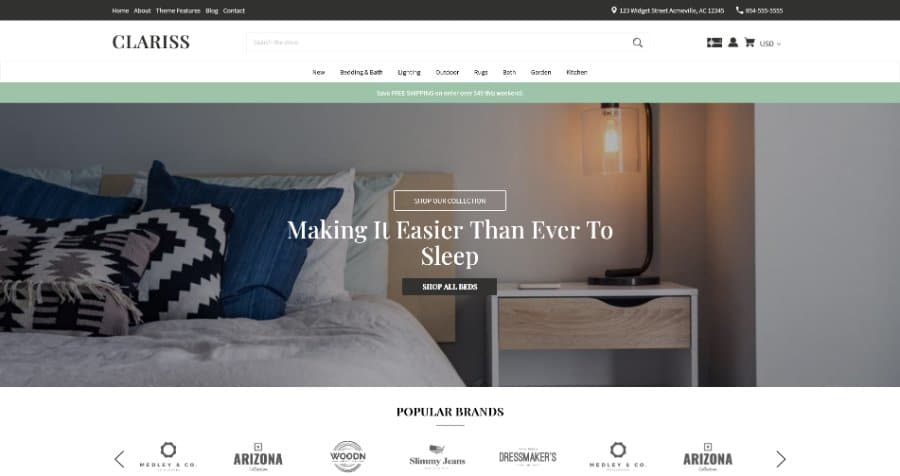 Clariss is a powerful, fully responsive theme that offers you complete control over every element on your site. This theme offers you the flexibility and freedom to customize everything from fonts and colors to layouts and sidebars. It also comes with a custom Page Builder that gives you full control over what content appears on your site, so you can create the perfect experience for both users and management alike.
Clariss is the BigCommerce theme for hotels that will make sure all eyes are on your brand—not someone else's. This stylish theme comes packed with features designed specifically for hospitality businesses like yours, including deep navigation menus that make browsing easy even for visitors who aren't familiar with everything your hotel has to offer.
Revo – Multipurpose Stencil Responsive BigCommerce Theme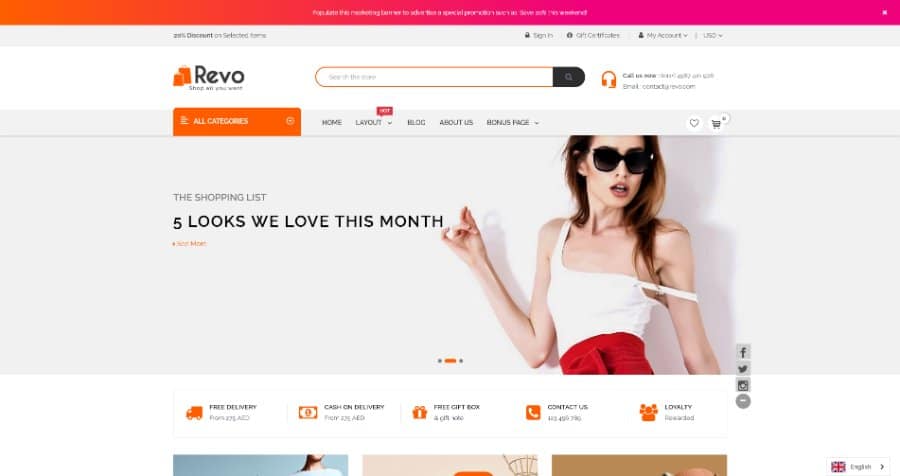 Revo is the best multipurpose BigCommerce Theme on the market. It's perfect for any type of business, from hotels to restaurants and everything in between. With a 100% responsive design and powerful configuration options you'll have no problem creating an amazing website that will impress all your customers.
Revo is also fully SEO optimized so your site will rank higher on search engines like Google – making it easier than ever before for customers to find your hotel when they need a place to stay for the night.
Plus, you can customize every single aspect of this theme to make it uniquely yours. Whether you want to change colors or add social sharing buttons – this theme has got you covered. And if you need help along the way you can easily contact a helpful support team that is always there to answer any questions or concerns about your site.
Click here now to try out the Revo BigCommerce Theme today
Brooklynk – Premium Responsive Fashion BigCcommerce Template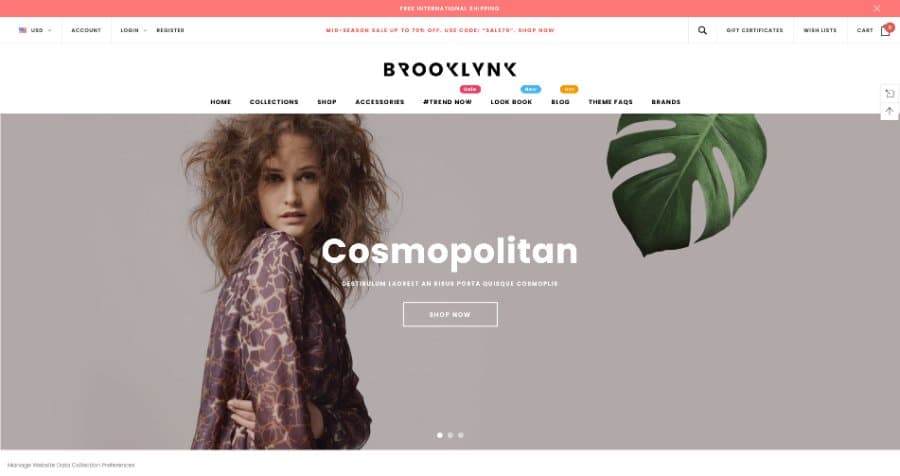 The Brooklynk BigCommerce Theme is the perfect template to build a hotel's eCommerce store. It includes all the features and functionality that hotels need in order to succeed online, such as an FAQs page, custom contact page with Google Maps and hotel information, SEO optimized content, Instagram feed add-on, and more.
Teahouse – Multipurpose Store BigCommerce Theme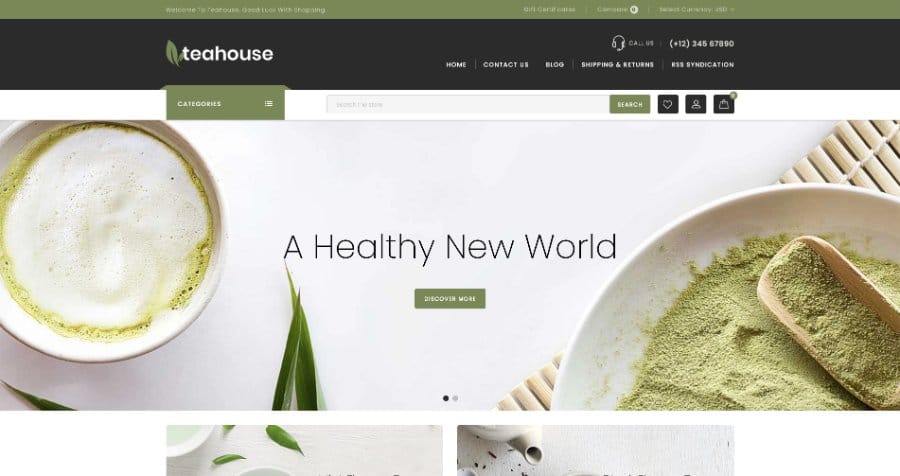 The Teahouse Multipurpose BigCommerce Theme is one of the best multipurpose eCommerce templates that comes packed with many useful features including unlimited color options, Mega Menu, sliders or banners, and much more. And it has a simple drag & drop editor the will let you create beautiful websites in no time at all.
Teahouse is an excellent choice for all kinds of online shops, including hotels. It has many useful features and layouts that can be used to quickly build an online store.
This theme comes with a large collection of shop layouts including many product templates and elements to help you build your site in minutes without coding skills. And it features plenty of options to customize your website as you like, so it will stand out from the crowd.
Best BigCommerce App for Hotels
Appointment Scheduling SMS+ by Copilot

Appointment Scheduling SMS+ by Copilot is a powerful tool that helps hotels and resorts manage their appointment bookings, track customer service metrics, and communicate with clients via text messages.
This BigCommerce app makes it easy to schedule appointments from your online booking engine, so you can provide the best possible experience for your guests.
Booking appointments can be a pain. It's hard to remember all the details and you're not sure if your client will show up on time, or at all.
Appointment Scheduling SMS+ by Copilot solves these problems with an easy-to-use solution that integrates directly with BigCommerce. This appointment scheduling software allows you to offer multiple types of appointments, including same-day bookings and reservations made weeks in advance. Best of all, this app can be customized based on your business needs – and you can even prevent double bookings and block out dates entirely.
Glew Analytics

Glew Analytics is the best BigCommerce app for Hotels that will help you transform your data into actionable insights. This B2B SaaS analytics platform helps multichannel merchants & brands get a 360-degree view of their business across all channels so they can drive higher ROI from every customer.
Glew Analytics gives you powerful insights with automated reports, dashboards, and more – in one place. Glew makes it easy to connect your BigCommerce store with Facebook Ads, Google Analytics, Klaviyo emails, ReCharge receipts, and more – so you can finally see the whole picture of how each channel contributes to your bottom line. And it has an intuitive interface that lets you quickly make sense of all of your hotel's KPIs at a glance.
S Loyalty

S Loyalty is an all-inclusive BigCommerce app that lets you create and manage your own branded loyalty program in just minutes. This app gives you everything you need to run an effective rewards program on your online store including campaign management, discount offers, event-based campaigns, admin tools, and more.
With S Loyalty, new customers will see an exclusive welcome offer or discount on their first visit that they can redeem when they book a room. You can also schedule events like birthday offers or seasonal promotions so that existing customers will receive timely reminders about new offers.
And if you're running a special promotion at a certain time, the notification bar will remind all of your users in real-time—no matter where they are on your site—to encourage them to take advantage while the deal lasts.
FavSEO

FavSEO is designed to make SEO easy and accessible for every store owner without requiring any technical knowledge or complicated setup procedures. FavSEO is a powerful tool that allows you to optimize your website's meta title, description, and keywords for all types of pages such as product, category, blog post, etc.
It also helps you discover new keyword opportunities by using Google Search Console data along with a Rank Tracking feature which shows you the current ranking of your site in Google's search results (SERPs). Moreover, this plugin also provides suggestions on how you can improve your site's overall performance from the perspective of both customers & search engines alike.
99Minds Gift Cards

99Minds Gift Cards lets you sell gift cards through your BigCommerce store. With 99Minds Gift Cards you can create a complete gifting program from scratch in just a few clicks. This app lets you create both physical and digital gift cards so that customers can purchase the perfect present for their friends and family members from anywhere.
This software is compatible with all major payment gateways including Stripe, PayPal, Authorize.net, etc., which means you won't have any problems integrating it into your current payment processing platform.