If you have a YouTube channel and want to set up your own website, this post will help you find the best WordPress theme for a YouTube channel.
You can find many themes online that are perfect for video blogs or other types of multimedia content, but it's important to know which one is right for your publishing process.
One thing to keep in mind when choosing a theme is how many customization options it offers. And is it fully compatible with the YouTube API? If it isn't then what plugins are you going to need?
A lot of these questions and more are answered below.
Best WordPress Theme for YouTube Channel
VidoRev – Video WordPress Theme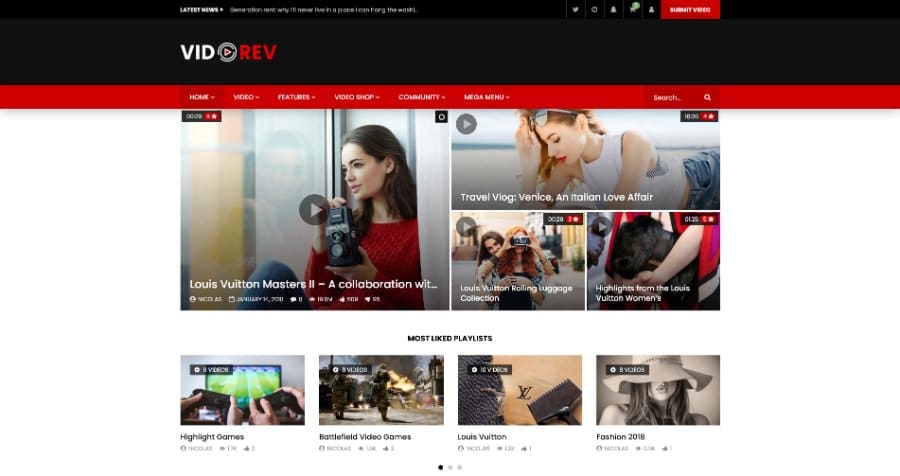 VidoRev is the best theme for creating and managing a website for your YouTube channel. It's easy to use, has tons of features, and looks great on any device. And you can import videos from YouTube with one click or add them manually – it's up to you.
Best of all, this theme has built-in pre-roll video advertising support so you can make money off of your videos even if you are not approved for monetization on YouTube (1,000 subscribers and 4,000 watch hours).
Plus, the included social locker plugin will increase the reach of your videos by locking content behind a social share button.
With VidoRev, you can easily create a professional website without having to know how to code in HTML or CSS. The drag & drop page builder makes it simple so anyone can build their site quickly and easily – even if they don't have any design skills at all.
With a drag & drop page builder, unlimited colors and fonts, sticky video widget, and more – this theme has everything you need to take your site to the next level. And don't forget about the WooCommerce Video Shop, which will let you sell merch on your site without YouTube taking a cut.
ViewTube | Video Streaming WordPress Theme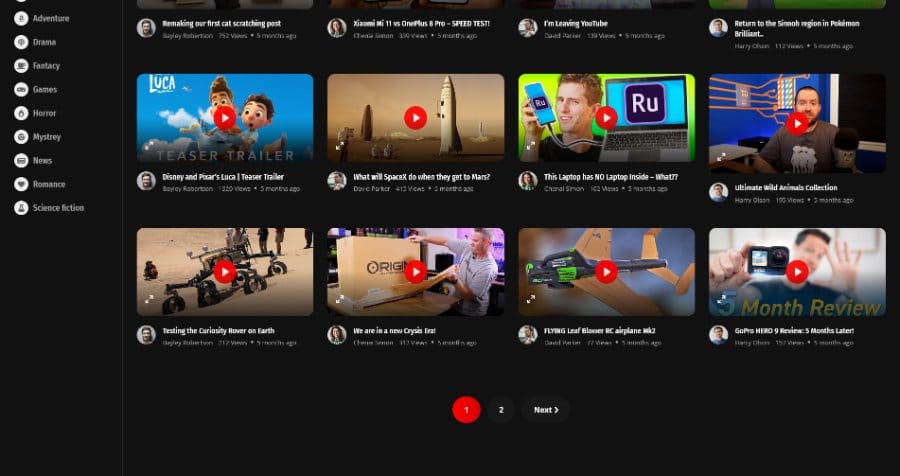 ViewTube is the perfect theme for a new or existing YouTube Channel. It has all the features you need to help boost your YouTube views by giving people an easy way to watch videos on your own site.
You can also use it as a blog if you're looking to expand into mixed media content with images, interactive elements, and embedded YouTube videos.
With ViewTube, you can easily upload videos from your computer or mobile device, customize them with text and images, add social media links in the header and footer of each video page, and monetize your site with ads or via other methods like Patreon subscriptions without ever having to leave your WordPress website.
Streamlab – Video Streaming WordPress Theme
StreamLab has everything you need to create your own streaming website with a YouTube-like design and layout. It includes all the features that are necessary to make your site stand out from others, such as unlimited video uploads, playlist creation, social media integrations, and more.
StreamLab is the perfect solution for any YouTube channel, Twitch, or Mixer streamer. It has all the features you need to create an amazing-looking website that will grow with your audience and business.
The best part? You don't have to be a developer to use it. With the drag-and-drop page builder, you can build your site in minutes without touching code. And if you want more control over how things look, you have access to HTML/CSS customization options.
This theme has everything from banners and menus to social media integration, video backgrounds, content restriction (so only paying subscribers can see certain content), infinite scroll pagination (for when your library of videos gets really big), and much more.
Betube Video WordPress Theme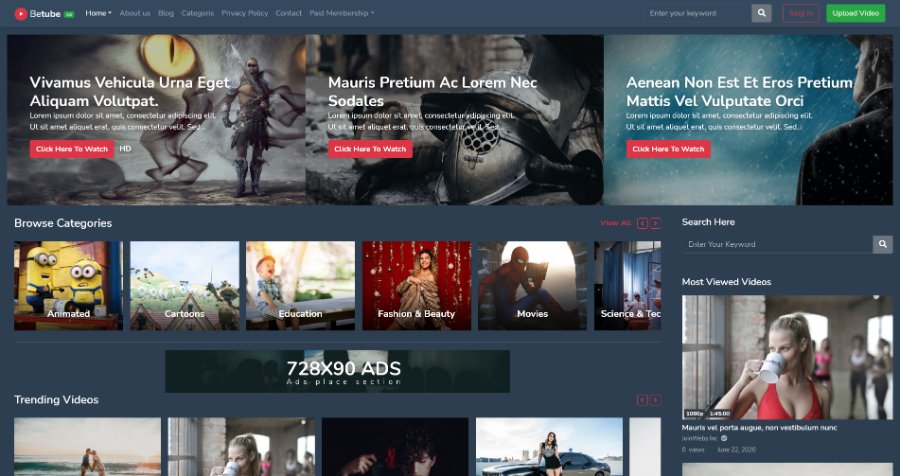 Betube is the perfect solution for your YouTube Channel. It's designed specifically for those who want to share their videos on social media and drive visitors to their website. With this theme, you can upload videos from Youtube, Vimeo, Dailymotion, and more.
Betube also lets you import and serve self-hosted videos with ease. The best part? This theme includes the WordPress Video Robot plugin that allows you to add any new YouTube video onto your site automatically.
Plus, you can easily track views, likes, and comments on all of your videos with the Betube WordPress Theme. It also has a featured video option that makes it easy to promote new content or highlight popular videos from the past.
And if you're looking for more customization options the sky is the limit since this theme is compatible with most major page builders like Elementor and WPBakery.
Betube is the perfect theme for your YouTube Channel. With features like automatic video thumbnail import and SEO optimization, it's never been easier to build a professional-looking high-ranking website for your YouTube Channel.
Vlog – Video Blog & Podcast WordPress Theme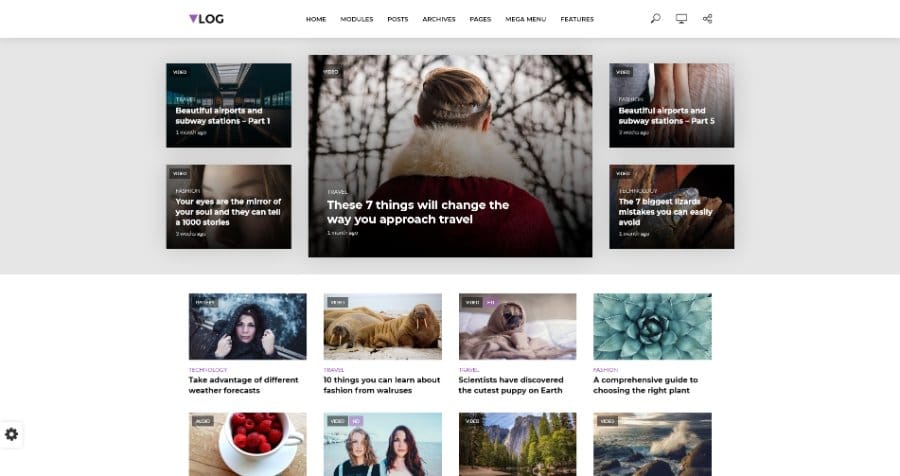 Vlog is a WordPress theme that makes it easy to create a professional-looking website for a YouTube Channel. It's designed with ease of use in mind so that anyone can set up their own site without any coding knowledge required.
This theme has been designed specifically for vloggers who want a website that looks just like their YouTube channel. It lets you import your videos from YouTube and automatically creates thumbnails based on your preexisting video thumbnail images so your site will look exactly as it does on YouTube.
You can also add playlists and group all of your videos into categories, which is an important feature for any YouTuber because people expect to see your newest and most popular content when they visit your website.
This theme also comes with more than 200 different layouts so you can pick one that suits what kind of content you're producing best – whether it's product reviews or any other type of video-based content.
VideoTouch – Video WordPress Theme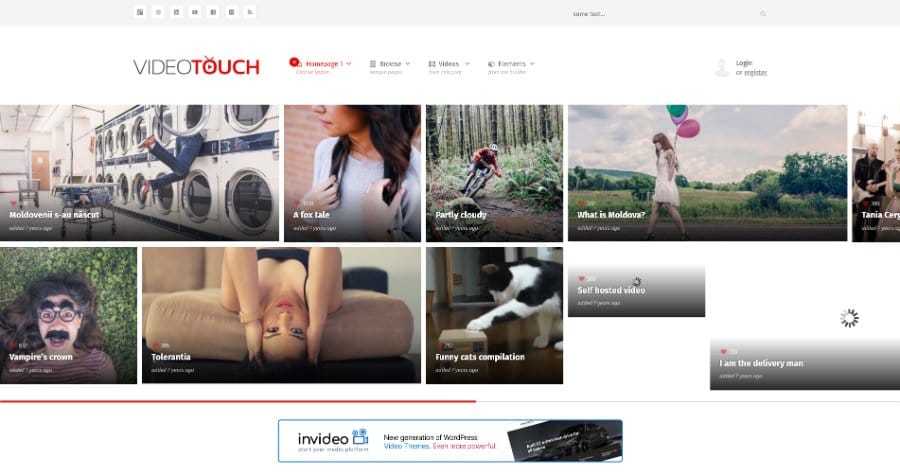 VideoTouch is a powerful theme for anyone who wants to create a professional-looking video channel.
There are many options in the market, but they have fundamental flaws that make them unsuitable for creating an online video platform. Some of these themes look unprofessional or outdated and don't support high-resolution displays. Other themes are not flexible enough so you can't customize them according to your needs.
VideoTouch was built from scratch keeping all these points in mind and we're confident that this is one of the best WordPress themes for a YouTube channel available on ThemeForest today.
VideoTouch is perfect for creating professional-looking YouTube channels with minimal effort. It comes with tons of features such as Touch Layout Builder, custom widgets, 4 custom post types (videos), an advanced admin panel, etc.
You can also use the included pre-made demo content that comes with this theme to help you get started without needing to spend hundreds of dollars on stock photos.
VideoTube – A Responsive Video WordPress Theme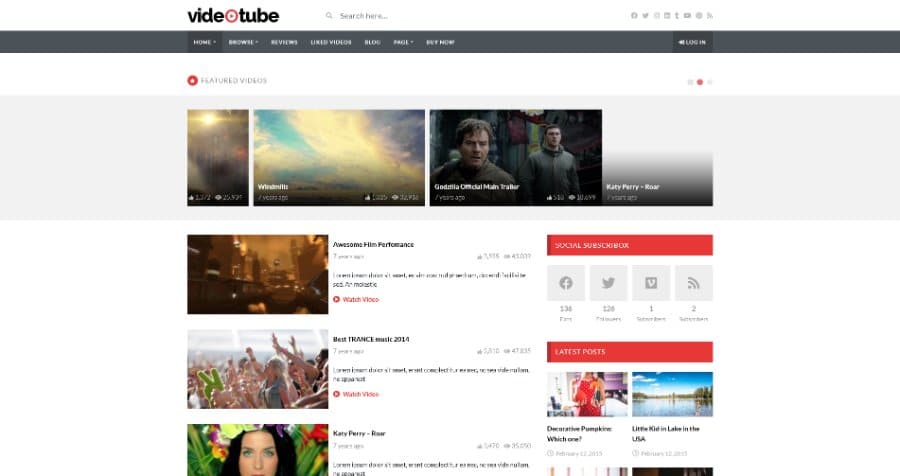 VideoTube is one of the best WordPress themes for YouTube channels. It's easy to embed videos from Youtube, Vimeo, Dailymotion, Facebook, Twitter, Streamable and more.
Uploading self-hosted videos is also an option with his theme, and users can submit their own videos too.
This theme also automatically imports thumbnails from YouTube, so you won't have to upload your images one by one.
With VideoTube you also are able to sort your videos by Likes, Views or Comments, and date which makes it easier than ever before to organize your videos.
And with the built-in Like button and View count on every video page, it's never been easier to see how popular each video is among your viewers.
Vlogger: Professional Video & Tutorials WordPress Theme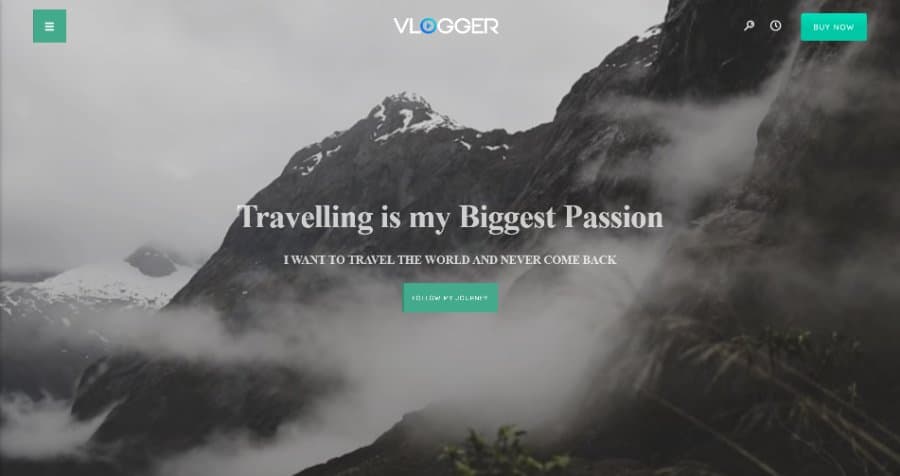 Vlogger is the perfect theme for any type of YouTube content creator – from vloggers to YouTube Streamers who don't want to be locked into YouTube's walled garden anymore.
This premium template has been designed with video content creator's needs in mind, allowing you to create a professional-looking website for your YouTube channel in no time at all.
Plus, this theme includes 4 complete demo sites, so you can see exactly what's possible with this awesome theme as soon as you install it on your hosting platform.
Vidio – Video Manager WordPress theme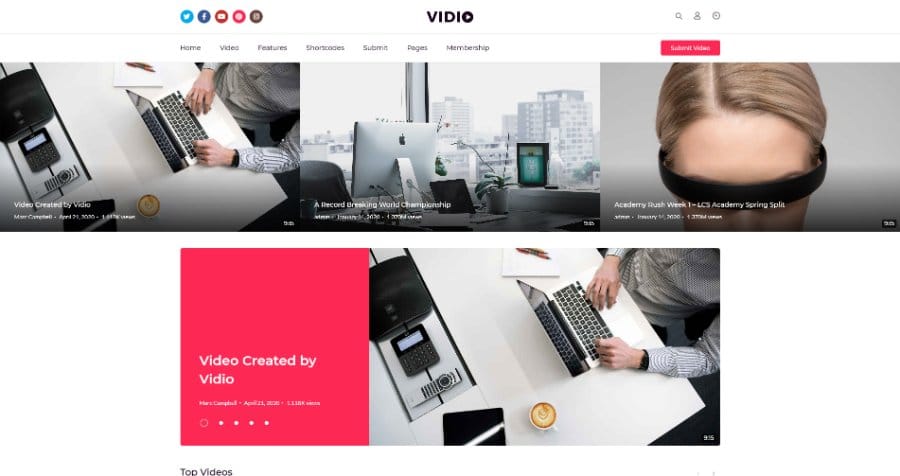 Vidio has everything you need to make a great-looking website for your YouTube channel. You can easily import videos from Youtube or Vimeo with one click, create custom headers and footers in seconds.
Plus this theme is easy for anyone to use since it includes the WP Bakery Page Builder that lets you create any layout imaginable.
It also comes with premium plugins that let you add videos anywhere on your site with Haru Vidi – Video WordPress plugin. And it also comes with the myCred WordPress plugin that features Points, Rewards, Gamification Features, User Ranks & Loyalty Programs.
MediaTel – Youtube Vimeo Video News Aggregator Magazine WordPress Theme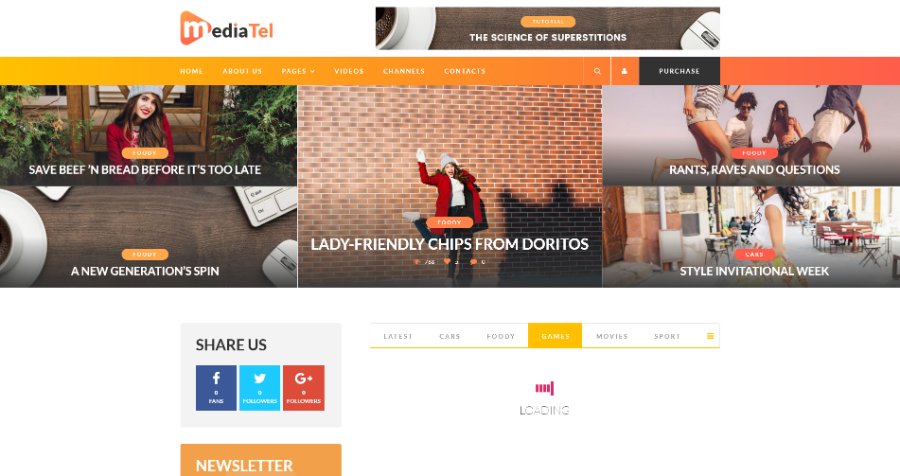 The MediaTel – Youtube News Aggregator Magazine WordPress Theme is a perfect solution for your online video blog or podcast website. It's made specifically for media resources, online video magazines, and Youtube/Video bloggers who are looking for an awesome-looking theme with great features.
This outstanding theme has everything you need to create your own amazing vlogging or podcasting site. It includes all of the needed tools like one-click demo install, advanced customizer options, visual page builder, etc. so that anyone can build their own website without any coding knowledge.
With this theme, the developers made sure that all of the features are fully integrated into WordPress so there's nothing else for you to install or configure (other than your own video content). This means fast setup and easy updates so that your website will always look great and work perfectly.
MediaTel also includes lots of shortcodes and widgets specifically designed for displaying videos from various popular sources like YouTube, Dailymotion, SoundCloud, etc
SocialVideo – Viral Youtube And Vimeo Video Magazine WordPress Theme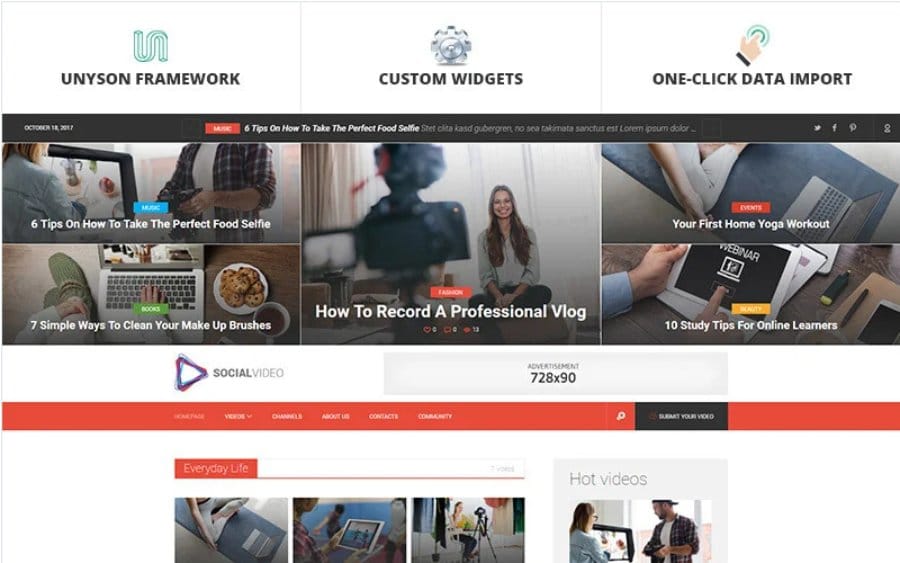 SocialVideo is an easy-to-use WordPress theme that allows you to create a unique online video magazine or viral news portal for any topic, niche, or category you can imagine. It comes with plenty of customization options that allow you to change the look and feel of the theme completely as well as add new features like videos, photo galleries, slideshows, etc…
Best WordPress YouTube Plugin
YouTube Plugin – WordPress YouTube Gallery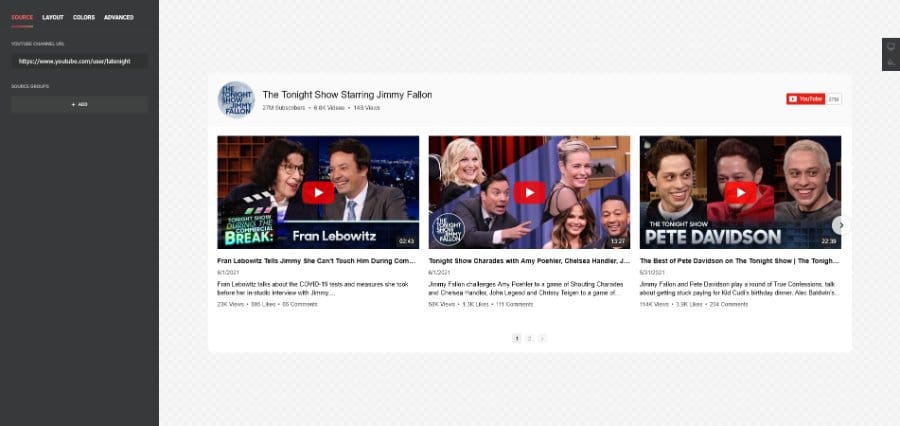 The Elfsight WordPress YouTube Gallery Plugin has been specially designed for displaying YouTube content and offers an array of options for customizing how you want to display it. With this plugin, you can easily create stunning galleries from any number of channels, playlists, or single recordings and present them in several different layouts across your site.
This plugin allows you to change all aspects of how video galleries look and function. You can choose which channels or playlists appear in each gallery, whether or not they autoplay when visitors open them, as well as set start and end times if required. The possibilities with this theme really are endless.
If you want to see the Elfsight WordPress YouTube Gallery Plugin in action we highly recommend that you try out the demo site.
YouTubeR – Unique YouTube Video Feed & Gallery Plugin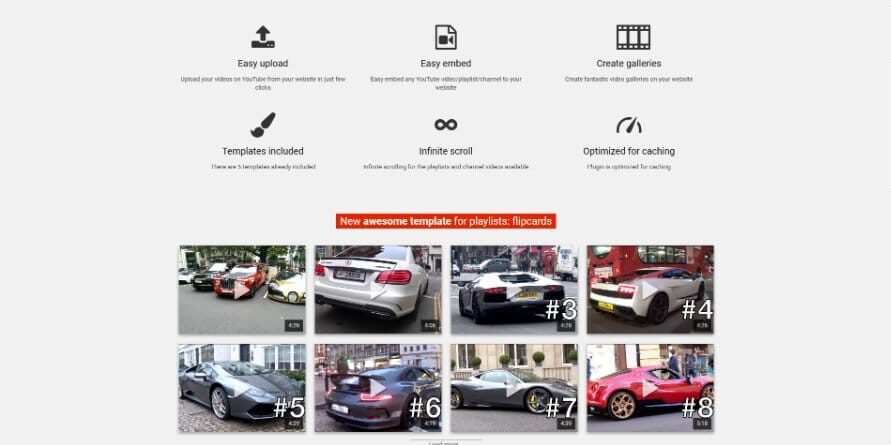 YouTubeR is the best WordPress plugin for managing videos on YouTube from your WordPress website. It also allows you to embed YouTube videos/playlists/channels onto your site with ease. You can even create video galleries and use the Visual Composer integration to build custom layouts that are fully mobile responsive.
It also features infinite scroll, so it's easier than ever before to find what you're looking for in a playlist without having to click through endless pages. And with the Visual Composer integration, there are no limits as far as how creative you can get with building custom page layouts.
Youtube Video Gallery – Youtube Channel For WPBakery Page Builder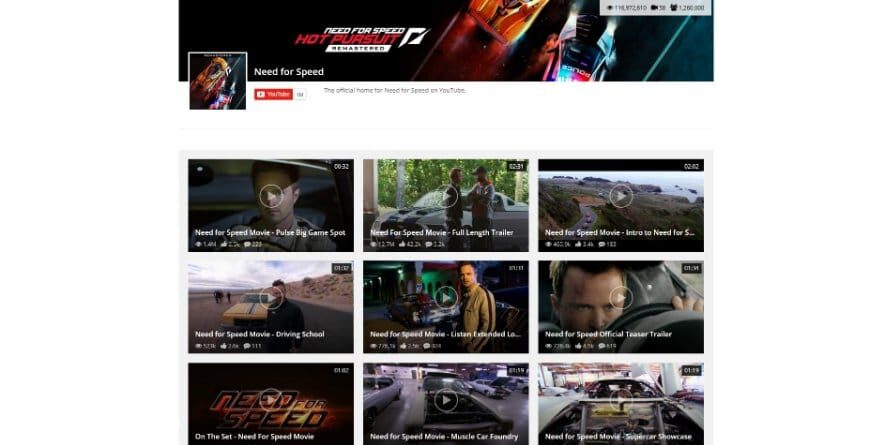 The YouTube Video Gallery for the WPBakery Page Builder is the best WordPress plugin for displaying videos and playlists from your YouTube channel in a beautiful way. It's easy to set up, it's responsive and it looks great on any device. You can even use video ads with the built-in Google Adsense integration so you can earn money from every visitor who watches your videos.
Best Free WordPress YouTube Plugin
Embed Plus for YouTube – Gallery, Channel, Playlist, Live Stream
Embed Plus is the best free WordPress YouTube plugin. It's designed to help you embed videos from YouTube and Google Drive with ease so that your viewers can watch them in a lightbox or fullscreen mode without leaving your site.
With EmbedPlus you can customize how each video looks on your website, including whether it should automatically start playing, or only start when someone clicks on it. You'll also have the option of hiding the player controls until they're hovered over by a visitor, which will make for an even cleaner viewing experience.
Video Gallery – Vimeo and YouTube Gallery
OriginCode's Video Gallery is one of the best free WordPress plugins for creating any type of video gallery. It's easy to use and comes with tons of features like YouTube, Vimeo, or mixed gallery support. You can also choose from different styles such as justified or blog-style views.
This plugin has all the tools you need to make your website more interactive and engaging. With this responsive multifunctional video gallery plugin, you can create a beautiful video gallery that will keep visitors coming back for more.
And you can choose from many different styles of galleries and customize them to fit your needs. Best of all, with this plugin, it's easy to add new content or update old content with just one click.
Total-Soft Video Gallery – YouTube Gallery
The Total-Soft Video Gallery is another very popular WordPress YouTube plugin. It's easy to use and has all of the features that you need to create an amazing-looking video gallery. You can upload videos from YouTube, Vimeo, Wistia, or MP4 files with ease. The plugin also supports unlimited videos so you don't have to worry about having to pay to add videos to your site.
With this plugin, it will be easier than ever before for visitors to find the content they are looking for on your site without having to scroll through endless pages of posts. They can simply click on one of the categories and view all of the videos within that category all at once.
This plugin also features delightful gallery animations that run smoothly on modern devices. And you can use any one of the 16 free video gallery themes that come with this plugin to create any style YouTube channel website.