If you're a website owner it's important to protect your site from malware and other security threats. Two of the most popular website security options are MalCare and Sucuri. But which one is right for you? On this page, we'll compare MalCare vs Sucuri side-by-side to help you decide which one is the best for your business.
MalCare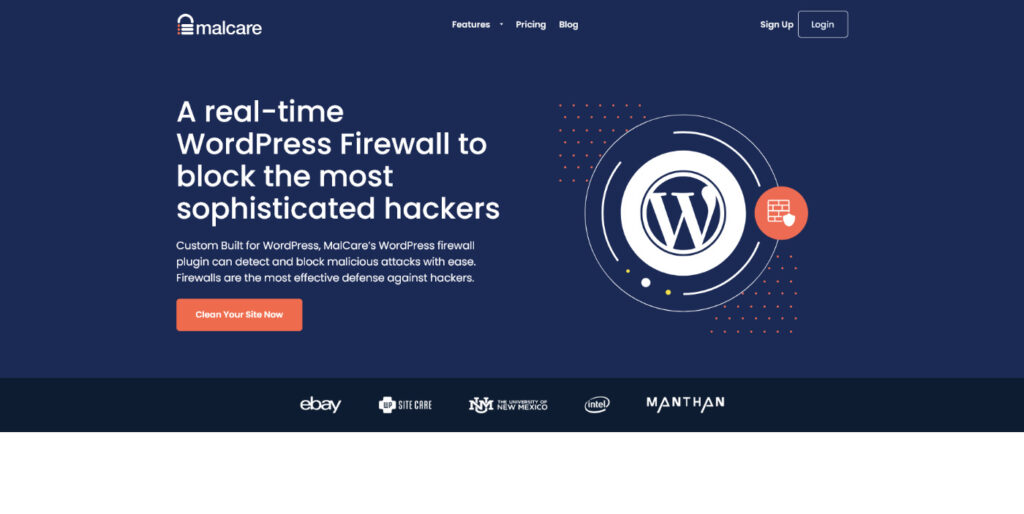 MalCare (View Price) is an affordable, beginner-friendly malware scanner and removal tool that can help keep your WordPress site safe.
The plugin includes a WordPress firewall, bot protection, vulnerability scanner, and backups – all in one easy-to-use package. Plus, you will also get access to a detailed activity log so you can keep track of everything that happens on your website at a glance to see if anything looks suspicious.
MalCare Key Features
Daily Malware Scans
Real-time Firewall
Vulnerability Scans
Login Protection
MalCare Highlights
MalCare is a comprehensive security solution for WordPress websites
It offers protection against malware, hackers, and other online threats
It also helps you keep your website updated and backed up
MalCare is easy to use, even for beginners
It's affordable, and there are several subscription plans available
MalCare is an online security and malware protection tool that scans your website for vulnerabilities
It offers a variety of features, including malware removal, blacklist monitoring, and website security
The team at MalCare is always available to help you with any queries or problems you may have
MalCare Plan Features
MalCare has several subscription plans available with different features:
MalCare Basic Plan:
Automatic Malware Scans
Scan Frequency – 24 hours
Instant Malware Removal
Real-time Firewall
Bot Protection
Vulnerability Scans
Uptime Monitoring
Personalized Support
MalCare Plus Plan:
Everything in the Basic Plan
Daily Automatic Backups
Integrated Staging Site
Activity Logs
Visual Regression Testing
Personalized Support
MalCare Pro Plan
Everything in the Basic and Plus Plan
Automatic Malware Scans
Scan Frequency – 6 hours
4 Backups Daily
Integrated Staging Site
Sandbox Updates
Priority Support
Sucuri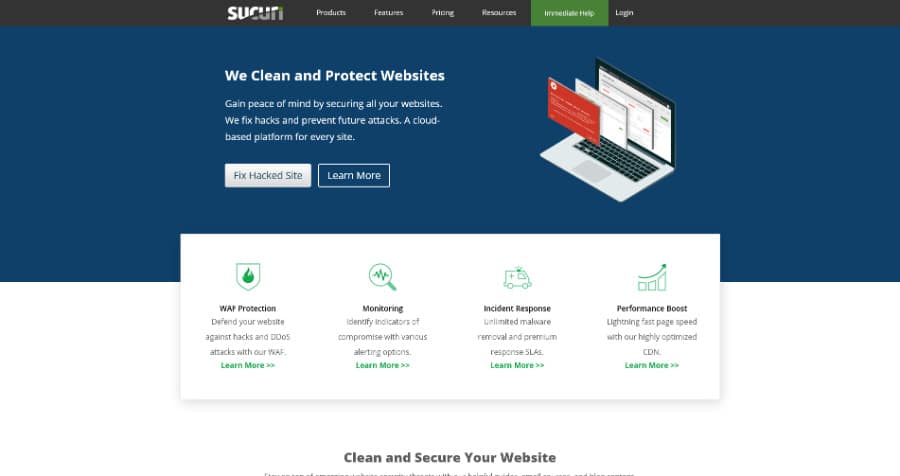 Sucuri (View Price) is an industry-leading web security company that provides professional-grade services that keep small and large websites safe from hackers.
All in all, we are very impressed with Sucuri's web application firewall and the features it provides. The virtual patching and hardening alone make it a valuable tool for any business website. The DDoS attack mitigation, zero-day exploit prevention, CDN and performance boost, daily file integrity scan, and incident response capabilities make it an essential part of our security arsenal.
And finally, their business class support is always willing to go above and beyond to solve even the most challenging website security problems.
Securi Plan Features
Malware Removal by Web Security Professionals
Malware Removal
Post-cleanup Reports
Advanced Security Scans (Basic 12 hrs, Pro 6 hrs, Business 30 mins)
Website Application Firewall (WAF)
Blocklist Monitoring & Removal
SSL Support & Monitoring
Virtual Patching/Hardening
Firewall Protection
PCI compliant
DDoS Mitigation
CDN Site Speed Enhancement
Load Balancing
CMS & Hosting Agnostic
Securi Highlights
Sucuri offers website security solutions that are effective and affordable
Securi also offers a blog and support forum to help customers stay informed and secure
Recent updates to the Sucuri platform include the launch of its new SiteCheck scanner
24/7 support is available in case of an emergency
MalCare vs Sucuri Comparison Chart
| | | |
| --- | --- | --- |
| Feature | MalCare | Sucuri |
| Unlimited Malware Removal | Yes | Yes |
| Web Application Firewall | Yes | Yes |
| SSL Certificate | No | Yes |
| DNS Management | No | Yes |
| Caching Options | No | Yes |
| Backups | Yes (Plus & Pro Plans) | Yes ($5 month) |
| Virtual Patching | No | Yes |
| DDoS Attack Protection | Yes | Yes |
| Zero-Day Prevention | No | Yes |
| Global CDN | No | Yes |
| PCI Compliant | No | Yes |
| Daily Maleware Scan | Yes | Yes |
MalCare vs Sucuri Feature Comparison
When it comes to choosing a WordPress security plugin, there are two big names that always come to mind: MalCare and Sucuri. Both plugins offer similar features and promise to keep your site safe from attacks. But which one is better? Below, we'll pit MalCare against Sucuri in a head-to-head comparison.
MalCare vs Sucuri: Installation & Ease of Use
MalCare Installation & Ease of Use
MalCare is an easy-to-use plugin that you can install on your WordPress site in minutes. Once it's installed, you can manage everything from the MalCare cloud dashboard, including malware scans, website backups, and security audits.
Plus, you don't need to be a WordPress expert to use MalCare since their intuitive interface makes managing your website security a breeze. And if you have multiple sites, you can easily manage them all from one central location.
Sucuri Installation & Ease of Use
Overall, the Sucuri plugin is easy to install and configure. Once it is activated you will see a security tab in your WordPress admin interface that provides all of the settings you need to get started.
Sucuri works just like any other WordPress Security Plugin, but it can be a little slow and clunky on resources constrained servers since you need to administer it from your WordPress dashboard.
Winner MalCare vs Sucuri: Installation & Ease of Use
MalCare vs Sucuri: Website Application Firewall
MalCare Website Application Firewall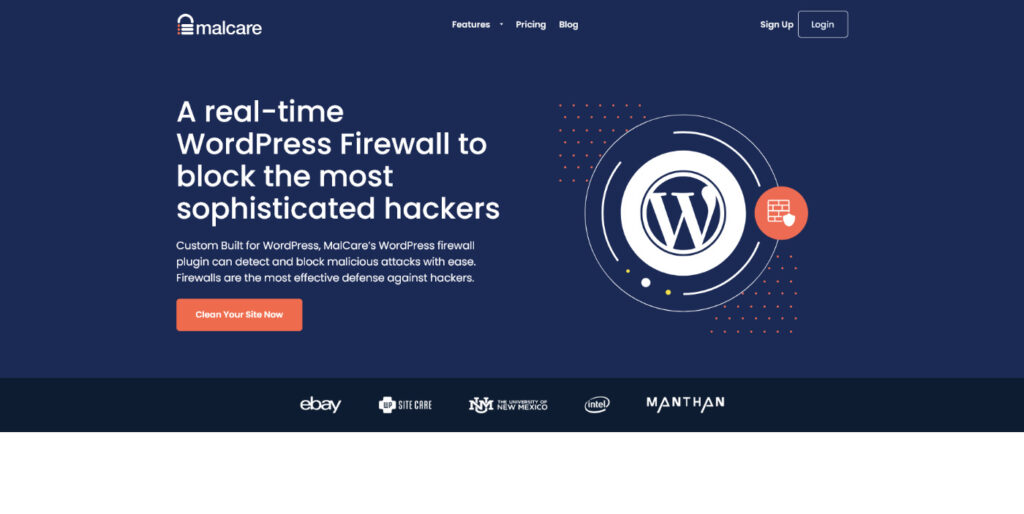 MalCare's Website Application Firewall is a protection system that blocks suspicious IP addresses from accessing your website. It is important to keep in mind that this firewall is not updated regularly, so some malicious IP addresses may still be able to access your website. However, the MalCare WAF will help protect your site from most attacks.
Sucuri Website Application Firewall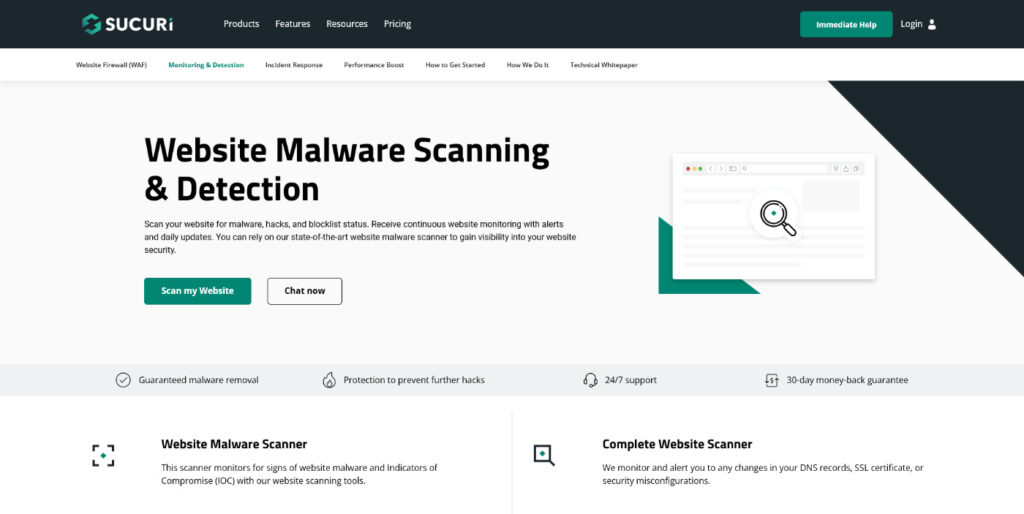 If you're looking for an efficient and performance-driven website application firewall, Sucuri is the best WordPress WAF available. Sucuri passes and filters all of your traffic through their CDN before it ever reaches your site, ensuring that your pages load quickly and without issue. Plus, Sucuri is constantly updating their security measures to stay ahead of the latest threats, so they can protect you from new Zero-Day Threats
Winner MalCare vs Sucuri: Website Application Firewall
MalCare vs Sucuri: Malware Detection
MalCare Malware Detection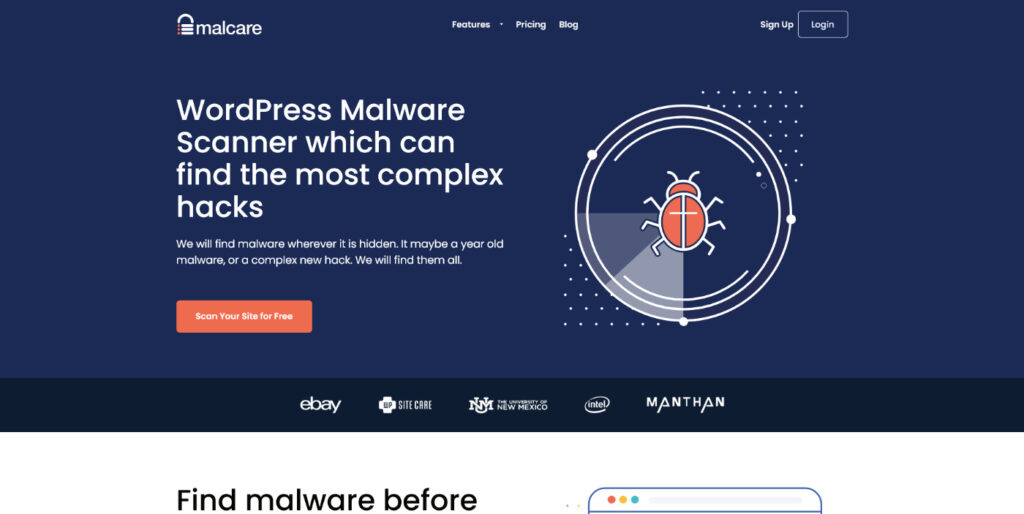 The main focus of MalCare is detecting and remediating malware, and they have a number of features to make the process as smooth and unobtrusive as possible, and their servers will run scans on copies of your files so you won't experience any slowdown on your own site.
Sucuri Malware Detection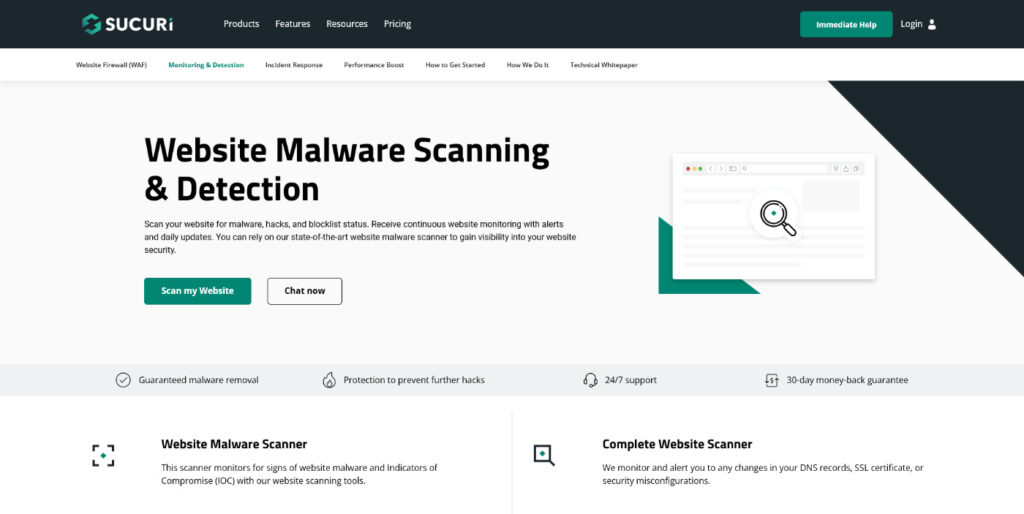 Sucuri offers a number of features to help you detect and protect your website from malware. Their free SiteCheck tool can give you a quick scan of your site for common malware threats, and their server-side scanning helps to catch infections that may have already found their way into the filesystem of your server.
Winner MalCare vs Sucuri: Malware Detection
MalCare vs Sucuri: Malware Removal
MalCare Malware Removal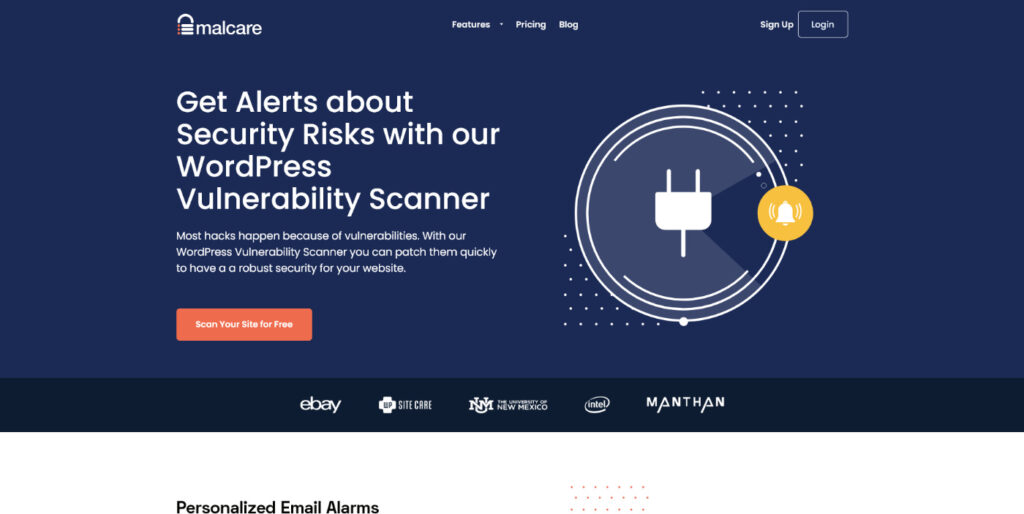 MalCare malware removal is a one-click solution that offers an easy and convenient way to remove all types of malware from your website.
MalCare's one-click malware removal feature is designed to make it as easy as possible for you to get your website back to its pre-infected state by removing all traces of malware with just a single click.
Sucuri Malware Removal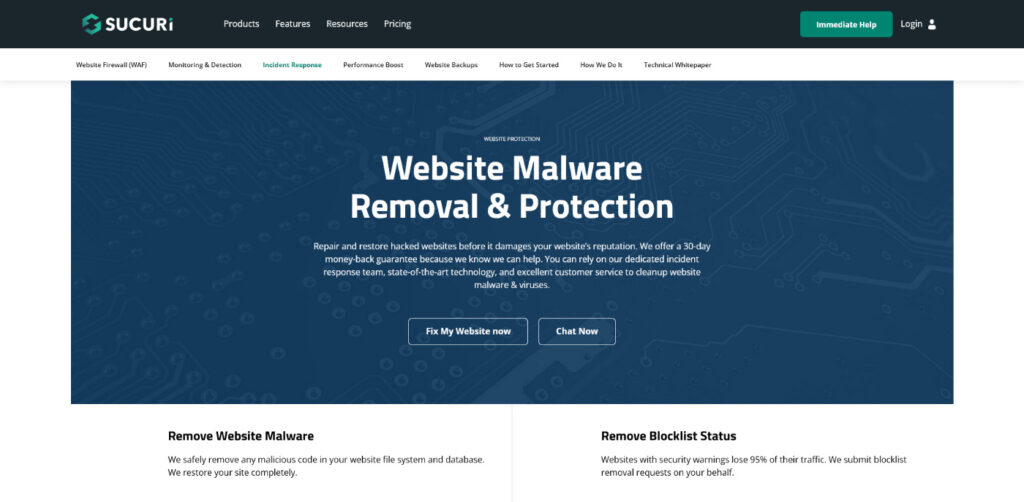 Sucuri takes website security and malware removal seriously. Their in-house security experts are dedicated to helping you clean up your site and get it back online as quickly as possible.
Sucuri has a wide range of features that can help you remove any type of malware or hack, including their Site Check Scanner and automated malware removal tools.
Plus, if your website is infected with hard to remove malware, a virus, or Trojan, real security experts are available 24/7 to help, and when the job is done Sucuri will even deliver a Post Malware Cleanup Report
Winner MalCare vs Sucuri: Malware Removal
MalCare vs Sucuri: Security Hardening
MalCare Security Hardening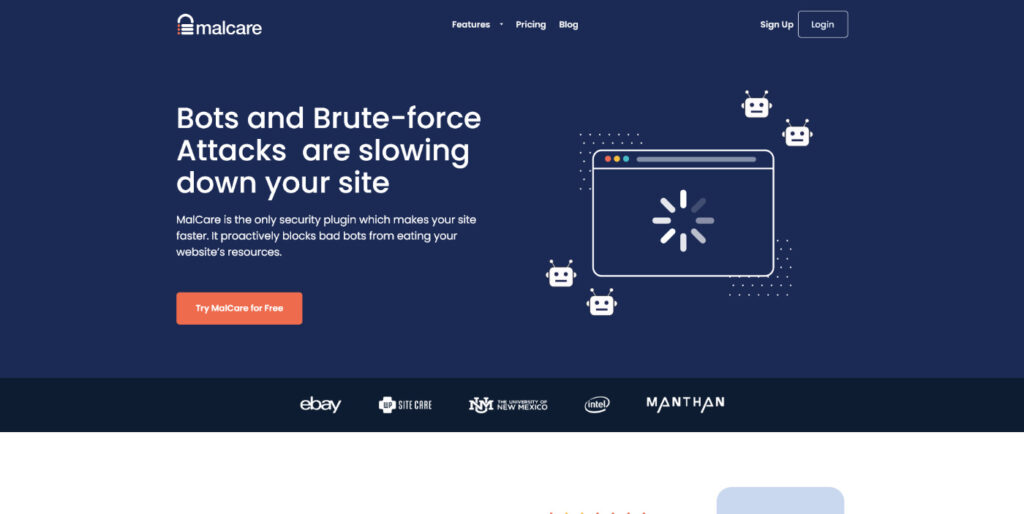 While there are many plugins that offer security hardening, we found the MalCare Security Hardening plugin to be the best when it comes to protecting your website from malicious actors. The essential options offered by this plugin include blocking PHP execution and disabling file editing.
MalCare also lets you take your security up a notch by blocking plugin and theme installations. And for maximum protection, you can even change your security keys or reset all your passwords.
Sucuri Security Hardening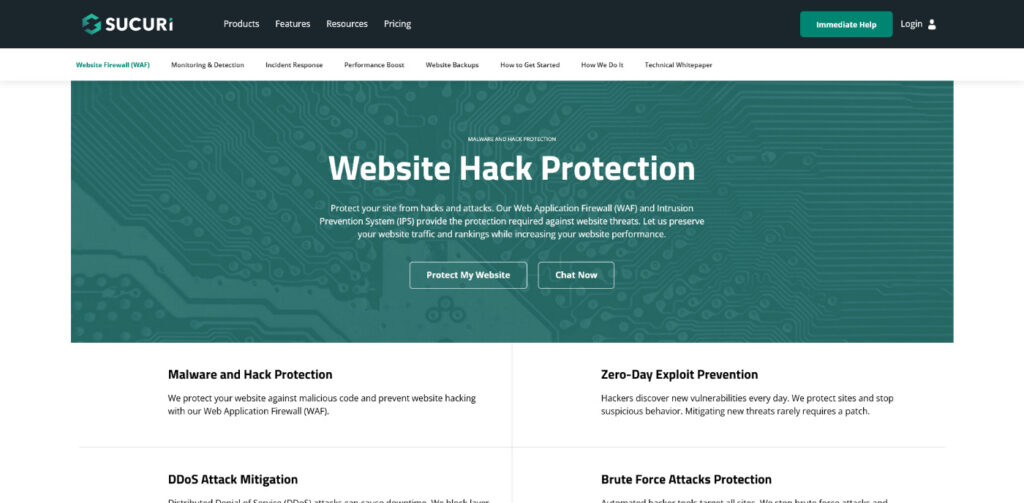 Sucuri Security has a number of features to help you protect your website, including the Hardening feature. This blocks access to certain files on your website, such as PHP files, and helps to prevent information leakage. You can also control which plugins are active on your site.
Winner MalCare vs Sucuri: Security Hardening
MalCare vs Sucuri: Website Backups
MalCare Website Backups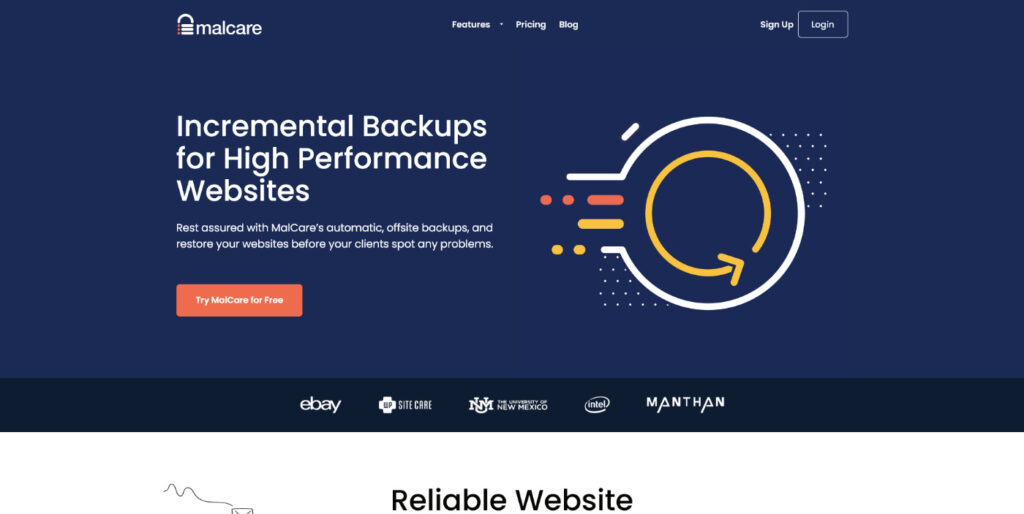 MalCare offers different levels of website backup service, depending on the needs of the customer. The Basic Plan does not include backups, so if your site goes down, your data is lost. The Plus Plan includes daily automatic backups, so you know your data is safe even if something happens to your site. The Pro Plan provides 4 backups per day, so you have maximum protection against any type of issue.
Sucuri Website Backups
Sucuri offers a backup option for an additional $5/month. Their automated backups are cloud-based and can be customized to run on a schedule that best suits your business.
All in all, Sucuri's website backup service is an affordable and convenient way to keep your site safe from data loss. The automatic backups and cloud storage make the process hassle-free, while the 90-day history ensures that you can always restore files from a previous point in time.
Winner MalCare vs Sucuri: Website Backups
MalCare vs Sucuri: Performance
MalCare Performance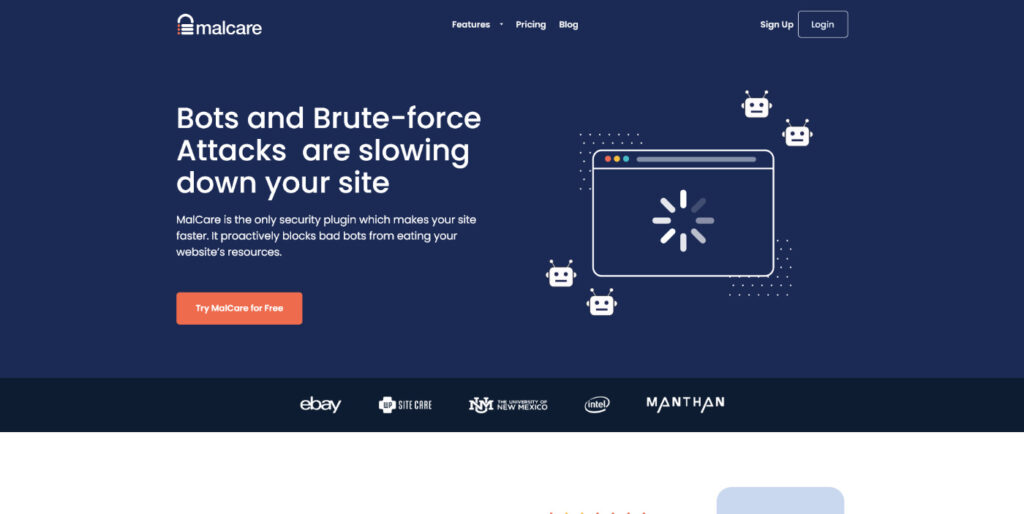 MalCare provides real-time malware scans and protects your website from malicious attacks. It runs on its own servers, so it won't tax your server's resources or slow down your website. In addition, MalCare offers an offsite malware scanning feature that can remove malware even if your site has been hacked and is inaccessible.
Sucuri Performance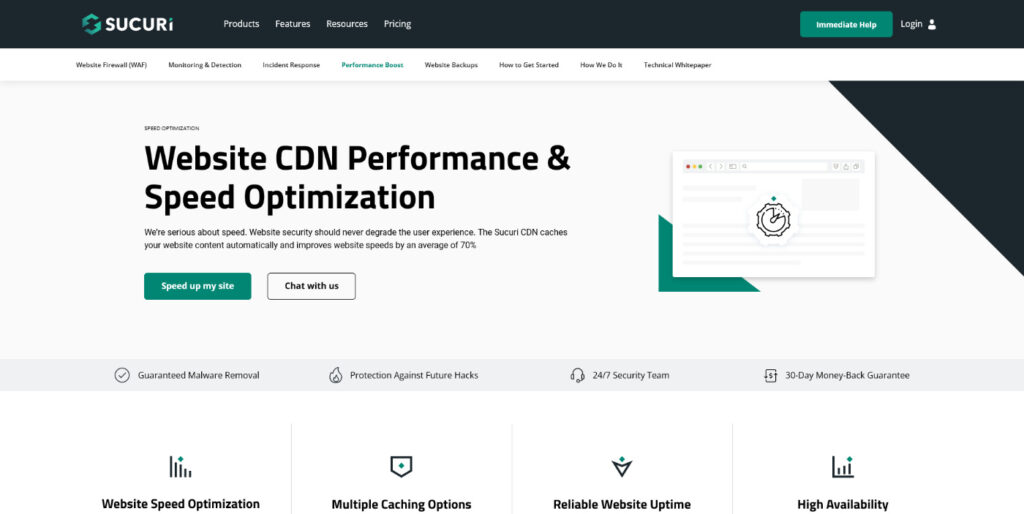 Sucuri is an excellent security platform with some great performance features. Their Web Application Firewall performance is top-notch and their server-side malware scanning is the best in the business. Plus, their global CDN improves page speed and can reduce server load by up to 80%. However, be aware that their SiteCheck feature can slow down your site if you're using shared hosting.
Winner MalCare vs Sucuri: Performance
MalCare vs Sucuri: Customer Support
MalCare Customer Support
MalCare offers two different support tiers: Personalized Support & Priority Support. The Basic and Plus plans both come with personalized support. While the Pro plan offers priority support which means that you will be given higher priority compared to other customers.
Sucuri Customer Support
Sucuri has a robust and well-thought-out customer support system that is available 24/7/365. If you're a Basic, Pro, or Business customer, you'll have access to their ticketing systems; while their multi-sites or custom plans have access to a dedicated support team along with 24/7/365 chat, email, and ticket support
Winner MalCare vs Sucuri: Customer Support
MalCare vs Sucuri: Price
MalCare is the more affordable option of the two security companies. Their prices are almost half of what Sucuri charges. This could be a deciding factor for small businesses that are on a tight budget. Although MalCare may not have all of the features that Sucuri offers, it is still a good option for those looking for basic website security.
MalCare Price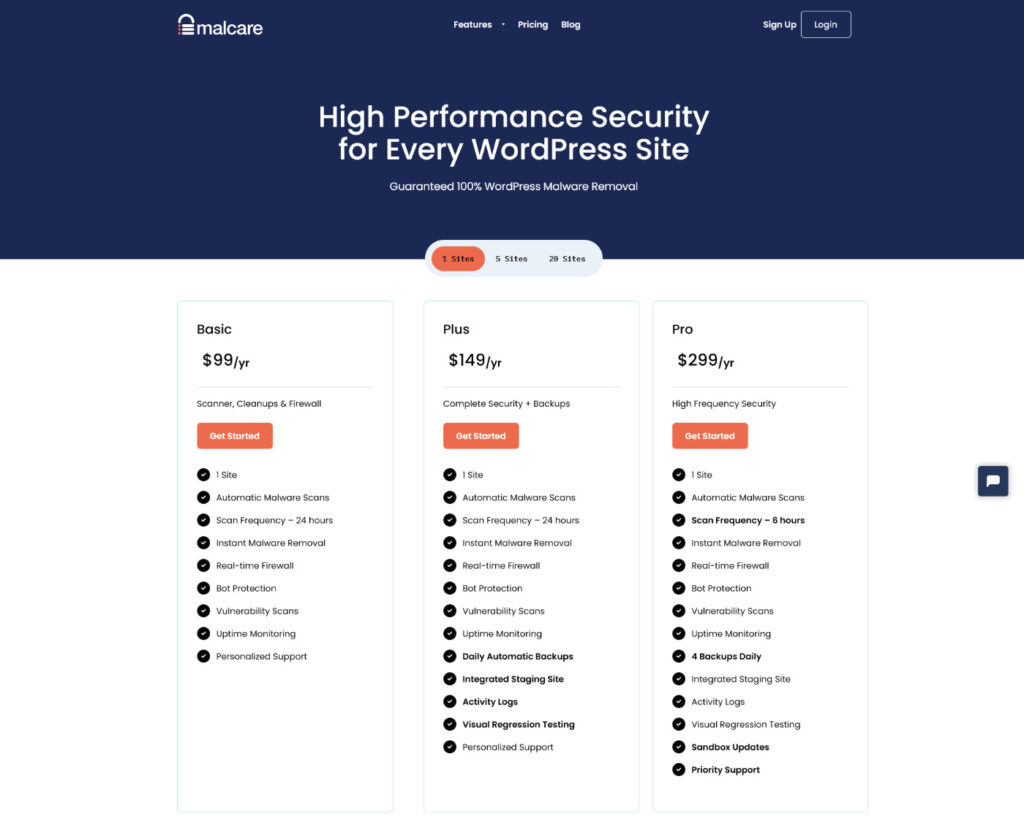 MalCare plans range from $99/yr to $299/yr, and they offer a free WordPress Plugin so you can test it out before you buy.
Sucuri Price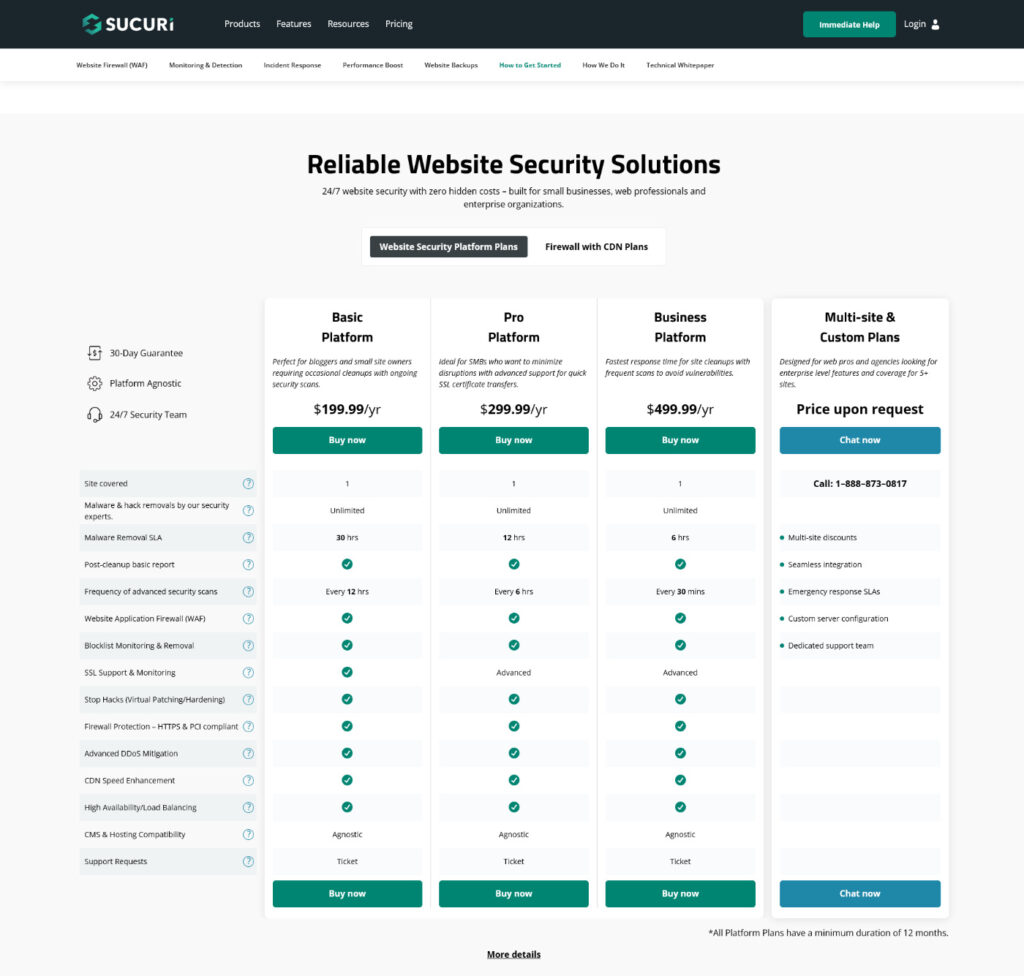 Sucuri offers a variety of pricing plans in order to fit the needs of different businesses.
The Sucuri Basic Platform is $199.99/yr and includes website security, malware removal, and blacklist monitoring.
The Sucuri Pro Platform is $299.99/yr and includes all of the features of the Basic Plan, plus security scans every 6 hours and 12-hour manual malware removal.
The Sucuri Business Platform is $499.99/yr and includes all of the features of the Pro Plan, plus security scans every 30 minutes and 6-hour manual malware removal
Multi-site & Custom Plans are available upon request and include discounts, emergency response malware removal, server configuration, and a dedicated support team,
Where Sucuri Beats MalCare
Unlimited Malware Removal Requests
When it comes to malware removal, Sucuri definitely has the upper hand over MalCare. This is because Sucuri offers unlimited manual malware removal requests as part of their service, whereas MalCare only offers automated malware removal tools
In addition, Sucuri's team of security experts is more experienced and better equipped to deal with complex malware infections. They also offer a higher level of customer support and communication than MalCare.
Unlimited Cleaned Files
There are many ways to compare Sucuri and MalCare, but one key difference is that Sucuri offers unlimited manually cleaned files. This means that if your website is ever hacked, Sucuri will clean up the mess for free – no matter how many files are involved.
Zero-Day Exploit Prevention
Sucuri is able to offer Zero-Day Exploit Prevention because of its massive malware database. MalCare, on the other hand, relies on blacklists and signatures which can be easily bypassed by new malware variants.
Furthermore, Sucuri has a team of web application security experts who work around the clock to identify new vulnerabilities and develop preventive measures. MalCare does not have this level of expertise or resources.
Website Performance Boost
Another one of Sucuri's main advantages over MalCare is its focus on website performance. Its content delivery network (CDN) ensures that your site loads quickly and smoothly for visitors, no matter where they are in the world. This can give your business a significant boost, as potential customers are more likely to stay on and explore a site that loads quickly and efficiently. Additionally, Sucuri's security tools work in concert with their CDN, so you can rest assured that your site is well-protected against malware and denial of service threats.
Where MalCare Beats Sucuri
Price
There are a few areas where MalCare beats Sucuri. The most notable is price. MalCare is about 1/3 the cost of Sucuri, making it more affordable for small businesses and bloggers on a tight budget.
Sucuri starts at $199/month, whereas MalCare is just $99/month for 1 website. That's a savings of 50%. And for larger businesses, the discounts get even bigger. Plus, with MalCare you get most of their features included with their plans (unlike Sucuri which charges extra for some features). So if price is your top priority, then MalCare is the better option hands down.
Cloud Dashboard
MalCare offers a cloud dashboard that provides you with a real-time view of your website security. You can see all the devices that are currently connected to your website, track the traffic and activity on your website, and get an alert every time there is an attempt to hack into your website.
Sucuri does not offer a cloud dashboard. Instead, they provide you with a dashboard that you need to access from your website. While this may be sufficient for some users, others may find it hard to manage their website security if they don't have a real-time view of what's happening.
Offsite Malware Scanning
MalCare offers an offsite malware scanning feature that is not available with Sucuri. This feature allows you to send your website's files to an offsite server for scanning. If any malware is found, MalCare will provide you with a report of the infected files and the necessary steps to take to remove the malware from your website.
MalCare vs Sucuri Conclusion
Sucuri is a bit more expensive than MalCare, but it also offers more features.
MalCare is a good option for smaller businesses that don't need all of Sucuri's features.
Overall, both companies are good options for website security, and it ultimately comes down to the specific needs of your business