On this page, we'll take a look at the best WooCommerce registration plugins available, so you can find the one that's right for your store.
Best WooCommerce Registration Plugin
WooCommerce Registration Fields Plugin – Custom Signup Fields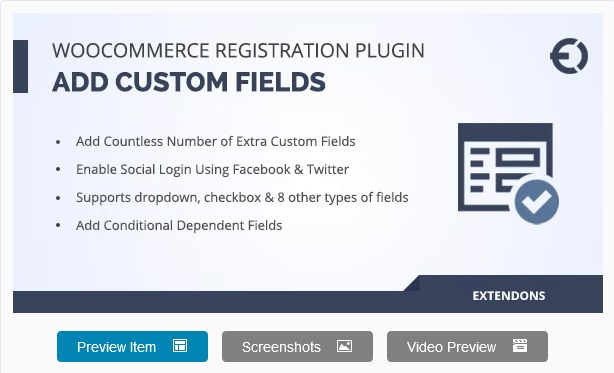 The WooCommerce Registration Fields Plugin will enable you to customize every aspect of your registration page by adding 14 different types of fields including conditional or dependent fields that can be enabled or disabled as needed. And it even has a drag-and-drop form editor for sorting the order of the fields. Plus, this plugin also makes it easy to add social login options should you want to make them available to your customers.
Overall, the WooCommerce Registration Fields Plugin is a must-have for any WooCommerce site owner. It provides you with all of the features that are needed to customize your registration page and provide a tailored experience for each user who registers on your website.
Saraggna | WooCommerce Login – Registration Popup Plugin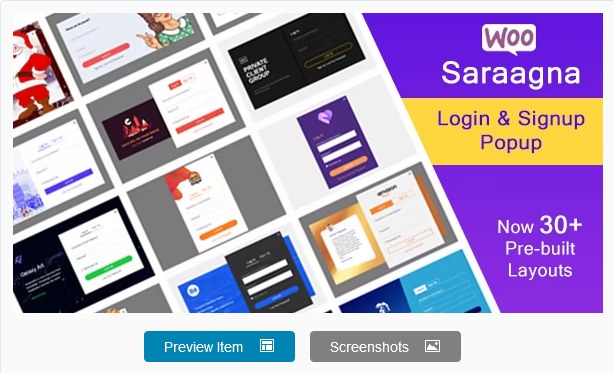 The Saraggna WooCommerce Registration Plugin has been specifically designed for those who want to easily create a registration popup on their website. The plugin features 10 custom styles, 30+ pre-built layouts, first name, and last name field, and you can even customize the background color to match the theme of your website.
Saraggna also offers Google Recaptcha protection so you can block spam bots while still providing an easy way for customers to create their account on your site. And first-time users will always see the option to log in or register after clicking through from any source since you can display the pop-up login form on every page of your WooCommerce site.
WooCommerce Registration Plugin, Enable Default WooCommerce Fields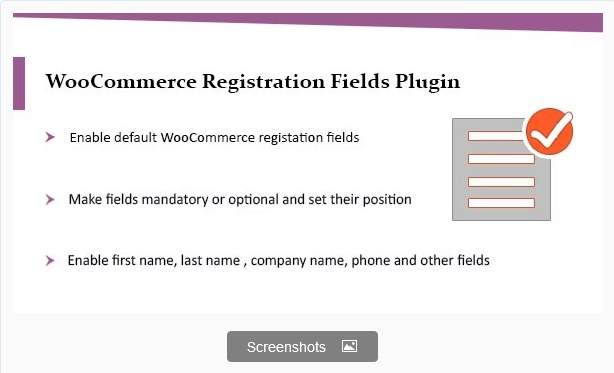 The Addify WordPress Registration Fields Plugin allows administrators to add more custom fields to their login forms. It also lets you make a field mandatory or optional, setting its sorting order, and determining how wide it should appear on the screen. With so many features included in one package at an affordable price point, this plugin will give you everything you need to build a complex registration form while still being simple enough for anyone to configure and manage.
WooCommerce Custom Registration Fields Plugin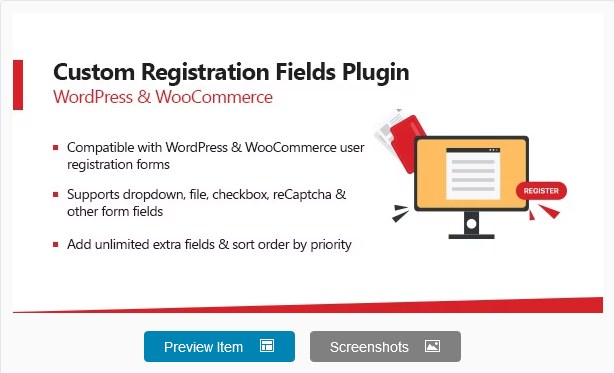 With the Progos WooCommerce Custom Registration Fields Plugin, your customers can fill out as much or as little information about themselves as they want without any added pressure. You'll also be able to easily create custom fields that are specific to your business needs using its intuitive interface.
Click here to give it a try to see all of the things that are possible with the Progos WooCommerce Custom Registration Fields Plugin
WooCommerce Membership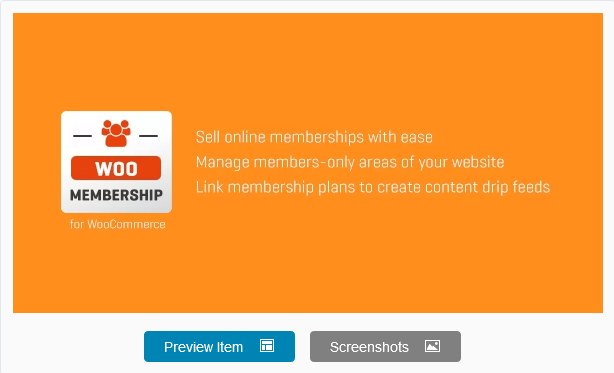 RightPress WooCommerce Membership is a plugin that lets you create and manage membership plans. RightPress has an easy-to-use admin interface so you can add or remove members manually from any of your membership tiers. It also allows you to set delays on when membership plans are activated to give you control of content drip-feeding before giving full site access. And you can add in fine-grain control over what content each user has access to using built-in shortcodes.
Best Free WooCommerce Registration Plugin
Ultimate Member – User Profile, User Registration, Login & Membership Plugin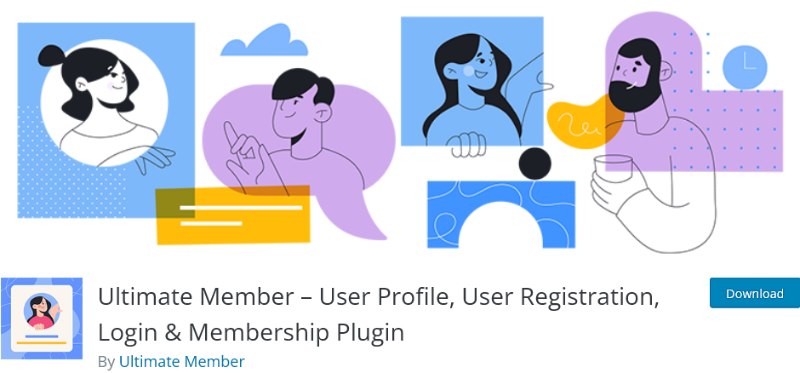 Ultimate Member is an easy-to-use, extendible plugin that allows you to add beautiful user-profiles and advanced member functionality into your site with ease. You can use it on its own or as part of a larger suite of tools including JobsBoardWP, ForumWP, and Google reCAPTCHA
The Ultimate Member plugin is the best WooCommerce registration plugin for businesses looking to have a great user experience. With front-end user registration, login, and custom form fields you can customize your sign-up process so it's easy for customers to use.
You can also implement conditional logic in order to ensure that users are submitting complete information before they submit their forms. And once someone has filled out the form, they will be taken to a customizable account page where they can edit their profile or change any details by logging in with an existing account.
Plus, the Ultimate Member Plugin has a drag and drop form builder that lets you have total control over how your registration forms look on screen.
WPEverest User Registration – Custom Registration Form, Login Form And User Profile For WordPress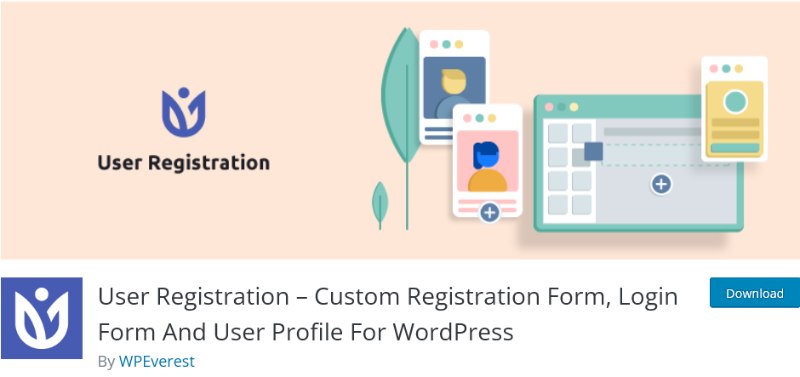 The WPEverest User Registration Plugin includes everything needed to create a friction-free sign-up form – including drag and drop form builder tools, email notifications for users, spam protection with Google reCaptcha, and honeypot fields. Plus the free version of this plugin includes all of the field types most stores need such as first name, last name, email address, password, etc., plus other features like display name or short biographies.
RegistrationMagic – Custom Registration Forms, User Registration and User Login Plugin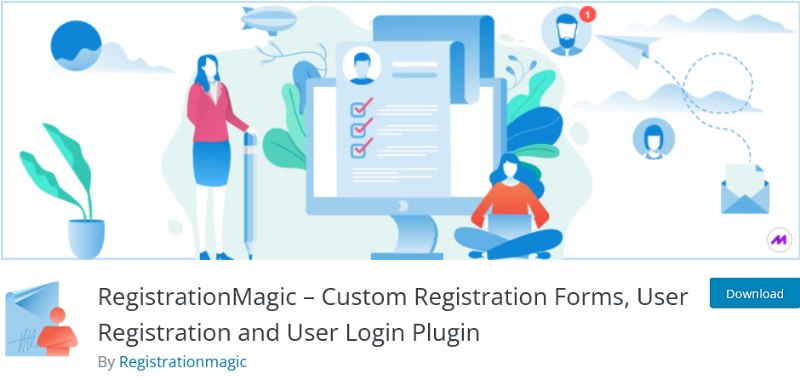 RegistrationMagic is a WordPress plugin that provides an easy and comprehensive process for creating custom registration forms. The plugin lets you create unlimited online user registration forms with form cards containing information such as the username, password, email address, and captcha codes. And it's possible to have multiple registrations running simultaneously from one single page. You can also use the shortcode system for adding individual signup boxes anywhere on a webpage with just a few lines of code.
Zorem Customer verification for WooCommerce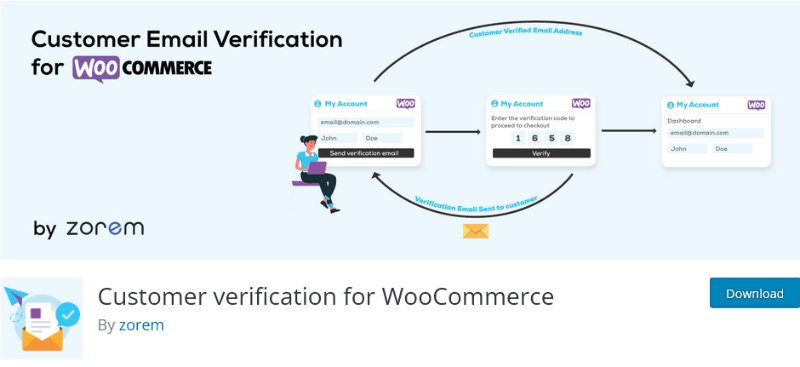 Zorem Customer verification for WooCommerce is the best option to protect your store against spammers and hackers. When you're looking for an efficient way to increase customer conversions, reduce shopping cart abandonment and prevent fraud on your WooCommerce store, Zorem's Customer verification plugin is a must-have.
This easy-to-install extension automatically verifies new customers by requiring them to enter their email addresses before they can complete the checkout process. You have full control over how this system functions – from whether or not it sends out emails with links to verify accounts and what the message says all the way down to which user roles are exempted from having to verify themselves.
How To Customize a WooCommerce Registration Form
If you're running a WooCommerce store, then you know that user registration is a key part of your business. Having the right registration plugin can make all the difference in how smoothly the registration process goes, which can lead to better conversions.
There are a few different ways to customize a WooCommerce registration form. One option is to install a WooCommerce Registration Plugin, which will give you more control over the form's fields and settings.
Another option is to hire a developer to create a custom plugin or extension specifically for your needs. This can be more expensive, but it will allow you to have more control over the form's design and functionality.
How To Add Captcha in WooCommerce Registration Form
On this page, you'll find WordPress plugins that can help you add captcha to your WooCommerce registration forms.
However, if you're experienced with WordPress and you have some basic coding knowledge, you can try following the instructions on Google's reCaptcha Support Page