A food blogger's life is never a dull one. Every day brings new challenges and obstacles that must be faced, but if you're feeling overwhelmed with your current blog or are looking for something to freshen up the look of your site, here are the best free WordPress themes for a food blog.
Best Free WordPress Theme for a Food Blog
Foodica WordPress Theme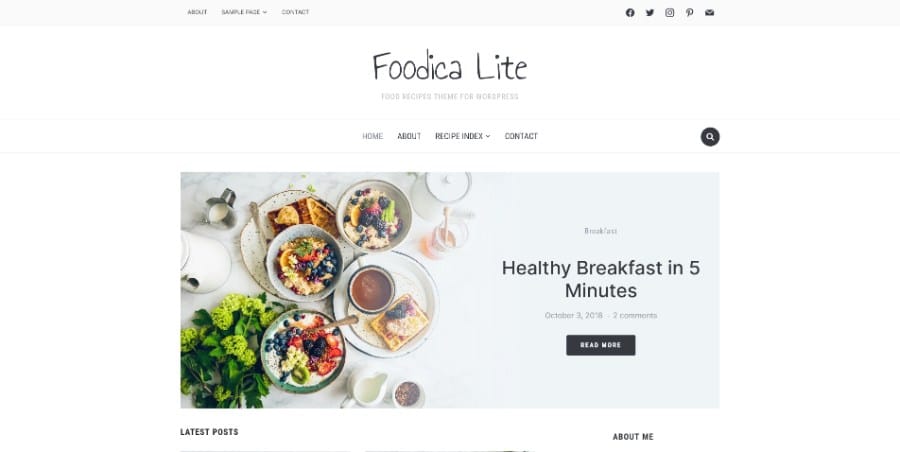 Foodica is a great theme for food blogs and recipe websites. It's packed with features that make it easy for anyone to use, has an easy installation process, includes support for the Gutenberg editor, and its SEO-friendly code makes sure your site will rank in search engines like Google or Bing. If you're looking to create your own blog about delicious recipes, this WordPress site may be perfect for you.
Foodoholic WordPress Theme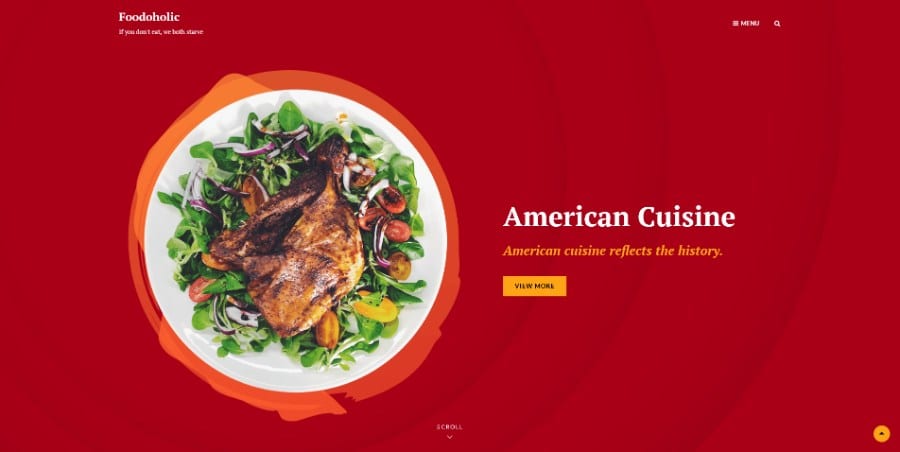 Foodoholic offers you all the necessary features to make your website stand out from other blogs. It's extremely user-friendly and comes with numerous options that allow you to customize every detail of it, and its mobile responsive design lets everyone enjoy delicious content on their smartphones or tablets as well.
FoodyLite WordPress Theme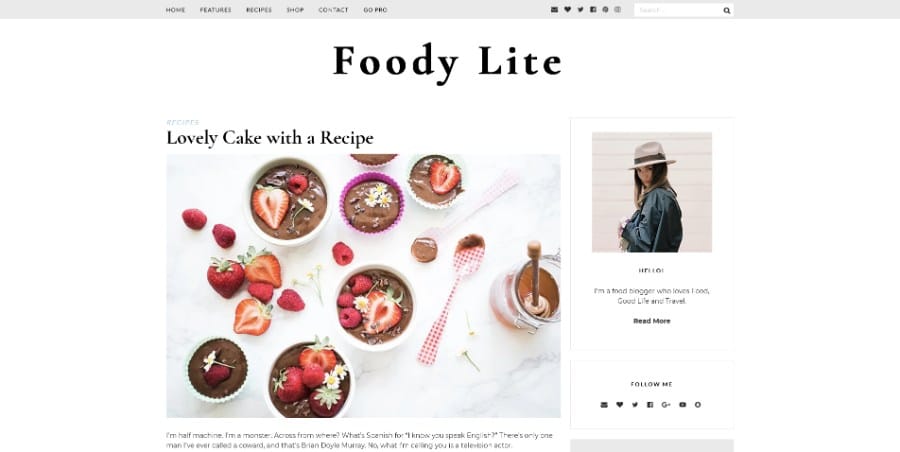 The FoodyLite WordPress theme comes with all the features you need to create a professional website for your restaurant or cooking project, including an awesome recipe index page and tons of custom widgets. It's fast, responsive, SEO optimized and Gutenberg ready. Plus, with this free WordPress theme, you can also create a WooCommerce shop if you're interested in selling physical or digital products.
ClubFood WordPress Theme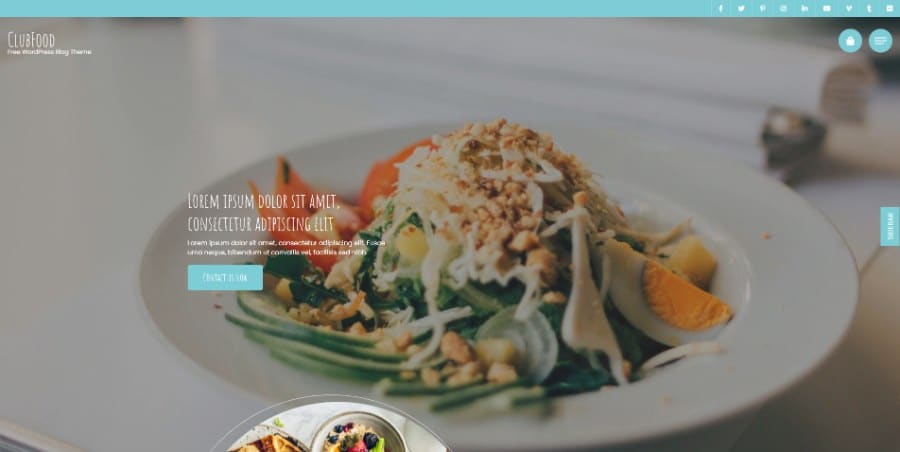 ClubFood is an elegant-looking website template with a large header image above the content area and it's fully responsive so it looks good on any device or screen size including desktops, laptops, tablets, and smartphones. And the blog post layouts also feature an optional image slider which you can easily add photographs to go along with your recipes or restaurant reviews.
Foodie Diary WordPress Theme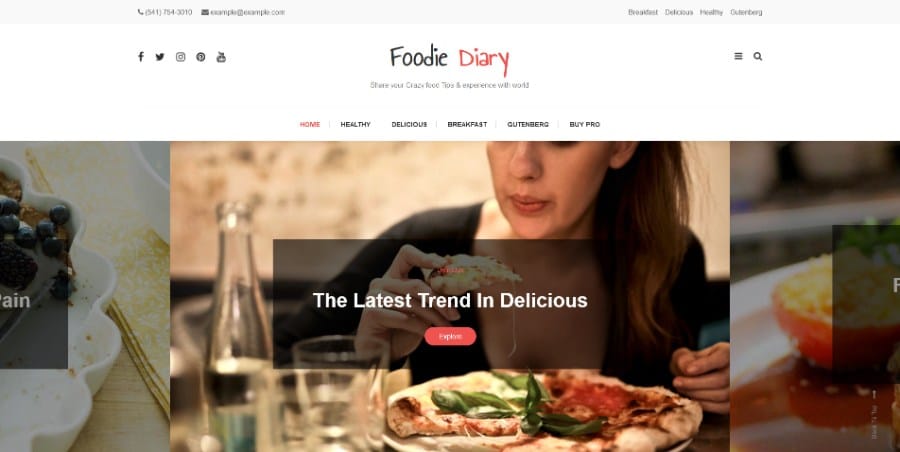 The Foodie Diary WordPress Theme was made with the modern food blogger in mind. This theme is the perfect place for you to begin your journey as a food blogger. It has everything you need in order to set up and run an amazing blog with ease. With this them you'll be able to create recipes, post photos of your meals, and much more all from within the Gutenberg Block Editor.
Foodup WordPress Theme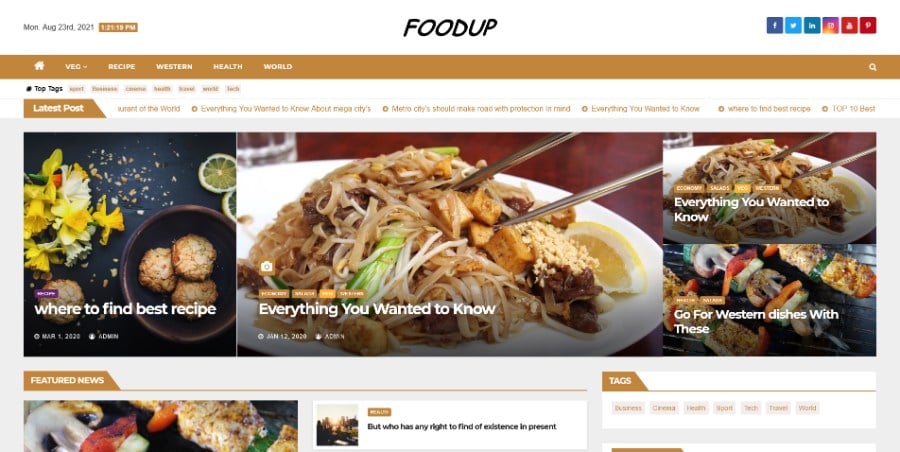 Foodup is a fast, clean, and modern-looking responsive WordPress theme that offers plenty of useful blogging features. This free theme can be used for all sorts of websites such as news sites, blogs, or magazines with ease. It's also SEO friendly and WPML ready which means you don't have to worry about struggling to translate your content into another language. If you're looking for an easy way to create a food blog for an international audience this might just be what you need.
Food Blogger WordPress Theme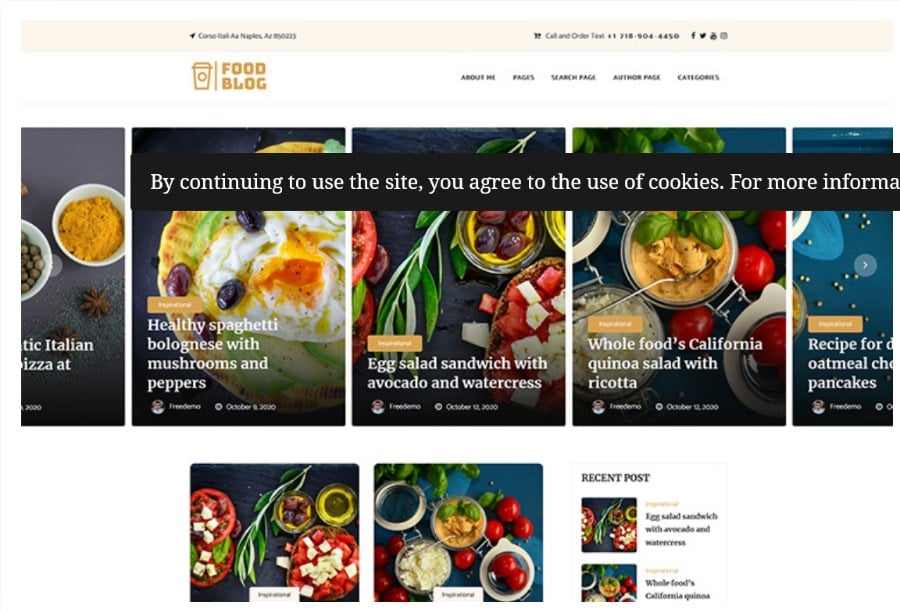 Food Blogger makes it easy to create an engaging website that will attract people who love food. This theme has all of the features you need, including SEO-friendly code, responsive design, beautiful typography, customizable colors, and layout options for your header image and background color scheme. You can also add social media icons to your site so that anyone reading your content on their mobile device or tablet can easily share your posts with friends on Facebook, Twitter, or Pinterest.
Foodie Blog WordPress Theme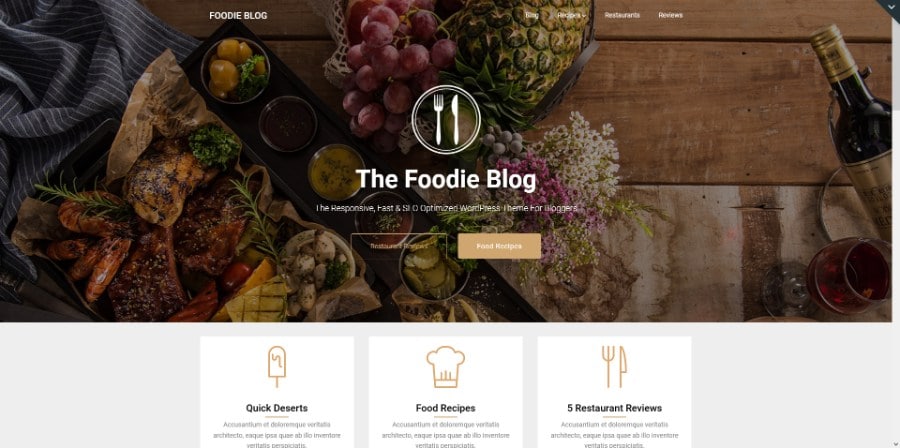 The Foodie Blog WordPress Theme is the perfect solution for creating a simple, yet professional-looking website that will help grow your online presence while making some extra cash on the side. This template is beginner-friendly so even those who are new to blogging can still have success using it. And whether or not you wish to monetize your blog through ad networks such as AdSense, or Ezoic (Learn More) this theme will help you get closer to achieving your blogging dreams.
Fiona Food WordPress Theme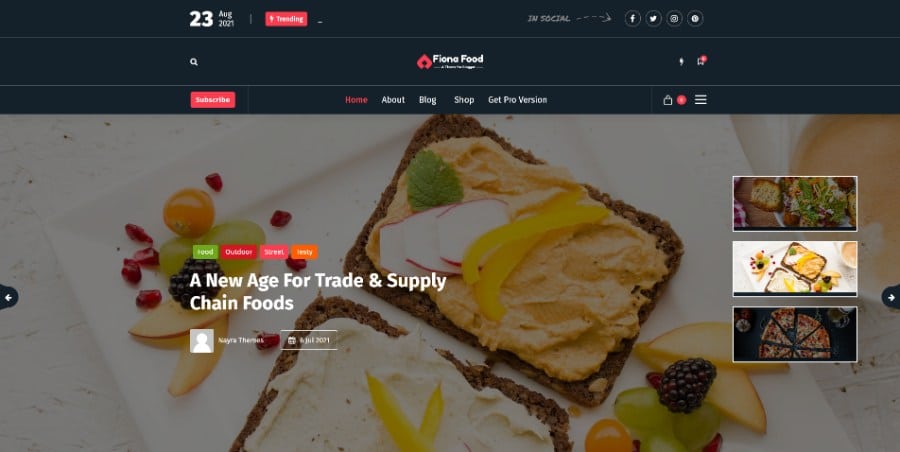 The Fiona Food WordPress theme has everything that you need to build an amazing food website from scratch. It comes with 11 homepage layouts that are ready-to-use and it's fully customizable so you can create your own unique look in no time flat. It also features an advanced customizer tool that will help you change colors, fonts, backgrounds, and more without any coding skills required
Foodicious WordPress Theme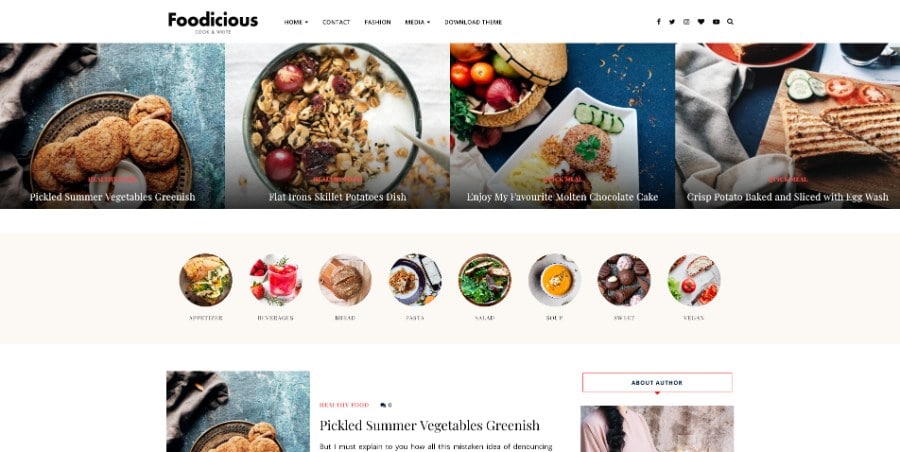 Foodicious is a great choice for food bloggers who want to build an online presence in the food blog space, but don't have a lot of design experience. The theme is easy to customize and features social media integration that will help you grow your following on Facebook, Twitter, Instagram, or any other site where you post recipes and photos.
LZ Food Recipee WordPress Theme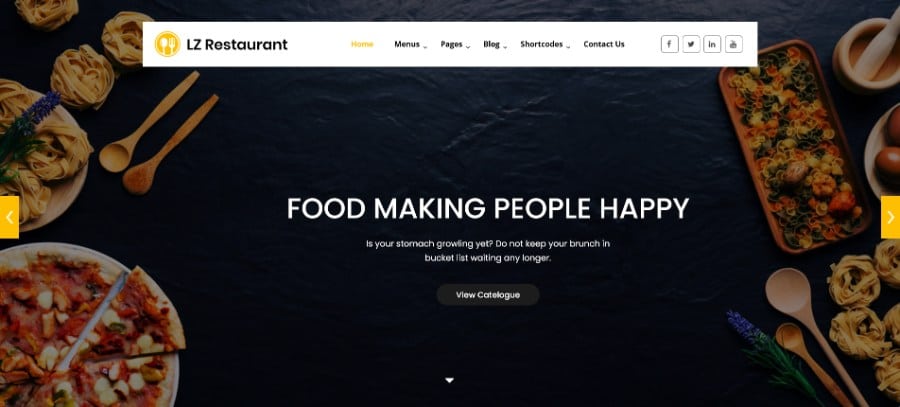 LZ Food Recipee is a perfect WP theme for food bloggers. From food critics to bakers in need of an online portfolio; from hotels looking for a web presence to restaurants hoping to generate more business – there's something in this versatile and customizable free WP theme that will work well across multiple industries and professions alike.
Related: Best WooCommerce Food Menu Plugin
Astra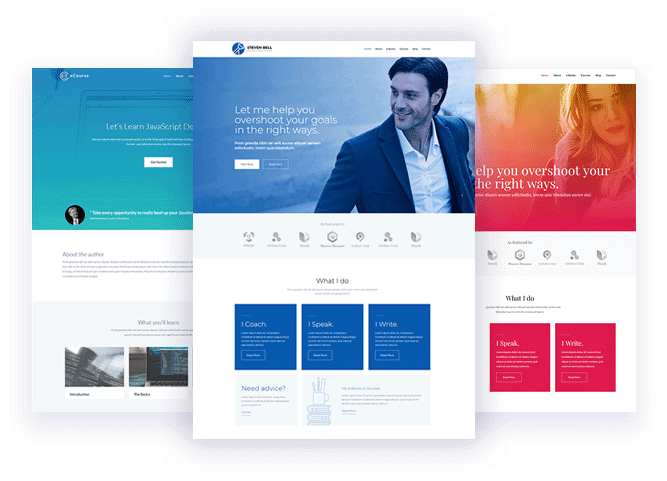 The Astra WordPress Theme is a fast, fully customizable, and beautiful theme. It offers unparalleled speed since it's extremely lightweight so it loads quickly in any browser or device.
The SEO-optimized features are perfect for those looking to build their blog, personal portfolio site, business website, or WooCommerce storefront.
Astra was also specifically designed to be used with page builders like Elementor, Beaver Builder, Visual Composer, and SiteOrigin so you can make your site look great without any coding skills.
Plus, if you're building a food news site then the native AMP compatibility will be right up your alley as well.
Click here to check out the Astra WordPress Theme Demo
GeneratePress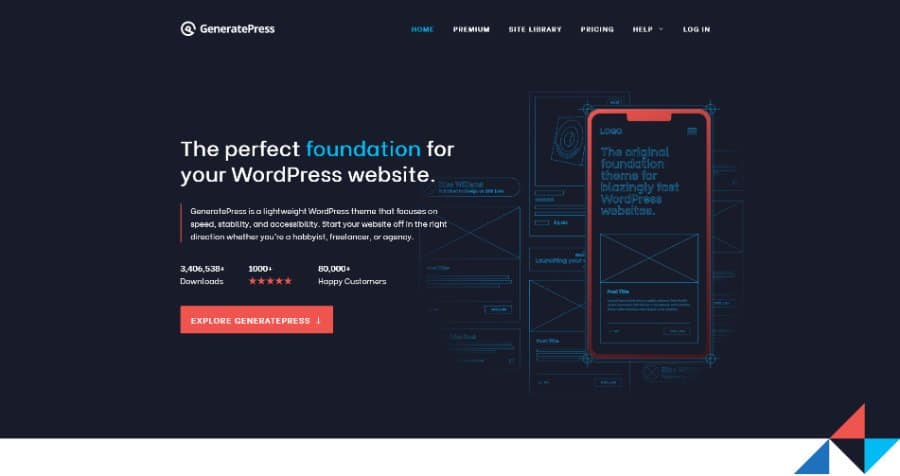 GeneratePress is an excellent WordPress theme for your food blog because it has many features that are perfect for creating any type of site. With 9-widget areas, 5 navigation locations, and 5 sidebar layouts you can customize the design to suit your needs.
If you're interested in a free WordPress theme that is both lightweight and full of customizable features, then take a look at GeneratePress.
OceanWP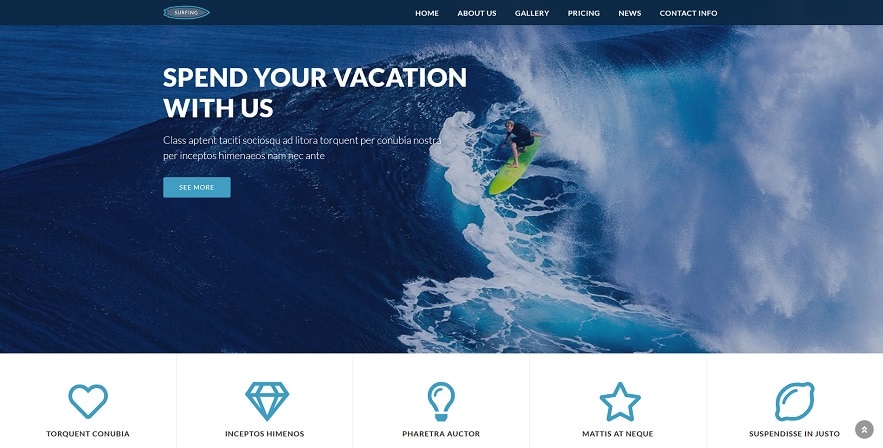 OceanWP is the best free WordPress theme for a food blog. It has all of the features you need to create your website, including WooCommerce support and translation capabilities. If you are looking for an easy-to-use, attractive theme with plenty of layout options then this may be the best free WordPress Theme to choose if you want to get your food blog quickly up and running.