If you're running a WooCommerce store and looking for the best WooCommerce wallet plugin, then you've come to the right place. On this page, you'll find ten of the top WooCommerce wallet plugins on the market today and we'll break down their features so that you can find out which one is right for your business.
Best WooCommerce Wallet Plugin
WooCommerce Wallet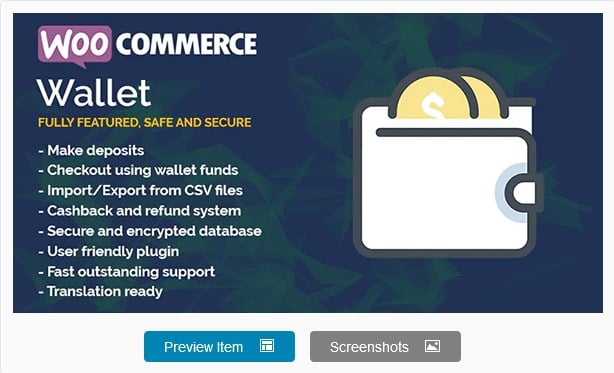 The WooCommerce Wallet plugin allows users to pay using an existing balance on their account without having to reenter any payment information.
With the WooCommerce Wallet Plugin, all your customers have to do is sign up for an account on your site and they'll be able to earn cashback whenever they make a purchase
The plugin also speeds up refund requests which allow users to get their refund in the form of store credit. This helps reduce chargebacks and it also ensures that they'll come back to your store and buy something else.
Plus, the WooCommerce Wallet allows you to accept partial payments, so if the customer has insufficient funds in their account, they can pay for the remaining cost of the product or service with their credit card.
You can also add funds directly into their wallet in the form of bonus incentives. That way if a shopper wants to buy something but doesn't have enough money in their wallet, you can easily top it off for them.
Overall, this Plugin is an excellent choice if you are selling products or services that have cashback incentives and recurring billing plans.
Webkul WooCommerce Wallet System Plugin
Webkul's WooCommerce Wallet System Plugin is the best way to accept online payments in WooCommerce e-commerce stores, including Amazon-style one-click checkout with automatic order splitting (optional).
It supports all major credit cards like Visa, MasterCard, American Express, etc., various local bank transfer methods like NEFT/RTGS/IMPS, etc., cash on delivery mode, and many more flexible options which can be customized by store owners as per their requirements.
This Plugin also supports a wide range of features like adding credit to your customer's wallets, setting minimum cart total, maximum cart total, and cashback amount, etc.
Webkul WooCommerce Wallet System also helps you increase sales since it gives international customers multiple payment options and cashback incentives that would normally not be available to them.
WooCommerce Wallet Management | All in One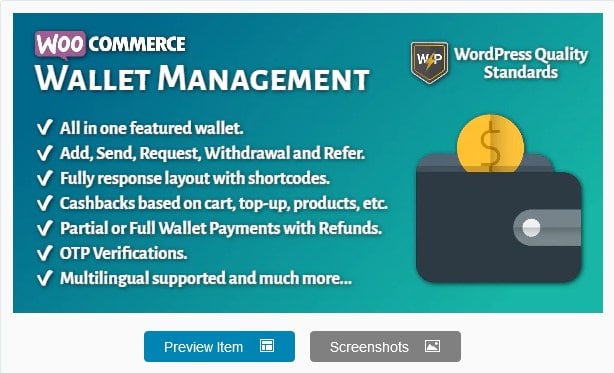 The All in One Wallet Management plugin is easy to use and will save you an enormous amount of time when managing your store's wallets. With this plugin, you won't have to worry about creating new users or updating passwords – everything is handled automatically.
This plugin allows customers to create their own account, add funds, top-up their balance, track their transaction history, and more. It also features an admin area where you can view all the information related to each user individually or as a whole.
You can even approve or decline transactions made by your customers directly from the dashboard. Additionally, it even generates detailed reports that allow you to keep track of how much money has been spent and earned by each customer over any period of time.
Plus, customers can even get cash back rewards when they refer new customers who sign up using their referral link. And if you run special promotions or discounts through the wallet system, everyone gets notified immediately so they know about it before anyone else.
Best WooCommerce Crypto Wallet
CryptoPay WooCommerce – Cryptocurrency payment gateway plugin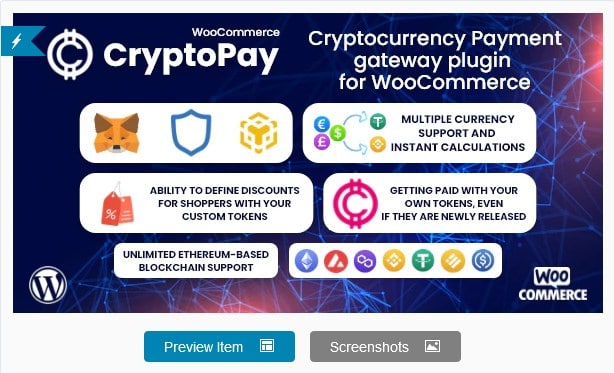 CryptoPay is a WooCommerce extension that allows you to accept crypto payments on your website. You can also pay with any currency supported by the plugin using fiat money or tokens from different blockchains such as Bitcoin, Ethereum, etc…
With this payment gateway solution, you can even sell products priced in your own token even if it isn't listed on exchanges yet.
Plus, with this Plugin, you can easily integrate blockchain wallets into your WooCommerce website—without writing code or dealing with complex APIs.
Overall, this plugin is easy to install and use so that anyone can start accepting crypto payments right away. And this Plugin has excellent support and it's under active development so new features are being added on a regular basis.
Bitcoin and Altcoin Wallets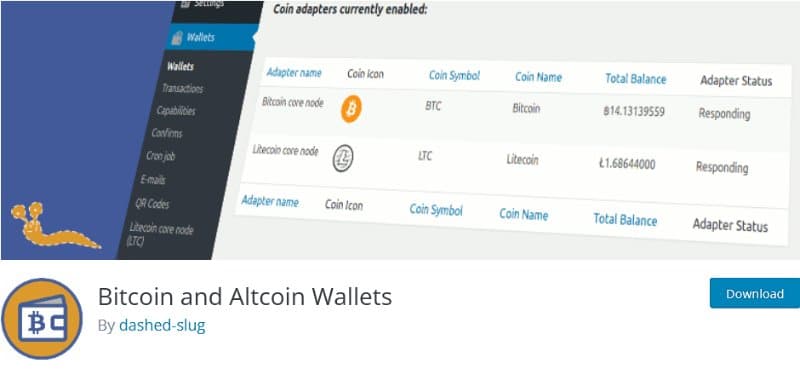 The Bitcoin and Altcoin Wallets Plugin makes it easy for you to offer a custodial wallet service that is powered by the blockchain. It lets users deposit funds into their account with one click, withdraw coins from their account, and transfer funds between other users' accounts all without leaving your store.
Best Free WooCommerce Wallet Plugin
TeraWallet – For WooCommerce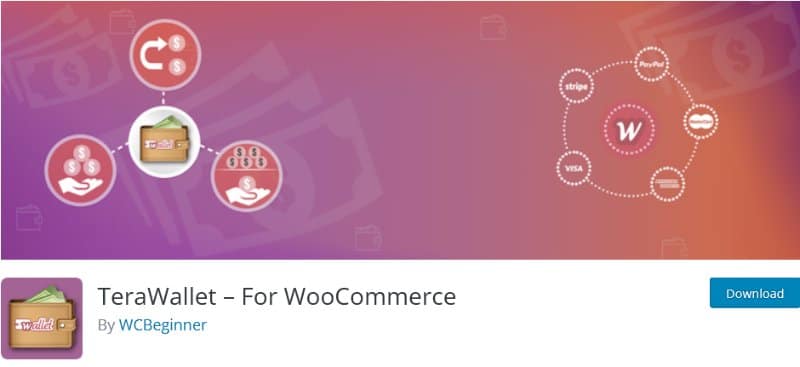 With the TeraWallet plugin for WooCommerce customers can use their wallet balance to make purchases and get cash back, which makes it easier for them to make purchases without having to enter their credit card details every time they want to buy something from your store. Plus, it has a built-in refund system, so you'll be able to instantly issue store credit and have fewer chargebacks.
Viva Payments – Viva Wallet WooCommerce Payment Gateway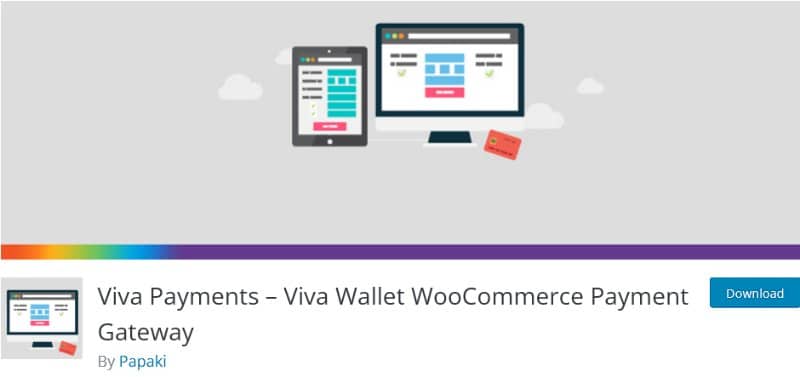 Viva Payments – Viva Wallet WooCommerce Payment Gateway is an easy-to-use Plugin that allows your customers to pay using their wallet/credit/debit card without leaving your website. Customers can also checkout securely with Stripe or PayPal Express Checkout, and you will receive all customer details directly from your gateway providers so you won't need any additional software installed on your server.
Wallet System For WooCommerce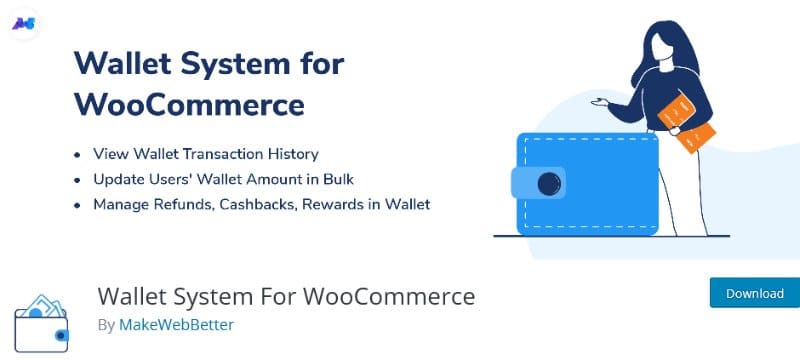 The Wallet System For WooCommerce will allow customers to pay for their orders with the available balance in their wallets. This way, they won't have to use a different payment method and go through an extra step just to complete the order.
Cashfree for WooCommerce
Cashfree is a full-stack payment gateway provider offering 100+ domestic as well as international payment modes on your WooCommerce store. You can accept credit cards (Visa/Mastercard), debit cards (Visa Debit/Mastercard Debit), net banking, UPI (through Paytm Payments Bank) wallets such as Paytm & Amazon Pay Cardless EMI via HDFC bank with no upfront cost.