If you are looking for the Best WordPress Questionnaire Plugin, we recommend the Pesi Questionnaire – Multiresult Survey and Quiz WordPress Plugin (View Demo) since it makes it easy to create engaging surveys and quizzes that your visitors will love.
Otherwise, keep scrolling to see a complete list of the Best Free and Premium WordPress Questionnaire Plugins.
Best WordPress Questionnaire Plugin
Pesi Questionnaire – Multiresult Survey and Quiz WordPress Plugin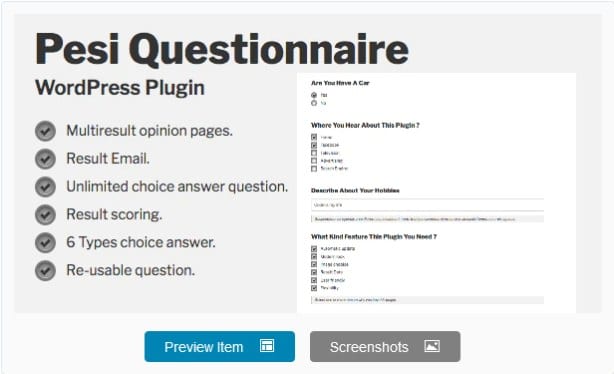 Pesi Questionnaire is a WordPress plugin that allows you to easily build and publish your own surveys on your blog or website, and collect valuable information from visitors in order to learn more about them or improve their experience.
Surveys and questionnaires are a great way to get feedback from your customers. They can be used for everything from market research, usability testing, customer satisfaction surveys, and lead generation. But setting up a survey is difficult if you don't have the right tools at hand or if you're not familiar with coding languages such as PHP, JavaScript, or HTML.
This WordPress questionnaire plugin lets anyone create simple questionnaires with just a few clicks of their mouse (no coding required).
With this powerful plugin, you'll be able to easily set up multiple-choice questions, single answer questions, radio buttons & checkboxes, and even upload images so that respondents can choose them instead of using words.
The results will automatically be calculated into an easy-to-read report showing their answers side by side with their score assigned for each part of the quiz or questionnaire.
If you're looking for an easy-to-use survey tool that will help you gather valuable data from your visitors, then we recommend that you try out the Pesi Questionnaire – Multiresult Survey and Quiz WordPress Plugin (View Demo)
Advisor Quiz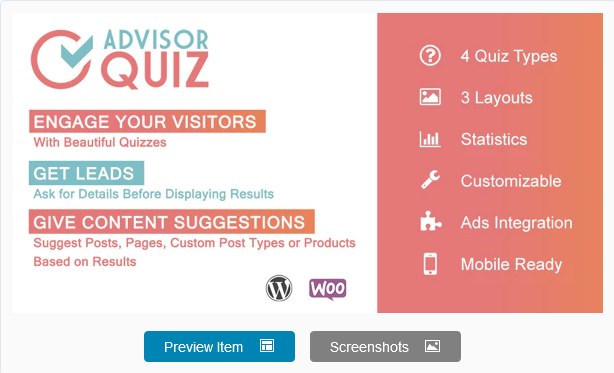 Advisor Quiz is an easy-to-use WordPress questionnaire plugin that allows you to easily integrate quizzes into your website without any programming knowledge required.
The plugin gives you access to 4 different types of questionnaires (content filter, trivia, personality & count) with unlimited questions per category. It comes with built-in tracking features and social sharing buttons as well.
With this WordPress Plugin, you'll be able to create beautiful quizzes with just a few clicks of your mouse. You can even use images if you want to enhance user engagement.
You can also enable email request forms or redirect users after they finish answering the questions using their score as criteria. Plus, you can use their score as a tag in E-mail marketing platforms like Constant Contact (Free Trial)
All these features combined make Advisor Quiz an excellent choice when looking for a questionnaire plugin for your site.
TotalPoll Pro – Responsive WordPress Poll Plugin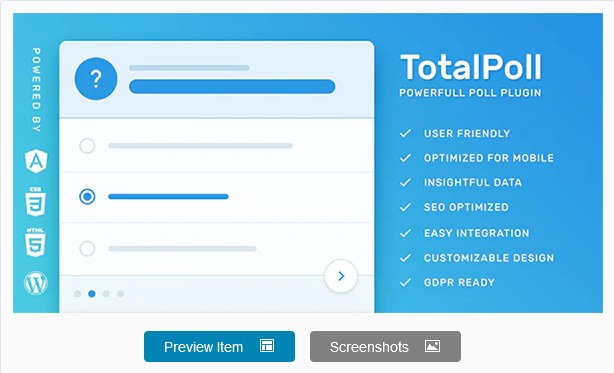 TotalPoll Pro is the best WordPress questionnaire plugin for surveys, polls and opinion prompts. It's simple to set up by adding a poll widget or shortcode into your post content.
You can use it in any of these ways: regular text choices, two-choice dilemmas, photo contests, video contests, audio tracks where you can promote your own podcast or music if desired; Twitter-like polling (where users select their favorite choice from four options).
Plus there are additional features like saving private voting results, exporting data as CSV files, and getting instant feedback on which items were most popular among voters.
If you're looking for an easy way to get people weighing in on what they think about a wide range of topics – try out TotalPoll Pro (Click Here)
Modal Survey – WordPress Poll, Survey & Quiz Plugin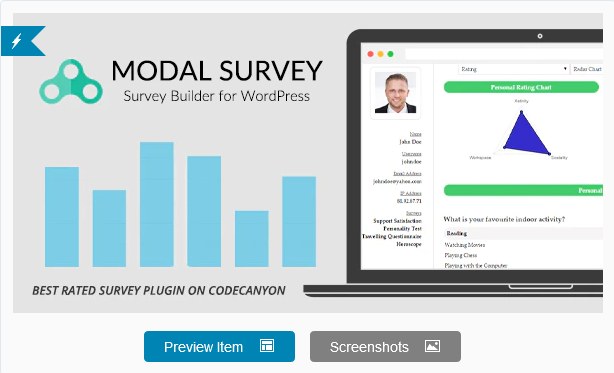 The Modal Survey WordPress Plugin provides the opportunity to hear your visitor's voice through attention-grabbing polls. Unlimited surveys, questions, and answers help to get any information, and you can display it through stunning progress bars, beautiful pie charts, or simple text display formats.
ARI Stream Quiz – WordPress Viral Quiz Creator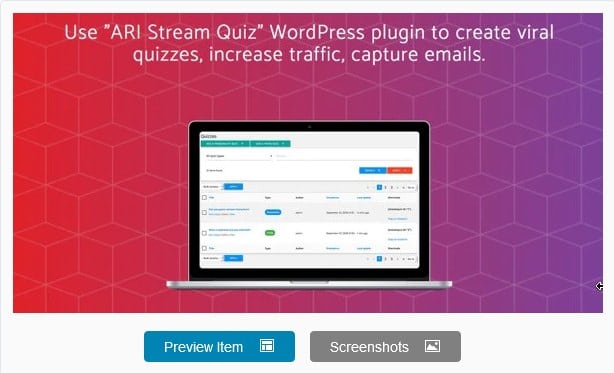 ARI Stream Quiz is a versatile WordPress plugin that lets you create unlimited quizzes using any number of questions and answers. The plugin's responsive design will work great on all devices, from desktops to tablets and smartphones. Visitors can even share quiz results with friends via Facebook, Twitter, LinkedIn, or Pinterest. There are also two pre-installed themes available – Buzzfeed and Standard – which you can customize if you like.
WordPress Questionnaire Plugin Free
Poll, Survey, Questionnaire and Voting System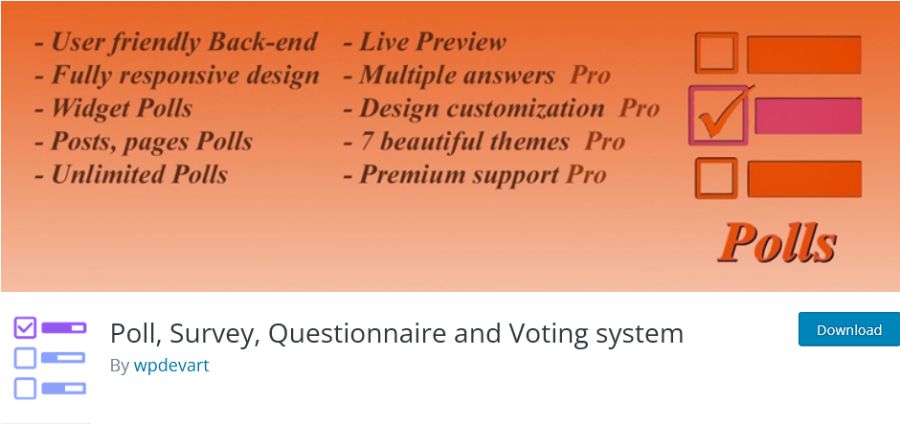 The wpdevart Poll, Survey, Questionnaire and Voting System can be used on pages and posts to gather information from your customers or visitors in order to better serve their needs. This free plugin even offers multiple question formats and image-based answers for increased customer response rates.
Survey Maker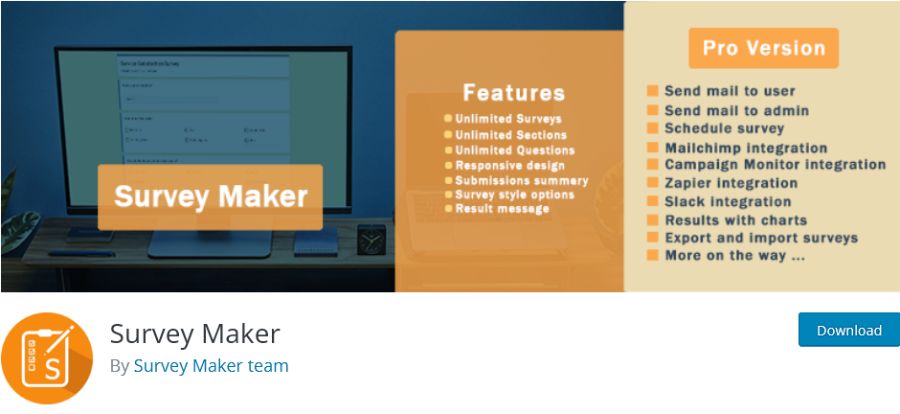 Survey Maker is a WordPress questionnaire Plugin that allows you to create surveys, with an unlimited number of questions and sections. It also gives you the option for 6 question types in your survey; individual submission, submissions summary, randomized questions, restrict by IP or User ID, result message, and redirect after submit.
Quiz Maker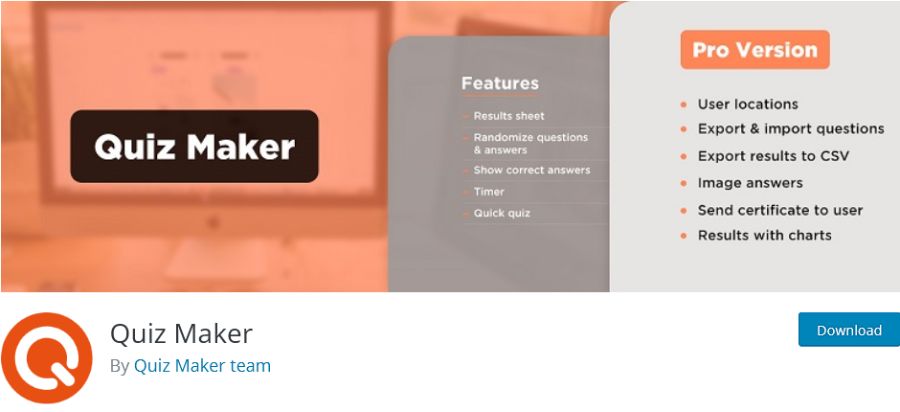 The Quiz Maker Plugin makes creating advanced quizzes easy and quick. There are 7 different types of questions available to use, including radio, checkbox, dropdown, etc.
Chained Quiz

Chained Quiz is an easy-to-use WordPress questionnaire Plugin that lets you create quizzes where the next question depends on the answer to the previous question. It allows you to build long or short quizzes with chained logic questions in minutes.
Plus you get an unlimited number of quizzes, with as many questions as you need, all for free. And with Chained Quiz it's easy to create visually appealing surveys that are custom-tailored to your visitor's needs.
HD Quiz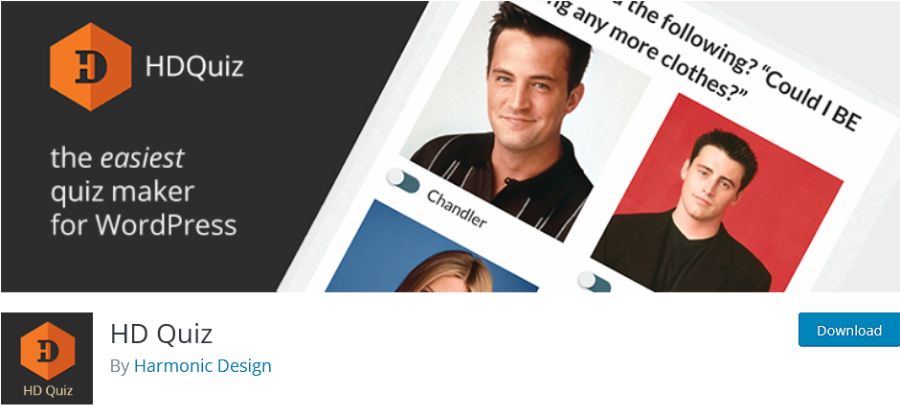 HD Quiz was created by marketers for marketers, which means it's super easy to use right off the bat. You don't have to know any code at all in order to build professional-looking questionnaires or Buzzfeed-style quizzes for your site. This plugin works great on mobile devices too so people can take your quizzes at home or on the go.
How to add a Questionnaire in WordPress
Do you want to learn how to add a questionnaire in WordPress? The first step is installing the plugin itself which can be done by visiting the WordPress Plugins section of your admin page. Once installed, visit the Plugin's settings page and use the built-in editor to create questionnaires and then publish them to your site.
Why Use Questionnaires
Do you want to know how your website is performing? What about what your visitors are looking for on the site, or what they think of it. Questionnaires are a simple way to get this information and can also generate feedback from customers.
Questionnaire features include live surveys, instant response polls, interactive quizzes, and focus groups.
You can even use them in conjunction with other marketing tools like email campaigns or social media posts to build awareness among potential customers.
Plus, the data collected can be analyzed using machine learning algorithms and provide actionable insights that help improve your business strategy.
Benefits of Using questionnaires
Questionnaires are a great way to get feedback from your audience
They provide you with valuable insight into what people think about your website
You can use the data gathered to make changes and updates on the site
Questionnaires help you understand how visitors navigate through your site, which pages they visit, and how often they come back again
For businesses that offer online shopping or services, questionnaires can be used to find out more about customer preferences
It's an easy way for customers to give their opinion without feeling like it will take up too much of their time