If you're an online store owner, then you know how difficult it can be to keep up with all the newest apps. To help out, we've compiled a list of the best Wix apps for online stores.
These are all apps that will not only make your life easier but also improve the overall customer experience on your Wix site and drive more sales.
Best Wix Apps for Online Store
Wix Stores App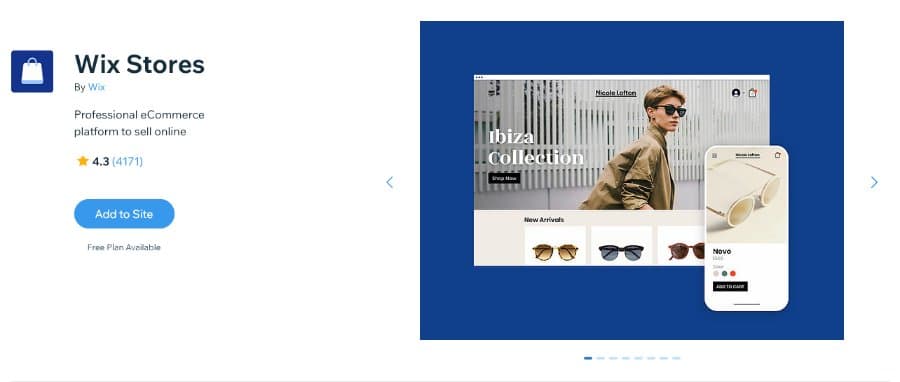 Wix Stores is a free eCommerce app that helps you create, manage and grow your online store with ease. With features like custom product pages, shopping carts, order management, and more—Wix stores has everything you need to start selling in minutes.
When you're running an online store, there's a lot of work involved in keeping it going. You have to worry about managing inventory, shipping products out, handling customer service issues, and more. It can be difficult for small businesses or e-commerce startups with limited resources to handle all this work on their own.
Wix Stores solves these issues by making it simple for small businesses to sell their goods online without breaking the bank or burning through their valuable time and energy.
The Wix Store platform is easy enough for beginners but powerful enough for professionals—it allows anyone to create an attractive storefront while integrating seamlessly with other sales channels. Wix Stores also lets you sell on social media sites like Facebook Instagram or Pinterest too.
Wix Stores also provides you with everything you need from order management tools that let you see when orders come in as well as track shipments. Plus, you can manage your orders, inventory, shipping, fulfillment, and finances—from a single platform.
And with Wix Stores, you can accept secure online payments for your products and subscriptions using Wix Payments, PayPal, or Stripe.
POWR eCommerce Wix App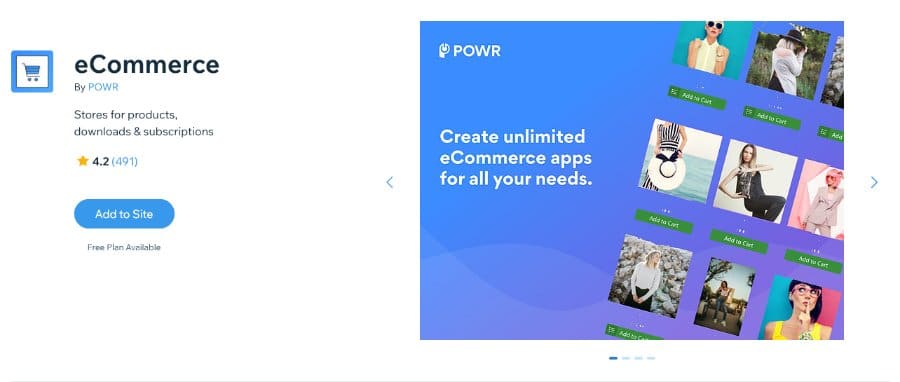 The POWR eCommerce Wix App is a complete solution for building your own online store on the Wix platform. It has everything you need to get started selling products and digital downloads in just minutes.
The POWR eCommerce Wix App is not only simple but it also does so much more than simply building a website with a shopping cart. It includes features like accepting one-time payments or subscriptions via PayPal which makes for a seamless checkout experience.
You can also add product photos and sizing information as well as different variations of products that can be purchased too.
The POWR eCommerce Wix App even calculates tax and shipping costs. And it allows you to accept orders in over 25 different currencies, so you can branch out into international markets too.
Wix Art Store Wix App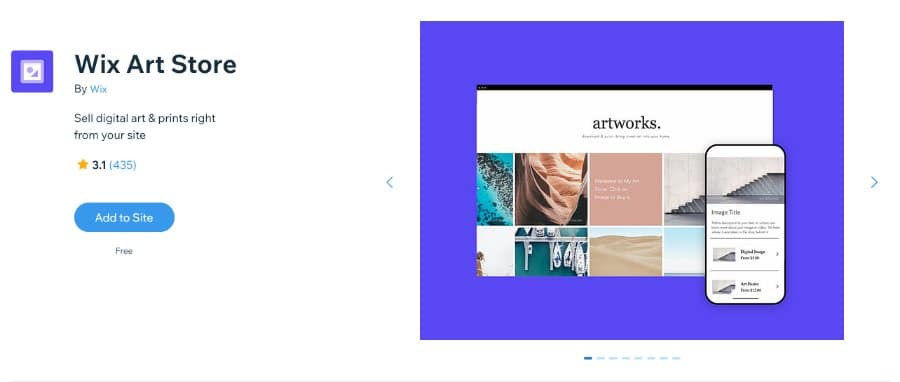 The Wix Art Store App is a digital and print art marketplace that makes it easy for artists to create an online store selling prints, posters, mugs, t-shirts, and more.
The Wix Art Store App has everything you need to sell your artwork on the web in one place. It takes care of all the technical stuff so you can focus on what matters most – creating beautiful art.
With the simple drag-and-drop interface for uploading images and setting prices, getting started is a breeze.
Artists can choose from 12 customizable layouts (or design their own) so they can showcase artwork in different ways on each product. Plus you can protect your images with an optional watermark and brand them by adding your name or logo to protect your intellectual property.
And when your artwork goes live, Wix handles everything else like packaging, shipping & payment processing – leaving you free to focus on what matters most… making beautiful art.
Plus, Wix will handle customer service issues like refunds and returns so that you don't have to worry about them at all.
Ecwid Online Store Wix App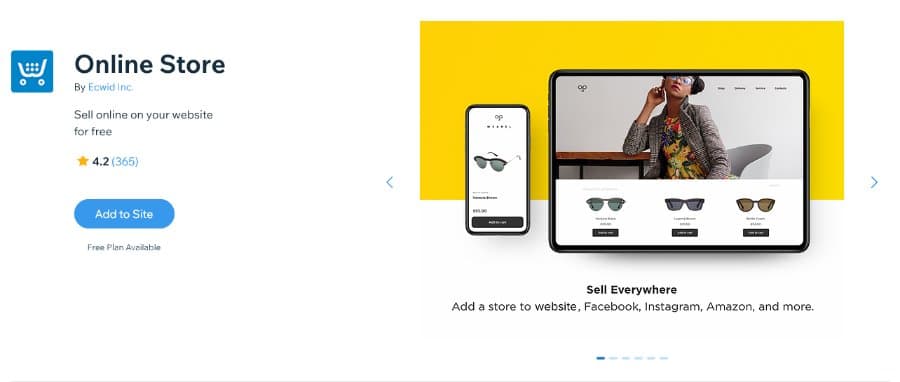 Ecwid makes running an online business easy with its all-in-one eCommerce platform. It's simple enough that anyone can use it but powerful enough to meet the needs of professional retailers. With Ecwid you can create a beautiful online store in minutes without having any technical experience at all. All you need is some basic information about your products and services – then you're ready to start selling on the web or mobile devices right away. The best part? There are no hidden fees or costs once you've set up your account – everything is included.
Wix Pricing Plans Wix App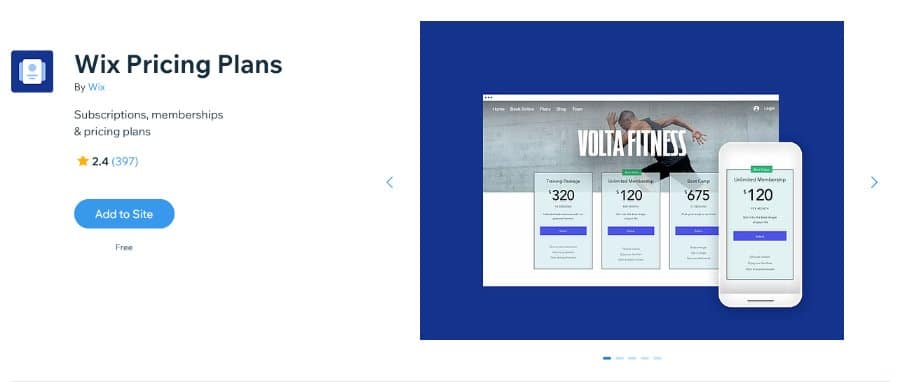 The Wix Pricing Plans App lets you sell subscriptions, packages, and memberships with ease so that your customers can see what your store has to offer. This app will help increase your conversion rate by creating a frictionless checkout process.
The Wix Pricing Plans App even offers free trials and punch card options so that new customers can try out your product before making an actual commitment. And you can connect this app directly with PayPal or Stripe, two trusted payment providers (or you can use Wix Payments).
Wix Accounting Integration
QuickBooks Online Wix App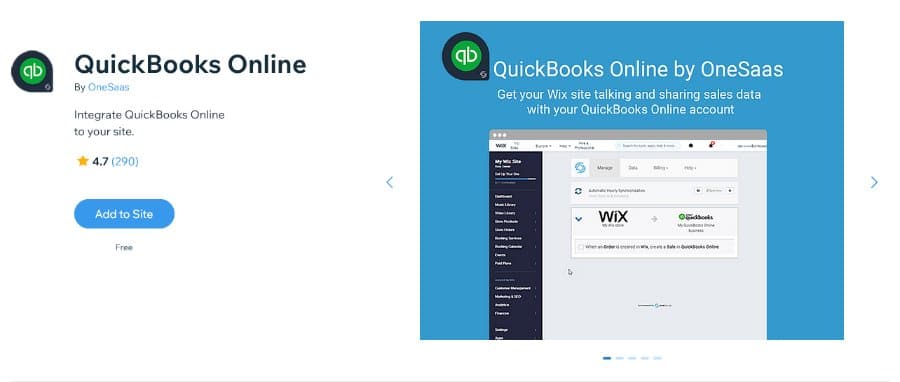 The QuickBooks Online Wix App is a simple to use app that lets you link your Wix Store with your QuickBooks Online account. It automatically syncs items, orders, and customers from one system to the other. With this app you can save hours entering data manually, so you'll have more time to focus on growing sales.
The QuickBooks Online Wix App will allow you to retrieve orders from your online store and also map tax codes based on what has been ordered. And it's easy to create new items in QuickBooks when products are created in your Wix store, and it can match up products by either name or SKU number.
If you need an eCommerce solution that integrates seamlessly with the most popular accounting software, then you'll definitely want to check out the QuickBooks Online Wix App (Click Here)
Wix Dropshipping App
Spocket – US & EU Dropshipping Wix App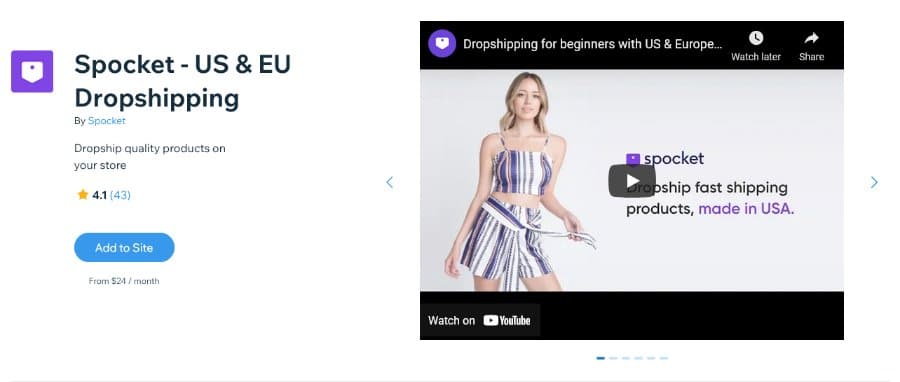 Spocket makes it easy to build your own online store in under 30 minutes with no coding or design experience required. With this Wix app, you can add products from verified suppliers in seconds and process orders automatically. Best of all the Spocket app handles the inventory mapping process for all your products so that they're always available when customers order them – unlike other solutions where you have to manually restock items as they sell out.
Spocket makes it easy for anyone to start selling products online. The app helps users build their own eCommerce website using the powerful features of Wix, without having to spend hours searching for the right tools or worrying about inventory management and shipping logistics.
With the Spocket App platform, you can focus on what matters most – making sales and growing your business through repeat customers.
Modalyst – Dropshipping Wix App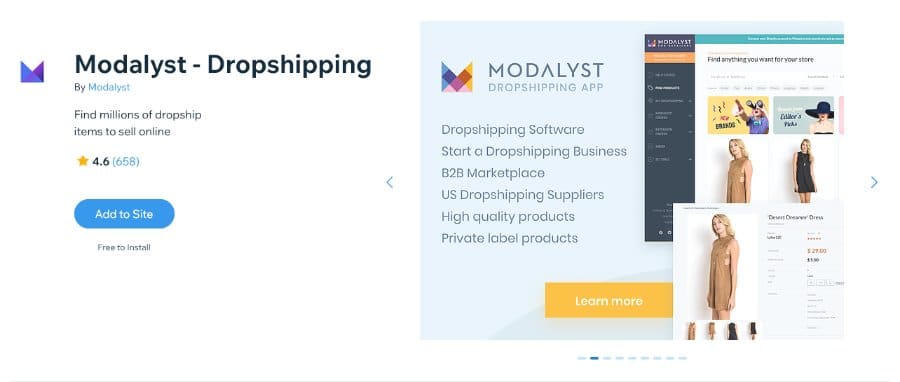 Modalyst connects you with top-rated dropship suppliers that offer thousands of different products for sale online – all at wholesale prices. This platform allows you to easily browse through a catalog full of unique items ready for resale on your own website without having to do any research or sourcing work yourself.
Modalyst even takes care of order fulfillment by automatically routing each order placed on your site directly to the supplier who makes it – no more struggling with having to keep track of inventory levels or ship out packages yourself.
Printful Wix App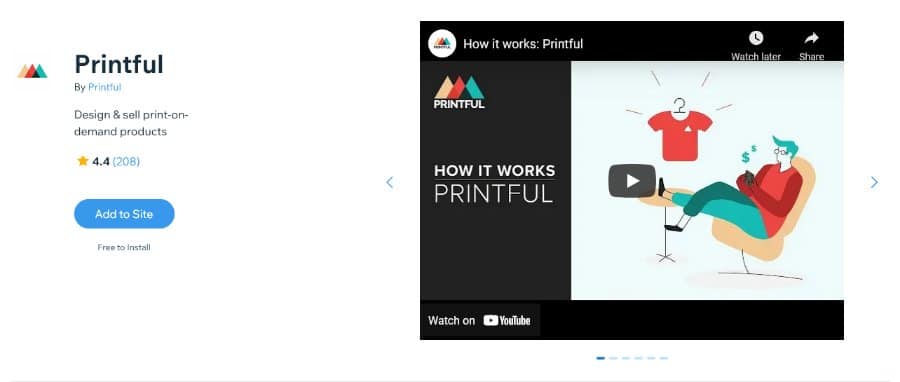 Printful is the perfect Wix app for any online store owner looking to sell custom products and make money with print-on-demand drop shipping fulfillment services (POD). Printful's simple interface makes it easy for you to customize items and set prices, and their fast order processing means they will ship out your goods in no time.
With Printful's Wix app, you'll have access to all of their print-on-demand services right in one place. You'll save time and money by not having to manage multiple platforms while still enjoying great quality prints and embroidery options at competitive prices.
Printful's catalog includes over 270 different items including t-shirts, leggings, posters, hats, phone cases, pillows & blankets…and more. Many of these items are customizable with text or graphics so that they fit perfectly with your brand image (or whatever else you might want to sell).
Printify Wix App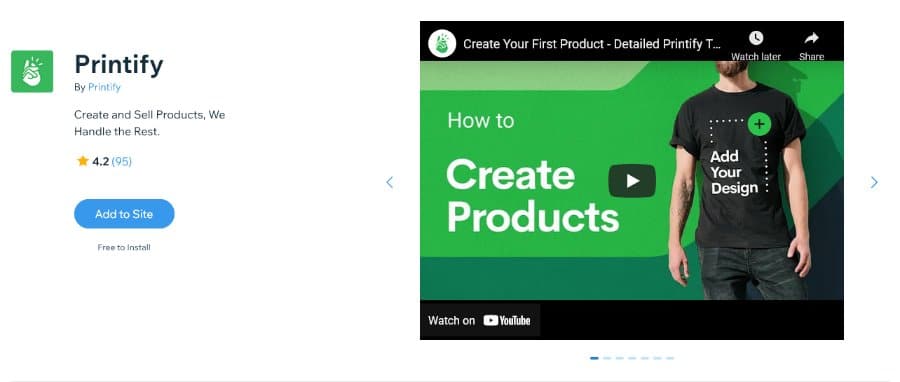 Printify is one of the best Wix apps for online stores that offer print-on-demand products. And with Printify's easy-to-use mockup generator, you can create professional-looking print designs in minutes. Plus, You'll never have to worry about managing your inventory or fulfilling orders again. Just sync your products and descriptions to your online store and process orders with ease.
Printify has made it easy for anyone to sell custom printed products with the Printify App. Simply upload any design, choose from hundreds of product options, then Pritnify takes care of the rest by printing them on-demand at one of over 90 locations worldwide. Plus, their platform keeps track of all sales so you don't have to manage anything yourself – just sit back and watch the profits roll in.
Amazon Wix App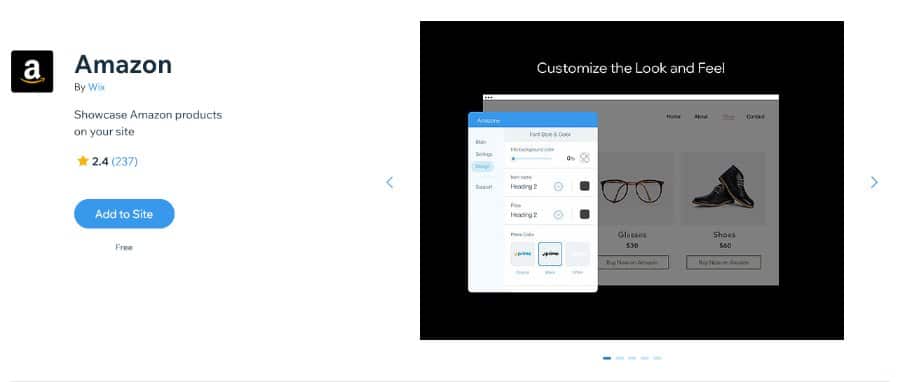 The Amazon Wix App will help you get more sales by making it easier for customers to buy your products on Amazon.com. This Wix App for Amazon lets you display your own products or affiliate links in a beautiful gallery format. And you can customize this app using Wix's easy-to-use website builder tool, so it will seamlessly fit with the look and feel of your site.
Etsy Shop Wix App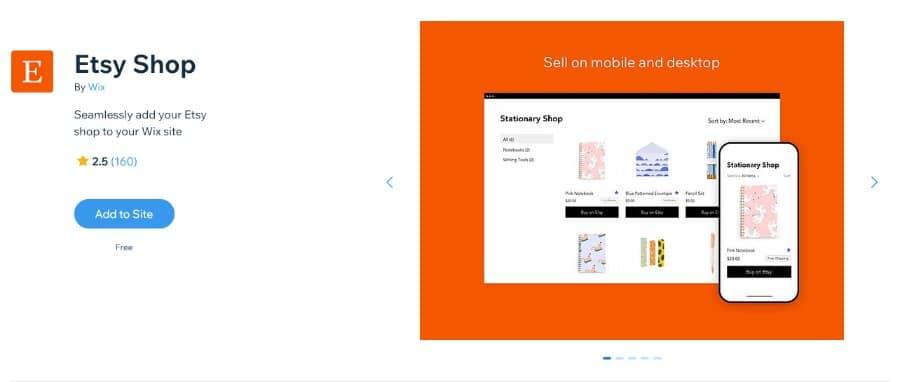 The Etsy Shop App lets you connect your Etsy storefront to your existing Wix website in just a few steps. With the help of this tool, anyone can turn their online store into a real business with just one click. And this app will also help you customize the look of your new store with search, sort and category features so customers can easily find what they're looking for.
eBay Store Wix App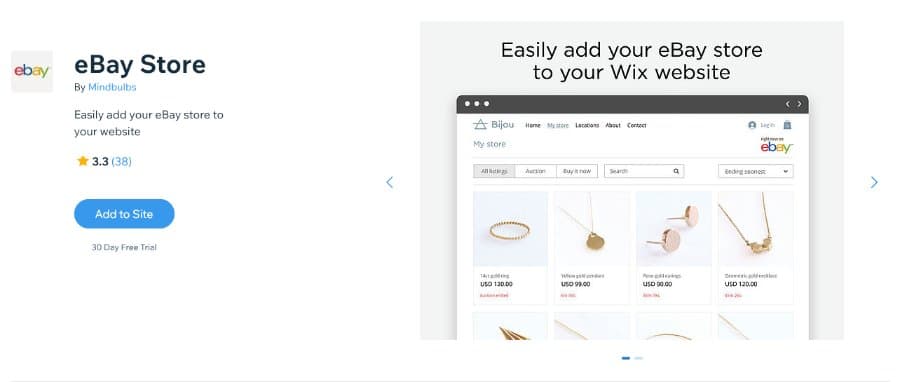 The eBay Store Wix App will allow you to easily add your existing eBay store onto any of Wix's stunningly designed eCommerce templates. By simply installing the eBay Store App and connecting it to your eBay account it will automatically pull in all product information including images, prices, and variants allowing customers to instantly view their options without leaving your site.
Wix Shipping Integration
Envia Shipping Solution Wix App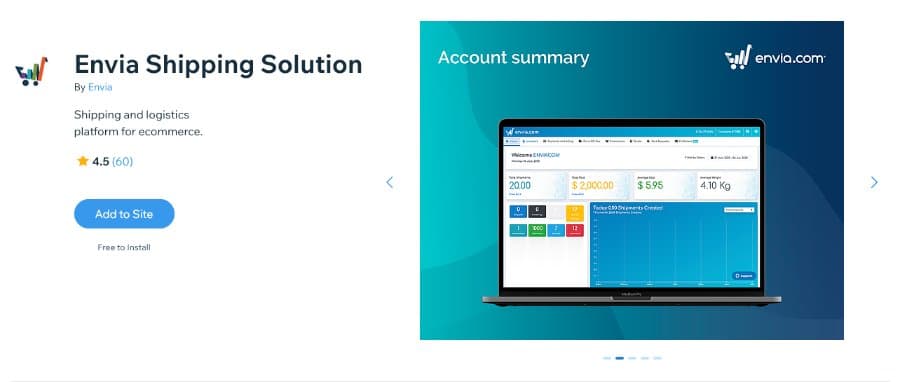 Envia Shipping Solution is an all-in-one solution for shipping management that allows you to save money with discounted shipping costs through multiple carriers. Envia gives you access to over 30+ major shipping companies including USPS, UPS, FedEx & DHL at discounted rates – saving you up to 50% on freight costs. And the Envia Shipping App provides real-time rate quotes from multiple shippers so that you always get the best deal possible without having to contact them individually or set up special deals yourself.
ShipStation Wix App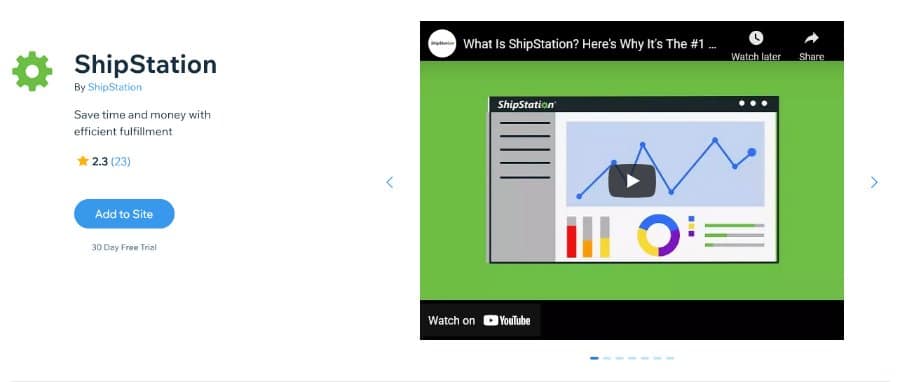 The ShipStation Wix App makes it easy for eCommerce stores built with Wix to import their orders from any channel into ShipStation. ShipStation can be integrated with over 80+ shopping carts and marketplaces, including Shopify, BigCommerce, Magento, Amazon Seller Central, and more. It also integrates with USPS®, UPS®, FedEx®, Canada Post™ & DHL®.
ShipBob Wix App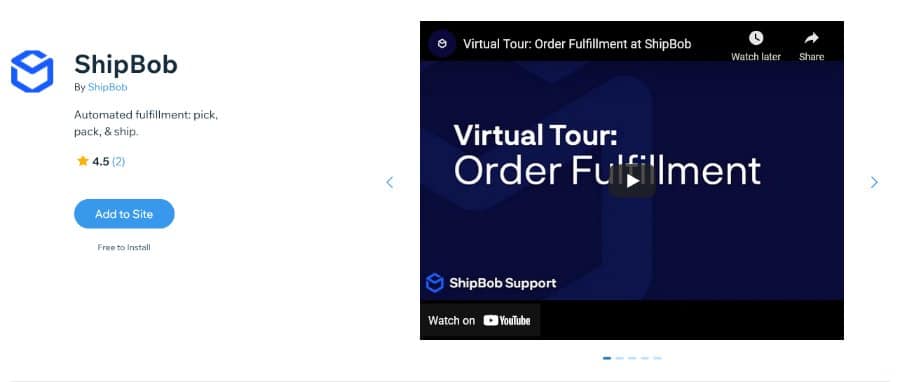 ShipBob helps online retailers by handling all aspects of order fulfillment from receiving, warehousing, and shipping directly to customers with same-day delivery if orders are placed before 12 pm local time.
With the ShipBob Wix App integration, you'll sync your sales with ShipBob so that they know exactly what items need to be shipped out from warehouses across the US or Canada.
Best of all, ShipBob offers transparent pricing based on volume (receiving + storage). And finally, they provide accurate tracking information via email so that you and your customers will always know where shipments are when they are in transit.
Wix Inventory Management
skuIQ Real-Time Inventory Sync Wix App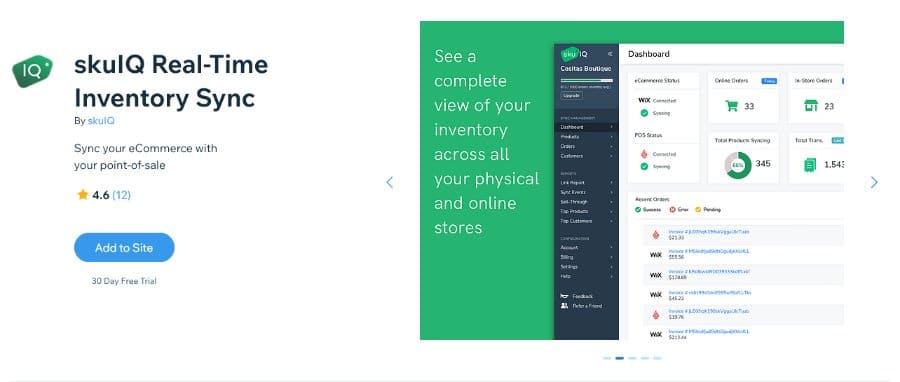 skuIQ makes it easy to manage all of your retail platforms from one interface. Plus, this app offers combined cross-platform analytics to make informed decisions on what products are selling best across all of your sales channels.
With skuIQ, you can easily connect your POS system with any supported retail channel like Shopify, Magento, Bigcommerce, or WooCommerce. Your data will then automatically sync so that all information about your products are always up-to-date on all of your business's sales platforms.
Multiorders Wix App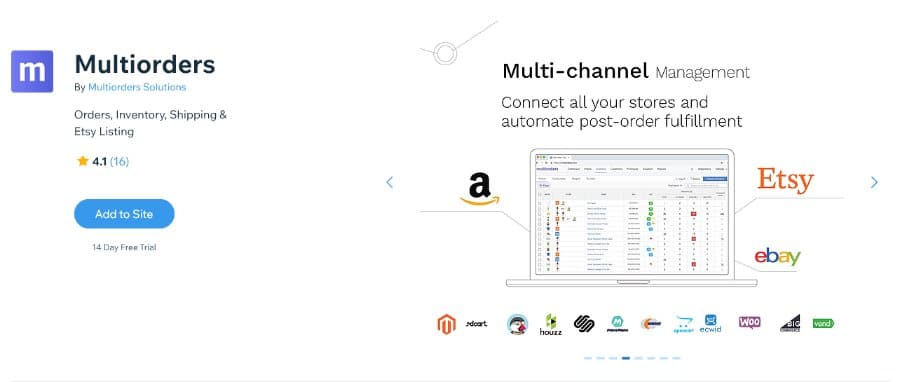 Multiorders allows you to connect all your accounts from dozens of marketplaces and shipping carriers into a single dashboard. As soon as you receive an order from any marketplace, this app automatically synchronizes this data with your other online shops (Shopify, Etsy, etc.) using real-time rates without additional costs or hidden fees.
Wix Payment Apps
PayPal Button Wix App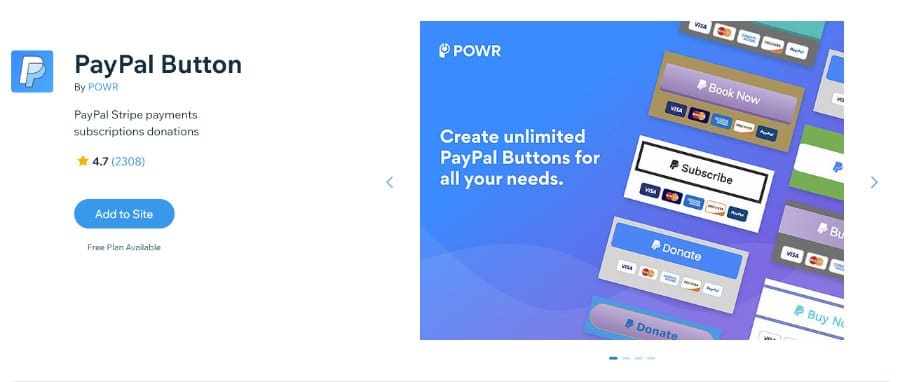 The PayPal Button App allows you to easily add a custom payment button to your site that accepts one-time payments, subscriptions, and donations. It also supports offline payments via PayPal Express Checkout in 25 currencies
Online Payment Button Wix App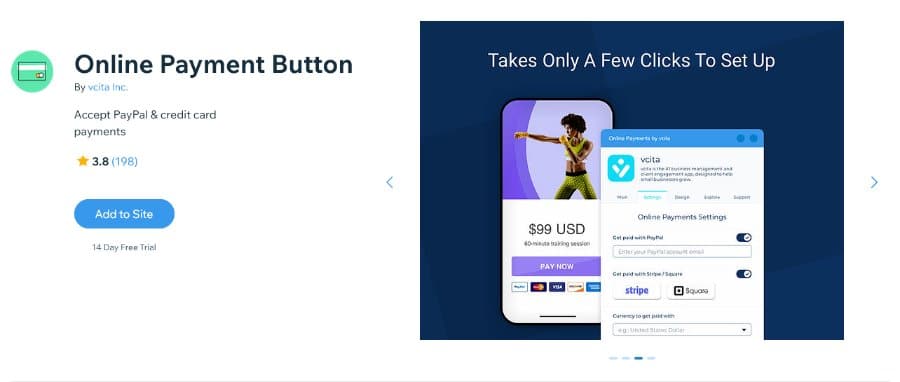 vCita's Online Payment Button is one of the best Wix apps for online stores you can get today. It offers all of the features needed by an eCommerce business such as accepting payments via PayPal, Square, or Stripe and allowing your clients to pay on your website with just a few clicks.
We all know Online payments are difficult. You have to create a merchant account with multiple payment gateways, and then you have to manually integrate each gateway into your website. This can be time-consuming and expensive for small businesses
It's also risky as the gateway can shut down at any time without notice. And if something goes wrong with a payment, it's up to you to resolve the issue with your customer directly – not an ideal situation.
vCita has created a simple online payment button that connects all of these different services together seamlessly in one place so you don't need to worry about all of the technical details, which will allow you to focus on growing your business instead of payment processing.
Wix Gift Card App
Gifted Wix App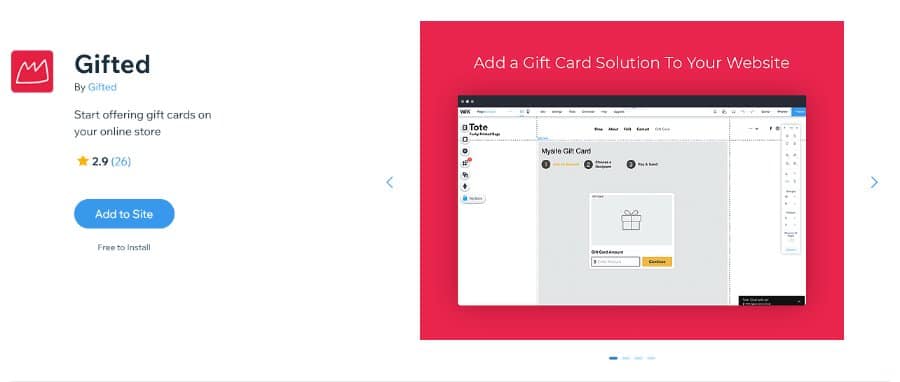 Gifted is a Wix app that makes it easy to sell gift cards online. With this app, you get instant access to powerful tools for selling branded digital gift cards in minutes. Plus, this app offers full transparency into all of your sales data with comprehensive reporting features.
Wix Marketing Apps
Social Offers Wix App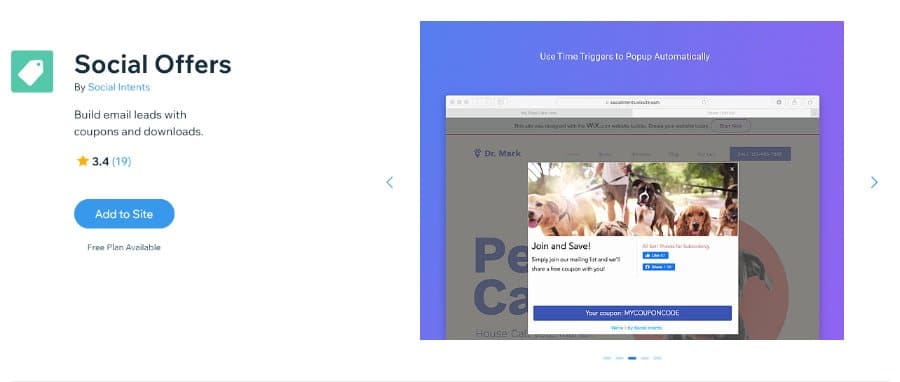 Social Offers makes it easy for you to grow your email list by offering incentives and rewards in exchange for an email address or social media follow. Plus, this Wix app allows you to quickly add popup offers with coupons or digital downloads onto any page of your website with just a few clicks.
Smile: Points & Rewards Wix App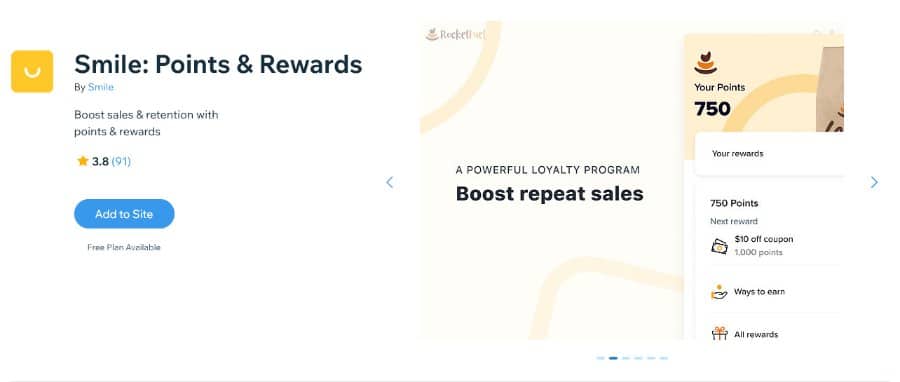 Smile is a Wix app for online stores that lets you create an engaging loyalty program in minutes. This App makes it easy for you to add points, rewards, referrals, and exclusive offers so that your customer can get something out of every purchase he or she makes on your site.
Birthday Club Wix App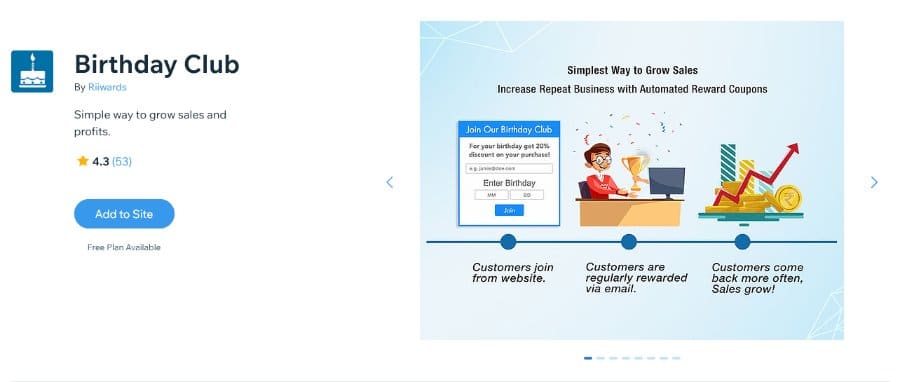 With the Birthday Club App, you can automatically send out emails on customer's birthdays and other special occasions. This app allows you to collect names, emails, and even gift preferences of your customers in one place. This helps you keep track of what your customers like or dislike so that you can send them more relevant offers in the future while improving the conversion rate of your store.
Wix Digital Downloads App
Sellfy Sell Downloads Wix App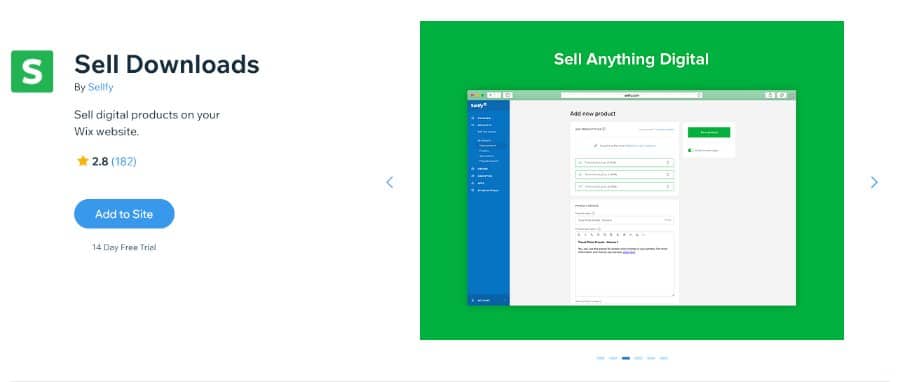 Sellfy lets you easily sell digital music, videos, design assets, software, and more on your Wix website. Selling digital products can be a hassle. You need to create a website, set up hosting, and find a payment processor. Sellfy is the easiest way to sell your digital products online. This app comes with everything needed to start selling instantly: a customizable buy now button, PayPal payout integration, and more