A CRM system is an essential tool for any business, but it can be difficult to find the right one. If don't have a CRM solution yet then the best WooCommerce CRM plugin is WPCRM – CRM for Contact form 7 & WooCommerce
This plugin gives you all of the benefits of a CRM without having to pay monthly fees since it is self hosted on your server, so you have total control of your data within your WooCommerce store.
However, if you are already using an external CRM solution you'll find multiple WooCommerce CRM plugins below that will let you connect your WooCommerce site to Zoho, Salesforce, HubSpot, and Infusionsoft.
Best WooCommerce CRM Plugin
WPCRM – CRM for Contact form CF7 & WooCommerce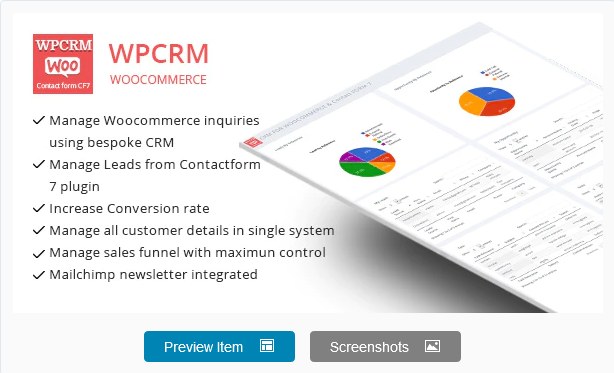 WPCRM is the best WooCommerce CRM plugin. With this one-of-a-kind WP app, you can manage all of your leads and contacts from your WooCommerce dashboard with ease.
WPCRM is a self-hosted CRM that makes it easy to convert leads into opportunities with just a few clicks. You can also track all your sales activity from proposals to invoices and more.
It comes complete with a number of features that are perfect for any business owner, including a leads module that will map customer data to WPCRM. Plus, it has a quotes management module, and a task management system to assign tickets to customer service reps who need to close customer inquires quickly (and more).
If you're looking for an efficient way to stay on top of everything that's happening in your store while staying organized at the same time we recommend that you try out the WooCommerce CRM plugin.
Woocommerce Zoho CRM Integration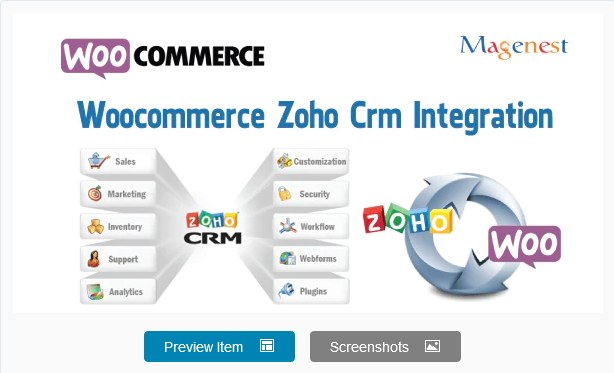 Zoho's CRM makes it easy for you to connect all of the tools you use every day so that you can focus on what matters. You get a complete view of your customers, leads, and sales across your entire organization—including contacts from Gmail, Google Contacts, MailChimp, and more. Plus with powerful automation features like workflows and tasks, managing everything becomes easy.
With this integration between Woocommerce & Zoho CRM, you will be able to sync data immediately from Woocommerce to Zoho CRM without any coding knowledge or technical skills required. It's super simple… Just install this plugin in Woocommerce then configure the connector settings according to your own needs (only takes 2 minutes.) That's it. Your data are synced automatically in real-time once per day at night.
WooCommerce Salesforce CRM Integration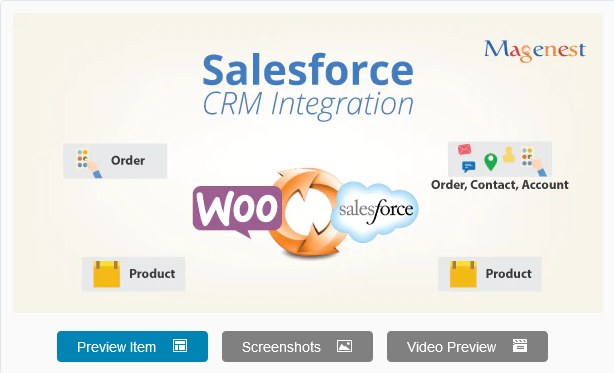 The Woocommerce Salesforce CRM Integration plugin was created specifically for WooCommerce store owners who want to automate data synchronization between their online store and Salesforce CRM system with no hassle. With this plugin, you can synchronize any combination of product, order, customer, and custom fields from Woocommerce to Salesforce in just a few clicks. This is the perfect solution if you use both platforms for managing your sales process.
Cart2CRM – WooCommerce and SugarCRM integration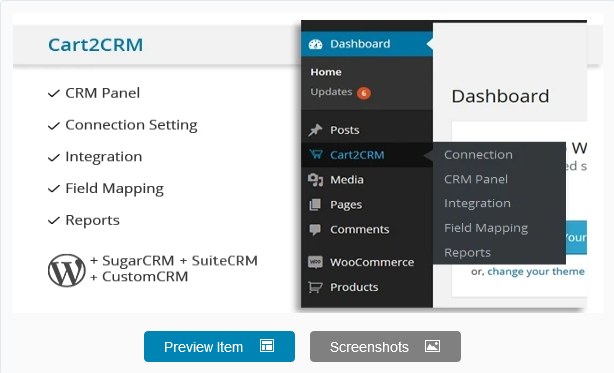 Cart2CRM helps you sync WooCommerce orders and customer data with your CRM. This integration plugin makes it easy to connect your e-commerce store with SugarCRM, SuiteCRM, or Custom CRMs. You can easily retrieve failed orders, convert failed orders to customers in the CRM, sell more products by targeting existing customers, and much more.
WooCommerce – Pipedrive CRM – Integration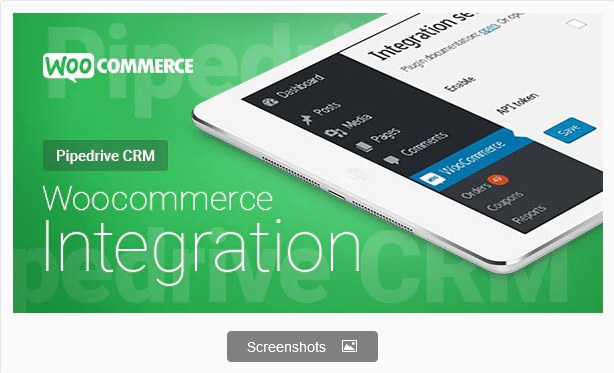 With the WooCommerce and Pipedrive CRM Integration, you can easily load all of your products and custom fields into the Pipedrive CRM. It also supports sending order status changes when an order has been completed. You can even use UTM params in URLs to track marketing campaign performance. Best yet, there are plenty more features included with this plugin that will save time on managing both your store and business at large while increasing productivity as well.
WordFex – Synchronize WordPress with Perfex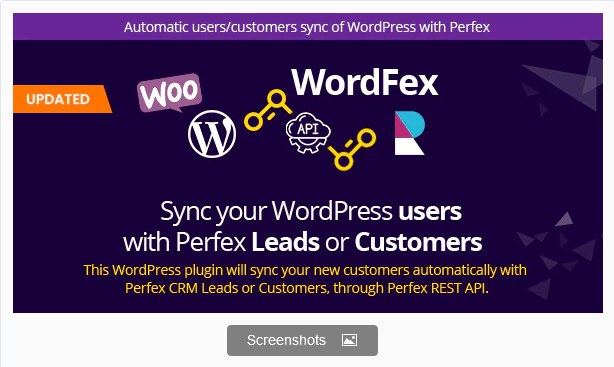 WordFex takes all the work out of managing your leads and customers. It automatically syncs new users from your website with Perfex so that you don't have to lift a finger.
This plugin will sync every single one of your new users/customers from either WordPress or WooCommerce with their respective section in Perfex (Leads/Customers). This means that no matter where someone signs up on any page on your website, they will always end up in the right place within the Perfex CRM.
WooCommerce – HubSpot Integration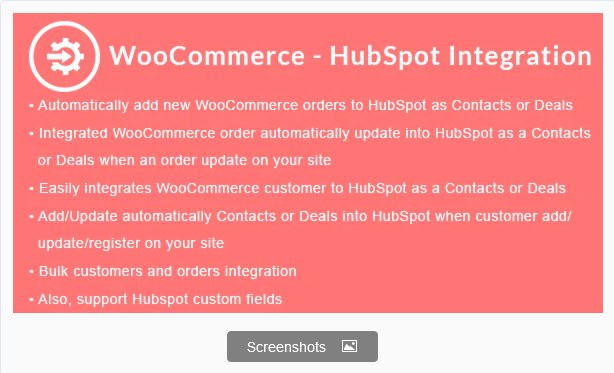 The WooCommerce – HubSpot Integration is the best WordPress CRM plugin for integrating your WooCommerce store with Hubspot. This integration will allow you to automatically add new customers from your WooCommerce website into HubSpot as Contacts or Deals, and also map any data fields within your WooCommerce order that are not already mapped via bulk imports. You can then update these contacts/deals through updates back in the WooCommerce backend without having to manually update data ever again.
WooCommerce – Bitrix24 CRM – Integration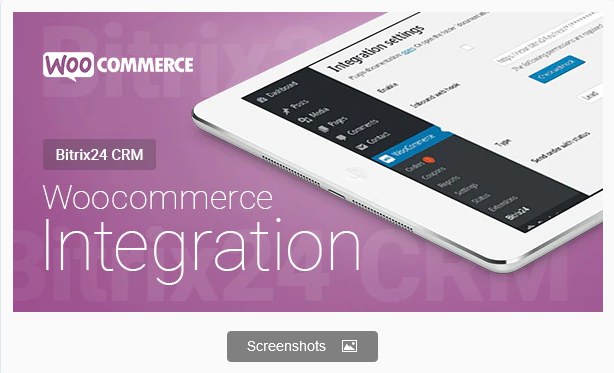 The WooCommerce – Bitrix24 CRM – Integration allows users to create notifications in Bitrix24 CRM when adding leads and deals. The fields are loaded from the CRM (including custom fields) making it easy to track sales across platforms. . It also supports two modes of updating – immediately upon checkout or via `WP Cron`. And it supports the use of UTMs from the URL as well as GA Client ID and _ym_uid cookies which makes tracking leads and sales quick and easy.
WooCommerce vTiger Integration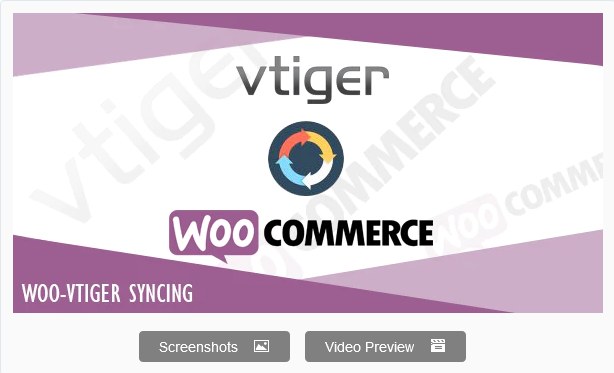 The WooCommerce vTiger Integration allows for automatic updates from Woocommerce into vTigerCRM without manual entry. The plugin also has an "auto-update" feature so that new orders are added as they come in rather than waiting until someone updates them manually. You can even set up scheduled background sync so that all changes happen during set times, which means less work for everyone involved.
WooCommerce Infusionsoft Pro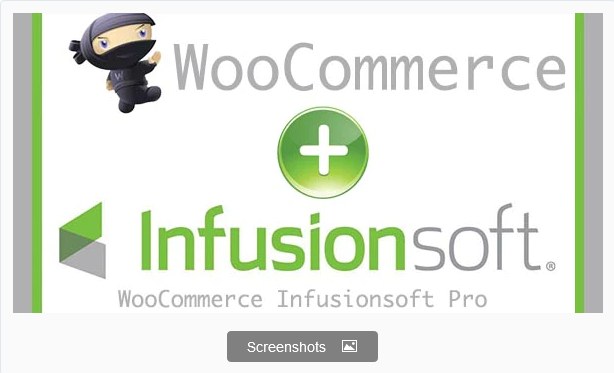 The WooCommerce-Infusionsoft Integration Plugin makes it easy to connect your store, email marketing, and CRM in one place. With this powerful CRM solution, you will never have to leave your WordPress site since you can manage all of your orders, customers, and leads in the same place where you're making sales.
Jetpack CRM – Clients, Invoices, Leads, & Billing for WordPress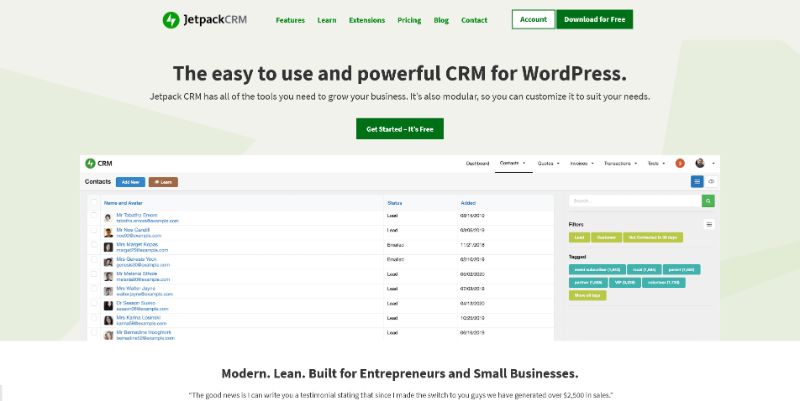 Jetpack CRM is a powerful WordPress plugin that brings all of your customer data into one place so you can focus on closing deals instead of spending time updating spreadsheets or managing multiple tools. It's been designed from the start as a true "contact-centric CRM" specifically for WooCommerce users who sell products online.
With support for custom fields, advanced reporting, and more, it provides everything you need to run an efficient business – right out of the box. And it has an intuitive interface that makes it easy to manage your contacts, quotes, invoices, and transactions in one place. It also comes with features like activity logs, client portals, social integration, and more.
If you're looking for the best WooCommerce CRM plugin, then Jetpack CRM is worth trying out since you can start with the free plan to see if it's right for you.
Can You Use WooCommerce as a CRM
Yes, you can use WooCommerce as a CRM with Jetpack CRM, WP-CRM, or UPiCRM.
Jetpack CRM is a Plugin that allows WordPress sites to integrate other apps such as Gravity Forms and MailChimp. And it can be installed like any other plugin and make those services available for all users of your site – even those who don't have an account.
WP-CRM offers a complete range of functionality for managing customer relationships without compromising performance or security.
What CRM is Compatible with WooCommerce
Jetpack CRM
WPCRM
Zoho
Salesforce
HubSpot
Infusionsoft
SugarCRM
Pipedrive
vTiger
Bitrix24
Perfex
Can You Connect WooCommerce to Zoho CRM
Yes, you can connect Woocommerce to Zoho CRM using the Woocommerce Zoho CRM Integration. When they are connected they will allow a WooCommerce site to access important features of Zoho CRM like data storage, customer management, and more.